Looking for great campervan bed ideas for your van build? We've found 7 simple bed options that you can DIY easily and on a budget!
Many people in van life plan their entire van build based on the amount and quality of sleep they want each night. Thinking ahead, they want to know that after they've come home from a long day of hiking, biking, climbing, paddling and playing their bed will give them all the rest their mind and body need to prepare for the next day of adventure.
If you're one of these people who value a good night's sleep regardless of where you happen to be parked for the night, then having an idea of the campervan bed designs that are out there and the pros and cons of each bed style will help you decide how you want to build your van bed.
We've found 7 primary campervan bed ideas as we've prepared to build our van and have gone back and forth between many of the options time and again because each one offers its own pros and cons.
Read on to learn more about what you need to consider when planning your campervan bed design and take a look at each of the 7 top campervan bed options to see which may be best for you!
The Best Campervan Bed Ideas for Your Van Build
It doesn't matter which van you choose to convert, each of these bed designs can fit comfortably within the interior walls of your van. But when you get started planning your bed build, there are a few things you'll want to consider before getting started.
Fixed Bed vs. Convertible Bed Options
There are two primary types of campervan bed options: the fixed bed and the convertible bed. Each type has its own benefits and drawbacks we'll cover briefly here before getting into the specific options.
Fixed Bed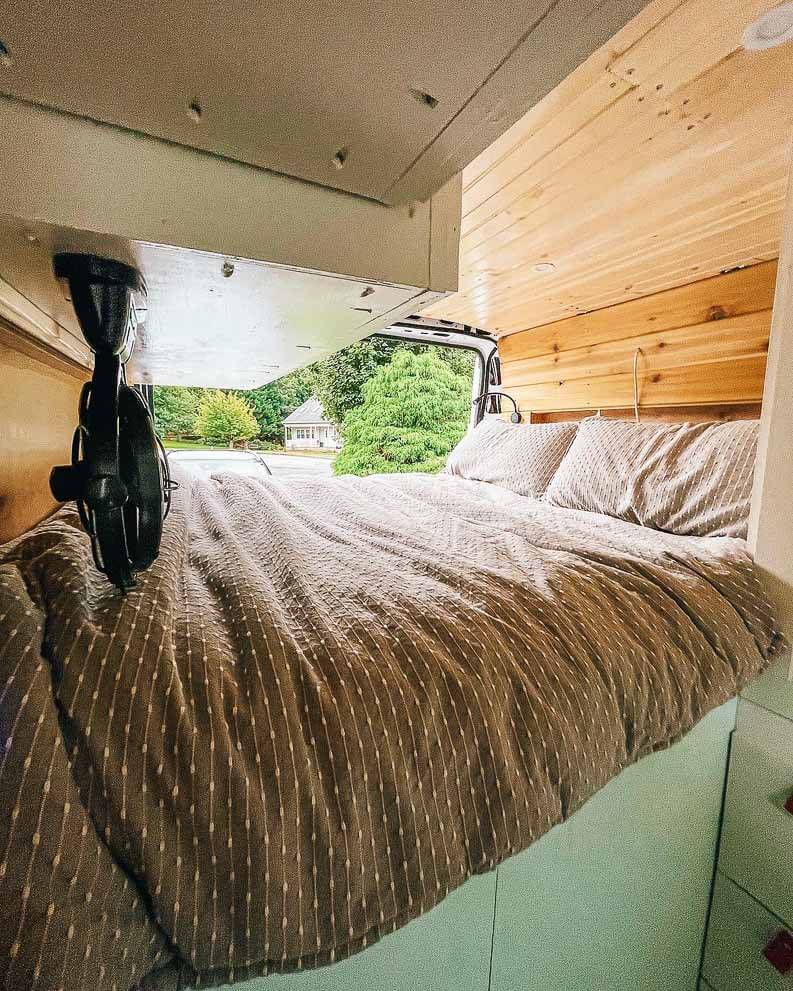 A fixed bed, or platform bed, is generally what it seems. It is a bed that is permanently, or semi-permanently, built into the van itself. While there are camper van bed designs that allow for a portion of the bed to be converted, the general idea is that a fixed bed does not need to be converted before or after sleep.
These camper van bed designs allow you to keep the bed in place throughout the day, usually offering more room for storage space underneath the bed. More van dwellers build permanent beds than convertible beds because the pros are pretty substantial.
Pros of Fixed Beds
Permanently installed
Usually simpler to design and build
Does not need to be made daily
Storage underneath the bed
Cons of Fixed Beds
Takes up living space inside
It may require couples to crawl over each other
Not great for smaller vans
Convertible Bed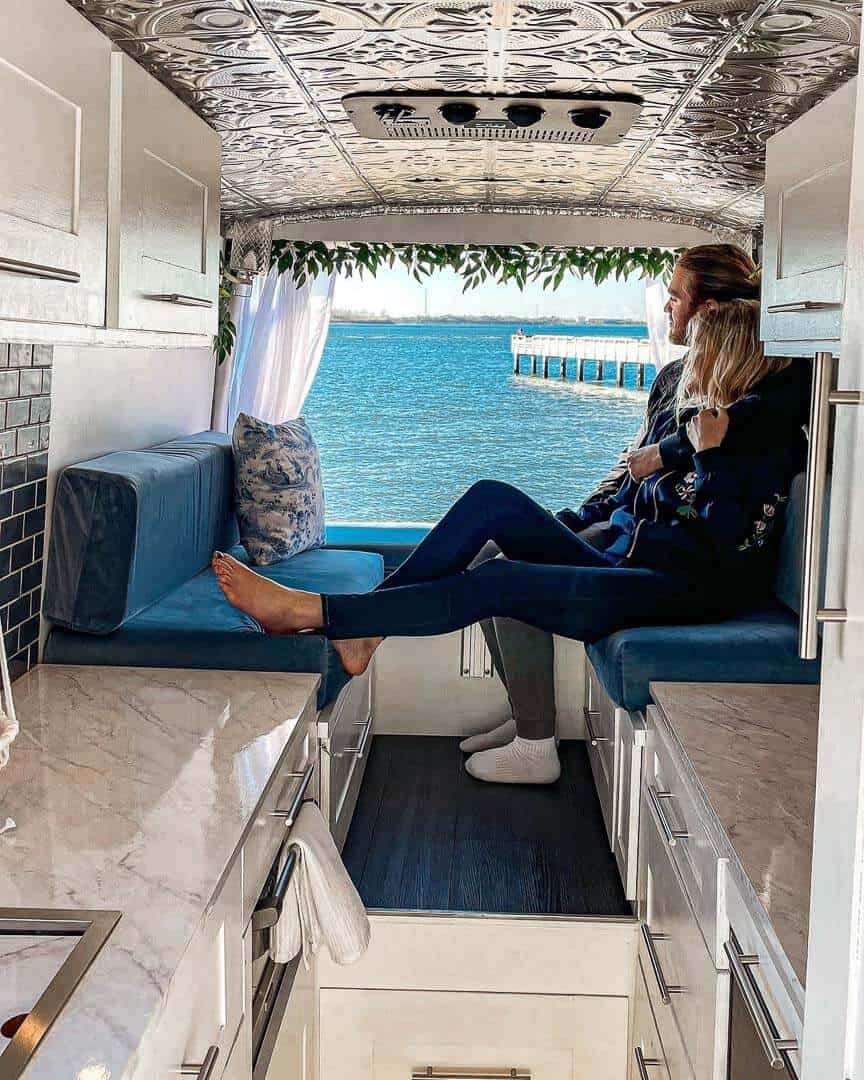 A convertible bed is one that is not permanently in place throughout the day. It may act as a dinette, sofa or even ceiling during the day and then it converts when you are ready for bed.
Although these are less common than a permanent bed, there are many benefits to choosing one of a handful of different convertible bed ideas.
Pros of Convertible Beds
Extra floor space throughout the day
Can be quick and easy to set up
Cons of Convertible Beds
Must make and convert the bed each morning/night
Typically more complex to build
Usually reduces the overall storage space
Things to Consider When Planning A Campervan Bed
As with all options in your camper van build, your bed design has several things you'll want to consider before committing to one option or another. We'll cover these briefly before getting into some examples of the best campervan bed ideas to make your home on wheels as comfortable as it can possibly be!
Sleeping Direction
Depending on a variety of factors, you have choices in how you arrange the bed based on your preferred sleeping direction.
The most natural orientation for any sleeping space in a van is to arrange the bed front-back with the van, which we call a "north-south" orientation. There are several great campervan bed ideas for those people who prefer to sleep in this orientation – particularly couples who do not necessarily want to have to climb all over each other to get in and out of bed.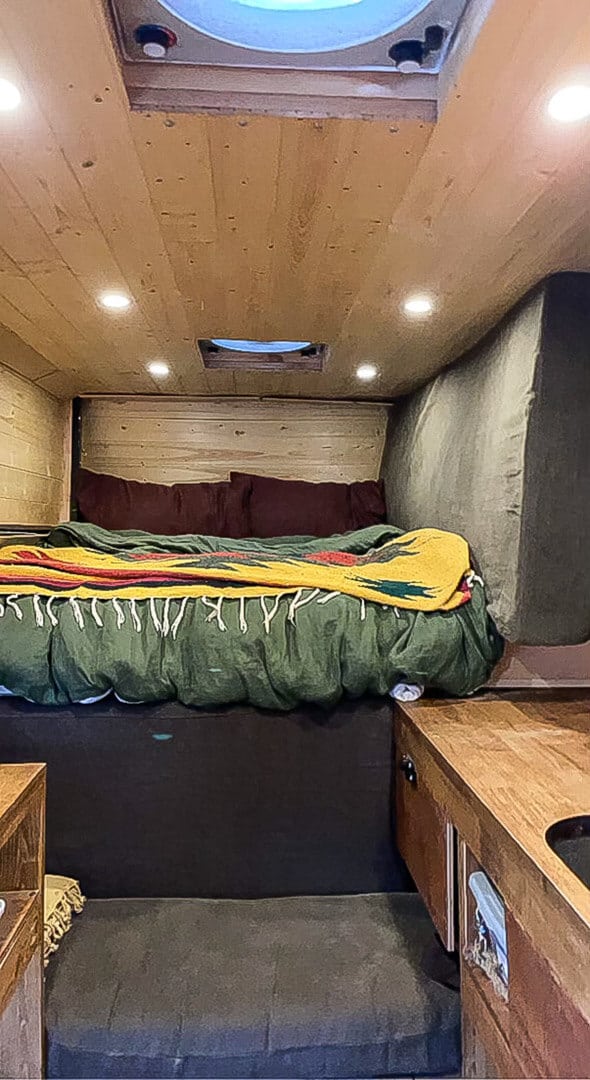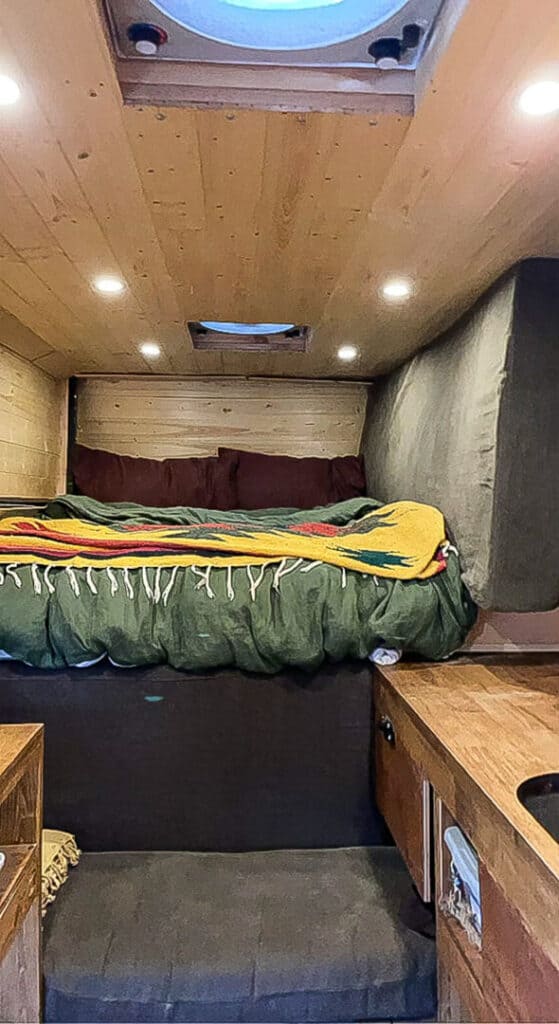 Pros of North-South Orientation
Fairly standard in a camper van conversion
Allows for semi-convertible bed options
Lets you get in/out of bed without disturbing a partner
Cons of North-South Orientation
Takes up more space than other camper van bed ideas
However, you may also option to design your camper van bed so that you sleep perpendicular to the length of the van, or what we call an "east-west" orientation. This works quite well if you are not over 6 feet tall (which is not true in our case!), if you opt for the Dodge Promaster (which has a few extra inches in width over its competitors) or if you elect to install bump-outs on each side wall in the rear of the van.
Pros of East-West Orientation
Saves space
Great for smaller people
Works well for Dodge Promaster owners
Cons Of East-West Orientation
May require you to crawl over your partner in/out of bed
May need to add bump-outs to add extra space in the width
OUR TAKE: We are all about making the most of what little space a camper van conversion allows. The bed design decision in itself makes us naturally lean toward the wider Dodge Promaster. However, we would also not hesitate to consider adding bump-outs to a different van in order to be able to sleep east-west and have extra living space inside of the van.
Bed Preparation
How much time do you want to spend getting the bed ready to sleep, or preparing the camper van to be ready to leave your camping spot? This is an important factor that will help you decide between different convertible bed ideas versus a more permanent campervan bed design.
OUR TAKE: Call us lazy, but we're not fans of having to have the bed every morning just to be able to start our day. Convertible beds like a Murphy bed, futon-style, drop-down/lift bed and convertible dinette all require extra steps to prepare the bed to convert for day use inside the van. However, with more permanently installed platform beds you can leave the bed in the morning and not touch it throughout the day until it's time to crawl back in at night.
Comfortable Fit
There is no sense in adding a bed design to your camper van conversion that is not comfortable. Just because vans offer little living space doesn't mean you have to sacrifice comfort when it comes to sleeping space. In fact, we have friends who built their entire van around the idea that sleep was the #1 factor in everything they did.
Even if you can build a pretty affordable bed that takes up little space if you're not comfortable in it and don't find that you sleep well then you're not going to enjoy van life very much. Be sure to leave room in your design for a comfortable mattress.
Although we used to relish the idea of sleeping on the ground when hiking, these days we don't sleep on anything less than an 8-10″ thick memory foam mattress.
OUR TAKE: We consider a good night's sleep incredibly valuable and put much consideration into which campervan bed idea will offer the most comfort without having unrealistic costs or space considerations. Plus, we know we'll always invest in a higher-quality mattress that will also take up a fair amount of space but deliver us the sound sleep we're after.
How Much Space The Bed Takes Up
Your bed will likely take up more space than anything else in your camper van conversion. How much space it takes up is up to you. This is why there is so much debate over which camper van bed design is best.
You'll want to consider whether having a platform bed with ample storage space beneath it justifies its permanent space. Or would it be better to have a convertible dinette bed design so the bed takes up virtually no space until you convert the dinette into the bed at night?
Space in a camper van is always at a premium, so if you decide to allow a large percentage of the space to remain in place as a bed throughout the day then you will want to make the most of the other space.
The largest conversion length for any campervan is 189″ and a full-sized mattress, such as a queen-size, is 80″ in length, which is over 40% of the total length you have to convert IF you opted for the longest wheelbase Mercedes Sprinter extended-length model.
Try fitting that inside a standard-sized Ford Transit or Dodge Promaster, let alone a Nissan NV, and you're talking about potentially well over 50% of the living space dedicated to your bed design.
OUR TAKE: We would recommend nothing smaller than a short queen memory foam mattress for all couples and most single van dwellers. At 60″ wide by 74″ long it is plenty of space to sleep comfortably. That said, we lean heavily toward a platform bed that is potentially partially convertible because we feel like the permanence of the bed platform allows for ample storage underneath the bed. And if you convert 1/3 of the bed as a pull-out bed, you can have the additional mattress portion double as a cushion against the back wall, side wall or for a sitting area or bench seats in front of the bed.
Headroom / Clearance
Headroom is everything to us in a camper van conversion. This applies to the van bed design as well. We've met a few people in van life who designed a seemingly perfect campervan conversion only to find that they didn't measure the platform bed AND mattress thickness.
So while they had extra space for storage in the garage beneath the bed platform, by the time they put their 8-10″ campervan mattress in place they were just inches from the ceiling or side cabinets!
Convertible beds are not likely to give you any issues with headroom/clearance. But if you're leaning toward a platform bed in your camper van conversion then you should not forget about the thickness of the mattress and how high the bed space will become once you assemble the whole bed.
OUR TAKE: Like most people, we want to be able to open the back doors of our van to enjoy the views at sunrise/sunset while lying in bed. So we'd likely opt for a platform bed 9.9 times out of 10. But we also have a lot of outdoor gear we'd want to store in the garage along with things like our water tank and power center. So the old expression "measure twice, cut once" definitely applies to any van we would convert.
Types of Campervan Bed Options
Although there are all sorts of names given to different camper van bed ideas, we've found that there seem to only be 7 different bed types. Of course, the floor plan of your own campervan conversion is entirely a matter of personal preference and you may or may not put as much consideration into planning your camper van bed design as other parts of the van.
But now that we've gone over what to consider when searching for the best campervan bed design, we'll cover each bed type and give you our take on why each particular option may be great, or not so great, for you!
Fixed Platform With Garage
The platform bed seems to be the most common type of camper van bed idea out there. Not only does it simplify the look and function of the van by being permanently installed, but also it simplifies the build process. There are not likely to be many snags that you hit when designing and building platform beds.
Once you take note of the headspace you'll have with whichever mattress you choose and your account for how much storage space underneath the bed platform you want it is simply a matter of building the wooden frame, slapping a piece of wood across the platform and then sliding in the mattress.
Of course, there are complicating factors that may arise – particularly if you do want to get creative with this camper van bed design. We've seen semi-convertible platform beds where the front 1/3 of the bed pulls out when needed at night and slides back beneath the bed during the day. And there are other nifty designs that may make use of your counter space to support a platform bed.
But when it all comes down to it, a platform bed is simple to design and is always ready for you to climb into. Whether you choose to have the bed made daily or not is entirely up to you!
WHY WE LIKE THE PLATFORM BED DESIGN:
Permanently in place
Allows for additional storage beneath the bed
Can be designed for east-west orientation OR
Can have a portion of the bed convertible to not take up as much space throughout the day
WHY WE MIGHT NOT GO THIS ROUTE:
Takes up quite a bit of space
Not the best for hosting guests
Needs to account for airflow beneath the mattress
Convertible Dinette / U-Shaped Bench / Table Bed
The next and equally popular camper van bed design is the convertible dinette, "U-shaped bench," or "table bed" as some call it. As a convertible bed, the dinette stays in place during the day. You can use the dinette during the day with a table that allows you to use your living space as an office and dining room.
However, when it is time for bed you simply lay or insert the tabletop into the middle of the dinette. The bench cushions in the seating area now double as your mattress and the dinette is now in bed mode and ready for sleep! Thus the table converts to part of the bed and it receives its common name of a table bed.
WHY WE LIKE THE CONVERTIBLE DINETTE:
Maximizes two functional rooms – living/dining room and bedroom
Relatively easy to design and build
Takes little effort to convert
WHY WE MIGHT NOT GO THIS ROUTE:
Takes time to convert the bed to/from the dinette
Requires making the bed and stashing linens and pillows somewhere
Doesn't leave a lot of room for storage
Can't have both a bed and a sitting area at the same time
Pullout/Futon
A pullout bed could take several different forms, depending on your overall camper van conversion design. Essentially some part of a bench seat pivots or folds down to turn into a van bed. There are examples where two opposing benches fold up and pull out like a futon to create one continuous bed.
And with other examples, you may just have one futon-like bench where the top folds and converts into a bed. In either case, you'll likely use a standard futon mattress because it will double well as both a bench cushion and a bed mattress.
WHY WE LIKE THE PULLOUT/FUTON BED:
Space-saving design
Quick and easy to convert
Storage area beneath the bench
WHY WE MIGHT NOT GO THIS ROUTE:
Can be challenging to design and build
Requires that you make the bed each day
May have only a small storage area beneath
Murphy Bed
A Murphy bed can be an incredibly practical bed idea for your van if you are looking to save room throughout the day and don't mind making your bed each night. Essentially a Murphy bed folds up vertically against the wall when it is not in use.
And when you are ready to make the bed, it folds down and perpendicular to the wall. When folded against the wall it may only take up as much thickness of space as your existing cabinets and counters making the entire van feel quite open and streamlined.
Then when you need the bed, which is usually around 1/3 of the time, you fold it down and make the bed.
WHY WE LIKE IT:
Murphy beds are space-savers for the van living area when not in bed mode
Take little time to convert
WHY WE MIGHT NOT GO THIS ROUTE:
Challenging to design and build
Must make the bed before putting it up
Remove a lot of permanent storage options
Sliding Bed/Couch Slider Bed
Slider beds offer creative and practical ideas for making the most of a small campervan. We built a sliding bed/couch combination in our last RV based on the functionality of having both a place to sit during the day and to lie down at night.
They can be a little tricky to design, as there are some moving parts that may require a little trial and error. However, like the convertible dinette, you save a lot of space by making the sofa and the bed the same thing.
On the downside, there are no standard campervan mattress sizes that fit these kinds of bed designs perfectly. You'll almost always end up with two or more separate seating area cushions where one is stored vertically against the side wall and the other acts as the bench seat cushion.
However, when combined you may find the crack between the two cushions a bit annoying.
WHY WE LIKE THE SLIDING BED:
Relatively quick and easy to convert
Saves space by having both bed and couch in one place
Can store lots of things beneath the bed/sofa as well
WHY WE MIGHT NOT GO THIS ROUTE:
Requires some additional planning with moving parts
Have to make the bed every night
May not like the gap between mattress cushions
Drop-Down / Lift Bed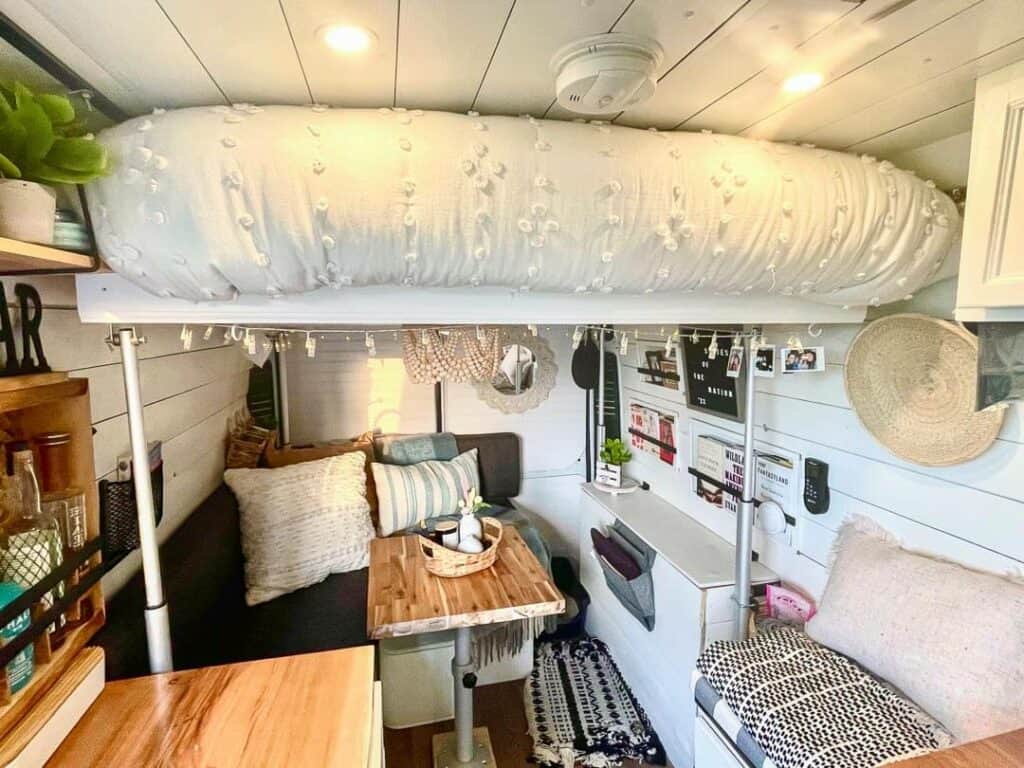 Although quite rare, the drop-down bed is catching on with those people in van life who truly believe that out of sight is out of mind. With these kinds of campervan bed ideas, the bed is connected to a lift system (usually pulleys or mechanical motors) where you can lift it up to the van ceiling when not in use and lower it down when it is time for bed.
As you can imagine, they can be a real challenge to design and install. But if you're looking for wide-open living areas during the day then this van bed design may be perfect for you. This is a great example of a DIY install you can do.
WHY WE LIKE THE DROP-DOWN OR LIFT BED:
Opens up the van living area tremendously
Easy to raise/lower with the touch of a button
WHY WE MIGHT NOT GO THIS ROUTE:
Difficult to design and install
Moving parts tend to break
Have to make some part of the bed daily to allow it to lift and store properly
Doesn't leave much room for storage
Bunk Beds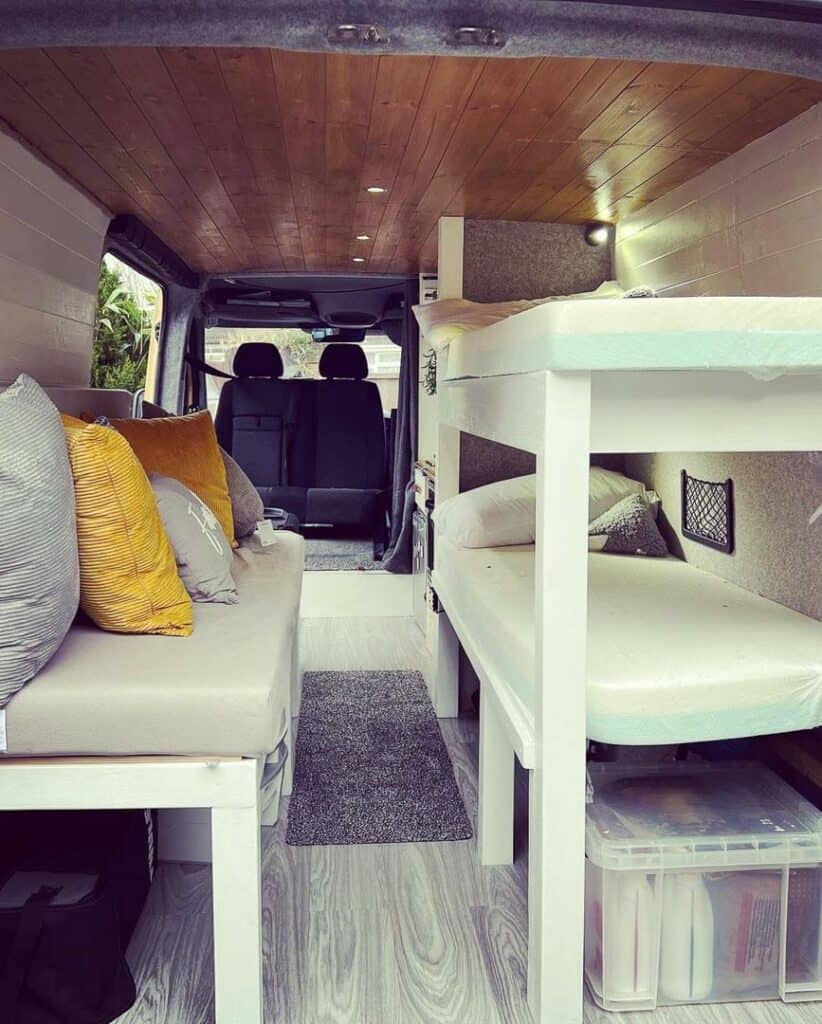 Bunk beds were all the rage as kids. And if you have kids, they may still make for the best sleeping arrangement in your van. But if you don't have kids, unless you or your partner have cooties, bunk beds are not the most practical idea.
You can, however, make the most of bunk beds by building them either permanently in place or having bunk beds that fold out of the wall. But installing a bunk bed or two in your van may not work well if you are claustrophobic or if you need more space to sleep.
A bunk bed is likely not going to be wider than a twin or a full-size mattress at best unless you custom build the bunk bed otherwise. And while they may fold away pretty well, you're likely to lose out on a bit of storage space as well.
WHY WE LIKE BUNK BEDS:
Space-saving
Doesn't take long to set up/break down
Accommodates more people in the van
Can be permanent or convertible
WHY WE MIGHT NOT GO THIS ROUTE:
Can't store larger items
Not as convenient or cuddly for couples
Can be challenging to design, build and install
Campervan Bed Accessories and Options Not To Forget
Once you've made the decision on which campervan bed design works best for you, you will want to consider a few bedroom accessories that will make sleeping in your own bed more comfortable. Here are a few of the top things to consider as you prepare to build and move into your campervan conversion.
Add Flares or Bumpouts
Bumpouts or flares are excellent ideas to add a little extra room to your van's bedroom. If you have chosen a van other than the Dodge Promaster, you will find that the width of the van is not wide enough to allow most people to sleep lengthwise in the east-west orientation.
But flares, or bump-outs, allow you to replace the side panels of your van with one that bumps out a few inches. Although a few inches may not seem like much, it is enough to allow you to fit a queen-size mattress sideways in the van, offering many more choices for your bed design and giving you much more living area for your van kitchen, bathroom or other things that will take up space.
If you are mechanically inclined you can install flares yourself. Or you can hire a professional to assist you with this somewhat challenging task. Of all the flares on the market, the one that is dominating van life for its quality and range of products is Flarespace. Be sure to look into their product line more if you're interested in those extra few inches!
Pick A Comfy Mattress
You can have the perfect campervan bed design and add the most uncomfortable mattress to completely cancel out the brilliance of your planning. We've lived too long and have learned to appreciate the value that a great night's sleep contributes to all the other aspects of life.
While you may think that you'll be fine sleeping on a Thermarest sleeping pad, the reality is you should invest in a decent mattress for your camper van conversion.
| | |
| --- | --- |
| Mattress Size | Dimensions (W x L) |
| Twin | 38″ x 75″ |
| Twin XL | 38″ x 80″ |
| Full | 54″ x 74″ |
| Queen | 60″ x 80″ |
| Short Queen | 60″ x 74″ |
Depending on which bed design you choose, you may want to look for different kinds of campervan mattresses.
Platform beds are straightforward and any correctly sized mattress will do
Table beds can use a standard mattress that you cut into the required pieces
Pullout/Futon beds can use a standard futon mattress
Murphy beds can use a standard mattress but pay attention to the thickness
Sliding bed will use a standard mattress that you cut into the required pieces
Lift beds can have a standard mattress size as space permits
Bunk Beds will likely be twin or perhaps full-size mattresses at best
We also recommend gel-infused memory foam mattresses in whatever size you need for your van bed design. They ae comfortable and easy to cut into whatever shapes you may need. But there are more options out there too.
Here are a few that we recommend you consider, depending on the type of bed design you select for your conversion.
Zinus 6 Inch Green Tea Memory Foam Mattress
This memory foam mattress is super-affordable and comfortable. You can select from a range of thicknesses, between 6″ and 12″, as well as sizes to find the perfect fit for your campervan bed design.
It supports up to 500 lbs of weight and comes with a 10-year warranty, likely to outlive your time in van life!
Milliard Tri-Folding Memory Foam Mattress
This tri-fold mattress would work well for a variety of van bed designs depending on how many pieces you require and how well you design your bed.
You can custom-cut these if needed. Or cut them into thirds as they are designed. And if you have a table bed or pull-out bench bed then you may be able to use this mattress with no modifications.
DISCLAIMER: Some of the links in this article are affiliate links, which means if you book accommodation, tours or buy a product, we will receive a small commission at no extra cost to you. These commissions help us keep creating more free travel content to help people plan their holidays and adventures. We only recommend the best accommodations, tours and products that ourselves or our fantastic editorial team have personally experienced, and regularly review these. Thanks for your support, kind friend!