Best Adventure Travel Gear For Women
After 15 months of backroads, tiny villages, highways, and cities, I've come to know exactly what stuff in my bags is essential, and what is just dead weight. For women on the road, there isn't a lot of useful info out there, especially when it comes to adventure travel. In my experience, these are the best adventure travel gear for women you shouldn't leave home without.
A Pull-Over Skirt
One of the three pairs of padded bike shorts I bought for the trip was a Gore bike skirt. It didn't take long to realise that the padding inside was way too thick and bulky for long-distance riding. It was hot and rubbed in all the wrong places. So, for a while, I never wore it. Finally, I decided to cut out the shorts and just keep the skirt, which is light enough to pack up tiny and dry almost instantly.
Since I did this, I've been wearing it everywhere.
If you're a cyclist, you can pull it over your bike shorts if you feel like you're ass is getting a little too much attention in your lycra. Everyone else can wear it over full-length leggings for a cool day in the city, or wear it alone as a skirt on hot off-biking days. In Southeast Asia, especially the more conservative Muslim areas, I wore it almost every day.

If I had to do it again, I'd get one that's a little less sporty, so it could be used on dressier occasions. A little longer to give me a touch more modesty, and with pockets, so I could carry a few essentials while wearing it. Finding this ideal skirt would probably be impossible though. Maybe I should design one myself?
Most useless piece of clothing? The Nuu Muu I bought. Too short to wear as a dress, too skimpy to wear in cold weather, too sweaty and thick to wear when it is hot. Save your dollars.
Whiz Freedom
Ladies are at a severe disadvantage when it comes to on-the-road peeing. This is especially true in Asia, where finding a roadside without gangs of locals all wanting to stare at the foreigners on bikes is next to impossible, and public toilets are rare. If you don't want your round white moon becoming the talk of the town, get yourself a Whiz Freedom, which opens up all kinds of peeing possibilities you never had before.
In case you don't know, the Whiz Freedom is one of a handful of stand-up peeing devices on the market for women. It's a little plastic funnel (made of moisture-repelling, antibacterial material).
I have used it on many roadsides, behind a tree, in the ditch, and once or twice right out in the open. Paired with the skirt above, you can pee almost anywhere without revealing any flesh at all!
It also comes in handy when you're confronted with the disastrously dirty public facilities around the world, or if you just can't face using yet another squatter.
Just make sure you try it out before you leave home. It takes a little practice to learn to pee standing up without getting wet.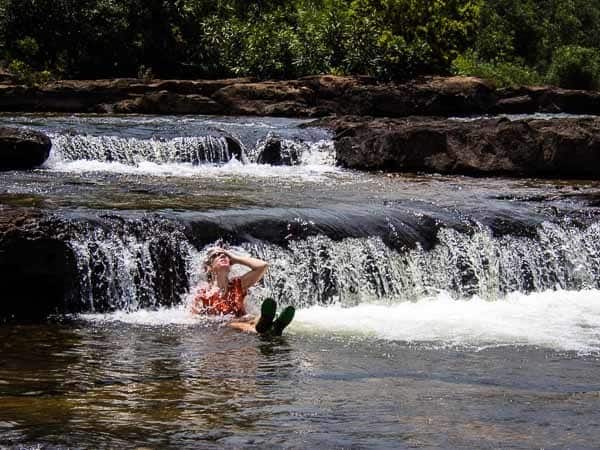 Menstrual Cup + Reusable Pads
Time to get down to the nitty gritty. What do you do when it's that time of month? This is especially tricky for cyclists, but a universal problem for female travellers. Disposable pads are inconvenient and uncomfortable when you're on a bus or motorbike, and downright impossible when you're cycling. It's pretty tough to rely on tampons when you can't rely on getting to a toilet the minute you need one.
Enter the menstrual cup. Like the Whiz Freedom, this is another little silicon device I will never ever go travelling without. It's also a device you need to practice with before you leave home. But once you get the hang of it, it's a lifesaver.
You can leave it in longer than tampons, and there are no leaks. I'll admit, it's not the easiest thing to deal with when you're squatting in the woods with filthy all-day cycling hands, but usually that's not an issue, since you don't often need to empty it in the middle of the day.
Also, it's always there when you need it, so you'll never be caught without supplies in some village where you don't speak the language and there's no drugstore for miles around.
Finally, and most importantly, it eliminates the garbage from your monthly cycle. More convenient, cheaper, and no waste? Even if you're not a traveller, you should get one.
I also carry a few reusable pads. They are nice to have for off-bike days, evenings, and night-time, when you might not want to fuss with a cup.
Go Gear Travel Tube & Snapware Soap Dish
OK ladies, let's talk make-up and toiletries. What are you using regularly at home right now? Shampoo, conditioner, soap, cleanser, mascara, lipstick and all other kinds of powders, lotions, and beautifying agents… That just ain't gonna cut it on the road.
Instead, you need just two things. A bar of natural soap and a bottle of grape seed oil.
Anything that needs to be washed – hair, body, clothes, water bottles, dishes – can be washed with your soap. To carry it, don't buy a special over-priced travel soap dish. Instead, get a soap-sized food container, with a leak-proof lid. Snapware makes a good one.
Grape seed oil covers all of your moisturising needs, from cracked dry feet to chalky elbows and sun-scorched lips. If you're really dry, you could use coconut oil instead, but it's usually more expensive. Even so, it's still far cheaper and far less chemically than any brand-name moisturiser on the market.
I put my oil in the 3oz Go Gear Travel Tube. After 15 months, the only leak I ever had was the time I didn't snap the lid shut properly. Oops. Minor oil spill. You just need a few drops at a time, so my 3oz of grape seed oil lasted about 3 or 4 months. I bought a replacement bottle in Europe somewhere. Sadly, I couldn't find grape seed oil in Asia, so had to revert back to using commercial moisturiser for the final few months.
If you are embarking on a long trip, and have any questions for me about how I handled girly issues on the road, please shout. I'll be happy to help.
For the guys, it's important to find the best gifts for women, especially if they are the adventurous type. Hope this list helps out.