If you're planning a long weekend trip to the Windy City and aren't quite sure what to do, keep reading for our epic 3 days in Chicago itinerary!
While Chicago is the 3rd-largest city in the US, it's often overlooked by travellers who jet for one of the coasts.
In my opinion, Chicago is the best city in the country. New York and LA are great and all, but I'll gladly take the friendly Midwestern vibe of Chicago instead.
Situated on Lake Michigan, the Chicago skyline is one of the most beautiful in the world. After all, it was here that the first skyscraper was built in 1885!
There's so much going on here that you could spend a lifetime there and never run out of things to do.
With a solid Chicago itinerary, you can definitely check out the best of the city in 3 days. Let's get to it!
How to Spend a Perfect 3 Days in Chicago Itinerary
Our 3 days in Chicago itinerary includes:
Millennium Park
Shedd Aquarium
Skydeck Chicago
Field Museum
Adler Planetarium
Art Institute of Chicago
360 CHICAGO Observation Deck
Navy PierMuseum of Science and Industry
Ferris Wheel
Crown Fountain
Cloud Gate
Willis Tower
Grant Park
Magnificent Mile
Lincoln Park
Looking for more awesome things to add to your Chicago itinerary? Be sure to read our guide to the best things to do in Chicago!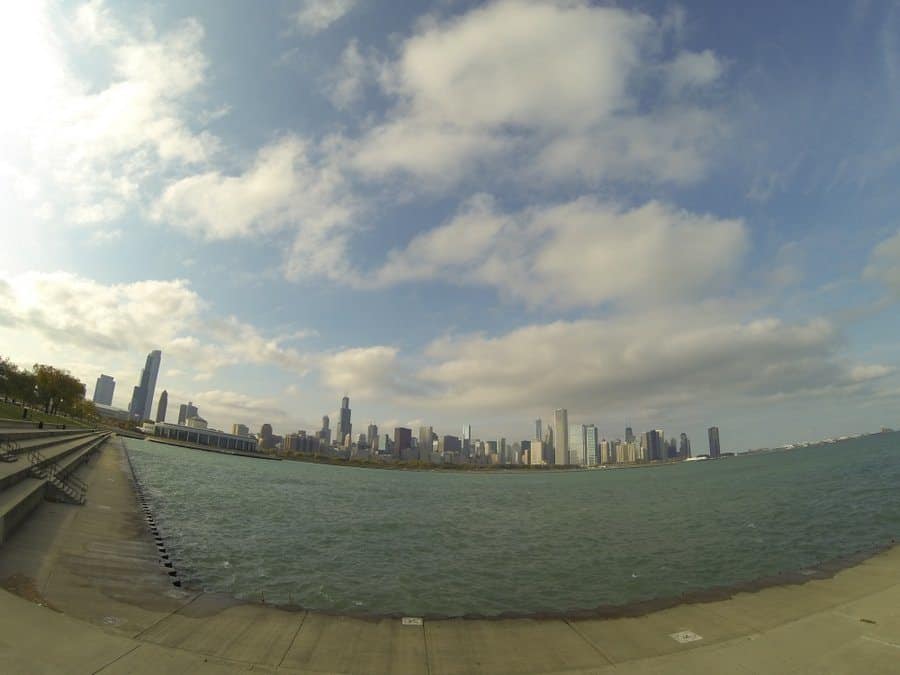 Travel Tips for Visiting Chicago
When to Visit Chicago
The first step in figuring out what to do during your 3 day Chicago itinerary is planning when you'll visit.
Winter in Chicago can be painfully cold, which can definitely put a damper on your trip. Unless you enjoy frigid temperatures and cold, biting wind, I recommend skipping out on December-March.
Your best bet is to visit Chicago between May and October. It gets hot and crowded in the summer, but there's so much going on that it's worth dealing with those minor inconveniences.
Read Next: Don't miss out on the best Chicago day trips!
Chicago CityPASS
Another huge tip I have before you visit Chicago is to purchase a Chicago CityPASS.
Essentially this is just a multi-use ticket that actually saves you a bunch of money (50% to be precise!) on many great Chicago attractions.
You buy the pass for USD$109, and it includes access to the following:
Shedd Aquarium
Skydeck Chicago and
Field Museum
Adler Planetarium or the Art Institute of Chicago
360 CHICAGO Observation Deck or the Museum of Science and Industry
Best of all, those entrances are mostly express or premium tickets included with the CityPASS, meaning it not only saves you money but saves you time as well.
We highly recommend you pick one up when using our Chicago itinerary to make the most of your time in the city.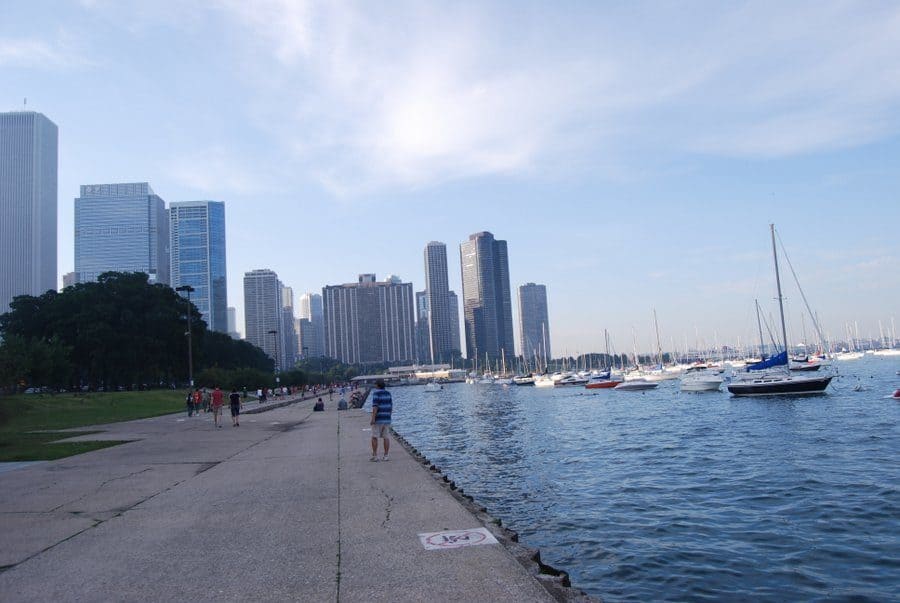 Getting Around Chicago
Thankfully, getting around Chicago is a breeze thanks to the CTA network of train and bus lines. Chicagoans refer to the train as the "L" because it's mostly on "el-evated tracks."
If you're spending 3 days in Chicago, your best bet is to just pick up an unlimited CTA pass. These cost $20 and are added to a Ventra card.
You can pick up a Ventra card at vending machines for $5 and it's credited back to your account after you register the card. Read all about getting around Chicago on the CTA website.
You can count on the CTA getting you as far south as the Museum of Science and Industry all the way north to Lincoln Park.
Or consider jumping on and off the open-top bus that will take you all over the city!
In the city center, lots of Chicago attractions are all within walking distance as well.
Now that some of the logistics are taken care of, let's get this show on the road for your 3 day Chicago itinerary!
Day 1 – Morning
For day 1 of your Chicago itinerary , you'll need to hit the ground running if you want to maximize your time.
Get a nice early start, crush a substantial breakfast and some coffee, and get ready to rock.
Loop Walking Tour
The best way to kick-off your Chicago itinerary is by taking a walking tour of the Loop. This area of downtown is where you'll find a majority of the sights in Chitown.
You have several options for exploring the Loop. If you enjoy meeting people and getting the insight of a local guide, you can sign up for one of the many options with Free Tours by Foot.
If it's your first time in Chicago I suggest joining their 10 AM tour of the Loop and Millennium Park. Or if you're really into architecture, check out their 10:30 Birth of the Skyscraper tour. Both are excellent options!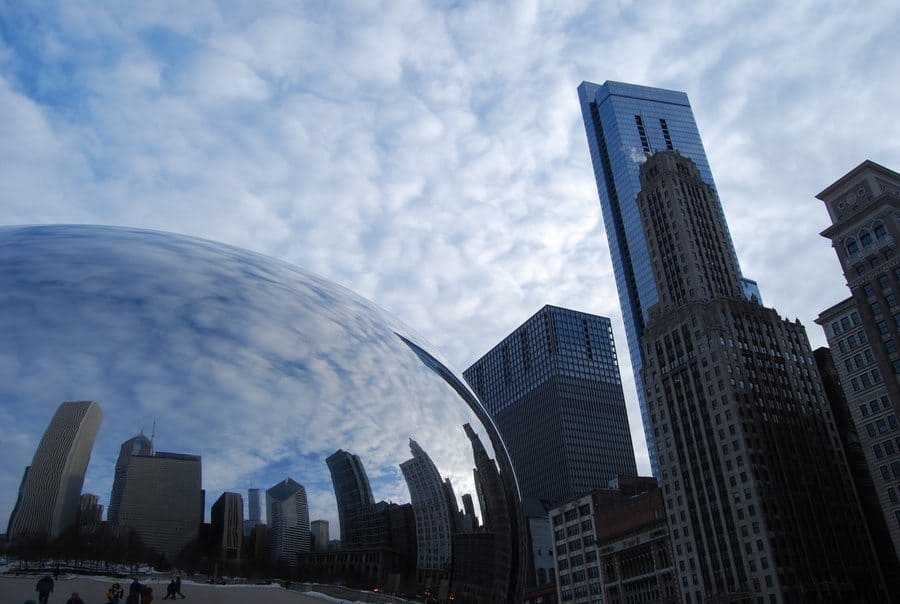 Those who prefer a DIY approach can check out the many self-guided tours of Chicago from MetroWalkz. This Architecture/Loop tour makes for a fantastic introduction to the city and is pretty easy to follow.
Whichever option you choose, you'll get to see some of the most iconic places in the city in just a few short hours. A few of the highlights include the historic start of Route 66, the great Chicago Theatre.
READ NEXT: While you're exploring the Midwest, be sure to check out the best things to do in Minneapolis, Minnesota!
Day 1 – Afternoon
At this point, the order in which you do things depends on which type of tour you chose. You can be flexible, as it's a short walk between the next couple of destinations.
Before we move along with the 3 day Chicago itinerary, it's time for lunch! If you're down in the Loop and you want to try a local favourite, the choice is easy…
Chicago Hot Dog
There are countless restaurants to choose from in the Loop, but you don't want to travel all the way to Chicago to get stuck eating at some overrated chain or overpriced tourist trap.
Al's is a classic local joint serving up the famous Chicago style hot dogs and their specialty Italian beef sandwiches.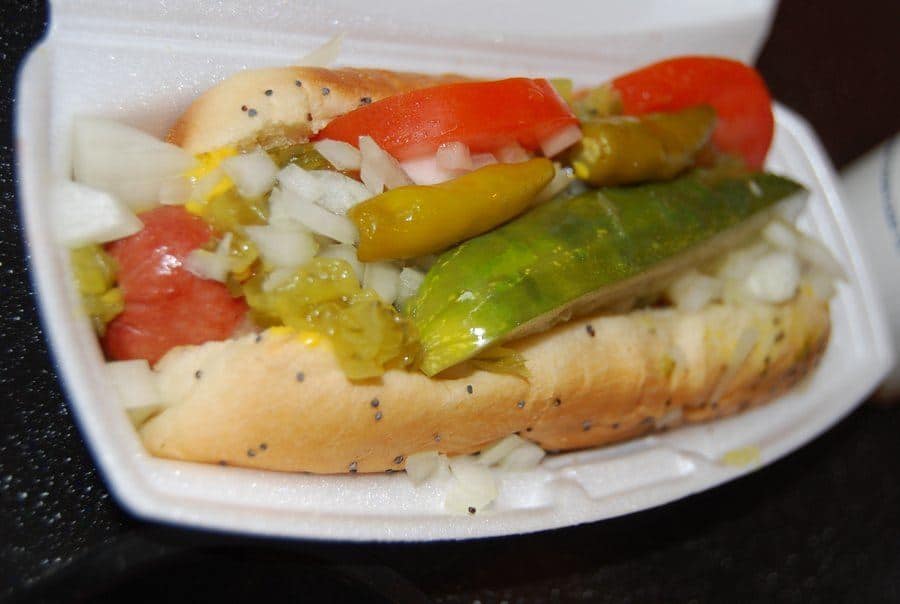 One thing to know, a Chicago dog is an all-beef dog on a sesame seed bun. It comes topped with tomato, chopped onions, pickled peppers, relish, a pickle spear, and yellow mustard. Quite simply put, it's heaven on a bun.
I would be remiss if I didn't also mention Portillo's. They also make one of the best Chicago style hot dogs out there.
While they're a bit out of the way for today's itinerary, keep them in mind if you're craving another hot dog during your 3 days in Chicago (and trust me, you will).
Read More: Spending time exploring the Midwest? Be sure to check out our post on all of the best things to do in Kansas City!
Millennium Park
Even if you visited on your walking tour, it's worth it to double back to Millennium Park for further exploration.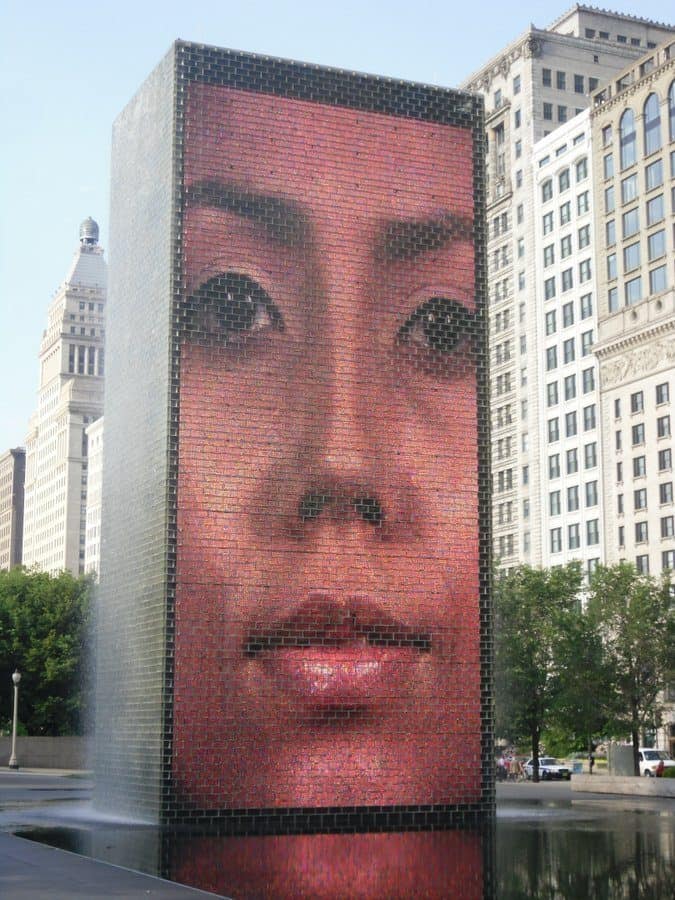 There's a lot of cool stuff to see here, including the Crown Fountain and the Cloud Gate.
The latter is commonly referred to as "The Bean" and is one of Chicago's most popular places to take photos in the city. Don't forget to snap that quintessential Chicago shot for the 'gram and keep on moving.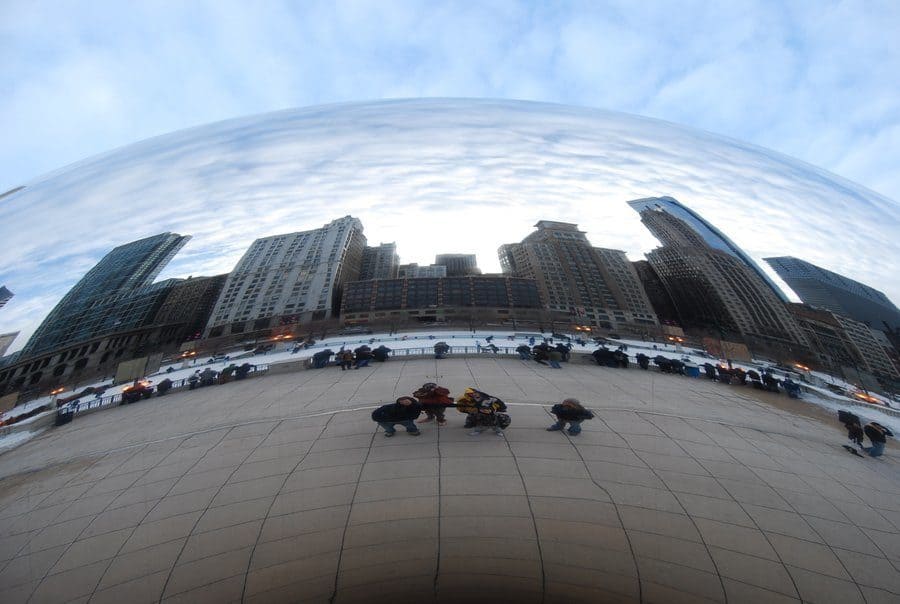 Other Chicago attractions you must see in Millennium Park include the Jay Pritzker Pavilion, the BP Pedestrian Bridge, the Chicago Cultural Center, and the Lurie Garden.
You can easily spend a couple of hours in Millennium Park, especially on a nice day.
Buckingham Fountain and Grant Park are within this same area as well if you want to keep exploring on foot.
Art Institute of Chicago
While there's plenty of amazing public art in the Loop, you can't top the collection at the Art Institute of Chicago. Art lovers will definitely want to include this on their 3 day Chicago itinerary.
Tucked away on Michigan Avenue on the south end of Millennium Park, the Art Institute of Chicago has a seriously impressive collection here and there are always new exhibits featuring modern and contemporary art.
Make the most of your Chicago CityPASS to gain fast entry into the Art Institute of Chicago.
The museum is open daily from 10:30 AM to 5 PM and stays open until 8 on Thursdays.
Day 1 – Evening
Before the day turns into night, it's time to hustle over to your next destination of your 3 day Chicago itinerary. Try to time it just right so you make it there about an hour before sunset. Trust me, it's worth it!
Willis Tower
Whether or not you hit the museum, your next stop should be the Willis Tower. This is one of Chicago's most iconic skyscraper in the city that invented them!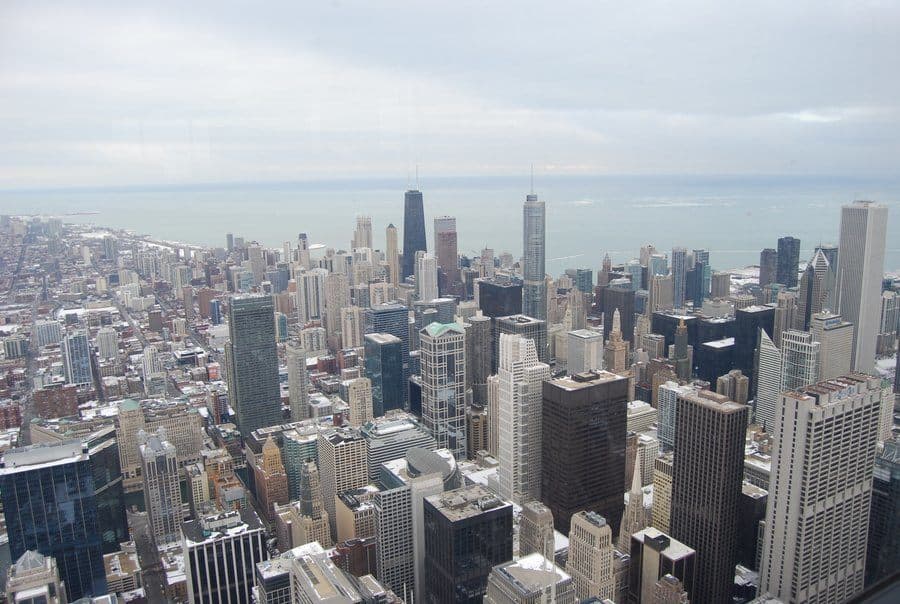 Formerly known as the Sears Tower, this was the tallest building in the world for 25 years. It stands at 442 meters (1,450 feet) tall and is currently the 2nd-tallest building in the US.
If you plan to visit Chicago in 3 days, you definitely need to check the Willis Tower off your to-do list.
Head to the 103rd floor to access the Skydeck Chicago and step out onto "The Ledge" – a glass balcony that lets you look straight down. You'll want to see views of the city from this spectacular perspective!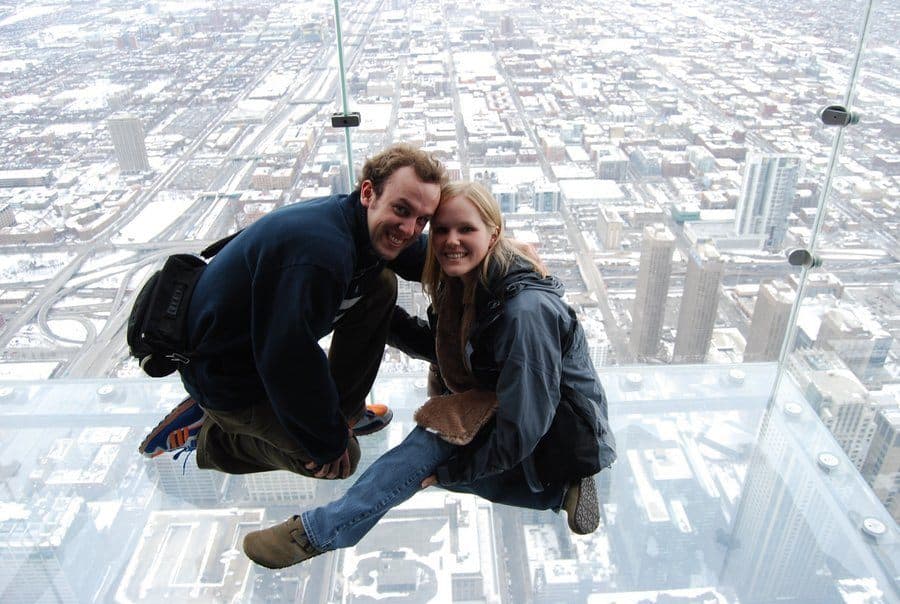 Don't forget, the best time to go to the Willis Tower is just before sunset. It stays open until 10 PM from March through September and tickets cost $25 for adults and $17 for children.
Once again though, no need to pay extra for a ticket, because the entrance to the Skydeck Chicago is included with your CityPASS.
Dinner and Drinks
To celebrate making it through a massive day 1 of the Chicago itinerary, it's time for dinner and drinks! When it comes to wining and dining, the world really is your oyster in the Loop.
After such a big day, you may want to call it a (somewhat) early night. We've still got a lot of ground to cover with this 3 days in Chicago itinerary! Of course, if you want to go out and rage, go for it!
Day 2 – Morning
If you don't have breakfast included at your hotel, I highly advise you to start day two off at Yolk's South Loop location.
This is the perfect spot to load up with a big breakfast and coffee before another big day in the city. Go ahead and carb up – there's going to be a lot of walking today!
Museum Campus
After breakfast, walk across the street to check out Agora – a sculpture composed of 106 headless figures.
Keep walking east towards Lake Michigan to reach the Museum Campus. Here you'll find the Field Museum, Shedd Aquarium, and the Adler Planetarium.
With just 3 days in Chicago, you'll probably want to just visit one. Having been to all three, I'll cast my vote for the Field Museum.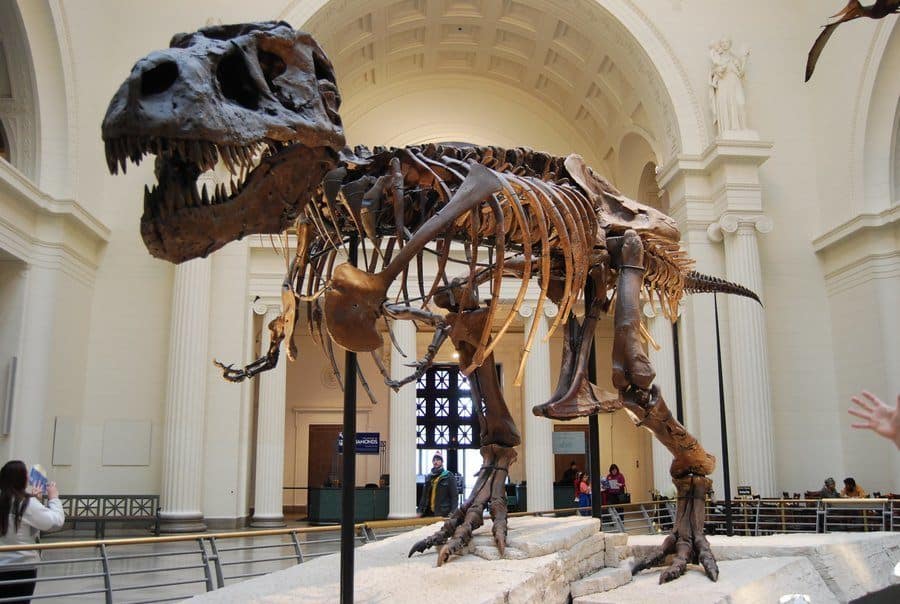 There are so many cool exhibits at the Field Museum and they're always changing.
At the moment, they have: Inside Ancient Egypt, Bird's of America, and Brewing Up Chicago, among others. Check their website to see what's going on before you visit.
Tickets for the Field Museum cost $26 for adults and $19 for children for basic admission.
If you got the CityPASS, your admission is included in all three, unless you hit the Art Institute on day one. If you've got the pass, you might as well hit the aquarium as well.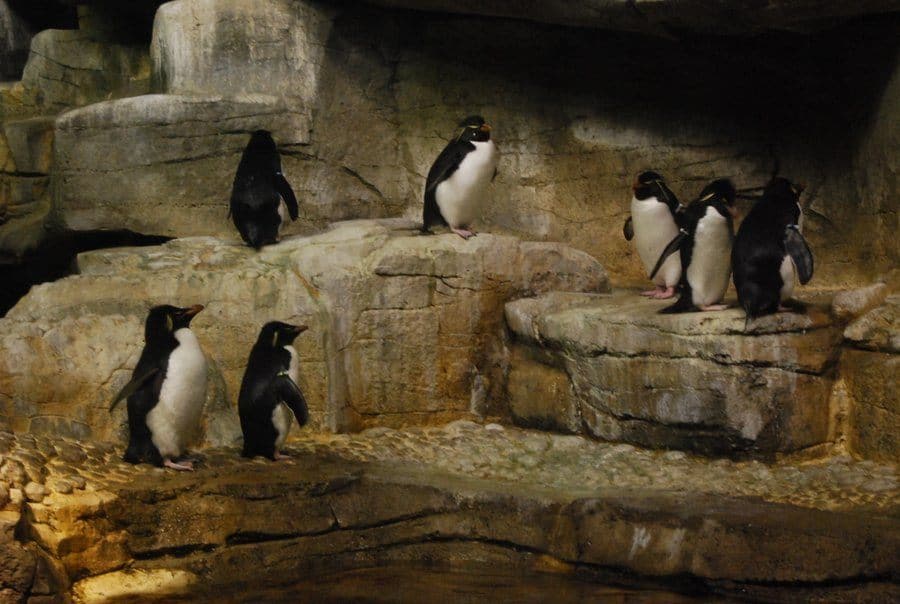 To be honest, the aquarium is pretty sweet. Even if you don't have the CityPASS, you should probably try to squeeze it in.
Tickets are $40 for adults and $30 for kids and you'll definitely get your money's worth.
Day 2 – Afternoon
There are a few cafes and food stands around the museum campus, so go ahead and grab a snack and a drink before powering on.
This is one of those days where it's best to have a big breakfast and dinner and just graze during the day. When you're trying to cross off so many things to do in Chicago in 3 days, you gotta keep moving!
Grant Park
The museum campus is the southern part of Grant Park. Known as "Chicago's Front Yard," this massive green space is to Chicago what Central Park is to NYC.
Take a stroll through the park to see such landmarks as the Buckingham Fountain, the Rose Garden, and the Seated Lincoln Statue. There are plenty of benches if you need to sit down and chill for a bit.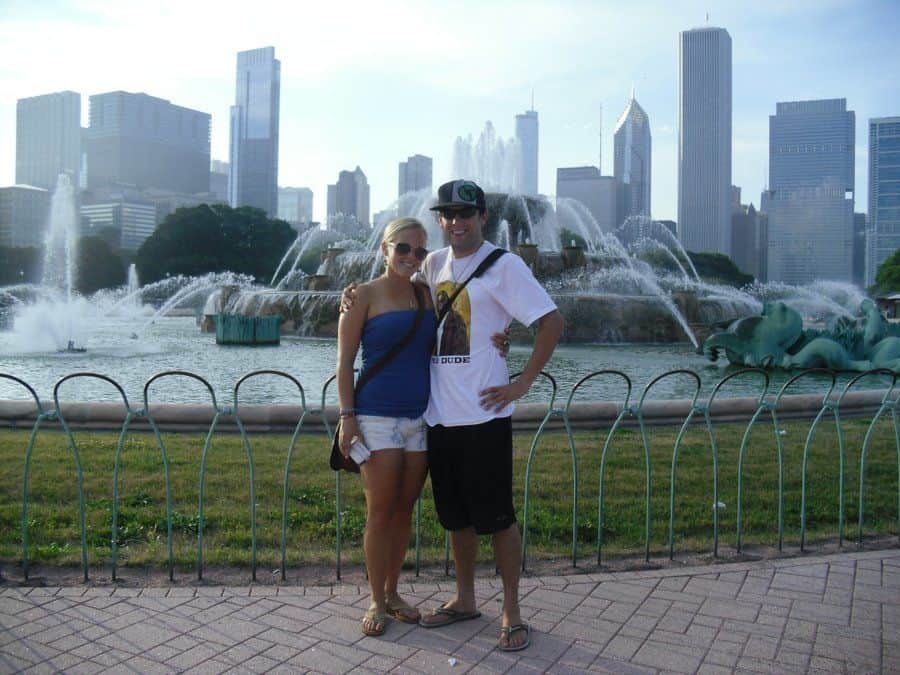 Grant Park also hosts some of the biggest events in the city, such as the Taste of Chicago and Lollapalooza.
Some are free and others cost hundreds of dollars, so be sure to check the calendar of events to see what's happening before you book your trip.
Riverwalk or River Cruise
Hug the coast and keep walking north along the Lake Michigan until you reach the Riverwalk. This scenic pedestrian path along the Chicago River is the perfect place for a leisurely stroll.
If your feet are feeling a bit tired from all the walking, you can enjoy the spectacular Chicago architecture on this fantastic river cruise instead.
Taking in the sights along the Chicago River is definitely one of the top things to do in a 3 day Chicago itinerary.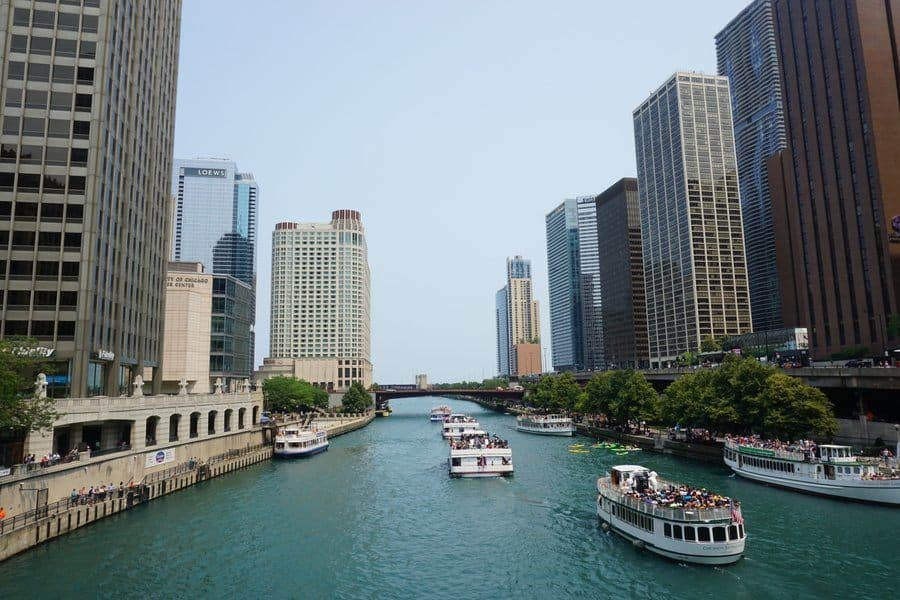 Wendella Boats has an architecture river cruise that comes highly recommended. Make sure you have your camera for this one, as you'll get some epic views of the city.
Day 2 – Evening
I'm sure you're ready to eat your hand by now, but you've just got to soldier on for a bit longer. Trust me, it's going to be worth the wait!
Magnificent Mile
On the other side of the Chicago River, you'll find the Magnificent Mile, a short stretch of Michigan Avenue in downtown Chicago. This is the city's premier commercial district, full of high-end shops, nice restaurants, and boutique hotels.
Along the Magnificent Mile, you'll also see several historic skyscrapers, such as the Wrigley Building, Tribune Tower, and the Old Watertower.
The latter is home to the City Gallery, which has Chicago-focused photography exhibits. It's totally free to visit, so you may as well check out while you're in the area.
Even if you're not doing any shopping, it's worth a quick stroll along the famous Michigan Avenue. That's because it's leading you to…
Chicago Deep Dish Pizza
You had the hot dog on day one, so it's time to dig into some Chicago-style deep dish pizza.
Since it's cooked in such a deep pan, a Chicago-style deep dish pizza can be stuffed with mountains of cheese. Of course, you can add whatever other toppings you like as well.
Now you see why I've been torturing you by making you walk around all day waiting for dinner! This deep dish pizza is seriously delicious and filling, so I wanted to make sure you could at least have a few slices.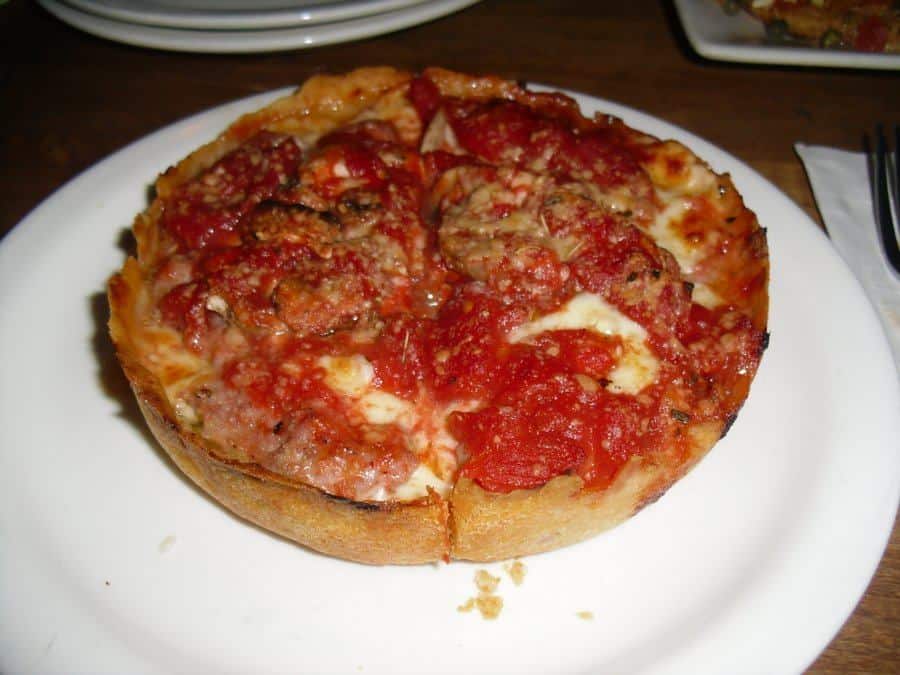 There are plenty of places cooking up Chicago-style deep dish pizza, but I brought you here because two of the best are easily accessible.
Get to the corner of Michigan and Superior and you have an important choice to make. Take a left and you'll go to Giordano's. Hook a right and you'll be at Gino's East.
Just go ahead and flip a coin because you win either way. Both places are legendary for their deep dish pizzas, so you really can't go wrong.
Not far from the Magnificent Mile, you'll find Navy Pier. If you're spending 3 days in Chicago on a long weekend, this is the perfect place to be on a Saturday night.
First up, you can take a ride on the Centennial Ferris Wheel. Tickets cost $18 for adults and $16 for children, but you can save a few bucks if you book online.
From the end of May until the end of August, Navy Pier also hosts bi-weekly fireworks shows. These happen on Wednesdays at 9:30 PM and Saturdays at 10:15.
To take in the spectacle, you can find a spot to stand on the Navy Pier or sign up for an evening cruise. Enjoying the fireworks as you cruise around is a great addition to your Chicago itinerary.
Choose Your Own Adventure
If you have any gas left in the tank after all of the activities at the Navy Pier, congratulations! I just ran you ragged all over Chicago on day two. That's why it's time to choose your own adventure!
For many, that will probably involve grabbing a casual drink from the hotel bar and getting some sleep. That's totally fine. I'm getting to the age where that sounds like a perfect Saturday night!
For the young whipper-snappers among us, you're probably itching to enjoy a big night out on the town. Go for it, you crazy kids!
Your options are endless. There's live music of all varieties, comedy clubs, and just about every type of bar under the sun.
Whether you're looking for a speakeasy that whips up creative cocktails, a classy wine & jazz joint, or just a good ole' fashioned dive, you can find it in Chicago.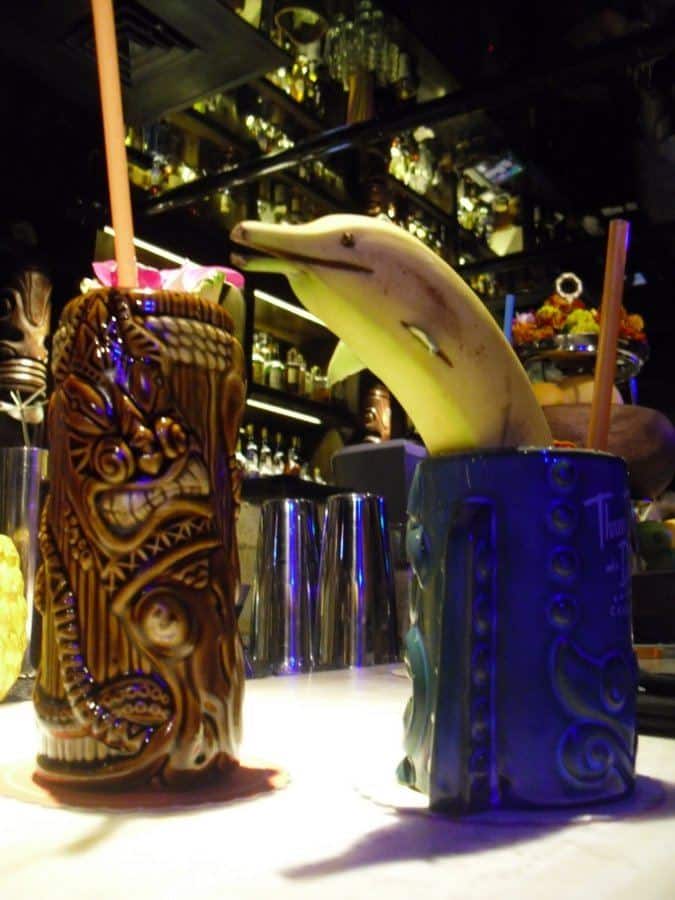 In this part of the city, one of my personal favourites is Three Dots & a Dash. This awesome tiki bar has an impressive selection of cocktails that will transport you to the Caribbean in no time.
If you're going to go hard one night, this is the one to do it! Bars in Chicago typically close at 2 AM, but there are several that stay open as late as 4 on the weekend. You've been warned…
Day 3 – Morning
How early the last day of your 3 day Chicago itinerary starts depends entirely on how late your night went!
Those who already regret ordering that last round may need to sleep in a bit and smash a greasy brunch, while the go-getter set who actually slept will be up and at them. Life is all about choices, people!
Whatever you did the night before, get some food and caffeine in your system and get out there to wind down this 3 day Chicago itinerary.
Museum of Your Choice
Our third and final day in Chicago starts off with a leisurely museum visit. Within a few blocks of each other, you can take your pick between three excellent museums.
Art enthusiasts will gravitate towards the Museum of Contemporary Art, which highlights post-WWII art.
Those more interested in architecture and antiques may want to hit the Richard H. Driehaus Museum. It's in a restored 19th-century mansion and brings you right back to the Gilded Age.
Chicago is very much a sports city, as people here are very passionate about their teams. Check out the Chicago Sports Museum, which is full of memorabilia and plenty of fun exhibits.
360 Chicago
I know I already sent you to the Willis Tower on day one, but it's still worth a trip to John Hancock's 360 Chicago on Michigan Avenue.
This observation deck on the 94th floor of the John Hancock Building provides a whole different perspective on the city that you will definitely want to see.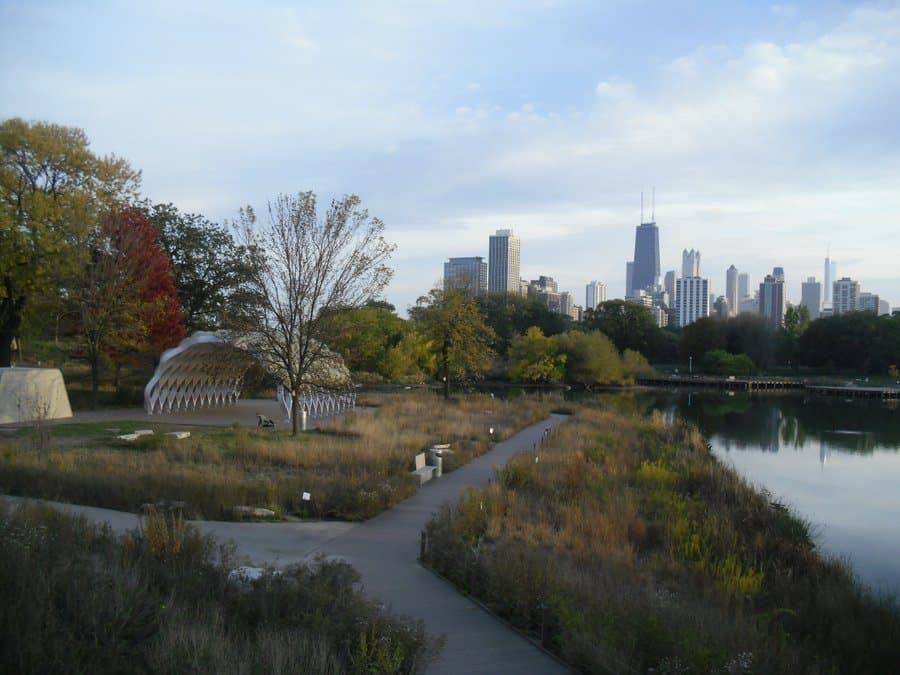 Plus, if you bought a CityPASS your admission to the John Hancock building is already included! If you didn't grab the pass, a ticket is $25 for adults or $15 for children.
Those who are feeling adventurous (and not hungover) may want to take a ride on Tilt – Chicago's highest thrill ride.
If you need some hair of the dog instead, you can grab a ticket that includes your choice of adult beverage. Sunday Funday!
If you don't purchase the Chicago CityPASS consider purchasing this ticket to enjoy the views from the 94th floor of the John Hancock building's 360 Chicago.
Day 3 – Afternoon
Once you come down from 360 Chicago in John Hancock building, you have plenty of options for lunch. Within a few blocks, you can find Cuban, Vietnamese, Mediterranean, and the Chicago staple of deep dish pizza.
If you want a lunch with a view, consider eating at The Kennison. This upscale bar and restaurant offers sweeping views of Lincoln Park. The menu is modern American and they have lots of amazing cocktails and drinks.
Lincoln Park
Hop on the bus, order an Uber, or walk 30 minutes to our next destination – Lincoln Park.
There's a lot to do in this huge park on the shores of Lake Michigan. North Avenue Beach is at the south end.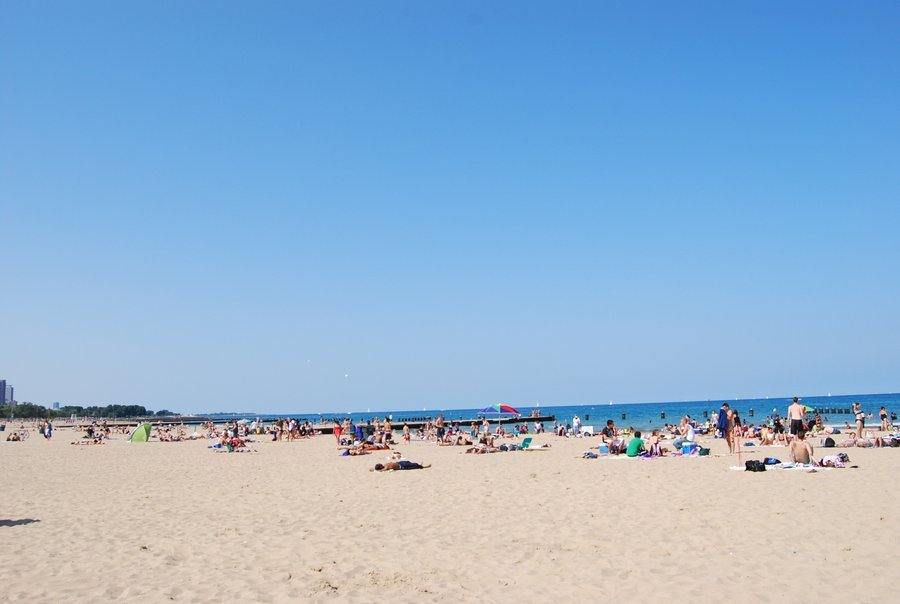 On a beautiful day in Chicago, it's hard to beat lounging on the beach and swimming in the lake. You can also play some beach volleyball and rent a SUP or bike if you want some more activity.
In the middle is the Lincoln Park Zoo, which is totally free to visit. Sightseeing gets expensive, so this awesome free attraction is definitely one of the top things for any Chicago itinerary.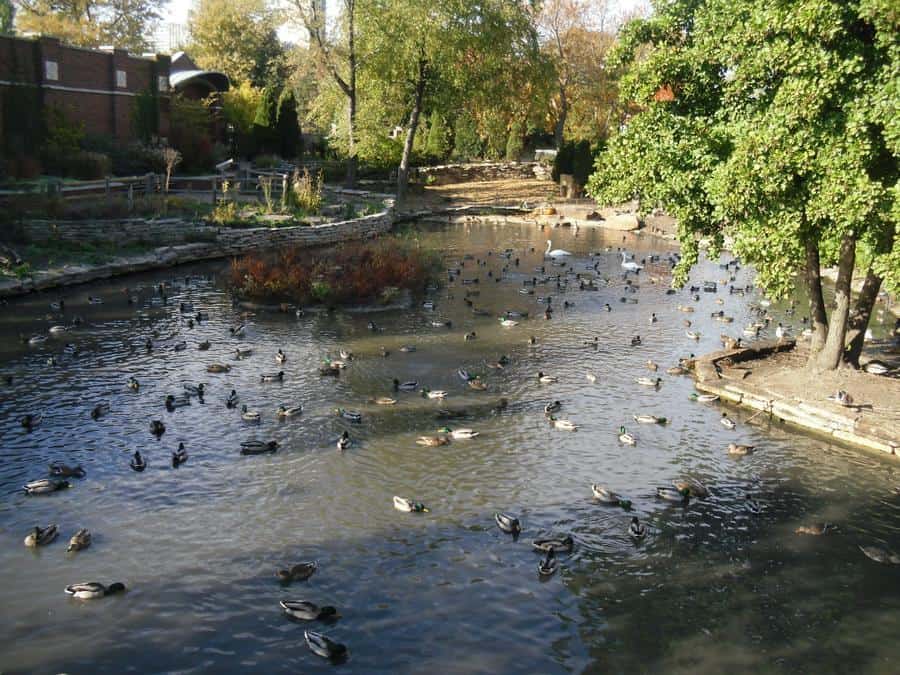 After such an action-packed 3 days in Chicago, you should definitely just take it easy and enjoy all that Lincoln Park has to offer. You've covered some serious ground in a short time, so congrats on that!
Day 3 – Evening
At this point in the journey, you have absolutely crushed 3 perfect days in Chicago. Order a celebratory drink or two and enjoy your last evening in the city!
What you choose to do with your final night all depends on when you're visiting and what your interests are. That's why it's time once again to…
Choose Your Own Adventure
In a perfect world, the Cubs would be playing a night game while you are visiting Chicago. You could head north to Wrigley Field and enjoy America's pastime at the 2nd-oldest ballpark in the country.
The Cubs play about 80 home games between April and September, so there's a good chance they'll be in town when you are. Even if you're not a baseball fan, I recommend hitting a game if at all possible.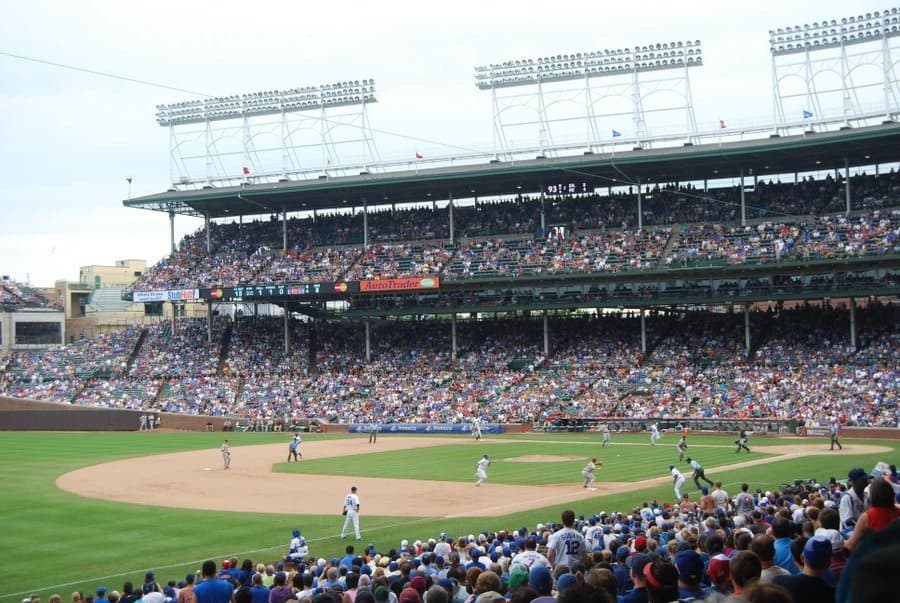 Chicago actually has two MLB teams. But the White Sox ballpark is way south of where you'll be on day three and not worth the trip if you ask me.
If you're making a trip to Chicago between October and April, you may be able to catch the Bulls (NBA), Blackhawks (NHL), or the Bears play a home game. Check their schedules to see what's going on when you're in town.
Those who prefer a good laugh can head back to the south end of Lincoln Park. Just a block away, you'll find three of the city's best comedy clubs – Second City, UP, and Zanies.
I pretty much always travel to Chicago for live music, so you know I'm going to toss that in here!
The city has an epic music scene and there's always something playing here. Whether you're into rock, hip-hop, jazz, electronic, blues, pop, or whatever it is you wacky Millenials listen to these days, there's a show for you.
I usually check Jambase to see what shows are playing.
Cheers!
Congratulations, my friend. You made it through an insane 3 days in Chicago itinerary and experienced the best that the Windy City has to offer.
I'd say that calls for a toast! If you want to finish up with a true Chicago experience, order a shot of malort. This infamous Chicago liquor is pretty hard to describe, so I'll let its label do the work:
"Malort has the aroma and full-bodied flavor of an unusual botanical. Its bitter taste is savored by two-fisted drinkers."
I'm not going to sugar coat it – this stuff is awful. It's a rite of passage here in Chicago, though. Eat the hot dog. Drink the malort. Praise be to Ditka. You're now a little bit Chicagoan.
After you finish that putrid shot of malort, switch to a delicious Chicago craft beer. There are plenty of choices here, including Lagunitas, Revolution, and Goose Island.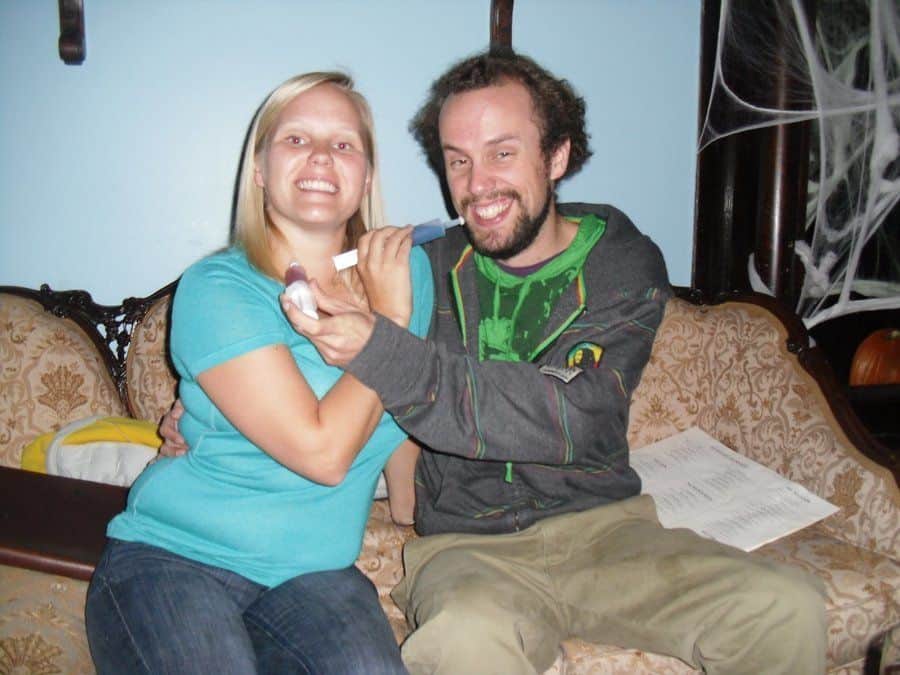 I hope you enjoyed this massive tour of Chicago!
From Navy Pier, to Millennium Park, the Chicago riverwalk, the famous Chicago hot dogs and more, visiting Chicago is never dull.
Hopefully this 3 day Chicago itinerary has been inspiring and gives you an idea of what to do in the Windy City.
Chicago Itinerary Travel Guide
Now that you know what to do with a long weekend in Chicago, I've gone ahead and put together a mini-guide to this awesome city to help you decide where to stay, where to eat, and of course where to drink!
Where to Stay in Chicago
You're probably wondering where to stay, especially if it is your first time in Chicago.
Most first-time visitors choose to base themselves in downtown Chicago, and for good reason. Here are countless options for accommodation, sightseeing, dining, and nightlife.
As you might expect, staying downtown comes with a price tag. Other popular places to stay that are a bit cheaper include River North, Lincoln Park, Bucktown, and Wicker Park.
When it comes to places to lay your head, Chicago has it all. The city has 5-star luxury hotels, quaint B&Bs, dingy motels, fun hostels, and plenty of options on sites like Airbnb.
Here are a few options to suit all budgets:
Best Hostel in Chicago – HI Chicago
Hostelling International is a trusted name in backpacker accommodation, and their downtown Chicago location is definitely the best hostel for visiting Chicago.
They have several different options for both private and dorm rooms. You can get a bunk for under $40 a night here – a steal for this fantastic location.This includes a free breakfast, and they also have free walking tours during the day and free activities at night.
That's not all, though. They've also got a huge lounge with a ping pong table and a TV room with plenty of movies. Best of all, this hostel is environmentally-friendly. They have reusable products in the kitchen and recycling points all around the building.
Best Mid-Range Hotel – Congress Plaza
This historic downtown Chicago hotel dates all the way back to 1893. Don't worry – it's had several updates over the years!
You really can't beat the location of this place. I usually stay with friends in more residential neighbourhoods, but this is my go-to spot when I want to be in the middle of all the action.
From here, you're just across the street from Grant Park. Many of the rooms here even boast a nice view of Lake Michigan. With rooms starting as low as $115 a night, it's a pretty awesome deal staying here.
Best Luxury Hotel – Peninsula
The 5-star Peninsula Chicago was recently named the 2nd best hotel in the country by US News & World Report. This place is fancy, people!
It's located right on the Magnificent Mile, so it's surrounded by high-end shops. This is definitely where the fabulous people stay.
In addition to the super swanky rooms, you can enjoy the hotel's three different restaurants and its impressive fitness centre.
Taking up the top two floors of the building, it features a 25-meter pool and an award-winning spa. Rooms start at around $600 a night here.
Where to Eat and Drink in Chicago
I'm very fortunate to have a good friend who is heavily involved in the hospitality scene in Chicago.
I reached out to him to get a list to add to this guide. He's never done me wrong with food & drink recommendations, so you can take these to the bank the next time you visit Chicago!
Brunch/Lunch
Dove's Luncheonette
Publican
Joe's Stone Crab: It's a steakhouse and it's hard to get into at night, but if you go for boozy brunch it's great.
Parson's Chicken & Fish: Not really brunch but just a great people-watching patio.
Big Star: Chicago classic taco joint with highly sought after patio
3 Arts Club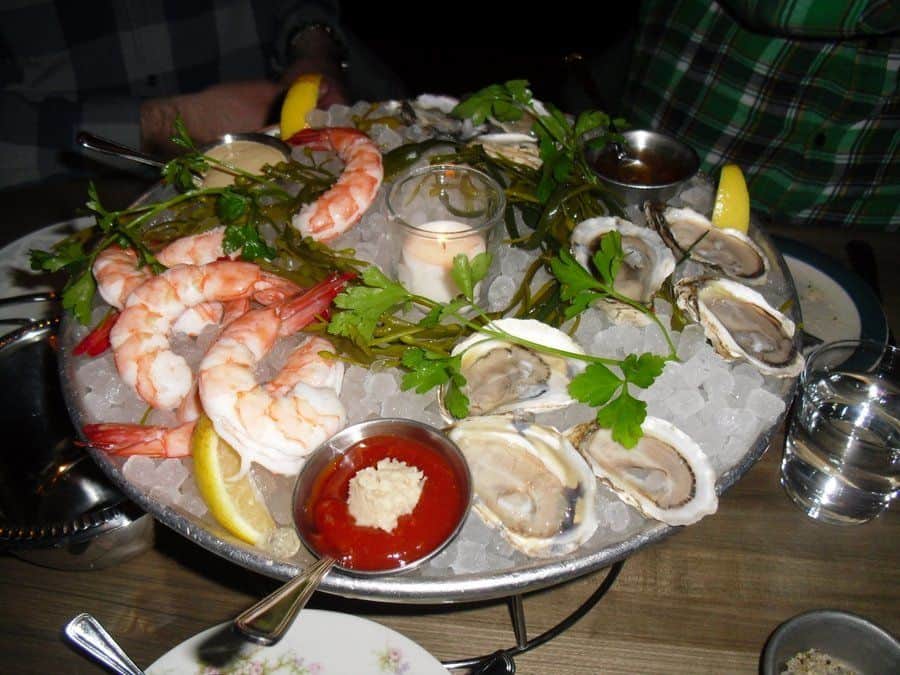 Dinner
Bavette's Bar & Boeuf
Giant
The Roister
Avec
Green Street Smoked Meats: A great BBQ joint and High Five Ramen is below.
RPM Steak
Boeufhaus
Maple & Ash
Nico Osteri
Drinks
Billy Sunday
Aviary (try to get down to the office)
Violet Hour
Start at Scofflaw and work your way over to Best Intentions
Longman & Eagle
The California Clipper: Been around since before prohibition!
DISCLAIMER: Some of the links in this article are affiliate links, which means if you book accommodation, tours or buy a product, we will receive a small commission at no extra cost to you. These commissions help us keep creating more free travel content to help people plan their holidays and adventures. We only recommend the best accommodations, tours and products that ourselves or our fantastic editorial team have personally experienced, and regularly review these. Thanks for your support, kind friend!