Everything you need to know about staying in one of the best hotels in Lower Manhattan – Here's our Sheraton Tribeca New York hotel review.
When we booked a long layover in New York City, we wanted to make the absolute most of our first time in the Big Apple.
The activities, the attractions, the museums, the galleries – there's a million and one things to do in New York, and with a whole bunch of different neighbourhoods to explore, we found it hard to narrow down which one to base ourselves in.
With only 3 days in New York City (spread over 4 nights) we decided to stay in two different areas in Manhattan – Tribeca (actually TriBeCa) in the south of the island, and Midtown.
We personally found Tribeca to be a much more fun and authentic place to stay, and besides the cool local neighbourhood a lot of it came down to the awesome hotel we ended up in.
Sheraton Tribeca Hotel Review
We stayed in the Sheraton Tribeca New York, and it was quite a change for us as we almost never stay in large chain hotels.
We had heard good things about the Sheraton Tribeca though, and seeing as you could literally spend weeks researching which hotel to stay in New York City, we decided to give it a go rather than keep on looking.
It was a great choice, and we enjoyed it so much that for the next time we visit New York City, we won't hesitate to stay there again.
Here's our complete hotel review of the Sheraton Tribeca New York.
The Property
The first thing you notice when you walk in the doors of the Sheraton Tribeca is that the property has a vintage yet modern design.
The lobby is set up in classic luxury style, with wide spaces, huge pillars and individual reception desks for checking in.
Just beyond that is the Antica Ristorante, the Italian restaurant with its long bar as well. It's a great place for breakfast in the mornings, delicious drinks in the evenings or a tasty meal with friends or loved ones.
The Rooms
There's a whole range of different rooms available to stay in, from standard rooms with the basic amenities right up to enormous suites.
We stayed in a King Guest Rooms on one of the Club Levels, and while it did have an aged decor, it didn't feel dated in the slightest.
The bed was incredible comfortable, the bathroom spotless and to top it off we had amazing views of the New York City skyline.
There was also a small work desk where we set up our laptop, and a TV with a whole range of stations to watch (not that we had any time to actually watch TV).
While our particular room wasn't overly palatial, we could still unpack our backpacks without tripping over them and we weren't crowded in each other's space.
And seeing as we spent hardly any time in our room anyway (how could we when there's so much to do in the city) it was perfect for us.
The Sheraton Tribeca Club Lounge and the Rooftop Terrace
One of the big benefits of staying in a room on the Club Level is that you have access to the fantastic rooftop terrace and the Sheraton Tribeca Club Lounge.
Having a drink at a rooftop bar is one of those quintessential New York City experiences that you cannot miss while in town, and the fact that the Sheraton Tribeca has a space all of its own for this is pretty remarkable.
The terrace is reserved for suite and club members only, and access is granted by swiping your room key.
The lounge itself is pretty basic, however there's ample space to spread out, with couches, tables and chairs scattered around the place, and a number of TVs playing sports and different shows.
There's a bar serving up beer, wine and basic spirits, and a snack bar where you can help yourself. There's also magazines and newspapers to read and a number of TVs.
With a drink in hand you can step out onto the terrace, and this is where you will find most people mingling.
The outdoor roof terrace has spectacular views of the New York City skyline, complete with the Empire State Building just a few miles in front of you, rising high above the city lights.
It's a great place to chat to fellow guests or to take photos, and if the weather is nice there's no better place in the city.
What makes this place so special though is that snacks and non-alcoholic beverages are available 24/7 free of charge, and every night during happy hour alcoholic beverages are also included!
Where other rooftop bars in the city charge a small fortune for a drink, here you can help enjoy a craft beer or boutique wine without worrying about the bank account or your hotel bill at the end of your stay.
This is the absolute perfect place to be for sunset before hitting the town.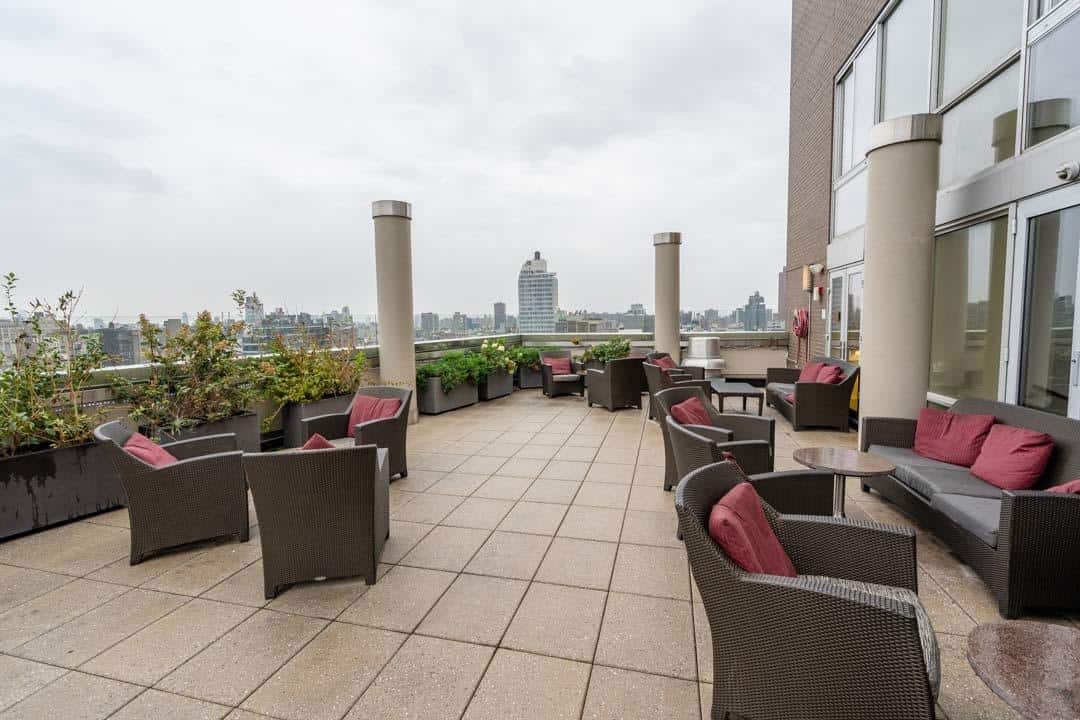 The Location
Tribeca is located in Lower Manhattan, away from the bright lights and hordes of tourists of Times Square, and the neighbourhood has a much more local feel about it compared to other places in New York City.
The Sheraton Tribeca Hotel itself is right next to the Canal Street subway station, so access to other parts of the city and the JFK airport is incredibly easy.
It's only a short walk to highlights such as the 9/11 Memorial Museum, the Staten Island ferry terminal, and Wall Street, making it the perfect base for exploration around Manhattan.
There's also no shortage of great restaurants, bars and jazz clubs within close distance. It was nice being somewhere that you could walk around rather than having to rely on taxis or subways to get you to a decent place to enjoy some live music and a drink.
Personally we much preferred Tribeca over Midtown, which is the other area we stayed in, and would definitely choose this part of New York City again.
Overall Rating – 8/10
We really enjoyed our stay at the Sheraton Tribeca Hotel, and would definitely rest our head here again on another visit to New York City.
The downstairs bar and restaurant were a great place to enjoy a drink, and the staff were always friendly whenever we asked any questions.
We had no issues at all with the room, and if we had to pick apart something perhaps the decor could use some updating. But again we hardly spent any time in our room, and with skyline views it's hard to beat.
The real winner for us though was of course the Sheraton Tribeca Club Lounge, and the fact that we could enjoy some snacks and free sunset drinks in complete comfort before hitting the town was incredible.
If you're looking for a great place to stay on your next visit to New York City, we hope our Sheraton Tribeca Hotel review has convinced you to book a room here.
Just make sure you get a room on the Club Level!
Our stay at the Sheraton Tribeca Hotel New York City was made possible thanks to our collaboration with NYC and Company. All thoughts, opinions and sunset drinks consumed on the roof are, as always, our own.