Looking for all the best attractions in the Twin Cities? Our guide to all the best things to do in Minneapolis is all you need!
Donned the "Twin Cities," Minneapolis was given the nickname along with Saint Paul and together they make up Minnesota's two core cities.
Famous for its significant number of stunning lakes, with a select few combining to be known as the "Chain of Lakes," Minneapolis is full of outdoor activities and attractions like the historic Mississippi River, Minnehaha Falls, and tons of walking and biking trails.
However, that's not all that the city is known for. Minneapolis is full of towering skyscrapers, world-class entertainment spots, inspiring art scenes, and museums.
Minneapolis is a place of invention, inspiration, and creativity. In Minneapolis, products such as the Honeycrisp Apple (University of Minnesota in Minneapolis), Scotch tape, and the bundt pan were invented.
In addition, the city was once the world-leading flour production center, earning it the name "Mill City." In fact, you can explore the Mill City Museum housed in the ruins of what once was the largest mill in the United States.
There's no need to search and scour for what to do in Minneapolis, Minnesota, not with our list of the top things to do in the city of many names.
Instead, our list combines historical, cultural, artistic, outdoor, indoor, and social activities for the ultimate guide to the best of Minneapolis.
The Best Things to Do in Minneapolis, Minnesota
There are plenty of Minneapolis activities waiting to be experienced.
You can see live music in downtown, or check out Saint Anthony Falls from the Stone Arch Bridge. Visit an art museum such as the Museum of Russian Art, or hit the cross-country ski trails if you're visiting Minneapolis in winter.
From the ruins of a fallen mill at the Mill City Museum to access to 5,000+ years of history at the Minnesota History Center, below are the best Minneapolis attractions to explore!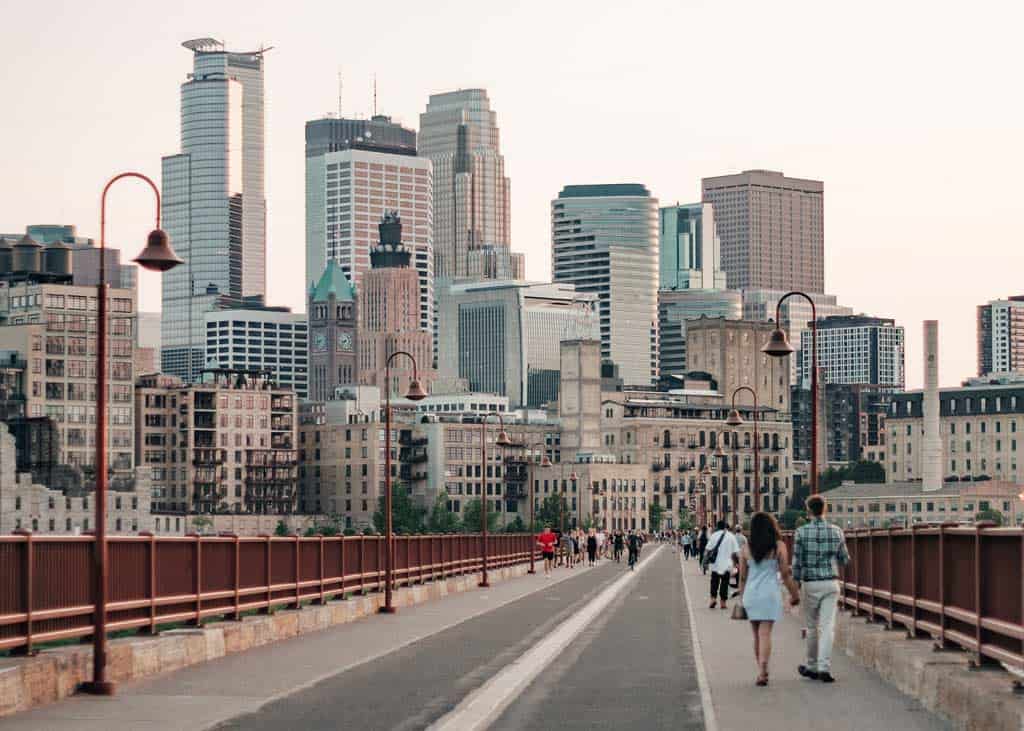 1) Step Inside The Ruins Of A Fallen Mill At The Mill City Museum
A Minnesota Historical Society Museum, the Mill City Museum was established in the ruins of the Washburn "A" Mill, the largest mill in the United States at the time before it exploded and eventually closed down after rebuilding.
Washburn "A" Mill was the most technologically advanced flour mill, advancing Minneapolis into the flour milling capital of the world from 1880-1930. Now a National Historic Landmark, Washburn A Mill Complex homes the Mill City Museum.
This museum maintains the historical integrity of the impressive mill structures combined with an open-air Ruin Courtyard that has boasted various awards like the National Trust for Historic Preservation Honor Award.
An architectural showpiece, the Mill City Museum's eight stories are inside the limestone ruins of what once was the largest mill in the U.S.
Visitors can absorb unique exhibits from local and regional artists, as well as preserved features of the original mill from the rail corrode and wheat house to the engine house and milling machinery.
Address: 704 S 2nd St, Minneapolis, MN 55401
Hours: 10am – 4pm on Thurs/Fri, 10am – 5pm on Sat/Sun
Cost: $12
READ NEXT: 21 Best Things To Do In Kansas City, Missouri
2) Stroll Through Minneapolis Sculpture Garden
First opened in 1988, the Minneapolis Sculpture Garden has since welcomed millions of visitors through its unique showcasing of works from the Walker Art Center.
Presenting renowned collections of contemporary and modern art, Minneapolis Sculpture Garden is an urban park with a distinct difference—its artistic touch.
Free admission, open 365 days a year from 6 AM to 12 AM, the garden is an excellent destination to experience the inspired vision accomplished using landscape architects to support wildlife, plants, and art, in one refreshing space.
It's also the largest urban sculpture garden in the USA.
3) Tinker With New Possibilities At The Walker Art Center
A multidisciplinary contemporary art center, Walker Art Center masterfully utilizes its dedicated space to empower guests to witness the transformative abilities of art. To explore possibilities and ideas in new ways.
This art center is ranked as one of the top five most visited contemporary and modern art museums in the United States.
With over 125 years of history since its opening, the center was first established when a Minneapolis man dedicated a room in his house to art and allowed people to explore his favorite paintings.
This man expanded this space to 14 rooms before finally opening his modern art museum—the Walker Art Center.
Address: 725 Vineland Pl, Minneapolis, MN 55403
Hours: 11am – 5pm on Wednesdays, Saturdays, and Sundays, 11am – 9pm on Thursdays and 11am – 7pm on Fridays (Closed Mondays and Tuesdays)
Cost: $15
4) Adventure Chain Of Lakes Regional Park
Chain Of Lakes Regional Park is a recreational dream consisting of five lakes: Brownie Lake, Lake Calhoun, Lake of the Isles, Lake Harriet, and Cedar Lake.
Only a few minutes from downtown Minneapolis Minnesota, this regional park is a place full of outdoor fun.
With miles of biking trails, waterfront access, scenic nature views, and equipment rental options, it's not hard to be active or find an activity to explore.
Row from one park to the other. Buy a ticket for a classical music concert at the Lake Harriet Bandshell. This is one of the best things to do in Minneapolis for nature lovers.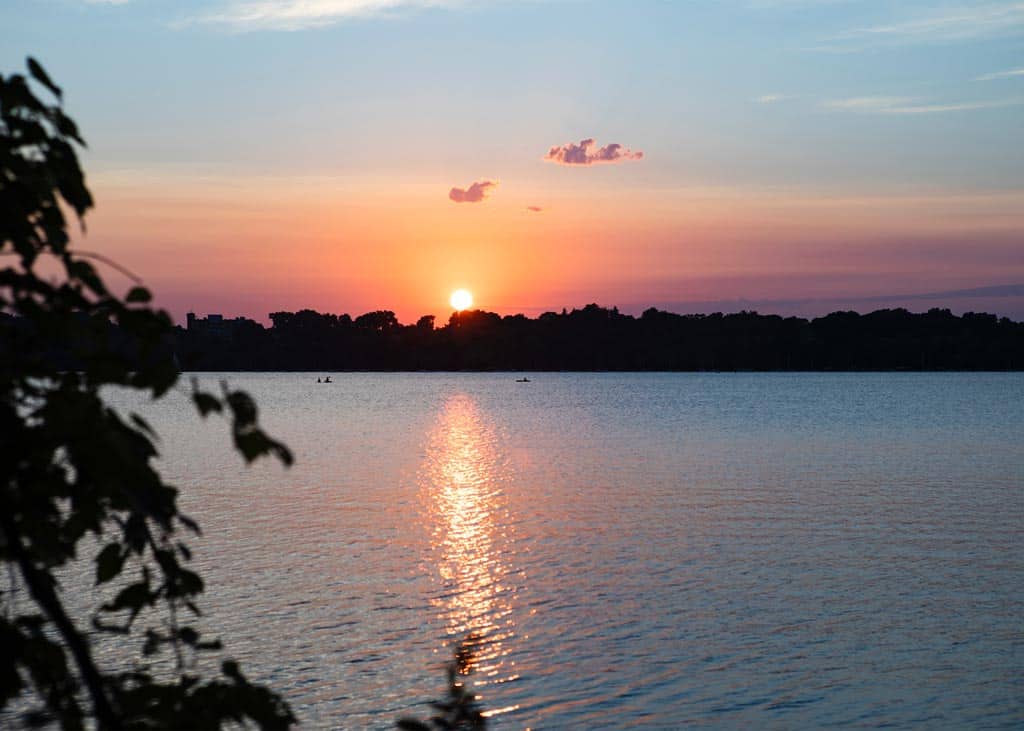 5) Explore All The Downtown Area Has To Offer
Featuring river walks, awe-inspiring architecture, three stadiums, world-class theaters, and plenty of hotels, restaurants, music venues, and other entertainment options, downtown is full of history, fun, and adventure!
Offering plenty of scenic walking trails to traverse, in downtown Minneapolis, many of the walking trails travel along the Mississippi River with views of the many other famous lakes in the area. In addition, downtown is full of recreational and social activities, empowering history and architecture.
To get a taste of the best of both worlds, join this history and 4-bar crawl guided walking tour! The tour takes guests into Minneaoplis' best bars while diving into the history of this fascinating city for a social and educational experience.
6) Browse The Expansive Collection At The Weisman Art Museum
First established in 1934, this incredible art museum was initially known as the University Gallery. The museum is dedicated to exhibiting relevant art in social, cultural, and historical contexts.
In its 70+ years running, the museum has joined with over 50 departments to combine forces with exploring collaborative projects to present to the world. As a result, Weisman Art Museum offers a variety of programs to allow opportunities for inspiration, reflection, creativity, and learning.
With an expansive collection of over 20,000 pieces, plus the stunning architecture designed by famous architect Frank Gehry, this museum is sure to leave you in awe.
As one of the top art museums in the United States, we highly recommend stopping over to Weisman Art Museum to pursue the outstanding and immersive collections is a must-see!
Address: 333 E River Pkwy, Minneapolis, MN 55455
Hours: 10am – 8pm on Wednesdays, 10am – 5pm on Thurs/Fri, 11am – 5pm on Sat/Sun (Closed Mondays and Tuesdays)
Cost: Free
READ NEXT: Interested in checking out Chicago next? Here is our ultimate 3 days in Chicago itinerary.
7) Dip Into The Mississippi River
The Mississippi River is the fourth longest river in the world and the second-longest river in the United States – and it's waiting to be explored in Minneapolis!
Flowing through nine states, the famous river travels to the Gulf of Mexico from Lake Itasca. In those first 650 miles, the river twists and twines through Minnesota's refreshing pine forests and deep valleys to meander through the Twin Cities—Minneapolis.
Major attractions line up or along the Mississippi River in Minneapolis, including Fort Snelling, a historical landmark and national treasure, and Minnehaha Regional Park, famous for its photogenic 53-foot falls.
In addition, there are opportunities to paddle along the river by reserving a kayak to obtain unrivaled views of downtown Minneapolis and other outstanding views from the river.
Want to experience more of the Mississippi River? Join this self-guided audio tour and Minneapolis river walk to immerse yourself in the city's history as you stroll along the banks of the Mississippi.
8) Cross The Stone Arch Bridge For Breathtaking Views Of The City
Once a railroad bridge, the Stone Arch Bridge is an iconic landmark of the city that crosses over the Mississippi River below Saint Anthony Falls in downtown Minneapolis.
A National Civil Engineering Landmark, the Stone Arch Bridge is the second oldest bridge on the Mississippi.
It remains the only arched bridge made of native granite and limestone on the entire river. Though the bridge is closed to vehicles, pedestrians and bikers may traverse the bridge, which offers breathtaking panoramic views of the city and the historic Mississippi Riverfront.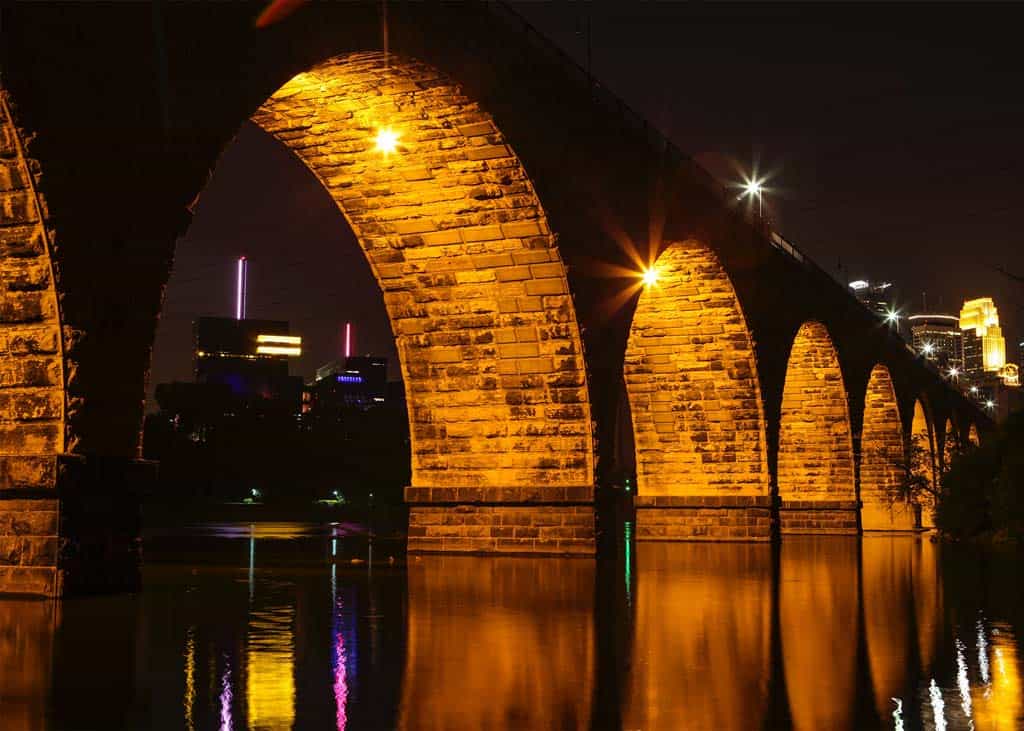 9) Get A Taste Of Two Worlds At The Como Park Zoo & Conservatory
Dedicated to creating an outdoor haven for its guests for over 100 years, Como Park Zoo & Conservatory features stunning exhibits like a world-class polar bear exhibit.
Connected is the Marjorie McNeely Conservatory, which presents outstanding and vibrant displays of exotic displays in the in-depth network of indoor gardens.
The conservatory is mere steps away from the animal-based experience of Como Park Zoo. Visitors can get a taste of both worlds, plants, and animals for a one-of-a-kind experience filled with adventure and exploration!
Address: 1225 Estabrook Drive St. Paul, MN, 55103
Hours: 10am – 4pm
Cost: Free (Donations appreciated)
10) Revel In Art & History At The Minneapolis Institute Of Art
Housing more than 90,000 pieces of art, the Minneapolis Institute Of Art represents more than 5,000 years of world history.
The art museum is one of the largest in the United States. The Minneapolis Institute Of Art is committed to enriching the community and the world by collecting, preserving, and availing public artworks from diverse cultures.
Minneapolis Institute Of Art seduces art aficionados from around the globe to explore and absorb its intricate collection of ancient Egyptian artifacts and European masterpieces.
And even if you're not an art expert, you will still find that this art museum has a special draw that inspires creativity and reflection.
If you still have time for even more art museums, check out the Museum of Russian Art as well. It's the only museum in the US dedicated to solely Russian art.
Address: 2400 3rd Ave S, Minneapolis, MN 55404
Hours: 10am – 5pm Tuesday – Sunday (Closes at 9pm on Thursdays)
Cost: Free
11) Grab Ahold Of 5,000+ Years Of History At The Minnesota History Center
Serving as the headquarters for the Minnesota Historical Society, the Minnesota History Center is a museum and library settled within one of Minnesota's finest public buildings.
Welcoming more than one million visitors a year, the center offers spectacular facilities for its exhibits, collections, library, and programs accessible to the public.
Every object resting in the collection of the Minnesota History Center—from historical records to books—hones a personal story that resonates, inspires, and educates visitors from across the globe.
The expansive collection at the historical center homes exemplary artifacts such as the beaded Bandolier bags of the early Ojibwe and more!
Address: 345 W Kellogg Blvd, St Paul, MN 55102
Hours: 10am – 4pm Wednesday – Sunday
Cost: $12
12) Travel Through An Underwater Tunnel At The Sea Life Minnesota Aquarium
Sea Life at Mall of America remains on the pedestal as Minnesota's largest aquarium and the world's most prominent family of aquariums.
At Sea Life Minnesota Aquarium, 1.3 million gallons are home to thousands, if not more, of aquatic creatures such as stingrays, seahorses, jellyfish, sea turtles, and sawfish.
Travel through the jaw-dropping underwater tunnel that stretches 300 feet. Stare down 14-foot-long sawfish and massive shark in Shark cove.
Check out the stingrays in Ray Lagoon. The list includes fun activities and sea life to explore at Sea Life at Mall of America!
Address: One, Mall of America, 120 East Broadway East Side, Level, Bloomington, MN 55425
Hours: 10am – 7pm Monday – Thursday, 10am – 8pm Fri/Sat, 11am – 6pm Sundays
Cost: $23.99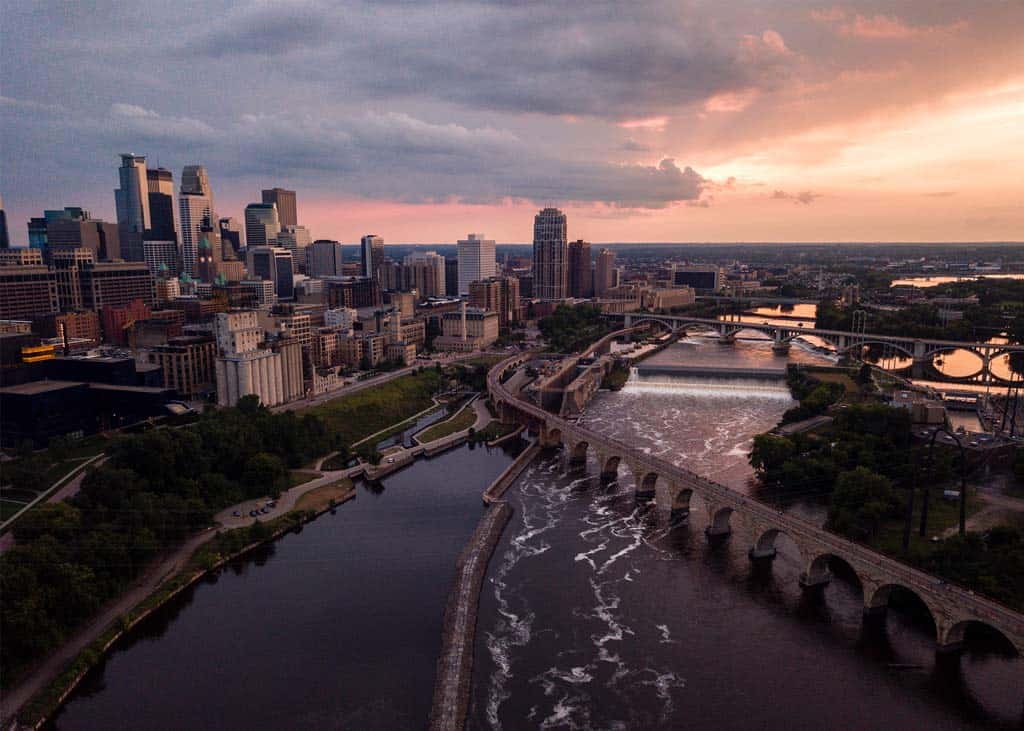 13) Join The Locals At The Mill City Farmers Market
Open every Saturday year-round, the Mill City Farmers Market is a refreshing way to experience the local community through art, live music, fresh local produce, and other fun activities.
The market is located in downtown, surrounded by loads of other activities to explore after adventuring to Mill City Farmers Market.
With over 100 farmers, artists, and food makers, this market plays a vital role in Minneapolis. Locals come to invest in sustainable groceries while enjoying the vibrant marketplace's refreshing atmosphere that connects the community.
Address: 750 S 2nd St, Minneapolis, MN 55401
Hours: 9am – 1pm Saturdays
14) Tip Into Culture & Architecture At The American Swedish Institute
A leading museum, historic mansion, and cultural education center, the American Swedish Institute is a gathering place for people from all over the world to explore belonging and identity through culture and arts.
The campus of the American Swedish Institute includes the historic Turnblad Mansion and the Nelson Cultural Center.
The Turnblad Mansion's French Renaissance architecture and hand-carved gargoyles carved from Indiana limestone are embedded with million-year-old fossils.
The mansion is one of only eight remaining structures built during Minneapolis' Golden Mile heyday in 1885-1921 and houses 33 rooms, 11 tile stoves, a Grand Hall, and more stunning decor.
The Nelson Cultural Center was constructed to broaden further the American Swedish Institute's connection to the community while enhancing its mission.
This additional center hones traditional Swedish aesthetics, integrates sustainable technologies, and inspires through diverse Swedish landscapes like the Swedish Gords (small outdoor rooms).
Address: 2600 Park Ave, Minneapolis, MN 55407
Hours: 10am – 4pm Wednesday – Sunday (Closes at 8pm on Thursdays)
Cost: $12
READ NEXT: Don't forget to check out our guide to the best things to do in Chicago!
15) Have A Family Day At Nickelodeon Universe Amusement Park
Nickelodeon Universe Amusement Park is full of rides and attractions that are based on Nickelodeon's many popular franchises.
One of the top family-friendly things to do in Minneapolis, is Nickelodeon Universe, the nation's first indoor Nickelodeon theme park. Located at the Mall of America, the amusement park spans seven acres.
The park has tons of attractions, entertainment, and dining options to check out. Take the kids to meet Nickelodeon characters and snap pictures.
Then latch onto your seats for thrilling rides and visit the unique retail shops for fun souvenirs. This is easily one of the most fun things to do in Minneapolis, Minnesota with kids.
Address: 5000 Center Ct, Bloomington, MN 55425
Hours: 11am – 8pm Monday – Thursday, 10am – 9pm Fri/Sat, 11am – 7pm Sundays
Cost: Prices vary based on how many tickets or attractions bundles you'd like
16) Stroll Around Lake Calhoun
Previously named Lake Calhoun, the lake was renamed Bde Maka Ska after activists pushed for the lake's renaming.
The largest lake in Minneapolis, Bde Maka Ska, is connected to the Chain of Lakes but is by far the most popular.
Directly west of the famous, fashionable Uptown neighborhood, the lake is a hot spot for fitness enthusiasts. There are boat and bike rentals nearby, and it's not uncommon to see people kayaking, canoeing, paddle boating, or boating on the lake.
Around the lake, many cyclists, runners, and walkers come to bask in downtown Minneapolis's scenic views and people-watch.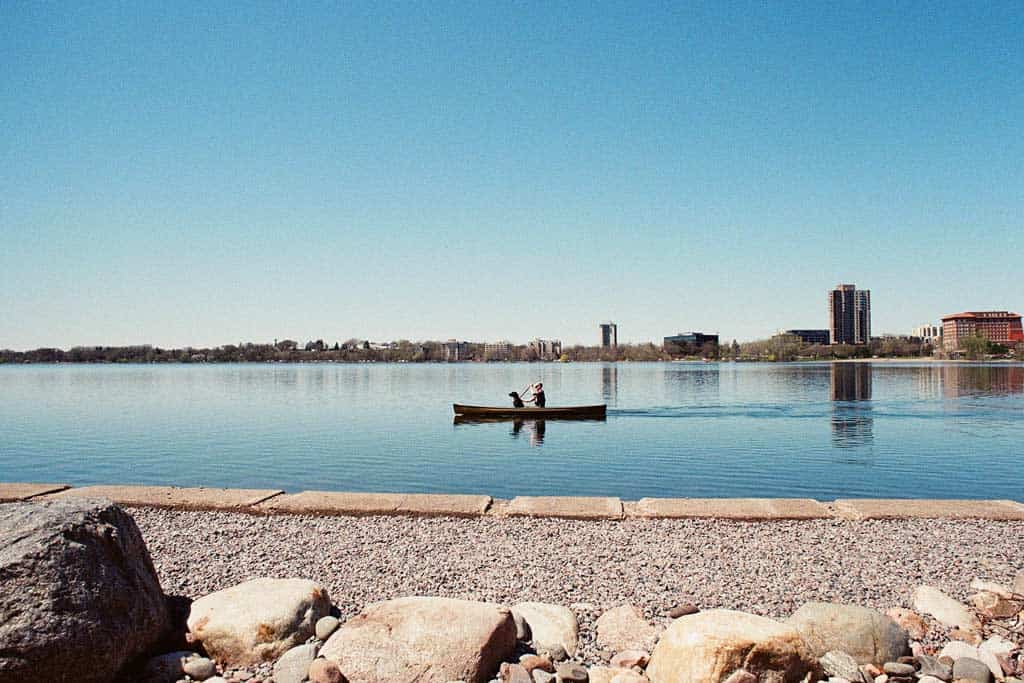 17) Take A Dip At Cedar Lake
Part of the city's Chain of Lakes, Cedar Lake is home to three sandy tree-lined beaches and accessible biking and walking trails.
More rustic than the other lakes, many locals and tourists come to the lake to step away from city life and into nature.
This lake is a popular spot for swimming, kayaking, and fishing with its restorative beachy shores during the summer.
If you have an adventurous itch that needs to be scratched, explore the small forests and nature in between taking dips in the refreshing waters of Cedar Lake.
18) Hike For A Picturesque Reward At Minnehaha Park
One of Minneapolis' oldest parks, Minnehaha Park is also one of the city's most popular, attracting almost a million visitors a year.
As one of the top things to do in Minneapolis, the 193-acre park features a striking 53-foot waterfall, Minnehaha Falls, that dips into the Mississippi River.
Surrounded by limestone bluffs and views overlooking the river, Minnehaha Park offers stunning nature views filled with native wildflowers, silver maple, cottonwood trees, and hackberry trees.
19) Kayak The Mississippi River At Boom Island Park
Offering rejuvenating views of downtown Minneapolis and the Mississippi River, Boom Island Park is a family-friendly park. The playground, biking path, and walking paths make it easy to be active and engaged throughout your time at the park.
The miniature lighthouses make for a fun sightseeing attraction with the kids, and though it's not accessible by foot, if you find yourself paddling by kayak on the waters, you can get an up-close point of view.
In addition, the on-site Mississippi River Paddle Share station makes it easy to rent single or two-person kayaks to adventure the waters of the Mississippi national river.
READ NEXT: 21 Best Things To Do In Salt Lake City, Utah
20) Escape The City To Brownie Lake Park
Offering shaded walking trails with lakeside views, visiting Brownie Lake Park is one of the best things to do in Minneapolis, Minnesota.
Brownie Lake is considered a hidden gem compared to the other lakes part of the Chain of Lakes in Minneapolis. It is a rugged, peaceful escape from the hustle and bustle of city life, placing it on the list of the best things to do in Minneapolis.
Brownie Lake is accessible by kayak from Cedar Lake if you find you want to go on an adventure between the two lakes. Full of nature, the lake is an excellent spot for a perfectly woodsy nature walk and dedicated footpath to explore the park encompassing the 27-acre lake park.
21) Picnic At Lake Harriet Park
Lake Harriet Park is situated around Lake Harriet, part of the Minneapolis' Chain of Lakes.
At this park, offering picturesque views of Minneapolis and Lake Harriet, visitors can walk the paved three-mile trail around the lake while basking in the views. In addition, Lake Harriet Park often hosts concerts and other events, like the local Kite Festival.
Don't be surprised if you find various people picnicking at the park. It's one of the top places to picnic in all of Minneapolis.
And if you forgot your picnic basket, you can stop by the pavilion restaurant, The Bread & Pickle, which is open daily!
If you're here in winter, you can even go cross-country skiing in the area.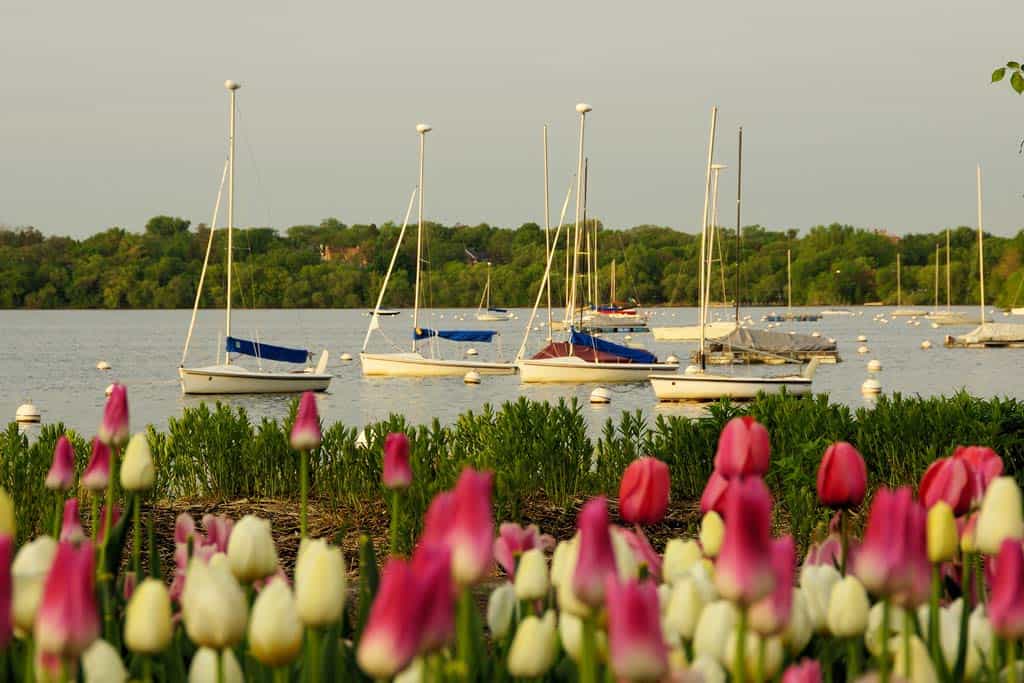 Where to Stay in Minneapolis, Minnesota
Now that we know the best things to do in Minneapolis, it's time to find the best places to stay! There are lots of great accommodation options for the Twin Cities, so let's dive into some options that suit all budgets.
Best Hostel in Minneapolis, Minnesota
Sharing their homestead with guests from all over the world, The Hungry Hippie Farm & Hostel offers a unique location on the hillside overlooking Lake Superior.
This hostel provides rugged and peaceful accommodations on the edge of the wilderness in various styles of rooms that include six private rooms and three bunks in the bunkhouse loft.
Best Mid-Range Hotel in Minneapolis, Minnesota
Connected to the Minneapolis-Saint Paul International Airport, InterContinental Minneapolis – St. Paul Airport, an IHG Hotel, offers a variety of appealing accommodations.
Only 3.7 miles from Mall of America, the attractive location combines the hotel's in-house restaurant, 24-hour front desk, free Wi-Fi, fitness center, and luxury spa to enjoy.
Best Luxury Hotel in Minneapolis, Minnesota
At Rand Tower Hotel, Minneapolis, a Tribute Portfolio Hotel, guests are guaranteed to get celebrity treatment with world-class service.
The hotel's stunning design welcomes guests to its accommodations, which include an in-house restaurant, fitness center, lounge, bar, room service, and 24-hour front desk, meant to be savored for an unforgettable stay.
DISCLAIMER: Some of the links in this article are affiliate links, which means if you book accommodation, tours or buy a product, we will receive a small commission at no extra cost to you. These commissions help us keep creating more free travel content to help people plan their holidays and adventures. We only recommend the best accommodations, tours and products that ourselves or our fantastic editorial team have personally experienced, and regularly review these. Thanks for your support, kind friend!