From going on a whale watching tour, attending festivals showcasing spectacular light art to climbing the Sydney Harbour Bridge, here's our list of the best things to do in Sydney in winter.
Australia is best known for its summers, and Sydney isn't any different. The endless strip of golden beaches, hip outdoor restaurants and sprawling parks are just some of the things that have made the iconic harbour city famous.
But just because the temperature has dropped and winter is setting in, doesn't mean there's nothing else to do in and around Sydney.
The off-peak season is full of clear days, and it never gets so cold that you don't want to head outside.
READ MORE: Here's our complete guide filled with Australia travel tips.
Visiting Sydney in Winter
Sydney is beautiful all year round, but to tourists, it might seem like there's nothing to do during the coldest months of the year.
The usual sightseeing stops like the Sydney Opera House, Sydney Tower Eye, Royal Botanic Gardens, Darling Harbour, Bondi Beach, and more, are all still worth checking out in winter.
Some believe that it's too cold for the non-locals to make the most of the stunning beaches. But experiencing Sydney in wintertime has a certain charm that needs to be embraced.
Sure you won't be lounging on Bondi Beach in a bikini, but you can still have lots of fun and enjoy Sydney without the usual summer crowds.
Where else could you say you got a chance to go ice skating next to one of the most famous beaches in the world? Australia really is spectacular, make the most of your Sydney holiday and enjoy the special events only available during this season.
The days are shorter, but still, we advise you to make the most out of your time in this beautiful city! Here's our list of some of the most amazing things to do in Sydney during winter.
1) Attend The Vivid Sydney Light And Art Festival
It's one of the most captivating events in Sydney, and if you're lucky enough to be visiting during winter you'll be blown away with the incredible Vivid Sydney Festival!
Happening every year for a few weeks at the end of May until mid-June, this living outdoor gallery of impressive lighting sculptures and a marvellous contemporary music program has grown a reputation as one of the world's most creative industry forums.
The multi-award-winning festival illuminates and accentuates the city of Sydney, with dazzling light art exhibits bringing new life to the surrounding precincts and exciting entertainment for kids and adults alike.
The Royal Botanic Gardens light up with lots of fun colors and designs. Darling Harbour and the Sydney Opera House are also part of the show.
A particularly amazing installation is the light show that dances across the iconic Sydney Opera House at night.
There's plenty of great spots to view this from, whether you're down in Circular Quay or up in one of the nearby hotels.
We had a fabulous night shooting Vivid from the balcony at Quay West Suites, the ultimate way to experience the beautiful light and art show.
This has quickly grown into the largest festival of its kind in the world. Join the fun and listen to talks of great global thinkers and brilliant creators all across Sydney!
2) Go On A Whale Watching Tour
If you're a fan of the marine world, then you may know that thousands of humpback whales migrate from Antarctica to Queensland every winter.
In the months from June to September, you'll have the best chance of spotting them as 20,000 migrate along the NSW coastline.
Someone who has a passion for wildlife cannot miss an opportunity like this to see these magnificent creatures in the wild.
You can try to catch a glimpse of them from the shore, but for the best experience head out on a dedicated whale watching tour.
Most of the tour operators have a marine biologist on board that provides expert explanations about whales and their behaviour.
They also usually have a professional photographer accompanying each group, so if you miss your chance at getting the perfect whale action shot, the photographer has you covered.
READ MORE: Check out the 9 best day trips from Sydney in this post!
3) Brave The Cold And Go Swimming At Bondi Icebergs
Seeing Bondi Beach and the Bondi to Coogee Beach Coastal Walk are popular things to do when you visit Sydney at any time of year .
At the southern end of Bondi Beach, you can find the Bondi Icebergs Club, one of the most famous ocean pools in the world.
It is regarded as an international landmark, not just because of its epic location but also thanks to its long tradition of winter swimming dating all the way back to 1929.
If you're not daring enough to dip into the icy water, you can always enjoy the other perks of the club.
Above the pool, you can enjoy the magnificent views of Bondi Beach and the pool as you drink or dine on the balcony.
You can also swim in the ocean at Bondi Beach, if a little cold water doesn't scare you.
4) Have Fun At Bondi Winter Magic
You might think it's far too cold to go for a swim, but that shouldn't keep you away from the Bondi shore, because there's plenty of things to do out of the water too.
The Bondi Winter Magic Festival kick starts the winter fun with a bunch of awesome activities and events being held for the entire month of July.
There's live music, art exhibits, cultural experiences, food trucks and yoga by the sea.
But what really makes the Bondi Winter Magic Festival so unique is the chance to go ice skating at Australia's only beachside ice rink!
The festival was cancelled in 2021 due to the lockdowns, but will be running again in 2022. This website has a good update, and keep researching online for more updates.
There is also a Blue Mountains Winter Magic Festival if you are interested.
READ MORE: Here's your best one-day itinerary for Sydney.
5) Do the Sydney Bridge Climb
The best way to experience the iconic views of Sydney, and have a bit of an adrenaline rush at the same time, is to do the Sydney Harbour Bridge Climb.
Climb up the summit of the Harbour Bridge, 134 meters above the water and right in the centre of Sydney Harbour, for an uninterrupted aerial view of the city.
Each group has a Climb Leader as a guide to ensure safety measures are followed, and to entertain you with fun facts and history of the bridge during this ascent.
At a moderate pace, you will ascend the arches of the Bridge and admire the panoramic views of the Sydney Opera House, located in one of the most gorgeous harbours in the world.
Doing this in winter is quite special because even though it will be a bit chilly at the top, the winter skies can be beautifully clear.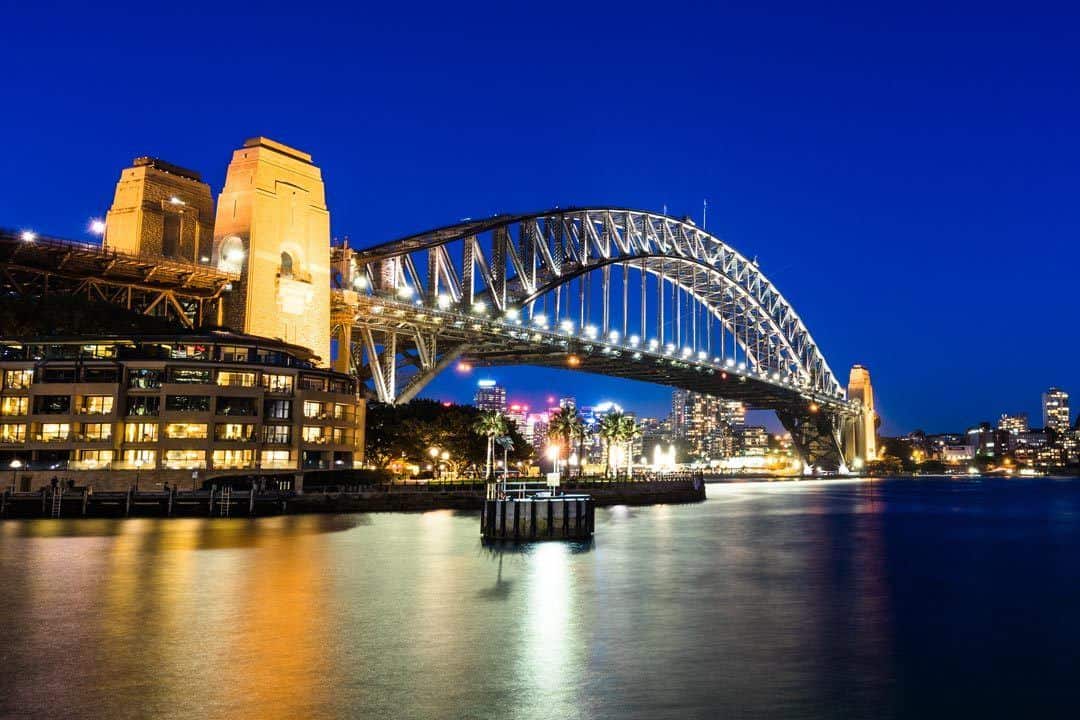 6) Visit Luna Park
There is no better way to bring out your inner child than to visit an amusement park. And with magical views of the harbour, Sydney's iconic Luna Park is a real gem for people of all ages.
Luna Park was built in the 1930s and has been magnificently restored right beneath the Harbour Bridge in one of the most beautiful spots in the city.
Whether you want to get an adrenaline rush by going on one of the many thrilling rides or try your luck by trying to find a way out of the Coney Island Mirror Maze – it's impossible to feel bored at Luna Park.
READ MORE: Want to know how to put this itinerary all together? Check out our post on how to spend 3 days in Sydney!
7) Keep Warm In The Sydney Pubs
The crackling of the fire, a hot bowl of fresh chips, a tasty drink and a room bathed in an amber glow. Is there a more perfect place to spend a chilly day in Sydney than a traditional pub?
Sydney's pubs are some of the best in the world and are filled with awesome characters, cool decorations and lots of yummy meals.
In order to stay warm and dry all winter long, head to a neighbourhood like The Rocks, curl up in front of the flames with a pint of delicious craft beer and make some friends.
Don't be surprised if you end up losing track of the time with plenty of pool games whilst enjoying your chicken parmy or Sunday roast.
8) Spend All Day In The Museums
No matter how interesting a museum might be, during summertime, the beach will always be the most crowded spot.
When winter rolls around though it's time to head out to those interesting exhibits you've been meaning to catch all year.
Sydney has a very rich and intricate cultural scene, and that results in lots of museums and art galleries continually updating their collections, or hosting international exhibitions.
Even Sydneysiders keep coming back again and again to catch something new!
Visiting Sydney in winter is an ideal opportunity to take a peek inside one of these fascinating world-renowned museums.
Lethal animals, buried treasures, mummified corpses and hot rocks are just some of the things you can encounter in some of the museums, while the art galleries take it up another notch altogether.
Also consider a Sydney Opera House Tour to see the inside of this famous landmark.
You definitely won't be bored in one of the many Sydney museums!
READ MORE: Here are more great ideas for things to do in Sydney at any time of the year!
9) Check Out A Football Match
When visiting Australia in the winter, become a local by catching a rugby or football match, and with no shortage of games in Sydney throughout the sporting season.
Rugby isn't just a sport here in Australia, it's a religion, so even if you're not quite sure how the game is played; don't worry, pick a team, cheer your lungs out and soak up the atmosphere.
There are three types of football codes worshipped in Australia – rugby league, rugby union and Aussie rules (soccer is also played and becoming more popular).
You might get the chance to catch the Sydney Swans play at the SCG, which is an amazing experience, or if your timing isn't so lucky you can always catch one of the local rugby league teams play in the NRL.
Those that land in Sydney at just the right time might even get to see the national rugby union team, the Australian Wallabies, play against their arch-rivals, the New Zealand All Blacks.
Tickets for the big games sell out fast, so do your research before visiting Sydney or you might be stuck buying tickets from scalpers on the day
10) Grab A Surfboard and Ride The Huge Winter Swell
While most people spend the winter in woollen socks and lumpy jackets, the keen surfers know that the winter season is one of the best times to get out into the water.
Winter storms create bigger and more consistent swells, which routinely hit the east coast of Australia, perfect for surf lovers.
Another perk of surfing in Sydney in the winter is the number of surfers is a lot less, and it tends to only be the more experienced people out in the water.
Obviously you will need to withstand very low temperatures, but that's nothing a good wetsuit can't solve.
Places like Manly Beach, Coogee Beach, and more, will all have far fewer crowds as well!
The cold aside, there's no better time to enjoy the best surfing conditions than Sydney winter.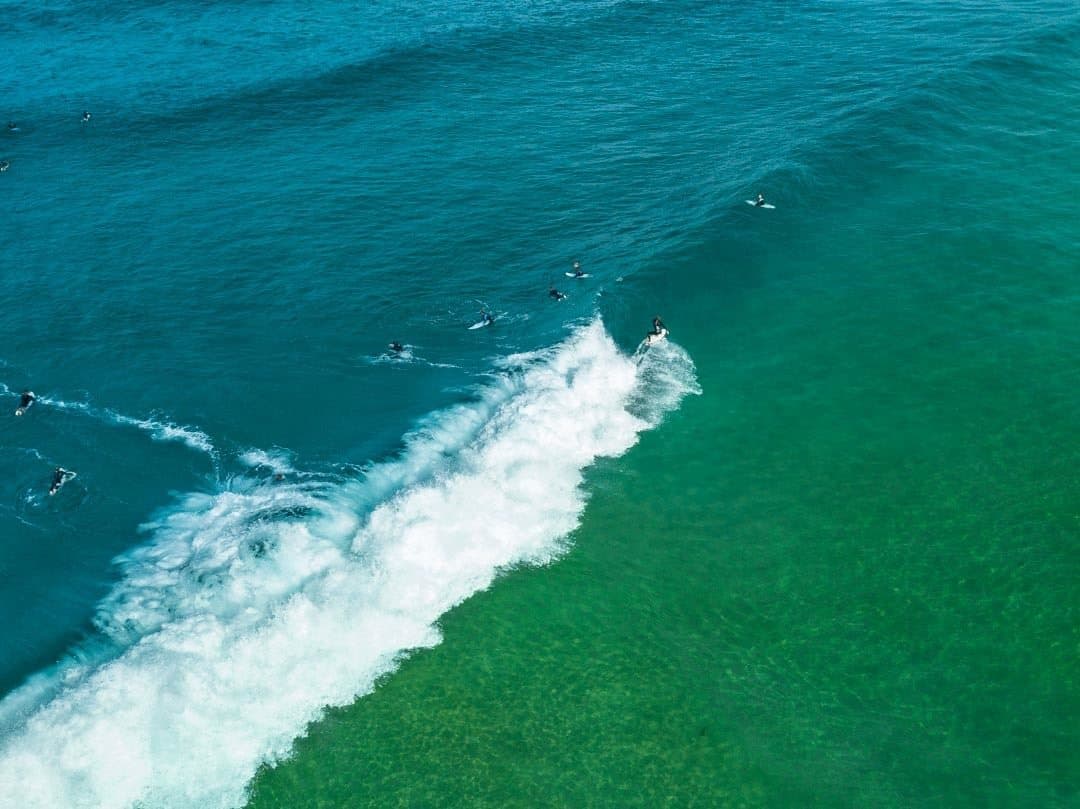 Things To Do In New South Wales Beyond Sydney
If you have the time, make sure to venture out of Sydney and explore the rest of New South Wales during its coldest season.
Skiing down the Snowy Mountains or exploring the complex labyrinth structure of the underground caves in the Blue Mountains will ensure the fun never ends during your trip.
Here's our list of the best day trips from Sydney.
11) Go Skiing In The Snowy Mountains
Most travellers are unaware that it actually snows in Australia, and while it might not dump quite like Japan or North America, there are still some great skiing conditions to be enjoyed in the Snowy Mountains.
Located a few hours south from Sydney near Canberra, enjoying Australia's only true alpine wilderness during the winter is a must-do for all ages.
If you're not into skiing or snowboarding, do not worry, as there are a lot of other winter activities you can enjoy.
Try your hand at snow-shoeing, cross-country skiing, scenic chairlift rides, snowball fights, or simply bask in the gorgeous winter views unique to the Snowy Mountains.
After a long day of skiing, it's a good time to remind yourself that the region is also famous for its award-winning cold-climate wines.
12) Fall In Love With Byron Bay
This is one place which cannot be left off the list. You can't come all the way to the east coast of Australia and not fmake the trip to Byron Bay, the country's popular hippy beachside town.
Byron Bay's beaches are phenomenal and there's a relaxed, surfy vibe amongst the town. It's also the most eastern point of the Australian mainland, marked by the famous Cape Byron lighthouse.
The locals think of it as an haute-boho lifestyle, but in recent years the town has gotten quite expensive and there are problems with traffic.
It's still a magical place and much-recommended destination to visit, whether you end up loving it or hating it, you really need to get up there. Find the perfect Byron Bay accommodation and check it out for yourself.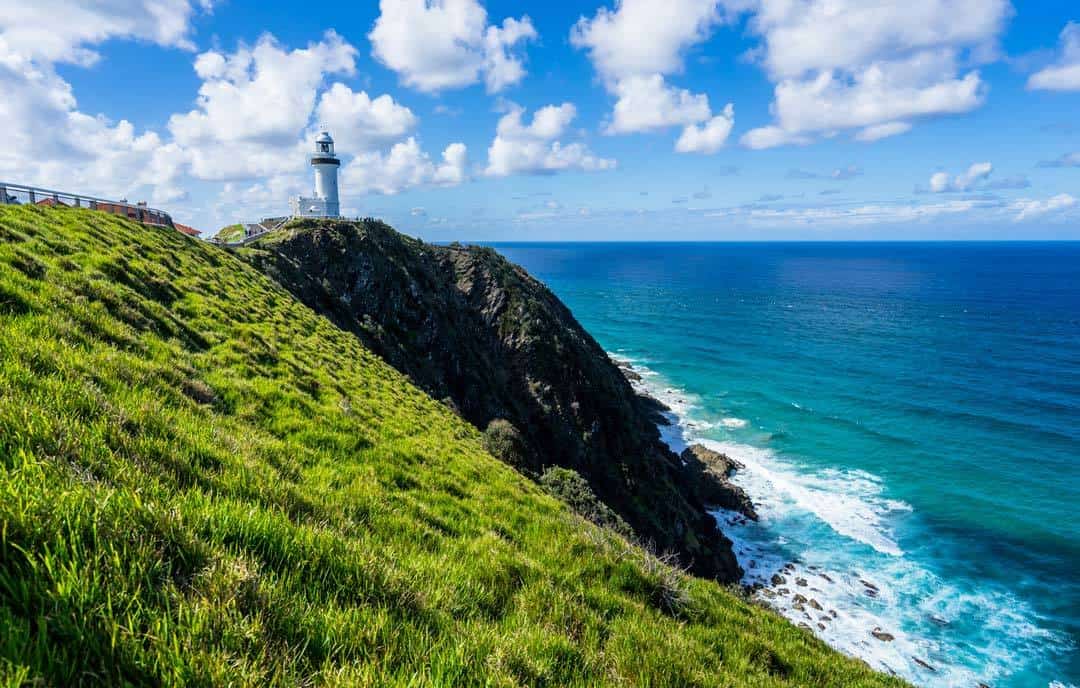 13) Experience The Blue Mountains
Known for being one of the best day trips from Sydney, seeing the legendary Blue Mountains in the winter is a truly wonderful sight.
The Blue Mountains, a famous world heritage site is a 2-hour drive from the city, and during the winter months it comes alive with lush forests and huge waterfalls being enhanced by the heavy rainfall and occasional snow that hits the region.
There are so many amazing things to do in the Blue Mountains. Find the perfect Blue Mountains accommodation and give yourself a few days at the very least to explore the whole area.
Drive through the small mountain towns such as Glenbrook or Leura to find tiny cafes with hot soup specials and vintage antique shops.
If the weather proves to be too cold for you in the Blue Mountains, head underground instead.
Nearly 400 million years old and with approximately 40 kilometres of cave passages, the Jenolan Caves are one of the country's most spectacular cave systems, and really needs to be seen to be believed.
You'll find boardwalks weaving over crystal clear, subterranean pools and ladders climbing up next to towering stalactites.
You can book an amazing all-inclusive day tour to the Blue Mountains from Sydney here on Get Your Guide.
That's it for our list of what to do when visiting Sydney in winter. Have we missed anything? Leave a comment below and let us know