If you're looking for the perfect 1, 2 or 3-week Uzbekistan itinerary, we've got you covered!
Uzbekistan is a land unknown to the vast majority of travellers. One of only two double landlocked nations in existence, it sits in the heart of Central Asia, an area of the world mostly known for the old silk road and the former Soviet Union.
In recent years Uzbekistan has grown in popularity amongst the travel community.
The visa process has become significantly easier, you can now change your dollars, euros, pounds and yen at banks and it is now easier than ever to get around.
This is a great time to visit Uzbekistan and we look forward to helping you plan your trip!
The Perfect Uzbekistan Travel Itinerary
All of our travel itineraries start and end in Tashkent, as the vast majority of travellers arrive in Uzbekistan via air.
However, if you are entering the country overland then these itineraries can be altered based on the closest destination of the border crossing.
Because it is not really possible to visit both the Aral Sea and the Fergana Valley in the same 2-week Uzbekistan itinerary we have included 2 options from which to choose.
1 Week
2 Week
OPTION 1
2 Week
OPTION 2
3 Week
Tashkent
X
X
X
X
Bukhara
X
X
X
X
Samarkand
X
X
X
X
Shahrisabz
X
X
X
X
Nukus
–
X
–
X
Aral Sea
–
X
–
X
Khiva
–
X
–
X
Fergana City
–
–
X
X
Kokand
–
–
X
X
Andijon
–
–
X
X
Margilon
–
–
X
X
Namangan
–
–
X
X
READ MORE: Learn more about all of these great places to visit in Uzbekistan in this post!
7-Day Uzbekistan Itinerary
This 7 day Uzbekistan itinerary will get you to Uzbekistan's major sites. However, be prepared for some early starts and the possibility of a night train!
Day 1: Tashkent
Start your journey in Central Asia's largest city, Tashkent. Although it doesn't get a lot of love from the travel community I absolutely loved Tashkent and would recommend spending a bit of time there.
Spend your first day getting acclimatised by taking a wander around Tashkent's Soviet architecture around the Navoi Theatre.
Head over to Tashkent's Islamic University to check out some lovely Islamic architecture before relaxing Alisher Navoi park.
As the sun begins to set, head over to the rather spectacular Minor Mosque for some spectacular photos as the sunsets behind it.
For dinner head down the area around Amir Timur square fills stalls, games and inline skaters. There are a couple of decent eateries nearby which a worth checking out.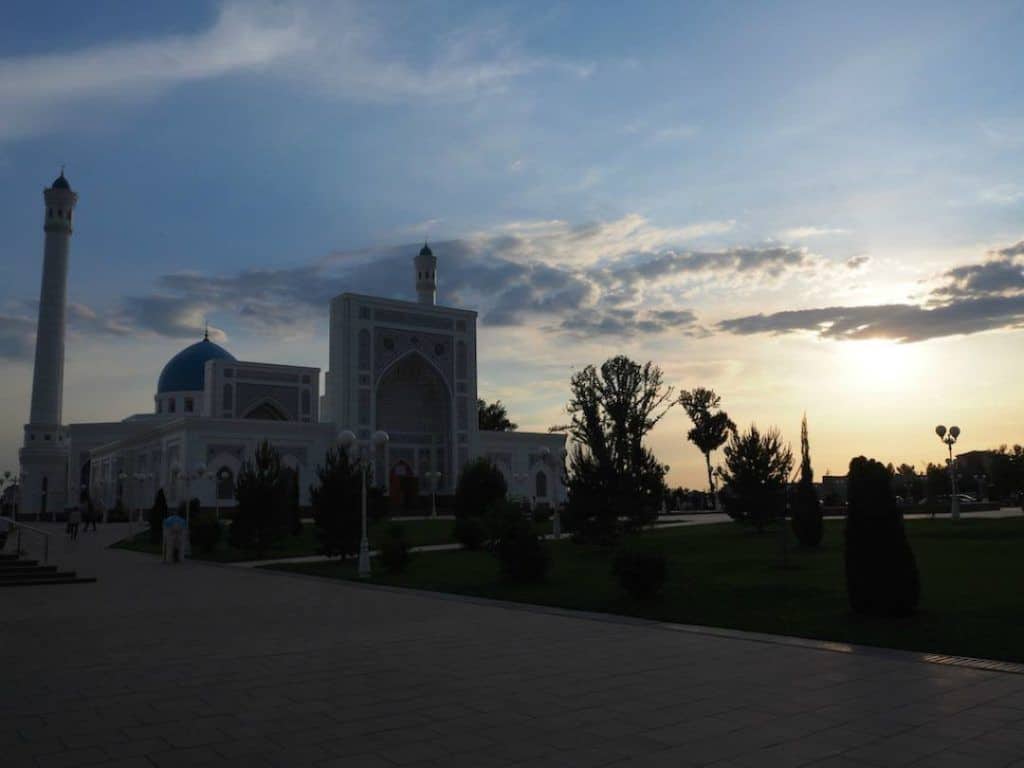 Day 2: Tashkent
On your second day get up bright and early and take a wander through old Tashkent, along the Kolkouz Canal to Khast Imam.
Then head over to the Chorsu bazaar to chow down on some delicious shashlik and plov.
If you're lucky enough to be in Tashkent when a performance is on at the Navoi theatre make sure you get yourself a ticket. Their ballet performances are excellent.
The best way to book tickets is to head to the ticket kiosk at the theatre itself. However, you will need a bit of Russian or google translate handy.
READ MORE: Check out all the great things to do in Tashkent in this post!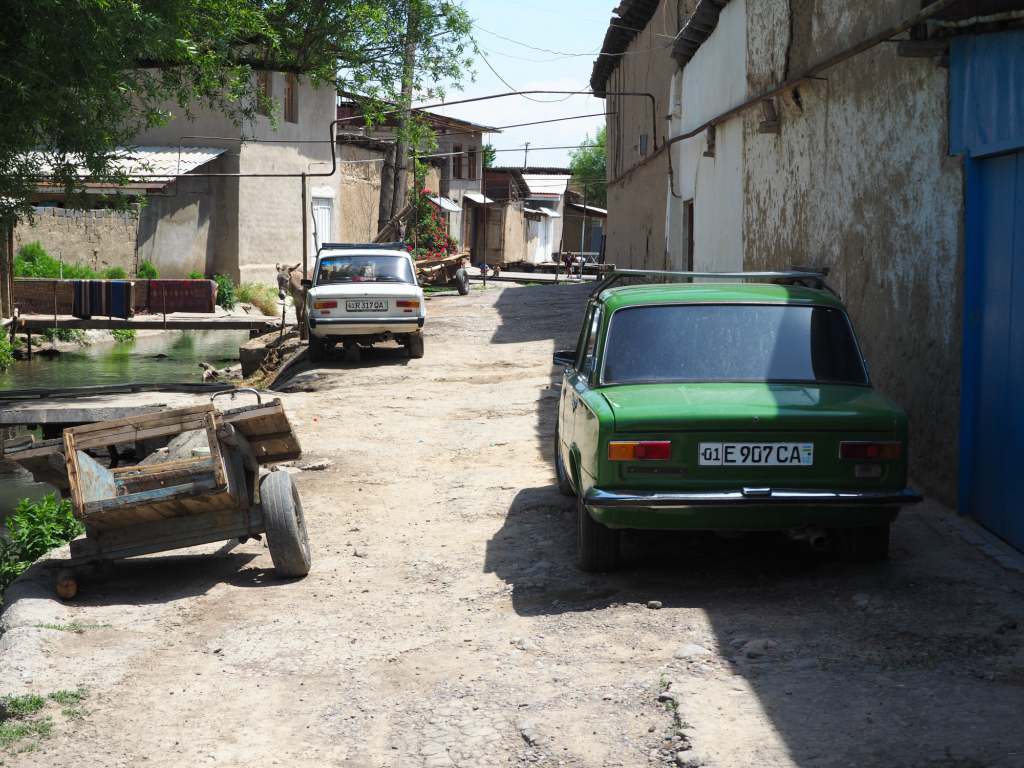 Check out our Uzbekistan Vlog on things to do in Tashkent.
Day 3: Bukhara
Catching a train is the best option for your journey to one of the ancient silk roads most spectacular cities, Bukhara.
The journey from Tashkent is 6 hours by the older Sharq service and 4 hours on the faster Afrosiyob.
Both of these services run daily. There is also a night train departing at 10 pm and rolling up in Bukhara at 6:30 am which could be a good option.
After you've dumped your bags head out and explore this spectacular city.
Make sure you visit the Ark and Zindan prison for a perspective on the city's turbulent and slightly gruesome history.
The Kaylan Square which contains the famous Kaylan Minaret and mosque, as well as the Mir-i-arab, makes up the architectural heart of the Bukhara's old town.
In the surrounding area, there are numerous mosques and madrasa's that are well worth checking out.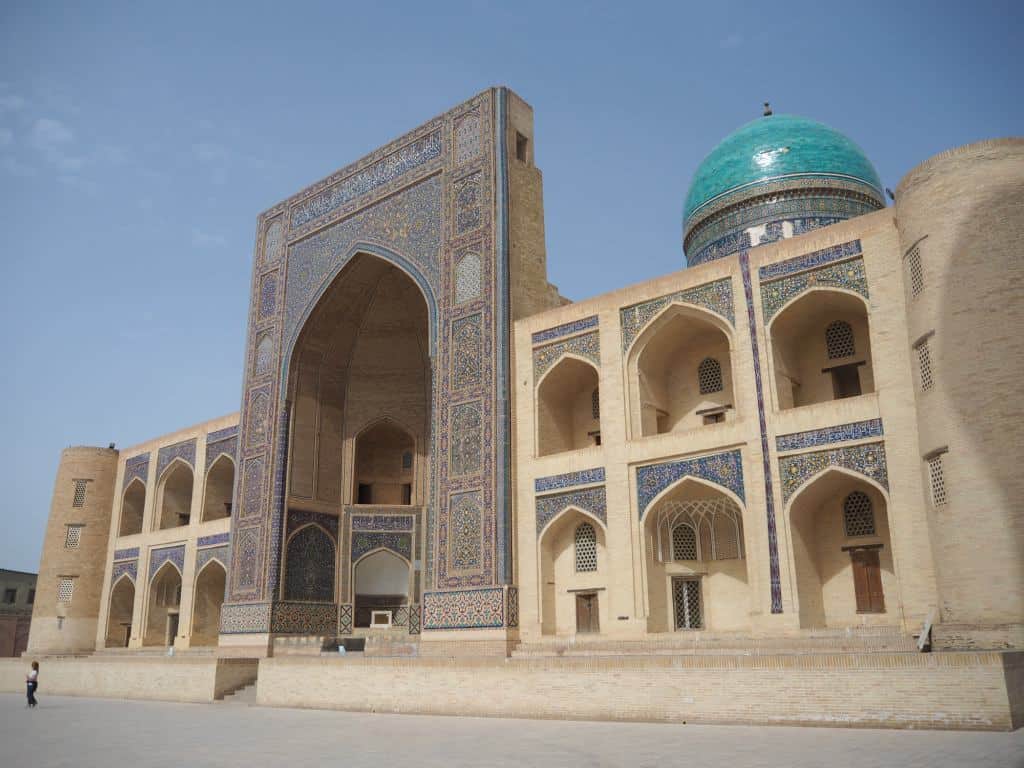 Day 4: Bukhara
Be sure to get out bright and early on your second day to wander Bukhara's maze of backstreets and alleyways to visit some of it's less well known such as the Khoja Kalon and Hoja Zayniddin Mosque's.
Do make sure to get over to the east side of town to see Bukhara's most well-known sight the rather lovely, Chor Minor.
After strolling around Bukhara's old town, grab a beer and wash the sunset from the very well located Chashmai Mirob.
READ MORE: Check out all the great things to do in Bukhara in this post!
Day 5: Samarkand
Hop on another train as you head to Samarkand, your final stop on this 7 day Uzbekistan itinerary.
There are many that say Samarkand is Uzbekistan's most spectacular silk road city. The architecture is awe-inspiring.
The Registan may be one of the most spectacular sights in the Islamic world.
However, unlike Bukhara and Khiva, modern-day Samarkand has grown around its ancient architecture leaving an oddly appropriate harmony.
Unsurprisingly the Registan is the place to start. This combination of three spectacular madrasas will leave you spellbound.
From here carry on to the Bibi Khanym Mosque.
READ MORE: Check out all the great things to do in Samarkand in this post!
Check out our Uzbekistan vlog on things to do in Samarkand.
Day 6: Shahrisabz
Take a day trip out to the beautiful city of Shahrisabz. Just under two hours from Samarkand, this small town is well worth the visit.
Start at the spectacular Gumbaz mosque before carrying on up to view the remains of the Ak Saray palace built on the orders of the region's greatest conqueror, Amir Timur.
You can either book a taxi from your hotel or guesthouse, or if you meet a particular friendly driver at the station, then arrange it with them directly.
Expect to pay around $50 for a day trip.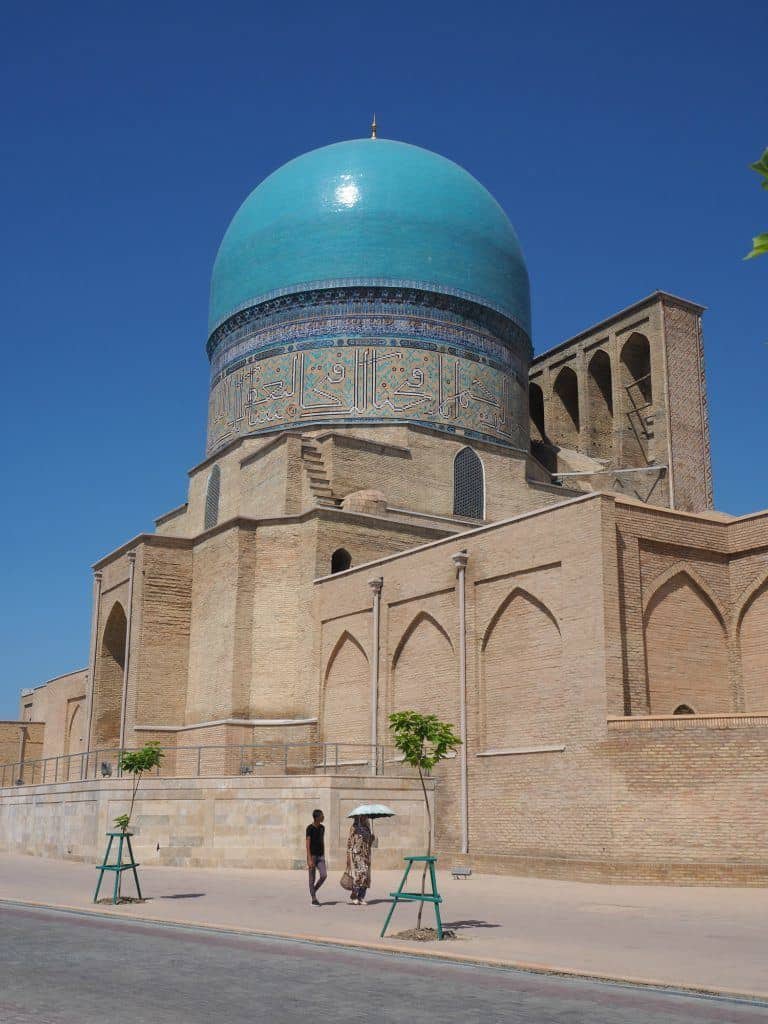 Day 7: Samarkand
On the final day of you 7 Day Uzbekistan itinerary head out to check out two of Samarkand's most spectacular sights.
Shah-i-zinda is a collection of small mausoleums decorated with incredible tile work. The narrow alleyway the winds through from the entrances makes the experience all the more magical.
You final sight in Samarkand before you catch the train back Tashkent is the Gur-e-Amir, the mausoleum to Amir Timur, Uzbekistan's greatest hero.
A fitting place to end your 7 days in Uzbekistan.
From here hop on the train and head to Tashkent for your flight out.
2-Week Uzbekistan Itinerary: OPTION 1 – Including the Aral Sea
The first of our two week Uzbekistan itineraries take in the fabled Aral Sea. This route takes you to the countries extremities with plenty of hidden gems.
Day 1: Tashkent
Starting out in Tashkent spend your first day chowing down on all manner of delicacies at the Chorus Bazaar.
However, if you've been in the area for a while and fancy a change, check out one of the cities awesome Korean restaurants.
Uzbekistan's Korean current population are descendants of ethnic Koreans that formally lived in Russian far wast and were forcibly moved to Uzbekistan by Stalin in the late 1930s.
Make sure you visit some of the city's museums and some classic Soviet architecture around the Navoi Theatre.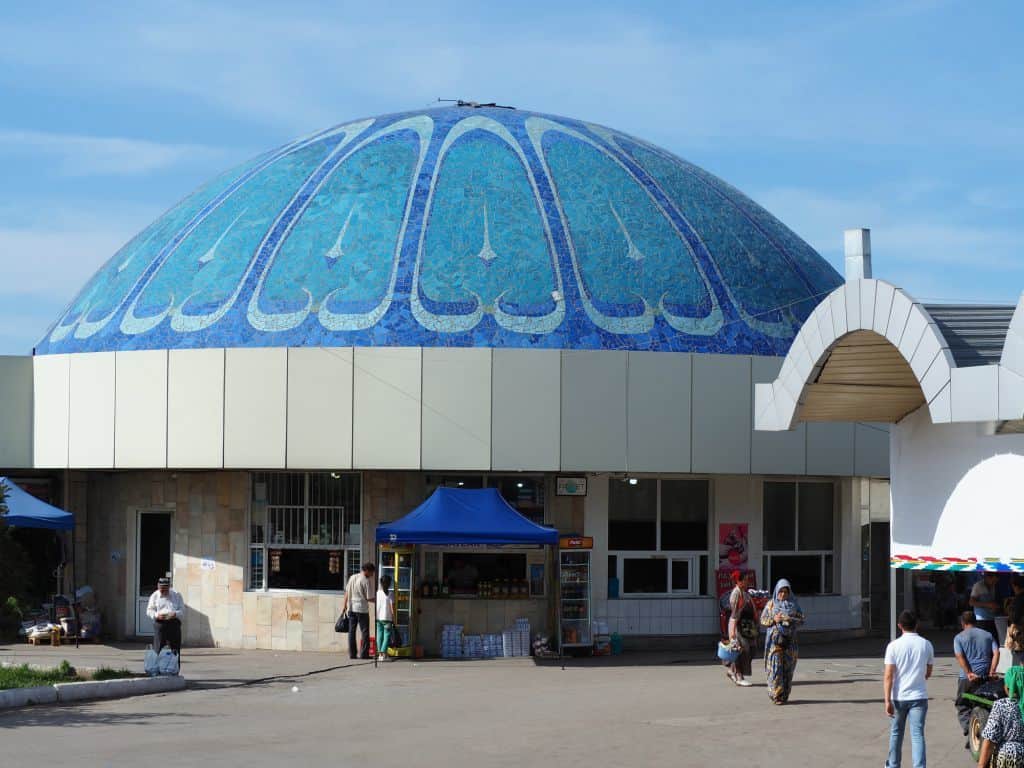 Day 2: Tashkent
Get up early and head over to old Tashkent. Follow the Kolkouz canal west to east through some of the oldest parts of the city.
Eyes peer over fences, friendly locals offer cups of tea, and Ladas rest precariously on the canal's edge.
Head over to the mainstay of Tashkent's Islamic architecture; Khast Imam.
Grab your bags from your hostel and take a taxi to the station to board your overnight train to Nukus. Time to travel across the desert in style.
Day 3: Nukus
You'll arrive in Nukus around midday, most likely beneath searing heat.
Trips out to the Aral Sea depart early in the morning so you will have the afternoon to explore a place that has real end of the line feel.
After you've dumped your bags at one of the two Jipek Joli's in town (comfortably the best accommodation options in town) make sure you check out the Savitsky museum which contains a fantastic collection of banned Soviet art.
Approximately half of the works were brought here during the time of the Soviet Union, with Nukus's location making it an excellent place to evade the authorities.
Day 4: The Aral Sea
Most tours of the Aral Sea last two days. The first day will take you out to the Aral Sea via the Ustyurt plateau. There is a campsite on the southern edge of the Aral Sea offering spectacular sunrise and sunset views.
The only way to visit the Aral Sea is on a tour as you need guides with an intimate knowledge of the tracks, as a large portion of the trip is off-road. Whilst it's certainly not a budget option it is well worth it.
You'll stop in at Mizdakhan, home to a collection of sacred mosques and mausoleums. From here it will be onto the Ustyurt Plateau and a potential visit to the military-grade airfield at Qula Ustyurt.
From here it's onto the shores of the Aral Sea. You will get the opportunity to swim. However, do not swallow any of the water and try to avoid getting it in your eyes if possible.
You can then spend the evening at the campsite chatting with your guide and drinking a bit too much Uzbek vodka.
Day 5: The Aral Sea
If you head isn't too fuzzy from the previous night's festivities then get up early to watch the sunrise over the Aral Sea.
You'll now head to the Aral Sea's most famous sight: Moynaq. Its ship cemetery is one of the clearest representations of this tragedy.
The rusting ships on the former seabed in Moyaq are now approximately 80km from the Aral Sea itself.
From Moynaq it's back to Nukus. From here you have two options:
Take the train to Khiva
Take a taxi directly from Nukus.
We chose the latter option, at a cost of about $70 per taxi, certainly not bad for a 3-hour drive.
Also, we had the added flexibility that meant if we delayed coming back from the Aral Sea, the rest of the trip would not be impacted.
Day 6: Khiva
Welcome to the first of ancient silk road towns located in the heart of Uzbekistan.
Khiva is very much an open-air museum with all of the cities main sights concentrated within the walls of the Ichon Kala.
Upon entering through the west gate you will need to purchase a 2-day ticket which will grant you entry to almost all of the mosques, mausoleums, minarets.
Start with the Kalta Minor Minaret, before checking out the Kuhna Ark, the Juma Mosquee and wandering the cities alleyways and backstreets.
In the southeast of the city is the Isom-Khoja mosque and minaret as well as the spectacular Pahlavon Mahmud Mausoleum. Be sure to visit the stunning and sometimes missed Tosh-hovli Palace.
Grab a beer at one of the guesthouse bars opposite the west gate and watch as the sunset paints the cities walls orange.
Day 7: Khiva
Head out early to explore some of the spectacular Elliq-Qala forts. You can book taxi's from your guesthouse or from guesthouses opposite the western gate. Expect to pay between $40 – $50 for the day.
There are quite a few fortresses that are available to explore. However, Ayaz Qala, Toprak Qala, Kirk Kiz Qala and Kizil Qala are particularly spectacular.
Catch a later afternoon train down to Bukhara.
Day 8: Bukhara
Spend the day exploring the heart of Bukhara's old town. The area around the Kaylon Mosque and Minaret is spectacular.
Make sure you grab a drink at Chashmai Mirob to take in the stunning view. Sunset is particularly nice, unsurprisingly.
The Ark is Bukhara's imposing fortress that was the residence of the city's Khan and offers a great insight into the area's history.
Just to the north is the Zindan prison which shows a more gruesome side of the city's history, demonstrating why the Khan had such a fearsome reputation.
Check out the local market for some of the best salsa you will eat in Central Asia as well as the nearby crumbling madrasas.
Day 9: Bukhara
Get up early and explore the city's backstreets as the sun begins to rise. In the southwestern section, there are numerous hidden mosques and madrasas that barely see any visitors.
After breakfast make sure you head over to Chor Minor and then head further out of town to check out the emir's summer palace.
Take the train to Samarkand in the afternoon.
Day 10: Samarkand
Get up bright and early to take on the Registan, Bibi Khanym, the spectacular Shah-i-Zinda. If time is on your side check out the Hazrati Hizr Mosque and its tribute to Islam Karimov, the country's former leader.
In the evening head out to Besh Chinor for some incredible shashlik washed down with a few beers, or Uzbek vodka if you're feeling brave.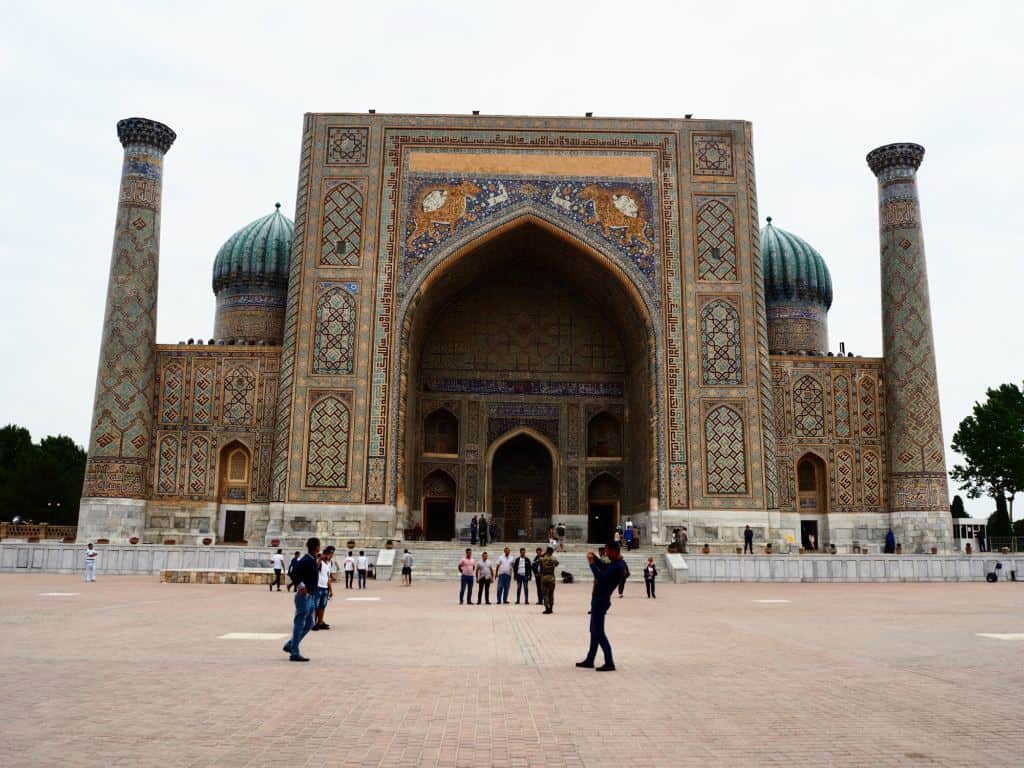 Day 11: Shahrisabz
Take a day trip out to spectacular Shahrisabz.
Follow the same itinerary for here as in the 7-day schedule above.
Day 12: Samarkand
On your final day in Samarkand take a trip to Gur-e-Amir, Amir Timur's mausoleum before heading out to the Ulughbek Observatory.
Head to Tashkent in the evening.
Day 13: Tashkent/Chimgan Canyon
Get out of Tashkent for a day of hiking in the rather beautiful Chimgan Canyon, a world away from the desert landscape of the last few days.
It is possible to get here via public transport but it will require a few changes, so you're best off taking a private taxi. Usually, they charge between $50 and $80.
Make sure you bring good hiking shoes, plenty of water and sunscreen. However, if hiking isn't your thing there are swimming options at the Chimgan reservoir.
Day 14: Tashkent
Say goodbye to Uzbekistan with a visit to the Minor Mosque and the Islamic University of Tashkent. For a different side of Tashkent head down to Alisher Navoi Park.
If the political side of Uzbekistan is of interest, take a trip to the Islam Karimov museum.
However in-spite of the fact that this Soviet-era dictator has passed away, Uzbekistan is still a repressive state. Therefore act in a respectful manner. Be prepared for quite a lot of propaganda.
2 Week Uzbekistan Itinerary: OPTION 2 – including the Fergana Valley
For this 2 week Uzbekistan itinerary we will be saying goodbye to the Aral Sea and Khiva and taking a journey to the rarely visited Fergana Valley.
Day 1 and 2: Tashkent
Follow the same itinerary as above for Days 1-2. However, travel to Fergana City on the afternoon day 2 or the morning of day 3.
Trains from Tashkent are just around 6 hours and depart daily at around 8 am and 5:30 pm. If the train times are inconvenient, a shared taxi is the best bet.
Once in the Fergana Valley itself, there are plenty of options to get around: shared taxis, marshrutka and trains.
Day 3-7: The Fergana Valley
The Fergana Valley is very different from the rest of Uzbekistan. It's one of the most diverse regions with Uzbeks, Tajiks and Kyrgyz living in close proximity.
When Stalin divided up the region in the 1920s no attention was paid to tribal, cultural or linguistic borders. Hence why this area has historically been a hotbed of violence in the past. Now however it is much safer.
This region is very different from the rest of Uzbekistan. Don't expect to see the same spectacular Islamic architecture here. It is the people that truly make this area special, and many have fascinating tales to tell.
Day 3: Fergana City
Welcome to the main town in the Fergana Valley.
In recent years travel in this part of Uzbekistan has gotten quicker and more convenient.
Therefore it is entirely possible to base yourself in one place and explore the region from there, with Fergana City being the best place to do this from.
Spend your first day exploring Fergana. The city has an almost Tashkent feel to it with tree-lined streets. The bazaar and the city's regional studies museum are well worth checking out.
Day 4: Kokand
Take a day trip to the city of Kokand, which is home to the spectacular Khan's Palace as well as some other mosques and madrasa's.
Taking a marshrutka is the best was to get here from Fergana. It takes about 1.5 hours and they run throughout the day.
Day 5 – Andijon
The largest city in the Fergana Valley will always be associated with the massacre that took place in 2005. From a cultural and linguistic perspective, there is a strong argument that this is the purest Uzbek city in Uzbekistan.
The city's bazaar and Jome mosque and madrasa as worth a visit.
Again, marshrutka is the best option.
Day 6: Margilon
This city is mostly known for the Yodgorlik silk factory, which helps Uzbekistan to maintain it's position as the world's third-largest producer of cotton behind India and China.
Alongside the Yodgorlik silk factory, the town's bazaar is also worth a visit.
Day 7: Namangan
Located in the north of the Fergana Valley is the town of Namangan. It is a city that has been, and still, at the centre of culture and crafts in Uzbekistan.
The Hoja Amin Mausoleum is well worth checking out. However, the jewel in the crown here is Akhsikent, the remains of an ancient city that was built 2,500 years ago.
Day 8: Tashkent and onto Bukhara
A travel day today. You may be able to do this all in one shot, or you may need to break this up into two journeys.
Day 9 and 10: Bukhara
Get stuck into one of the region's most stunning cities. Make sure you explore the Bukhara's backstreets, with the best time being in the early morning.
Day 11-13: Samarkand and Shahrisabz
After Bukhara head over to Samarkand, where you can squeeze in a day trip to Shahrisabz.
Day 14: Tashkent
Head back to Tashkent where you can explore some of the areas you've previously missed out on before flying out.
3-Week Uzbekistan Itinerary
For our 3 week Uzbekistan itinerary we have combined all of the previous routes. But we have also added an additional day in Khiva to give a bit more time for Khiva itself.
Day 1 – 2: Tashkent
Uzbekistan's capital city is packed with amazing things to see and do.
Day 3: Nukus
The end of the line, as far Uzbekistan's railway is concerned, Nukus is the jumping-off point for the Aral Sea, as well as being home to the Savitsky Museum.
Day 4 – 5: Aral Sea
A trip that few people will ever make. The Aral Sea is a confusing mixture of wonder, enlightenment and despair. However, this is probably the most eye-opening place I visited during my time in Uzbekistan.
Day 6 – 8: Khiva and the Elliq Qala fortresses
You could spend far more than two days wandering around Khiva's narrow alleyways. It is easily the best-preserved in Uzbekistan. The Elliq Qala fortresses are stunning, albeit brutally hot.
Day 9 – 10: Bukhara
Bukhara's backstreets hold a charm of their own. The architecture here is phenomenal, as is the Bukharan plov.
Day 11 – 13: Samarkand and Shahrisabz
Possibly the most awe-inspiring city in the region, Samarkand is home to some of the Islamic world's most jaw-dropping architecture.
Day 14 – 15: Tashkent and the Chimgan Canyon
Take a day to chill out in Tashkent, before getting some hiking in around the Chimgan canyon.
Day 16 – 20: Fergana Valley
Make Fergana City your base as you explore this off-the-beaten-track area of Uzbekistan.
Day 21: Tashkent
Back to Tashkent where your Uzbekistan adventure ends.
Uzbekistan Itinerary Travel Guide
Now let's dive into the nitty-gritty details of how to get to Uzbekistan, and how to get around on this epic adventure.
Getting to and from Uzbekistan
Uzbekistan is easily accessible overland from the four other Central Asia nations of Kazakhstan, Kyrgyzstan, Tajikistan and Turkmenistan.
However, the coming from Kyrgyzstan and Tajikistan can be a little trickier as you will be crossing in the Fergana Valley.
The border crossing at Chernyaevka, between Kazakhstan and Uzbekistan, can be particularly chaotic. However, it is the main crossing between the two countries with many travelling between Tashkent and Shymkent.
Incidentally, it is easy to add on a trip to Turkmenistan, taking a u-shaped route from border crossings near Khiva and Bukhara. However, if you do this you will need to get a double entry Uzbek visa.
Uzbekistan is reasonably well connected by air, with a number of international carriers offering flights to Tashkent. The country's national carrier, Uzbekistan Airways, is well connected across Central Asia and the Caucasus.
Getting around Uzbekistan
This is a great option for getting between some of Uzbekistan's more off-the-beaten-path destinations.
Long-distance taxies can be booked through guesthouses and hostels. You will pay for the cost of the four seats. So naturally, the price will be cheaper the more people you have to split it with.
In Uzbekistan's cities, any car can potentially be a taxi. Stand on the side of your road with your thumb out and pretty soon a car will pull up.
This could be a regular taxi driver, or someone trying to make a bit of extra money on their journey.
For these short distance, journeys make sure you agree on a price before you get in. There may be a little bit of haggling.
However, we found that the vast majority of prices quoted for trips within a city are actually very reasonable and in line with what you would expect.
But there are a few exceptions where you will need to flex your negotiating skills.
At Tashkent airport taxi drivers will quote some insanely high prices. It should be between $1-2 US dollars for a trip to the city centre. However, we had drivers quoting $20.
The second place is at border crossings. Very often drivers will charge very high fees, especially if there are no other options.
However, they will come down to a more reasonable price if you stick to your guns.
Marshrutka
The converted transit vans are a crucial part of the transport infrastructure in the region.
However, they are less common in Uzbekistan than in other nearby countries. This is possible because of Uzbekistan's reliable railway network.
But marshrutkas are commonly used to get from place to place in the mountainous Fergana Valley. Although the train line in the area has improved in recent years.
They are much cheaper than taxi's however schedules are not always super reliable as drivers don't want to leave until the marshrutka is full to maximise their takings.
Train
Uzbekistan's train network is excellent. With reliable old Soviet trains running alongside the high-speed Afrosiyob service there are plenty of options to get you across the country.
Uzbekistan's dry, desert climate and long journey times make train travel a great option for getting around.
Tickets can be purchased online, from train stations or at small travel agents. Train travel between Bukhara, Samarkand and Tashkent does not need to be booked too early in advance.
However, if you are planning on taking the night train between Tashkent and Nukus it's best to book as early in advance as possible as this service can be quite busy.
Plane
Internal flights are a great option if your time is limited to visit Uzbekistan and you have the budget.
DISCLAIMER: Some of the links in this article are affiliate links, which means if you book accommodation, tours or buy a product, we will receive a small commission at no extra cost to you. These commissions help us keep creating more free travel content to help people plan their holidays and adventures. We only recommend the best accommodations, tours and products that ourselves or our fantastic editorial team have personally experienced, and regularly review these. Thanks for your support, kind friend!