Everything you need to know about getting your Brazil visa in Buenos Aires for tourists.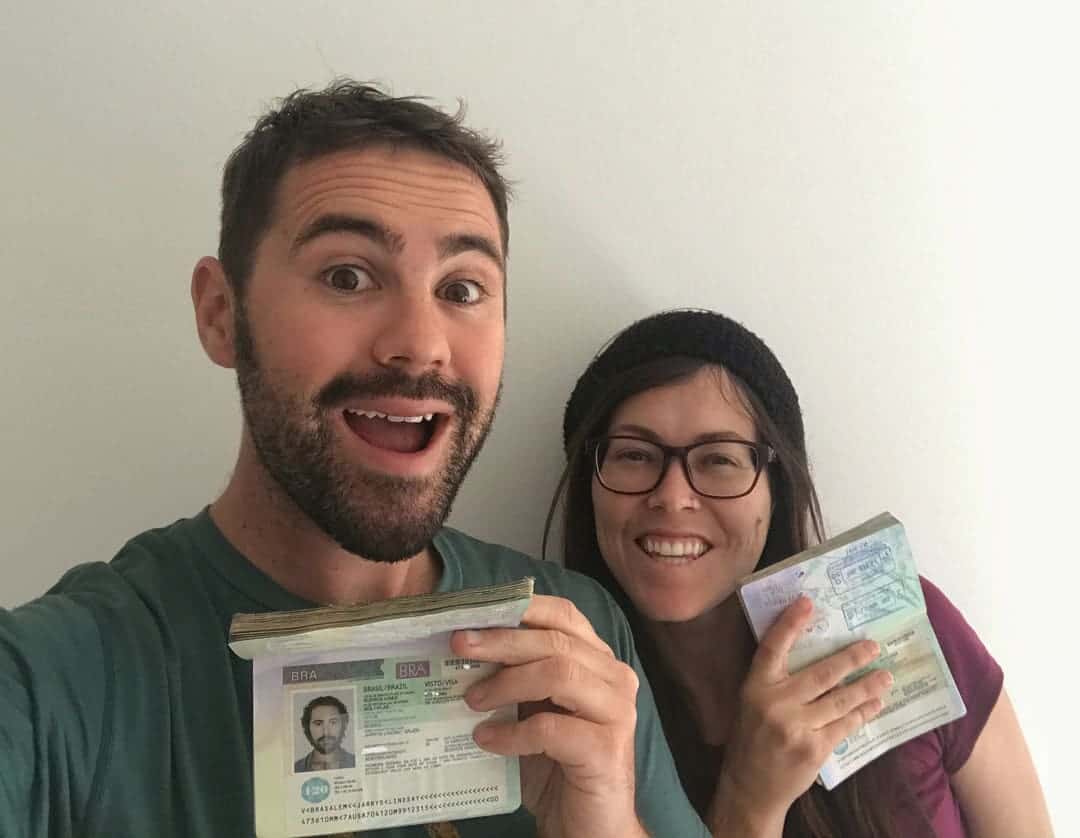 Updated in April 2018 – One of our readers Scott has reached out and said it is now possible for citizens of Canada, Australia, Japan and the US to apply for a Brazilian e-visa online using this website. We don't have personal experience with it, but it appears to be easier and cheaper than heading into the embassy. Please conduct further research before applying via this method, as we can't personally condone it. This is Scott's experience using it.
Updated in January 2018 – there are some new requirements on getting a Brazil visa in Buenos Aires, which we have included in this post. Thanks to all our readers who have commented with new information.
Being Australian citizens we found out we needed to get a Brazil visa in Buenos Aires before we could travel to the largest nation in South America.
During our research we found all the blogs online to be outdated and filled with information that seemed conflicting. After getting in touch with the Brazilian Consulate directly, we received some up-to-date information that made our application process go smoothly.
Despite some reports, we did not need to be in our home country to apply for our Brazilian visa, so there's no need to worry about it.
After checking, and confirming, all the information at hand, we finally could apply for a 90-day Brazil visa in Buenos Aires and managed to get it on the first try.
Here is everything you need to know for tourists on getting a Brazil visa in Buenos Aires.
Who Needs a Visa For Brazil
Unlike other nations in South America, Brazil doesn't give Visa On Arrivals (VOA) or offer visa-free travel for citizens of Australia, USA, Canada, South Africa and a few other countries.
If you're a member of the European Union, most South American nations and parts of Asia, you don't need to apply for a tourist visa to enter Brazil.
For the rest of us, you need to go through the application process. To make it easy this is an updated list of all the countries that don't need to apply for a Brazilian visa
If your country isn't on there, then you need to get a visa to travel to Brazil.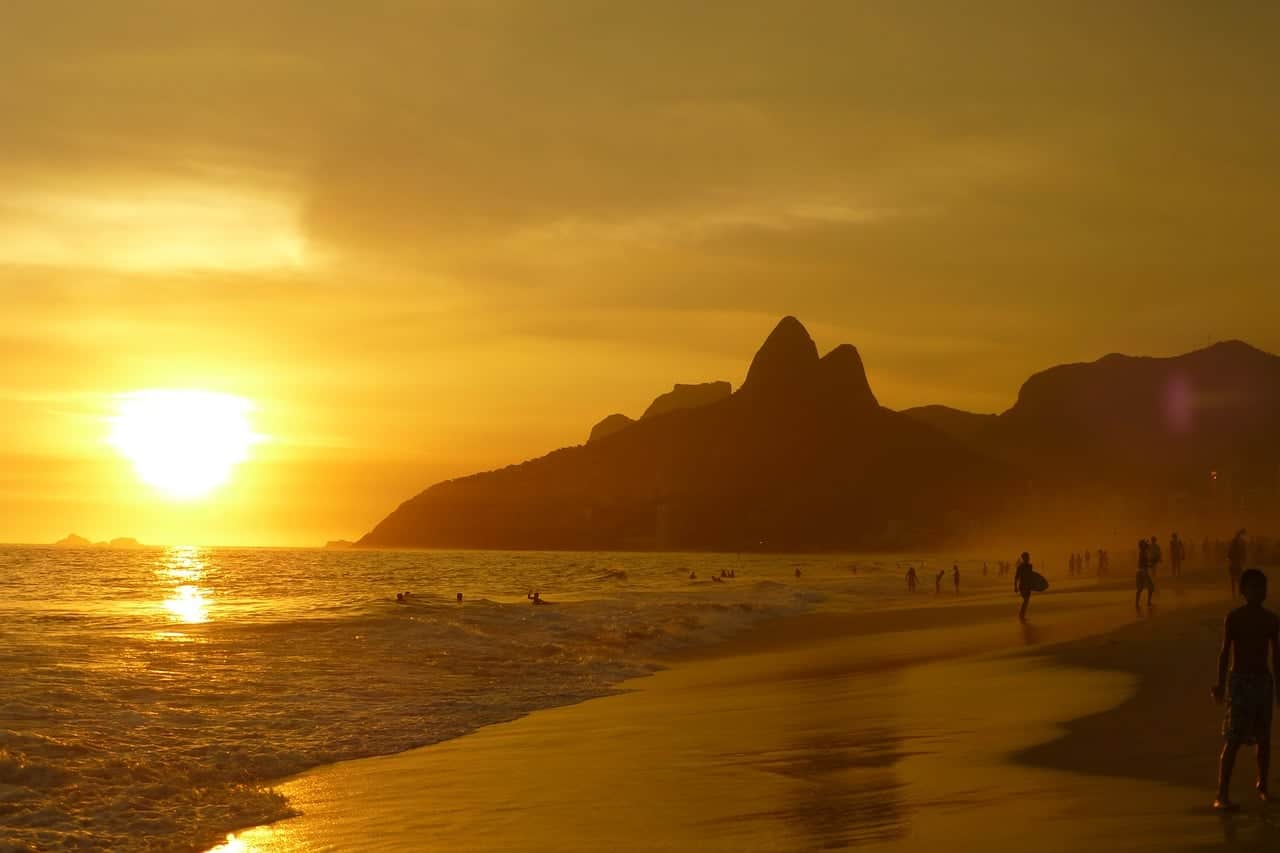 How Much Is A Visa For Brazil
How much a Brazil visa costs is entirely dependent on where your passport is from. Here are the prices in Argentine Pesos.
| | | | |
| --- | --- | --- | --- |
| Country of Citizenship | Basic Fee | Reciprocity Fee | TOTAL |
| Angola | $3.620 | – | $3.620 |
| Australia | $ 2.420 | – | $2.420 |
| United Arab Emirates | $1.620 | $1.120 | $2.740 |
| United States | – | 3.220 | $3.220 |
| All Other Countries | $1.620 | – | $1.620 |

What You Need To Apply For Your Brazil Visa
There is a lot of paperwork involved with getting your Brazil visa in Buenos Aires, but in all honesty it's nothing that you should be stressing about.
If you've ever applied for a Chinese visa, then you'll already have an idea of some of the things that are expected.
Here is everything you'll need:
Passport with at least 2 (two) blank pages and 6 months validity.
Recent passport photo (must be the exact same as the photo you add to your application) at 3×4 or 4×4 size.
Complete the online application form and print off the slip.
Proof of payment from partner bank.
Printed ticket showing way into and out of Brazil (flight tickets for example).
Printed documents showing all accommodation in Brazil.
Recent bank statement proving you have sufficient funds to support your stay. (Update – Some people are reporting they needed to show 3 months worth of bank statements.)
Credit card statement.
Photocopies of the front side of your bank card and credit card (yes you really need these).
Migratory status in Argentina. If you're a tourist you show your passport stamp. If you're a resident show your DNI card.
Some things that they didn't ask for are a photocopy of your passport, proof of travel insurance or a letter of employment, so there's no need to bring these in.
Important Notes
There's a fair bit of paperwork you need to show, and unfortunately in order to get your Brazil visa in Buenos Aires you need to show it all.
We met two backpackers in the embassy who had already been turned away once for missing one piece of the puzzle. Please just do yourself a favour and gather all the required information before going into the embassy.
If you are planning on crossing by land, or haven't booked your flights yet, you can fill out this travel form with your intentions.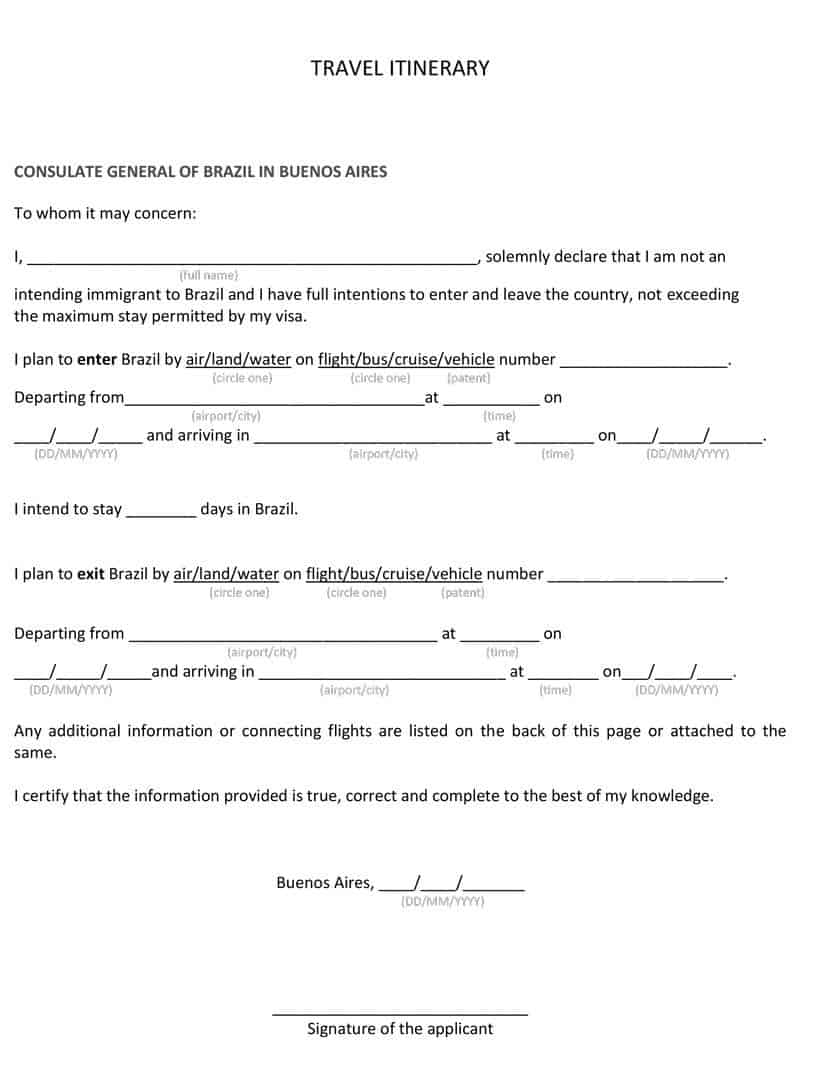 If you are travelling on a group tour, we suggest also getting a letter from your tour operator saying that you are booked on an all-inclusive trip to make things easier.
The bank statements must match your name, and have adequate funds in it. How much 'adequate funds' is a bit of a mystery, but it shouldn't be too high.
If you don't want to book all your accommodation ahead of time, here's a very nifty trick:
Go to Booking.com and look for accommodation in a few obvious places in Brazil (Rio, Sao Paulo, etc). Make up a bit of a typical itinerary.
Search for accommodation that has a 100% cancellation policy for the day before check-in and a 'pay later' deal. Now book that accommodation and print off the confirmation emails.
Once you receive your visa you can go back to Booking.com and cancel all your accommodation with no penalty fees. Don't worry, once you have your visa you're fine, but keep those confirmation papers anyway in case a customs officer asks you where you're staying.
How Long Can I Stay In Brazil?
The Brazil tourist visa allows you to stay in Brazil for 90 days, and you have one year to enter the country to activate your visa.
One thing to note however is that once you enter Brazil the 90 days starts from that moment and is consecutive, not accumulative.
What that means that if you enter on June 1st, stay for a week then leave, your visa is still ticking over and will expire on August 30th. You can enter and exit Brazil as many times as you want during this time frame, but the 90 days doesn't pause when you are out of the country.
Where Is The Brazilian Consulate In Buenos Aires
The Brazilian Consulate in Buenos Aires (Consulado-Geral do Brasil em Buenos Aires) is located downtown on Carlos Pellegrini 1363 5º piso (5º piso is level 5).
The closest metro station to the Brazilian consulate is San Martin on the C Line. From there it's only a 10-minute walk.
You can also catch a bus, but Buenos Aires traffic is notoriously bad.
The opening hours for applying for a visa are between 14:00 and 16:00, Monday to Friday. Note that the consulate will be closed for any and all Argentinian and Brazilian holidays. Check here to see what those days are. If the consulate is closed for a day while you are waiting to pick up your visa, you must add an extra day.
The Process
As of 2017 you DO NOT NEED TO BOOK AN APPOINTMENT to apply for a visa in Buenos Aires.
1 – The first thing you need to do is fill out the online application form. You can find it here.

Make sure that the photo you upload to your application form is the exact same photo that you submit with your paperwork. What we did was take a picture of our passport photos to upload and crop them to size, but you can also scan them.
Use all CAPITALS when filling out the form, and make sure you fill in the contact details in Brazil correctly. If like us you are just travelling through and don't have any friends of family in Brazil, you can add 'N/A' to it.
[box type="info"] UPDATE – Reports from some of our lovely readers are saying that as of January 2018 you must now upload scanned copies of ALL the documents we mention above to your visa application online. Itineraries, bank statements, etc.
Once you get to the end of the form, before you hit the final submit button, there should be an option to upload additional documents. Thank you to everyone for leaving comments below about these changes. It is a great help to everybody :)[/box]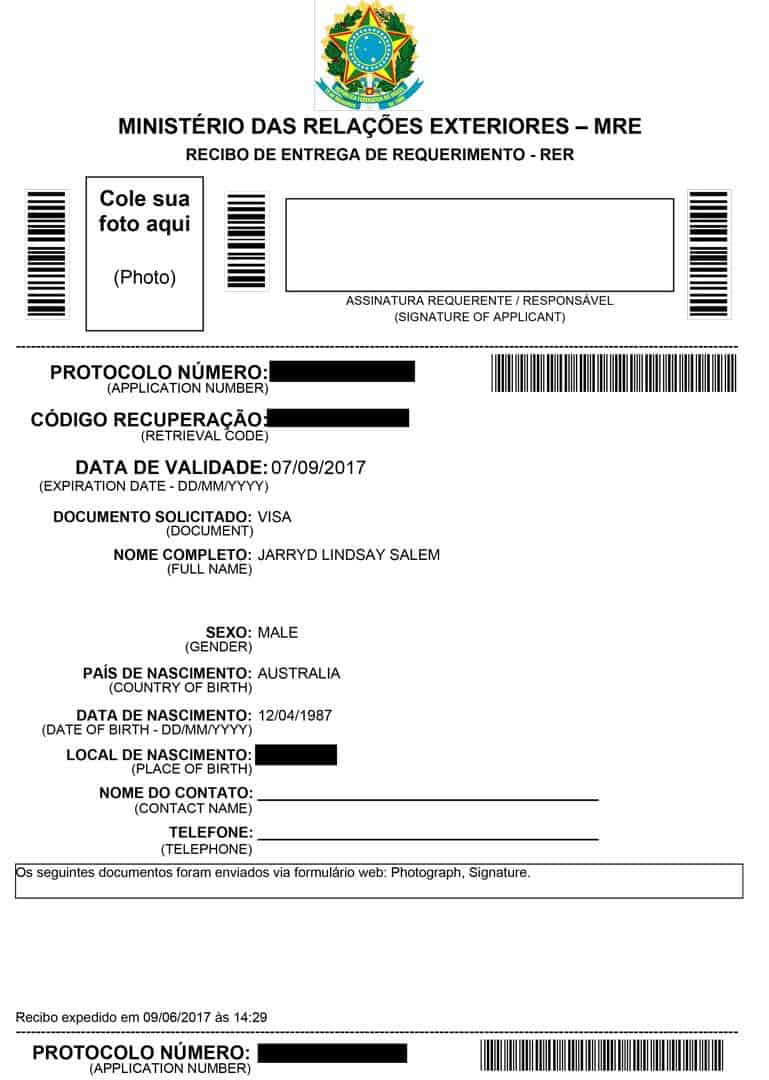 2 – When you have completed the form print it out and gather all the documents mentioned above. Head downtown and aim to be at the consulate around 2pm (visa applications are open from 2-4pm).
3 – Before you go to the consulate you need to pay the visa fee. This can only be done at an ITAU Bank. There is one located at Av. Santa Fe 831, just 7 minutes walking from the consulate and right near the San Martin metro station. Print off this form to take in with you.
Go in and say to the security guard, "Necesito pagar por mi visa de Brasil." He'll get you a ticket and wait to be called. For us they knew straight away what we wanted. Once you pay the teller the fee (Argentine Pesos only, in cash), they'll staple a receipt to your piece of paper.
4 – Head to the consulate and tell the security guard there you are applying for a visa. He'll send you up to the reception desk. They speak English here.
The person behind the reception desk will briefly go over your paperwork and then give you a numbered ticket. Step inside and take a seat.
5 – When your number is called head up to the counter. Now prepare to be interviewed.
The visa officers will go through all your paperwork and will likely ask you a few questions about your intentions in Brazil. Just be nice, smile a lot, and have a fun attitude. Remember, you're just a fun-loving tourist wanting to travel to Brazil.
They'll be pretty thorough with going over your paperwork, which is why it's important to have everything. If something is missing, you'll be sent away to rectify the problem, which may postpone you by a day. There's no point getting mad about anything with the officers, as they might just deny you completely if you do.
If this happens and you need one or two extra pieces of paper, there's a place to do some photocopying and printing just south from the Brazilian consulate on the same road.
6 – When all your paperwork has been checked and is proved to be in order, you'll be given a paper slip with your name, visa fee and a date to pick it up. The visa takes 5 business days to collect, so if you apply on a Wednesday, it will be ready on Wednesday the following week. There is no fast track options here.
7 – Return between 2-4pm on your designated day with the paper slip. Go through the reception desk again and wait for your number to be called. We recommend getting there early as well, as we waited nearly 30 minutes to pick up our visa.
8 – When it's your turn the officer will hand back your passport. Make sure you check all the details on your visa thoroughly before you leave the office. If there's something wrong with it now is the time to have it fixed.
Congratulations! You now have a shiny new Brazilian visa!