From exploring ancient ruins to carving up epic waves, here's our list of the 10 best things to do in Sri Lanka.
Sri Lanka without a doubt is one of the best kept secrets in the whole of Asia. Known as 'the pearl' of the Indian Ocean, Sri Lanka is just that – an absolute pearl!
From the shores of the Indian Ocean to the mountainous ruins of Ritigala, everything you see in this beautiful island nation you'll want to thoroughly explore.
Our List of the Top Things to Do in Sri Lanka
It isn't a big country, but the list of things to do in Sri Lanka are almost endless! Sri Lanka to most is generally known for its spicy food, surf and elephants, and don't get me wrong, I'd go back to Sri Lanka in a second just for these things.
But there are a lot more things to do so read on! Sri Lanka is an epic tropical paradise to get your adventure kicks pumping.
Go Surfing
Indonesia is one of the most popular places in Asia to surf, but there's a hot contender closing in on its tail, and that's the epic breaks of Sri Lanka's stunning coastlines.
In general there are 3 coastal spots to hang ten on being the east coast, west coast and south coast. Access to these coastal spots are fairly easy as the waves break close to shore meaning that all you will really need is yourself and a surfboard.
If you aren't a surfer and don't have a board and would love to give it a rip, you can always hire a board for around 1,000 rupees (USD$5.50) while you can get a surf instructor for around 2,500 rupees (USD$14)
Midigama: is located on Sri Lanka's south coast which is south of Galle. Midigama has a few gnarly reef breaks such as Ram's Right which is suited to the more experienced surfer. Midigama is the perfect spot to surf reef breaks as the waves aren't too powerful with a combination of lefts and rights suited to most surfers.
Arugam Bay: This is the stretch of coastline that most avid surfers come to Sri Lanka for. Arugam Bay has one of the longest right point breaks in the country with consistent swell during April to September. Arugam Bay can get quite crowded in peak season but don't worry there are a stack of other breaks around the area such as Baby Point producing a gentle break to Peanut Farm which is for the more advanced surfer. Even if you're not a surfer, visiting Arugam Bay is one of the top things to do in Sri Lanka.
Weligama: situated south east of Galle, Weligama is a place to go for beginner to novice surfers with a mix of breaks located along its majestic coastline.
Eat All of the Spicy Food
Sri Lankan food is spicy! I love my spicy food but Sri Lankan food is just next level spicy, yet at the same time it is so delicious!
No list of the best things to do in Sri Lanka would be complete without talking about the meals, they are seriously that good.
You will find that whatever you eat in Colombo, you will find in Galle or Kandy so there will always be an opportunity to taste something that you didn't get to try elsewhere.
Check out this street food tour of Colombo to experience all of its mixed cuisines and see some of city's highlights!
Breakfast
Definitely the best meal of the day so why not go for a hopper which is a bowl-shaped thin pancake that consists of rice flour, coconut milk and palm toddy which is made over a wood fire in a bowl-shaped pot.
Adding the fillings is up to you but I recommend going for an egg hopper with a serving of spicy coconut sambol which includes lime, chilli and onion.
Spicy breakfast in Sri Lanka is a thing and it's really good!
Lunch
When you are out and about, street food is a must. Kotthu consist of chopped up rotti bread mixed into a vegetable or meat dish then cooked over a hot plate, generally a fire.
Biryanis are perfect for anytime of the day as there are so many different types of rice available. The perfect combination consists of a mutton curry or spicy chicken with a side of pol sambol (minus the spice to balance out the flavors).
Dinner
Fish curries are a must so if you see the name Ambulthiyal you just have to go for it! Be sure to add a turmeric rice with naan bread and potatoes as the spices in the curry can be quite strong.
To wash it down, Lion Lager is one of the smoothest drops of beer in Sri Lanka, or opt for Anchor Beer.
Dessert
Sri Lankan's take their desserts very seriously and one treat you just can't pass is buffalo curd and treacle. To accompany dessert, opt for Arrack (local spirit) with either water, on the rocks or with a fruit juice.
Ceylon Tea
A visit to Sri Lanka isn't complete without sipping on some of the finest tea in the world. Although tea plantations are more common towards central Sri Lanka, there is no shortage of tea throughout the rest of the country.
Opt to sample pekoe which is the highest grade of tea available or Udawatte which is a tea grown at an altitude of over 600 metres and below 1,200 metres.
Drinking tea is quite serious in Sri Lanka and the methods of making a cup of tea are near to next level to ensure that the tea you are drinking is just exceptional.
Use fresh water
Let the tea leaves brew no longer than 5 minutes
Pour the milk first then the tea over the top of the milk
Enjoy!
Exploring Sri Lanka's Ancient Ruins
Sri Lanka is a deeply enshrined country which can be shown by its majestic Buddhist structures especially around Northern Central Sri Lanka.
Ancient ruins can be in the form of fortresses tucked away on huge granite rocks such as Sigiriya or Yapahuwa or statues of Buddha rising some 10 metres high in the ancient city of Polonnaruwa.
These are definitely one of the best Sri Lanka tourist places and it will give you a whole new perspective on just how respected Buddhism is in Sri Lanka.
Here's a few of the ruins that make up the best places to visit in Sri Lanka.
Dambulla Cave Temple
One of the most unique and ominous structures is the Rock Temple of Dambulla said to be constructed in the First Century B.C.
All of the caves that you can access have a large array of Buddha statues including a particular reclining Buddha that is said to be in parinirvana (nirvana after death). The Buddha in recline is a huge 14 metres long!
Location: Kandy – Jaffna Hwy
Opening hours: every day from 7 AM – 7 PM
Price: 1,500 rupees
Yapahuwa Rock Fortress
Rising 200 metres out of the fertile land of Sri Lanka is Yapahuwa, a granite geological feature once used as a fortress dating back to the 13th century.
Yapahuwa is more than just an ancient ruin, it provides an insight into the what the kingdom of King Buvenekabahu's fascinating place look liked.
Getting to the summit of Yapahuwa can be quite a mission both up and down with very steep steps and small streams of water making its way across lose granite patches.
The climb is totally worth the extra effort as the views from the top are 360 degrees of pure Sri Lankan countryside. Yapahuwa isn't as popular as places like Sigiriya so expect to have all of the views for your eyes only.
Location: Maho
Opening hours: every day from 7 AM – 6 PM
Price: 635 rupees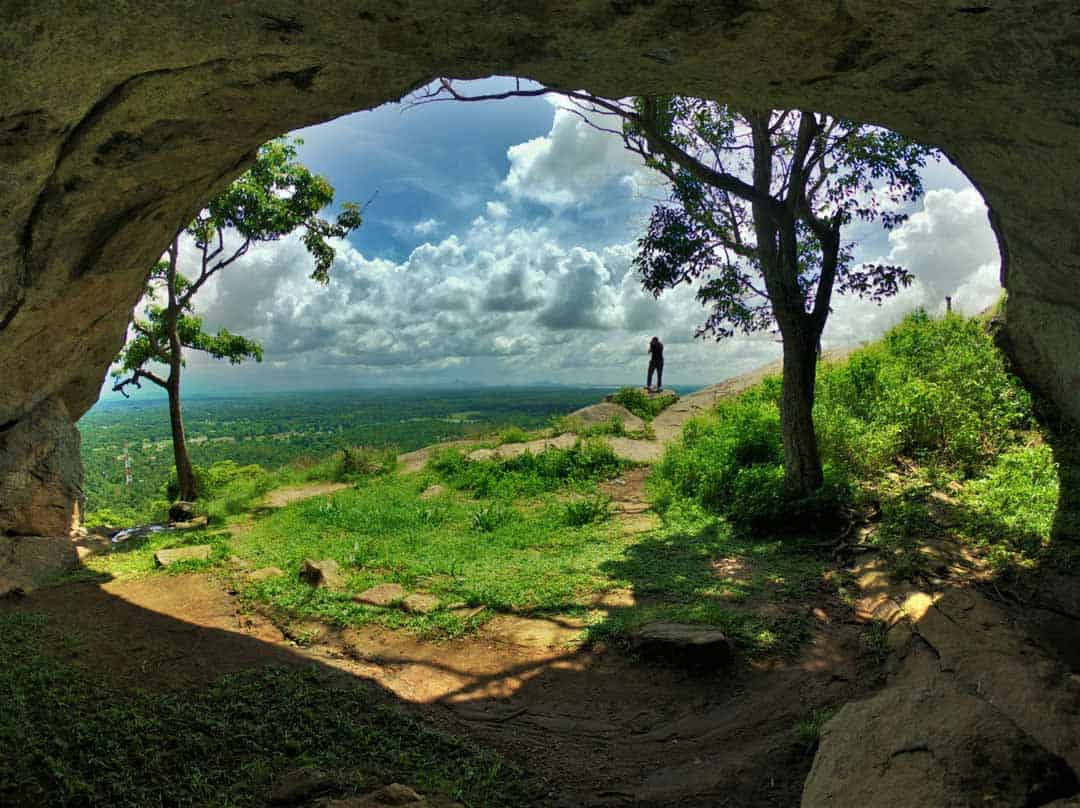 Polonnaruwa
A 45 minute drive from Habarana, Polonnaruwa was once a capital city during the 11th century under King Vijayabahu 1. Now a World Heritage Site, Polonnaruwa is becoming ever so popular with those visiting Sri Lanka from abroad.
Polonnaruwa is spaced out over a large area of land so getting around to see all of the sights might require hiring a bicycle.
Polonnaruwa is divided into 5 sections with the Royal Palace, the Quadrangle, the Northern Group, the small Island Park and the small Southern Group with a variation of other ruins scattered throughout.
One of the most spectacular places to lay eyes on is the Polonnaruwa Quadrangle where a mixture of buildings and structures are cleverly built around one another.
Vatadage is the most impressive feature which is a circular relic house with two terraces that encapsulate the Buddha within its crumbling walls.
Check out this ultimate tour all about the ancient capital of Polonnaruwa!
Anuradhapura
Listed as a UNESCO World Heritage Site, Anuradhapura is home to a relic of Buddha's tooth which is enshrined within the city, Abhayagiri Dagoba has crumbled over the years to which once stood over 100 metres tall.
The other impressive stupa (Dagoba) is Jetavanarama with similar attributes to that of Abhayagiri. Jetavanarama has an impressive 90 million bricks making it one of the largest man-made structures on earth in its time only out done by the Pyramids of Egypt.
Sri Maha Bodhi is the most sacred of Buddhist monuments in Sri Lanka. You may have heard of a Bodhi Tree? This one in particular is one of the oldest in Asia dating back some 2,000 years.
The Bodhi Tree is tucked away in the middle of the temple making it impossible to touch however, its branches drape over the temple walls with the odd leaf falling before your eyes.
Anuradhapura is one of the most famous Sri Lanka attractions, don't miss it!
Sigiriya Rock
Lion Rock is by far the most visited natural feature in the Northern Central Region with bus loads of tourists visiting the once stronghold of Sigiriya which was ruled in the 5th century by King Kassapa.
Although Sigiriya is one of the busiest tourist places on the island, it's one of the most impressive in a few different ways with gnarly infrastructure being built to take tourist to the top of the rock (if you are scared of heights this may not be for you).
At the foot of Sigiriya, 2 lion's feet have been carved from stone and they are not small by any means. The lion's feet act as a passage to the top of the fortress. Once at the top, the views are incredible!
Ritigala Ancient Monastery
Before you even start the short hike, the journey kicks off with a 30 minute jeep ride from the main road past lush forest with the odd peacock jumping from tree to tree, eventually leading to a dirt road at the foot of Ritigala Peak.
Ritigala is quite a special place given that the ancient 4th century ruins are immersed within the Ritigala Nature Reserve with various crystal blue streams flowing past the ruins.
Today the ruins of Ritigala are said to be the where monks of all levels came and lived during their practices. From ruin to ruin, the track gently flows toward a dead end leaving you at a place which is perfect to sit back and take in your surrounds.
Hands down one of the best things to see in Sri Lanka.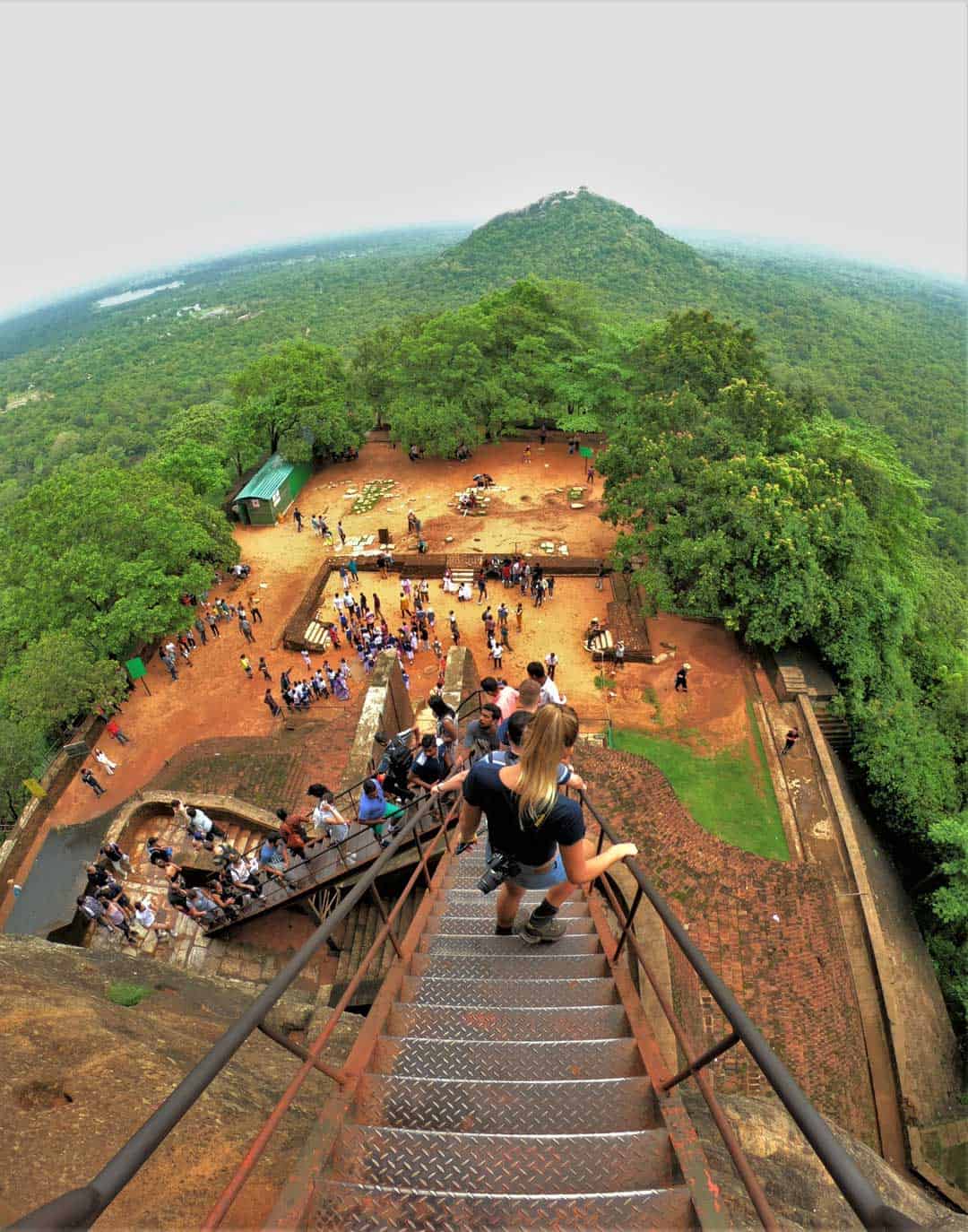 Visit One of the Country's National Parks
Sri Lanka's national parks are such diverse places of natural wonders with rare species of plants to the home of the biggest population of Asian elephants oh and there are even crocodiles!
National parks are spread right throughout Sri Lanka and it wouldn't be a trip without visiting one.
Uda Walawe National Park
Situated in southern Sri Lanka, Uda Walawe National Park is the best place to go if you really want to see an elephant. It's pretty much a guarantee that you will.
Costing USD$15 for an adult to enter you are bound to see Asian elephants roam wild while water buffalo, sambar, spotted deer, jackals, bear sloths and giant squirrels are amongst the parks boundaries.
It is a must to have a vehicle and driver as elephants can be very dangerous if approached by foot. Vehicles are generally parked outside of the park with a driver and can cost around 3,000 rupees for a half-day.
A thing to note about this park is that its inhabitants such as the elephant are severely under threat due to the clash of cattle farming.
A cattle proof fence has since been erected to prevent cattle from entering the national park but at the same time, elephants are now not able to travel to waterholes and forests outside of the fence meaning that there is a constant shortage of food for the elephants to eat.
Make sure you add Uda Walawe National Park to your list of what to do in Sri Lanka.
Opening hours: every day from 6 AM – 6 PM
Price: 2700 rupees
Bundala National Park
Bundala is one of the best places to go bird watching in Sri Lanka so bring a good pair of binoculars and a long lens to get a few amazing shots!
There are over 200 species of birds within the national park so it's pretty much guaranteed that you will spot one or two or maybe them all?
As well as birds, Bundala has an outstanding array of animals from elephants, crocodiles, monkeys and mongoose.
If you want to know what to do in Sri Lanka, and are into birds, this is the place to go!
Opening hours: every day from 6 AM – 6 PM
Price: 1800 rupees
Horton Plains National Park
Despite the name 'plain', Horton Plains National Parks has 2 of the highest peaks in Sri Lanka which both rise to over 2,300 metres.
Horton Plains are known for its epic selection of hiking trails, waterfalls and wide variety of bird-life.
Unlike other national parks in Sri Lanka, Horton Plains has a lot of hiking trails which means you don't need to be within a vehicle for safety purposes. However there are a few wild boar and leopards around which is pretty cool!
One place in particular, Worlds End is known for its majestic views especially during sunrise. Below Worlds End is a crazy 880 metre drop!
Getting to Worlds End is 4 kilometres but if you want to visit some of the waterfalls within the park, an additional 2 kilometres of hiking is necessary especially if visiting Baker's falls. Expect to walk 9.5 kilometres in total.
Is there a better way to see Horton Plains than on a train ride with picturesque views? Book it here with Get Your Guide now!
Enjoy a scenic train ride through the beautiful landscape then hike to the World's End Viewpoint.

Opening hours: every day from 6 AM – 6 PM
Price: 1,150 rupees
Yala National Park
Yala National Park is by far the most popular and famous of national parks in Sri Lanka.
Yala is known for its big cats like leopards and huge array of bird life and less for its elephants.
One of the biggest concerns about this national park is the impact that humans are having with an almost constant barrage of vehicles hustling to get to the prime location. It is possible to ask your driver to avoid the crowds.
Vehicle hire starts at 4,500 rupees and tops out at 6,000 rupees for a half-day tour.
Opening hours: every day from 6 AM – 6 PM
Price: 2730 rupees
Minneriya National Park
Minneriya National Park is by far the best place in Sri Lanka to spotting an elephant or 200.
Minneriya requires you to have a vehicle and driver (which can be purchased outside of the park gates) due to the park containing wild elephants, wild boars and crocodiles to name a few.
One of the places you are guaranteed to go is alongside a relatively large lake that is home to over 200 elephants that graze the green pastures.
The best time to visit is at the end of the day as the elephants head towards a nearby river for a bath and with the sun setting in the background, things couldn't be much better!
Opening hours: every day from 6 AM – 6 PM
Price: 2730 rupees
Join Some Traditional Cooking Lessons
Tasting food is a must when in a foreign country but getting to actually cook the meal can be quite tricky. Cooking lessons are growing in popularity especially in Sri Lanka.
Sri Lankan's take their cooking very seriously especially if it is a traditional meal. Although there is an increasing popularity with this type of tourism in Sri Lanka, there are only a few places that will show you how to make a delicious homemade meal.
Cinnamon Hotels in Habarana, Northern Central Sri Lanka
Tucked away on the grounds of Cinnamon Hotel – The Lodge is a traditional Sri Lankan kitchen that is unlike anything I have seen before. Consisting of red clay and a thatched roof, meals are cooked in clay pots and heated by using dry coconut shell.
Cooking under the watchful eye of the Executive Chef of The Lodge was amazing and even better when we got to eat what we had cooked!
Check out my post all about Cinnamon Hotels here.
Aliya Resort & Spa
While the views from Aliya Resort of Sigiriya Rock are some of the best for a hotel in the area, there's a top notch kitchen for cooking lessons which like the Lodge lays only a few minutes' walk from the lobby of the hotel.
A hall of sorts is decorated with old tools and photos that show the history of harvest and cooking in Sri Lanka while a few metres away is a small traditional kitchen completely made from red clay.
Jungle Trekking in Sri Lanka
Day walks are quite common within Sri Lanka, but multi-day trekking has never really taken off in the country.
It's definitely different to some of its close neighbors, such all the amazing hiking in Nepal, but that doesn't mean you shouldn't check it out anyway!
It's quite hard even finding information on treks in Sri Lanka so here are a few to get you started:
Adam's Peak
Distance: 7 kilometres
Start / Finish: Dalhousie
Time: 2.5 to 3 hours to summit; 7 hours from Ratnapura
Difficulty: Moderate
According to religion, this is the place where Adam first set foot on earth making it a place of pilgrimage for many people. Adam's Peak (Sri Pada) is usually always busy so it's best to set off early to avoid the crowds.
Ella Rock
Distance: Not known
Start / Finish: Ella
Time: Half day to 1 day
Difficulty: Difficult
Again, another hike that is quite popular but finding information on it can be difficult. If you are thinking of doing the hike to Ella Rock you are best off hiring a guide from a local guesthouse which will cost 1,800 rupees for a group.
Views at the top are quite spectacular!
Lakegala Mountain
Distance: Not known
Start / Finish: Meemure Village
Time: 2 to 3 days
Difficulty: Moderate to difficult
Meemure is one the hardest places to get to in Sri Lanka and even harder to get to the summit of Lakegala mountain, a spire that majestically rises from the fields around it.
Getting to the summit will require a local guide and is best to be sourced once in the village of Meemure.
Train Surfing?!
I don't literally mean standing on top of a train and pretending to surf, more like sticking your head outside of the door while the train speeds along.
Well both are quite dangerous but opt for the 2nd option as it is already a thing in Sri Lanka.
So many people travel to Sri Lanka just to do this! Where else in the world can you do so?
The most popular train by far is to Ella as the train winds its way through tea plantations. Being so popular, the only choice you have is to stand the entirety of the journey.
Enjoy the Stunning Beaches
Beaches in Sri Lanka are just stupidly beautiful often lined with coconut palms and the odd surf shack that happens to serve cocktails such as the local favourite, Arrack.
Southern Sri Lanka is where you are going to find that perfect beach.
Marakolliya beach is probably one of the most stunning beaches in the country and at the same time is home to nesting sea turtles.
Rekawa beach which is another stretch of pristine gold sand, lined with an abundance of coconut palms and turquoise water.
Nilaveli beach located on Sri Lanka's east coast offers the feel of being remote and rightly so but due to a high tourism volume, coral reefs have been affected by tourism operators.
Visiting a Local Market
You're coming all this way, wondering what to see in Sri Lanka, yet one of the most amazing things to do is actually just do as the locals do and visit a market.
Local markets in Sri Lanka may seem very crazy and full on with thousands of different stores, shops and shacks but the experience of immersing yourself in a local market will give you a feel for the daily life of the Sri Lankan people.
So which are the best markets to visit?
Dambulla Vegetable Market
By far the best place to experience buying local produce whether it be coconuts, bananas, potatoes to exotic items that you have never heard of, Dambulla is the place to go.
Just make sure you don't get in the way of the locals unloading the trucks!
Pettah Markets in Colombo
Pettah markets literally have everything and I mean everything. From fake flowers to potatoes to jewelry, Pettah has pretty much everything but you may want to buy a map first before entering the markets as you'll probably get lost.
Snorkelling and Scuba Diving
Sri Lanka's coral reefs are incredibly beautiful but also very precious making them ideal for getting on the wet suit and heading into the sea.
You can generally do a lot of snorkelling offshore on most beaches along with scuba diving but there are a few spots not to be missed.
When snorkelling or diving above reefs, please don't touch the corals or fish as it may damage or kill them.
Where are the best places to go diving in Sri Lanka?
Pigeon Island
Pigeon Island is perfect for both diving and snorkelling with a variety of spots to explore. Pigeon Island is home to nearly 300 species of fish!
Unawatuna
Unawatuna is home to a sunken ship which means you get to scuba through a ship! If you are looking to get a certificate, this place might be your best option.
Things NOT to Do in Sri Lanka
Responsible tourism can be so easy but often local laws are forgotten and tourists fall into the trap of thinking that you can do whatever you want on holiday well because it's your holiday.
Here are a few things to be mindful of when visiting Sri Lanka;
NEVER ride an elephant. Why? Elephants were never meant to be ridden or painted on. Sri Lanka has one of the largest populations of wild Asian elephants to which they roam freely from place to place.
Please never ride an elephant; it causes them huge stress leading to injury or death.
NEVER pose with a leopard or animal which is in captivity.
That's my list of the top things to do in Sri Lanka. Have I inspired you to go? Have something you want to add? Leave a comment below and let me know!
DISCLAIMER: Some of the links in this article are affiliate links, which means if you book accommodation, tours or buy a product, we will receive a small commission at no extra cost to you. These commissions help us keep creating more free travel content to help people plan their holidays and adventures. We only recommend the best accommodations, tours and products that ourselves or our fantastic editorial team have personally experienced, and regularly review these. Thanks for your support, kind friend!