Located at some of the best locations in Sri Lanka, Cinnamon Hotels is that one hotel chain that puts in that little bit extra to make you enjoy your holiday a little bit more.
Generally I am one who can settle for a hostel or even a homestay but in some instances there are opportunities to stay at some of the most unique places around the world and Cinnamon Lodge located in the Northern Central region of Sri Lanka is one of a kind.
Habarana is located about 20 kilometres south of Dambulla. Habarana is a bit of a sleepy roadside town which is in a prime location to go on safari and further access the ancient cities of Northern Sri Lanka.
Cinnamon Lodge is situated right next to Habarana Lake which harbors life to more than 100 species of birds and many species of monkey including the Tufted Gray Langur which can be seen jumping from branch to branch looking for fresh shoots.
Cinnamon Lodge is more than just a hotel as most of the time I was there was spent exploring the grounds on which it was built.
Although it might seem like a bit of a maze getting from the reception to your room, each path no matter which you take directs you under groves of lush, native trees that all lead to the same place, so once you get lost, you'll know your way the second time around.
The lodge is designed around the 1st century Ritigala Buddhist monastery with much of the paths and stairs hand crafted from granite.
Due to the high rainfall in Northern Sri Lanka, most of the granite becomes covered in green lichen that gives you the feeling of walking amongst an Indiana Jones movie set.
Why Stay at Cinnamon Hotels?
Staying at the Lodge in Habarana was an amazing experience and there were a few good reasons for that. Most hotels I have stayed in the past overseas tend to be suited primarily to western travellers and sometimes that can be too comforting.
The point of travelling to places such as Sri Lanka is to get out of your comfort zone while experiencing comfort which might sound strange but is completely true.
The Lodge is a place that is situated right next to Habarana Lake which is a wildlife reserve for over 100 species of birds, monkeys and other animals to which all are wild animals.
This isn't something you get when you stay in a hotel in the city. No matter how many times you see a monkey jump from tree to tree, it's just an amazing thing to see!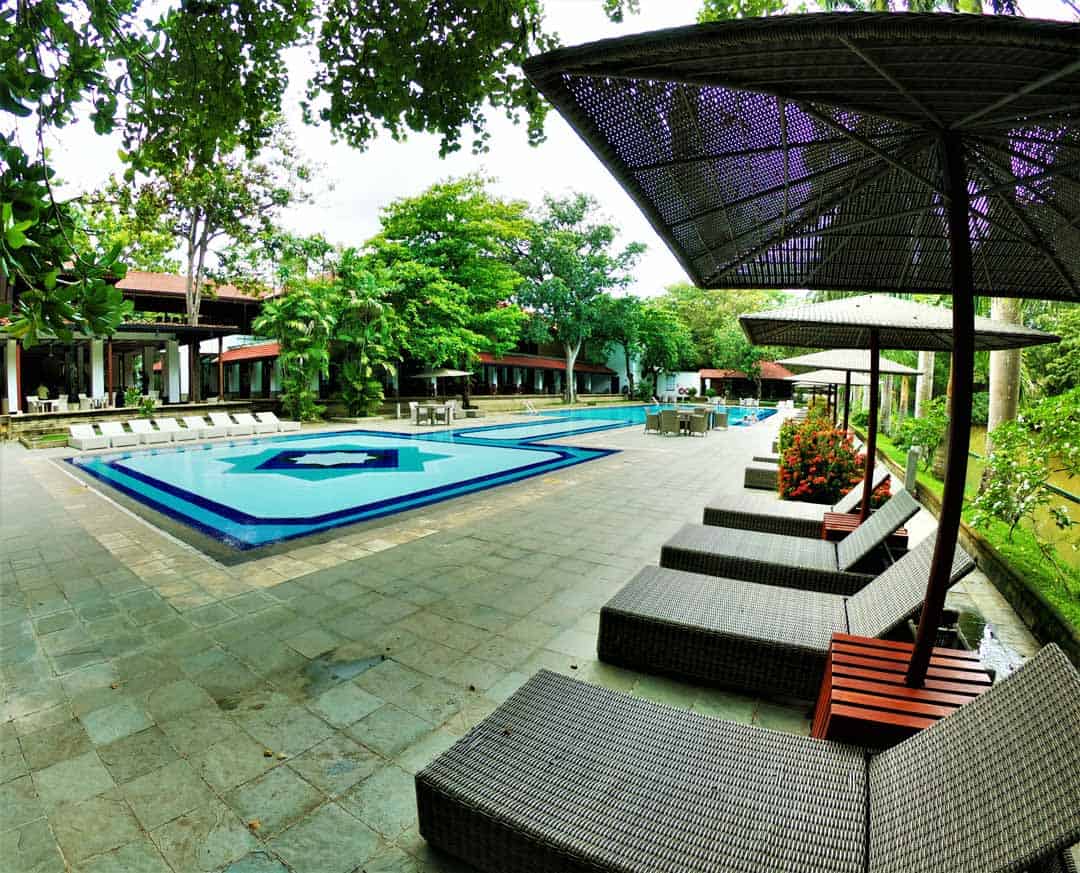 What makes staying in a hotel far from home a comfortable stay is the people that actually work on location. The Lodge employs well over 100 staff to which are all from the local area and everyone that I came across always gave a massive smile no matter what time of the day.
Food, Food and More Food
I'll just get this one off my chest…there was no shortage of food what so ever at the Lodge and I may have put on a few extra kilograms but that's ok because the food at the Lodge is pretty mouth-watering.
You might not know but Sri Lankans love their spice and it's not just a casual nip of spices, it can be a bit like a truck hitting you at speed kind of spice and that's a good thing!
As someone who loves curry, I definitely devoured maybe one too many plates of curry while in Sri Lanka.
The Lodge has everything from Mutton curry, fish curry to durian curry with an assortment of red rice, turmeric rice and white rice it all went down so well!
There are literally infinite ways to have your food in Sri Lanka so you'll probably be going back for seconds!
The Organic Farm at the Lodge
If I haven't mentioned already, food in Sri Lanka is a big thing more like a national obsession. The Lodge attracts a lot of people each year and feeding everyone 24 hours a day 365 days a year can be a challenge but not with the Lodge.
Everything that is served as entrees or mains is sourced locally either grown on site or bought from the fruit and vegetable market at Dambulla some 20 kilometres away.
All of the ingredients are handpicked by the Lodges Executive Chef to ensure only the best is used.
Executive Chef of the Lodge was kind enough to show our group everything from meal preparation to actually cooking the meal in a traditional Sri Lanka kitchen to which we all got to eat after cooking, delicious!
Sustainability at the Lodge
One of the most crucial things to be aware of not just in Sri Lanka but the world is sustainability and how to ensure that whatever operation you are running, it is sustainable.
Like most hotels in the world there is a system for towels being washed when they are placed on the ground but one of the most things that impresses about the Lodge is their composting system which is near the organic farm where food that isn't consumed is used as compost which then fertilises crops.
Food miles are an important thing for most consumers and if you are not sure what that is I will explain briefly; "it is the distance from the consumer to the grower" the less distance the better it is for the environment and the more fresh that fruit or vegetable will be.
The organic farm is a few hundred metres from where the food is prepared while Dambulla markets are 20 kilometres from the hotel to which most foods are bought in bulk meaning fuel consumption is kept to a minimum.
Plastic usage are another thing that are very much limited with the Lodge while a recycling system has been placed just off site of the hotel.
Habarana is Central to Most Things
The Lodge in Habarana is central to most ancient sites in the Northern Central region such as;
Sigiriya: 20 minute drive

Polonnaruwa: 1 hour drive
Anuradhapura: 1.5 hour drive
Ritigala: 30 minute drive
Rock Cave Temple: 20 minute drive
Getting to Habarana
The Northern Central region of Sri Lanka is quite far from the capital Colombo and will generally take 6 hours to reach which includes stops and sightseeing along the way.
Enroute to the Lodge at Habarana, there are a whole stack of places that you must visit such as the ancient rock fortress of Yapahuwa which can be a very steep climb to the top but once you are there, 360 degree views are bound to blow your mind, this will be Sri Lanka at a whole new perspective!
Roadside stops are not your average service station stop in fact it's more like stepping off into a tropical paradise and being handed a freshly picked coconut to rehydrate with.
There are few options on modes of transport to Habarana such as a charter bus with a tour company like Walkers Tours who made things so much easier in getting around Sri Lanka.
You can hire a car and driver as the roads can be quite chaotic as an experienced driver will be your best chance of getting from Colombo to Habarana and back.
Want to see Sri Lanka from the sky while getting from A to B? Then get onto www.Cinnamonair.com which flies direct from Colombo International to Sigiriya and Anuradhapura taking approximately 40 minutes.
Check out my Sri Lankan Airlines review.