Flying halfway across the world for 1 week may not be worth it but when you fly with an airline as comfortable as Sri Lankan Airlines, 22 hours return of air time is well worth the grind.
Here's my complete Sri Lankan Airlines review from Melbourne to Colombo.
Checking In
The staff are super friendly allowing me to travel to Sri Lanka with a spare seat beside me for that little bit of extra space. The check in process was very simple with the Sri Lankan airline service going to Colombo however on the return leg to Melbourne the staff weren't so nice to me for the same request despite my ticket being 'sponsored'.
Economy Class Seat – 35A
Whenever I travel I have to have a window seat especially on long haul flights because who wants to have an aisle seat when trying to sleep?
Flying from Melbourne to Colombo means that there's a fair bit of Australia to fly over and as you might already know, Australia is a seriously big island. The Melbourne to Colombo route takes you over a good chunk of South Australia and Western Australia which both offer unique aerial views of endless coastal spots, iron-rich sand dunes, remote towns and communities and never-ending stretches of roads which can be seen from the air.
Most flights I will have my head stuck to the window to check out new locations and what better way to do so then flying Melbourne to Colombo!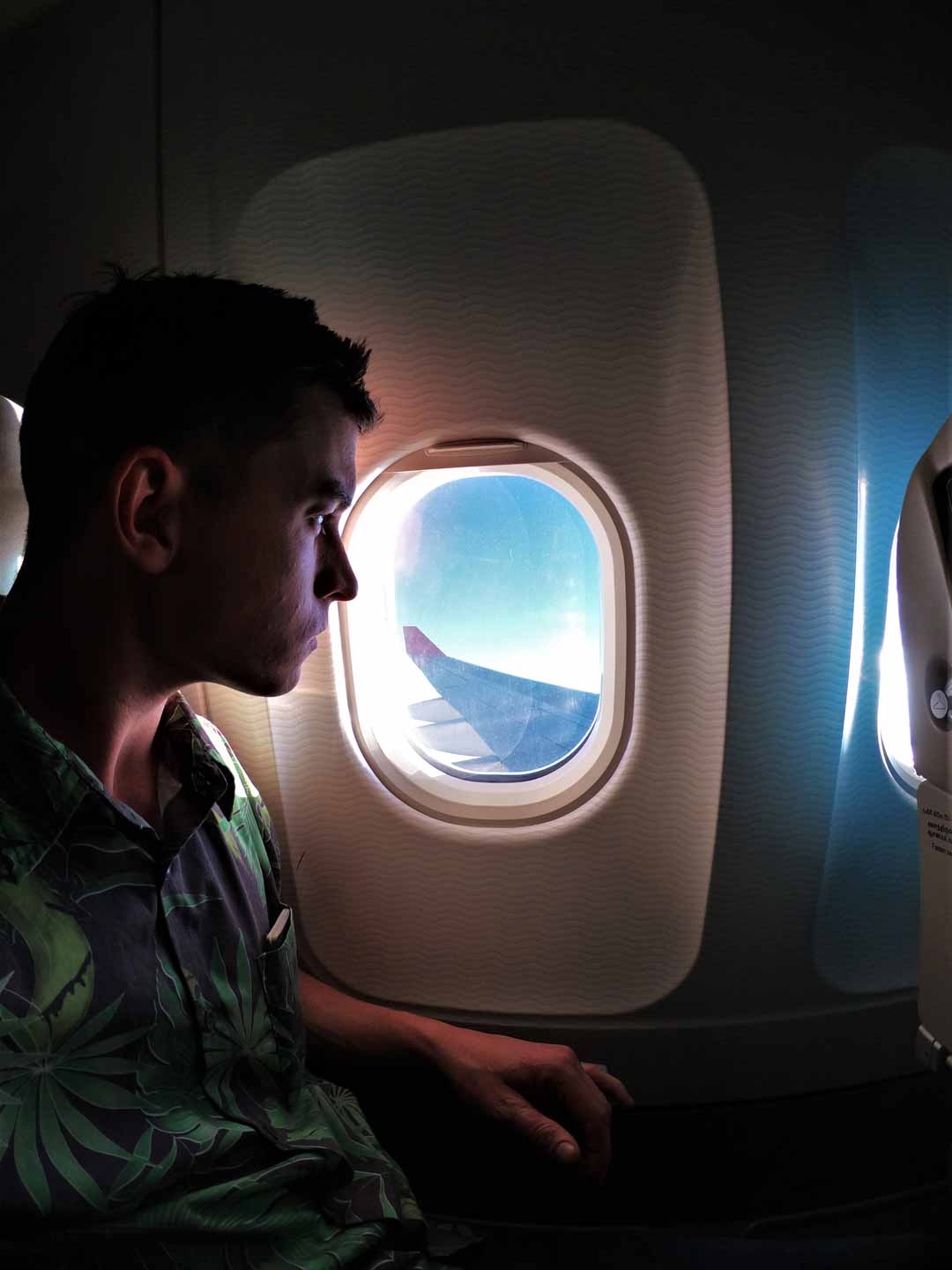 The Seat
The seats are pretty comfortable allowing reclining if you choose to rest which I am pretty sure you will. The tray table is standard as you would get on any other plane. Light blankets and a small pillow is provide for comfort.
Onboard Entertainment
Apparently there are 100 movies to choose from but less than half of these movies will require you to use captions as well as the music selection with a limited selection of English language music.
For any long haul flight I like to take my own headphones, preferably noise cancelling headphones which can double as ear plugs if you get a child that starts crying during the flight.
The Onboard Service
I think the service was preparing me for what was to come with my week in Sri Lanka…spicy food goodness!
I didn't get around to pre-ordering my food as apparently there are over 30 options to choose from if you pre-order online however the meals to choose from are quite delicious (I will generally have one of each).
Chicken curry Sri Lankan style with a mixed vegetable curry and cumin rice is the first option while the 2nd option is steamed fish with a caper tomato sauce, buttered mixed vegetables and boiled potatoes. For the vegetarian option, a cauliflower and pea masala with black-eyed bean curry and coriander rice is available.
The second service consisted of spinach with sautéed chick tossed with penne pasta and creamy ricotta sauce while the vegetarian option was a delicious tortiglioni with cauliflower rosette sauce and semi-dried tomatoes.
I wish all airlines had food this good!
Unfortunately in terms of beer served on the flight, Carlsberg was the only available beer. Sri Lanka's Lion Lager would be perfect if it could be served on board. However there are plenty of other drinks to choose from such as a local spirit brewed in Sri Lanka called Arrack, worth a sip!
The Crew
There's nothing better than having a crew onboard that are always smiling and willing to have a chat. The Sri Lankan Airlines crew where super nice!
Sustainability In The Economy Cabin
One thing I would like to mention is the use of silverware throughout the economy class cabin. There are way too many airlines using plastic spoons, knives and forks on long haul flights but for Sri Lankan Air, they have chosen to use cutlery that can be washed and cleaned and then reused instead of disposing after one use!
Hats off to you Sri Lankan Air!
Overall
Quite a good flight, really good cabin crew, food and onboard entertainment. If you are thinking of travelling to Sri Lanka from Australia, Sri Lankan Air is the best way to go.