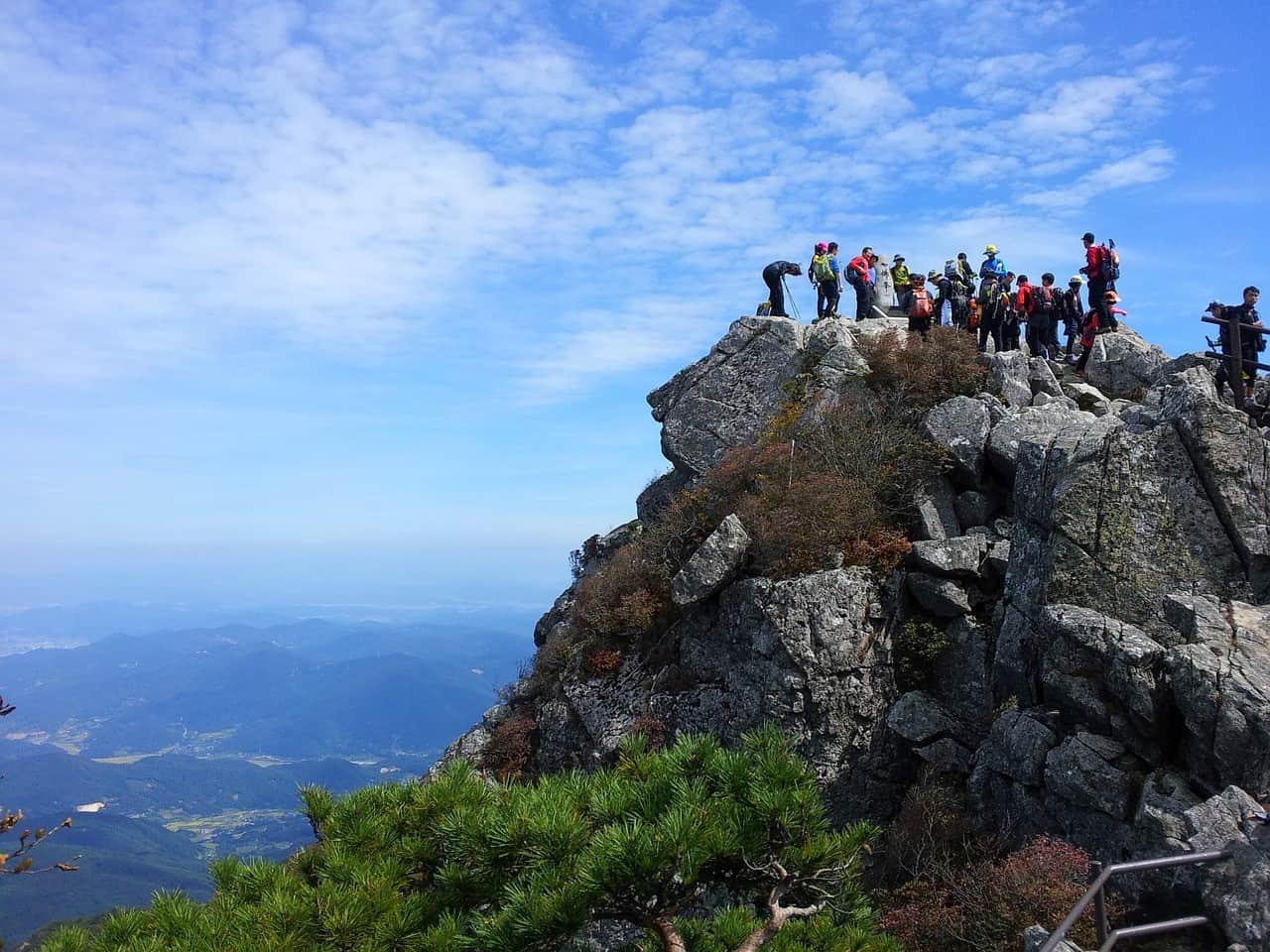 Hiking is more than just a pastime in South Korea—it's a way of life.
In a country where mountains make up about 70 percent of the total land area, it should be no surprise that hiking is one of the top choices for recreation.
In fact, according to the recent findings from a survey by Gallup Korea, hiking is the most popular pastime in South Korea among natives 13 years and older, beating out other pastimes such as listening to music, exercising, and playing video games.
Out of the 1,700 respondents, 14 percent revealed that hiking was their favourite hobby.
It's not that hard to see the appeal, as hiking really is one of the best things to do in South Korea. If you love adventure, communing with nature, taking in beautiful mountain scenery, and getting some good exercise, hiking lets you do those things—all at the same time.
Tips to remember before going your first hike in South Korea:
Dress in proper mountaineering apparel. – Koreans take hiking very seriously, which is why they always make sure to wear proper attire on hikes—even when tackling the tamest trails. Wearing proper clothes is a necessity, so much so that you'll even find a number of hiking apparel stores at the foot of some of the mountains so that you can be prepared with the right clothes before going on your hike.
Bring water and food. – Obviously, you're going to get hungry and thirsty during the hike. But it's also important to note that Koreans love to eat and share food (even with strangers) during these hikes, so bring some good eats with you for sharing!
Bring a lightweight and durable camera. – You're going to see a lot of beautiful scenery, so bring a good travel camera along to capture the stunning sights. Unless you're fine with lugging a heavy DSLR camera throughout the entire hike, it's best to bring a lightweight and compact travel camera that won't weigh you down but can still take high-quality images.
Bring enough cash. – You won't find a lot of ATMs on the trail, so bring enough cash to last you throughout the entire trail.
Learn some basic Korean. – Be prepared for any situation (or for interesting trail conversations) by learning the language. Learning a few basic Korean words will certainly be helpful during a long hike.
Here are five of the most scenic hiking trails in South Korea:
1) Jirisan
Photo by 영철 이 / CC BY-SA 2.0
Being the second highest mountain in the country, Jirisan is home to countless hiking trails with various landmarks and attractions. It attracts over 280,000 visitors from all over the world every year and is particularly sought after during summer and fall.
A hike up this 1,915-meter-high mountain can last from about half a day to an entire 5-day trip, and there are many trails to choose from. There's one for any type of hiker, from beginners to the more advanced or ambitious mountaineers.
Jirisan is part of the Sobaek mountain range and spans three provinces: North Joella, South Jeolla, and South Gyeongsang. With its vast and varied landscape, this magnificent mountain is without a doubt one of the largest and most photogenic mountains you'll ever come across in South Korea—so make sure to bring a DSLR camera or any instant cameras that can take really great pictures, as Jirisan's beauty is sure to inspire your inner photographer.
2) Seoraksan
Photo by Fabian Matthias Hutter / CC BY-NC 2.0
Known as one of the most beautiful spots in all of Korea, Seoraksan is the third highest mountain in the country and the most popular mountain in the Taebaek mountain range in Gangwon Province. It offers a myriad of hiking trails for all skill levels and the most magnificent views of the mountain tops, lush valleys, and stunning rock formations. Hiking courses range from 1 to 3-day excursions, and there are designated shelters and campsites for accommodations.
Seoraksan attracts plenty of tourists all year round, especially during fall when the forests are at their most colorful. If you plan to hike here, go early to avoid the crowds!
3) Bukhansan
Photo by theaucitron / CC BY-SA 2.0
Located in Northern Seoul, Bukhansan is the most accessible mountain for avid local hikers and tourists who are living or staying anywhere in the South Korean capital. Though relatively modest in size and height compared to some of the tallest peaks in the country, Bukhansan's beautiful and majestic landscape doesn't pale in comparison.
At Bukhansan National Park, there are many trails to choose from, with over 20 official hiking trails leading up and across the mountains and valleys within the park. Each trail has a different name and theme, and interested hikers can purchase little passport books from the Korea National Park Service (KNPS) so that they can collect the 11 stamps spread out across the stunning viewpoints of the park.
4) Songnisan
Photo by Eric Burks / CC BY-NC 2.0
Songnisan—which means "Remote from the Ordinary World"—is the perfect place to visit when you want to get away from it all and experience the beauty of nature. It's truly one of the most picturesque mountains in South Korea, and much like the others, it's most beautiful in the fall, when the leaves turn into amazing, fiery shades of red, orange, and yellow.
There are several 1-day hiking courses available on Songnisan, with the most popular ones leading up to the cloud-shrouded Munjangdae peak. A visit to Songnisan isn't complete without visiting Munjangdae—the hike is relatively easy and quite suitable for beginners, plus the view from this peak is absolutely spectacular.
5) Hallasan
Photo by Republic of Korea / CC BY-SA 2.0
At 1,950 meters, Hallasan holds the title of being South Korea's tallest mountain. Found on Jeju Island, this mountain is actually a massive shield volcano with a very interesting landscape. You'll find majestic cliffs, spectacular rock formations, colorful foliage, and even volcanic cones, crater lakes, and lava domes scattered all over the volcanic mountain and the surrounding island.
Hallasan is best visited in the winter, when the mountain is at its most majestic. But of course, visitors can still appreciate its beauty all year round. All the six available hiking trails on the mountain are relatively short (less than 10 kilometers) and can be completed within a day.
If you want to enjoy a hike to the summit of South Korea's highest peak, go early in the morning. The trails are limited to daytime hiking, and hikers are strictly advised to descend the mountain before sunset.