Plan an epic trip to the Korean capital with the help of this itinerary for how to spend 3 days in Seoul!
There's no doubt that this bustling metropolis is the soul of South Korea. After all, nearly half the population of the ROK calls the city home!
Seoul is the political, cultural, and educational centre of the country. It's also an economic powerhouse, coming in behind just New York, Tokyo, and Los Angeles on the list of largest metropolitan economies.
The Korean capital is about much more than business, though. This is a city full of fascinating cultural and historical sights, from ancient palaces to hillside temples.
When the sun goes down, the party starts in Seoul. While people here may come off as a bit shy and reserved, they sure know how to throw it down at night!
READ MORE: Check out our guide to the best things to do in Seoul!
When the soju starts flowing, the good times start rolling in Seoul.
Seoul is a massive city with lots to see and do, so planning a visit here can be a bit intimidating.
Never fear, as I'm here to guide you on what to do in Seoul in 3 days.
We visited a few times when we were teaching English in China, and my brother even lived there for a year (thanks for the tips, bro!).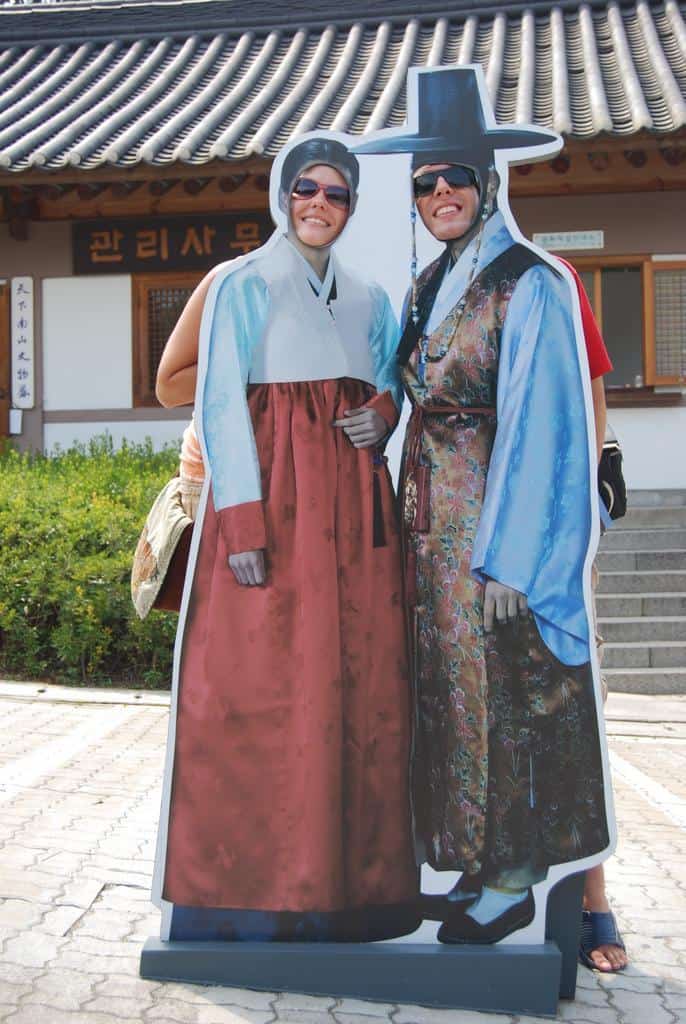 How to Spend a Perfect 3 Days in Seoul Itinerary
I'm going to share with you the perfect way to spend 3 days in Seoul using my personal experience and itinerary.
Day One
You've just arrived in a massive capital city that's home to around 25 million people. What to do first?
Before you see the modern side of Seoul, it's time to look to the past.
Ancient Palaces
Back in the Joseon Dynasty (1392-1910), the kings had many grand palaces built in Seoul.
These days, five of them are open to the public. Paying a visit to a few of them is a must for your 3 days in Seoul itinerary.
Unless you're a huge history buff, you'll probably just check out one or two of the palaces.
If you're really gung-ho about visiting them, you can pick up a combination ticket for USD$8.50 that gives you entrance to four palaces as well as the Jongmyo Shrine.
Here's a brief rundown of the more notable palaces so you can choose your own adventure.
Alternatively, book this awesome 'History of Joseon Dynasty' half-day tour with a bunch of extra sights and activities.
Gyeongbokgung
We'll start with the grandest palace of them all – Gyeongbokgung. With a name meaning "Palace Greatly Blessed by Heaven," you just know this place is rad!
This huge palace dates all the way back to 1395 and the time of King Taejo. At its peak, it's estimated there were an astounding 300 buildings and some 3,000 staff members here.
Despite the name, it turns out Gyeongbokgung wasn't really blessed by heaven. The Japanese burned it to the ground in 1592 and it lay in ruins for several centuries.
It was rebuilt, then destroyed again. This place has certainly had a turbulent history.
The city began restoration efforts once again in 1990 and they're ongoing to this day.
A highlight of visiting Gyeongbokgung is seeing the changing of the guard ceremony.
This takes place every hour on the hour from 11-3 and the guards wear traditional Joseon-era uniforms.
While you can definitely visit on your own, it's worth it to jump on one of the free guided English tours.
These start at 11, 1:30, and 3:30.
In addition to all the gates, pavilions, and gardens, there are also two museums here.
Both the National Palace Museum of Korea and the National Folk Museum of Korea are included in your ticket price.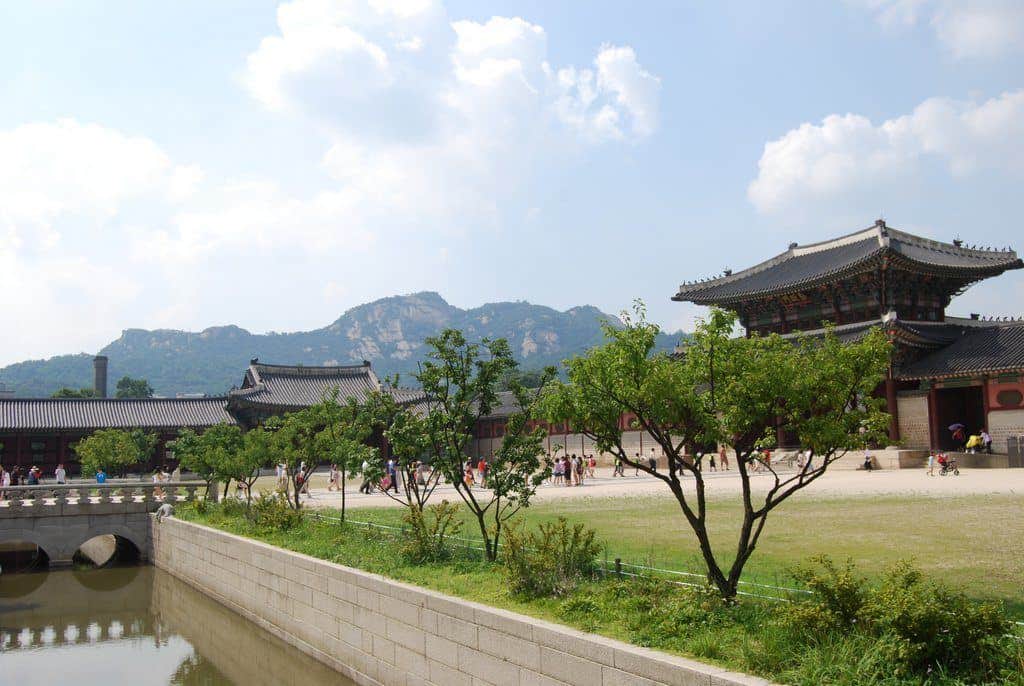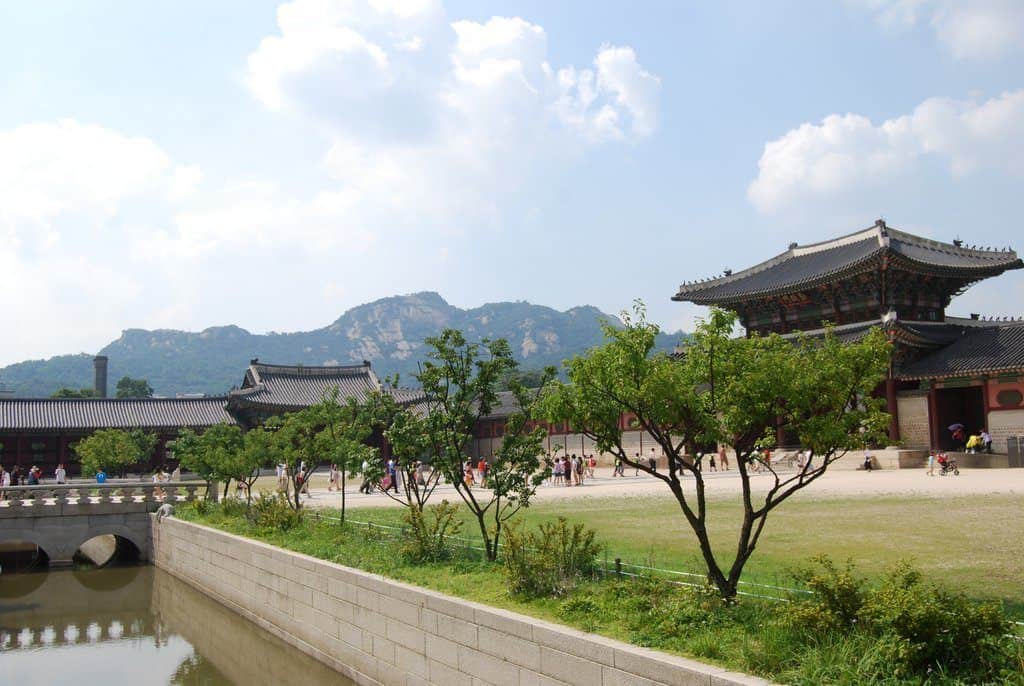 Changdeokgung
The Joseon kings definitely came up with some awesome names for their palaces.
This one means "The Palace of Prospering Virtue" and it dates back to 1405.
This was the second royal palace after Gyeongbokgung, and it was actually home to the Joseon royalty longer than any other palace.
Over the years, it too has been destroyed and rebuilt several times.
Changdeokgung is notable for blending in well with its natural surroundings.
It's also famous for its gorgeous "secret garden" that lies just behind the palace.
There are English tours of the palace available at both 10:15 AM and 1:15 PM.
Changyeonggung
Any guess as to what the name of this ancient Korean palace means? If you guessed "Palace of Flourishing Gladness," you nailed it!
King Sejong built this one to honor his retiring father, the aforementioned King Taejong.
As with the other grand palaces of Seoul, this one was also ravaged by the Japanese on a few occasions.
During the period of Japanese colonial rule, they built a zoo and botanical garden here in an attempt to undermine the royal status.
Thankfully this important piece of Seoul's history has since been restored.
While you're here, be sure to check out the peaceful pond at the back of the complex.
As there's only a wall separating them, it's easy to combine a visit to Changyeonggung with Changdeokgung.
There are English tours at 11 AM and 4 PM here if you prefer to visit with a guide.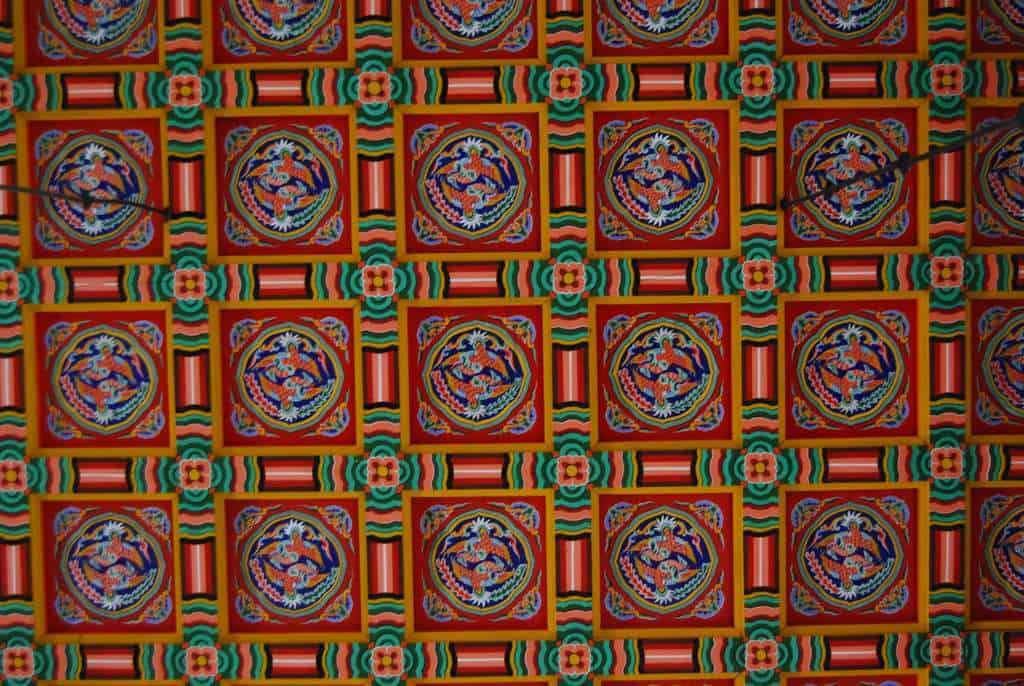 While you can definitely visit all three in a day if you start early, you'll probably experience a bit of palace fatigue if you do so.
If you really want to see all three, I recommend doing Gyeongbokgung on day one and the other two the next day.
There's a lot more to see and do on your 3 days in Seoul itinerary, so let's keep moving.
Gwanghwamun Plaza
After visiting Gyeongbokgung, you might as well take a short stroll to Gwanghwamun Plaza.
Opened in 2009, the idea behind this plaza is to have a cultural and historical place for both locals and visitors.
Previously, this area was a massive 16-lane road.
Ten of those lanes were transformed to create this public space, which is one of many aspects of Seoul's environmentally-friendly renovation projects.
Inside the plaza, you'll find statues honouring King Sejong and Admiral Yi Sun-sin – two very important figures in Korean history.
In front of the latter sits the 12.23 fountain. This commemorates the 12 Korean warships and the 23 battles they fought during the Japanese invasion.
In addition to checking out the statues and fountains, it's fun just sitting on a bench and watching the city go by.
Children splash in the fountain during the warmer months and it's a very festive atmosphere around Christmas and New Year's.
There are plenty of restaurants and cafes surrounding the plaza, so this is the perfect place to take a lunch/coffee break.
You'll need some energy to tackle the rest of this itinerary for 3 days in Seoul!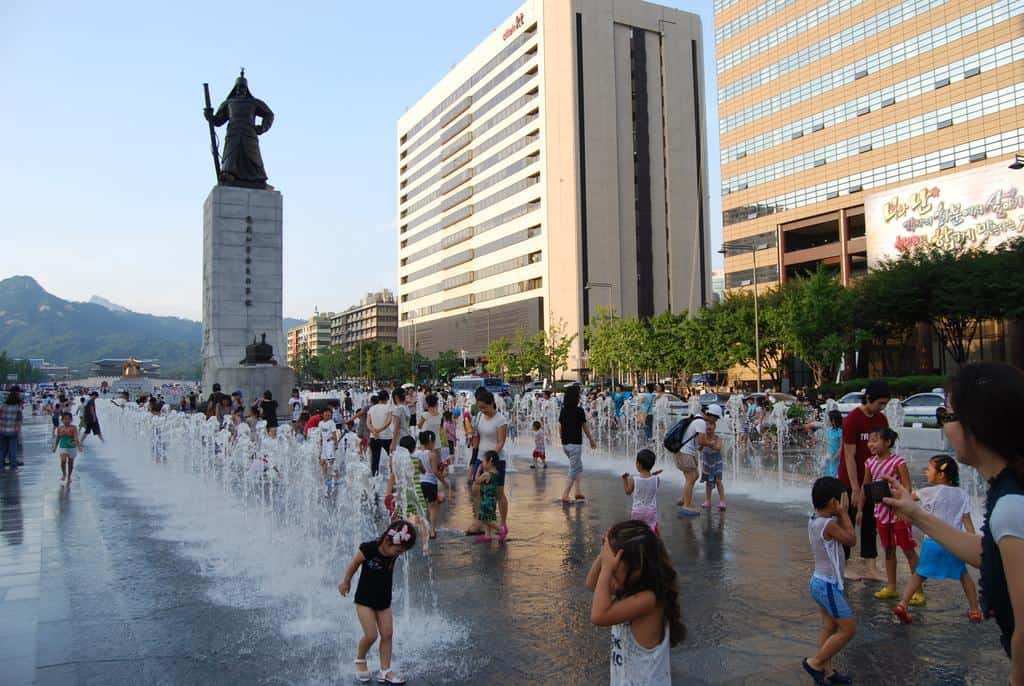 Cheonggye Stream
Once you're nice and full/caffeinated, head south through Gwanghwamun to reach the Cheonggye Stream.
Similar to Gwanghwamun, this restoration project was a huge undertaking.
There was a stream flowing here way back in the Josen Dynasty.
After the Korean War, many people migrated to the city and set up a shantytown along the banks of the stream.
All the waste made the area quite the eyesore, so the city decided to cover the stream up with concrete.
It wasn't until 2003 that the city began working on restoring the stream.
While it was a costly and lengthy restoration process, the results have been fantastic.
These days, there's a lovely pedestrian-only path along the restored stream.
Along the way, you'll pass under 22 different bridges and several fountains. It's a great place for a stroll as it's around 5 meters below street level.
Despite being in the heart of a mega-city, the stream remains a tranquil oasis.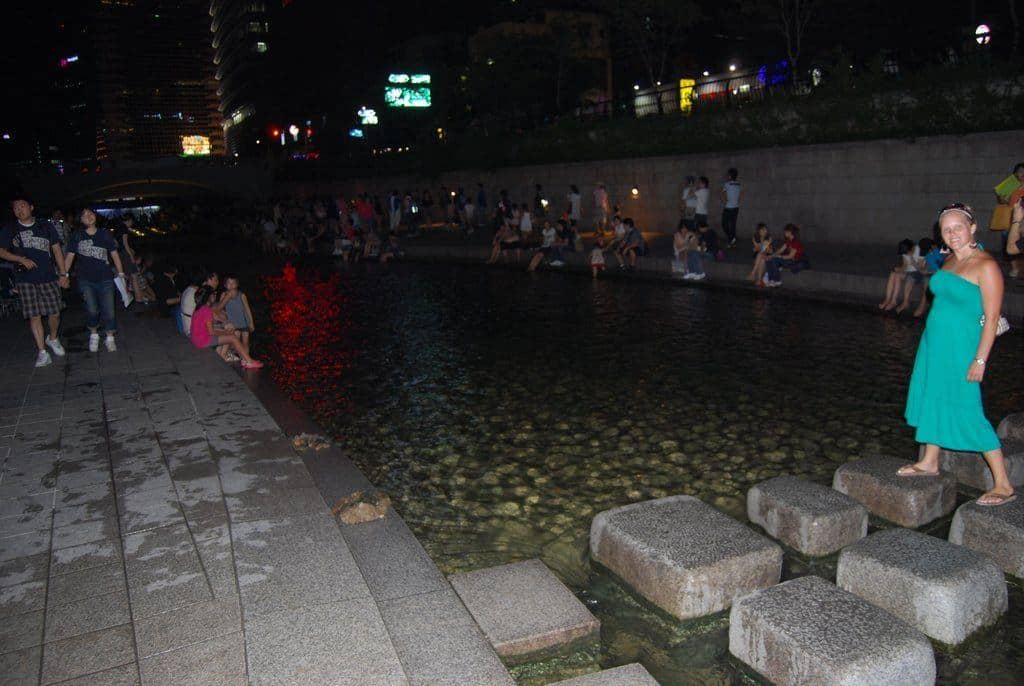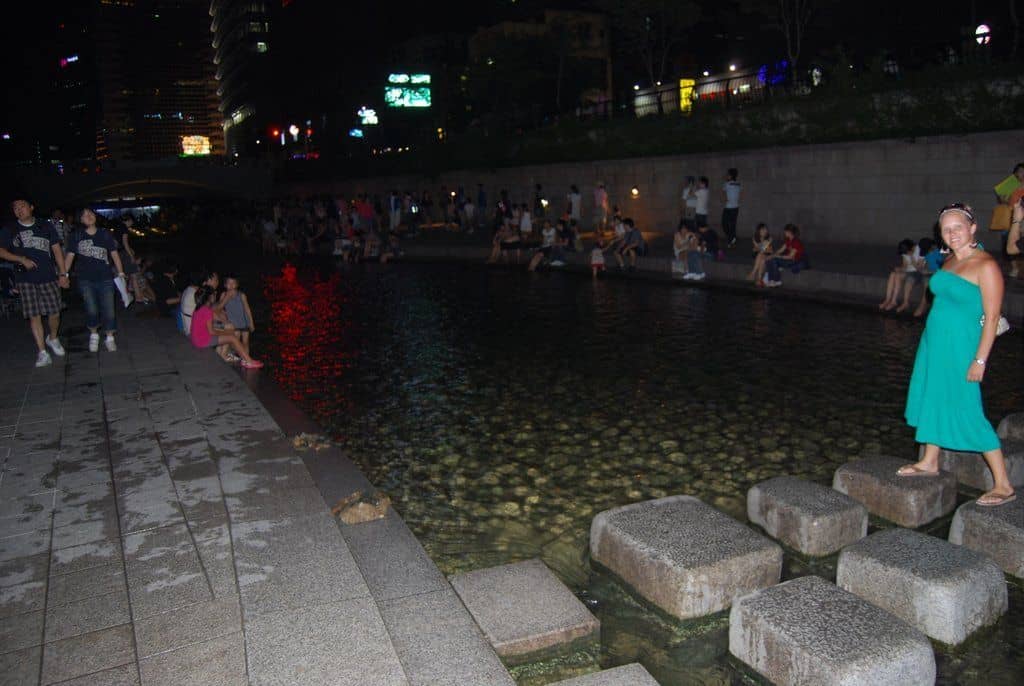 Jongmyo Shrine
After walking along the stream for a while, you can head back up to the street level to visit the Jongmyo Shrine.
This Confucian shrine is an excellent addition to your 3 days in Seoul itinerary.
This UNESCO World Heritage site is dedicated to the deceased royal family members of Korean dynasties.
It's known as the oldest and most authentic Confucian royal shrines in the world.
While the building itself and the history behind it is impressive, the shrine is most notable for the rituals that are still performed here.
Known as Jongmyo Jerye, these ancestral worship ceremonies feature traditional music and dance.
You can visit the shrine as part of a guided tour on weekdays except Tuesday.
The English tours run at 10, 12, 2, and 4. On Saturdays and the last Wednesday of each month, you can visit at your own leisure.
READ MORE: Here's our list of our best travel tips from more than a decade on the road!
Gwangjang Market
Next up for our Seoul in 3 days adventure is a trip to Gwangjang Market.
This sprawling market is one of the oldest and largest in all of South Korea and is a must-see, especially if you love street food!
The market has a history going back to 1905, when Korean merchants and investors came together to create a marketplace outside of Japanese control.
At the time, most local markets were only open sporadically. This became the first major market in the city to be open every day of the week.
It continued to grow over the years, and these days it's home to a few thousand different shops.
It's easy to get lost in the market, but that's half the fun! Wander around the maze of stalls and see what catches your eye (or your nose).
As I mentioned, this is a haven for Korean street food. One must-try snack here is bindae-tteok – a mung bean pancake.
If you're into fashion, you may want to stick around and shop for some traditional hanbok clothing.
You could also join the Korean youth in hunting out some cool vintage threads here.
Whatever you do, the market should definitely be on your list of what to do in Seoul in 3 days.
Drinks With a View
Wow! It's been a pretty huge first day in Seoul. Before calling it a day, though, it's time for drinks with a view.
Head to the L7 Rooftop Floating bar in Myeongdong.
Located on the 21st floor of the L7 Myeongdong Hotel, this excellent rooftop bar offers panoramic views of the city.
Order up a Korean craft beer, glass of wine, or one of their signature cocktails and drink it in!
There are both indoor and outdoor areas of the bar.
The latter features a nice foot bath, which you'll probably need after this epic start to your 3 days in Seoul itinerary.
After such a big day and with two more to go, I recommend making the adult decision to take it easy tonight.
Of course, I'm also not one to deter people from partying.
If you really want to let loose, there are plenty of bars and clubs to choose from in Seoul!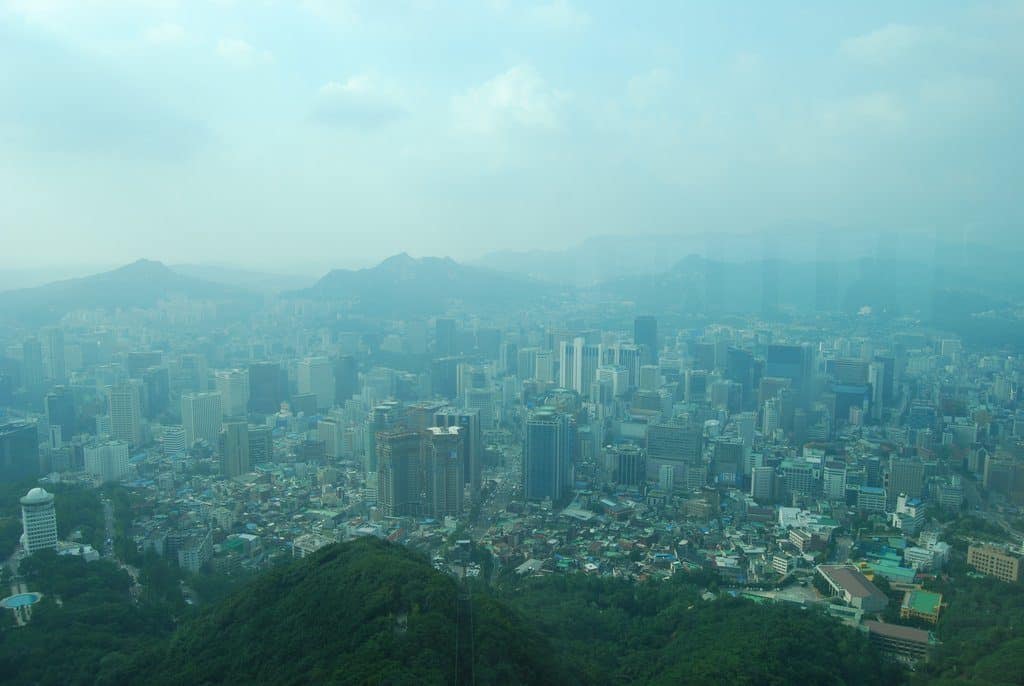 Day Two
Hopefully, you got some solid sleep and are ready to tackle day two in Seoul.
If you stayed out and raged on night one, well that's just fine as well!
Whatever you did, it's time to lace up your shoes for another big day in the Korean capital.
Korean Breakfast
Before embarking on another day of sightseeing, you'll want to load up with a nice Korean breakfast.
Don't come here expecting eggs, bacon, and hash browns, though.
Koreans pretty much eat the same thing for breakfast that they do for lunch and dinner.
On the menu for breakfast here is usually a mixture of rice, soup, and the all-important banchan.
This is the collective name given to small side dishes that are a fixture of Korean cuisine.
These might include some simmered tofu, thin pancakes with scallions, and of course, the almighty kimchi.
Known as the national dish of Korea, kimchi is a fermented vegetable dish usually made with cabbage or radish.
Basically, it ain't a meal in Korea unless there's some kimchi on the table.
Eating cold, spicy fermented cabbage may not be your typical breakfast routine, but when in Rome!
Another go-to option for breakfast in Seoul is gomtang – a clear beef stew.
It's usually made with oxtail, brisket, and tripe. A great spot to try it is Hadongkwan.
They've got several locations in the city and there's usually a line, even at breakfast.
If an oxtail soup and fermented cabbage is a bit much for you in the morning, you can try a Korean spin on Western breakfast and eat some tost-u.
This Korean street toast takes an egg sandwich and adds things like cabbage, spring onion, and a sprinkling of sugar.
With a full belly, you're ready to power on with these 3 days in Seoul.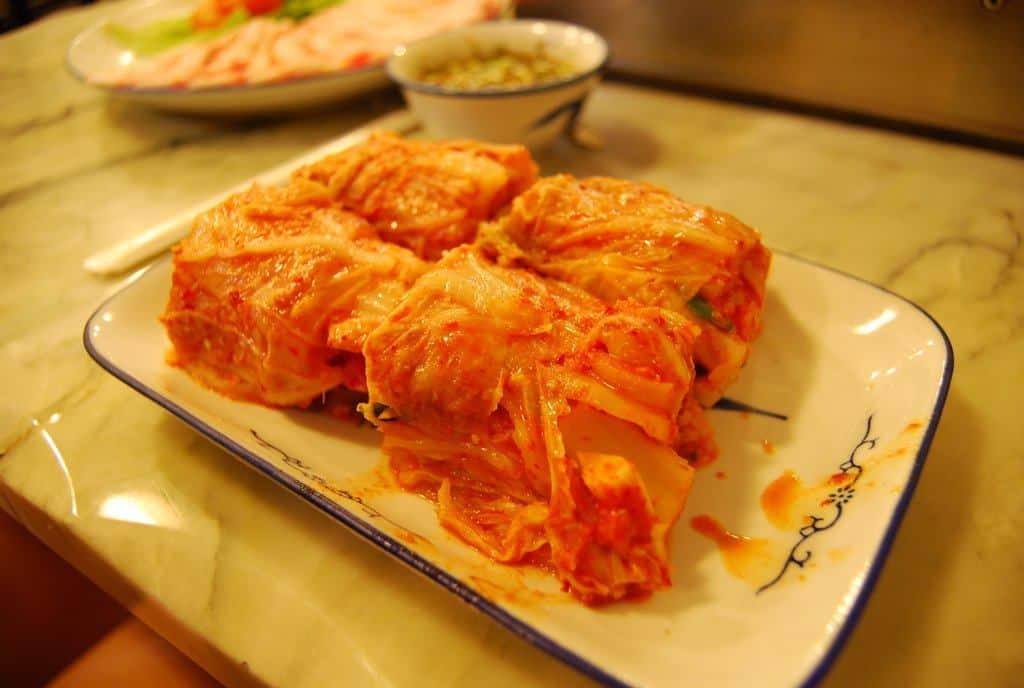 Namsangol Hanok Village
As I mentioned on day one, you can space out your visits to the grand palaces if you want to see more than one.
Start your second day off with the others if you're keen. If not, head straight to the Namsangol Hanok Village after breakfast.
These days, most Seoulites live in high-rise apartment buildings.
Step into a time machine here and see what life was like in the city many centuries ago.
Here you'll find a collection of hanok – traditional Korean houses that have been restored.
There are five different Joseon-era hanok here representing a range of social classes from peasants to aristocrats.
They even chose furniture based on the era and the different social statuses to give an accurate portrayal of what the homes were like.
In addition to the hanok houses, you can explore a traditional garden. It's a nice little slice of tranquillity set amongst the urban sprawl.
There are also frequent workshops and performances you can attend.
Check their website to see what's going on.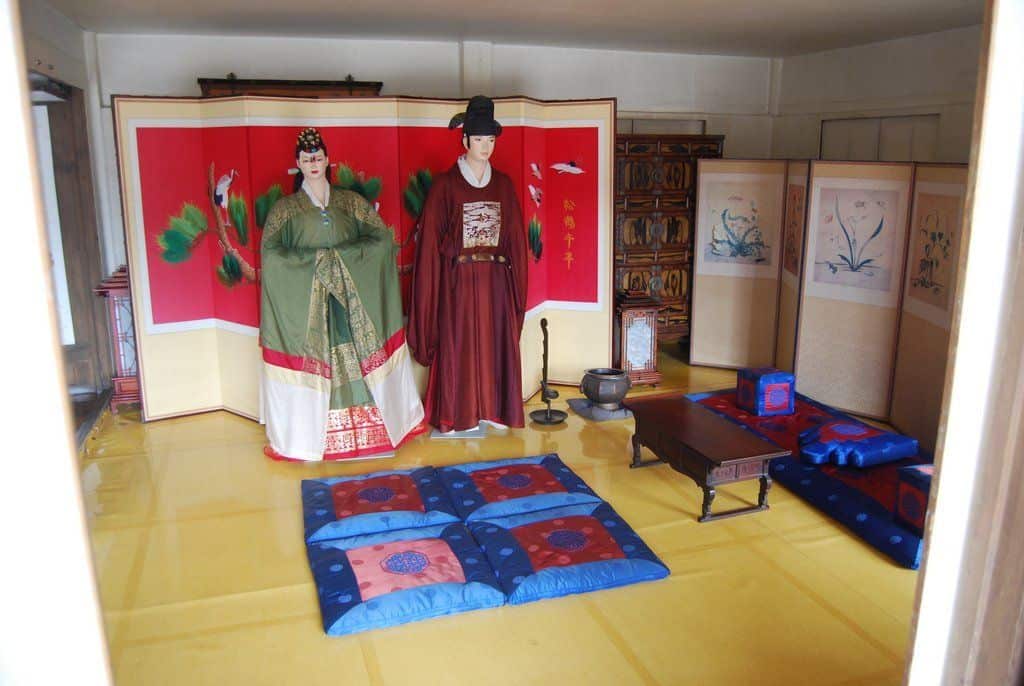 Namsan Park
Next up for our 3 days in Seoul trip planner, we head to the city's largest park.
Meaning "South Mountain" in Korean, Namsan is a 262-metre peak in the middle of Seoul.
There are several hiking trails that you can follow, or you can opt for the easy way out on the cable car.
Either way, you'll end up at the N Seoul Tower.
This observation tower offers some incredible views of the city.
I tend to skip out on the pricey observation decks in cities, but the one in Seoul is pretty freaking cool.
In addition to the panoramic views of the city, you can check out the new immersive art exhibit called "Inside Seoul."
Using 40 laser projectors and 5D mapping, this exhibit shows a fantastical view of the Korean capital.
Head up here a little before sunset so you can see the city and the tower light up at night.
The tower is open from 10 AM until 11 PM or midnight.
Tickets cost about USD$9 for adults to visit the observatory.
Insadong
At this point in our 3 days in Seoul itinerary, you've seen a lot of the traditional side of the city.
Now it's time to dive into modern-day Seoul.
Cruise on over to the popular Insadong area to kick off your evening.
This trendy area of the city is always bustling with activity.
There's an outdoor bazaar, fine art museum, old tea house, and quirky attractions like the Alive Museum.
Here you can take some pretty funny pictures with artwork that creates an optical illusion.
If you're looking to pick up some interesting souvenirs from your 3 days in Seoul, this is a great place.
There's also plenty of tasty street food on offer here, but don't go too big. You're going to want to be hungry for tonight's dinner!
Korean BBQ and Soju
While kimchi may be the national dish, the quintessential dining experience in Seoul is definitely Korean BBQ.
There's just something magical about grilling up a feast right at your table.
The concept of Korean BBQ is simple. You order up a variety of meats and then grill them up yourself.
Be sure to order up some bulgogi – thinly sliced marinated beef.
Once it's grilled to perfection, wrap it up in lettuce, add some spice paste, and dig in!
If you really want to do Korean BBQ right, you might as well order up a bottle of soju as well.
Korea's famous booze is usually around 16-20% alcohol.
Many people like to pour a little in a cup and top it off with cold beer. It goes down easy but watch out – these will catch up with you!
In the Insadong area, one Korean BBQ joint that comes recommended is 853. They're open til 11 and you can find them on the map here.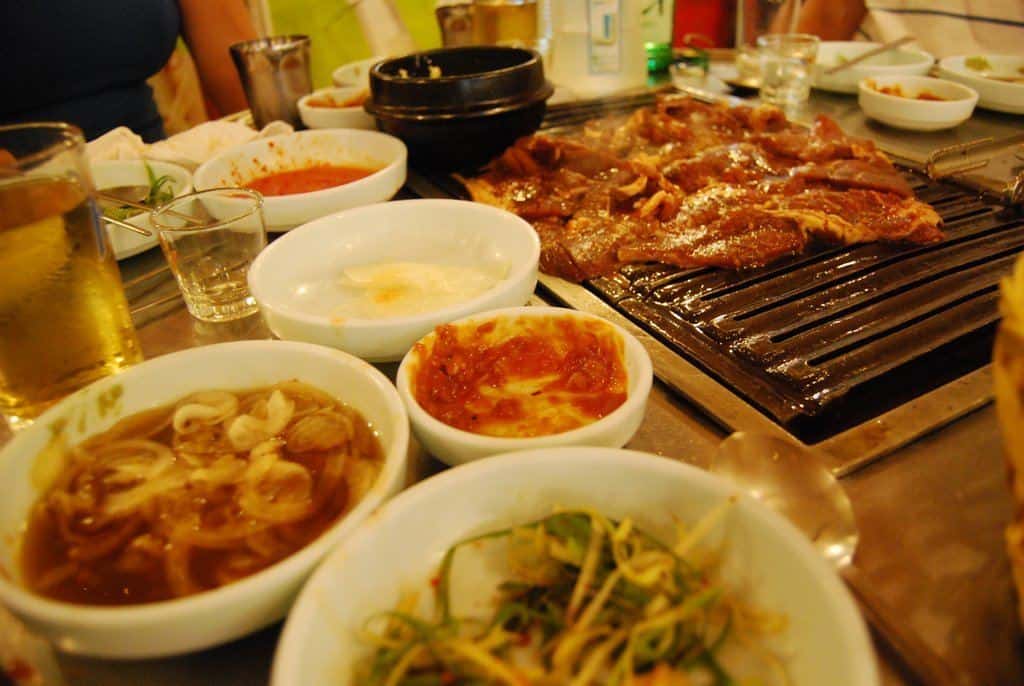 Nightlife
Since you took it easy on night one (or did you?), go ahead and let loose tonight if you're up for it!
A good place to kick off your night is the Southside Parlor in Itaewon (click here for directions).
These guys whip up some mean cocktails. Try their signature Juarez Old Fashioned or Omija Mule. It's a little slice of Texas right in Seoul!
How you choose to spend the rest of your night is totally up to you.
Want to rock out to a live band? Dance the night away in a club?
Sing your heart out at a karaoke joint? Get irresponsibly drunk off soju with Korean businessmen?
The world is your oyster on a night out in Seoul!
Day Three
You've made it to the final leg of this epic 3 days in Seoul itinerary. Pat yourself on the back, because it's been a wild ride so far.
You'll be happy to hear I'm taking it easy on you for the final day!
Yongsan Park
After breakfast (you can go back to eggs and bacon if you need to, by the way), begin a relaxed day in Seoul at Yongsan Park.
Formerly a golf course for the US military, this is now a large public park full of walking paths, playgrounds, sports fields and more.
On a leisurely stroll around Yongsan, you can relax by the pond, check out some sculptures, and visit the patriotic flag park.
It's located just north of the Han River. The next stop on our 3 days in Seoul itinerary just so happens to be here as well.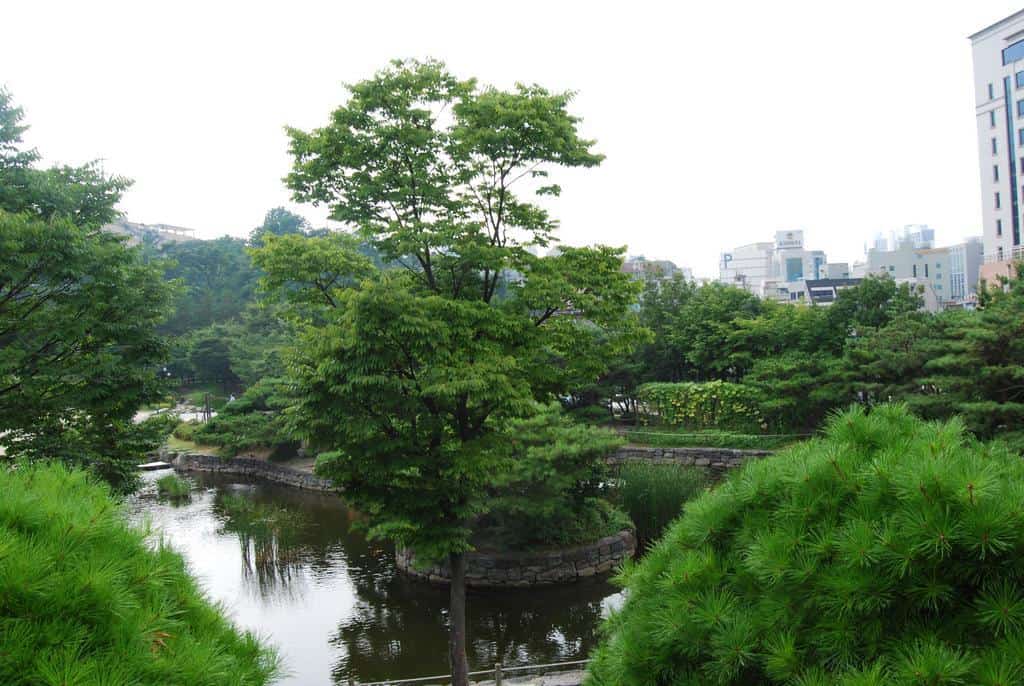 National Museum
Before leaving Seoul, it's time for a little history lesson on South Korea.
The country's National Museum is huge and features a very impressive collection.
The museum spans three floors and covers ancient history, calligraphy, sculpture, and much more.
At any given time, there are over 12,000 artifacts on display here. Some of the most famous include the Pensive Bodhisattva and the Ten-Story Pagoda.
There are also special exhibitions here that rotate every few months. To see what's going on during your trip, check their website.
There's enough to see to keep you busy for a few hours.
Should you need a break, drop into one of the many cafes here.
Down by the River
From the museum, it's just a short walk south to the banks of the Han River.
Head down here to enjoy a riverside walk and take in the scenery.
Depending on what time of year and day you visit, you can rent a bicycle, take a river cruise, admire the Rainbow Fountain, or take in a fireworks show.
There's always something going on here and it's a favourite local hangout.
Jimjilbang
The best way to end 3 perfect days in Seoul is with a relaxing stay in one of the city's many jimjilbang.
This is a 24-hour bathhouse with a variety of pools, saunas, lounges, and much more.
They're a big part of Korean culture and a great way to unwind after a busy 72 hours in Seoul.
In addition to chilling in all the baths and saunas, you can also get a massage, body scrub, or a pedicure.
Typically, there are co-ed areas where you wear a bathrobe and then separated areas where you rock your birthday suit.
Most jimjilbang also have restaurants, bars, and sleeping areas.
You usually get twelve hours with the price of admission, so you can even check out of your accommodation and just crash here before heading out of town.
We've done that both times we visited Seoul and really enjoyed it!
There are tons of jimjilbang in Seoul, but some of the best include Dragon Hill, Spa Lei, and Siloam Sauna.
Whichever one you choose, it'll be a glorious end to your 3 days in Seoul itinerary!
Get your entry into Dragon Hill Spa here online.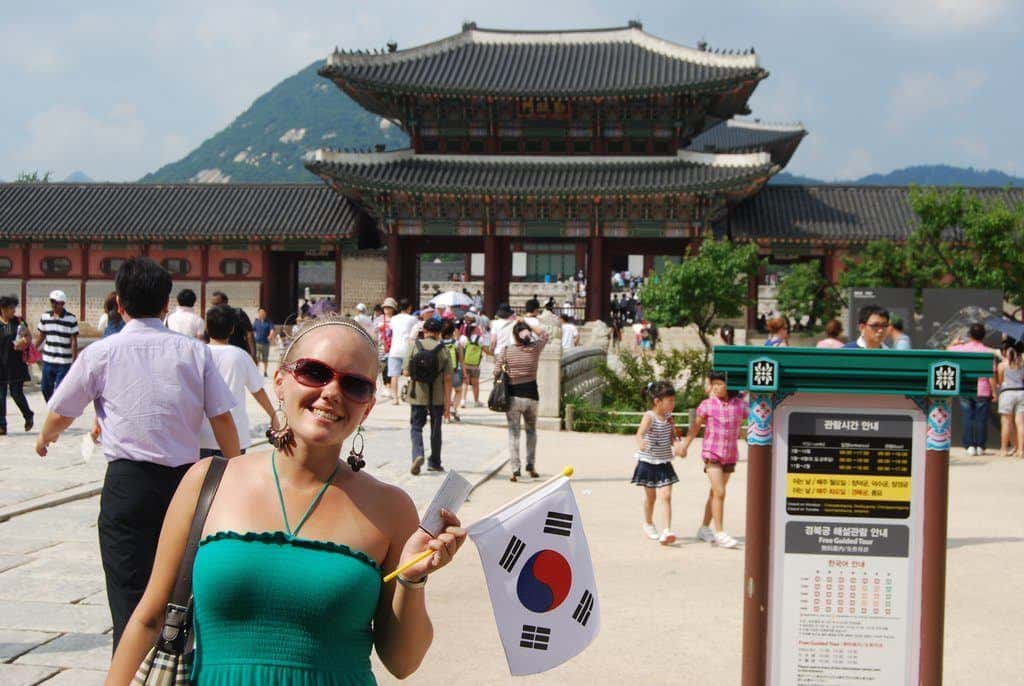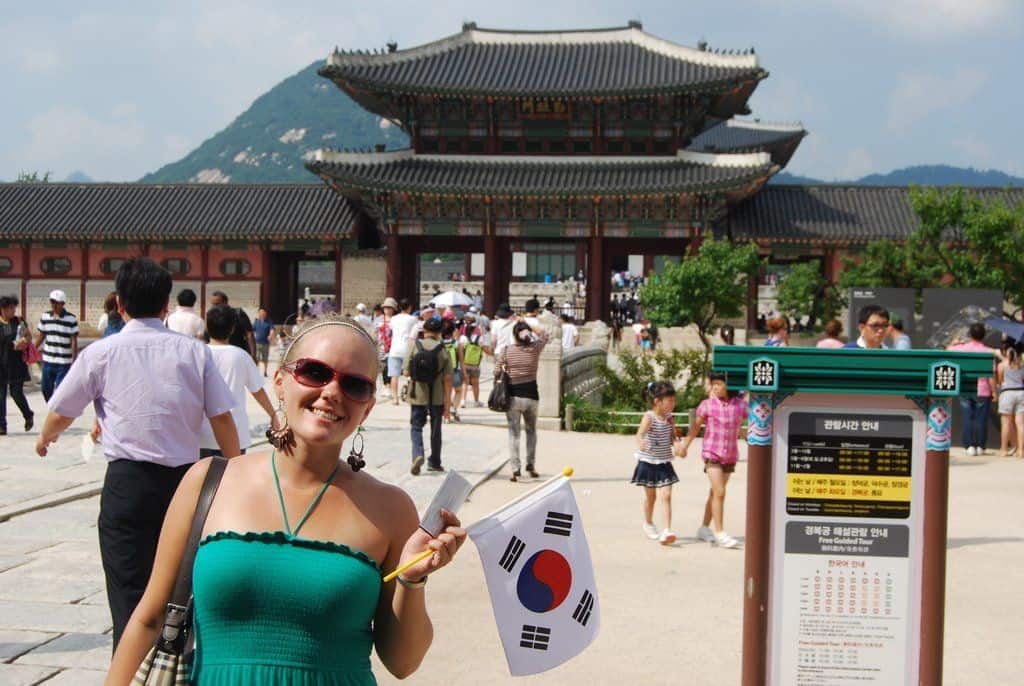 Seoul Itinerary Travel Guide
So you want to know how to tour Seoul in 3 days? It's definitely doable, but some months are more enjoyable than others.
First up, you'll need to figure out when to visit.
When to Visit Seoul
Let's start out with the extremes. The coldest month here is January, while the hottest is August.
Unless you have no other choice, I'd recommend giving these months a hard pass.
The best time to visit Seoul is between March-May or September-November.
During these spring and fall months, you'll get pleasant weather and some beautiful scenery.
That being said, you shouldn't be deterred from visiting in winter or summer.
You can easily hit the slopes in this city that just hosted the Winter Olympics.
Meanwhile, summer months mean outdoor music festivals and water parks.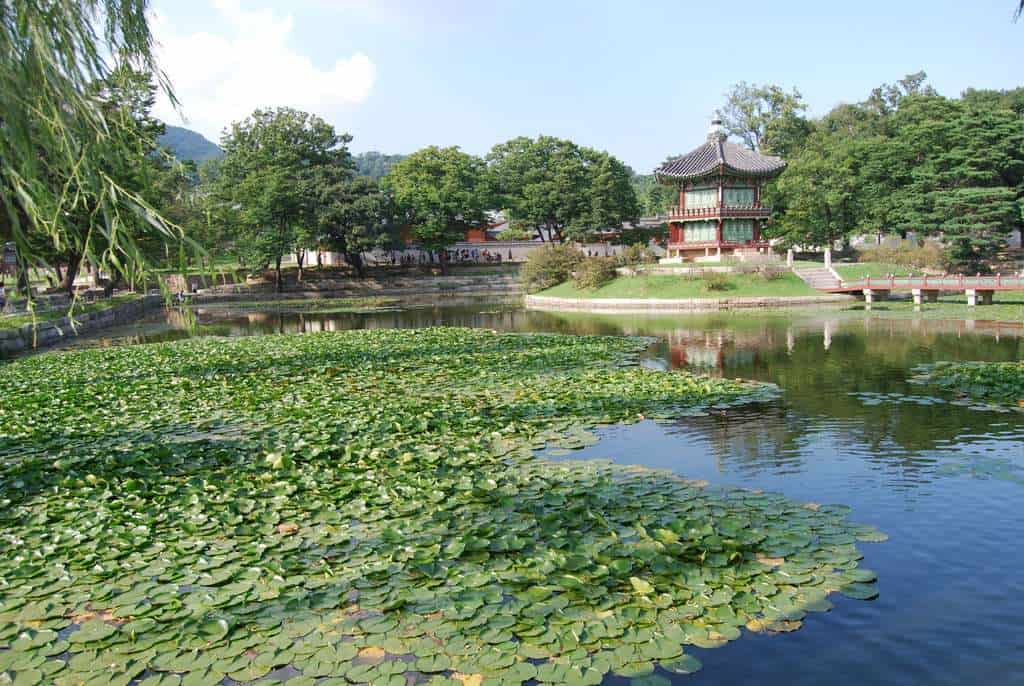 Getting Around Seoul
As far as getting around Seoul goes, your best bet is to use a combination of public transportation and your own two feet.
Here are some tips for making your way around Seoul in 3 days.
The metro system here is one of the largest and most efficient in the world.
There are currently 23 lines operating, so you can go just about anywhere in the city on the tube.
Not only is the Seoul metro efficient and convenient, but it also has super-fast WiFi!
South Korea is one of the world leaders in wireless internet coverage, so you'll be able to post all those kickass photos you take in real-time.
If you don't feel like waiting in line to buy a ticket for every trip, it's a good idea to snag the Korea Tour Card.
You can pick these up in convenience stores, at the airport, or at metro stations.
For just USD$3.50, you can get this card and load it up to ride both the metro and bus system in Seoul.
It gets you a discount on the fare, free transfers, and lots of deals around the city. Read all about it here.
Even with the card, navigating the metro system can be confusing.
Download the KakaoMetro app before you go. It will tell you when the next train is arriving, which exit to take, and more.
Where to Stay in Seoul and Best Accommodation
In such a huge city, figuring out where to stay is key for your 3 days in Seoul itinerary.
You definitely don't want to waste a bunch of time in transit when you have such a short time in the city.
To keep it simple, the city is split in half by the Han River.
The northern half is known as Gangbuk and it's the more historical side.
This is where you'll find many of the tourist attractions such as the palaces.
South of the river, you'll find Gangnam.
Yes, as in "Gangnam Style." Now you'll be singing that damn song for the rest of this post. Sorry about that.
This is the more modern and trendy side of Seoul.
For these 3 days in Seoul, I recommend staying north of the river.
Some of the best districts for travellers include Jongno, Jung, Seodaemun, Mapo, and Yongsan.
Best Budget Accommodation – Bong House
If you're balling on a budget for your 3 days in Seoul, look no further than Bong House.
This awesome hostel has a super convenient location and dorm beds for USD$10 and under.
We've stayed here and can personally recommend this fun hostel.
Best Mid-Range Accommodation – G2 Hotel Myeongdong
This centrally-located hotel is an excellent base for tackling this 3 days in Seoul itinerary.
With a gym and a rooftop garden to go along with their well-appointed rooms, this place is a steal.
Best Luxury Accommodation – The Shilla Seoul
Looking to be a bit fabulous on your trip to Seoul? The Shilla is definitely the place for you.
This place is constantly ranked among the best hotels in all of South Korea and for good reason.
If you can afford to splurge a bit, the Shilla is definitely worth it.
That about wraps it up for this guide on how to spend 3 days in Seoul.
While it's not nearly enough time to see all that the Korean capital has to offer, this itinerary will give you a great introduction to the city.
DISCLAIMER: Some of the links in this article are affiliate links, which means if you book accommodation, tours or buy a product, we will receive a small commission at no extra cost to you. These commissions help us keep creating more free travel content to help people plan their holidays and adventures. We only recommend the best accommodations, tours and products that ourselves or our fantastic editorial team have personally experienced, and regularly review these. Thanks for your support, kind friend!