Welcome to the Mongol Rally Diaries series by Benny D. These blog posts showcase Benny D's journey from London to Mongolia as part of the legendary Mongol Rally.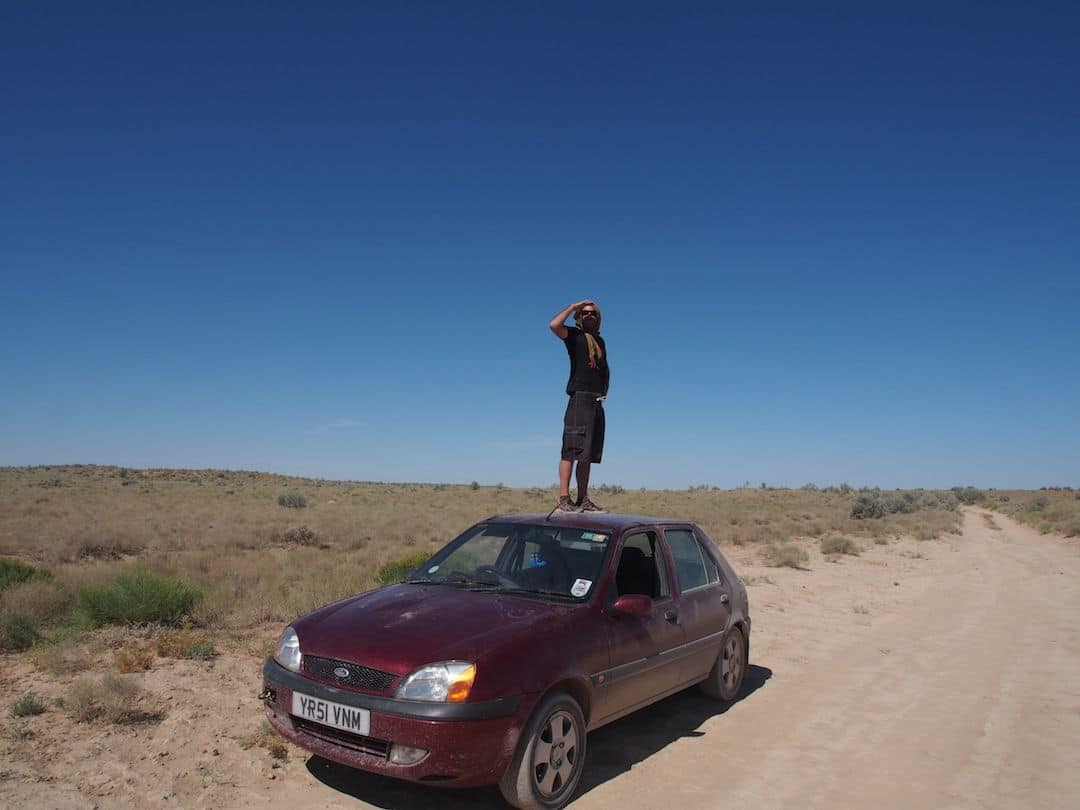 First hours in Kazakhstan after arrival from Azerbaijan
Upon arrival in the Caspian Sea Port of Aktau everyone was taken in small vans to the processing office to be stamped into the country. This was the easy part.
Next we had to get the papers to bring our vehicles in. The guards at the port all wore military fatigues and carried automatic weapons and made us take our luggage out of our vehicles for inspection. After the obligatory paper stamping (7 stamps in total) and bureaucratic red tape we were eventually let out of the car park several hours after docking. Lonely Planet gives directions to a very cheap hotel and we quickly find it.
Without any local language or currency we think we have managed to reserve two wooden slabs (between three of us) covered by a cotton sheet through the landlady who is doing her best impression of a cranky Genghis Khan, in what I have to say is one of the creepiest, most rundown establishments I've ever seen. Something straight out of a horror flick.
Hungry and in need of local currency we drive into the city proper. After an ATM stop we find a lovely restaurant where girls are drinking beer (Guinness no less) from a straw and the boys are smoking Hookahs. We have a very reasonable meal and a couple of beers all of which is heaven after eating nothing but camp food and boat rations for the past week.
I'm feeling good so I decide to have a whiskey nightcap and we agree to get a taxi back to the 'hotel' as Kazakhstan has a zero blood alcohol limit for drivers. Once we get into the car park though I'm feeling crystal clear and I volunteer to drive. I pull out of the car park across the set of unbroken double lines to get into the right lane to get home. I do this however, just as a police car turns the corner and instantly his lights and siren sound.
I'd like to tell you, right about now, I'm recollecting all the information I have read about driving a vehicle in central Asia. Most notably that the police in Kazakhstan are renowned for pulling people over and even if you have not done anything blatantly obvious, they'll find fault with your vehicle or documents and demand that you pay small 'fine' in order to rectify the situation. You're advised not to hand over your passport as often they'll keep it in their possession until said 'fine' has been paid.
As calmly as I can I hand over my international drivers permit to the inspecting officer who looks it over and then most likely admonishes me for crossing a double line in Kazakh. I nod and shrug my shoulders and say 'sorry mate, no Kazakh'. Although I cannot understand a word, he makes it quite clear that I need to get out of the vehicle and go with him. 'If they breath test me I'm fucked' I think. But, on the bright side, a night in a dirty Kazakh jail cell might just be a bit more comfortable and probably less dangerous than the 'hotel' we were on our way back to right now.
I'm sitting nervously in the back seat of a police car while the first officer hands my drivers permit over to his senior. He admonishes me pointing to the lines on the road and holding up two fingers. 'I'm sorry' I say 'first time Kazakhstan' and 'no Ruski' (I don't speak Russian).
Senior policemen pulls out a piece of paper that I assume indicates that he's going to fine me and pours over my documents again. After another couple of minutes making me sweat he throws my license back to me and indicates for me to get out of the car. A dismissive wave of the hand demonstrates that I'm off the hook. Lucky Benny D!
Porky Pig in Kyrgyzstan
This would be the first of more than a dozen encounters with the local constabulary during our trip, the majority of incidents confined to random roadside stops in Kazakhstan.
Perhaps the police have been given instructions not to hustle foreigners too much in the lead up to world expo in Astana (the bright new capital) next year. Perhaps they couldn't be bothered trying to extract a fine from us with the language barrier or maybe they just felt sorry for us and liked the look of our friendly and respectful faces. Anyway, we never paid any fines even when we forgot to turn our headlights on which is compulsory at all times in Kazakhstan.
The police in Kyrgyzstan know this too and that is why they were waiting for us less than two kilometres over the border when we first arrived in the country. Sitting there in their little beat up old cop car, one of them waves us over with his orange light stick.
Penny was driving and talking with four officers for a good 10 minutes over at their vehicle before I decide to stroll over and see what the issue is. He wants to fine us $20 for having our headlights 'on' Penny tells me.
'Cheeky bastard' I think and the chubby senior officer sitting in the cop car knows what I'm thinking too. We haven't changed any money over yet and he's telling us to go to an ATM and get the money and bring it back to him. At least that's what I think he's saying. I turn out my pockets to show him we have no cash and I remonstrate (as Penny already has) saying that it is the law to have the lights on in Kazakhstan and now that we have crossed the border, we'll turn them off if you like.
The whole unintelligible conversation borders on jovial, comical, pleading seriousness. He doesn't want to let us go and we don't want to pay and they don't want to arrest us but we don't want any trouble. I think they get tired of trying to con us and I say to Penny 'come on let's go'. Senior officer calls me back and says something to me with a wry smile, probably along the lines of don't let this be your first impression of my country, then he shakes my hand and actually says sorry a couple of times before we head off into the countryside, headlights turned off.
Speeding in Kazakhstan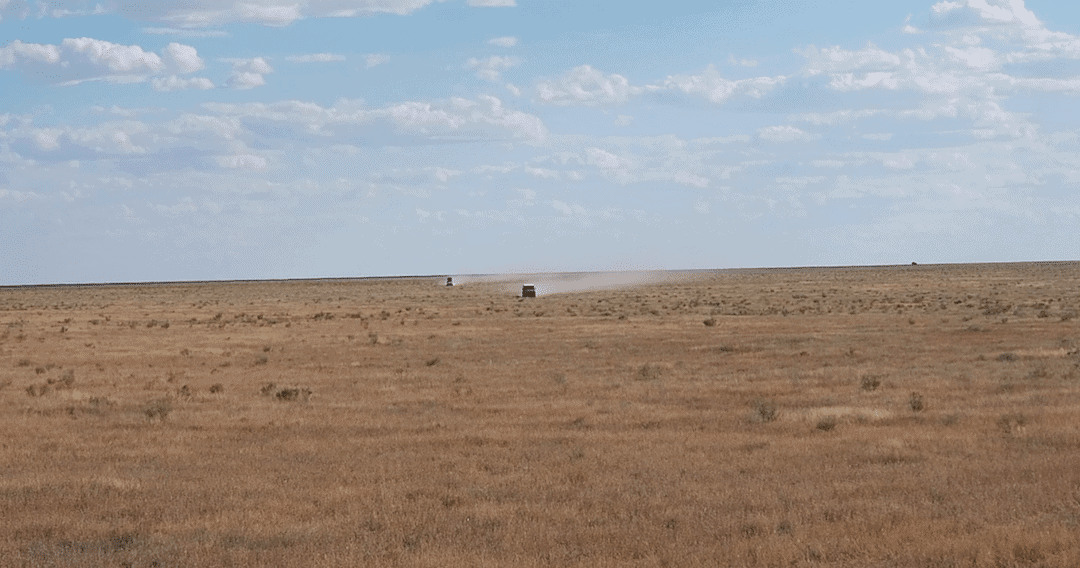 You could be driving down a perfectly good stretch of highway in Kazakhstan when the speed limit suddenly goes from 100 to 70 to 40 for no apparent reason. More often than not there will be a policeman waiting next to his car to wave you down if you were going too fast or had forgotten to turn your headlights on.
Me – 'you might want to slow down a bit Penny – there is a speed camera there.'

Penny – 'I'm not speeding'.

Me – 'It's a bit hard to tell when the speedo doesn't work'.
Young official with an automatic weapon slung over his shoulder says to us in English ' do you know how fast you were going?'
Penny- 'yes I wasn't speeding, I was doing the limit'.

Officer- 'you were going too fast, we caught you with a camera'

Penny- ' no I wasn't it must've been someone else'
The officer examines our papers and asks us where we're from and then says 'okay you can go'.
Me – 'gee that was lucky, encounter number 10, Penny gets off speeding.'

Penny 'told you I wasn't speeding'.
You cannot argue with that.
Enjoying the story? It's not entirely over yet. Stay tuned for the Epilogue and Benny's final thoughts.