It's one of New South Wales' most unique destinations, and our list of the top reasons to visit the Murray Region will have you booking a trip in no time!
When you pull up a list of the top places to visit in New South Wales, you can be forgiven for feeling a little overwhelmed of where to start.
From the deep gorges of the Blue Mountains to the turquoise seas around Lord Howe Island, the mining history at Broken Hill to the trendy adventure hotspot of Byron Bay, there's something for everybody in Australia's most populous state.
Having grown up just outside of Sydney, I've been lucky enough to travel around a lot of New South Wales, and the more I see, the more I fall in love it.
One region I've never really spent much time though is around the Murray Valley.
The Murray Region stretches along the border of NSW and Victoria, and I'll be the first to admit I knew very little about it beyond being home to the Murray River, Australia's longest river.
Over the years I've driven through the largest town in the area, Albury, many times, but that was as much as I had seen.
At the end of 2019, that all changed, and Alesha and I found ourselves exploring the region on a Murray River road trip for just under a week.
It didn't take long to realise that this region was better than we ever could have anticipated.
Our Top Reasons to Visit the Murray Region
A trip through the Murray River Region is well worth doing for anybody travelling by car around the east coast of Australia.
Being only a few hours from Melbourne, and a short distance to the Snowy Mountains with Albury being the regional hub, access to the Murray is remarkably easy.
And with so many fantastic things to see and do here, it's sure to become one of the top spots to travel to in the country, once word gets out. The Murray River itself is a sight to see, and all the local businesses and national parks of the area makes it even more fascinating.
If you're looking for some inspiration on where to take your next road trip in New South Wales, here's our list of the top reasons to visit the Murray Region!
1) Support the Growing Trend of Sustainable Small Businesses
If there's one thing Aussie's love, it's an underdog. And in a world where big corporations are constantly threatening the livelihoods of local entrepreneurs, it's little wonder that more and more people are choosing to support small business wherever possible.
When you travel through the Murray Region, you'll notice that the number of multi-nationals begins to dwindle, and in their place, you'll find a plethora of fantastic locally-owned businesses filling the void.
From restaurants to souvenir stores, tour operators to accommodation, local owners have proudly developed a string of businesses that are worth spending your tourist dollar at.
What sets many of these establishments apart from the larger companies is their commitment to sustainability and community, all while following their own dreams.
At the River Deck Cafe in Albury and Morrisons Winery in Moama, the head chefs choose to use local ingredients in almost all of their recipes, supporting farmers in the area rather than trying to cut costs.
Ros at Rich Glen Olive Estate turned her family home into a restaurant and natural beauty products store, welcoming hundreds of people a week to sample her delicious organic cuisine.
Josh at iWaterski turned his passion for being on the water into a business, and he now provides fantastic waterskiing and SUPing experiences along the Murray River.
There are countless stories like this throughout the Murray Region, and it's the opportunity to meet these people and support them which makes a road trip around here so rewarding.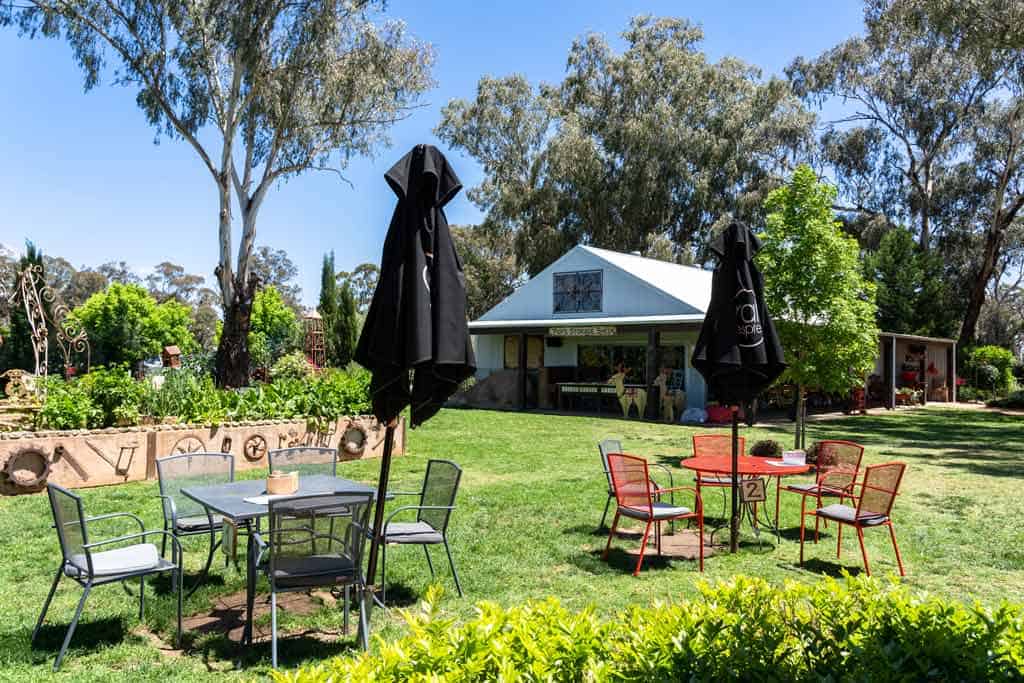 2) Wander Through Australia's Stunning Native Bushland
Australia is best known for its picture-perfect coastline and the sprawling expanse of the Outback, and these are often the two drawcards that convince domestic and international tourists to tour the country.
While there's no denying that the beaches and desert are phenomenal, there's a lot more to the country's natural splendours than the obvious highlights.
Australia's native bushland is one such landscape that continually impresses, and the Murray Region houses one of the best examples of it.
Places like the Murray Valley National Park and Thompson's Beach are home to towering eucalyptus trees and meandering rivers, as well as ancient Aboriginal cultural sites. Mungo National Park is famous for its archeological remains, including the oldest human remains found in Australia.
The natural diversity also brings about a dense population of wildlife, and going for a hike through the parks offers the chance to see kangaroos, echidnas, wombats, koalas and dozens of different bird species.
3) Taste the Region's Delectable Cuisine
Food travel has always been a reason why people visit new destinations.
And while the countryside of Australia might not immediately jump to mind when thinking about unique cuisines, a trip through the Murray Region will quickly show a mouth-watering food scene that has developed.
Sustainable and organic farms are becoming more common down this way, and passionate chefs are taking advantage of the great access to fresh produce.
Locally-sourced ingredients feature prominently on most independent restaurant menus, with dishes designed on whatever is in season, rather than relying on imports from abroad.
Troy, the head chef at Morrisons Winery, is a great example of somebody pushing the boundaries of Murray Region-inspired cuisines.
Whether its caramel-drizzled pork belly or mouth-watering chocolate brownies, each dish is carefully prepared using only the best ingredients he can get his hands on at the time.
Another great idea for foodies is to travel the Farm Gate Trail. This trail includes 21 local farms that offer delicacies for visitors to try, such as beef, cheese, olives, olive oil, fresh produce, chocolate, and more. Check the official Farm Gate Trail brochure for more details.
While you might originally come down this way to explore the stunning nature, the food is what will quickly become one of the main reasons you end up returning again and again.
4) Sample the Murray Region's Best Wine
Margaret River, the Barossa Valley and the Hunter Valley are the 3 areas that are most synonymous with award-winning wines in Australia
The Murray Region isn't too far behind these household names though, and if you love a good drop of red or white, it won't be long before the wineries of the Murray start becoming your go-to vintages.
Coupled perfectly with the sustainable dishes you'll find in local restaurants, the wineries around the Murray Valley are often small in size, but big in flavour.
The boutique vineyards aren't about producing en-masse. Instead, they tend to be distributed mainly around the region, or sometimes a bit further afield into other parts of New South Wales or Victoria.
Swan Hill is a popular foodie destination in the Victoria Murray River region. If you can make it to Swan Hill on Labour Day weekend in March, the Swan Hill Food and Wine Festival is an amazing place to indulge in all the best local wine and food.
Sampling wines is one of the best reasons to visit the Murray River region, and a good place to do so if you don't have time to go on a winery-crawl is to have dinner at Bistro Selle in Albury.
Here, let the owner Matthew's huge collection of local wines scintillate your tastebuds.
If you don't know where to start, do yourself a favour and let Matthew guide you with his expertise.
As a note, almost all wineries in the Murray Region do taste-testing and can ship bottles around the country in case you don't have room to carry them.
5) Paddle Down the Mighty Murray River, Australia's Longest River
Coming in at 2508km, starting in the Australian Alps near Mount Kosciuszko and draining into the ocean in South Australia, the Murray River is the nation's longest river.
Weaving its way through the southern part of the country, and with hundreds of thousands of people living close to its waters, it has become an integral part of many lives, not just for the ecosystem, but also for fun.
There are plenty of ways to get out and enjoy the Murray River, with the most popular activities being fishing, kayaking and water skiing.
If you prefer your outdoor enjoyment to be a bit more relaxed, there's also the option of going on a Murray river cruise on an old paddle steamer.
Our personal favourite activity on the Murray River during our recent visit was going stand-up paddleboarding with Josh at iWaterski, based in Moama Echuca.
For 5km we paddled down the Murray River, passing locals fishing by the river's edge, watching native birds fly overhead, and being in awe with the tranquil beauty around us.
Well worth doing when you're visiting the Murray Region!
6) Stay in Unique Accommodation
The Murray Region is definitely a unique part of the state, and that rings true for the accommodation options you can find down this way.
While there's no shortage of wonderful hotels and homely bed-and-breakfasts, you'll also discover a collection of places to stay that are different to what you might be used to.
A common one you'll find are houseboats, which can be rented for couples or up to groups of 20, allowing you to cruise up and down the river and park up almost anywhere you'd like for the night.
There's a range of amazing caravan holiday parks, perfect for families or those with their own camping gear.
Or you can do something completely different and stay in a luxury yurt at Talo Retreat in Moama.
With a number of Mongolian-inspired yurts in a natural bushland setting, these are some of the best places to stay in the entire Murray Region.
7) Learn About Our Fascinating Aboriginal History
With a rich history dating back almost 60,000 years, Australia's indigenous culture is one of the most fascinating on the planet.
The Aborigines are the world's oldest civilisation, and no trip through the Murray Region would be complete without learning more about them.
In many of the larger towns along the Murray River you'll find Aboriginal art galleries showcasing their paintings, carvings and sculptures.
Out in nature, there are also quite a few sacred Aboriginal sites that you can visit, such as in Murray Valley National Park.
For a very interesting experience, go for a stroll along the Yindyamarra Sculpture Walk in Albury.
This 5km-long pathway follows the Murray River past wetlands and bushland, with a number of Aboriginal art pieces installed along the way.
Each artwork has an information panel explaining what it is about and who made it, allowing you to get a greater understanding of the stories behind the art.
DISCLAIMER: We visited the Murray Region on assignment with Destination NSW to promote tourism in the area. All thoughts, opinions and bottles of delicious Murray wine consumed are, as always, our own.