We've spent the past few weeks testing out this high-tech, AI-powered photo editing software to see if it's worth the hype. Our Luminar Neo review breaks down all the features, what we like, and what we don't like, to help you decide if it's the right tool for you.
We've been working as professional photographers for over 10 years now, and our process for editing photos is constantly evolving.
There'll be months where we are focused on minimal post processing, keeping our images as close to life as possible, and other times where we allow our artistic minds to run free, pushing all the tools we have at our disposal to generate the most stunning photos we can manage.
Some people are purists and claim that a photo isn't 'real' if it's been edited. And we understand their perspective.
However to us, photography is art and that creation of art flows flows from before you push the shutter right through to the final photo editing process.
And as artists, we'll be the first to admit there are times where we struggle to achieve the end result that we had in mind, in part due to our own capabilities within specific photo editing tools.
Enter Luminar Neo, an AI-powered photo editing software that simplifies the editing process and helps to unlock your creative potential.
In this comprehensive Luminar Neo review, we'll explore the groundbreaking features and tools this software has to offer, and see how it compares to other popular photo editing software like Adobe Lightroom and ON1 Photo Raw.
Are you ready to revolutionise your photo editing experience? Let's dive in!
Short Summary
Luminar Neo is a powerful AI-powered photo editing software with sophisticated tools and features.
It offers intuitive interface, advanced editing features, compatibility with Adobe products and various pricing options.
Comprehensive learning resources are available to help users learn the tools of the software and improve their skills.
SPECIAL DEAL: We've partnered with the team at Skylum to offer a special $10 discount just for NOMADasaurus readers. Use the code 'NOMAD' at checkout to activate your Luminar Neo discount coupon.
Luminar Neo Review – What is Luminar Neo?
Luminar Neo is a powerful image editor that utilises AI technology to simplify the editing process, providing a user-friendly interface and compatibility with other popular editing software like Adobe Photoshop and Lightroom Classic.
Skylum released Luminar Neo, the AI-powered photo editing software designed for both Mac and PC users, in early 2022, providing a range of sophisticated tools and features, including AI tools, to accommodate both novice and experienced users.
Not only does Luminar Neo boast impressive AI capabilities, but it also comes with a comprehensive set of filters and editing tools, including contrast sliders for highlights, mid-tones, and shadows, white balance settings, and a crop tool with an AI option that locates the subject and recommends a crop.
READ MORE: Check out our expert guide on the best travel photography tips!
Some of these tools are the same as you can find in just about every other photo editing software on the market, but in our experience they all handle the algorithms on raw files differently.
With its powerful features and competitive pricing, Luminar Neo has quickly become a strong contender in the photo editing software market.
Spoiler alert: Our main imaging editing program has always been, and continues to be, Adobe Lightroom. It is where every single image we capture goes through.
Sometimes we open up other software such as Adobe Photoshop, Google Nik Collection or Topaz DeNoise to push our images in different direction, but no matter what the process for us always starts and ends in Adobe Lightroom.
We've always been open to trying new software though to see what we can achieve and if our workflow improves, and that's exactly what we've been doing recently with Luminar.
Our First Thoughts on Luminar Neo
The first time we opened up Luminar Neo, we'll be honest – we weren't fans. It had an easy to use interface and all the familiar sliders and tools that we like, but when we clicked on some of the auto AI tools and presets we became a bit disenchanted. It just didn't seem to be natural in the slightest.
But we persevered and tried different elements, and we went from starting to find it kind of fun to then really liking how it handled colours and effects in our images.
It took us a few times to come around after running Luminar Neo, but we're glad we stuck through it.
Target Audience
Luminar Neo is crafted to cater to a broad group of photographers, ranging from social media creators to top-tier professionals, providing powerful Luminar Neo features for creative image manipulation.
With Luminar Neo, users can quickly and easily adjust exposure, colour, and contrast, as well as apply a variety of creative filters and effects.
Its advanced tools such as layers, masking, and blending and intuitive interface make it an ideal choice for those looking to add extra value to their editing process, whether they're capturing stunning landscapes or perfecting their portraits.
This photo software isn't for photographers who have never edited a photo before, or for anybody who tries to keep their results as pure as possible.
If you're a photojournalist or somebody entering high-end photo competitions, it's not the right too for you.
But if you're like us and enjoy the art behind photography just as much as documentation, with an aim to make your images as unique and beautiful as you can, then you're in for a treat.
Features and AI-Powered Tools in Luminar Neo
Luminar Neo offers unique AI-powered tools such as Sky Replacement AI, Portrait Bokeh AI, and Relight AI, among others such as Power Line Removal AI, which helps people easily remove power lines from their images.
These tools leverage AI technology to accurately identify and isolate elements in a photo for precise local adjustments, allowing users to focus on the creative aspects of editing rather than labouring over manual adjustments.
The AI-driven features in Luminar Neo not only save time but also help users achieve professional-looking results with minimal effort.
These tools make complex editing tasks more accessible and efficient, so you can focus on your creativity rather than labouring over manual adjustments.
We'll discuss the ethics of some of these features later in our Luminar Neo review, but it's worth mentioning them here first.
Luminar Extensions can also be added to the core features, making Luminar Neo a comprehensive creative platform for photographers.
With its combination of advanced AI tools and intuitive interface, Luminar Neo is an excellent choice for both beginners and experienced photo editors looking for a versatile editing solution.
Essentials Slider Editing Modules
Luminar offers several standard slider editing modules, just like you'd be familiar with in Lightroon.
These include exposure, smart contrast, highlights, shadows, and colour sliders, enabling precise control over your images.
The brilliance of Luminar lies in these sliders' combination of simplicity and power. They cater to both beginners seeking quick improvements and seasoned photographers demanding refined control.
Each slider can have a dramatic impact on an image, allowing you to create the perfect mood and style.
Always remember to experiment and explore with Luminar's editing sliders.
Creative Editing Modules
Under here you'll find a few fun, more dramatic, editing tools that can add an entire new feel to your image.
There's Relight, which we'll discuss further below, Atmosphere AI which adds fog, mist or haze, and then one that truly blew our mind: Sunrays.
Sunrays does exactly what you think it will do and add realistic looking sunrays into your image. What makes this one of Luminar's excellent AI tools though is that you can drag this sunray around and it will intelligently position itself behind elements and filter through.
Check out the image below where we added sunrays that appear to filter through the tree. Pretty damn cool!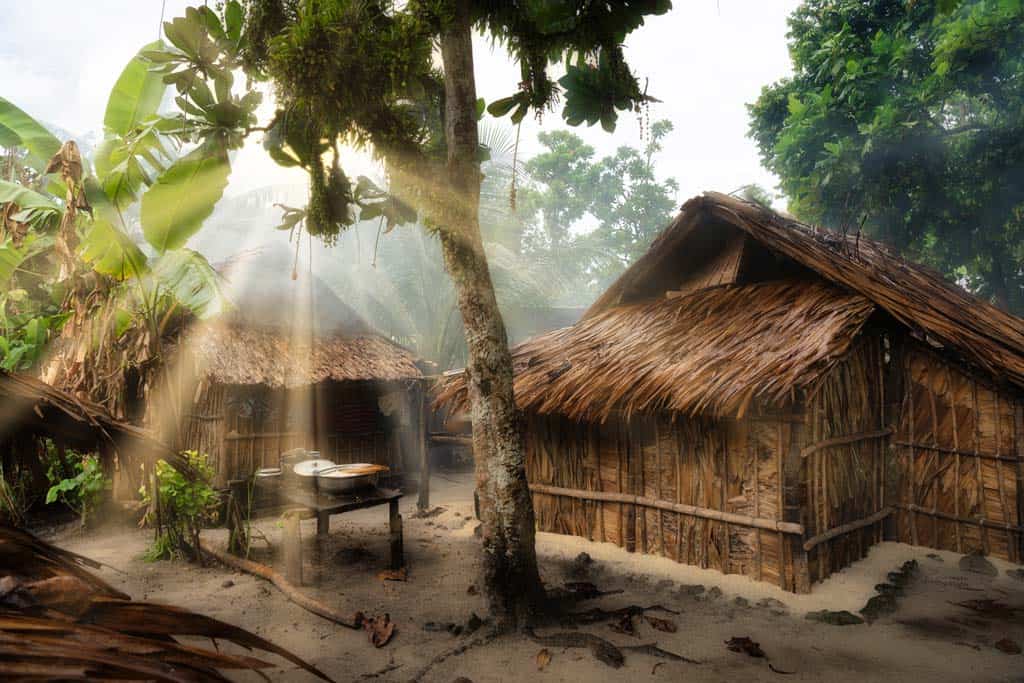 Sky Replacement AI
Sky Replacement AI in Luminar Neo allows for seamless sky replacement with realistic results, even in challenging conditions.
This powerful tool intelligently analyses the image and replaces the sky, while preserving the original details and colour harmony of the scene.
Gone are the days of painstakingly masking and blending skies in your photos – with Luminar Neo's Sky Replacement AI, you can achieve stunning results in just a few clicks.
To use Sky Replacement AI, simply select a sky from the palette that aligns with your desired outcome.
The program will then place it in the photo, adjusting the position and orientation of the sky as needed. You can adjust the general colour of the image.
Reflections of the sky in water can also be fine tuned. This Sky AI-powered tool makes it easy for photographers of all skill levels to enhance their images with breathtaking skies, regardless of the initial conditions.
Now for the big question – is it wrong to replace a sky in a photograph?
If you are submitting work to a client, or pretending the conditions you experienced were better than they really were without disclosing it, then we feel that replacing a sky isn't the ethical thing to do.
However if you're creating 'digital art', are open that you replaced the sky, or are just having fun then we don't really see much of a problem with it.
In full transparency we have never replaced a sky in any of our images, except for in astrophotography where we have masked and blended in an astro shot onto an earlier blue-hour image.
After playing around with the Sky AI tool we admit that it's pretty fun, although we probably wouldn't use it again.
Portrait Bokeh AI
Portrait Bokeh AI in Luminar Neo adds a professional bokeh effect to portraits with simple controls and both automatic and manual options.
This Portrait Bokeh AI tool intelligently identifies the subject and applies a realistic background blur, creating a professional-looking depth of field effect with minimal effort.
With Portrait Bokeh AI, you can transform your portraits and make your subjects stand out against their backgrounds through background removal, without the need for expensive lenses or complex editing techniques.
In our standard image editing workflow in Lightroom we do occasionally mask out the background of a portrait shot and turn down clarity and texture for greater depth of field, so it's not too far fetched from we already do.
Relight AI
Relight AI in Luminar Neo enables selective brightness adjustments for different parts of an image, which useful for both landscape and portrait photography.
This powerful tool allows you to fine-tune the lighting in your photos, enhancing the atmosphere and ensuring that your subjects are properly exposed.
Whether you're looking to add a touch of drama to a moody landscape or brighten up a backlit portrait, Relight AI offers a quick and easy solution for achieving the perfect lighting balance in your images.
It's kind of like a dodge and burn tool but done automatically for you.
READ MORE: Don't miss our guide to the best cameras for travel.
Other AI Tools
There really is a huge amount of key features that we came across during our Luminar Neo review, and the more we edit photos the more we find a great use for them.
There's things like Structure AI, portrait background removal, Skin AI and Enhance tool which are fun to play around with.
The clone tool, Supercontrast, Color harmony and Dodge and Burn tool are all found under the 'Professional' module.
One of our favourite tools those is the Erase tool, which automatically removes power lines and dust spots with one click.
This is actually something we use all the time. We have no issue removing power lines from our images (unless it's for photojournalism or entering an award, and spot removing dust spots can take ages if you have a dirty sensor.
Legit one click and it's done for you in a matter of seconds with pretty decent accuracy.
READ MORE: Here's everything you need to know about capturing beautiful portrait photography!
Presets
One of the most popular aspects of Luminar Neo is their assortment of built-in presets which allow you to select a style and add entire new pre-designed looks to your image.
They're like secret sauces that instantly apply a multitude of adjustments to your image with just one click. Colour enhancement, exposure adjustment, detail sharpness, noise reduction – these presets have it all.
The presets are broken down into different themes: Essentials, Landscape, Mother Nature, Portrait, Macro, Cinematic, Lifestyle and Aerial.
Under these themes you have individual sections, which lead to their own presets. So straight out of the box you have a significant amount of options.
READ MORE: Check out our full guide to our favourite landscape photography tips!
What's even better is the ability to tweak these presets according to your creative vision. It gives you a head start on the editing process, and from there, you can fine-tune to your heart's content.
Trust us when we say that you do need to fine-tune. Most of these presets are quite aggressive and aren't ready to push out into the world.
What we like about it though is it often helps spark a new field of creativity when editing your images.
Often when we shoot or start working on an image, we already have a general idea of how we'd like the end result to look.
By clicking the presets you might suddenly be inspired to try something new.
Luminar AI Extensions
If you love Luminar Neo and decide you want to take the AI features to another level then you can purchase some of their reasonably priced Extensions.
These are simply add-ons you can purchase after you buy Luminar Neo, and they are pretty nifty.
HDR Merge if for multiple images, where you can blend a number of high dynamic range images together, giving greater detail in the highlights and shadows.
Noiseless AI is an excellent noise reduction tool, which does a better job than Lightroom's standard slider (although we feel Topaz DeNoise is better overall).
Upscale AI can take a low-resolution image and fills in the pixels to make it a high-res shot.
Supersharp AI sharpens the edges of an image, and can even take a photo suffering from unwanted minor motion blur and digitally fix the issue.
And Magic Light AI finds a source of light in the image, such as a street light, and adds natural-looking flares from them.
User Interface and Ease of Use
Remember the first time you opened Adobe Photoshop and became instantly overwhelmed at all the little nameless buttons and complicated systems that popped out at you?
Ahh, we do…Luckily that's not the case with Luminar.
Luminar Neo's user interface is designed for ease of use, with a clear layout and intuitive navigation, making it suitable for both beginners and experienced photo editors.
The software features a dark theme and easy-to-understand tool icons, allowing users to quickly locate and access the tools they need for their editing tasks.
Additionally, Luminar Neo offers a variety of customisation options, enabling users to tailor the interface to their preferences and workflow.
The software's organisation and navigation system are straightforward, featuring Catalog, Presets, and Edit modules for easy access to various editing tools.
Users can easily switch between these modules, allowing them to efficiently organise, manage, and edit their photos all within the same application.
Interface Design
Luminar Neo's interface is clean and simple, with a dark theme and easy-to-understand tool icons, allowing for quick and efficient photo editing.
The intuitive design makes it easy for users to locate and access the various tools and features they need for their editing tasks.
This streamlined interface design ensures that users can focus on their creative process, rather than getting bogged down by complex menus and options.
Luminar Neo offers a straightforward organisation and navigation system, with features like Catalog, Presets, and Edit modules for easy access to various editing tools.
The Catalog module provides a digital asset management facility, allowing users to store, rate, and colour-code their images for easy sorting.
Presets offer convenient one-click photo enhancements based on the content of the image. Finally, the Edit module allows users to access a comprehensive range of editing tools, adjustments, and effects to fine-tune their photos.
With its simple yet powerful organisation and navigation features, Luminar Neo makes it easy to manage and edit your photos in a seamless workflow.
Advanced Editing Features
Luminar Neo provides advanced editing features, such as layers and compositing, as well as Mask AI for precise local adjustments, allowing for creative image manipulation.
These advanced features enable users to craft intricate composites, create special effects, and make selective edits with ease.
Whether you're looking to replace the sky in a landscape, add a professional bokeh effect to a portrait, or make precise adjustments to specific areas of an image, Luminar Neo's advanced editing features have you covered.
With its combination of advanced editing features and AI-powered tools, Luminar Neo is a versatile and powerful photo editing solution for photographers of all skill levels.
Layers and Compositing
Layers in Luminar Neo enable users to create complex composites and unique effects, rivalling Adobe Photoshop in terms of creative possibilities.
The software allows photographers to layer overlays and utilise various blend modes to generate interesting effects, transforming their images into stunning works of art.
With its advanced layer and compositing capabilities, Luminar Neo empowers users to explore their creativity and craft visually stunning images.
Mask AI and Precise Adjustments
Mask AI in Luminar Neo allows for precise local adjustments, using AI technology to identify and highlight different elements within a photo for selective editing.
This powerful feature enables users to make accurate localised modifications to their photos, such as adjusting the brightness of specific areas or applying effects to selected elements.
With AI masking, Mask AI users can create complex edits with ease, allowing for greater creative control and more refined results.
Performance and Compatibility
Luminar Neo has specific system requirements for optimal performance and is compatible with popular Adobe products, making it a versatile option for photo editing.
The software's performance is contingent upon the user's computer hardware, with minimum and recommended system requirements available for both Mac and Windows users.
This ensures that users can enjoy a smooth and efficient editing experience, regardless of their system specifications.
In addition to its performance capabilities, Luminar Neo is also compatible with Adobe Photoshop and Lightroom Classic, allowing users to integrate it into their existing workflows as a plugin.
This compatibility makes Luminar Neo an attractive option for photographers who are already familiar with Adobe products and are looking for a powerful and versatile photo editing solution that can seamlessly integrate with their current software.
Personally we never use Luminar Neo on its own. Instead we make use Lightroom for our cataloging and initial corrections/edits, then right click and use the 'Edit In…Luminar Neo' option to create a TIFF file.
Luminar Neo then loads in the background, opens the TIFF file and is ready for editing.
When you hit 'Apply' the image then saves and is sent back to Lightroom for further editing and exporting.
System Requirements
Luminar Neo requires a certain level of computer hardware for smooth operation, with minimum and recommended system requirements available for both Mac and Windows computer users.
By ensuring that their system meets these requirements, users can enjoy a seamless and efficient editing experience.
For detailed information on the specific system requirements, users should consult Luminar Neo's official website or product documentation.
Compatibility with Adobe Products
Luminar Neo is compatible with Adobe Photoshop and Lightroom Classic, allowing users to integrate it into their existing workflows as a plugin.
This compatibility enables photographers to access Luminar Neo's powerful AI-powered tools and advanced editing features within their familiar Adobe environment.
By integrating Luminar Neo into their existing Adobe workflows, users can enhance their photo editing capabilities and unlock new creative possibilities.
Pricing and Licensing Options
Luminar Neo offers various pricing and licensing options, including one-time purchase and subscription plans, with discounts and promotions available for new and existing users.
This flexibility allows users to choose the best option for their needs and budget. Whether you're a beginner looking to invest in your first photo editing software or a seasoned professional seeking a powerful new tool, Luminar Neo's pricing and licensing options cater to a wide range of users.
Luminar Neo's one-time purchase option provides a perpetual license for the software, while the subscription plan guarantees access to the most up-to-date version and additional features and enhancements.
Users can also take advantage of discounts and promotions, such as the Luminar Neo discount code "NOMAD" when purchasing from Skylum Software.
With its range of pricing and licensing options, Luminar Neo is an affordable and versatile choice for photographers looking to enhance their photo editing capabilities.
One-Time Purchase vs Subscription
A one-time purchase grants a perpetual license on that version of the software, while the subscription plan ensures that users always have access to the latest features and enhancements.
By offering both options, Luminar Neo caters to a wide range of users, from those looking for a cost-effective solution to those who prefer to stay up-to-date with the latest advancements in photo editing technology.
Discounts and Promotions
We've partnered exclusively with Luminar Neo to offer our readers a fantastic discount on their lifetime software bundle.
Just use the the promotional code "NOMAD" when purchasing the software to receive $10 off the current Neo price.
You can also make the most of the Luminar Neo free trial to see if the tool is right for you.
Comparing Luminar Neo to Other Photo Editing Software
When choosing photo editing software, it's important to consider how it compares to other popular options on the market.
In this section, we'll compare Luminar Neo to other well-known photo editing software like Adobe Lightroom and ON1 Photo Raw, highlighting its strengths and weaknesses in various areas.
Luminar Neo vs Adobe Lightroom
Luminar Neo offers a range of AI-powered tools, including Luminar AI, that set it apart from Adobe Lightroom, making it a strong alternative for those looking for a more automated editing experience.
With Luminar Neo's AI tools, users can leverage AI technology to generate compound effects, simplifying the editing process and enabling them to achieve professional-looking results with minimal effort.
With its unique AI capabilities, Luminar Neo offers a fresh perspective on photo editing, catering to users who prefer a more streamlined and efficient editing experience.
Lightroom is catching up, especially when it comes to their masking tools, but Luminar Neo offers more sophisticated
Luminar Neo vs ON1 Photo Raw
Luminar Neo competes with ON1 Photo Raw in terms of advanced features and photo management capabilities, with each software offering unique advantages and disadvantages.
Luminar Neo provides a more automated editing experience, while ON1 Photo Raw is better suited for users who prefer to manually adjust their images.
Ultimately, the choice between Luminar Neo and ON1 Photo Raw will depend on your personal preferences and editing style, but both options provide a powerful and versatile solution for photo editing.
Learning Resources and Support
Luminar Neo offers a variety of learning resources and support options, including free tutorials and guides, as well as paid courses and workshops for those looking to improve their skills.
With these resources, users can quickly become proficient in using Luminar Neo and take full advantage of its powerful features and capabilities.
Whether you're new to photo editing or an experienced photographer looking to expand your skills, Luminar Neo's learning resources and support options provide valuable guidance and instruction.
Our Review of Luminar Neo AI Photo Editing Software – Final Thoughts
After using the program for a few weeks now and finally publishing our Skylum Luminar Neo review, you're probably wondering what our final thoughts are.
In all honesty, we really like the program.
The AI features, advanced editing tools and algorithmic character that some of the features can add to your image are pretty fantastic.
It's an extremely powerful tool, and when used with moderation you can take your original image and turn it into a work of art.
It is very, very easy to take your edits too far though using Luminar Neo, so do yourself a favour and watch some of the tutorials first.
Don't get caught up with the whole AI world either and start replacing the skies on every photo you take. For fun and experiments, why not? For client work or showing to the public? It's a bit deceiving.
Will we keep using the program?
Yes. For portfolio and social posts.
Just like we use Photoshop, Google Nik Collection and Topaz in our arsenal of photo editing tools, we see a real reason to add Luminar Neo to that list.
Different tools have different ways of manipulating images, and there are times that the Skylum program just does it better.
The focus stacking AI is useful, a lot quicker than doing it manually in Photoshop, and as we love focus stacking our landscape images it will probably be our go-to from now on.
Overall we give Luminar Neo a solid 8/10.
Is Luminar Neo better than Lightroom?
Overall, Luminar Neo appears to be the better choice between the two programs due to its intuitive interface and time-saving artificial intelligence capabilities. Additionally, it offers a more cost-effective solution than Lightroom for those looking for a comprehensive photo editing suite.
Is it worth upgrading to Luminar Neo?
For many people, upgrading to Luminar Neo will be worth it. It has great features that the older version of Luminar AI lacks, is faster and easier to use, and continues to be updated and improved. All of these make Luminar Neo a great choice for photographers.
Is Luminar Neo good for beginners?
Luminar Neo is an excellent choice for beginners, providing a straightforward and intuitive approach to editing images with professional-level results. Its features are designed for users of any skill level, allowing newcomers to quickly familiarise themselves with the program's capabilities. The user interface is simple and easy to navigate, with a range of tools and options that can be used to enhance photos and create stunning visuals. The program also offers a range of tutorials and guides to help users get started.
Is Luminar Neo better than Photoshop?
Overall, the choice between Luminar Neo and Photoshop depends on your individual needs and the type of photography you do. For those just starting out, Luminar Neo provides an easier learning curve with more accessible features that enable quicker results. However, for those who are comfortable with Photoshop's workflow and already have a collection of editing tools, using Luminar Neo as a plugin to supplement their arsenal may be the best option.
What sets Luminar Neo apart from other photo editing software?
By utilising the latest in Artificial Intelligence technology, Luminar Neo makes it easier to achieve professional-level results in a fraction of the time. This powerful feature sets this software apart from other photo editing programs.