Ever wondered whether an inflatable tent is a gimmick or a legit camping stroke of genius? That's what we set out to discover in our Dometic inflatable tent review of the Stradbroke 4 TC Air.
Dometic have become a household name in Australia for anybody who loves 4×4 adventures, van life and camping gear.
Best known for their incredible range of fridge/freezers, RV accessories and cooking equipment, the century-old brand has recently started expanding into a range of tents, focusing on standalone, rooftop and vehicle-attached.
One of the styles they have pioneered is the concept of inflatable tents that are designed to withstand tough conditions.
We had heard a lot about these Dometic inflatable tents, but never had the chance to put one to the test until recently.
The company got in touch with us and wanted to know if we were interested in trying out their Dometic Stradbroke 4 TC Air inflatable tent.
As we had just sold our motorhome and downsized to a 4×4, we were on the lookout for awesome camping equipment that was comfortable, durable, versatile and innovative.
Would the Stradbroke live up the hype? Read on for our complete Dometic inflatable tent review to find out.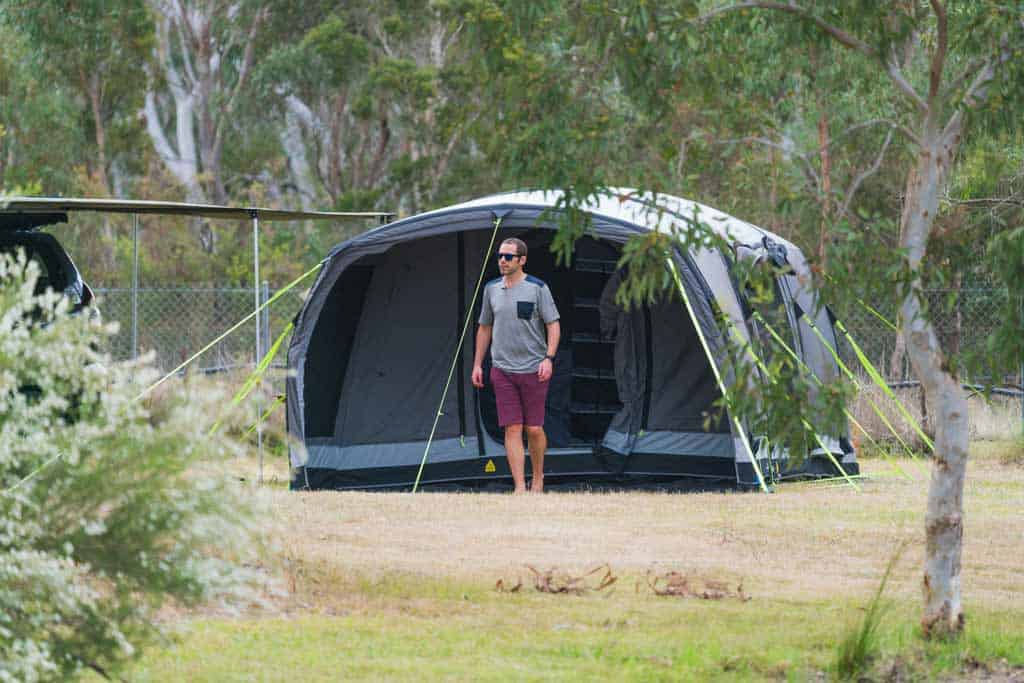 Dometic Inflatable Tent Review – Is it Worth It?
We grabbed the inflatable tent and headed straight out to the great outdoors to see what it would be like in the real world.
Dometic like to push the motto 'Mobile Living', so into the back of the 4×4 the tent went and soon enough we were parked up and ready to set camp.
We're a big believer that all of our camping gear should be able to be erected or setup with one person, so Alesha worked the camera while I attempted to get the inflatable tent ready for a good night's sleep.
Check out our detailed video review here!
While the bag and tent itself is heavy, coming in at 25kg, the wheels and handles made it easy enough to move into position from the back of the car.
Unzipping the bag everything was there ready to go, including the instruction manual, which actually did come in handy.
The way that the tent works is that instead of regular tent poles, Dometic use a revolutionary system called an 'AirFrame', with 4 inner tubes being inflated to form the frame.
I unravelled the tent, pulled out the manual foot pump, located the first valve and started pumping away.
The tent began to take shape very quickly, and with one AirFrame pumped up, I moved onto the next one.
All in all from being flat on the ground to being fully inflated took about 7 minutes, which impressed me considering it was my first time even seeing the tent, let alone setting it up.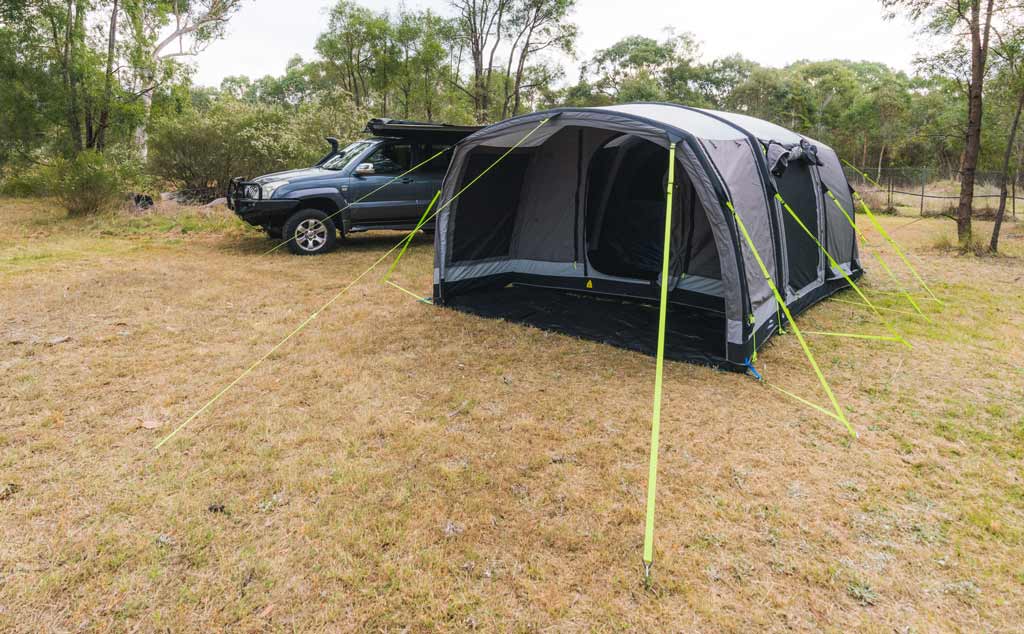 Now that the tent was up I had a chance to have a proper look.
There are three rooms, two fully enclosed and one outdoor section, with the back room also able to be separated into two different bedrooms – perfect for a family or friends who want a bit of privacy.
The interior height is just over 2m, so lots of standing room for those tall people.
The material is strong Weathershield™ TC (technical cotton), which was very durable with the seams being fully sealed against rain.
There are lots of windows and doors to provide excellent ventilation (perfect for those hot Australian summers), and the windows have fly screens to keep mosquitos and other bugs out.
Lots of storage was found all over the place, including mesh nets for hanging shoes, food and other equipment.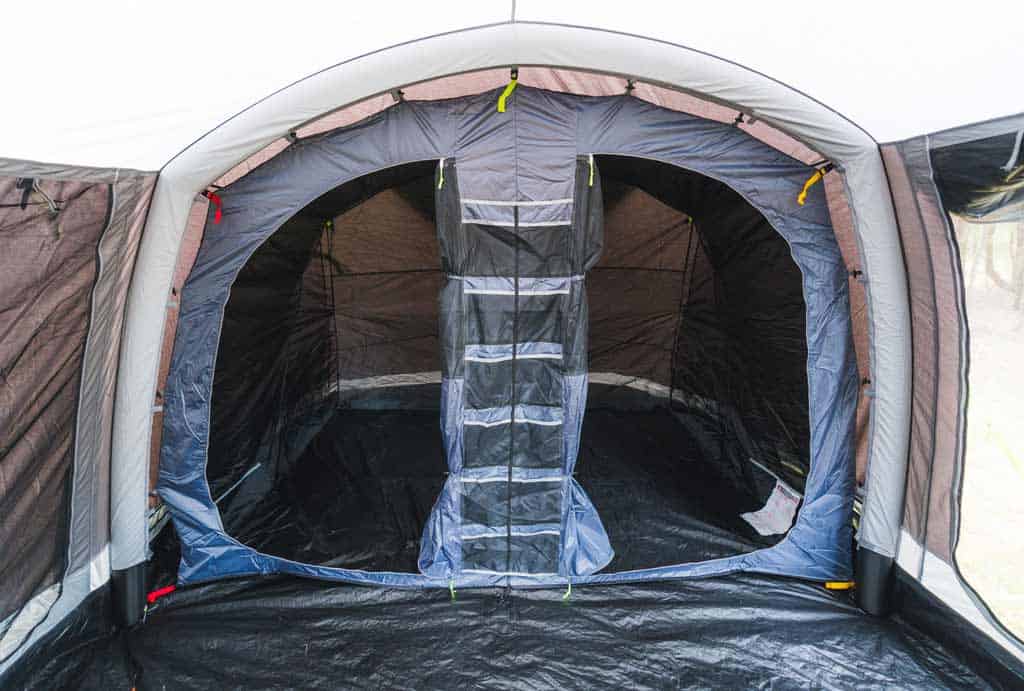 On the ground, the floor tarp was thick and waterproof, feeling like it could withstand most terrain. Although to be honest, I'd probably throw an additional tarp under it to be safe on rough ground.
After I had inspecting the inflatable tent I went around and finished tying down all the guy ropes. And damn, there was a lot of them.
The QuickPitch™ system made it pretty quick and easy to get the tent secure using the supplied tent pegs and a mallet, only needing to peg the bottom part tight then using the buckle to apply necessary tension to the rest.
Getting all the ropes tied off took a long time, but in normal conditions not every one would need to be put out.
Once everything was taut, I went around and gave the tent and its AirFrames a massive shake, and it held up to the violent abuse really well.
Finally came the pack down, and working in reverse, the Dometic inflatable tent packed away simply, and much to my surprise actually fit back in the carry bag without too much hassle.
The size of the Stradbroke 4 TC Air is pretty massive, coming in at 2.1m high, 5.4m long and 3.2m wide, meaning it's not exactly the kind of product you would take with you if you only have room in your caravan, RV, 4×4 or motorhome for smaller tents.
But the bulk is a small price to pay to have an enormous family tent built for the outdoors, with standing room, multiple compartments and heavy duty material to protect you from the elements.
Keeping in mind who the Dometic Stradbroke 4 TC Air is designed for (not for people who like to go lightweight or need a hiking tent), we believe it's an incredible product.
Overall we give it a 8.5/10 in our Dometic inflatable tent review.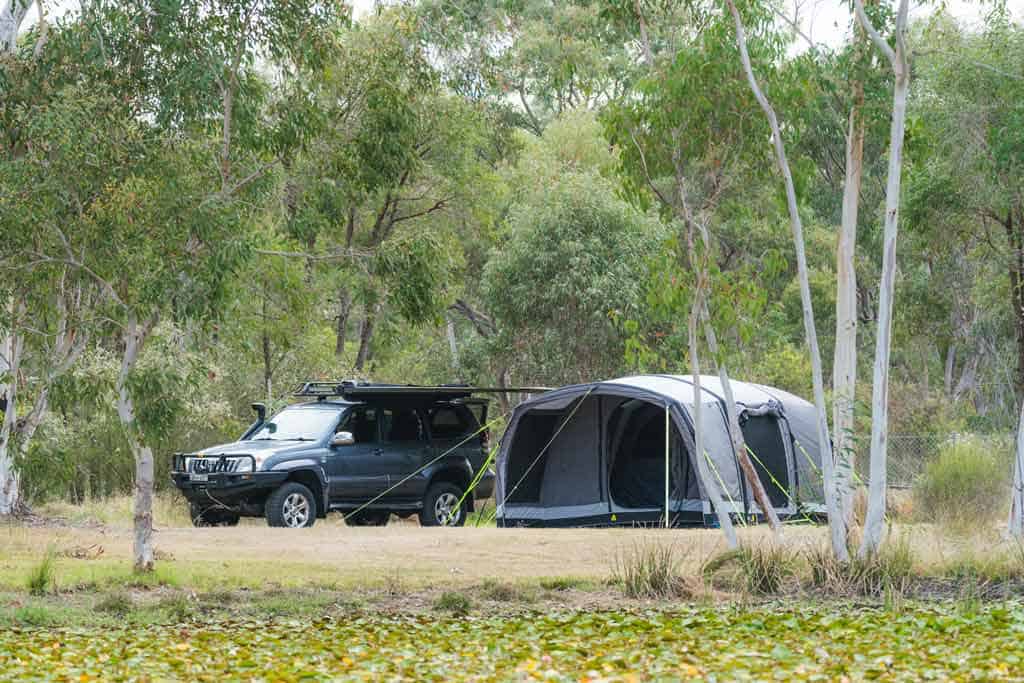 Who is the Dometic Stradbroke 4 TC Air For?
The Dometic Stradbroke 4 TC Air inflatable tents are for people who like to go car camping, setting up a base at a campsite and then going on adventures from there.
It's not for people who need a tent for hiking, have limited space in their vehicle (or can't store the tent on the roof), or need something lightweight.
This tent really is for families or groups of friends. In our opinion it's overkill for a couple, unless you were planning on living out of it for an extended period of time.
Also even though it's fairly painless and quick to setup and pack down, it's not really a tent we'd recommend for people who are likely to move camps every day.
Instead think of it as an epic base camp if you're planning on staying somewhere for a few days, going to a music festival, or just need a large space to keep warm, comfortable and dry.
PROS
Very easy and quick to setup considering its size
Very spacious for a 4-person tent.
Great for couples or small families
Extremely durable material
AirFrame is strong and sturdy
Easy to pump up the chambers using the supplied foot pump
Strong webbing straps to hold the tent in place when there are windy nights
Large windows for ventilation.
We like that no poles are needed so can't loose them or break them
The inner tent is made from dark materials so it blocks the sunlight and is dark for sleeping
You can remove the inner tent to make the tent wider for more people to sleep
CONS
When it's packed away it requires a large space to store and transport
It's footprint is pretty big when setup, not ideal for small campsites
Not the cheapest inflatable tents out there, but still actually more affordable than our rooftop tent
Heavy to carry – at 25kg it's fine for a strong person, but a smaller person may struggle to manoeuvre it on their own
The Features
QuickPitch – Peg the bottom strap taut and adjust the buckle to apply tension.
WeatherShield – This specially-made material helps to reduce condensation and regulates the interior temperature.
Quality Fly Screens – Designed for Australian conditions with high-quality fly screens for increased ventilation.
Multi Point Inflation – Durable air poles are inflated individually for the simplest set up and take down.
Improved Airflow – Large oversized windows and gussets to improve airflow and ventilation.
Cable Entry Points for 12V and mains cable access
Higher internal dimensions for adults to stand up.
Weather protected entrance – keep the rain out
What's in the Bag?
Here's what you'll find inside the carry bag:
Inflatable tent
Inner tent (connected
Canopy groundsheet for the front entrance
Foot pump (very easy to operate)
Lots of bight coloured pegs
Peg bag to store all the pegs
Carry bag to put it all in.
DISCLAIMER: Dometic provided us with the Stradbroke 4 TC Air tent for the purpose of a review. All thoughts, opinions and comfy nights spent spread out at a campsite are, as always, our own.