From hanging with sea lions in the Galapagos to swimming with piranhas, here are the best adventure activities in Ecuador.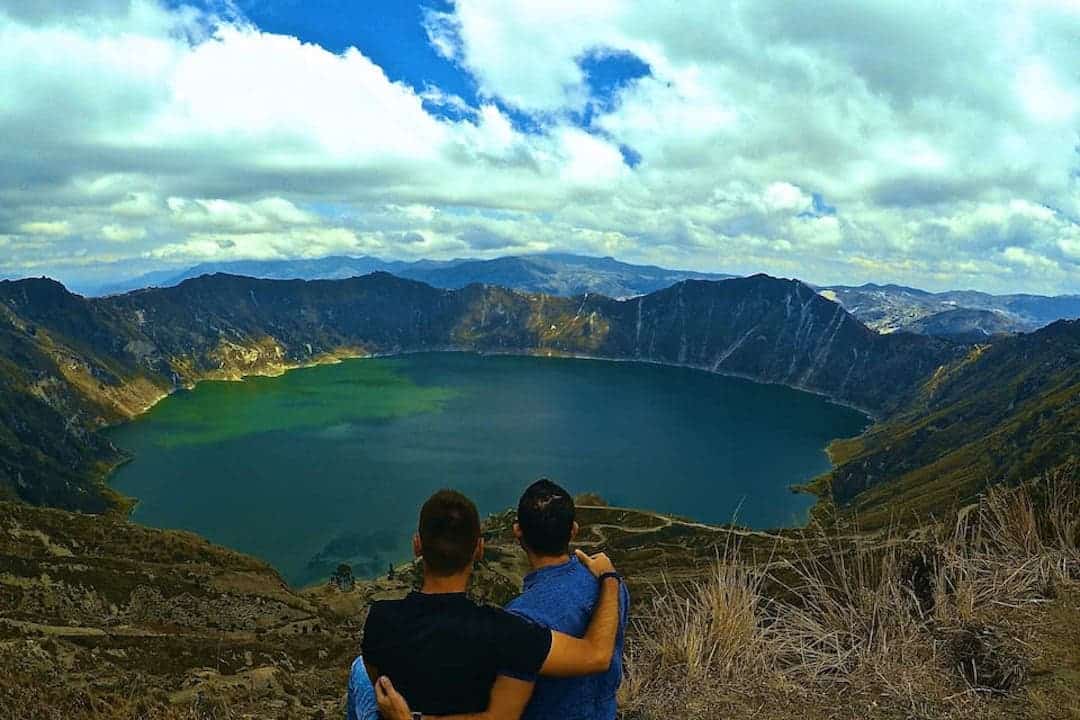 Ecuador is one of the smaller countries in South America, which straddles the Equator line, for which it is named after.
It is located in the northwest of South America, nestled between Colombia in the north, Peru to its east and south, and the Pacific Ocean to the west. Ecuador also includes the famous Galapagos Islands in the Pacific Ocean.
We spent several months travelling in Ecuador as part of our big Latin America trip and completely fell in love with it. The country has a wide range of climates ranging from coastal, mountains, tropical and jungle, which makes it an ideal destination for adventure seekers.
Best Adventure Activities In Ecuador
These are our 5 favourite adventure activities in Ecuador which we think every visitor here should include in their bucket list.
1) Exploring The Galapagos Islands
The Galapagos Islands have always been a top bucket list item for us. This is one of the few places in the world where you can get very close to the wildlife. The wildlife here has few predators, which has allowed various species to flourish over the years. As such they have little fear, especially towards humans.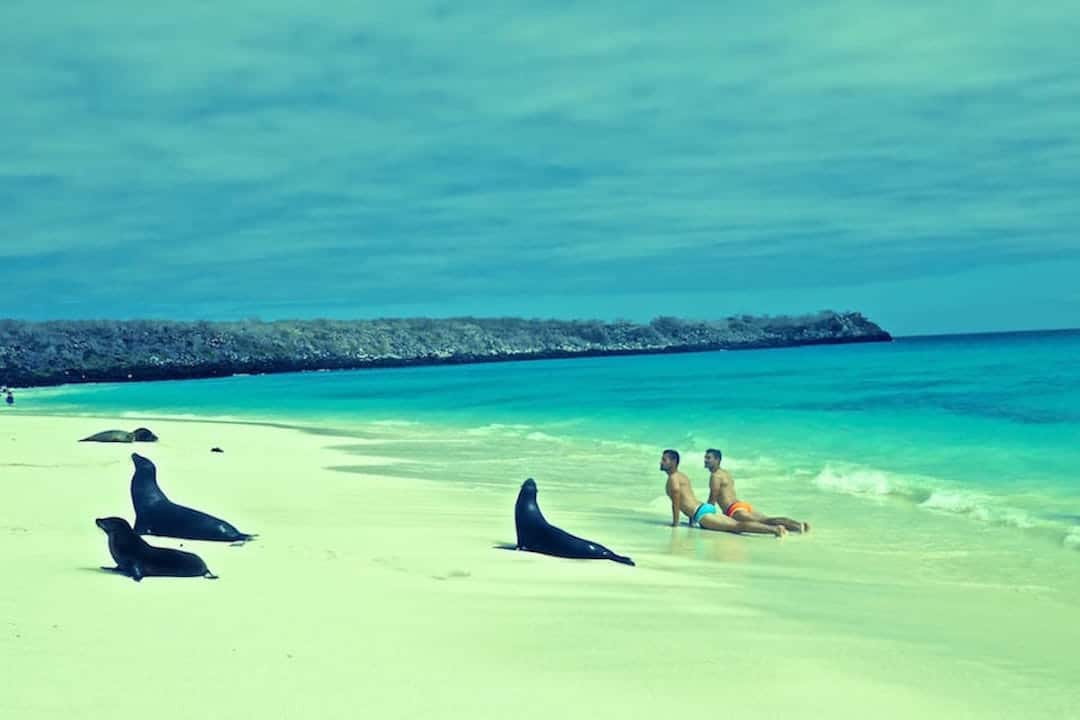 The Galapagos is an archipelago of volcanic islands in the Pacific Ocean, around 1,000km (600 miles) from Ecuador's coast. The name translates to The Tortoise Islands, given to them after being discovered by a Spanish bishop in 1535, who was impressed by giant tortoises he saw there.
Galapagos Islands Wildlife also impressed another famous visitor in 1835 and inspired the theory of evolution. Charles Darwin noted that the unique creatures were similar from island to island but perfectly adapted to their environments, which led him to ponder their origin.
For us, the standout memories from the Galapagos Islands was swimming with the sea lion pups and getting up close to the giant tortoises – an experience we'll never forget. You can see more from our adventures in the Galapagos islands in our video about it:
2) Adrenaline Kicks From Mountain Swings At Baños
Baños is a small city, located at the foot of an active volcano. It's a beautiful place to visit and another favourite of ours in Ecuador. There's plenty to do here, like zip lining, white water rafting, trekking, canyoning and swinging out into the mountain!
The Casa del Arbol (which literally means tree house) is the most famous place people come to get the money shot of them on a swing with the backdrop of the Andes. It is in fact not as scary as it sounds: you're safely tucked in and you never go beyond the cliff edge.
For a stronger adrenaline kick, check out the nearby El Vuelo del Cóndor (which literally means the flight of the condor). Here you're strapped into a much longer swing, so you swing further out into the mountain valley, far beyond the mountain edge, and back.
3) Train Journey Through The Andes Mountains
If you enjoy train travel as much as we do, then you'll love being on board the Tren Crucero, Ecuador's luxurious 4-day train ride.
The train starts in Otavalo and makes its way to the coast, an adventure which will give you a real flavour of Andean mountain life and some pretty sweet shots to fill your Instagram gallery.
The journey is impressive, reaching altitudes of 3,609m (11,840ft) and powers through many cloud forests. It also passes 20 different volcanoes and numerous villages where locals stop to wave as they watch you go by.
During our train journey on the Tren Crucero, we had the chance to stop over at various villages. One of our favourites was Guamote, which is famous for its enormous indigenous market every Thursday, which completely engulfs its entire community.
One of the most spectacular visits on this journey was at the La Danesa hacienda in Naranjito town, which is also a large cacao plantation. We got to sample the cacao beans here in their various stages of production, and learn more about coffee production, which Ecuador is so famous for.
4) Swimming With Piranhas In Jungle Waters
Ecuador has its share of the Amazon jungle. You can visit it either on an Amazon river cruise or stay in a jungle lodge. The Amazon is home to 427 mammals, 1,300 species of birds, 378 reptiles, more than 400 amphibians and around 3,000 freshwater fish, including the famous piranhas!
If like us you suffer from Piranha-phobia, then jumping into the Napo River in Ecuador's Amazon may not be quite so high up on your bucket list. However, contrary to popular belief, it is perfectly safe. Piranhas are not aggressive or territorial, they are merely scavengers – opportunists, who will only attack a dying or dead animal; they will not go anywhere near swimming humans and will instead keep far away from us.
Despite this, when we tried diving into the murky dark Amazonia waters at the Napo River, we lasted a whole 20 seconds before we scurried back into our boat…!
5) Trekking The Quilotoa Loop
The Quilotoa Loop is a famous trekking destination in Ecuador. It's a bumpy, ring-shaped road that travels from the Panamericana far into the backcountry of the Cotopaxi province. You can reach the Quilotoa volcano by bus from either Latacunga or Zumbahua as a day trip, or as part of the 3-4 days Quilotoa Loop trek, stopping over at various mountain villages along the way and getting up close to the indigenous communities.
The climax point of the Quilotoa Loop is the Quilotoa Lake, which is a volcanic crater bed of emerald green water, located at 3,500 metres (11,483ft) above sea level. This was one of our favourite destinations in Ecuador because of the stunning backdrop – the kind you'll want as your screensaver.
The bus to Quilotoa drops you off at the nearby village, which is also the gateway to the summit. To reach the actual lake itself, it's a 1 hour trek down from the summit.
We visited as part of a day trip and spent several hours by the lake, where you can rent a kayak and traverse the entire length of the lake in around 30 minutes. It's a lot of fun, both for the remarkable views, and to give you full bragging rights to say you went kayaking in a volcanic lake!
[box] Have you been to this amazing nation in South America? If so tell us in the comments what your favourite adventure activities in Ecuador are![/box]