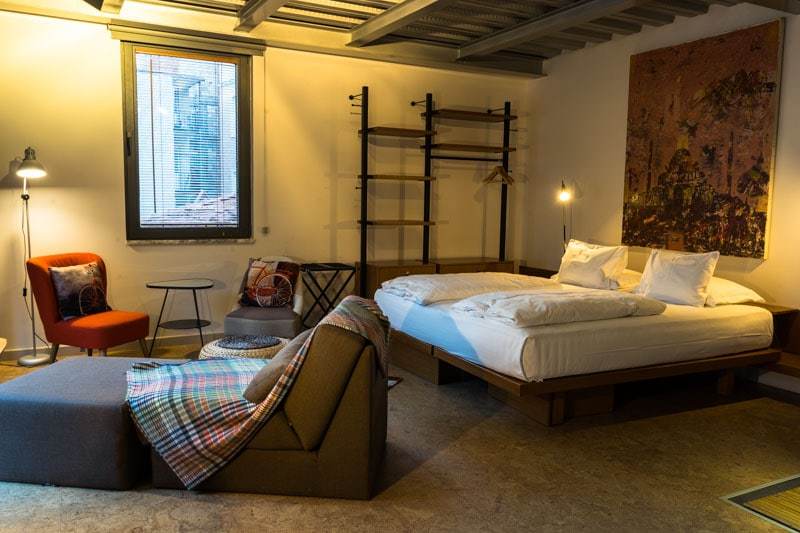 When you've been on the road for as long as we have, you realise there is nothing quite like finding a place where you feel at home. Moving from guesthouse to hotel, bus station to train station, in a different city every other day really begins to take its toll on you. All you want is a place to put your feet up, relax and tune out. Trust us, we know the feeling! So when we got to Istanbul after two years crossing Asia we were looking for a comfortable environment to kick back and get some work done. Checking all the places available in the city was daunting, so we couldn't believe our luck when we ended up at Hammamhane Apart Hotel – quite possibly the best accommodation for digital nomads in Istanbul!
At some point in 2015 we crossed an intriguing line that took us from being amateur bloggers and turned us into "digital nomads". It's a term that gets thrown around a lot for people who earn an income online and can essentially move around whenever and wherever they want – as long as there is a reliable internet connection of course. Being location independent is a fantastic benefit to the gig! But finding ourselves in one of the gorgeous apartments at Hammamhane meant we almost wanted to give up our nomadic lifestyle and just settle down in the chic pad indefinitely. Almost.
To say we were excited when we got to Istanbul is an understatement. We spent our first few nights hanging out at the marvellous boutique hotel Peradays, using it as a base to explore the city. Eventually we moved into their sister accommodation, Hammamhane Apart Hotel, and found the perfect environment to relax and get back into the work mode. Run by the likeable Bora and Bulent, the hotel and its 13 designer studios were honestly one of the coolest places we've ever got to call (a temporary) home!
For those who don't know, a hammam is a traditional Turkish bath. Created in 2006 on the site of the Cukurcuma Hammam, a famous relic from the 1800s, Hammamhane (which simply means bath house) has quickly established itself as the absolute best hotel in the city. Don't believe us? Check out their Trip Advisor reviews.
Hammahane is right in the middle of the funky and bohemian Beyoğlu neighbourhood, otherwise known as the SoHo of Istanbul, and just around the corner from the world famous Museum of Innocence. With winding alleys, narrow stairways, hipster cafes and art galleries, the district is unlike anywhere else in the city. When we found ourselves exhausted from all the incredible sightseeing there is to do in Istanbul, we would just go for a walk around Beyoğlu and get lost in its mesmerising streets scenes. We drew a lot of inspiration from the graffiti and workshops scattered throughout the neighbourhood, and applied the surrounding creative flair to our own work.
Besides being in a damn cool part of the city, Hammamhane is also well located to head out to everywhere else in Istanbul! It is just a short walk from the Istiklal Pedestrian Street and Galata Tower, a couple of blocks from a metro station and stumbling distance to Taksim Square. It's only 10 minutes by metro to Sultanahmet, home to the Blue Mosque and Hagia Sofia, or a mellow and pleasant 30 minute walk if you're feeling active.
From the moment we opened the door to our own private apartment, we knew we had found a new home away from home. Spacious and decorative, bright and clean, comfortable yet lively, this place had everything we could ever want! We spread out across the apartment, unsure what to do with all the space! A monster bed was tucked in at the back of the room, draped in ambient light. There were a couple of loungers, coffee chairs and tables, and a work desk. The biggest TV we had seen in a long time had a huge collection of channels (we'll be truthful and admit we only turned it on to make sure it worked) and there was fast wifi in the room. Ah yes, wifi. The bane of every digital nomad's existence.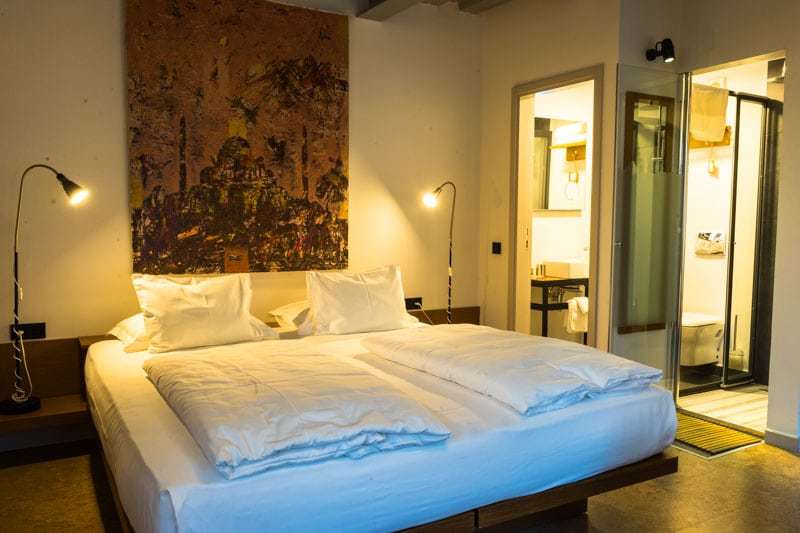 We even had our own kitchenette, complete with stove, fridge, espresso machine, toaster and all the utensils required to cook up some tasty meals – not that we took advantage of it with all the great restaurants nearby. But there was nothing quite like waking up every morning and making a hot brew in the comfort of our own apartment. As full-time travellers, this is something we often miss! There was even a washing machine in the kitchenette, meaning we didn't have to resort to hand-washing all our clothes the way we normally do. Score!
The bathroom was split into two sections, with the toilet and washbasin being in one room and the shower unit next to it. You could access each one from the other, or separately from the rest of the apartment. A bit of a curious design, but we liked it.
We're going to be completely honest here and let you guys in on a little secret – we spent the majority of our time hanging out in our apartment. With fresh coffee brewing, music playing and tonnes of room to set up an office, we got right into the working mode. The creative energies were flowing and we managed to get on top of a lot of projects that we just couldn't find the motivation to do anywhere else. The cool thing was the apartment was so massive we could actually get up and go for a walk to the other side of the room, and feel like we were taking a work break. When we weren't working we just sat on the chairs with the windows open, listening to music and drinking a few beers we bought from the closest supermarket. We've said it before – it was like we were home!
Every morning the great staff serve up a huge Turkish breakfast, which is included in your stay. A whole assortment of olives, cheeses, salad and bread is laid out for you to enjoy, with eggs, pancakes and pastries rounding off the feast. Fresh juice, brewed coffee and herbal teas are naturally available to wash it all down with. Don't expect to be in a rush though, as breakfast usually takes a lot longer than you would anticipate, while you savour every flavour and chat to the other guests and staff. We would routinely spend at least an hour over breakfast picking away at the assorted foods and talking.
The manager Bulent and his very affable staff are always around to help out with tips and advice on the city, or just to share a laugh and a story. To us it is always the staff that make a stay truly memorable, and in the case of Hammamhane the crew that work there are world-class!
We wish we could make a list of the faults as well to make it seem like Hammamhane Apart Hotel wasn't absolutely perfect…but we can't. Sorry. There was absolutely nothing that we would have changed. Oh wait, their private hammam isn't officially open yet, but will be in the near future. There we go; one thing to suggest!
Unfortunately Alesha had to eventually fly back to Australia, and it was time for me to move on towards Bulgaria, meaning our time at Hammamhane Apart Hotel had come to an end. We bid farewell to the staff with the promise we would return for some apple tea whenever we get back to Istanbul. Or whenever we had a lot of work to catch up on. Or, more truthfully, whenever we just felt like we needed to be at "home" once more.
Disclaimer: Our stay at Hammamhane Apart Hotel was made possible by Bora, Bulent and their staff. All thoughts and opinions are of course our own.
If you want to book a room at Hammamhane and mention NOMADasaurus you will receive a 10% discount. Not only that but Bora and Bulent will donate an additional 5% to the Association For Solidarity With Asylum Seekers And Migrants. Contact them at: [email protected]