7 of the absolute best things to do in Athens. Don't miss out!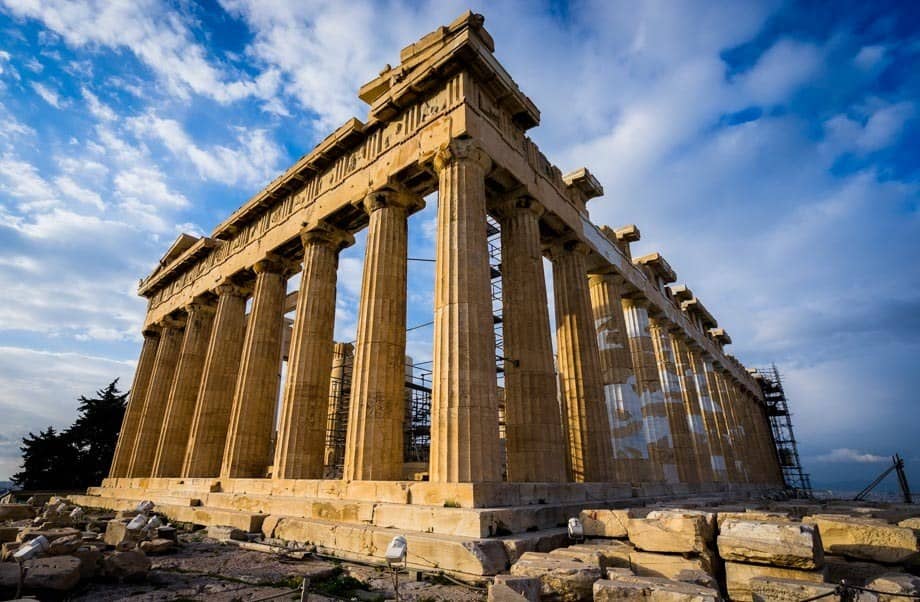 The Best Things to Do in Athens
Europe is full of cities that boast an eclectic and vibrant energy. Berlin, Lisbon, Barcelona, Istanbul; each of these places is filled with broken history and political turmoil, which translates into a vibe that oozes excitement and intrigue. The capital of Greece is no exception, and there are so many things to do in Athens.
Where Athens breaks away from the rest of its European counterparts is in its ancient monuments that still stand proudly today. Athens divides opinions on whether it is a destination worth visiting, and we had many friends warn us to leave as soon as possible.
On the contrary, we found ourselves extending our stay, as we couldn't get enough of the anarchic graffiti, twisting alleyways, street art and energetic vibe! If you find yourself in the city as well, here is our list of the 7 best things to do in Athens.
1) The Acropolis And Ancient Monuments
It may be cliche to say that one of the best things to do in Athens is also the nation's biggest tourist attraction, but it is for a very good reason.
The millennia-old ruins of the Parthenon are incredible! The Acropolis is the symbol of the city, standing proudly over Athens, and the Parthenon is the most iconic historical monument in the country. Ultimately this is one of the best places to visit in Athens.
But the other spots around the capital are worth a visit as well. Hadrian's Library, the Temple of Olympian Zeus, the Ancient Agora and the Kerameikos Cemetery can all be visited in two easy days if you break your schedule up.
Best of all the 7 biggest sites can all be seen on the one combined ticket, which currently only costs 12 Euro each. Great value!

Note – From April 2016, the cost of the entrance pass to the seven sites will rise to 20 Euro. Still a bargain though!
2) The National Museum Of Archaeology
While you're out and about getting a heavy dose of history, do not miss the National Museum of Archaeology.
By far the most important museum in Greece, and possibly one of the best in all of Europe, expect to spend at least two hours meandering through its sprawling halls.
Towering statues of ancient Greek Gods adorn the corridors, with detailed information on every exhibit provided in English. One of the most impressive artefacts is the Antikythera Mechanism, claimed to be the world's oldest computer. If you like your history than this is by far one of the best things to do in Athens.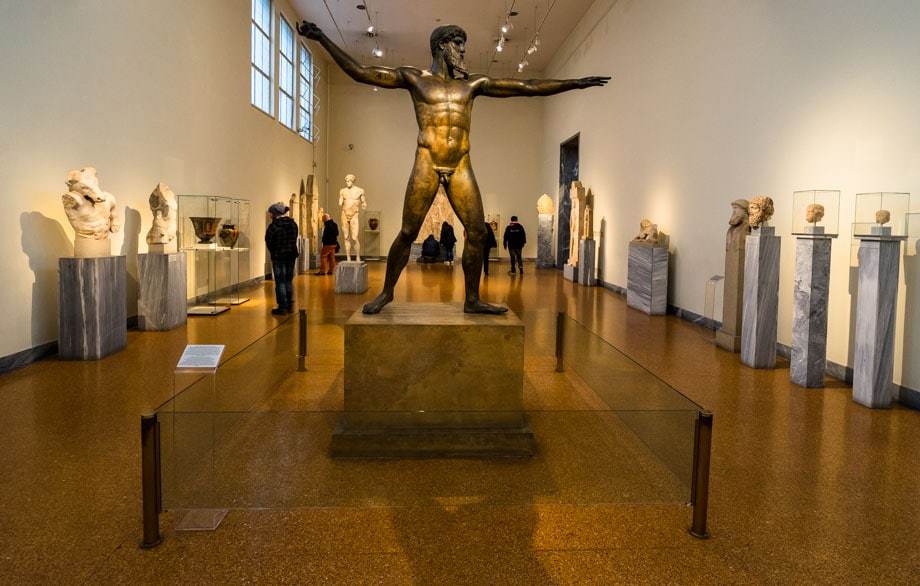 3) Explore The Anafiotika Neighbourhood
In the early 1900s migrants from the island of Anafi moved to Athens to help restore King Othon's Palace. They were settled in a small community on the edge of the Plaka, just beneath the Acropolis.
Two carpenters and masons were amongst the first to make the move, and they built their homes in the traditional style they were used to on the island.
Today, Anafiotika remains as a truly unique corner of the city, with narrow alleyways, colourful doors, white houses and floral arrangements. Walking around the Anafiotika neighbourhood is like being transported to the scenes of the Mediterranean.
One of the very mellow, but beautiful, places to visit in Athens.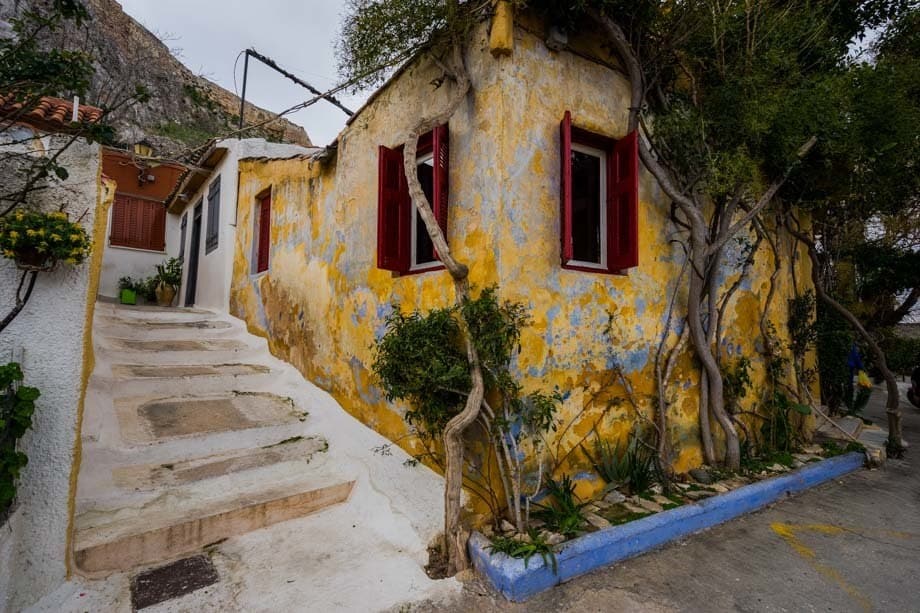 4) Climb The Lycabettus Hill
Being the tallest hill in Athens, it also offers the most spectacular views. A cable car runs to just below the top, but we recommend doing the easy and beautiful walk from downtown to the summit.
Rather than sticking to the concrete paths, wander through the dirt trails and into the serene forests high above the city. A small church and a few restaurants are perched at the top, but the real highlight is just sitting on a bench and staring out at the bustling city below.
There are plenty of other things to do in Athens, and other hills to climb, but this is well worth doing if the weather is nice and you have some energy to burn.
5) Admire The Intense Street Art
It's no secret that we love street art! To us, graffiti gives a city character, and Athens is full of fascinating graffiti.
Unfortunately, a lot of it is ugly, scattered with pathetic tags and scribblings, but a lot of the pieces are detailed, beautiful, politically charged and intense.
You can take a 3 hour street art tour with a guide, or do what we did – just walk around the neighbourhoods admiring the street scenes in Athens.
Check out the Athens Polytechnic University for some excellent pieces, as well as Sarri Street and the area around Exarchia Square.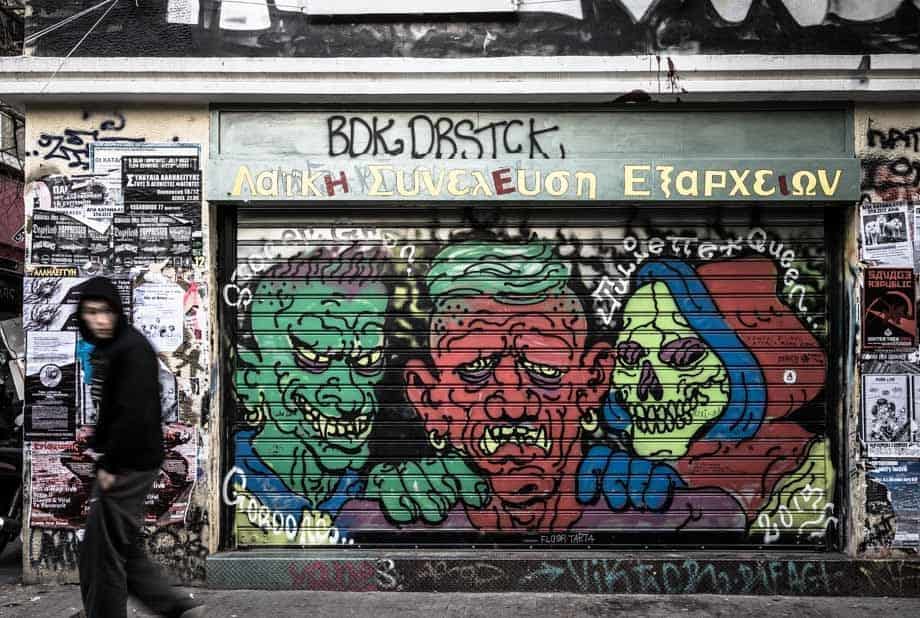 6) Party The Night Away
In case you didn't know, Athens has some of the best nightlife in all of Europe. The crumbling economy of Greece has seen a lot of the youth turn to partying to let out steam, and it's impossible to not want to join them!
Reasonably priced happy hours and drink specials help you ease into the mood, starting from the early afternoon. The trendy neighbourhood of Psiri is packed with funky bars and clubs that bump on until the early hours, and Exarchia has some incredible live music venues.
If you prefer a fancy dinner with high-quality service then the Plaka is the place to be. Personally, we loved the places around Heroes Square in Psiri.
The nightlife will definitely become one of your best things to do in Athens.
7) Shop At The Athens Flea Markets
We're not big shoppers, but we love wandering around flea markets!
There's something delightfully splendid about sifting through someone else's junk, which has been handed down from generation to generation. Old cameras, records, books, trinkets, pins and badges, there is literally thousands of random items that can capture your attention, and be bought for just a few Euros.
Monastiraki Flea Market is one of the biggest in the city, and right in the heart of it! You can spend hours just wandering from stall to stall. And unlike other flea markets around the world, the vendors aren't pushy. Another one of the excellent things to do in Athens!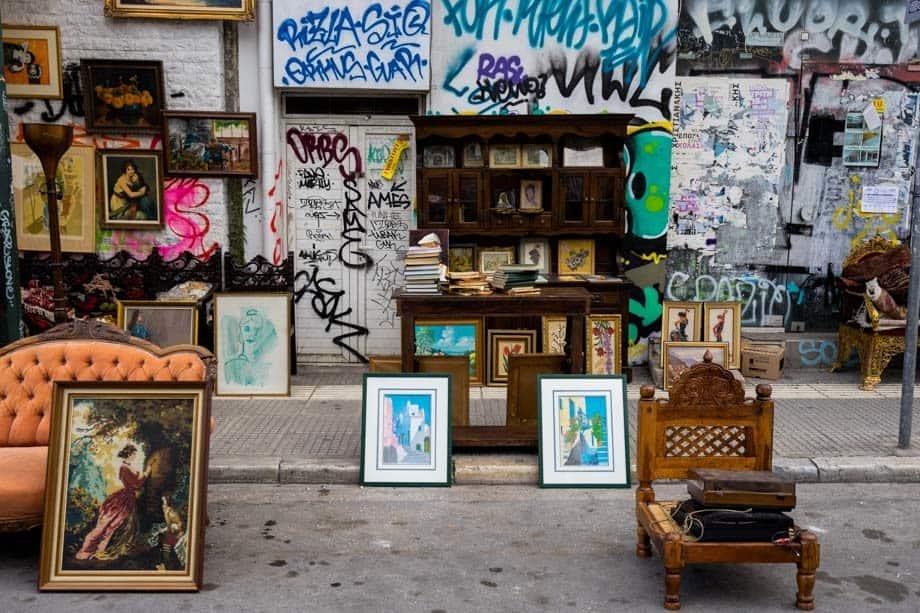 So that's our list of the 7 best things to do in Athens! What have we missed, and what do you recommend? Leave a comment below and let us know what to check out next time we're in the city!
Where To Stay In Athens
Athens has a whole range of accommodation to suit any budget and style, so trying to choose somewhere can be overwhelming. The best hostel is arguably City Circus Athens, and is not only centrally located, but funky as hell.
If you're looking for something a bit more on a budget, or even want to splurge out on something to remember, then check out the selection of hotels and guesthouses on Agoda, and on our favourite: Booking.com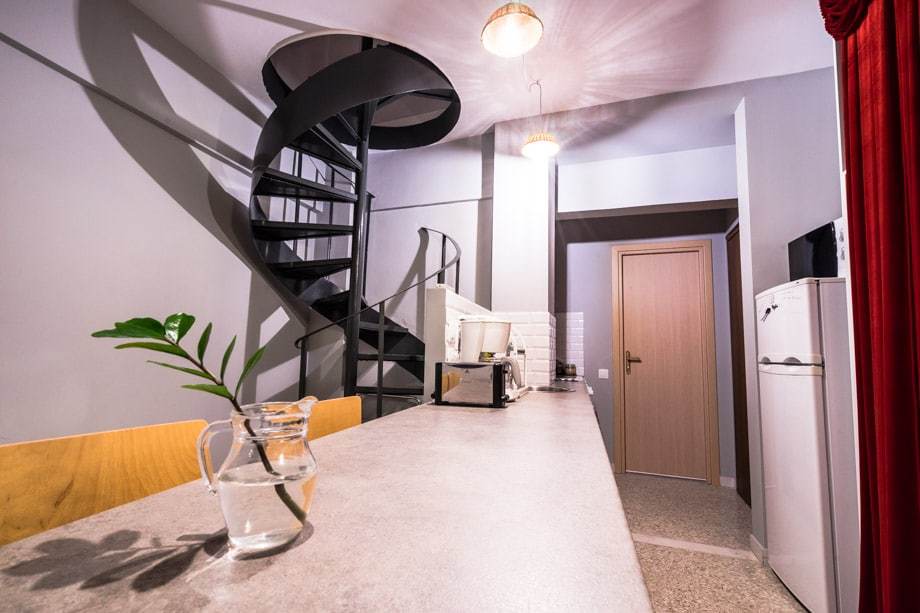 Live In Athens
We were lucky enough to stay at Live In Athens, a collection of short stay apartments right in the heart of the Psiri neighbourhood, and we couldn't have asked for a better place to rest our heads at night after tackling all the great things to do in Athens.
In fact, and this isn't even an exaggeration, it was one of the best accommodations we have ever stayed in. More of an amazing experience than anything else.
The thing we love about short stay apartments is they offer everything you could need to truly enjoy your stay in a city. We don't have a home base, and travel 365 days a year, so we love the chance to drop our bags off in a place that feels like home.
We've used them in other places such as Istanbul as well, and it is our favourite way to stay in a city. As people who really appreciate somewhere comfortable to return to at the end of a heavy day of exploring, Live In Athens was our ideal place.
Our apartment had a fully-functioning kitchen, two bathrooms, a living area and large bedroom. Besides that, we also had two balconies and our own private rooftop terrace, with a view of the Acropolis.
In a word – Epic! We spent quite a few afternoons sitting on the rooftop, watching the sunset over Athens, with a bottle of Greek wine. Perfection!
But what really made Live In Athen so special was the four affable owners: Andreas, Andonis, Vassilis and Varnavas.
These four friends first met in 2009, coming together from different working backgrounds. When the economic crisis hit they decided to band together and experiment with different ways to beat the financial downfall of the country.
The boys had been travelling themselves, experiencing short-stay apartments in other countries around Europe. This was something they all loved the concept of, so they developed it into their own, new idea – something they could create in Athens.
Click here to book your stay at Live In Athens.
In 2011, they started researching their idea and saved as much money as possible. In 2012, they finally opened Live In Athens, after much hardship and dedicated work.
It took a while to take off, but today they proudly own 11 short-stay apartments, spread over a few different buildings in the Psiri area, with more room to grow.
Now that their business is moving into a highly successful stage, they're considering open a cafe, and giving themselves more personal time for travel and to pursue other endeavours.
Andreas, Andonis, Vassilis, Varnavas and their staff are always floating around the apartments, offering great advice on things to do in Athens, secret locals tips on where to eat and drink, and best of all friendship.
It was this human touch that made us fall so deeply in love with Live In Athens, and we will definitely be staying here when we come back!
Looking for more of a hostel scene? No worries! Book here with Hostel World
We were hosted by the boys at Live In Athens during our stay in the city. All thoughts and ramblings are of course our own.