Looking for great activities and attractions in the City of Brotherly Love? Our Philadelphia itinerary is all you need to plan the perfect trip!
When William Penn founded the Province of Pennsylvania in 1682, it's doubtful even he knew the spot it would go on to take in US history.
In the century to follow, the Declaration of Independence was signed and the Liberty Bell was cracked right here in Pennsylvania's biggest city.
Its history is a major drawcard, with enough prominent sights and well-preserved 18th and 19th-century architecture to fill an entire itinerary.
But while its past may remain on full display, to experience the real Philadelphia, travelers will also have to make room for its array of art museums and its variety of culinary treats.
Check out our full list of the 21 best things to do in Philadelphia before your trip!
How to Spend 3 Days in Philadelphia Itinerary
Philly has a fantastic mix of history, art, food and drink. Our Philadelphia itinerary helps showcase all four sides of the city, so you'll leave with no regrets!
Before you head into this awesome city, consider getting the Philadelphia CityPASS. It will save you up to 50% on the entry fees for selected attractions.
It's a great way to save money during a weekend in Philadelphia!
Day 1 in Philadelphia
Your first day in Philly is packed with highlights. You'll tick off some of the biggest attractions in town, including the iconic Liberty Bell.
Afterward, you'll have the chance to explore the Old City, in an old-fashioned way, before checking out the beautiful waterfront and jumping on a cruise.
Day 1 Morning
To jump-start your weekend in Philadelphia, make your way into the Old City to visit Independence Hall. In the years prior to American independence, the hall was the Pennsylvania State House.
It was here, however, that the Declaration of Independence was signed, signaling the beginning of a new America.
Tours of Independence Hall are included with your free admission. You'll be able to see the Assembly Hall where the first moves were made to separate from the British Empire and where future president George Washington became Commander-in-Chief.
Address: 520 Chestnut St, Philadelphia, PA 19106
Hours: 9am-5pm (Mon-Sun)
Price: Free
After visiting Independence Hall, there's only one place to go, the Liberty Bell Center. It's arguably the most famous attraction in Philadelphia and is the crown jewel of the Old City.
The Liberty Bell was originally a celebration of the state's constitution and was built in the middle of the 18th century. But it didn't get its famous crack until around 100 years later.
Attempts were made to fix it for the birthday of George Washington. But as that proved futile, the legendary bell never rung again.
Today, it's a simple of liberty and freedom, not just in the United States but around the world.
Address: 101 S Independence Mall W, Philadelphia, PA 19106
Hours: 9am-5pm (Mon-Sun)
Price: Free
Day 1 Afternoon
Now that you've ticked off two of the biggest attractions in Philadelphia, it's time to enjoy the rest of the beautiful Old City. What better way to explore the city's past than with a historic form of transport?
On this guided tour you'll take a step back in time as you climb aboard a horse-drawn carriage and slowly make your way along the tree-lined streets.
The journey back in time will help you understand not just the events that lead to the Declaration of Independence, but also the culture and lifestyle lived by locals back in the 18th century.
The ride will also take you by the Independence National Historic Park, Society Hill and the Betsy Ross House.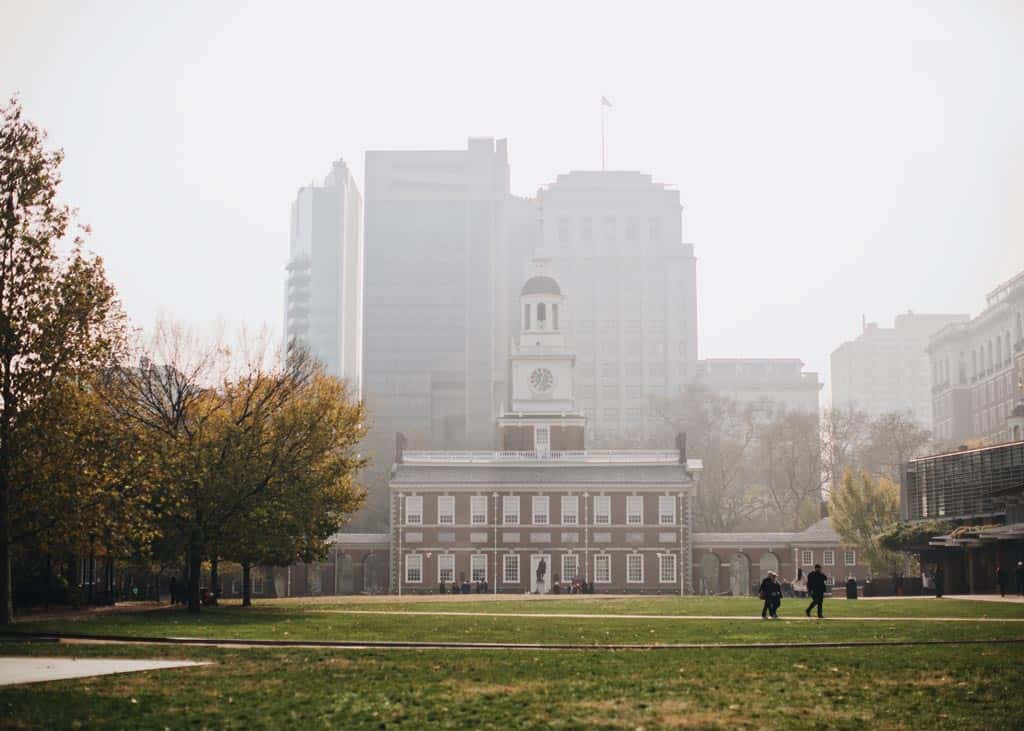 Once you're back on steady land, walk a few blocks towards the Delaware River. When the sun is out, there are few better places to be than at Penn's Landing. The waterfront street is lined by leafy trees and has a vibrant atmosphere on balmy days.
Penn's Landing plays host to concerts and festivals in the summer and you can also rent kayaks and SUPs to explore where you can't walk. If you're traveling in the winter, you'll also find an ice skating rink.
Day 1 Evening
As day turns to dusk, enjoy Philadelphia's waterfront in a different manner. You can hit the town as hard as you like on day two (or even later today), but for now, enjoy this cruise on the Delaware River.
The Spirit of Philadelphia takes you along the river as it glistens under the city skyline. From the observation decks, you'll have 360-degree views of downtown and the neighboring state of New Jersey.
The cruise departs from Penn's Landing with a delicious meal to complement the many views and the musical tunes floating through the air.
As you make your way around the city, you'll see such famous sights as the Battleship New Jersey, the Naval Shipyard, and the sparkling Benjamin Franklin Bridge.
Visit Get Your Guide to check prices for a river cruise during your weekend in Philadelphia!
Day 2 in Philadelphia
After a day of revolutionary history, take the morning to experience Philly's artistic side as you check out a rare municipal building that won't evoke yawns and explore a parkway packed with galleries.
Great eats are added for good measure before you get down, boogie and revel in the city's wonderful nightlife.
Day 2 Morning
The amount of history in Philadelphia can be hard to wrap your head around. The age of the buildings, the hallowed streets and the importance of singular events to the timeline of American life is enough to make any expert historian blush.
So while Philadelphia City Hall may not sound as exciting as the Liberty Bell and the Old City, it remains a must-see. Don't worry, there is no unnecessary bureaucracy here.
The City Hall begins today's journey down the wonderful Benjamin Franklin Parkway. It's a stunning piece of architecture with thorough granite foundations. In a city of opulent Victorian-era architecture, City Hall is most similar to a landmark structure found in Renaissance Europe.
It's the largest municipal building in the United States but has more in common with a spectacular cathedral. At the heart of City Hall is a 548 feet tall tower, the highest such masonry tower on earth. You'll be glad to know that you can make your way to the top of the tower and enjoy remarkable views over Philadelphia.
Address: 296 Philadelphia Pedestrian Transit, Philadelphia, PA 19107
Hours: 9am-5pm (Mon-Fri)
Price: Free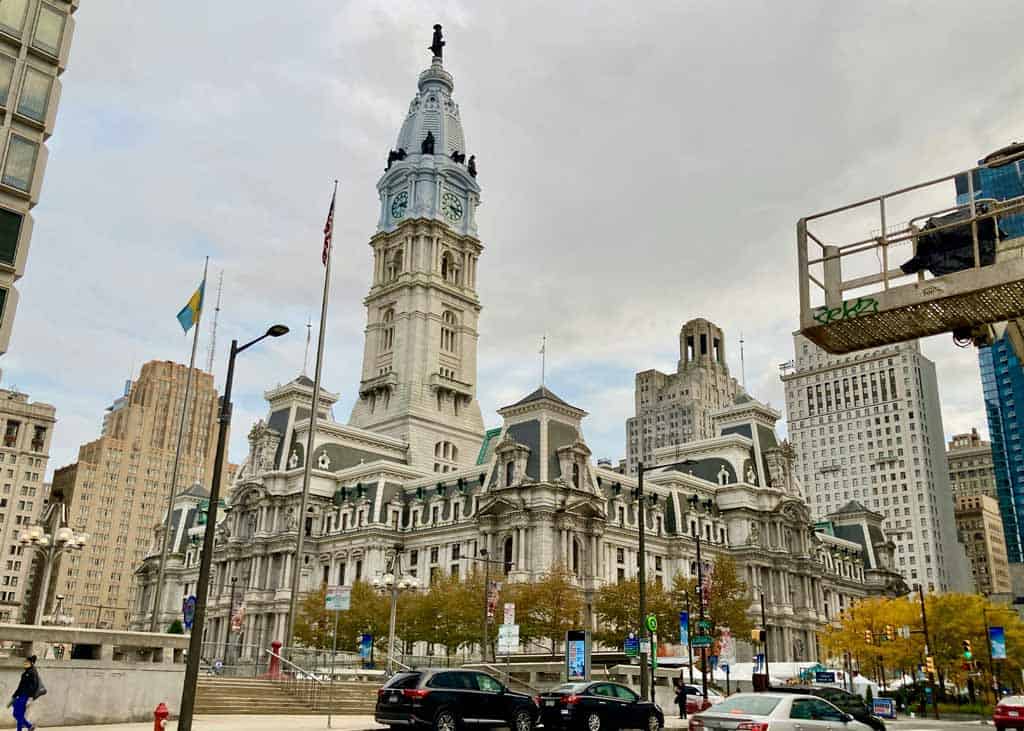 Before setting off on your walk down the historic parkway, stop for a bite at the Reading Terminal Market. In Center City, the market is a culinary treat. The massive food hall is a hit as much among travelers as it is locals.
You'll find everything you need to load up the picnic basket for lunch at Love Park. Or you can simply feast on the many fresh meals that fill the market with mouthwatering aromas.
Address: 51 N 12th St, Philadelphia, PA 19107
Hours: 8am-6pm (Mon-Sun)
Price: Free
Day 2 Afternoon
Depending on whether you order in or to go at the Reading Terminal Market, you can enjoy a picnic or quickly make your way through Love Park.
Officially known as the John F. Kennedy Plaza, it received its new nickname upon the installation of Robert Indiana's Love sculpture. While you're here, complete the rite of passage and snap a quick selfie with the famous installation.
From there, it's time to officially embark down the Benjamin Franklin Parkway. The iconic stretch of tar was designed after Paris' Champs-Élysées and is lined with some of the top museums and galleries in town.
After so much time focused on Philadelphia's past, you'll enjoy a look into the city's modern arts culture. In a single mile, the thoroughfare features the Philadelphia Museum of Art, the Franklin Institute, the Barnes Foundation and others.
It ends in Fairmount Park on the banks of the Schuylkill River, where you'll be met with the famous Rocky Statue. Behind it are the so-called "Rocky Steps" where you'll find travelers running up to the top before posing like Stallone did in the movie Rocky.
Continue on to enter the preeminent museum in the city, the Philadelphia Museum of Art. The entrance to the museum is captivating, as the building was inspired by the temples of Ancient Greece.
Once you're inside, your attention will quickly turn to the impeccable collection that boasts Matisse, Van Gogh and Picasso. But there's much more, including architecture from around the world such as an Indian temple hall from the 1500s.
Check the website to see what events and exhibitions are on at the Philadelphia Museum of Art when you're in town.
Address: 2600 Benjamin Franklin Pkwy, Philadelphia, PA 19130
Hours: 10am-5pm (Thur, Sat-Mon) 10am-8.45pm (Fri)
Price: $25
For more art, head to the immersive Magic Gardens, a labyrinth of alleyways with some incredible street art.
Day 2 Evening
After the previous night's cruise, you'll be raring to dive into the culinary and nightlife scenes found in downtown Philadelphia.
There are two standout spots for nightlife in Philadelphia. We can't split them, so we will let you decide. The first is the Old City, where you can knock down Yuengling Lager on the same hallowed streets as some of the most prominent figures in US history.
Exploring this part of Philly at night will quickly show you why it's such a beer loving city. Eulogy is the perfect example, with a mind-boggling list of brews that would take weeks to complete.
Afterward, head to The Olde Bar set within a former bookbinder store that is packed with nostalgia. Finish up at the divey Khyber Pass Pub where you can help out your future self with some hangover-curing bacon grease popcorn.
The other great place to hit the town in South Philly. Not only is South Philadelphia the culinary hub of the city, but it's laden with charming pubs, and quirky bars. The latter includes the Garage, that looks exactly as the name suggests. Until you wander inside and find arcade games and a lively atmosphere.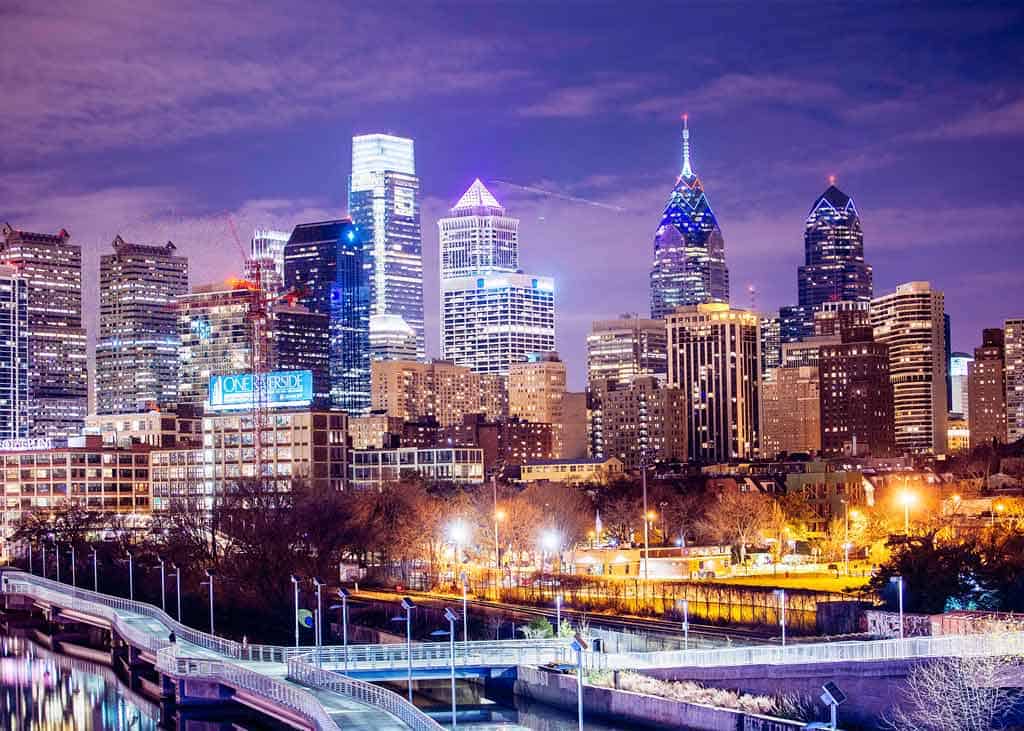 Day 3 in Philadelphia
Your third and final day in Philadelphia will help showcase a different side of the city. You'll begin in the Fairmount neighborhood to explore a charming, cobblestone-filled district that's also home to an infamous prison.
Later, experience Philly's culinary side on a mouthwatering food tour. To round out the day, wander down the memorable South Street for more great eats and eclectic bars.
Day 3 Morning
The final day of your weekend in Philadelphia begins in the beautiful neighborhood of Fairmount. You will have caught a glimpse of this colorful district on your travels down the Benjamin Franklin Parkway, but it's well worth discovering on its own.
It may be a part of Philly's Art Museum Area, but it strikes an independent pose that separates it from other parts of the City of Brotherly Love.
With your favorite morning beverage, make your way down the streets as storied as any in Philadelphia. The cobblestone lanes lead to old-time book stores like the Book Corner and are littered with interesting monuments and marble art.
But the best part of visiting Fairmount is the Eastern State Penitentiary. A National Historic Landmark, the penitentiary was built in the 1820s and many thought it was the most advanced prison in the United States.
But despite all the "modern" technology, life here for prisoners was gruesome, with abundant use of solitary confinement. It was until the 1960s that the prison closed. During that period, it housed a number of infamous characters, like Al Capone and Willie Sutton.
Now transformed into a museum experience, parts of the jail remain unchanged. It's a fascinating look into America's criminal history and how it treats those that end up behind bars.
Address: 2027 Fairmount Ave, Philadelphia, PA 19130
Hours: 10am-5pm (Mon-Sun) Plus night tours
Price: $17
Read next: The Perfect 3 Days in Chicago Itinerary
Day 3 Afternoon
In a city with such history, it's easy to overlook the fact that Philadelphia has added plenty to the wider American cuisine.
However, the congregation of such famous sites, means it can be tricky to find authentic, unapologetic Philadelphian food in the popular City Center and Old City. To allay this issue, sign up for this food tour.
With your friendly local culinary expert, you'll stroll around Philly for two and a half hours stopping at five beloved local institutions to sample mouthwatering cheesesteaks, tomato pie and cheese whiz fries, all served alongside a healthy dose of local culture and tales of yore.
Travelers will learn all about the humble beginnings of the now iconic Philly Cheesesteak. The dish spikes your cholesterol as much as your love for cheesy, meaty goodness. Like many good things, it began on a whim, as hotdog vendor, Pat Olivieri chucked beef on the grill and served it in a hoagie, creating an immediate hit.
The experience ends back at the Reading Terminal Market. But with the help of a local eye, you'll savor two exceptional deserts while writing down all the low-key food gems you must try on your next weekend in Philadelphia.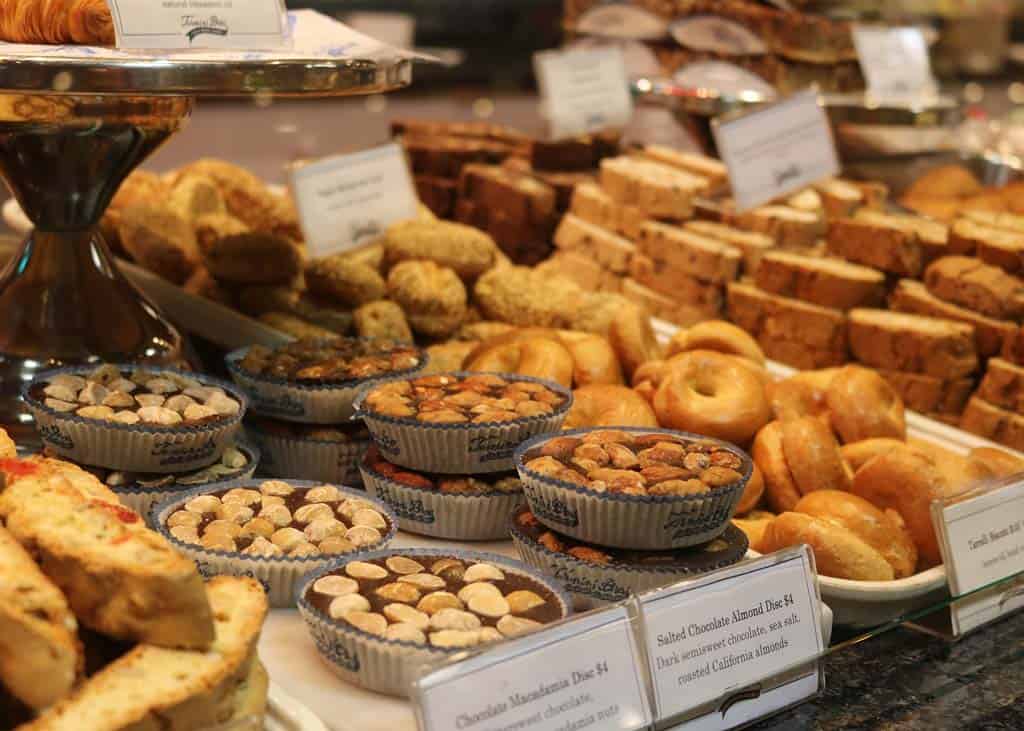 Day 3 Evening
Your adventures in Philadelphia come to a close on the prismatic South Street. A few blocks below the Independence National Historic Park, South Street is a colorful example of Philadelphia's 21st-century personality. Its upbeat atmosphere, rows of shops and restaurants, is the spot to reflect on the previous 72 hours.
As the sun falls, the colorful homes on South Street glow under the low-hanging light. The old architecture has been reinvigorated thanks to the street's creativity, which has seen it become a man-made rainbow. The leafy streets have pleasant energy and they guide you to an endless list of restaurants cooking up cuisine from all around the world.
After an afternoon of classic Philly eats, branch out and try Thai food at Tamarind, Indonesian at Hardena, or Moroccan at Marrakesh. All the while, the South Street nightlife awakens.
After a delicious feed, find the right bar for you to toast your memorable 3 days in Philadelphia. Take in some live music at the Theatre of Living Arts, or kick back at the several dive bars like Tattooed Mom, a local favorite. You can even sit in an old bumper car and knock back a few pints!
Heading further north? Check out this list of the best things to do in Boston, Massachusetts.
Philadelphia Travel Guide
Now that you know what to do during your Philadelphia itinerary, here a few suggestions for the best time to visit, how to get around, and where to stay when you visit.
When is the Best Time to Visit Philadelphia
Summer brings the best and most reliable weather and is a popular time to visit Philadelphia. The temps can reach the high 80s so be prepared to break a sweat as you make your way through the city's very walkable downtown.
To avoid the summer crowds, consider arriving in the spring or fall. Not only will you contend with more pleasant temperatures, but the lines at the Liberty Bell and major museums will be smaller. It's also a wonderful time to head to Penn's Landing and kayak along the Delaware River.
Winter snow and ice skating may create a magical atmosphere, but it's worth waiting for spring to travel to Philadelphia. Even if you're used to the cold, as a traveler, the City of Brotherly Love is far more enjoyable to explore in the warmer months.
Having said that, there are some major events that winter travelers can look forward to, including the oldest Thanksgiving Day Parade in the United States and the city's wonderful Christmas market.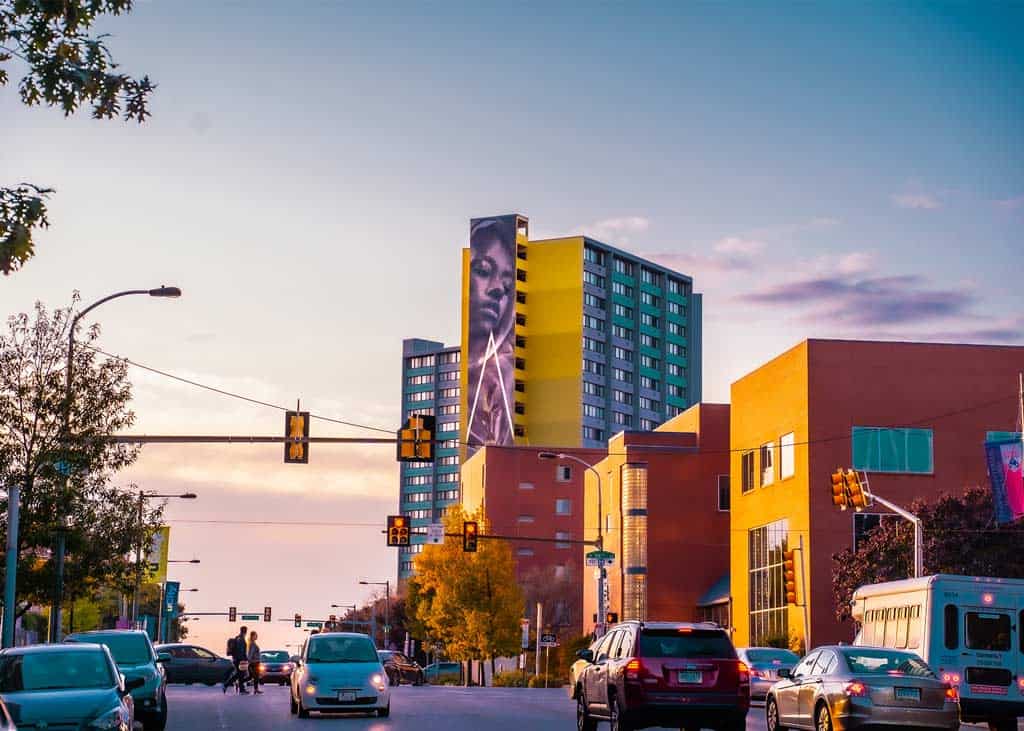 Getting Around Philadelphia
The heart of Philadelphia is essentially just 25 city blocks spread between the Schuylkill and the Delaware rivers. The city's rich history is crammed into this area, meaning you'll have an easy time getting around on foot.
For reference, it's around a 45-minute walk from one river to the next. So be sure to pack your most comfortable walking shoes.
A rental car may be tempting, but as you'll be exploring primarily the dense inner city, a car can prove to be more of a hassle than its worth, especially when you factor in Philadelphia's expensive street parking.
You'll find there is a decent public transportation network known as SEPTA. This is a popular choice for travelers who are staying in the city's surrounding suburbs.
You'll find a combination of busses, trolleys and subway routes to get you from A to B. It's also a great option to connect to Philadelphia International Airport.
Speaking of getting around Philadelphia, a Go City Pass can get you into 30 top attractions (including the major destinations on our Philadelphia itinerary) and tours across your chosen number of days. One of those is the hop-on, hop-off bus, an efficient and fun way of exploring the city.
Click here to book the Philadelphia Go City PASS on Get Your Guide!
Where to Stay in Philadelphia
The most common places to stay in Philadelphia are the City Center and the Old City. Both place you in the heart of the action, with the vast majority of our itinerary within walking distance. Importantly, despite the popularity of each area, you'll still find accommodation to suit most budgets.
As an alternative, Philly has some gem neighborhoods that have their own stories to tell. Places like Rittenhouse Square, Society Hill and Fairmount have gorgeous parks, cobblestone streets and a distinct local vibe while being close enough to Center City that you won't miss a beat.
If you're wondering where to stay in the city, our recommendations for the best accommodation in Dallas will help you choose the top spot for your budget!
Best Hostel in Philadelphia: Apple Hostels
At Apple Hostels you can stay in a central location without breaking the bank. Your accommodation is under 200 feet from the Liberty Bell!
The hostel has a well-appointed communal space to go along with the clean dorms. You'll find free WiFi, pool tables, X-Box and a great kitchen.
Best Mid-Range Hotel in Philadelphia: La Reserve Bed and Breakfast
Set within a historic home in the beautiful Rittenhouse Square district, La Reserve Bed and Breakfast is luxury on a smaller budget. Guests will love the 19th-century decor set around a large parlor, the scene for your morning breakfast. You'll also be close to the Parkway and Love Park.
Best Luxury Hotel in Philadelphia: Four Seasons Hotel
You'll find the luxurious Four Seasons Hotel inside the Comcast Center, otherwise known as the tallest building in Philadelphia.
The hotel boasts Michelin star dining, a spa, and an infinity pool on the spectacular 57th floor, along with a fitness center. Each upscale room will have you refreshed and ready for a day of exploration.
DISCLAIMER: Some of the links in this article are affiliate links, which means if you book accommodation, tours or buy a product, we will receive a small commission at no extra cost to you. These commissions help us keep creating more free travel content to help people plan their holidays and adventures. We only recommend the best accommodations, tours and products, and regularly review these. Thanks for your support, kind friend!