From conquering hiking trails that will guide you through some of the most stunning landscapes to mispronouncing slàinte as you clink glasses with a local, these are just some of the experiences to be had when travelling the Scottish Highlands.
The Scottish Highlands are a mixture of history, culture and mind-blowing landscapes. It's wilderness and big skies. It's whisky without an 'e' and meeting some of the friendliest people.
Travelling to the Scottish Highlands is going to be all of those experiences and more.
Everything You Need To Know About Travelling The Scottish Highlands
It is no lie that the Scottish Highlands come with a certain mystery and charm. The rugged and remote and the great unknown are all thoughts that come to mind.
With Rough Guides voting it the most beautiful country of 2017 and the blockbuster TV show Outlander tempting us all, it is hard not to write Scotland and indeed the Scottish Highlands on the top of your bucket list.
Even with its new and flourishing tourism, Scotland has remained close to its roots and catching an authentic Scottish experience is always in the cards.
We discovered the ins and outs of Scotland as we took on a volunteer position in a backpacker's hostel nestled right in the middle of the Scottish Highlands.
We immersed ourselves into the Scottish way of life and now feel we need to share the most important things to remember, to try and to indulge in on your trip.
It wasn't our original goal to live and work in Scotland, but as they say, some of the best experiences are completely unplanned. Now, we wouldn't change the experience for the world and it was an absolute highlight of our 2017 adventures.
So, let's get into it. We are going to share some stories, some tips and some advice about conquering the beautiful Scottish Highlands.
Hiking In The Scottish Highlands
Firstly, hiking is life in Scotland and almost 95% of travellers to Scotland go for the hiking. 'Munro baggers' as they are called are travellers/hikers/avid walkers who climb peaks over 3000ft.
Scotland boasts over 282 Munros and most of these are indeed in and amongst the Highlands. Ben Nevis is of course the highest peak and if you are as crazy as we are, we decided starting there was incredibly smart.
Our biggest tip for climbing any peaks in the Scottish Highlands is be prepared for four seasons in a day.
No joke, in the space of 6 daylight hours climbing Ben Nevis, we had perfect sunshine, bitter sleet and snow and were soaked to the bone by rain and wind.
But you know what? It doesn't matter because those views are breath taking.
Inverness is the capital of the Scottish Highlands and within a 2 hour drive you can reach the most incredible spots and places we would highly recommend particularly for hiking.
Ideal Hiking Places like:
'Quiraing' and 'The Old Man of Storr' on the Isle of Skye.
The beautiful peaks of the Cairngorm National Park.
A trip to Glencoe, where I swear the scenes of every Scottish film are shot because they are just picturesque.
Multiple day walks include the likes of the Affric-Kintail Way, the Great Glen Way and the West Highland Way.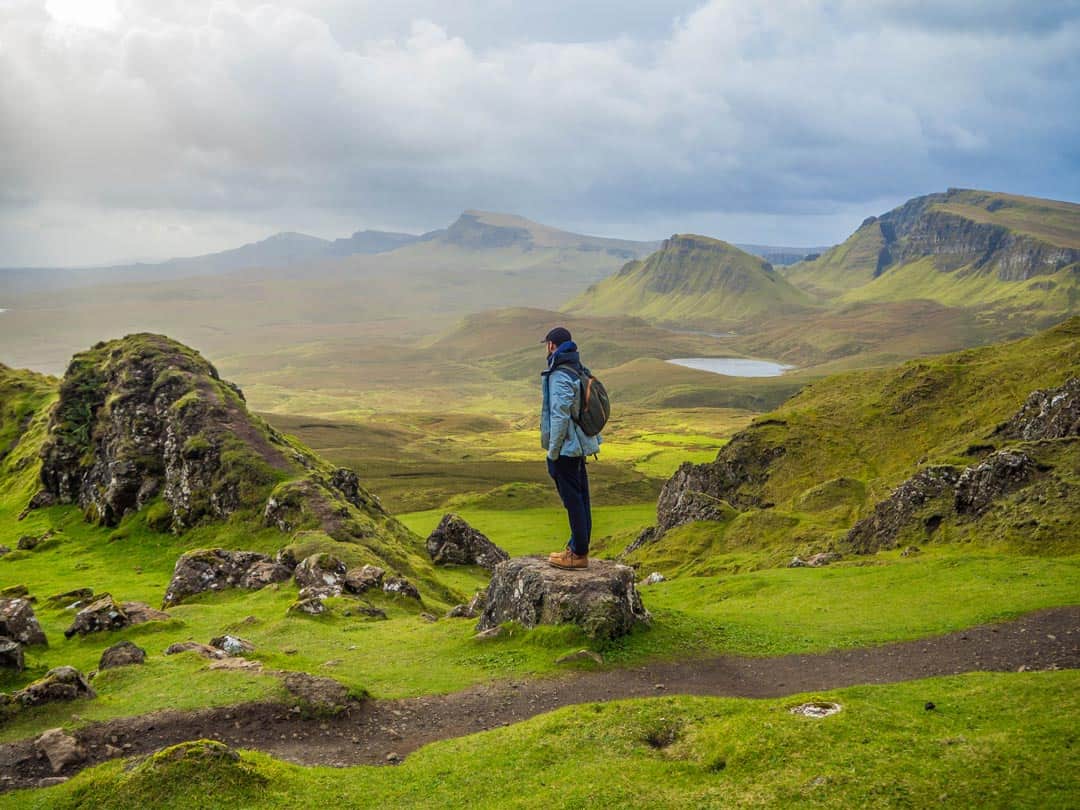 Drinks
The Scottish love their drink. A dram here and there never goes astray and washing it down with some pork scratchings isn't far off a typical afternoon in the Scottish Highlands.
Whisky may not be everyone's drink of choice, but gosh, the Scottish were onto a winner when they harnessed their incredibly fresh water and turned it into alcohol.
Something you may not have known is that the Scottish spell it 'whisky', whereas the Irish spell it 'whiskey'. Little local knowledge for you there.
Food
Equal to their love of the drink, comes their love of food. Shortbread, Haggis+Neeps+Tatties, Porridge and Bangers and mash. What is not to love? Vegan or vegetarian – have no fear. There is a Vegetarian version of the famous Haggis+Neeps+Tatties, so give it a go.
Another lesson I learnt was when asking for a cup of tea, make sure to say, 'Scottish Breakfast' not 'English Breakfast', as they do indeed brew their own. I kind of think I offended the lovely Scottish lass not asking correctly.
A Glimpse Into Scotland's Rich Culture
Scotland makes grey, dreary and bleak look incredible. Their buildings wreak of history, probably literally too.
Countless battles with invading Romans and the English have seen Scotland take quite a battering, but these people are hands down the proudest that we have ever met.
They are so passionate about being a Scot that it is contagious. I want to buy a kilt, join the Highland games and throw a log – all in the name of celebrating Scotland.
It is hard to understand the sheer, rugged remoteness of Scotland. It is a country the size of an American state and only has 5 million people living there, of which most live in either Glasgow or Edinburgh.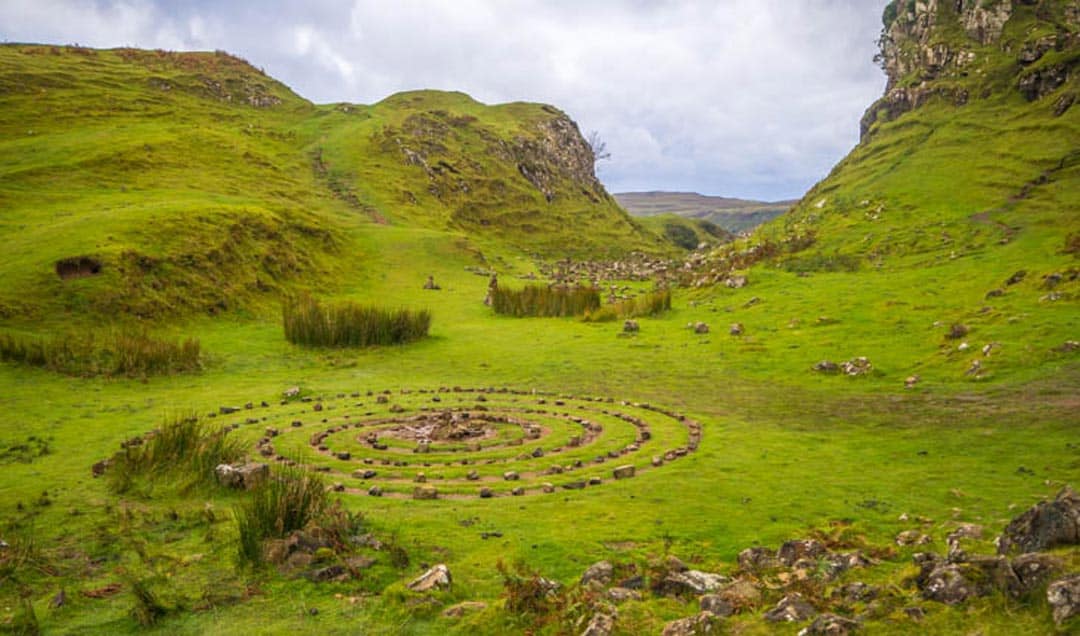 When To Visit The Scottish Highlands
The weather for almost 4-5 months of the year means that a lot of businesses 'close up for winter'. So, when planning your trip just make sure to read opening times, seasonal times and prices.
It is not hard to see why so many film, and television companies make the trip to Scotland to shoot the scenery because it is out of this world.
Getting Around The Scottish Highlands
For the adventurous traveler out there, you will be happy to know that hitchhiking is a thing in Scotland.
I don't know whether it is their dashing good looks, their incredible hospitality or all the above, but, Scotland is an incredibly safe place to hitch-hike and in fact it is very easy to do so.
Although public transport is quite good, it is difficult to get out to the show-stoppers on a bus. So, if you can't afford a rental car, then hitch-hiking with a local is the next best thing.
If you do have a car though, you must check out these stops along the way as they will quite literally take your breath away.
Top 3 Best Drives Through The Scottish Highlands
Don't miss these Scottish Highlands road trips!
Applecross
This is one of the highest drives in the whole of the UK and is often called the 'edge of the world.'
A local Scot told us that it had won an award for the best drive in either Europe or the UK.
North Coast 500
Also known as the NC500, this is one of the most scenic drives in Europe. It has hairpin turns like you have never seen before and sheer cliffs that drop off underneath the car.
Found in the Wester Ross (hint: Game of Thrones) region of Scotland, it is truly magical and would probably be one of the highlights of our entire 2 months in Scotland.
Inverness to Cairngorm National Park
Driving from Inverness to Edinburgh through the Cairngorm National Park is a must whatever the season. We drove through as the first snow had fallen for winter just the night before.
Spot some stag, highland cows and of course rolling hills as far as the eye can see.
Exploring The Scottish Highlands
Remember that the Scottish Highlands are vast. There is West Highlands, Central Highlands, North, South and everywhere in between.
Move beyond the tourism centre of Loch Ness, yes, it is a spectacular body of water. But there are TWO lakes in Scotland that are bigger, wider and deeper.
Plus, we spent 2 months searching for that monster and it disappointingly didn't happen.
Where To Stay In The Scottish Highlands
Inverness/Drumnadrochit area: Loch Ness Backpackers Hostel
Isle of Skye: The Cow Shed (you may not be a hostel person, but this is no ordinary hostel)
If in any remote areas, try finding a 'bothy'. These are small, studio like cottages, usually on the coast. When we visited Ullapool, we stayed in a fabulous little white and blue one with a magical fire for us to light.
Glamping pods/Eco pods have become a very popular choice for travellers in Scotland. Most small towns and villages offered something like this. Particularly those near Lochs.
It is so important to not only appreciate and respect the way of life in a country, but to also immerse yourself into it. Scotland is an incredibly vast and magical country with people who will brighten up your day with their hilarious banter and accent.
Make it a priority to get to Scotland for your next adventure.