From riding a cable car to the top of the city to mountain biking down the deadliest road in the world, here is our list of things to do in La Paz, Bolivia!
Situated at over 3,600 meters above sea level, La Paz is the highest elevated capital city in the world.
However, the city sits within a bowl of the Cordillera Real mountains creating a spectacular panoramic view from most places throughout its limits.
As the seat of the Bolivian government, La Paz boasts unique architecture throughout the city. Like many South American cities, La Paz was founded in the 1500s during the Spanish conquest of the New World.
As such there is a terrific blend of colonial and modern architecture, both built upon the ruins of indigenous people who inhabited the region prior to the Spanish.
It doesn't take long to figure out what to do in La Paz Bolivia. The city is full of museums and cathedrals that attract visitors from all over the world.
Day trips from the city will take you to places like Lake Titicaca and the Death Road. And you can catch any number of various festivals and citywide celebrations throughout the year.
Whether you are interested in touring a vast number of museums or are intrigued by the famous Witches Market, here are our favourite things to do in La Paz, Bolivia!
READ MORE: Don't miss our complete guide with everything you need to know about travel to Bolivia!
Awesome Things to Do in La Paz, Bolivia
If you are looking for the best things to do in La Paz you will find plenty upon your arrival. Whether you are seeking adventure, culture or cuisine, La Paz has it all.
You could spend days visiting the many La Paz attractions such as its hundreds of museums and a handful of cathedrals.
Or you could seek an adrenaline rush by riding a cable car to the top of the city or racing down the Death Road, the world's most dangerous road.
Regardless of your interests, here is our list of awesome things to do in La Paz, Bolivia.
READ MORE: Planning on backpacking in Bolivia? Our guide has all the tips and info you need!
1) Window Shop at El Mercado de las Brujas (Witches Market)
The Witches Market is one of the top La Paz attractions. Located one block from the San Francisco Church in the centre of La Paz, the Mercado del las Brujas is a colourful display of tents and shops specializing in the sale of various medicines.
Whether the medicines work or not is another story!
But if you are suffering from the common affliction of altitude sickness, or are looking to cast a spell over a nemesis you can find all sorts of remedies among the vendors in the Witches Market.
The local witchdoctors, known as Yatiri, will offer you everything from dried frogs and armadillos to llama fetuses that are supposed to bring good fortune.
Be of good spirits and be sure not to offend as you peruse the local medicine market!
2) Hike Through the Valley of the Moon
The Valle de la Luna, or Valley Of the Moon, is a unique outcropping of rocks approximately 10 km from the centre of La Paz.
Allegedly named after US Astronaut Neil Armstrong visited and claimed the area resembled the moon, the Valley of the Moon was formed through the erosion of nearby mountains.
This erosion formed tall spires made of mostly clay and sandstone, which are still eroding to this day.
In surreal fashion, the Valley of the Moon is being encroached upon by neighbourhoods.
But you can still feel like you are out in the middle of nowhere by hiking one of two trails that will take you throughout the site in around an hour each.
When you see how strange these rocks are inside the city you will understand why it is a main point of interest in La Paz.
There are limited amenities at the park, so plan ahead. Bring plenty of water and snacks and be sure to wear proper footwear for several hours of hiking.
Cost: USD$2
Hours: Mon – Fri 9 AM – 4 PM
Directions: Take a taxi or collectivo from the San Francisco Church for around USD$0.50-$4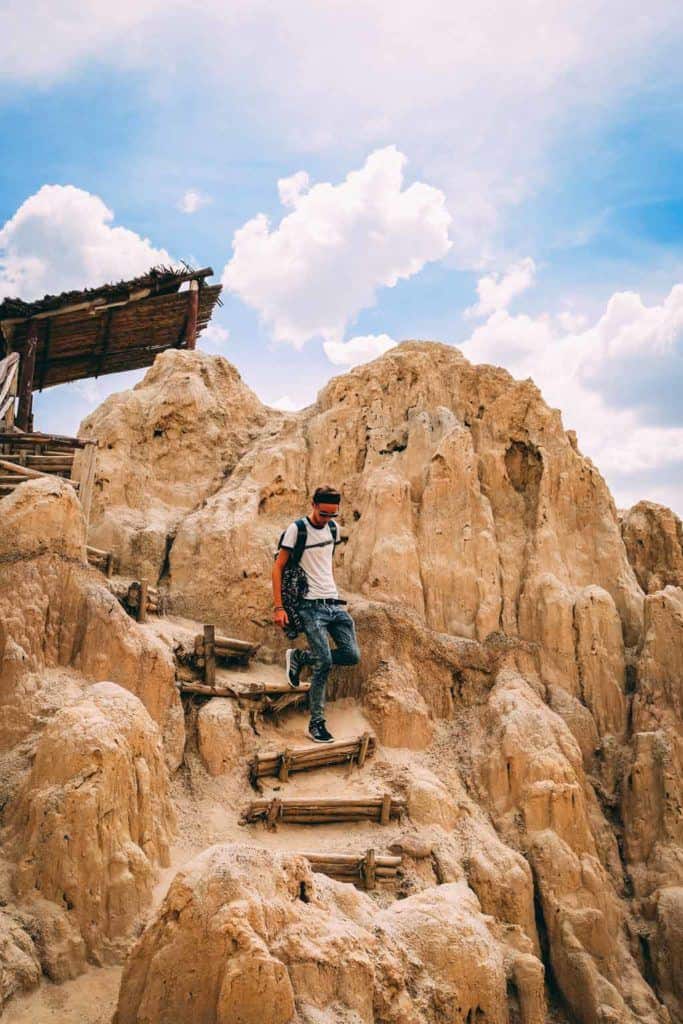 3) Take a Walk Down Calle Jaen
Known as the most colonial street in the city, taking a walk down Calle Jaen should definitely make your list of things to see in La Paz.
As La Paz was established during the Spanish conquest of the South American continent, it's history is most clearly preserved in places like Calle Jaen.
The ancient cobblestone streets of Calle Jaen lead up through the city past colourful houses, restaurants, and bars.
Stop in any for a delicious bite to eat or cold drink and take in the sights as you watch people enjoy the neighbourhood.
Five famous museums can be found along Calle Jaen, making the street a destination in itself capable of entertaining all day.
Definitely one of the top La Paz activities for tourists!
4) Enjoy Spectacular Views from the Mi Teleferico (Cable Cars)
For some of the most spectacular views of La Paz and the surrounding Cordillera Real mountains, take a ride on the Mi Teleferico cable cars to the top of the city!
The cable car system has 25 stations, making it not only great La Paz sightseeing, but also a practical way to navigate throughout the city.
Mi Teleferico is a practical way to get between La Paz and its neighbouring city of El Alto since the roads between the two are difficult to traverse.
Fares are incredibly reasonable, at approximately USD$0.50 per transit.
So whether you want to get around La Paz or simply enjoy the views, the Mi Teleferico is a great way to do some La Paz sightseeing!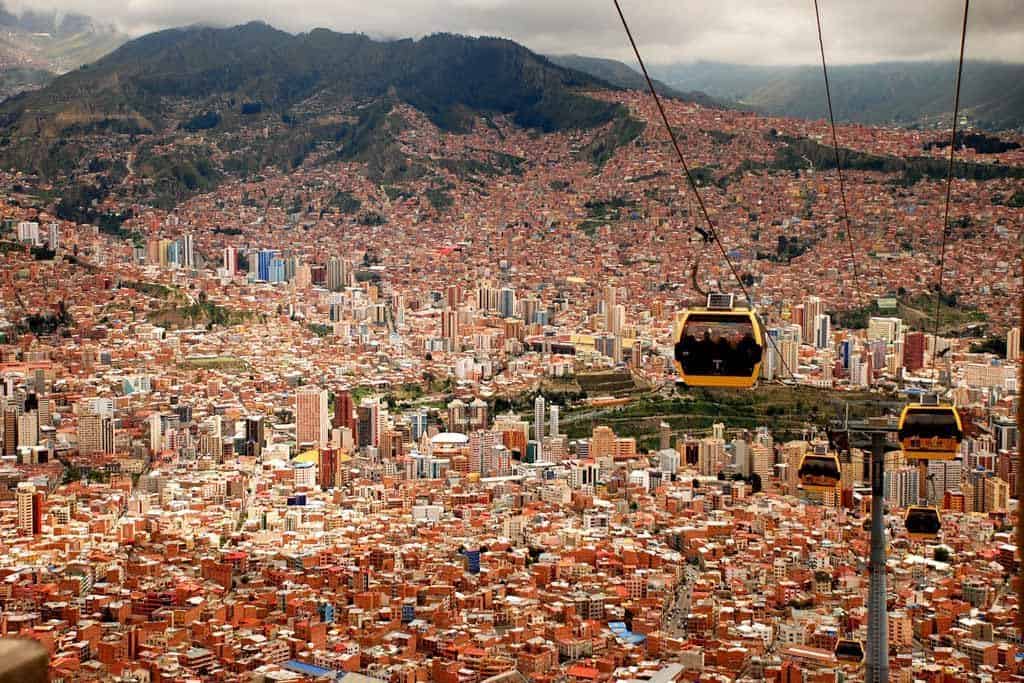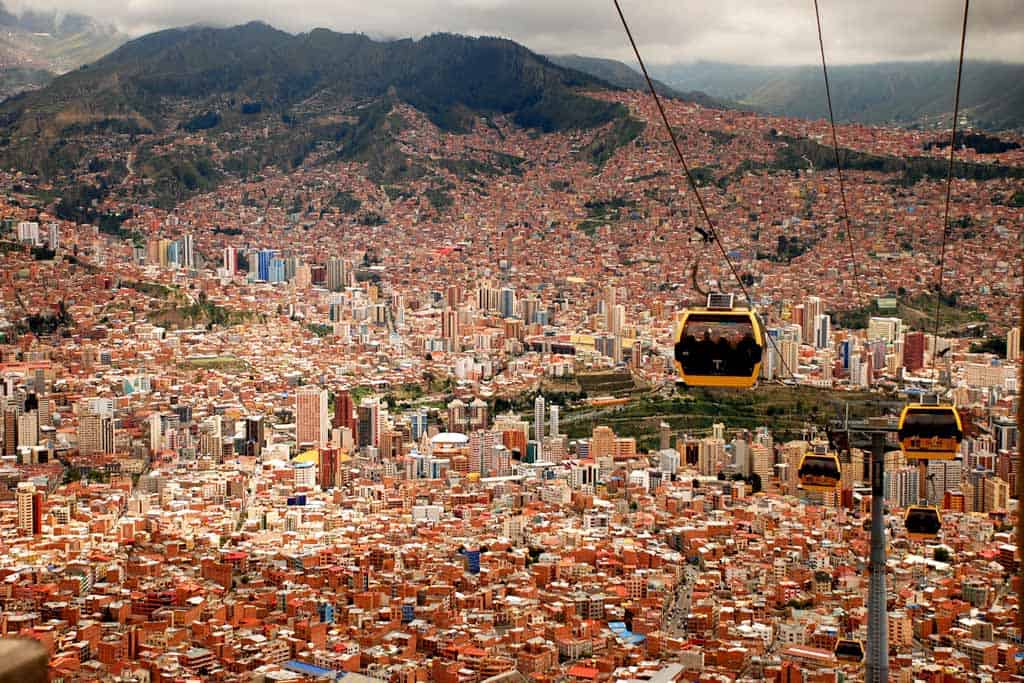 5) Visit the Mysterious Ruins at Tiwanaku
Tiwanaku is a pre-Colombian archeological area located near the famous Lake Titicaca.
Dated to be over 10,000 years old, Tiwanaku provides some insight into some of the oldest civilisations on the South American continent.
Just a two-hour drive from the centre of La Paz, Tiwanaku makes for an excellent day trip and possible stop on your way to see Lake Titicaca.
The ruins themselves are a UNESCO World Heritage Site, marking one of the larger archaeological sites of its kind in the world.
While very little of the original artifacts are completely intact, the Bolivian government has attempted to restore and recreate some of the highlights of the site.
Whether you dig archeological ruins or now, visiting Tiwanaku is among the top things to do in La Paz!
Tour guides will pick you up at most hostels/hotels in La Paz city centre and will give you a full day experience before returning you to the city.
6) Explore the Views from the Illimani or Huayna Potosi
If you are looking for an adventure activity in La Paz, consider the mountains of Illimani or Huayna to satisfy that desire.
Whether you are seeking mountains to climb or simply view from a distance, the Illimani mountain in the Cordillera Real offers the best of both worlds.
Approximately 3 hours south of La Paz, the drive/ride to Illimani in itself is quite incredible. Most hostels and hotels in La Paz will help book tours as it is not advisable to go by yourself.
If you are not prepared to hike and/or climb the rugged mountains you will want to make sure you are part of a group that is only travelling as spectators.
If you are into technical mountain climbing and trekking then sign on with a reputable guide and make sure you have the right equipment.
Likewise, the Huayani Potosi mountain, an hour and a half to the north of the city, is a great summit for those with beginners to intermediate climbing experience.
Proper equipment provided by skilled guides will make this summit worth the trip in itself.
But if you just want to get out of the city on a day trip and simply enjoy the mountain views it won't get much better than these two mountains!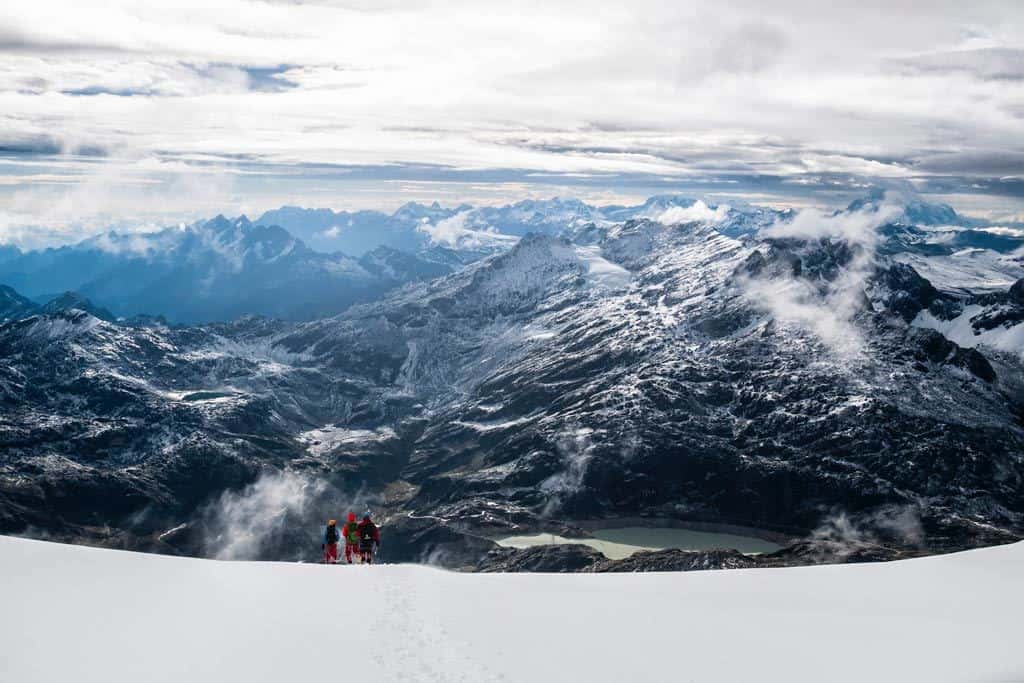 7) Tour the Iglesia de San Francisco
The Basilica of San Francisco, or the Church of San Francisco, is one of the top things to see in La Paz, Bolivia.
Named after its founder, it is located at the centre of the city on the edge of the Plaza San Francisco.
One of the more recognisable architectural features of La Paz, the Church of San Francisco was first built during the latter part of the 1500s.
Along with much of the colonial city, parts of the church have dilapidated and restored various times throughout history.
Parts of the church are available and free to the public. However, because the church continues to fulfill its spiritual purpose, much of its grounds are off-limits to the general public.
But tours of the church are available on a limited basis and will take you through the monastery, crypts and even provide you with a rooftop view of the city.
Cost: USD$3
Hours: Mon-Sat 4 PM – 6 PM
8) Mountain Bike the Famous 'Death Road'
Known as the 'Death Road,' for obvious reasons, the Yungas Road is one of the most dangerous roads to traverse in the world.
The road connects La Paz to Coroico along a 69 km stretch of highway that climbs to nearly 5,000 meters through the mountains and winds its way back into the rainforest jungles.
While the road gained its reputation many years ago from its rustic and rudimentary conditions, today the road takes far fewer lives since portions are now paved and better-prepared for drivers.
You can bicycle the world-class route on your own or join up with a tour which will provide a little more safety in numbers and experience.
Depending on the time of year and road conditions, you can expect to face more or less danger as you bike along cliffs with nearly 1km drop off!
Whether you bike part or all of the Death Road, know that you are taking part in one of the top adventure activities in La Paz Bolivia and are part of only a handful of people who participate in the experience!
9) Join a Guided Walking Tour of the City
Oftentimes guided walking tours of major cities are not necessary. But because La Paz has so much to offer by way of culture, history and architecture you might want to sign on for a guided walking tour of La Paz so you don't miss out!
When you join a walking tour hosted by a local guide you will gain an understanding of the city from a local perspective.
While they might be skewed toward the preferences of the guide, you are sure to gain valuable insight into the various aspects of the city.
These tours are a great way to orient yourself to the city on your first day of exploring.
Learn about the places you may want to return later on your own or see the key highlights of the city if you have a limited amount of time in La Paz.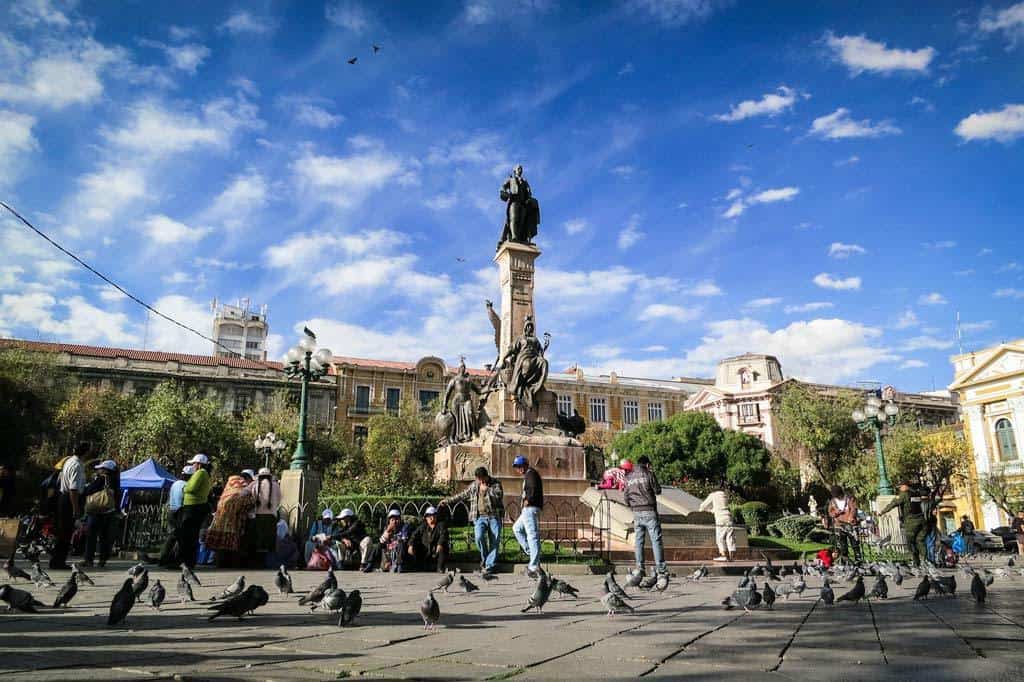 10) Check Out the Views of the City From Parque Mirador Laikakota
In case you haven't figured out by now, La Paz is a beautiful city with some remarkable views both of the city and of it's surrounding mountains.
One of the better places to see both the city and the snow-capped Illimani mountains is from Parque Mirador Laikakota.
To reach this park, you will have the opportunity to experience a cable car ride from the city centre to the top of the hill.
Alternatively, you can walk through scenic neighbourhoods to reach the same summit.
However, if you are not acclimated to higher elevations then you might have difficulty with this walk.
At Parque Mirador Laikakota you can enjoy the views while also having access to delightful snacks and ice cream from one of the local vendors.
If you are travelling with children this is a great spot to let the kids play on the playground and in the children's museum.
But beware, if you do not like children then this might not be the place for you! Check out the views from Mirador Killi Killi instead!
11) Wander Out to Lake Titicaca
Although Lake Titicaca is only a few hours from La Paz, most travellers will want to spend more than one day exploring the famous lake.
Located nearly 4,000 meters in elevation, Lake Titicaca is known to be the world's largest lake at high elevations.
It is the South American continent's largest lake by volume and total area and plays host to rich history over time.
While you can explore the lake from any number of towns in either the Bolivian or Peruvian side of the border, a more popular place to start your adventure is Copacabana.
The lake is known for more than just its size and status. Among the ancient history and cultural sites in the area, there are also two main islands that attract many visitors each year.
The first is Isla del Sol, or Island of the Sun. A rugged and steep island, Isla del Sol boasts dozens of ancient ruins and is said to be at the epicentre of the Inca civilization.
The Isla del Sol is best visited from Copacabana.
The second set of islands are the Uru Islands or "floating islands," which are man-made islands composed of a buoyant reed.
The Uro people fled the Amazonian region of the country and settled on Lake Titicaca on these floating islands because they were unable to secure land of their own without violent conflict with other tribes.
To this day Uro people still live on approximately 60 floating islands, which are mostly open to tourists throughout the year. To reach these islands you will likely have to enter into Peru and visit by way of Puno.
La Paz Travel Guide
To help you make the most of your trip, here's our La Paz travel guide with all the best places to stay and eat in the city.
Best Accommodation – Where to Stay in La Paz, Bolivia
While Bolivia in itself is known for being quite a low cost, you can find a variety of accommodations within your budget. As one of the continents larger cities, La Paz is a mixture of budget and luxury accommodations.
The Best Hostel In La Paz, Bolivia – Wild Rover Hostel
If you're looking for a friendly hostel in the city centre, you can't go wrong with the Wild Rover Hostel.
Irish-owned, the English-speaking local staff will make you feel at home in La Paz as they share their Irish Hospitality.
The hostel offers a full breakfast, lunch and dinner menu with an authentic Irish bar.
Plan to be social and enjoy making friends as the hostel also offers regular events and comfortable common areas.
With shared rooms starting around USD$9, you will get a lot of value out of your time at Wild Rover Hostel.
Enjoy on-demand hot showers (typically a luxury in Bolivia!), complimentary WiFi, lockers in each room and plenty of people to offer advice on what to do in La Paz.
Best Budget Accommodation for Couples – Colibri Camping and Eco Lodge
Colibri Camping and Eco Lodge is located a short distance from La Paz city center but it is well worth your time if you are looking for a nice place to relax as a couple.
A highlight of the lodge includes views of the river, garden and mountains – all of which can be viewed from a relaxing hammock or hot tub.
If you need to remain connected, WiFi is accessible throughout the property.
Bed linens and towels are provided for your use and you can opt for continental breakfast or prepare your own meals in the fully-equipped kitchen.
Relax during the evenings and plan excursions to the nearby attractions, such as hiking, horseback riding and mountain biking. Or use the Lodge as a jumping-off point to visit the Valley of the Moon, just 15 minutes away.
Best Mid-Range Hotel in La Paz, Bolivia – Hotel Rosario
The Hotel Rosario, located in central La Paz, provides quick access to all of the attractions that the city has to offer.
As a former Colonial home, the hotel boasts architecture and decorations that make you feel like you are uniquely in the heart of Bolivia.
All rooms come with a private bathroom, television and a safe. You can also access WiFi throughout the hotel.
Enjoy snacks and meals throughout the day or settle down for dinner and drinks at the Tambo Restaurant inside the hotel.
Known for its kind and helpful staff, you will be pleased you booked your stay at the Hotel Rosario as you can arrange to do pretty much any activity from the hotel.
Best Luxury Hotel in La Paz, Bolivia – Casa Grande Suites
The Casa Grande Suites offers an exceptional accommodation experience when staying near La Paz's city centre.
Each room has a private bathroom, flatscreen television, complimentary coffee and tea and WiFi. As a guest, you also have access to a steam room, sauna, massages and fitness centre to help you relax.
Ask for rooms with either the mountain view or city view to enhance your stay at the hotel. Enjoy complimentary breakfast and even prepare food yourself with a kitchenette available in most rooms.
Concierge service and 24-hour security will make you feel safe and comfortable during your stay at the Casa Grande Suites.
Book travel and tourist attractions from the front desk, exchange currencies or deposit valuables while you enjoy the many activities in La Paz.
Best Restaurants in La Paz, Bolivia
As a major South American city, La Paz is full of restaurants specializing in all sorts of international delicacies.
But as the heart of Bolivia, the city also boasts several great restaurants that highlight the traditional Bolivian meal.
These are a few of our favourites!
Budget
Centrally located in La Paz, Popular Cocina Boliviana offers a wide range of modern Bolivian cuisine that won't break the bank.
A great value for a lunchtime meal, be sure to arrive as close to noon as possible as the restaurant is very popular!
Mid-range
El Vagon del Sur specializes in delicious traditional Bolivian meals while offering the best of local South American cuisines as well.
Expect a full course of food to fill you up for lunch or dinner!
High-End
Celebrating local Bolivian ingredients, Ali Pacha is among the best experience in fine dining La Paz has to offer.
With a reputation for its wine to accompany both vegetarian and non-vegetarian meals, you can't go wrong in reserving a table here!