From epic off-road adventures and adrenaline-pumping paragliding to unique culture and cuisine, here is our list of the top 25 things to do in Lima, Peru!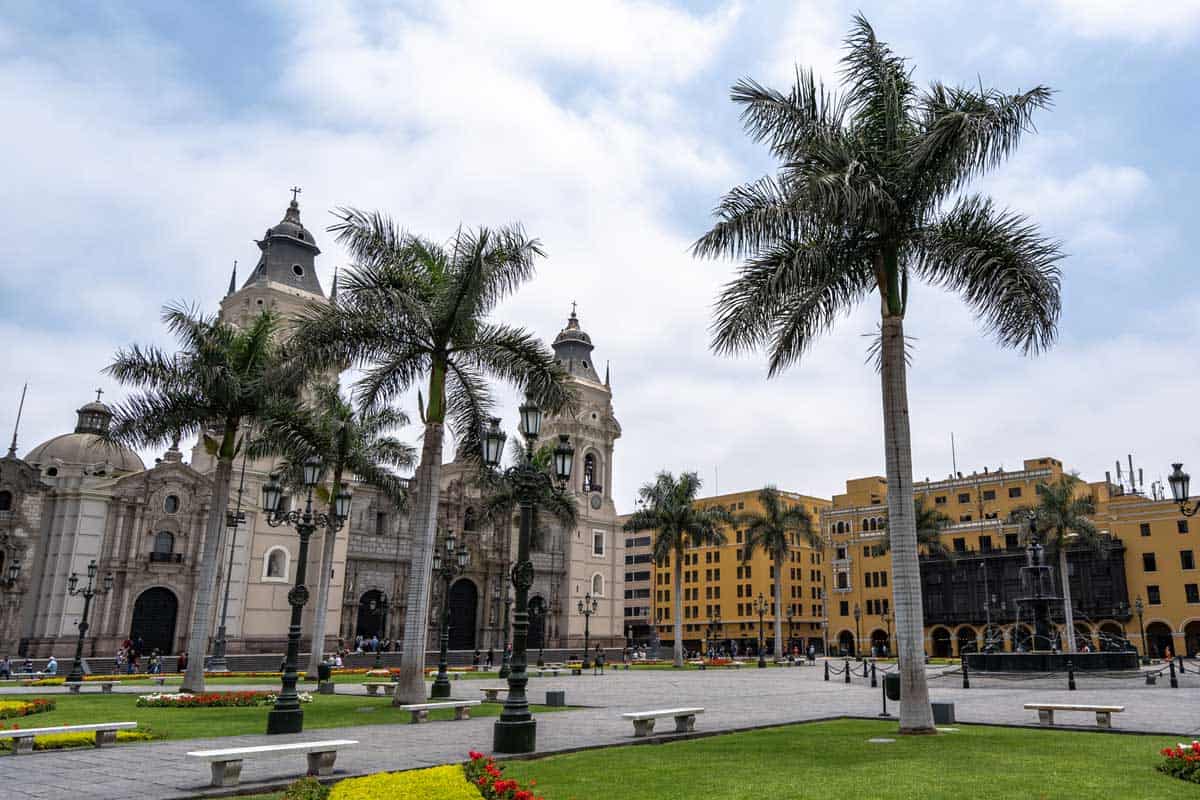 As the capital of Peru and the second largest city in South America, there is no shortage of places to visit in Lima. The city was first settled by indigenous groups as part of the Inca Empire.
However, when the Spanish conquered the Incas in the 1600s the city became the capital of the Spanish colony. Thus Lima is rich in history and culture making it a great place to explore.
Lima is located along the central Pacific coast of Peru in what is a combination of tropics and desert.
Wedged between three rivers, the city was built upon the coastal plain. It has long since been a bustling metropolitan centre and has remained one of the most important cities in South America.
Because of its unique geography and climate there is no shortage of activities to do in Lima, Peru.
From water sports along its coast to paragliding, sand boarding or exploring the rugged desert in an ATV, there are plenty of adventure activities in and around the city.
When searching for culture and cuisine, expect an abundant variety of experiences. The city is full of colonial cathedrals, museums and government buildings.
But as an economic centre for the South American continent the city also boasts the many modern buildings and businesses that make it a great mix of the past and present.
READ MORE: Don't miss our complete guide to backpacking in Peru
Get Ready to Experience the Best Things to Do in Lima, Peru
Combining the cultural history of the city with its extensive size and geography creates a long list of fun things to do in Lima, Peru!
Whether you are looking for outdoor adventure or are interested in pursuing the finer parts of the city you are sure to not be disappointed.
If you enjoy exercise on your travels, you could spend days exploring the city by foot or bicycle.
Rent a bike and dive into the many quaint neighbourhoods to observe street art or visit restaurants and eat your way across the city.
Or head out by foot and climb El Morro Hill for a panoramic view of the city.
Or you could choose any number of nearby day trips to seek the adrenaline rush of outdoors adventure activities.
From paragliding off cliffs to canyoning through rivers or sandboarding down massive sand dunes the adrenaline is sure to pump during your stay in Lima.
Of course you could take it easy, catch the open-air bus and hop on and off as you gorge yourself on local Peruvian delicacies.
Whether you only have one day or one week, get ready to enjoy the many things to do in Lima, Peru!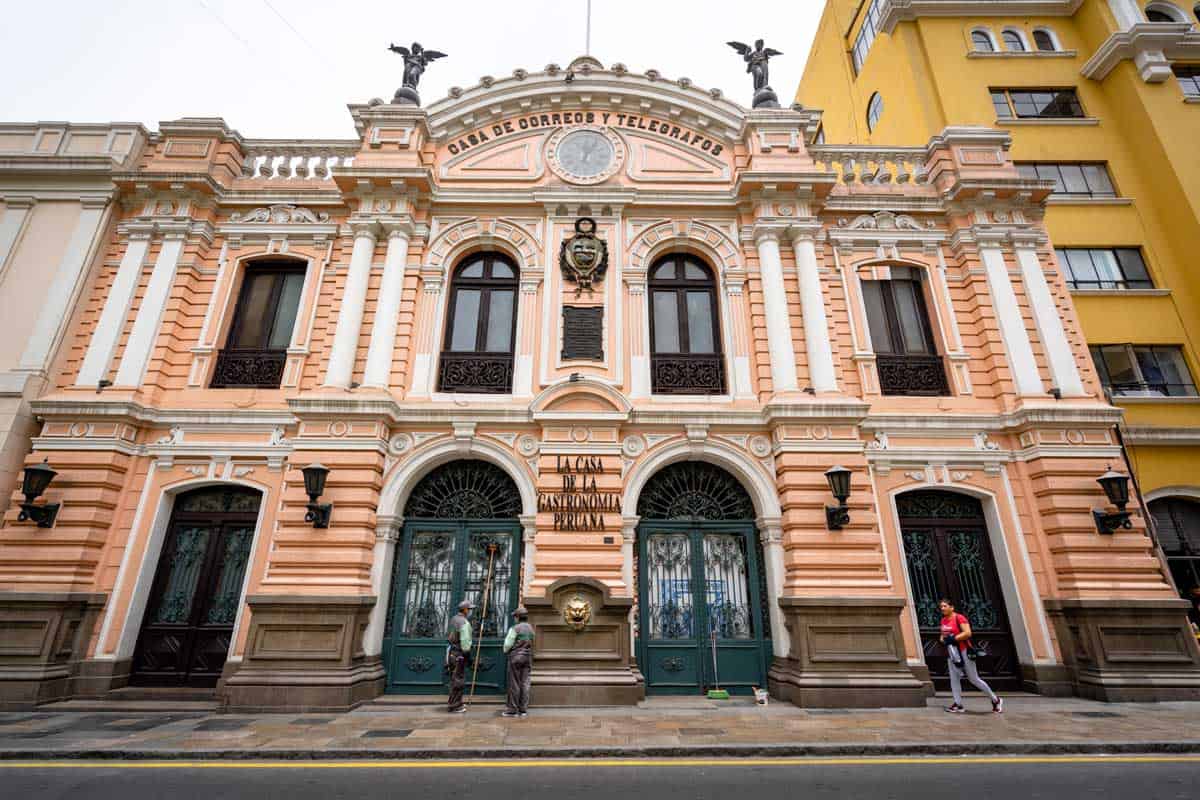 1. Rent a Bicycle and Ride Around Lima
There is probably no better way to see Lima than by bicycle. If you check the city out on a map you'll see that it is an extensive network of neighbourhoods and districts that tie all of Lima's culture together.
What is better is that many of the districts have many miles of lanes designated for bikes only. These lanes serve as self-guided tours of the various parts of the city. This makes it perfect to explore at your own pace.
Check out specific bike paths in Miraflores along Malecon Reserva and Malecon Cisneros. Or head over to neighbouring San Isidro or San Borja for some more great biking.
You can find many bicycle rentals along the bike paths or check out Lima Bike for rentals or organised tours.
READ MORE: Our brand new guide on the best things to do in Cusco is now live!
2. Enjoy a Casual Walking Tour of the City
If you are wondering what to see in Lima, the best way to explore is by foot.
Lima is a big city. But if you pick any of the districts in the city in which to explore you can make a great time of walking around the various colourful neighbourhoods.
You can join an organised walking tour of the city if you'd like more structure. But it is easy enough to simply pick a few places of interest and follow along your own course.
Don't worry, there are plenty of delicious places to eat and drink along the way.
So even if it seems like you've lost your direction, there's always a friendly place to stop and reorient yourself over a pint or a bowl of ceviche!
Some more popular districts to explore include Miraflores, Barranco and Chorrillos.
These three parts of town are tied together along the Pacific coast and make for splendid views.
You could spend the day covering any or all of these districts together.
If you are inclined to join a group, there is a free walking tour offered every day at 10:15 am that leaves from the Tourist Information Center in Miraflores. (Av Jose Larco 799)
3. Hike/Bike to the Top of El Morro Hill for Panoramic View of Lima
One of the best things to do in Lima is to climb to the top of El Morro Hill, known commonly as Morro Solar.
Morro Solar is located just west of the Chorrillos district along the coastline that juts out into the Pacific Ocean.
Once a major 19th century battleground, the hill now boasts a most spectacular panorama of Lima and its surrounding areas.
You can hike the trail to the top of the hill or, if you are more adventurous, you could consider biking it.
There are several statues on the hill, including statues to The Unknown Soldier, Miguel Iglesias, Christ of the Pacific, Sanctuary of the Virgin of Morro Solar and the Planetarium.
If you didn't catch a sunset from the Miraflores boardwalk, El Morro Hill is an excellent place to watch the sun sink down over the Pacific.
Of course the hike/bike it free to do yourself. But there are plenty of organised tours you can join if you'd like to be part of a group.
It is also wise to consider taking a taxi to the top and have it wait for you while you visit the various statues on top.
Location: The road to the top of Morrow Hill begins in the Chorrillos district at Malecon Grau Avenue. But there are many trails that lead up and down the hill as it is a popular place for the local mountain biking community.
READ MORE: Heading to Machu Picchu? Here's our blog post all about visiting the Sacred Valley, Cusco and Machu Picchu
4. Paraglide Over the Lima Coastline
Lima boasts spectacular views of the Pacific Ocean from its many seaside cliffs. But have you ever wondered what such a beautiful city might look like from the ocean?
There is no better way to explore the Lima coastline than by air! Paragliding is one of the best things to do in Lima!
If you're seeking adventure while still staying in or near the city, you can't beat a paraglide trip from the surrounding cliffs.
You don't need prior experience in paragliding to be able to enjoy this scenery.
Tours will provide an experienced professional pilot and offer loads of views.
Already know you're going to love paragliding? Consider taking a paragliding course ranging from 1 to 7 days offered by Aeroextreme and spend more time exploring the Peruvian coastline!
5. Panoramic Open Bus Tour
It is impossible to see all of Lima in a day. But if you were going to give it a try, your best bet for Lima sightseeing would be to hop on one of the two tour buses and let it take you through the city.
The Mirabus is a double decker panoramic open roof bus that leads you through the downtown on a guided tour of approximately 3.5 hours.
This tour includes entrance to both the Cathedral Basilica and the San Francisco Catacombs.
Alternatively you could hop on the City Sightseeing Tour to see Lima on one of its open roof buses.
Tours are similarly structured in that you will visit several of the most popular and historic places in the city. You'll have the ability to get off the bus in several places and enjoy exploring the area.
Note: Neither tour is "hop-on-hop-off." If you don't get back on the bus after the excursion then your bus tour has turned into a walking tour!
6. Sandboard and Go Offroad in the Nearby Sand Dunes
Sure there are more places to go snowboarding in the world. But when you have the chance to shred down sand dunes, why not get out and go?!
Lima is surrounded by desert. As such there are some pretty epic sand dunes that have built up over time.
One of the wildest activities to do in Lima is to book a trip to go off-road in the desert in pursuit of the perfect dune.
Guides will provide you the equipment and haul you to the top of the sand dunes where you can then do your best to shred sand on your way downhill.
Of course local transport in the sand dunes is dune buggy so you'll also get your fill of racing around in the ATVs as you explore the desert.
7. Take a Stroll Along the Miraflores Boardwalk at Sunset
The district of Miraflores is one of the main Lima tourist attractions. It is lined with modern stores, restaurants and a boardwalk that offers spectacular oceanside views.
As the sun sets over the Pacific Ocean, the Miraflores boardwalk is one of the most popular places to catch a sunset.
With plenty of places to eat and drink, visiting the boardwalk at this time of day gives you the opportunity to slow down and enjoy the last views of the day.
As you stroll along the boardwalk be sure to check out the lighthouse and Parque de Amor.
You can also shop at the Larcomar shopping centre or rent a bike along the boardwalk and cover more ground.
However you spend the evening you won't be disappointed by the vibes and the views along the Miraflores coastline.
READ MORE: Here's everything you need to know about visiting Rainbow Mountain near Cusco.
8. Drink a Glass (or Two or Three) of Pisco Sour
If you are wondering what to do in Lima, you can always start with a glass of Pisco.
Pisco is Peru's native alcohol that is derived from fermented grapes. It is most commonly known when it is mixed as Pisco Sour and can be readily found throughout Lima.
Regardless of where you travel through Peru it is likely that you will find Pisco Sour on the cocktail menu.
However Lima is well known for having some of the most delicious and creative Pisco Sours in all of the country.
You are likely to find your own favourite version of the drink simply by stopping at any of the local restaurants near where you are staying.
But you could make a Pisco Sour tour of the city by seeking out some of the more renowned restaurants and bars.
If you prefer adventure of this sort, be sure to stop at any/or/all of the following: Gran Hotel Bolivar, Amaz, La Mar, Country Club Lima Hotel and the Hotel Maury.
9. Soak in the Sun Next to the Pool
Pool Paradise boasts one of the only pools in the city. It is located at one of the more popular hostels in the area in the Miraflores district.
So if you are inclined to stay at Pool Paradise you can find both rest and relaxation included in your stay. But if you do not stay at Pool Paradise you are still welcome to enjoy the pool.
The hostel serves a variety of food and drinks and is a great place to meet up with or make new friends! If you stick around until late Pool Paradise also turns into one of the hottest nightclubs in Miraflores.
Start your night off here and then head out to enjoy other clubs when Pool Paradise winds down just after midnight.
Location: Casimiro Ulloa 324, Miraflores 15047
Price: Free (Unless you stay in the hostel overnight. Prices vary, see below Accommodations)
10. Explore the Pachacamac Ruins
Located just outside of Lima's city centre, the Pachacamac ruins are an archeological gold mine and one of Peru's top points of interest. It's a Lima must see!
The ruins pre-date the Spanish conquest of the region and can be traced as far back as 200 AD.
Named after the "Earth Maker" Pacha Kamaq, the site hosts a variety of pyramids, temples, graves and other archeological structures.
Take a walk back in time and see the way Pre-Columbian natives lived in a city that has now become one of the largest in the world.
Because of its proximity to Lima, many tours offer combined half-day tours with stops in some of the surrounding districts.
However it is possible that you can trek to Pachacamac on your own and spend as much time as you would like exploring the ruins.
Location: Antigua Panamericana Sur km 31.5, Lima
Opening hours: Tuesday – Sunday from 9 AM to 5 PM
Price: USD$5
11. Spend Time Walking Through the Lima Cathedral
The Basilica Cathedral of Lima (Lima Cathedral) is one of the oldest, most prominent buildings in Lima.
With origins dating back to 1535, the architecture stands out among the various other buildings and structures in the city.
First started by the Spanish conquistador, Francisco Pizarro, the cathedral would later become his final resting place. His tomb is still on display within the Cathedral today.
Following the massive earthquake of 1746, the cathedral was destroyed and had to be rebuilt from the ground up.
Situated on the Plaza de Armas, the Lima Cathedral is an integral building standing among the presidential palace
Inside the Lima Cathedral you will find a host of religious artefacts, chapels and artwork accumulated throughout the last few centuries.
Location: East side of the Plaza de Armas
Opening hours: Monday – Friday from 9 AM to 5 PM, Saturdays 10 AM – 1 PM
Price: USD$3
12. Go Canyoning at Huanano Falls and Autisha Canyon
If you're looking for a unique day trip experience just outside of the city, consider a canyoning trip through Autisha Canyon and Huanano Falls.
Canyoning combines the adrenaline-fueled thrill of rock climbing with the pleasure of enjoying water without too much exertion or technical climbing expertise.
You'll hike, rappel, jump, slide and basically just explore a beautiful canyon and its accompanying river.
Guides will pick you up at your hotel in Lima and take you to the nearby town of San Jeronimo de Surco. On the way you'll grab a quick breakfast and begin hiking toward Huanano Falls.
A quick rappel down a 30 meter rock face leads to several hours of hiking, sliding, jumping and splashing your way through the canyon.
13. Take a Surf Lesson (or Rent a Board and Shred Your Own Waves!)
The Pacific Ocean is known for producing great surf along the Peruvian coastline. Surfing is one of the many sporty activities you can do in Lima, Peru.
If you've ever wanted to learn to surf, or if you're looking to add a few Peruvian waves to your extensive surfing background, you can find good waves and a good time in Lima.
If you are completely new to surfing or would like some touch up lessons, there are plenty of places along the beaches of Lima where you can take a quick surf lesson.
Courses range from an hour and a half to several hours and all include the use of provided surfboards.
If you've brought your own board, head down to the beaches along the Barranco district and enjoy a great surf session.
Or if you packed light and didn't think to bring your board with you to Lima, you can rent a board from Team Surf Peru and other vendors along the beachside.
The water is a little cooler than you might expect, so be prepared for that! But enjoy checking off surfing from your Peruvian bucket list!
14. Search Out the Best Ceviche in the City
You can't plan to visit Lima without enjoying a delicious serving of ceviche!
While food in general is a major attraction for Peru, ceviche holds a special place among the many locals who dine on it on a regular basis.
Like Pisco Sour, another staple among Peruvians, ceviche comes in a variety of different forms and flavours.
You could make a game of trying to find the best ceviche in the city.
Or you could simply pick a restaurant close to your hotel and fall in love with the fresh seafood on its menu.
But if you are inclined to wander Lima in search of the best ceviche in the city, be sure to add a few of these places to your list of stops.
High five if you make it to all of them during your stay: La Mar, Chez Wong, El Muelle, Costazul Seafood and Amaz Restaurante.
15. White Water Raft Down the Canete River
Lima is situated in a mountain desert climate where three rivers flow to the sea. As such, you there are plenty of places to find adventure among the white water rapids of the rivers.
It is possible to actually ride the rivers from the mountains to the Pacific Ocean!
The Canete River is one of the more popular rivers to find white water rafting. Most tours will pick you up in your hotel in Lima and take you around 3 hours outside of the city.
You'll have options as to whether you want, and are able to, raft various sections of the river based on your experience. Depending on the time of year the river boasts beginner, intermediate and advanced level rafting.
Most rafting trips are half day excursions and some will include a light meal or snack. Plan to get wet and enjoy your time on the river!
16. Do Some People Watching in the Plaza de Armas
One of the top Lima attractions, Peru is the Plaza de Armas. Also known as the Plaza Mayor, the park is the virtual historical and functional centre of Lima.
As a UNESCO World Heritage site, it is located in the Historic Center of Lima.
The Plaza boasts a panoramic view of some of the most important buildings in the city.
If you walk to the fountain at the centre of the plaza you can turn in any direction and see the Government Palace, Cathedral of Lima, the Palace of the Union, Archbishop's Palace of Lima and the Municipal Palace.
The Plaza de Armas is also a great place to stop and enjoy some people watching.
Grab a seat on a park bench and watch the thousands of people interact, as the area is a blend of tourism and functional government.
You will even see and hear street performers of all sorts as you make your way around the plaza.
If you prefer, you can people watch from one of the many cafes and restaurants along the adjacent streets where you can grab a beer or tapas as you watch the hustle and bustle of life passing by.
You can reach the Plaza De Armas from virtually any location in Lima either by public transportation or any number of other transportation services.
It is perhaps the most well-known landmark in the city, and for good reason!
17. Mountain Bike Along the Oceanside Cliffs
Lima's location along the Pacific Ocean leads to spectacular views. One of the best things to do in Lima is to explore the many views along the oceanside cliffs.
Aside from the many colourful neighbourhoods and delicious munchies in the city, the roads along the city's cliffs make for spectacular memories of your time in the city.
You can rent a bike or hike your way along the coastline.
Popular views include the route from Costa Verdes through the Miraflores district.
Of course there are plenty of places to stop and grab a bite to eat or a cool beverage to drink.
There are a few city parks along the way that offer a nice place to rest. And if you choose to trek past the Barranco district you can reward yourself with a few beach options to relax.
18. Enjoy a Sunset Sail in Miraflores Bay
To understand the gargantuan size of Lima you have to step away from the city. One way to do this is to go on a sunset sail through Miraflores Bay.
Join a sailboat tour and cruise around several islands just offshore.
As you wait for the sun to set over the Pacific Ocean take in the sights of the city as it begins to light up in the hustle and bustle of the evening.
Cheer with friends to celebrate the end of a great day. Or kick off your night out in spectacular fashion.
One thing is for sure, you won't be let down by the views from the sailboat!
19. Get Soaked in Water Fountains
The Circuito Magico del Agua (Magic Water Circuit) is a playful combination of entertainment and waterpark located in the centre of the city. Splashing in the fountains is just one of the fun things to do in Lima, Peru!
Built in 2007, the Magic Water Circuit is a series of 13 illuminated water fountains that are sure to entertain for hours.
While many of the fountains are meant to simply watch, there are several with which you can interact.
The most popular fountain you can play in is the Laberento del Ensueno (Maze of the Dream). You are sure to get soaked as you try to make your way to the centre of the fountain.
Also each night beginning at 7:15 you can catch the grand finale of all water fountains with the Fuente de la Fantasia (Fantasia Fountain).
This fountain is nearly 400 feet long and is choreographed to include lasers, music and water.
Location: Parque de la Reserva (corner of Avenida Paseo de la Republic and Avenida Arequipa)
Opening hours: Wednesday – Sunday from 3 PM – 10:30 PM
Price: USD$1.50
20. Explore Peruvian History, Architecture and Wildlife at the Park of Legends Zoo
The Parque de las Leyendas (Park of Legends) is another great attraction in Lima.
Comprised of a 300+ acre zoo in the centre of Lima, it also showcases Peruvian history and architecture as part of the zoo experience.
Located in the San Miguel district of Lima, the Park of Legends showcases 215 different species of animals with over 2,000 total animals.
Some of the highlights of the zoo include brown bears, macaws, Humboldt penguins, Vicunas and sea lions among many more species.
As you stroll through the park you will also come across Pre-Columbian ruins and a botanical garden.
Rich in Peruvian history and culture, the park offers you a chance to spend the day enjoying parts of the country that you may not otherwise see.
Location: Av. Las Leyendas 580
Opening hours: every day from 9 AM – 5:30 PM
Price: USD$5
21. View the Nazca Lines from an Airplane
If you have a full day and a willingness to recline on a bus for a few hours, there is very little in the region that can beat an aerial view of the famous Nazca Lines.
The Nazca Lines are massive geoglyphs that have been created in otherwise barren desert sands. There are over 300 different shapes in an area nearly 1,000 square miles.
Designated a UNESCO World Heritage Site, the Nazca lines have been a mystery since their discovery in 1926.
Scientists have been miffed by the Nazca lines since they began studying them. And the only true way to see them is by air.
While it is a bit of a trip from Lima, if you have the time it is definitely worth seeing the mysterious geoglyphs for yourself. Who knows, maybe you could solve the mystery of the origins and meaning of the Nazca Lines!
22. Learn to Cook Delicious Peruvian Meals
Many people visit Peru simply to enjoy the many tasty foods for which the country is known. And sure, you can spend a lot of time sampling menus at restaurants all across Lima.
But have you ever thought about learning to prepare Peruvian cuisines on your own?
Taking a Peruvian cooking class is a fun thing to do in Lima. It will combine teaching you the culture and ancient ways of preparing food with the reward of a delicious meal.
Not only will you not get in trouble for sampling as you go, you'll also end up learning how to cook your new favourite meal.
Take your new skills wherever you go and treat friends and family to delectable meals the rest of your life!
23. Watch a Football Match in Peru's Largest Sports Stadium
The Estadio Nacional de Peru is located in the centre of Lima and can hold over 45,00 spectators. It is home to the Peruvian national team and has a rich history of hosting important matches.
Depending on when you visit Lima you might have the ability to catch a football match in the stadium. Or, alternatively you might also be able to attend a concert of any number of high profile bands who have performed in the venue.
Every now and then local football teams will also play a match in the stadium, offering even more opportunities to enjoy a sporting day in Lima.
But even if you cannot catch an event at the stadium it is well worth checking out if you are in downtown Lima.
Like many other districts in the city, you are sure to find great food and drink while you wander around the massive historical stadium.
Location: Calle José Díaz s/n, Cercado de Lima 15046, Peru
24. Spend the Day at the Beach
Lima is located along the Pacific Ocean and has miles of coastline. There are more than 20 beaches along the Costa Verde, which spans the districts of Miraflores, Chorrillos, Barranco, San Miguel Magdalena del Mar and San Isidro.
By far the more popular beaches are found in Miraflores.
Here you can bask in the sun and splash in the ocean with the city literally on top of you. Massive cliffs line the beach and create a spectacular backdrop for your relaxing day.
Of course if you're more inclined to be active during your stay you will find great waves for surfing and body boarding.
Check out the beaches of Waikiki, La Playa La Pampilla, Playa Redondo and Los Delfines among many others.
25. Swim with Sea Lions on a Cruise to the Palomino Islands
One of the best things to do in Lima, Peru is to visit to the Palomino Islands and hang out with sea lions and other wildlife!
The Islands are located just a short distance directly offshore from Lima.
Known for a variety of marine animals and birds, the islands provide you the opportunity to get away from the city and get back to nature!
You'll have to book a tour to have this experience. But it is well worth the adventure!
Most tours will combine the journey to the Palomino Islands with another excursion to create a full day tour. However you can also book a half-day tour just to visit the islands themselves.
Of course the highlight of the trip is in meeting sea lions as you don a wetsuit and splash around in the water with them!
Please remember to be responsible and not touch or harm them in any way. But for sure this will be one of your top memories from your time in Lima!
Lima Travel Guide
Now that you know what things to see in Lima, we want to help you make the most of your holiday by sharing our tips on where to stay and eat in Lima!
Best Accommodation – Where to Stay in Lima, Peru
If you are wondering where to stay in Lima, you have a lot of options.
Depending on your travel style, taste and budget you can find any number of hostels, hotels and private residences that offer a variety of amenities.
Budget travellers can find a range of hostels where you can share a room with others or have private accommodations beginning around $10.
Or if you are looking to splurge, celebrate a special event with your significant other or simply live a little there is always the option to stay in more upscale accommodation.
Most of the best accommodations in Lima are found either in the city centre or in the popular district of Miraflores. Accommodations range in price and amenities.
But these are the best overall options for where to stay in Lima, Peru.
The Best Hostel in Lima – Casa Aika
Casa Aika is among the highest rated hostel in Lima for a reason.
With a focus on customer experience, the one thing you won't have to worry about on your visit to Lima is the comfort of your accommodation!
Located in the heart of Lima, within walking or biking distance of many of the city's famous neighbourhoods, you'll find that you can easily explore the city from the hostel.
Casa Aika offers single and double-room options. Each is meticulously clean and comes with a private bathroom and on-demand hot water.
While prices for Casa Aika begin around USD$34, the value is unmistakable.
Amenities include breakfast, WiFi, linens and 24-hour security.
You can also exchange currencies, store luggage, arrange for tours and transportation to/from the airport or bus terminal and there is an on-site bar if you just want to relax and be social around the hostel.
RUNNER UP: Pool Paradise
Pool Paradise is one of the most popular hostels in Lima, for good reason!
As its name suggests, Pool Paradise has a spacious outdoor pool and bar, making it the only place in the city where you can relax by a pool.
Located near the Miraflores district, Pool Paradise offers great accessibility to the many attractions and activities Lima has to offer.
Book your tours directly from the hostel or rent a bike or walk short distances to explore the city.
Rates start as low as USD $9 for a mixed dorm. But you can also reserve a private room if you are interested in a little more privacy.
Amenities include breakfast, WiFi and hot water in all rooms.
You can also store your luggage, arrange transportation, swap books and participate in regularly scheduled activities that the hostel offers.
Of course you'll want to take advantage of the pool and bar!
But if you get hungry hanging out by the pool, Pool Paradise also has a full restaurant offering a range of munchies.
The Best Budget Accommodation for Couples – Atrium Miraflores Hotel
If you are looking for a little peace and quiet amidst the hustle of metropolitan Lima, the Atrium Miraflores Hotel is your best bet.
Located in the Miraflores district of the city, the Atrium offers spacious accommodations at reasonable prices.
With options that range from a suite to a penthouse duplex, each room is fully stocked with amenities such as kitchenette with refrigerator, microwave, kitchenware and coffee maker.
Your reservation includes free breakfast and WiFi and you can arrange for transportation and tours directly from the hotel.
Of course, being in the heart of Miraflores you are surrounded by great places to dine and explore within walking distance of the hotel.
Best Mid-Range Hotel – Miraflores Guest House
The Miraflores Guest House is a great value for budget travelers of any kind.
Just blocks away from the ocean and steps away from a wide variety of shops and restaurants, the Miraflores Guest House puts you in the center of everything you could possibly want to do in Lima.
Each room comes standard with WiFi and linens.
For a budget hotel, rooms start around USD$25 and include shared bathrooms.
The guest house itself offers kitchen use, free coffee or tea and a rooftop terrace from which to relax while taking in the view.
Highly rated for the high quality of service, you will not be disappointed with your stay at the Miraflores Guest House.
Arrange for transportation to/from the airport or bus station. Book your tours and day trips to pick you up at the hotel.
Know that you can spend the day out exploring Lima and its surrounding areas and come back to a comfortable place to rest for the night.
Best Luxury Hotel in Lima – Tierra Viva Miraflores Mendiburu
The Tierra Viva Miraflores Mendiburu offers great value if you are looking for a little more luxurious accommodation in Lima.
Located in Miraflores, just blocks from the ocean, you really can't beat the location.
Each room has WiFi, satellite/cable television, private bathroom with basic toiletries and includes a complimentary breakfast.
With rooms starting at USD$90, you can expect air conditioning and in-room safe. With an upgrade to a superior double you will have a bathtub, mini-bar and coffee maker.
Highly rated for its service, cleanliness and location, the Tierra Viva Miraflores Mendiburu offers a spectacular value for its higher-end pricing.
And with a spectacular terrace view of the city, you can sit and enjoy breakfast planning out your daily excursions into and around Lima.
Best Restaurants in Lima
As a metropolitan area, Lima offers a wide variety of restaurants ranging from local Peruvian delicacies to fusion and international favourites. These are a few of the best restaurants in Lima.
Budget
Al Toke Pez is a small restaurant known for its delicious Peruvian seafood prepared in front of you.
At affordable prices you can find yourself with a healthy portion of fresh ceviche or other seafood dishes sure to make your stomach happy.
El Ceviche De Ronald offers fresh ceviche and seafood plates at budget prices.
The restaurant also serves alcohol and accepts credit cards so there's no reason not to check it out!
Mid-Range
Costazul Seafood is a mid-range restaurant specialising in local Peruvian seafood dishes.
With a variety of vegetarian-friendly and gluten-free options, the menu is well rounded and sure to satisfy.
La Mar is a highly-rated mid-range restaurant with a focus on Peruvian cuisine.
Located in Miraflores, it is in a great spot to stop for lunch or dinner in between exploring the district.
High End
Nanca offers a more high-end dining experience with a menu boasting a fusion of Peruvian and Asian tastes.
Located in the La Molina district of Lima, it's modern look and feel will leave you happy you stopped in for a unique dining experience.
Social will give you the opportunity to enjoy a pisco sour in elegance from the terrace bar while waiting on your food.
The menu boasts a range of delicious contemporary Peruvian eats that include vegetarian, vegan and gluten-free options.
DISCLAIMER: Some of the links in this article are affiliate links, which means if you book accommodation, tours or buy a product, we will receive a small commission at no extra cost to you. These commissions help us keep creating more free travel content to help people plan their holidays and adventures. We only recommend the best accommodations, tours and products that ourselves or our fantastic editorial team have personally experienced, and regularly review these. Thanks for your support, kind friend!