If you've ever considered going sea kayaking in Antarctica (or are just curious), then this complete guide will tell you everything you need to know.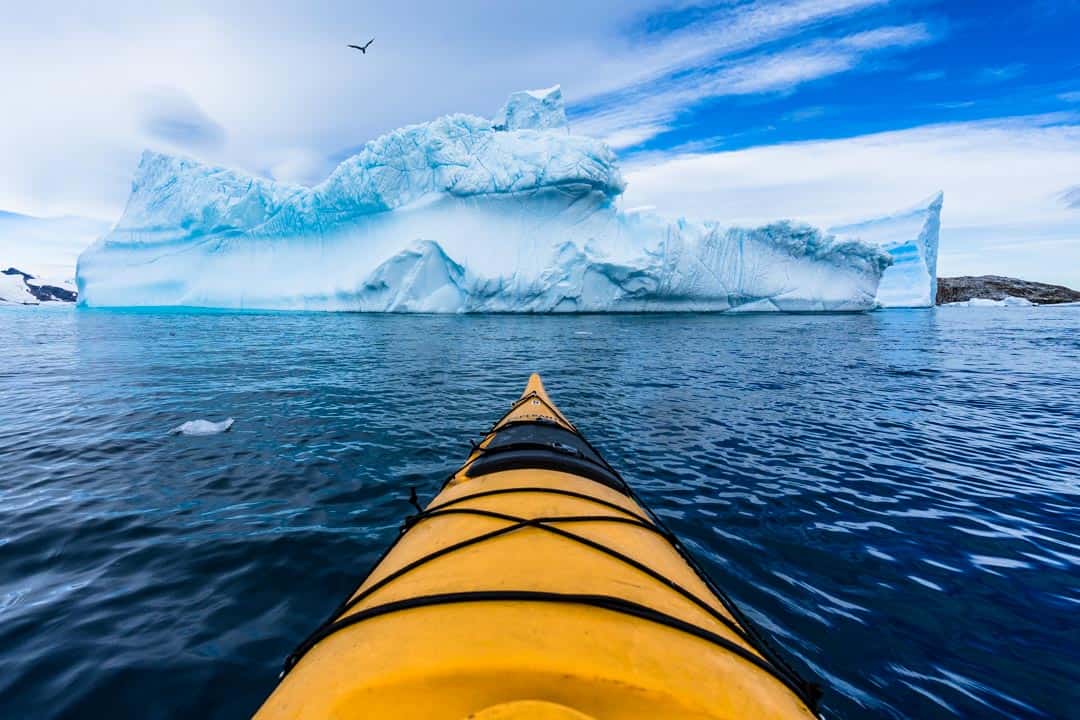 There's no activity more tranquil, more invigorating, more uplifting, than floating majestically across a calm sea beneath a glorious pale-blue sky.
Throw in some icebergs, penguins, seals and baileys with hot chocolate, and you've got a recipe for perfection.
After our very successful tour to Antarctica this season, we are going to be running another exclusive adventure down to the Peninsula in 2025, this time crossing the Antarctic Circle! Check out the tour page if you'd like to learn more.
Our first few days in Antarctica had involved zodiac cruises, land excursions, watching the abundant wildlife up close and even an evening spent camping on the continent. Each and every moment had been amongst the best experiences of our lives.
But there was one activity we were more excited for than anything else – kayaking along the Antarctic Peninsula.
We've been lucky enough to kayak in some phenomenal places, from the lakes of British Columbia to Ningaloo Reef in Australia, to the tropical islands of Southeast Asia and the Caribbean. But all these seemed to fall short compared to something as mystical as paddling next to icebergs and glaciers.
During our journey to Antarctica with One Ocean Expeditions, who are no longer in operation, we had signed up for their exclusive kayaking program, and anxiously awaited our chance to go out.
On our recent trip to Antarctica in 2022 we got to go kayaking again, and it was every bit as incredible as the first time.
EXCLUSIVE – We have partnered with the world's top polar tour operator, Quark Expeditions, to offer readers of NOMADasaurus a very special deal on any trip to Antarctica or the Arctic! Contact us ([email protected]) if you'd like to learn more.
Check out plenty of other amazing things to do in Antarctica in our latest article.
As we had a desire to also take in as many chances for land excursions and photography opportunities as well, we organised to get out on the 4th day with the rest of the team.
We couldn't believe our luck when we woke up that morning to a picture perfect day.
There was no wind at all, creating glassy conditions across the sea. Adding definition to the clear sky was one of nature's most intriguing phenomena – lenticular clouds.
These UFO-shaped clouds are formed when air passes across the surface of the earth and comes into contact with 'obstructions' – in this case mountains. The air rises up and condenses on the downwind side of the peak, creating stationary waves of moisture.
Needless to say, we were ecstatic!
Check out our ultimate destination guide all about travelling in Antarctica!
Just before breakfast we joined our fellow kayakers for a briefing about where we would be going and what to expect.
The kayaking guides were Mark and Ehren, two hardcore adventurers who had led countless expeditions in some of the world's most remote destinations, such as Alaska, Greenland and Mongolia.
Between them they had over 40 years experience in instructing and guiding, so we knew we were in the safest hands possible.
The morning's kayaking excursion would take place in Cierva Cove, a stunning spot on the Antarctic Peninsula peppered with black rock islands and floating icebergs.
After filling up on a delicious breakfast we headed into the mudroom on the Akademik Ioffe to get into our drysuits.
Fully dressed in the best technical gear on the market we walked down the gangway and jumped into the zodiac to take us to our launch point.
The One Ocean Expeditions crew had already unloaded the kayaks and were waiting for us out in the open sea. Alesha and I were filled with nervous excitement as the zodiac got closer.
Reaching a secluded area in the heart of the cove, Mark and Ehren organised the group so that some would take single kayaks, while others went in doubles. We opted for the double kayaks, so we could enjoy this beautiful experience together (and take copious amounts of photos and video).
The kayaks were towed up to our zodiac and Mark helped load each guest into them, ensuring they would not capsize while we slid into them, while Ehren parked his kayak on the other side to hold them steady.
Alesha and I were two of the last people to load into our kayaks, and with the help Mark and Ehren gave it was surprisingly easy to jump in. We had put all of our cameras into dry bags to make sure nothing would be damaged.
Once we were settled with the waterproof aprons attached to protect the interior of the kayak (and our legs) from any splashes, we paddled off into the cove.
We quickly got into the rhythm of things and joined the rest of the group. Mark and Ehren followed close behind, gave one final briefing, then we headed off for our adventure.
For the next two hours we kayaked between towering icebergs that shimmered bright blue in the mid-morning sun, and around a rocky island that held a colony of gentoo penguins.
Being careful not to get too close to the icebergs in case they tipped, we marvelled at how beautiful they were when seen from water level. Knowing that these chunks of ice were thousands of years old was quite humbling.
The scenery was potentially the most beautiful we had ever seen, and we couldn't wipe the smiles off of our faces.
Just when we thought life couldn't get any better, the hotel manager from the ship, Craig, came up to our group in a zodiac. He waved everyone over, then with a big grin called out, "Baileys and hot chocolate anyone?"
We couldn't paddle over fast enough. Passing over large plastic mugs filled with his own blend of delicious alcoholic chocolate we thanked him then allowed ourselves to just sit there on the calm waters and savour every second.
As we drifted quietly with our friends around us, Alesha looked at me and asked in disbelief, "Is this actually happening?"
Looking around at the floating icebergs, snowy peaks, fringing glaciers and lenticular clouds above, we shrugged and took another sip of our hot chocolate. Yep, this was actually happening.
When the Baileys was finished everyone handed their mugs back to Craig and we kept on paddling, making the most of the spectacular day. A few crabeater seals suddenly appeared, coming right up to our kayaks to check us out before swimming towards the penguin colony.
The resident photographer Dave Brosha came up in a zodiac and asked if he could grab a few photos of all of us kayaking together. During his month in the Antarctic, he hadn't had a chance to capture the kayakers with the weather as pristine as it was that day.
We huddled together in a semi-circle while Dave snapped his shots.
Before the excursion came to an end Mark found some smaller icebergs for us to check out, and we paddled around them trying to prolong the adventure as long as possible.
Making our way back to the ship our hearts were thumping with happiness. Our dream of sea kayaking in Antarctica had come true, and the conditions couldn't have been any more perfect.
Even though we didn't see any whales like some of our friends had the previous few days, it didn't matter. Our day was still amazing.
There's just one problem though. How are we ever going to top the experience of drinking Baileys and hot chocolate on a bluebird day, surrounded by icebergs and penguins with lenticular clouds overhead while paddling a kayak around Antarctica?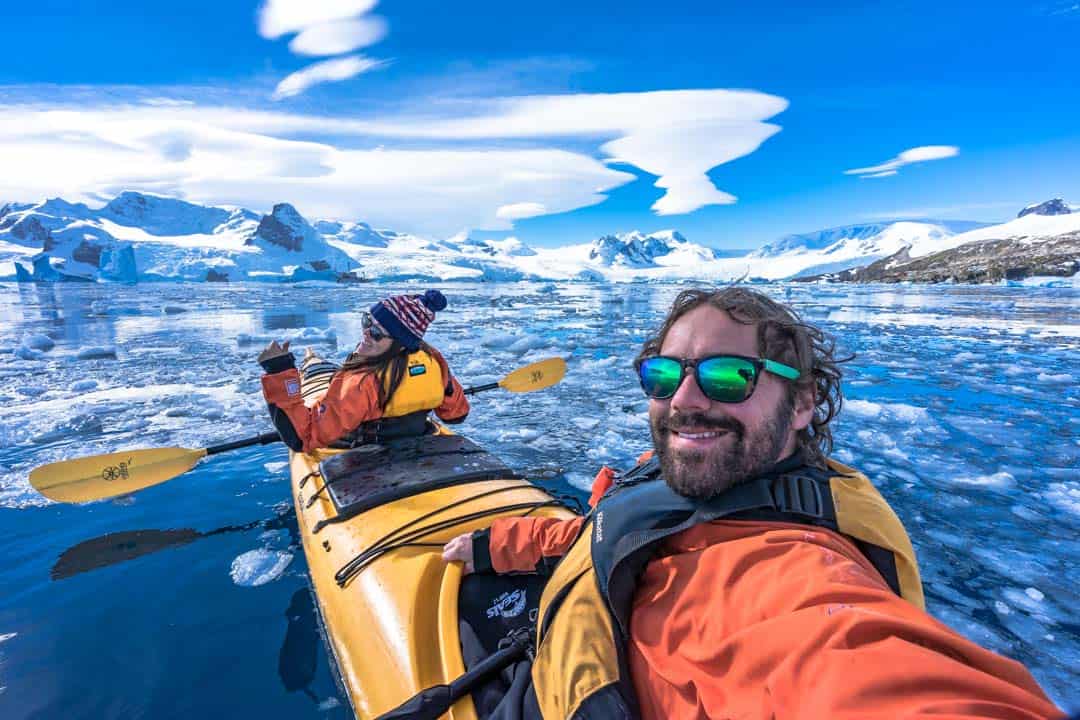 Safety and Equipment When Kayaking in Antarctica
Obviously kayaking in Antarctica isn't the kind of activity that comes without some type of risk, but the actual probability of something going wrong is very low.
One Ocean Expeditions*** takes great pride in providing the safest and best experience for all their customers, and those who choose to take part in their kayaking program are no exception.
Each Antarctic (and Arctic) expedition has a limit of 16 people allowed to join the sea kayaking programs to ensure the guides have complete control over the low number of participants. This has to be pre-booked well in advance of your journey, as there is no chance to book it once you are on the boat.
Before anyone is allowed to actually set out in a kayak they must go through a stringent safety briefing and be made familiar with all the gear that is required.
The main risk with kayaking in Antarctica is exposure to the elements, and in particular the cold water. That's why kayakers are provided with full-body dry suits, special gloves, boots and an apron.
Donning all this specialty gear takes some time (and a touch of agility), but it ensures everyone will remain dry.
If the wind picks up or the weather takes a turn for the worse then the zodiacs will collect all the kayakers and take them to a safer bay, or the expedition leader will make the decision to cancel the kayak excursion until further notice. Safety is paramount.
The kayaks themselves are designed for use in cold temperatures and are strengthened for contact with ice and rocks. They are also very sturdy.
At no point did we feel unstable or unsafe. Knowing how experienced Mark and Ehren, our guides, were also helped make everyone feel comfortable with this amazing adventure.
If you've ever wanted to go kayaking in Antarctica, going with One Ocean Expeditions will help make this once-in-a-lifetime experience one of the funnest memories you'll ever have.
[box] Our sea kayaking experience was made possible thanks to our partnership with One Ocean Expeditions. All thoughts, opinions and mugs of Baileys and hot chocolate consumed are, as always, our own.[/box]