From skydiving above some of world's most beautiful beaches to having your very first surf lesson, here's our ultimate guide for backpacking in Sydney.
Even though Sydney is definitively one of the most expensive cities in the world, it might come as a surprise to find that it's also considered backpacker central for young travellers heading to Australia.
Sydney has some of the most acclaimed beaches in the country (Bondi Beach, anyone?), incredible and unique architecture, a budding art scene, diverse history and culture, all coming together to make this place one of the best cities in the world.
There are countless reasons why backpacking in Sydney is so popular, and as soon as you visit you'll start to see why everybody wants to head down under.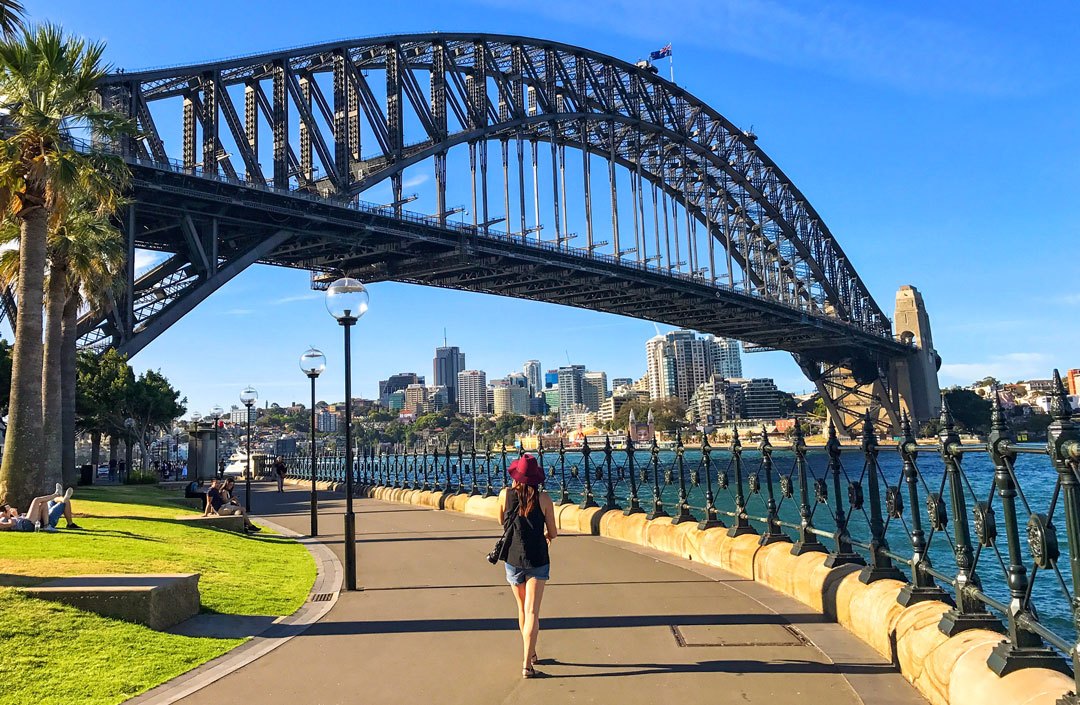 One of the best reasons it's so popular for young people is that you can apply for a Working Holiday Visa, meaning are able to fund all of your necessities and when you get bored with your part time job, you can easily find another one and travel to a different part of Australia.
Other reasons include the fact that there are accommodations suited specifically for backpacker's needs and budget, that Sydney is a fast paced city and there are always tons of events you can attend for free, or you can always visit beaches and find underwater coves to explore!
Need some more inspiration? Check out these best free things to do in Sydney.
Visas Needed To Travel To Australia
There are a couple of different visas backpackers can get to visit Australia, depending on how long they want to stay and if they want to work or not.
Please do your research on visa requirements for citizens with your passport, as Australia is notoriously hard to get a visa for, depending on where you're from.
Visit Australia's Home Affairs website for more information on any visas.
Working Holiday Visas For Young Backpackers
This is the most popular visa among young backpackers, and for good reason.
Not only does this visa allows you to travel all over Australia and immerse yourself within the culture, it also gives you the chance to legally work and earn money as well!
It's an ideal opportunity to experience their lifestyle, work on your English and earn some big money, as standard wages in Australia are known for being some of the highest in the world.
You need to be between 18 – 31 years of age and hold a passport from a list of approved countries. The visa lasts for 12 months, but if you do 3 months of agricultural work in that time, you can apply for a 12-month extension.
eVisitor Visa
For normal tourists, the eVisitor visa is suitable for people who hold passports from some countries and want to visit for a holiday, seeing family or friends, recreation and for business purposes.
You will be able to enter as many times as you want – for up to three months at a time, for a whole year after the visa is granted.
Electronic Travel Authority (ETA)
Same as the eVisitor visa – you are able to to visit as many times as you want for up to three months for the duration of twelve months after the visa is granted.
The visa is suitable if you're traveling for pleasure (holiday or visiting family/friends) and/or business purposes.
The difference between ETA and eVisitor visa is that the eVisitor is for people who hold passports from EU countries and some other European countries, while the ETA is for passport holders from a small number of selected non-European countries, for example the USA.
For the eVisitor visa you are not required to pay any fees but the ETA costs $20.
The Visitor Visa
This visa allows you to travel to visit friends and family, for a holiday or business purposes. But if you're applying for a Visitor visa you are not allowed to work/provide services to a business or organization in Australia.
The only difference between the Visitor, eVisitor and ETA visa is the fee for application.
Public Transport In Sydney, New South Wales
Sydney's public transport system is very well organized. Its transport system consists of network of trains, buses, light rail lines, airport links and ferry services.
Most likely you will be using all types of transport, and thankfully they made the ticketing system simple.
If you're planning to travel all around Sydney the best and cheapest option is to buy an Opal card. With an Opal card you can travel as much as you want by buses, trains or ferries, and many transport options won't accept cash anymore.
For unlimited travel, the cost is $16.30/per day, $50/per week, and just $8.15/on weekends and public holidays, or you can pay per ride.
Buy your Opal card from most convenience stores, supermarkets or news agencies.
Want an epic experience? Check out our article on how to spend one day in Sydney like a boss.
Buses
Buses travel throughout the city and they run almost 24 hours a day. Most of the routes within Sydney are prepaid to reduce delays, which means you need to get your ticket/Opal card before you get on board.
Trains
Sydney has a well-developed rail system. The train stations in central Sydney (which include Museum, St James, Central, Town Hall, Wynyard, Martin Place, Kings Cross and Circular Quay) are easy to travel with and connect with other services going to northern, western or southern suburbs.
If you wish to travel to the eastern suburbs or to the famous Bondi Beach then catch a train leaving from Martin Place Station to Bondi Junction.
Trains run from 4am to around midnight on most train lines. Information kiosks are placed at Central and Circular Quay stations, and the ticket vending machines run 24/h.
The trains also offer easy transport into the city from Sydney airport.
The New Metro System
Australia's biggest public transport project is the Sydney Metro. This new railway will have 31 metro stations and more than 66 kilometers of new metro rail, connecting all busy sections of Sydney.
While some services have already started around the CBD, the majority of services are scheduled to start in the first half of 2019. You won't need a timetable when it's finished – the trains will come and go every four minutes, even during peak hours.
Ferry
Sydney's world famous harbour is a major drawcard for backpackers and travellers heading to Australia, and the cool thing is you can check it out as part of the public transport network there.
Ferries leave from the main Circular Quay terminal and travel to a wide array of destinations, like Neutral Bay, Rose Bay, Kirribilli, Balmain, Taronga Zoo and Manly in the Northern Beaches.
You can find information kiosks at Manly and Circular Quay.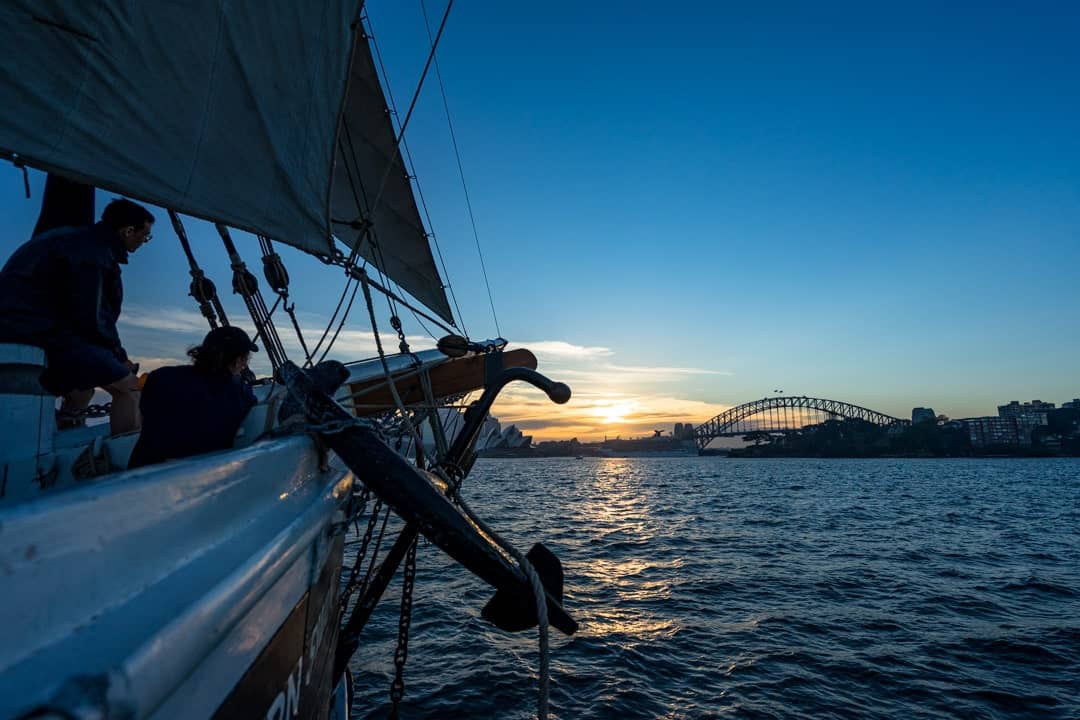 What To Do – Backpacking In Sydney On A Budget
Just because Sydney is one of the most expensive places in the world doesn't mean you can't find awesome things to do in Sydney on a budget! Grab one of your favourite coffee travel mugs, fill it with delicious caffeine and get ready to head out for some awesome activities!
Hanging Out And Surfing At Bondi Beach
Bondi is considered one of the world's most famous stretches of fine sand and undulating waves.
The beach is a 30 minutes' drive away from the city via bus or train from Town Hall Station, and offers tourists an insight into the easy-going beach culture Australia is famous for.
There are plenty of vibrant bars and cafes overlooking the beach, serving the classic ocean meal, fish and chips, and lots of awesome happy hour deals on.
If you're a serious gourmet-lover, you won't be disappointed here! Bondi Beach features many award-winning restaurants with amazing views.
Not hungry? No problem. Hanging out at Bondi Beach is definitely one of the best free activities for backpacking in Sydney, so take a towel and your swimmers and simply soak up the lifestyle.
And one of the favourite activities for travellers to Australia besides swimming is of course – surfing!
Board rental is charged at $15 an hour, with prices getting cheaper the longer you keep it. Not a pro yet? There are many accredited surf schools in the area, so even complete rookies can give surfing a shot.
The ideal day spent at Bondi is getting up early for a morning swim, then having breakfast at one of the many cafés on Campbell Parade.
There are public showers on the beach to wash off the salt after a swim in the ocean.
Check out our list of the other best Sydney beaches for inspiration on where else to visit.
Visit The Museums
Sydney has an impressive museum culture, and you could spend days museum-hopping between all the awesome ones around.
Whether you're into ancient anthropology, convict life, contemporary art or anything in between, you're likely to find something of interest in town.
Most of the museums in Sydney have free entry, with only some of the exhibits requiring an admission fee.
Hyde Park Barracks
These World Heritage barracks have gone through four incarnations during two centuries, and give a special insight into the everyday life of convicts.
Firstly the barracks were used for transporting convicts and female immigrants, and then housing the local courts before being turned into a museum.
Walk through the reconstructed living quarters to learn all about the grim life of colonial-era convicts transported from Ireland to a colony 17,000 km away.
Australian Museum
Australia is famous for housing for some of world's deadliest wildlife, and in the Australian museum you get the chance to see many of them behind the safety of glass.
The museum is worldly renowned for its work in anthropology and natural history, especially documenting the achievements of Indigenous Australians (the longest surviving culture on Earth).
Australian National Maritime Museum
Australia has always depended on the seas and oceans for transportation, defense, commerce and recreation.
This museum dives into how Australia and its inhabitants (including indigenous cultures) have been affected by the water surrounding the island-nation.
READ MORE: We've put together the perfect Sydney trip plan to help you make the most of your time in the city!
Do The Bondi To Coogee Walk
The Bondi to Coogee Walk is around 6km, taking about two hours to reach Coogee Beach and another 1.5 hours if you wish to continue to Maroubra.
Even though Bondi Beach is always crowded, it still is one of the most beautiful beaches in Australia and definitively worth the visit to experience the beach culture along Campbell Parade and Hall Street.
The coastal walk features beaches, rock pools, cliffs, bays, parks and breathtaking coastal views.
You can do the walk in either direction, so for this point we'll assume you are going to start at the Bondi Icebergs swimming club and restaurant.
Following the path, you will reach Tamarama. There you will be able to marvel at the two thousand year old traditional Aboriginal rock carvings at Mark's Park.
In spring time, Sculptures by the Sea, the world's largest annual sculpture exhibition, illuminates the Bondi to Tamarama section of the coastal walk.
You don't even have to finish the whole walk. The most popular place to stop for a longer break is Bronte. Bronte has a heritage listed natural sheltered rock pool called the Bogey Hole popular with families.
There are many opportunities to relax and have a coffee with some of the most gorgeous views in all of Sydney.
Behind the last headland lies Coogee, and nearby is Wedding Cake Island. This beach is a favourite with locals. You will be able to enjoy parkland for picnics and barbecues, natural rock pools and the calm surf.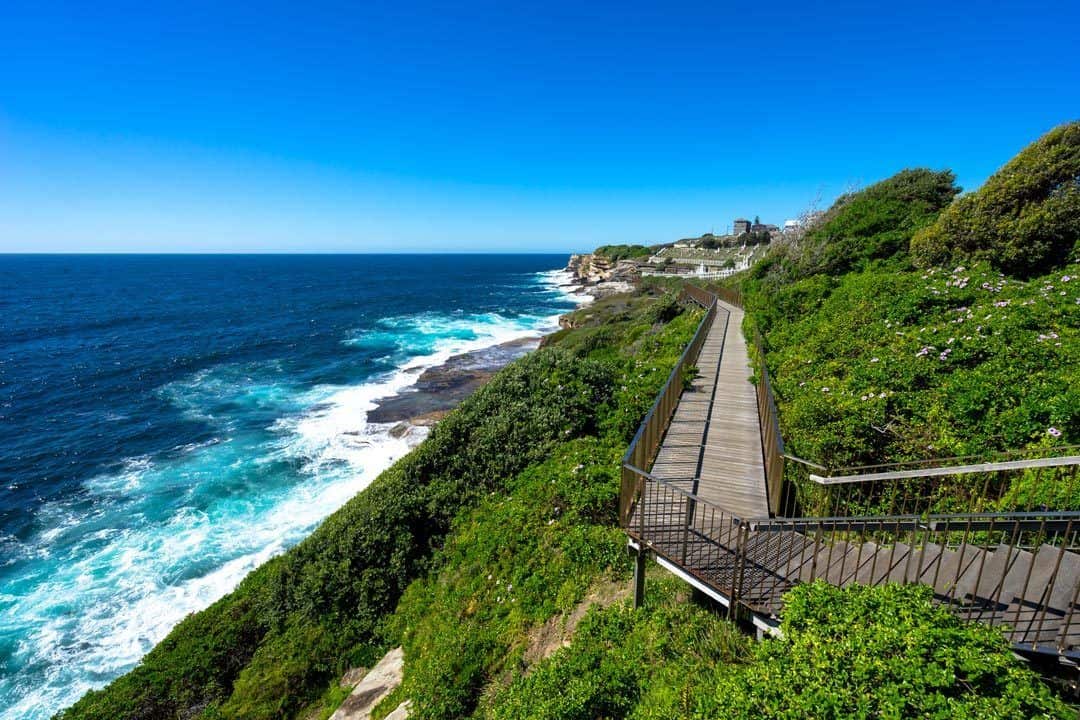 Take The Ferry To Manly
One of the best things to do in Sydney on a budget is take the ferry to Manly, the beautiful beachside town on the north shore.
Unfortunately the ride only lasts for half an hour, bu during the ride you will pass right by the Sydney Opera House for an up close view.
The whole ferry ride has great views, and once you arrive at Manly Beach there are plenty of options to eat and drink. Take the short walk over to Shelly beach and take a dip in the ocean pool, or look at doing the longer Manly to Spit Bridge walk.
You could also spend a few days in the northern beaches enjoying the nightlife, walking the coastal walks, and swimming or surfing. The northern beaches is a beautiful, non touristy area of the city.
The ferry runs regularly all day, so it's easy to pop on back to the city whenever you want. Definitely one of the incredible day trips from Sydney not to miss!
Take A Free Guided Walking Tour
If you feel like you want to immerse yourself deeper into the Australian culture and lifestyle, we suggest to opt for a tour with one of Sydney's knowledgeable local tour guides.
There is no better way to learn about the city than listening to a local delve into history, share stories and culture, all to ensure you get the best out of your stay in Sydney.
Top 5 Things To Splash Out On In Sydney Australia
Now of course you can't come all the way to Sydney Australia and not do at least one awesome activity! It's worth having a little extra in your travel budget for one of these epic things to do.
Skydiving
How does going up 15'000 feet in the air and jumping out of a perfectly good plane sound? If you're an adrenaline addict then we probably have your attention now.
Just south of Sydney is Skydive Wollongong, home to the city's best drop zone.
Whether you're an experienced skydiver or first-timer, you will fall in love wth the ultimate thrill of free-falling at over 200 km/h for up to a whole minute!
After the intense free-fall you will float under the canopy for the next 5-7 minutes, marvelling at the beautifully unreal views of the Sydney and Wollongong beaches.
Wollongong is the perfect South Coast getaway, conveniently located only half an hour away from Sydney. After completing your jump make sure to explore the city for the day or even stay the night.
You can enjoy its picturesque beaches, perfect for swimming or surfing. They also have a buzzing variety of different restaurants, bars and cafes.
Skydiving is on the expensive side but the aerial view of Sydney and the vastness of its beaches and the deep blue colour of its surrounding waters will be etched into your mind forever.
Sydney Harbour Bridge Climb
The Sydney Harbour Bridge, one of Australia's world-renowned symbols, opened in 1932, and has been become one of the top tourist attractions when you visit Sydney.
Spanning across Sydney's breathtaking harbour, the Bridge has quickly become one of the most photographed features of Sydney.
For those wanting the ultimate experience, Bridge Climb Sydney offers tours every 15 minutes to the top of the Sydney Harbour Bridge, and the whole adventure takes about four hours to finish.
While on tour you will learn fun facts and lesser-known details about the bridge's construction, maintenance, as well as interesting tidbits about the sights you see on the climb.
There are a couple of climbs on offer but we recommend the full climb, starting at sunset. This way you will be able to see Sydney transition from day into night.
Book your Bridge Climb experience here.
Taronga Zoo
Sydney's astonishing zoo has been open for over 100 years.
The Taronga Zoo is divided into eight zoogeographic regions, and is home to over 4,000 animals of 350 species.
The Taronga Zoo is definitely worth a trip, if only for the view back to Sydney and the ferry ride. Admission to the zoo is AUD$47, but you can get a special at the dock at Circular Quay for AUD$50 that includes entry and round trip fare on the Manly Fast Ferry.
When you arrive make sure to head to the gondolas for a scenic ride to the top of the ridge, where the entrance to the zoo is. The views are spectacular!
The zoo is well planned out, with good orientation meaning you won't miss out on anything there.
And best of all, at the 'Australian' area you can have a Koala Encounter for an added fee! Now's your chance to get up close to a koala and get a photo. You can not hold it or touch it due to the safety and comfort of the fury fellow. Book early as these experiences are popular.
Besides the koalas you can see most of Australia's iconic species there, like kangaroos, wallabies, echidnas, wombats, emus, and cassowaries.
Catch A Show Inside The Opera House
Without a doubt the Opera House in Sydney is its most distinctive landmark, surpassing even the Harbour Bridge.
It is also the youngest cultural site to be included on the World Heritage List.
Depending on if your interest for the Opera House is purely driven by being intrigued by its architecture, or if you want to have an unforgettable experience at Sydney's most iconic spot, you can do both!
If you're interested in gaining a broad understanding of the background, design, politics, scandal, architectural competition or the construction process of this one-of-a-kind structure, you can always join their excellent one-hour tour.
Want to take it to the next level? Why not catch a show in the Opera House?
The acoustics of the Opera House brings world-renowned singers and musicians from around the world to perform inside, and the impressive interior will make your show an unforgettable experience.
At the end of your visit, to finish your day on a high note, go enjoy the food and drinks venues on the lower floor that overlooks the harbour – great food and beautiful views.
Take A Sunset Cruise On The Harbour
Bring your sunblock as you ride the top deck of the boat and soak in the views of the Harbour, the iconic Sydney Opera House and Sydney's beautiful bridge.
It is the perfect way to become acquainted with the beautiful city and see most of the iconic landmarks in one go.
The round-trip cruises offer a great opportunity to orientate yourselves with all the sights along Sydney Harbour, including Taronga Zoo, Watson's Bay, The Rocks and Darling Harbour.
Make sure your camera is fully charged as riding the entire Harbour takes about two hours or so, and that entire time will give you numerous fabulous photo opportunities.
The Best Backpacker Accommodation In Sydney
While accommodation in Sydney Australia is on the expensive side, there are a couple of great hostels that are helping keep your travel budget down around the city!
Check out these backpacker hostels in Sydney for great quality accommodation, cheap prices, fun atmosphere and good vibes!
Mad Monkey Coogee Beach
The legendary Mad Monkey Hostels got their start in Cambodia, developing a reputation as being the best party backpackers in the country, while also having a huge focus on sustainability and responsible travel.
Since then they've spread to be all over Southeast Asia, and have now crossed the seas and opened up a new hostel in Sydney in 2018!
Mad Monkey Coogee Beach is already cultivating a network of loyal backpackers around them, and the word is spreading that in its short lifespan it is already the best backpacker hostel in Sydney.
It's not downtown but rather on the coast, but in our opinion it's better to stay out that way anyway, at least for a few days.
Every week they organise a party of some sort, and have a great travel desk to help you plan the rest of your time in Sydney and around the country, so if you're traveling alone its an ideal opportunity to meet other travellers.
Base Backpackers
Base Backpackers has been around a while, and now has hostels all over the country. They boast a new approach on budget style accommodation, high standards and innovative services.
They have a great location on Kent Street, walking distance to Circular Quay, and the bar downstairs called Scary Canary has great specials.
Like you would expect from a backpacker hostel, all their staff are well-travelled, and usually are backpackers themselves.
Wake Up
Wake Up is an ideal place for the working backpacker that wants to stay downtown, without losing that hostel vibe in their life.
They are directly opposite Central Station, so if you need to get out to any of the outer reaches of Sydney, it's a great spot to be located.
They have a cool working area where you can plug in and work in peace. During the week you can join some of their daily activities, such as guided tours or pool competitions!
Sydney Harbour YHA
This is the only hostel for backpackers placed in the historic harbourside district of Sydney – the Rocks. And wow does it deliver the goods!
The Sydney Harbour YHA has an amazing rooftop area offering epic views of the harbour, Opera House and the Harbour Bridge – a million dollar view on a backpackers' budget!
Cheap Places To Eat In Sydney
To round out our ultimate guide to backpacking in Sydney Australia, we want to tell you where you can go and get a bite to eat without breaking your budget.
By far the cheapest way to eat in Sydney is to self-cater, buying your groceries from a supermarket and cooking in your hostel, but if you want to try something exotic and delicious check out these two places.
China Town
The Chinatown neighbourhood is a very popular choice in Sydney for eating out. Not many places in Sydney offer astonishingly affordable meals that don't skimp on flavour, but you'll find lots here.
Walking through the lane-ways of Chinatown can be an intimidating experience for first time visitors.
The mixture of neon lights, crowds of people and foreign scrawl can be a bit overwhelming, but we promise you it's worth it.
Hunter Connection Food Court
The Hunter Connection is cheap, and most of the time it's like an enclosed street market, with food stand owners trying to lure you over with their special offers.
In terms of quality it's average, but it does have a couple of food stands that are surprisingly good. Just look for the crowds of business people in suits lining up outside the best ones.
The Hunter Connection Food Court is full during weekdays around lunch time as it's very popular among locals.
It has a great variety of Asian cuisines, including Chinese, Korean, Japanese, Malaysian, Indonesian, Vietnamese and Indian. All at great prices. It's a little noisy and crowded at lunchtime, but other than that, what's not to love?
That's it for our guide on backpacking Sydney Australia. Is there anything we've left out? Leave a comment below and let us know!