From booking your excursion, accommodation to a complete breakdown of your hike, we will share our top tips for visiting Rainbow Mountain.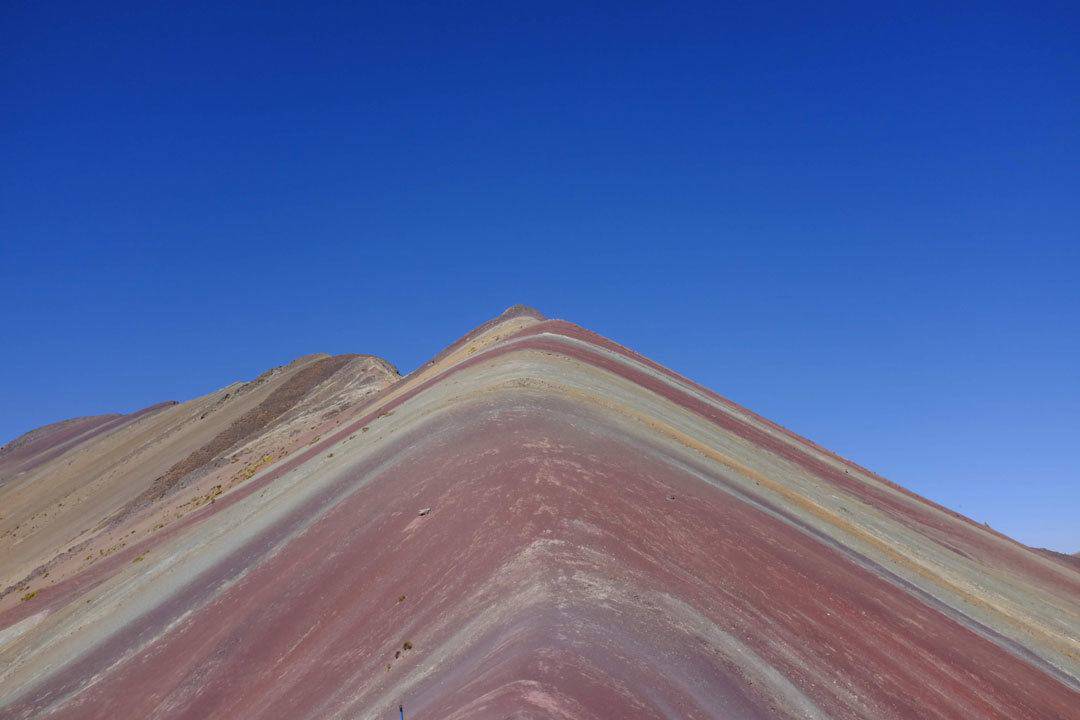 Cusco is known as the gateway to Machu Picchu, where travellers stay to soak in the Latin American culture before visiting the famous World Wonder.
But many people don't know that Vinicunca, or Rainbow Mountain, is located only a few hours from Cusco, so it makes for a great day trip while you're staying in this charming Peruvian town.
Here are some tips to help you make the most out of your trip to the magnificent Rainbow Mountain while sticking to a backpacker budget.
During Your Stay In Cusco
While visiting Cusco, stay in a hostel that is centrally located near the main square, Plaza Del Armas.
Hostels are super affordable and provide a social atmosphere for meeting other interesting people, and Milhouse Hostel is a crowd favourite.
Some hostels, such as Loki Hostel, even offer their own trips to Rainbow Mountain, Machu Picchu, Sacred Valley and other attractions.
Booking Your Tour
The cheapest and most reliable option for visiting Rainbow Mountain is to book through a local tour company.
Even hostel tours can be a bit pricey as some profit goes to the hostel itself.
Simply explore the streets of the city and you will undoubtedly pass countless tourism offices that sell cheap trips to Rainbow Mountain.
Check out a few different offices to compare prices, though a popular company is Liz's Explorer located on Calle Del Medio.
Their day trip costs only 100 soles, which is about 30 USD, and includes all transportation, breakfast and lunch, and a knowledgeable local guide.
You can easily book your tour the day before, though trips may sell out quickly during peak tourist season (June-September).
To be safe, try and book at least a few days in advance.
Never book through an online tour company before you arrive in Cusco, as they tend to overcharge you.
Also, if you are considering trying to tackle Rainbow Mountain independently without a tour company, you need to have your own car.
There are no public buses to the Willkanuta Mountain Range where the mountain is located, so it's worth just paying the cheap price for a tour that covers all the transportation and logistics.
But it's really easy to pick a tour in Cusco while traveling on a budget!
The Night Before Your Trek
Set out your clothes the night before to avoid any early morning hassle.
Wear sturdy sneakers or hiking boots, comfortable athletic clothing, and lots of layers.
Prepare for the elements, especially during rainy season (November-April), though the weather can be unpredictable year-round due to changes in altitude.
During the hike you will ascend around 800 meters, and the temperature only drops as you climb.
Pack a warm, waterproof jacket and maybe some gloves or a hat for the chillier parts of the trek.
Other things to pack include plenty of water, snacks, your wallet, headphones for the car ride, and a reliable camera.
Go to sleep early and try to avoid drinking or partying the night before.
This is more difficult than it sounds, as Cusco has wild nightlife and Latin Americans are very persuasive.
But the early morning wake up call and physically challenging trek will be much more bearable without a hangover.
The Morning Of The Trek
Most tours offer free van pickup services so all you have to do is roll out of bed.
Just don't sleep through your alarm as the pickup will most likely be around 3-3:30am.
Around 7 am, the van will reach a remote little village in the mountains.
While enjoying a simple breakfast of coca tea, coffee, bread and jam, the local guides will brief you on the day's itinerary and teach you about the local area.
You will also be asked to pay a small fee of about 5 USD to contribute to the upkeep of the local communities.
After breakfast, it's a short, 30 minute drive to the starting point of the hike.
Make note of the markings and license plate of your tour van.
There are usually heaps of similar looking white vans in the parking area, and you don't want to forget where your van is upon returning from the hike.
During The Trek
With a starting point of 4,300 meters above sea level, this trek is not for the fainthearted.
If the extreme altitude hasn't hit you during the hike preparations, it definitely will once you start climbing the mountain.
The first ascent looks easy enough, yet you will find yourself huffing and puffing after a couple of minutes.
The high altitude means the air is thinner and contains less oxygen, so it is normal to feel out of breath quickly during the hike.
Just pace yourself and take time to rest in between hard inclines.
If you are prone to altitude sickness, chew on coca leaves or eat coca hard candies.
This local leaf relieves the symptoms of altitude sickness, and tour guides usually have coca candies on hand for those who need them.
Also don't forget to wear sunscreen, and reapply constantly.
High altitudes put you in a closer position to the sun, so sunburn is likely even on cloudy days.
Be sure to take in the views during the entire trek.
The famous view of the colourful, striped mountain peak is definitely the big photo opportunity, but the entire area is filled with amazing natural colours and rugged landscape.
Take photos the whole time, and keep your eyes peeled for little local stone villages and grazing sheep, alpacas, and horses.
If you lose sight of your guide during the hike it's not a big problem.
There is only one, clear trail to follow, so just follow the crowds and try to be aware of the time.
Most tours leave around 2pm.
If you start to get exhausted and feel like you can't walk anymore, you can hire a horse to take you up the mountain.
Little horses accompanied by friendly locals are scattered consistently throughout the trail, though you'll need to negotiate the price for the ride with each individual person.
At The Summit
Near the end of the trek, the side of iconic striped mountain peak will appear on your left.
Once you can see the streaks of colour snaking through the ground, you are almost at the summit.
The final incline is probably the steepest of them all.
Let the adrenaline and excitement of nearing the end propel you upwards, as this last hill is more of a climb than a hike.
At the top you can catch your breath, though there is one more hill that leads you even higher than the famous peak.
No matter how tired you are, definitely climb to this viewpoint.
It gives you the best vantage point to view the famous multi-coloured slope as well as the incredible surrounding valleys and mountain ranges.
Take photos until your finger hurts, but soak in the view with your eyes as well.
Though pictures of the mountain are stunning, there is nothing like seeing it in person.
This is a view you will want to tell all your friends and family about, so lock it in your memory.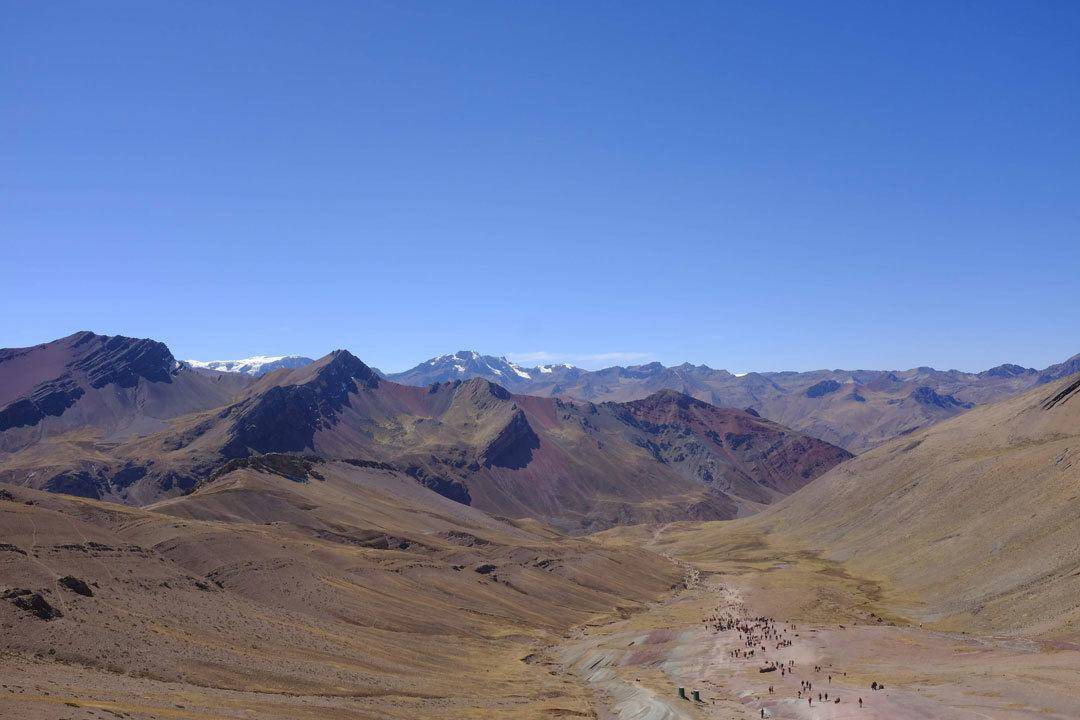 The Descent
Walking back down the mountain is a piece of cake.
Though it takes most people close to three hours to climb, it only takes about two hours to hike back down.
After everyone from the tour group returns and reloads into the van, you will return to the same local village as earlier to have a traditional lunch.
Use the drive back to Cusco to rest your legs, scan through your photos, and bask in the glory of having conquered Rainbow Mountain.