If you don't know where to begin your Peruvian adventure, check out our list of the 14 most incredible things to do in Cusco, Peru!
Cusco is by far Peru's most popular city among tourists. And for good reason, as there are plenty of epic things to do in Cusco.
Although it has long been a centre for Inca and other Andean natives, the discovery of Machu Picchu in the early 1900s put Cusco on the map.
It is now the main hub and gateway for visiting Machu Picchu and other Inca ruins scattered throughout the Sacred Valley.
The city itself is situated high in the Peruvian Andes. It lies in the Huatanay River valley and, despite its elevation of nearly 3,400 meters, has a moderate climate most days of the year.
Whether arriving by plane, train, bus or automobile, expect to feel overwhelmed by the beauty of the surrounding mountains.
The city of Cusco is home to a variety of cultural and archeological artefacts due to its rich history.
At one point it used to be the capital of the Inca Empire. In fact, the Incas built the city in the shape of a Jaguar, honouring one of their gods.
However, as the Spanish conquistadors explored and conquered the South American continent they built their own city in its place.
The Spanish replaced Inca temples and buildings with their own cathedrals and government buildings, many of which are still intact today.
In some cases, the Spanish buildings were literally stacked on top of the foundations of the Inca buildings.
Several earthquakes in the mid-1900s exposed this overlap and led Cusco to be designated as a UNESCO World Heritage Site in 1983.
As you wander the historic neighbourhoods, like Barrio de San Blas and Hatun Rumiyuk, you may also find some people in the city still speak Quechua, the main language of the Inca Empire.
Some locals will still walk through the cobblestone streets wearing traditional garments and offer photo opportunities in exchange for a Peruvian Sol or two.
There are also plenty of things to do around Cusco. Ancient ruins surround the city and make for excellent day trips.
Regardless of why you choose to visit the ancient city, there are plenty of things to see in Cusco!
READ MORE: Travelling elsewhere in Peru? Check out our ultimate guide to the best things to do in Lima!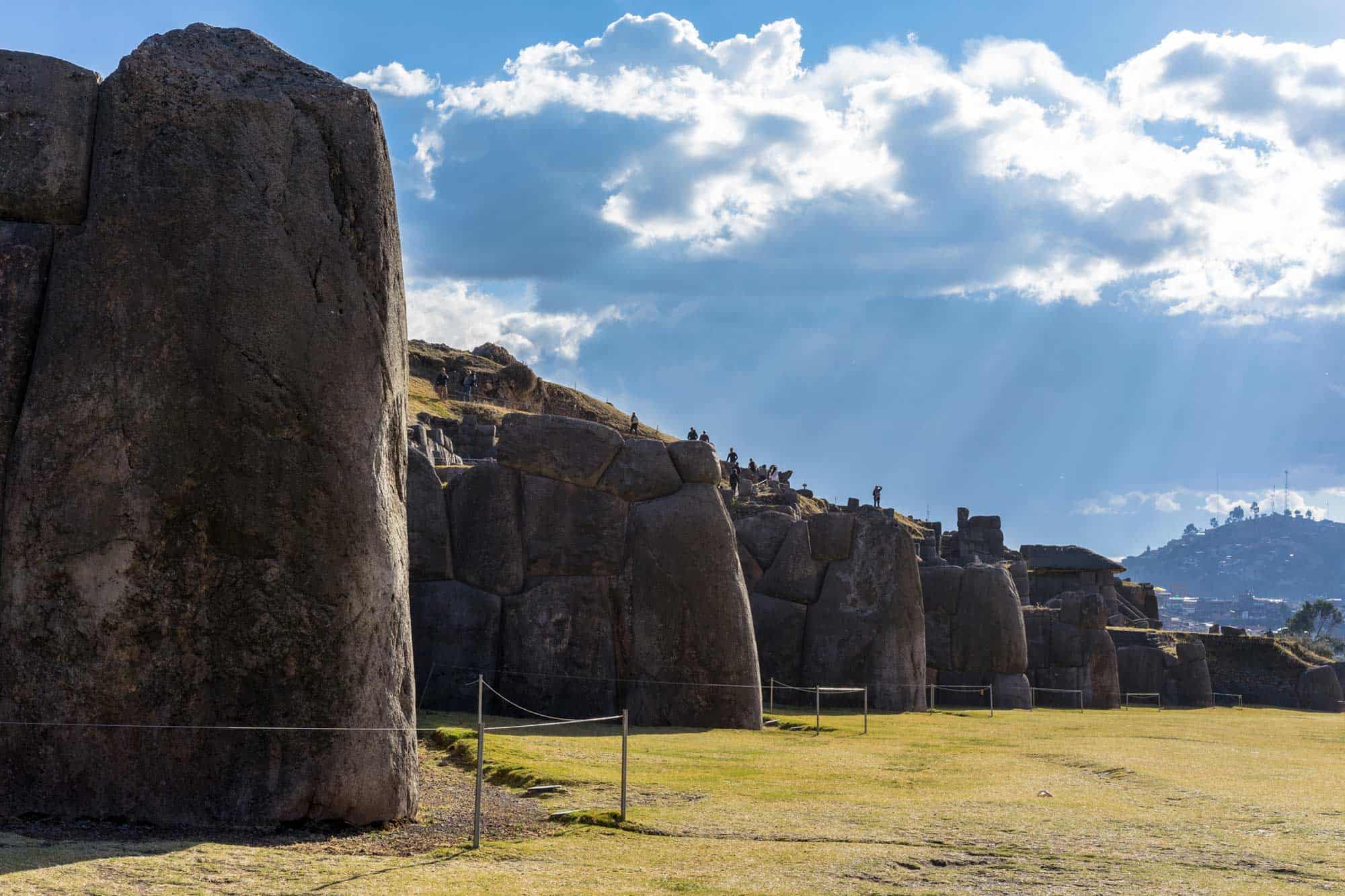 Our List of the Best Things to Do in Cusco, Peru!
If you've ever wondered what to do in Cusco, Machu Picchu was likely at the top of your list. And no trip to Cusco is complete without visiting the ancient ruins of Machu Picchu!
But there is a lot more to explore in and around Cusco than just Machu Picchu.
With mountains in every direction, there is no shortage of adventure activities in the area.
You can take ATV trips or go zip-lining, white water rafting or riding horses. For those wanting a more authentic Inca experience, you can hike several days of the famous Inca Trail.
If you're interested in more cultural activities, you'll find an abundance of delicious local foods to try. Give guinea pig or alpaca a try. Or just book a tour to learn how to make your own chocolate directly from the cocoa bean.
If you're busy keeping up with all of the sights, just have a few pisco sours for happy hour and head out into town for some street food.
One thing is certain: You will not quickly run out of incredible things to do in Cusco, Peru!
1) Purchase the "Tourist Ticket To Cusco"
Yes, it may seem strange that our top recommendation is to purchase a tourist pass. However, most of the best things to do in Cusco are free once you have the tourist ticket.
We'll list many of these places below. But know that the Boleto Turistico de Cusco ("Tourist Ticket to Cusco") will give you free access to up to 16 sites in and around Cusco and the Sacred Valley (excluding Machu Picchu).
10-day passes are around USD$50 and include all 16 historical sites. However you can also purchase a 1-2 day limited ticket to select sites for around $25 per day.
If you have a few days in the area we advise you purchase the full ticket as many of the things we recommend would be free with the full ticket.
We'll indicate in our list which places are included in the Tourist Ticket to Cusco.
You can purchase the Tourist Ticket to Cusco at one of the following locations:
The Central Counter Tourist Office
Address: 103 Avenida del Sol
Opening hours: Monday – Sunday 8 AM – 6 PM
Tourist Information Office
Address: Mantas 109 (1 block from Plaza de Armas)
Opening hours: Monday – Saturday 8 AM – 12 PM, 2 PM – 6 PM
2) Visit the Ancient City of Machu Picchu
Machu Picchu is the gold standard for Inca ruins. And if you've come as far as Cusco, you absolutely must plan to visit the world-famous Inca city.
Originally built in the 1400s, the ancient city was abandoned around the time the Spanish began to explore South America. As the Spanish conquered the region in the 1500s, Machu Picchu was overlooked and unknown.
It was not until 1911 when Machu Picchu was re-discovered by American historian Hiram Bingham.
Machu Picchu has grown in popularity since then. As a result, the Peruvian government has put very strict rules on visiting the site.
The best way to ensure that you follow these rules is to book an all-inclusive trip from either Cusco or Aguas Calientes.
However, it is possible for you to put together a trip to Machu Picchu without booking a complete tour.
Most people who choose to do this will take a train to Aguas Calientes, a small town at the foot of Machu Picchu. From there you can take a shuttle or hike the short remaining distance to Machu Picchu.
But if you do want to explore the ruins on your own make sure you know the basics.
In addition to an entrance fee of around USD$60 you will also have to pick either a morning or afternoon time slot.
You will also have to hire a guide (available on site) and may be herded along specific routes and time limits.
Because of the increasing popularity of visiting Machu Picchu, there are also other passes that you can purchase to visit other portions of the area.
Popular side trips include hikes up the local mountains of Huayna Picchu and Montana for even more spectacular views of the ancient city.
Machu Picchu is by far the most popular destination in South America. You will not be alone in your journey there.
But don't let this discourage you! Machu Picchu is definitely at THE TOP of the list of things to do around Cusco.
READ MORE: Check out our blog post detailing our 5 days spent exploring Machu Picchu and the Sacred Valley.
3) Orient Yourself with the City from the Plaza de Armas
Like many South American cities heavily influenced by Spanish colonial rule, Cusco boasts a beautiful central park known as the Plaza de Armas.
As with much of Cusco, the Spanish built the Plaza de Armas on the foundation of a previous Inca meeting ground known as The Great Inca Square.
The square is lined with cobblestone and features a water fountain, patches of lush grass and plenty of park benches ideal for taking in the scenery.
If you enjoy taking it easy, you can pick up a coffee nearby and find a bench to sit and enjoy people watching. Or grab a bite to eat at one of the many nearby cafes or restaurants and look in at the busyness of the park.
The Plaza de Armas also boasts excellent views of other historical buildings such as the Cusco Cathedral and the Museum of Natural History.
This is a great place to orient yourself. The popular neighbourhood of San Blas connects directly to the park.
And there are plenty of shops, street performers and other entertainment in and around the Plaza de Armas.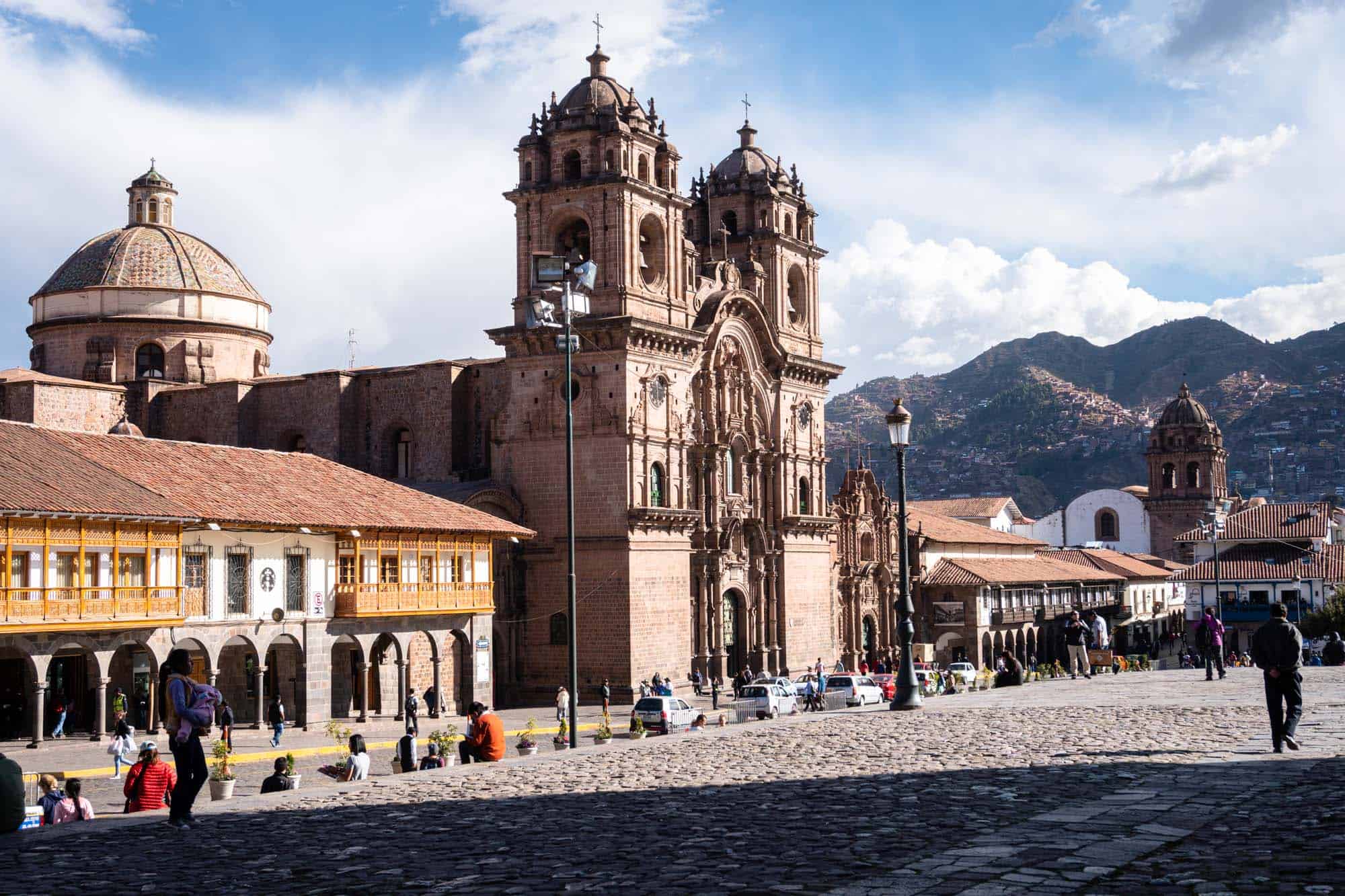 4) Visit Iglesia de Santo Domingo and Koricancha
The Church and Convent of Santo Domingo is one of the best examples of the overlap between Inca and Spanish architecture.
Situated in the centre of Cusco, at the side of the Plaza de Armas, the church is built upon the ruins of an important Inca building.
Koricancha was once the Inca Temple of the Sun. However, when the Spanish conquered the Inca they destroyed the temple.
In its place, and literally built upon its foundation, lies the Iglesia De Santo Domingo.
As you tour the church there are places where you can see the stones from Koricancha.
In fact, as you enter the church you can pay for a separate tour of the Koricancha ruins in the centre of the church.
If you miss business hours for visiting the church, this is also one of the more beautiful things to see in Cusco at night.
Like many historical churches in Latin America, the Iglesia De Santo Domingo continues to be open and has daily and weekend masses. So please be mindful of services when you visit.
*Note: Entrance fees to Koricancha is included in the Tourist Pass to Cusco.
Address: Ahuacpinta 659-A, Cusco, Peru
Opening hours : Monday – Saturday 7 AM – 7 PM, Sunday 7 AM – 11 AM, 6 PM – 8 PM
Price: Free of charge (USD$3.50 for Koricancha)
5) Day Trip to the Maras Salt Mines and Moray Ruins by ATV
The salt mining town of Moras is approximately an hour outside of Cusco and provides an excellent day trip opportunity.
Situated in the Sacred Valley, the salt mines of Maras are operated today the same as they were over 500 years ago.
Thousands of shallow pools are dug into the mountainside. As saltwater fills the pans, eventually the water evaporates and leaves salt behind.
Locals then collect the salt and sell it in the markets and nearby shops.
While in the area, be sure to visit the Inca ruins at Moray. This unique ruin features sunken terraces throughout the countryside.
You can combine both activities with an adrenaline-pumping tour that takes you to each place on an ATV!
Explore the vast beauty of the famous Sacred Valley in a way many people will never know!
*Note: Entrance fee to Moray is included in the Tourist Pass to Cusco.
6) Stargaze at the Cusco Planetarium
Cusco sightseeing is at its finest with a trip to the Cusco Planetarium.
South America boasts some of the best stargazing in the world. When you're in Cusco, set an evening aside so that you can visit the Cusco Planetarium.
Situated on a hill just 15 minutes outside the city, the Cusco Planetarium provides a nightly show in English or Spanish.
Weather permitting, you will have an opportunity to view currently available constellations as well as the Inca constellations and hear the stories about them.
The planetarium is family owned and operated and you can either reserve your spot directly through the planetarium or through any number of tour operators.
Either way, travel to the planetarium is typically provided with purchase. But you can easily and cheaply have a taxi take you up the hill.
Reserve an evening for the planetarium, one of the breathtaking Cusco attractions.
7) Take a Stroll Through the Popular San Blas Neighbourhood
San Blas is perhaps the most iconic neighbourhood and one of the top places to visit in Cusco.
Located adjacent to the main square in the city, the steep and narrow cobblestone streets are lined with shops and restaurants of all sorts.
Also known as the "balcony of Cusco," the neighbourhood sits at the top of a hill and overlooks the main square and all adjacent buildings.
Because of the views, you can visit San Blas during the day or at night and find it equally beautiful and enchanting. The views are a Cusco must see!
Regardless of when you visit, expect to come across street performers of various kinds and pick your favourite spot to drink a pisco sour and people watch!
We recommend you give the Limbus Resto bar a try. Known for its location overlooking the town you can sit and plan out the rest of your day or evening with some of the best views of Cusco.
READ MORE: Don't miss our complete guide to backpacking in Peru.
8) Sacred Valley Pisac, Ollantaytambo and Chinchero Tour
Ollantaytambo is the site of another of Peru's most famous Inca ruins and another of the more popular things to do around Cusco.
Located approximately 2 hours north of Cusco in the Sacred Valley, Ollantaytambo was once an Inca stronghold and military base protecting Machu Picchu.
Today the ruins consist of a massive fortress and temple built among a series of large terraces.
Many people visit the Ollantaytambo ruins on a day trip from Cusco.
However, the town and ruins are also the most popular starting point for those people hiking the Inca Trail to Machu Picchu.
If you are not interested in booking a tour from Cusco, you can also catch the train to/from Aguas Calientes on your way to/from Machu Picchu.
Many tours will also stop at Chinchero, a typical Andean Indian village that will give you a taste and feel of the native way of life.
*Note: Entrance fees to both Ollantaytambo and Chinchero are included in the Tourist Pass to Cusco.
9) Hike to Sacsayhuaman Fortress
Sacsayhuaman is an ancient Inca fortress overlooking Cusco from the north. As it is just on the outskirts of town it is easily accessible.
Many people will visit Sacsayhuaman as part of a Cusco city tour. But it is only 2.2 km from the Plaza de Armas and makes for a great self-guided hike/walk.
Locals and tour guides will jokingly refer to the ruins as "Sexy Human" or "Sexy Woman." The fortress and ruins are still very much intact, though less than half of its original structure remains.
You will see large stones stacked on each other to create the remnants of towers, shrines, roads and homes. It would be easy to spend an entire day exploring the ruins, so give yourself a few hours at the least.
Once you've crossed out everything from your list of what to see in Cusco, head to Sacsayhuaman for a fun and informative day trip.
Note: Sacsayhuaman is located at an even higher elevation than Cusco city. The hike to the ruins is uphill so consider your fitness when hiking to Sacsayhuaman. A better idea might be to take a taxi to the top of the hill and then hike back down to the city when you are done exploring the ruins.
Opening hours: 7 AM – 5:30 PM
Price: Only available with "Tourist Pass to Cusco"
10) Hike to the Colourful "Rainbow Mountain"
Rainbow Mountain, also known as Montana de Siete Colores (Mountain of 7 Colours), is a spectacular day trip opportunity.
The mountain itself looks as though someone scattered coloured sand in layers across the landscape.
It is truly a unique spectacle formed as ice melted and mixed with various minerals to stain the ground bright reds, greens, yellows and purples.
It is best to book a tour as getting to the mountain involves a 3 hour drive from Cusco.
Once you arrive at the base of the mountain you will hike for approximately 10 kilometres to the lookout.
Have a read of our tips for visiting Rainbow Mountain.
This hike in itself is worth the trip as you will come across wild alpacas. llamas and vicunas as you enjoy a panorama view of the surrounding mountains.
You may also come across large condors in flight – a spiritual symbol of good fortune to many of the Andean people in the region.
Note that the duration and terrain of the trail make it a moderate to difficult hike. This one is not for beginners.
11) Get Your Groove on at Mama Africa
If you are looking for entertaining nightlife and/or simply want to learn to Salsa dance, visiting Mama Africa is one of the best things to do in Cusco.
Located adjacent to the Plaza de Armas, Mama Africa is a great place to end your day… or begin your night.
It is popular among locals and tourists alike, so expect a decent crowd most nights of the week.
However, if you have ever wanted to learn to Salsa dance in a Latin American destination, it does not get more authentic than at Mama Africa.
Grab a beer to shake loose the nerves. Then shake it on the dance floor!
Address: Portal de Panes 109 3th Floor, Portal de Panes 109, Cusco 08002, Peru
Opening hours: Opens at 7 PM and closes sometime before the sun rises!
12) Shop at the Mercado Central de San Pedro
Mercado Central de San Pedro is the busiest market in Cusco and one of the best things to do in Cusco.
Located just 5 blocks from the Plaza de Armas, the Central Market boasts a wide variety of items to purchase.
Locals purchase most of their meat and produce from the market.
Additionally there are many shops that cater to both the functional needs of the traveler as well as to provide ample opportunity to purchase souvenirs.
Grab a bite to eat from a food stall. Or stock up on snacks for your day trips in and around Cusco.
You'll be glad you experiences a true local market while visiting Cusco.
Address: Tupac Amaru, Cusco 08003, Peru
Opening hours: every day from 9 AM – 6 PM
13) Hike to the Cristo Blanco Statue Above Cusco
Cristo Blanco ("White Christ") is a statue of Jesus situated on a hill high above the town of Cusco.
Like many Latin American towns with deep Spanish roots, Cusco boasts a large statue of Jesus that towers above the city providing a metaphorical reminder to residents of their Catholic heritage.
If you are not interested in seeing the statue in person and just want to see a gorgeous view of Cusco, the hike to/from Cristo Blanco is hard to beat.
The hike to the statue is approximately 1.5 KM from the Plaza de Armas. If you're interested in saving some energy, catch a taxi to the statue and hike back to the city.
And if you really want a spectacular view, take a taxi to the Cristo Blanco statue in the evening after the lights of the city turn on.
However, if you go at night make sure you are with other people and keep vigilant of your surroundings at the top of the hill.
14) Day Trip to as Many Other Inca Ruins as Possible
If you purchased your Tourist Ticket Of Cusco and you have the extra time, plan to visit as many of the other places as you can!
We've highlighted only a few of the top things to do around Cusco. But your Tourist Ticket will also get you into the following places for FREE!
Q'enqo – A 40 minute walk from Plaza de Armas in Cusco, Q'enqo is another Inca holy place built among the natural rock formations surrounding the city.
Puca Pucara – An Inca military outpost located around 8.5 km from the centre of Cusco with notable walls, terrace and standing staircase.
Tambomachay – Located near Puca Pucara, Tambomachay is a series of tunnels, waterfalls and aqueducts used to transport water in the Inca civilization
Contemporary Art Museum – Located on the northwest corner of the Plaza de Armas, this museum features modern art in and from the region.
Regional History Museum – Another short walk from the Plaza de Armas, the museum shares information on the social, geological, architectural, political and historical importance of the area.
Museum of Popular Art – One block south of the Plaza de Armas, another quick museum visit featuring local art.
Qosqo Native Art Center – Features performances of folk dance and musicals from various peoples in Cusco among other information about the people and culture of Cusco.
Monument to the Inca Pachacuteq – Located on Avenida del Sol, this statue stands out in the city and features a museum built into a several-story tower.
Pikillaqta – A Wari ruin from people settled in the region prior to the Incas, located around 20 km east of Cusco.
Tipon – An terraced Inca ruin complex located near Pikillaqta likely used for agriculture
Our Cusco Travel Guide
To help you make the most of your trip exploring the best things to do in Cusco, Peru, we've put together this handy Cusco travel guide for you!
Best Accommodation – Where to Stay in Cusco
If you were wondering where to stay in Cusco, you have many options. From budget hostels to luxury hotels, Cusco has it all.
Whether you are looking for a quiet hotel tucked away in a corner of the city, or want to be closer to the hustle and bustle, you have many options.
Hostels in Cusco offer a great place to meet other travellers who are planning trips to Machu Picchu and the surrounding areas.
Or, if you prefer more privacy, you can find great budget accommodations for your family or significant other.
Although Cusco is a busy city, there are almost always places available that will suit your wants and needs. So don't worry about where to stay in Cusco.
Instead, worry more about how much time you will end up spending there!
The Best Hostel in Cusco – Saqray Hostel
Saqray Hostel is your best bet for staying in Cusco. Located just a few blocks from the Plaza de Armas, Saqray Hostel is about as close to the action in Cusco as it gets.
With options that range from 6-bed mixed dorms to private double bed rooms you can rest in whatever comfort suits your budget.
Rooms are reasonably priced, starting at USD$12.50 for dormitories and $33.50 for private accomodations.
With a shared lounge, Saqray Hostel is a great place to meet other travellers. All rooms include free WiFi and an outdoor patio.
You can also expect to have hot water all day, lockers for your valuables and cable TV. A complimentary continental breakfast is included in your stay.
The Best Budget Accommodation for Couples – Hotel Sonnenthal Cusco
Located in the heart of Cusco, Hotel Sonnenthal Cusco is your best option for an affordable night's stay.
Within walking distance to public transportation within and outside of the city, you'll find everything you want in Cusco is a short distance away.
Rated as one of the top budget hotels, Hotel Sonnenthal Cusco offers a variety of rooms at incredibly reasonable prices.
Choose rooms with 1 king, 2 single beds or a suite that has both a king and single bed – all of which have a balcony/terrace.
Breakfast for 2 and WiFi is included with your stay. There is also a common cooking area for you to prepare your own meals if you choose.
All rooms come with a private bathroom with complimentary toiletries and on-demand hot water 24 hours a day.
The value does not get much better than Hotel Sonnenthal Cusco!
Best Mid-Range Hotel in Cusco – Torre Dorada Residencial
If you're looking for a great deal on a moderately priced hotel with great location and amenities, Torre Dorada Residencial is your best bet.
The hotel is located in Cusco city centre, within walking distance to great restaurants, shops and public transportation. However, it is tucked away in a quieter part of the neighbourhood.
You can reserve several types of rooms with single, double or suite-style setups that include up to 3 different beds. This hotel is great for families or for those wishing to have a little more comfort in their stay in Cusco.
All reservations include free Wifi and complimentary breakfast for 2-3.
Additionally, the hotel provides medical care and has oxygen to accommodate guests having difficulty with Cusco's elevation.
Hotel staff will help arrange tours and transportation throughout the city and to Machu Picchu.
Best Luxury Hotel in Cusco – Antigua Casona San Blas
The Antigua Casona San Blas in an exceptional choice in accommodations in the historic San Blas neighbourhood of Cusco.
When it comes to luxury, the value of Antigua Casona stands out among other high end chain hotels.
Rooms come as double or triple beds and include WiFi, flat screen TVs and complimentary breakfast. There is a common patio with a fire pit and an in-house bar, creating one of the most relaxing experiences you can have in Cusco.
One of the greatest things about Antigua Casana is the staff. Expect superior service and assistance in planning any trips or transportation in or around Cusco.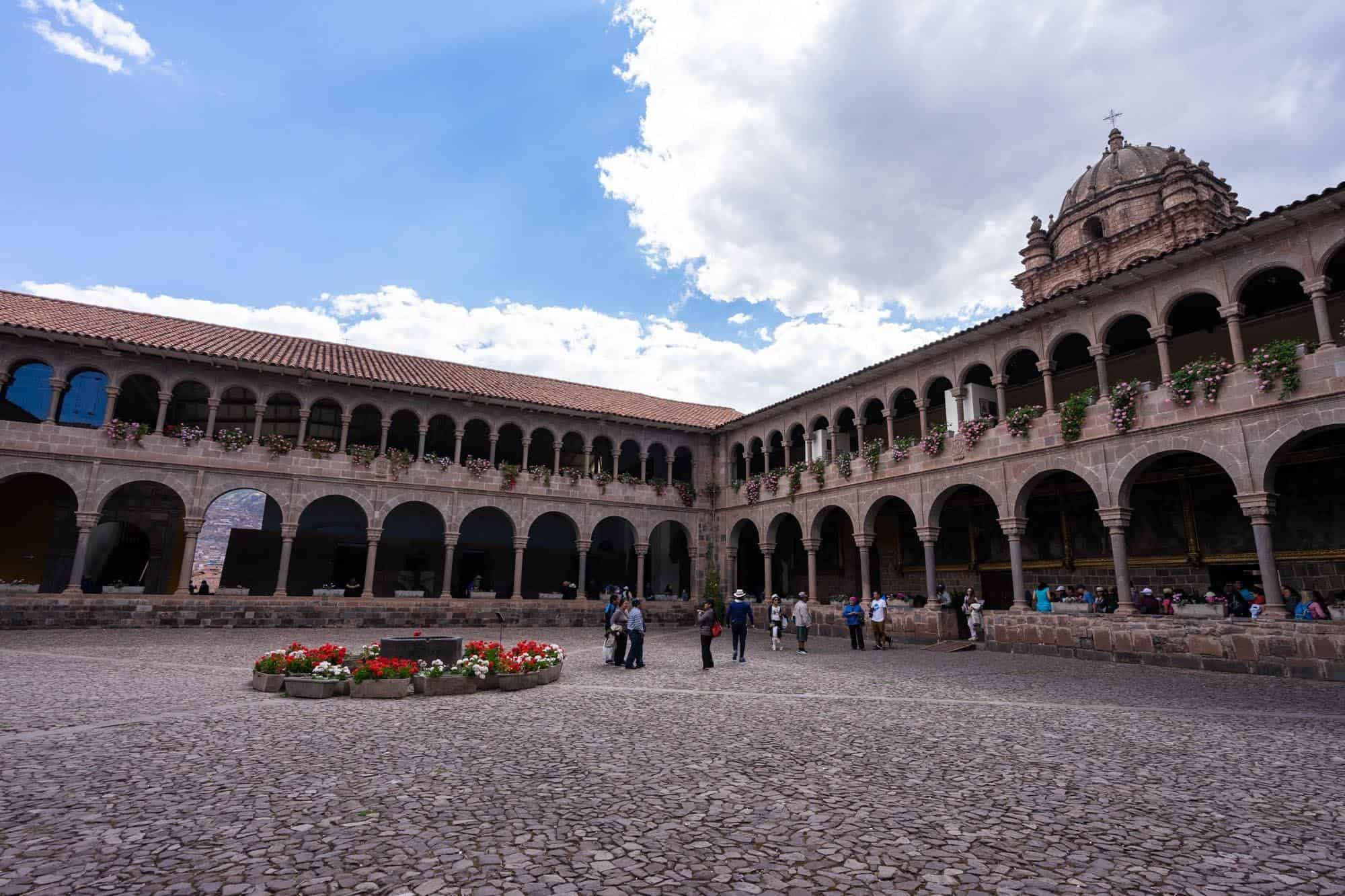 Best Restaurants in Cusco
Peruvian food is at its best in Cusco. Here are a few of our favourite restaurants in the city.
Budget
Rucula serves Peruvian and latin fusion plates sourced locally. With plates ranging from USD$2-6, vegetarian and vegan options, alcoholic beverages and complimentary WiFi you can't beat the value.
Mid-Range
The view from near the Plaza de Armas is nearly as great as the delicious options served up by the Limbus Resto Bar. Stop by in the afternoon or evening and enjoy a pisco sour and Peruvian cuisine as you watch the city come alive below.
Luxury
Inti Raymi Restaurant offers the finest Peruvian dishes in the city with top notch service in a luxurious ambience. If you want a true taste of Cusco – from potato leek soup, traditional chicken stew and even trout ceviche and seared lamb – there is no finer dining experience than Inti Raymi.
DISCLAIMER: Some of the links in this article are affiliate links, which means if you book accommodation, tours or buy a product, we will receive a small commission at no extra cost to you. These commissions help us keep creating more free travel content to help people plan their holidays and adventures. We only recommend the best accommodations, tours and products that ourselves or our fantastic editorial team have personally experienced, and regularly review these. Thanks for your support, kind friend!