Check out this list of the best things to do in Rome to help you plan your next big trip!
What comes to mind when you think of the top Rome attractions?
Ancient empires and Renaissance art? Sticky sweet gelato and carbs galore? Cobblestone streets packed to the brim with tourists?
Rome definitely has all of these things. But it also has so much more.
Though Rome is probably one of the most famous and touristy cities on the planet, it has a unique charm that guidebooks don't always advertise.
You will probably have to push through some crowds to get a good photo of the Trevi Fountain or the Colosseum.
But walk a few blocks away from these attractions and you'll find yourself in quiet, narrow streets where locals are hanging out laundry and flowers are spilling off iron balconies.
If you know the right places to go, you can see a local side of Rome that is vibrant and heartwarming.
READ MORE: Here's our absolute best travel tips from over a decade on the road!
The Best Things to Do in Rome, Italy
Rome has plenty of hidden gems and quiet neighbourhoods.
It has peaceful parks for escaping the crowds and street markets for affordable shopping.
And authentic Roman food is to die for.
So for any travellers feeling excited but a bit overwhelmed about visiting this iconic city, here is a list of all the best things to do in Rome.
You will find some obvious tourist attractions on this list.
But you will also find some less popular things to do in Rome that show a more local side of the city.
Visit the Colosseum, Roman Forum and Palatine Hill
As picturesque relics of the ancient Roman Empire, the Colosseum, Palatine Hill and the Roman Forum are legendary sights in Rome.
Though this area is swarming with tourists and hawkers selling selfie sticks, no traveller can leave Rome without seeing these tangible remnants of history.
The Colosseum was the largest amphitheatre of the Roman Empire and opened for business around 80 AD.
The Roman Forum was the centre of civilisation, and the ruins of the government buildings are surprisingly still standing.
Palatine Hill is thought to be the oldest place in ancient Rome and provides a great view of the Roman Forum.
A standard combined ticket to all three of these sights costs 12 Euros, and they are all located right next to each other.
However if you don't want to spend a long time waiting in line, you can pre-purchase a combined ticket with fast track access to the sites for 23 Euro.
The attractions open at 8:30 am and close just before sunset, which varies depending on the time of year.
On the first Sunday of every month, a long list of museums and attractions in Rome are free of charge, including the Colosseum, Roman Forum and Palatine Hill.
Visiting these places for free is an incredible opportunity.
But plan to arrive as early as possible because the lines get insanely long on these days, as this is what everybody wants to do in when wondering what to do in Rome!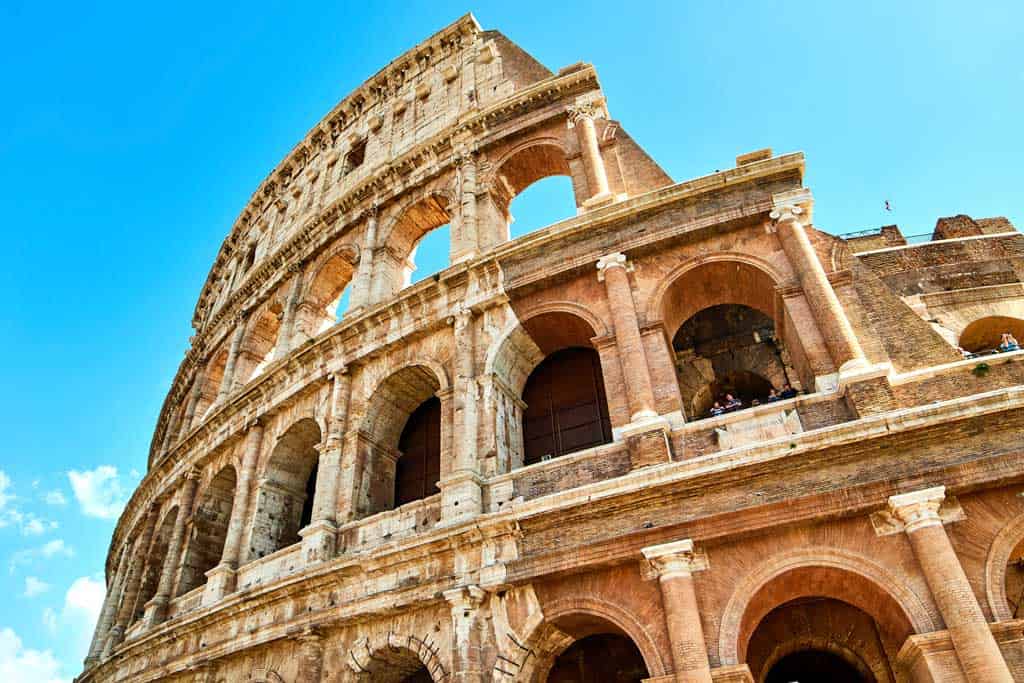 Eat Gelato
No trip to Italy would be complete without indulging in the heavenly delicacy that is gelato.
This classic Italian dessert is similar to ice cream but denser, sweeter and smoother.
Italians pack their gelato with natural fruit, nut and chocolate flavours.
Picking out which flavours you want is the most fun part.
A single scoop of gelato usually costs between 1 and 2 euros, so it is a very affordable treat.
Avoid the shops with towering piles of brightly coloured gelato, as these are stuffed with preservatives and artificial colours.
Real, authentic gelato is not as dramatic looking and is stored in humble, refrigerated containers that are usually hidden from view.
Some of Rome's best gelato shops include Del Viale, Giolitti and Frigidarium.
The latter offers to coat your gelato in melted chocolate for no extra cost, so definitely don't pass that up.
Stroll Through Villa Pamphili Park
This is the best thing to do in Rome for those who want to escape the madness of the city and immerse themselves in nature.
Although Villa Pamphili Park is the largest public park in Rome, you won't feel like you're in the city at all as you explore the grounds.
The park is simply massive. As you enter you'll see wide grassy fields with locals playing football, walking their dogs and having picnics.
Continuing along the gravel path, you'll realize that the park seems to go on forever and it is easy to get lost in the maze of footpaths and forests.
The park is named for its villa built by the wealthy Pamphili family in the seventeenth century.
Filled with manicured hedges, glassy ponds and rustic old statues and fountains, the grounds release an aura of regality and antiquity.
READ MORE: Plan your Czech itinerary with 17 things to do in Prague!
Admire the Trevi Fountain
Made famous by movies, postcards and travel magazines, the Trevi Fountain is a true work of art.
Designed in Baroque style by architect Nicola Salvi in the 18th Century, the fountain doesn't really have any historical significance besides just being a beautiful landmark.
Tourists from all over the globe flock to this spot to make a wish and toss a coin into the fountain's waters.
Shop at the Porta Portese Flea Market
Every Sunday morning, a massive outdoor flea market floods the streets of Rome.
Located in three different streets, Via Ippolito Nievo, Via Portuense and Via Ettore Rolli, it can take you the entire day to sift through the whole market.
Here you can find everything from cheap clothes, shoes and jewellery to nice Italian leather to tacky souvenirs like magnets, hats, t-shirts and keychains.
The prices here are very cheap compared to more touristy areas of Rome so it's a great place to shop for gifts.
People-Watch in a Public Square
Public squares are the centre of society in Rome, in Italy, and in all of Europe.
Throughout any European city, the busy streets often open up into these spacious squares filled with gardens, fountains, or art and framed with impressive architecture and cafes or shops.
Rome has an abundance of public squares that are great for relaxing during a busy day of sightseeing.
Piazza Navona, Piazza De Spagna, Piazza Del Popolo and Piazza Venezia are some of the city's biggest and most crowded public squares.
These squares can get quite hectic but the urban beauty and design set in these piazzas is absolutely worth checking out.
To find quieter and more peaceful public squares, all you have to do is wander around.
Sometimes straying just a few blocks from a touristy area will bring you to an almost deserted piazza with a few locals chatting and eating gelato.
So if you need a little break from exploring all of the Rome attractions, find a comfy bench in any public square and watch the world go by for a bit.
BONUS: See the whole city with a hop-on, hop-off bus ticket
Visit the Pantheon
To really catch a glimpse of ancient Rome, visit the Pantheon. This is the most well-preserved building of the ancient empire.
And it is shocking to see how this structure built in the 2nd Century is still standing tall.
Originally a temple to the pagan gods of ancient Rome, the Pantheon is now a church that is free to enter.
Just keep in mind that you must wear appropriate clothes that cover your shoulders and knees to enter churches in Rome.
Taste Local Foods at Mercato Testaccio
Visiting Mercato Testaccio is one of the best things to do in Rome for food lovers who want to taste real Roman food.
Testaccio is a very local neighbourhood of Rome so you won't find many other tourists here.
Open from 7 am until 3:30 pm and closed on Sundays, the market consists of a massive indoor hall filled with cheerful local vendors selling delectable food.
In Mercato Testaccio you'll find tables overflowing with fresh, in-season fruits and vegetables, cafes brewing strong Italian coffee, and stalls selling hot, ready-to-eat meals.
Two of the best vendors in the market are Mordi e Vai, which sells Italian meat sandwiches using family recipes and Casa Manco, which sells artisan pizza topped with the most outrageous things you could imagine.
If you want a real authentic experience, check out this highly-rated street food tour led by a local.
Tour the Borghese Gardens
As the city's third-largest public park, the Borghese Gardens make for a gorgeous stop on a tour through Rome.
This massive green space was created in the 17th Century thanks to the rich noble Borghese Family.
The influential family also built a villa which is now an art museum known as the Borghese Gallery.
Tickets for the gallery are 20 Euros and they only allow 360 people inside at once, every two hours, so buy your ticket in advance.
Otherwise, the gardens are free to enter and you can spend hours exploring the different sections.
There are displays of pristine landscaping, huge stretches of soft green grass and towering trees, and a small lake where you can rent paddle boats for 3 Euros per adult.
Wander Through Vatican City
Vatican City is the smallest country in the world. So technically it is actually not part of Italy.
But this independent nation is entirely surrounded by Rome and is one of Rome's top attractions.
As the home of the Pope and centre of the Roman Catholic Church, Vatican City is a fascinating place to visit whether you are Catholic or not.
Construction of Vatican City began in the 4th Century.
Although the legendary St. Peter's Basilica wasn't built until the 16th Century.
The historical significance of this place is mind-blowing, and it is humbling to walk through the spacious St. Peter's Square where so many vital religious events and ceremonies have happened for centuries.
It is completely free to wander through St. Peter's Square and to enter St. Peter's Basilica.
But the highlight of the Basilica, the Renaissance masterpiece that is Michelangelo's Sistine Chapel, has an entrance fee of 15 Euros.
The same ticket allows you to enter all the Vatican Museums.
Do yourself a favour and purchase a 'skip the line' ticket to make the most of your time in Vatican City.
Enjoy an Apertivo
Apertivo is like the classy Italian version of Happy Hour.
Around 7pm in the evening, you can pay about 10 to 15 Euros per person for a drink and access to a buffet of light food.
This is a great way to unwind after a busy day of sightseeing and relax with the locals.
Because Italians eat dinner quite late, Apertivo is meant to be a warm-up for the real dinner later on.
There are countless restaurants and bars offering Apertivos all over Rome, so you'll have no trouble finding a place.
READ MORE: Reasons why you should plan an amazing trip to Berlin!
Explore Aventine Hill
Aventine Hill is an elevated section of Rome full of lovely things to do.
Walk up here in the evening and stroll through the public gardens while listening to street performers and watching the sunset over the city.
Or check out one of the few ancient churches located on the hill.
Basilica di Santa Sabina all'Aventino was built in the 5th Century, making it one of Rome's oldest basilicas.
If you are visiting Rome in April, May or June, you can visit Aventine Hill's Rose Garden.
Open from 8:30 am to 7:30 pm, the beautifully landscaped Rose Garden overflows with aromatic roses of every shape, size and colour, and it is completely free.
Aventine Hill is best known for the Aventine Keyhole, a secret of Rome that is no longer that secret.
Next to Piazza dei Calvieri di Malta, you can peer through the tiny keyhole on the plain-looking green door and see a perfect view of the dome of St. Peter's Basilica.
It is free to look through the Aventine Keyhole, but there is usually a long line.
Indulge in Some Carbs
Italian cuisine is most famous for its celebration of carbohydrates.
From pizza and pasta to paninis and risotto, to fresh bread and pastries, Italian food is often rich and filling.
Travellers should treat themselves to all the comfort food that Italy has to offer.
Some Italian food is better in Rome than elsewhere in Italy.
For example, carbonara is a pasta dish that originated in Rome.
Made with pecorino romano, guanciale, black pepper and eggs, some of the world's best carbonara can be found in Rome.
An amazing hidden pasta place in Rome is Pastifico, open daily from 1 pm until 9:30 pm.
This tiny take away shop only makes two different types of pasta per day and a hefty portion costs just 4 Euros.
Pizza is another classic Italian meal. But Roman pizza is special.
It has a stronger crust and is made in a rectangular shape, differing from the classic circular Neapolitan style pizza with softer dough.
You can find take away shops selling Roman pizza all over the city, and the slices are sold by weight.
This means you can buy lots of little squares and try different toppings instead of having to commit to one large pizza.
Another classic Roman carb is supplì, which are small fried rice balls similar to arancini of Sicily.
There is a local take away shop in Rome that makes the most amazing supplì and also has incredible Roman pizza.
The shop is conveniently called Supplì, and is open from 9 am to 10 pm and closed on Sundays.
The last must-try carb dish in Rome is a trapizzino, which is a triangular bread pocket stuffed with cheese and meat or veggies.
You can find this hearty Roman street food at a restaurant called Trapizzino, open daily 10 am until 1 am.
Experience the Nightlife
Every city takes on a different vibe as night time approaches.
Italians love to party and stay out late. So it is worth experiencing the vibrant nightlife at least once while visiting Rome.
Sometimes dinner itself is like a party. A big Italian dinner usually doesn't start until 8 or 9 pm, and after all the food, wine and limoncello you may want to dance it all off.
Trastevere is a trendy neighbourhood in Rome full of fun bars.
Visit Coffee Pot or Bar San Calisto to hang with locals.
Or head to On The Rox or G Bar to hang with other travellers and students studying abroad.
Rome is also full of exciting nightclubs with flashing lights and top-notch DJs.
One of the best places to go out in Rome is Alcazar, a medium-sized club with a stage in the middle where locals bands play live music and anyone can join in the jam session.
While this list has only scratched the surface of things to do in Rome, these activities provide a great introduction into the history, culture and cuisine of Italy's capital city.
You can shamelessly marvel at all the famous tourist attractions, then head to the local parts of town for authentic food and a more relaxed, local atmosphere.
Rome is popular for good reason, so next time you travel to Italy make sure the Eternal City has a place on your to-do list.
Rome Travel Guide
Now that you know the best things to do in Rome, here are a few helpful tips for travelling through Rome. Learn where to stay and how to get around the magnificent city.
This advice paired with having a thorough list of Rome's best attractions will help you have the best possible stay in Italy's charismatic capital.
Travel in Rome: Getting To The City
Travelling around Europe is very easy and affordable. 
Budget airlines fly all over the continent and a sophisticated network of trains and buses connects Rome to other cities in Italy and neighbouring countries.
The easiest and cheapest way to get to Rome depends on where you are coming from.
Train, bus and plane tickets in Europe can all be in the same price range, so you'll have to compare all three.
Online platforms like Rome2Rio and Omio compare prices between different modes of transport in Europe, so they are perfect for finding the best option.
1) Plane
If you are travelling to Rome from a different country, flying is the quickest way to get there.
Rome has two airports, Fiumicino (FCO) and Ciampino (CIA).
Budget airlines from all over Europe and the rest of the world fly into these airports, so just make sure you note which airport your flight goes to.
From both airports, trains or buses can bring you into the city centre easily.
2) Train
Train travel is most useful for getting to Rome from other cities around Italy.
Termini is the main train station in Rome, and it is centrally located near the touristy parts of the city.
Tiburtina and Ostiense are the other two train stations in Rome that connect with other Italian cities.
After buying a train ticket, don't forget to validate it on the little machines on the train platform.
These machines stamp your ticket with the date and time you are using it.
You can get fined if you forget to do this and a ticket officer checks your ticket on the train.
3) Bus
Bus travel is also useful for travelling around Italy. The buses are usually slower than trains and make lots of stops.
Again, you'll always have to compare bus and train prices to and from Rome because the prices can vary.
Usually, buses are much cheaper than trains, so if you are on a budget it can be worth travelling to Rome by bus.
Travel in Rome: Inside the City
1) Walking
Walking is, without a doubt, the best way to see Rome.
Walking is often even faster than public transport, cars or taxis because traffic in the city can be horrible.
That being said, arriving in Rome and exploring for the first time can get overwhelming and you'll probably get lost at least once.
Because the city dates back to ancient times, the road network has been constantly modified over the centuries and has no rhyme or reason.
Try downloading a navigation APP on your phone, such as Maps.me or Google Maps, so you can find your way a bit easier.
Or just go old-school and carry a paper map.
All of the attractions listed in this article are within walking distance from the city centre.
The Tiber River snakes through Rome, with attractions located on both sides of it.
The river is an easy landmark for finding your way through the city, so if you ever get lost just find the river and get your bearings from there.
But getting lost in Rome is one of the best ways to get acquainted with the city.
The winding alleyways, hidden churches and local neighbourhoods are part of Rome's charm, and getting lost can help you stumble across some real beauty.
Definitely wear comfortable shoes in Rome; the cobblestones are easier to cope with in sneakers.
2) Tram, Metro or Bus
If your feet are starting to hurt from all the walking, you can also take public transport to different parts of the city.
The three main methods of transport in Rome are the public bus, the metro and the tram, which is an overground railway cart that travels along the road.
The metro is the fastest since the bus and the tram have to deal with traffic and stoplights.
For all three of these, a single journey ticket is 1.50 Euros and is valid for 100 minutes.
You can buy these tickets in a metro station or from any little convenience store in the city.
Accommodations – Where to Stay in Rome
Because Rome is such a popular tourist destination, it has many accommodation options that suit any traveller.
There are plenty of hostels, Airbnbs and hotels scattered around the city centre so you can stay right in the middle of the action.
Here are a few centrally-located and highly rated places to stay in Rome that cater to different travel budgets.
1) Budget Accommodation in Rome
Generator Rome Hostel: Located near Termini Station and walking distance from the Colosseum, a dorm bed here costs 15 Euros per night and a private room costs about 60 Euros per night.
Funny Palace Rome: This hostel has dorm beds as cheap as 10 Euros per night and private rooms for 40 Euros per night. It is also conveniently located near Termini Station.
Hostel Trastevere: Set in the trendy and lively neighbourhood of Trastevere, here you can find dorm beds for 13 Euros per night and private rooms for 70 Euros per night.
2) Mid-Range Accommodation in Rome
A Picture of Rome B&B: This cozy bed and breakfast costs 40 Euros per night for a suite and is located near Vatican City.
Blue Inn Luxury Suites: A nice room with a double bed costs only 55 Euros per night. You will also be staying within walking distance to the Trevi Fountain and Borghese Gardens.
Suites Piazza Del Popolo: At 40 to 50 Euros per night, this affordable hotel is located near the bustling Piazza Del Popolo and the Borghese Gardens.
3) Luxury Accommodation in Rome
The Inn At The Roman Forum: Set right next to the famous Roman Forum, Colosseum and Palatine Hill, this beautiful inn costs $130 per night.
Martis Palaca Hotel Rome: Also costing $130 per night, this hotel allows you to stay near the central public square, Piazza Navona.
Hotel Artemide: This hotel is next to Termini Station and is walking distance from the Trevi Fountain and Pantheon. A room here costs $180 per night.
Once you've booked your stay in Rome at a place that suits your price range, you can start thinking about how to fill your days in this magical city.
DISCLAIMER: Some of the links in this article are affiliate links, which means if you book accommodation, tours or buy a product, we will receive a small commission at no extra cost to you. These commissions help us keep creating more free travel content to help people plan their holidays and adventures. We only recommend the best accommodations, tours and products that ourselves or our fantastic editorial team have personally experienced, and regularly review these. Thanks for your support, kind friend!