If you're looking for the best hiking in Switzerland, don't miss these 7 great hikes!
In a country almost covered in towering peaks and glistening glaciers it is no surprise that there are a few spectacular hikes tucked away in Switzerland.
In fact, the Swiss are so well organised that the country is almost covered with well-maintained hiking trails that you could walk from one end to another.
I have lived here for over 15 years and have done at least 100 of the best hikes in Switzerland in that time, so I want to share some of the most amazing scenery this country has to offer with you.
From the North to the South, no matter where you go, there is a hike that will blow your mind, or at the very least, fill your memory card with photos.
7 Trails For Hiking In Switzerland
Let's start with some of the best trails for hiking in Switzerland.
1) The Eiger Trail
The Eiger Trail is one of the most rewarding hikes in Switzerland. If you happen to be in the Interlaken/Grindelwald area, and most of you will probably make a stop here, then this is the hike for you.
While it is not a very challenging hike, the trail takes you along the foot of one of Europe's most renowned mountains tucked in the Bernese Alps- the Eiger.
This peak is over nearly 4000m high and its north face is a menacing shear wall that climbers love to throw themselves up.
Unfortunately, it is also one of the most difficult climbs in the alps and has killed over 100 people over the years, often while people are watching from Grindelwald.
To start this hike you need to get up to Kleine Scheidegg by train (or a little further to the Eigergletscher stop) and then all you have to do is hike down!
READ MORE: Don't miss our brand new guide on what to do in Interlaken if you're planning on spending a bit more time there!
Yes down. So, if you don't enjoy the hard slog of hiking up mountains, this is a great option as the hike is a breeze. It's a way to get great views while not expending a terrible amount of energy.
The Eiger Trail takes you along a meandering trail below the Eiger so that you can see exactly what the climbers have to face. They also start from this trail, so it really gives you a climber's perspective.
You also get a sweeping view of the whole Grindelwald valley as you descend, which is another great reason to do this trail.
Hike Time: 2.5 hours
Distance: 6km
Altitude Gain/Loss: 90m / 800m
Starting Point: Eigergletscher station or Kleine Scheidegg
2) Hornliweg
Another popular stop on any tour of Switzerland is Zermatt. Nestled amongst some of the highest peaks in the country, who could pass up this charming and car-less village that is also home to a massive ski resort and some of the best scenery in the country.
On top of its faultless location, Zermatt is also home to one of Switzerland's most iconic mountains, the Matterhorn.
This triangular wedge jutting into the sky is hard to miss. Many have claimed it was also the inspiration for the renowned Swiss Toblerone chocolate's triangular shape, although the founder's children have said it was not.
If you are in Zermatt, it makes sense to get up close and personal with the Matterhorn. Especially since it is also another peak that climbers scale en mass each year.
The easiest and most spectacular way to do that is to follow the trail to where the hike begins at the base of the mountain, where the mountaineers stay overnight at the Hornlihutte.
From here, you can get out your binoculars and mountaineer-spot for hours, watching them tackle the steep path to the top.
This is a great option as well because it only takes a few hours to complete leaving you plenty of time to enjoy the views.
Hike Time: approx 2 hours
Distance: 4.3km return
Altitude Gain: 743m
Starting Point: Schwarzsee Gondola Station
READ MORE: Looking for other places to go trekking in Europe? Check out the options for hiking in Norway.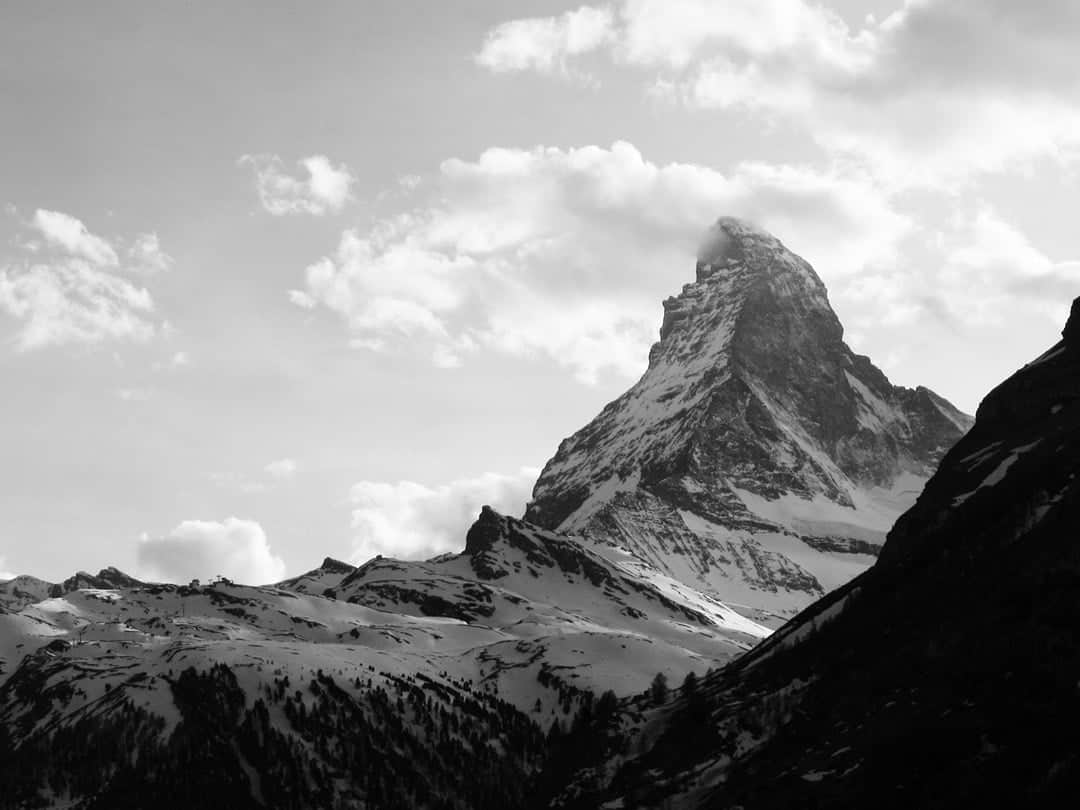 3) Aletsch Glacier Panorama Trail
Switzerland hiking is at its best when it takes you to a remarkable view. And looking at a glacier is one of the most rewarding views at the end of a trial.
However, most glaciers in Switzerland are melting at an astonishing rate. But one is still impressively large and intact but often missed by visitors.
The Aletsch Glacier is in Wallis in the southern part of Switzerland, not too far from Zermatt. And hiking around here is a great option if you would like to get up close and personal with the glacier.
The glacier is a sight to behold, running over 23 km (14 mi) and some 900m (2950 ft) deep. It sweeps in a majestic curve from the back of Jungfraujoch (another place that might be on your agenda) slowly but surely down to the valley below.
The panorama trail runs along a part of its length at the lower end, giving you a stunning view all along the way.
There are also options to take the cable car to the top of Riederalp for magnificent views of the glacier as well.
Hike Time: approx 3.5 hours
Distance: 12.4km
Starting Point: Mosfluh
End Point: Fieschalp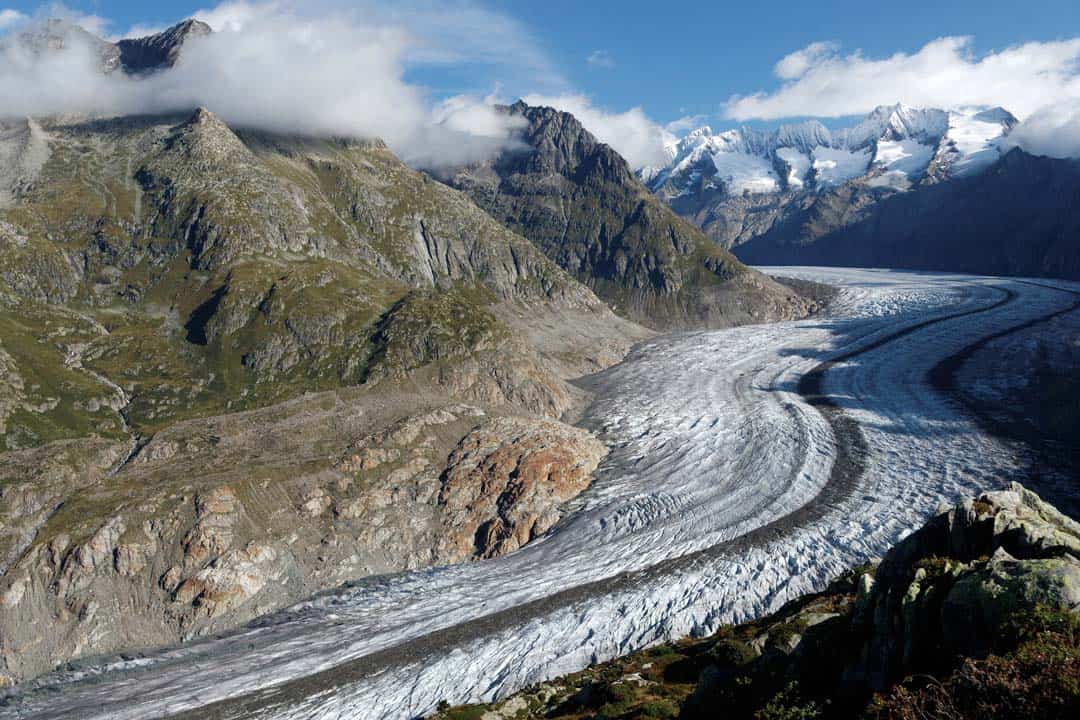 4) Burgenstock Felsenweg
If you are spending any time in Lucerne, this is an easy, but worthwhile trail for hiking in Switzerland. Burgenstock is a small mountain jutting out of Lake Lucerne like a sleeping lion.
It makes a great day trip from Lucerne giving you stunning views of the lake and surrounding mountain, as well as a ride you won't forget.
The highlights of this hiking trail come in two parts.
First, is the cliff walk along the side of the mountain. Carved out of the wall, from the trail it is straight down to the lake below if you fall. It is well protected, however, so that should not be on your agenda for the day.
Second, at the end of the hike, you come to the famous Hammerschwand glass elevator that runs from the lake to the hotel at the top. This is a great place to enjoy a few hours.
It is Europe's highest outside elevator and was also took Sean Connery for a ride in James Bond – Her Majesty's Secret Service. So, you get twice your money's worth on this one.
You should also combine it with a boat ride from Lucerne, which is a great way to start and end the hike as this lake is absolutely beautiful.
Hike Time: approx 2 hours
Distance: 5km
Altitude Gain/Loss: 130/130m
Starting Point: Burgenstock
READ MORE: Want to try trekking somewhere unique? Have a look at this guide for hiking in Romania!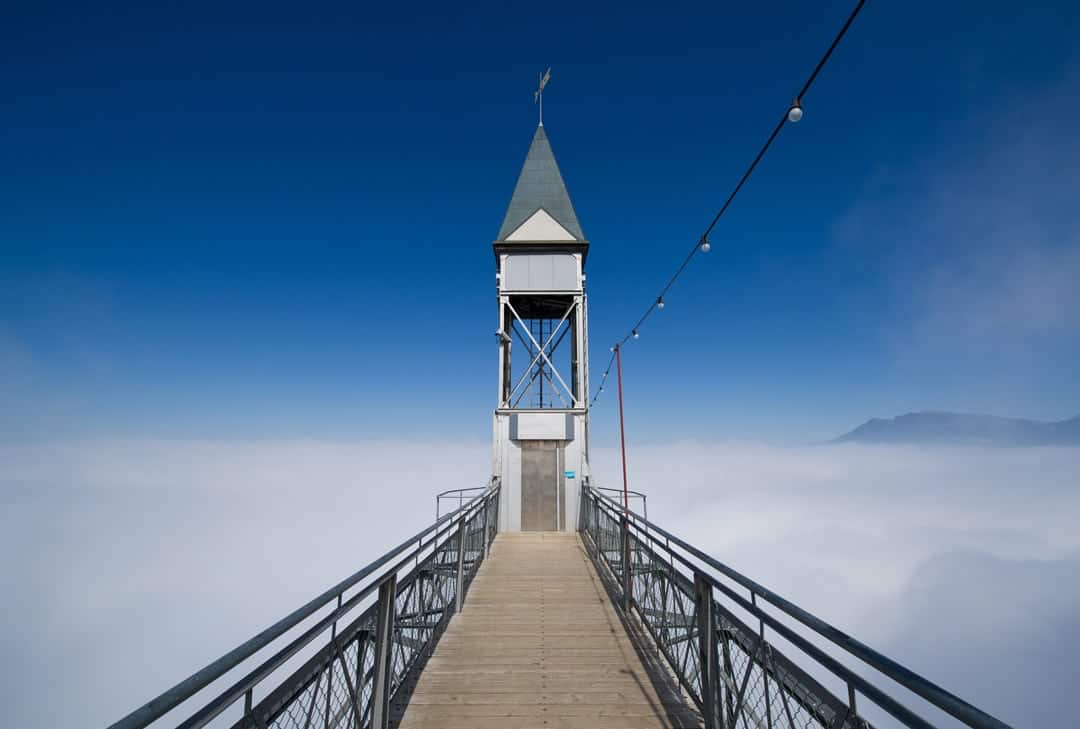 5) Pizol Lake Hike
Not too far from Zurich, the 5 lake loop in Pizol showcases some of the most stunning blue alpine lakes in the northern part of the Swiss Alps. You can easily do this in a day from Zurich, or if you are anywhere east of there (towards Chur).
You will begin the day at the Pizol gondola, where you will take the cable car to the Pizol hut at the top. From there the trail starts, climbing to the first lake, then more ascents and descents await with 4 more lakes to enjoy on the way.
This is alpine hiking in Switzerland at its best, high above the tree line, with amazing views all around.
Hike Time: approx 4-5 hours
Altitude Gain/Loss: 750m/1100m
Starting Point: Pizolhutte / Gaffia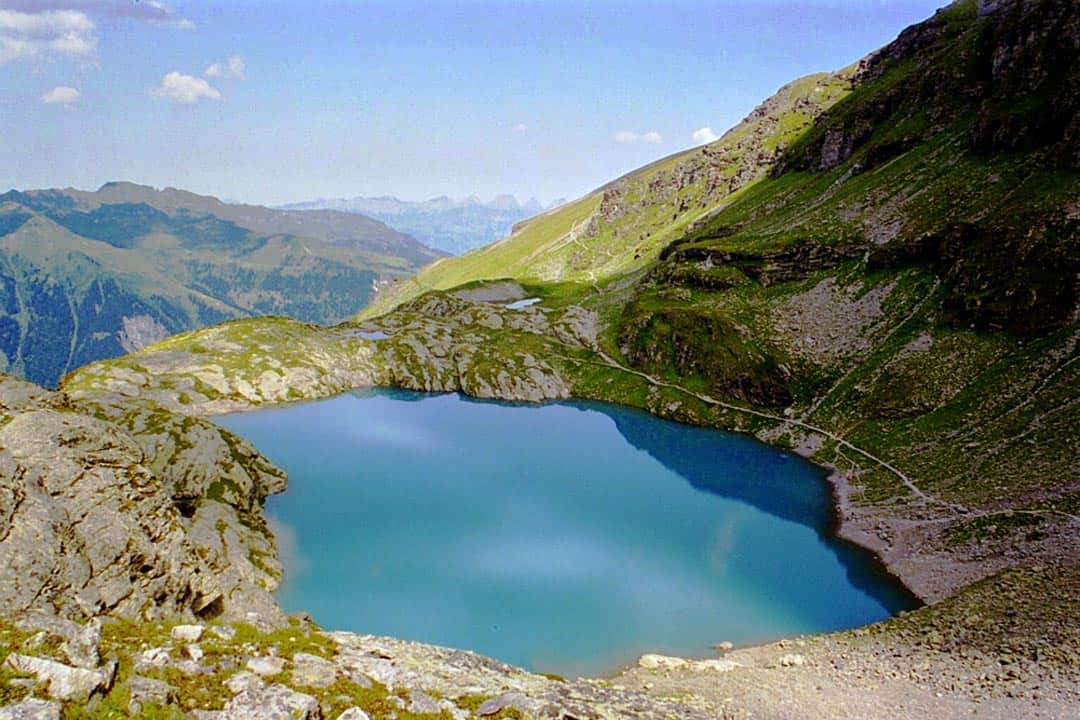 6) Creux du Van
In the French part of Switzerland, not far from Neuchatel, there is a fantastic day hike you can do to see this breathtaking natural wonder. It's a huge rock cirque (rock wall in a crescent shape) that has to be seen to be believed.
Although the hike is quite a climb at nearly 1000m, you can take your time along the way walking through the forest and stop for a long break at the top.
When I did this hike we sat for an hour and enjoyed our lunch at the top, taking in the full cirque view as it curved away from us. Quite a sight I can tell you.
Hike Time: approx 4.5 hours
Distance: 14km
Altitude Gain/Loss: 950/950m
Starting Point: Noiraige
READ MORE; Once you're done with hiking in Switzerland, head to the Czech Republic! Here's a guide to hiking in Bohemian Switzerland National Park.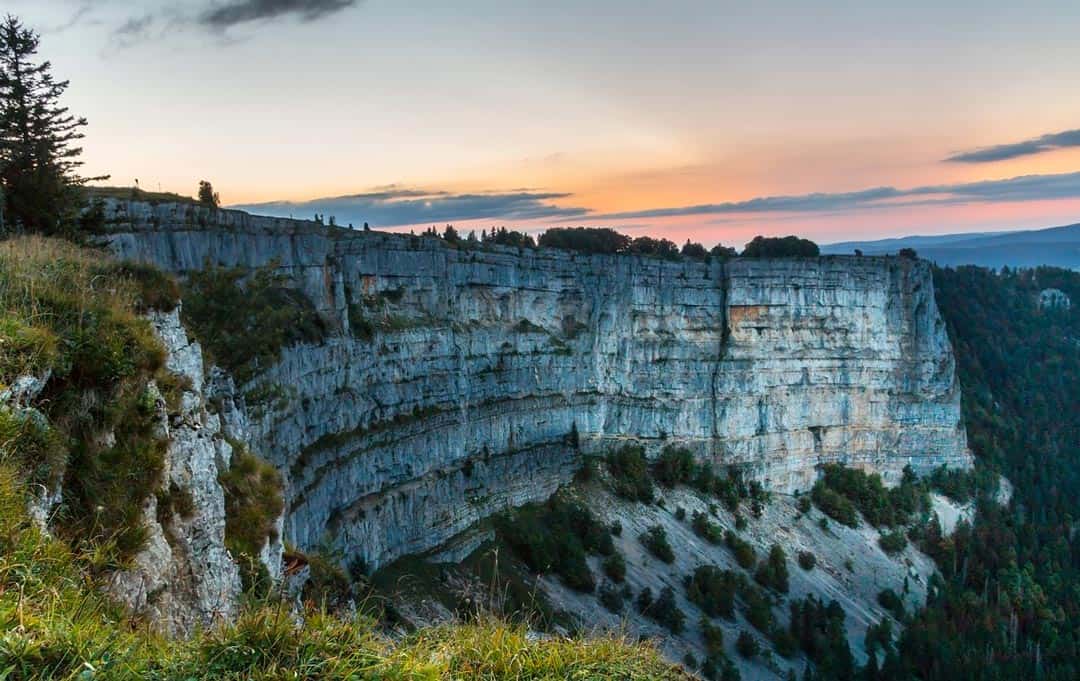 7) Uina Gorge
Switzerland hiking can be found in even the most off-beat places. The Uina Gorge is not a well-known hike if you are not a resident of Switzerland.
But for me, this is one of the most amazing hiking trails in Switzerland I have done in all my years here.
This gorge has also been made famous locally because the local head of McDonald's Switzerland toppled to his death while trying to mountain bike here.
As a hike, it is definitely quite safe, but I would never try to ride my bike here. The drops are sheer and sometimes unprotected, but don't let that stop you coming giving it a go.
The best way to enjoy this hike is to start in Scuol where the trail starts by hiking up to the Chamonna Lischana hut for an overnight experience at a Swiss mountain hut.
Then you continue along the way through the moon-like rocky terrain along the top of the plateau until you finally come to the Uina Gorge. This is the highlight.
The path is carved out of the wall of this narrow gorge all the way along. You wind your way down and along the gorge popping in and out of tunnels and paths carved in the wall itself.
Note: If you don't have the time to do the whole 2 day hike, you can do a shorter alternative from Sur En and back up to the Uina Gorge only.
Hike Time: Day 1 – 4 hours, Day 2 – 6 hours
Altitude Gain/Loss: Day 1 – 1235m up, Day 2 – 435m up / 1800m down
Starting Point: Scuol
End Point: Sent, Sur En bus
So, there you have it. At least seven hikes in Switzerland that you are sure to enjoy! Switzerland is a place filled with jaw-dropping scenery and mountains galore, and now you have no excuse but to come to visit.
Make sure you brush up on our hiking tips and get ready for a real adventure in the Alps.
Have you ever been hiking in Switzerland? Let us know what your favourite hiking trails are in the comments below!