There are plenty of things to with one day in Macau, from Sun Yat Sen Park to Macau Fisherman's Wharf and the world's highest bungy jump!
If you are anything like us, the first image that pops into your head when you think of Macau is of the casinos.
There is a good reason for this – Macau is the world's biggest gambling centre, surpassing even the legendary Las Vegas. But what you might not have known is that right up until 1999, Macau was under Portuguese rule.
As such an interesting contrast between Asian and European styles has emerged, and there are plenty of amazing things to do in Macau.
For most backpackers and travellers, this tiny city would barely even get a consideration when making your holiday plans. Most people would even struggle when asked "where is Macau located?"
But for those who are willing to dig a little deeper, Macau has a surprising number of other attractions that don't require throwing your money down on a blackjack table.
We took the Hong Kong to Macau ferry back in April 2015 and arrived with almost no knowledge of what to do in Macau.
We were looking for the best free things to do in Macau in one day and found plenty of ways to spend our time there. Here are some of the best things to do in Macau, and the cool thing is most of them are free!
The Best Things to Do With One Day in Macau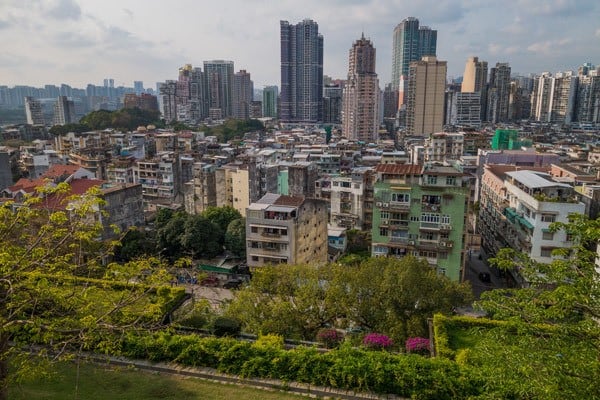 Explore The Macau Historic Centre
In a city that is now essentially Chinese, stepping into the Macau Historic Centre is a fascinating glimpse at the old Portuguese history that the peninsula has.
Designated as a UNESCO World Heritage site in 2005, the Historic Centre is a collection of over 20 locations that showcase the co-existence of the two distinct cultures.
Some of the best highlights include the A-Ma Temple, which was built in 1488, the happening Senado Square, the gorgeous Monte Forte which watches over the city and the impressive Ruins of St Paul.
But with so many different places to explore inside the Macau Historic Centre, you could easily spend your entire day wandering between the ancient sites, and forget about all the other things to do in Macau.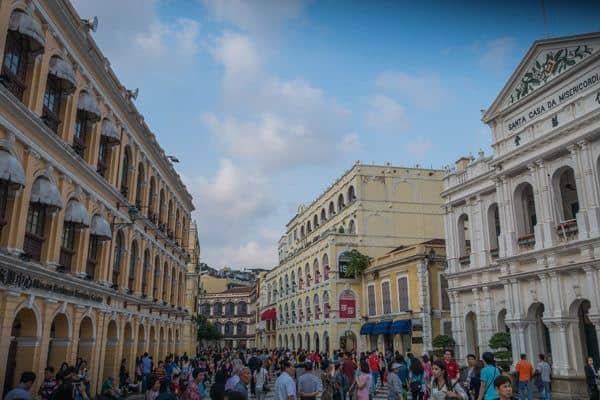 Do The World's Highest Bungy Jump With AJ Hackett Macau Tower
Who would have thought that one of the best (and turns out the biggest) adrenaline activities in the world would be located right in the heart of Macau?
61 storeys up and 233m above the ground, the legendary adventure tour operators, AJ Hackett Macau Tower have turned this gambling Mecca into the latest and greatest destination for thrill seekers!
If you are looking to tick off that number one item from your bucket list, you need to check out the world's highest bungy jump – one of the most exhilarating experiences imaginable.
While not exactly a budget activity, (the Macau bungy jump price is pretty high) it really is something that you should save just a little bit longer for so you can take part in this once-in-a-lifetime opportunity!
Hands down one of the best things to do in Macau!
Hot Tip – If the idea of jumping off a building with a giant elastic band strapped to your feet doesn't sound appealing, or it is a bit out of your budget, AJ Hackett Macau Tower also offers a number of other activities, such as the Skywalk, Skyjump and the Tower Walk.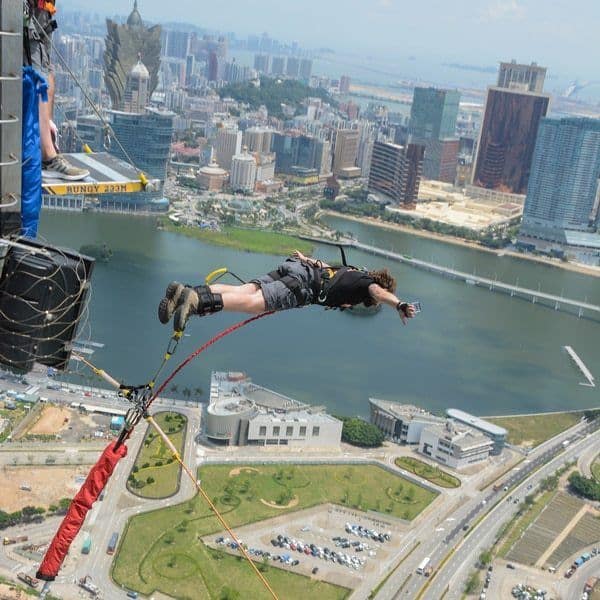 Macau Fisherman's Wharf
If you are looking for a bit of fun in Macau you can always head to the Macau Fisherman's Wharf.
A large entertainment complex right near the Hong Kong to Macau ferry pier, the place is full of restaurants, cafes and retail stores.
It opened at the end of 2006, designed after a bunch of similar seaports in Cape Town and Amsterdam.
And if you want to spend a bit of money definitely go into the theme park!
Eat All The Street Food
With its eclectic mix of Portuguese and Chinese cultures, the culinary delights that have evolved in Macau are extraordinary!
From egg tarts to beef jerky to dried fish, it is way too easy to just snack your way for an entire day through the city! There are some world class international restaurants that have opened up around the peninsula, but if you are travelling on a budget it is easy to find a cheap bite to eat as well.
You may leave town a bit heavier than you arrived…
Hot tip – On Rua Do Cunho, stores hand out free samples of cookies, jerky and other items to pedestrians. You can simply walk up and down the street collecting these samples until you are full. Enjoy!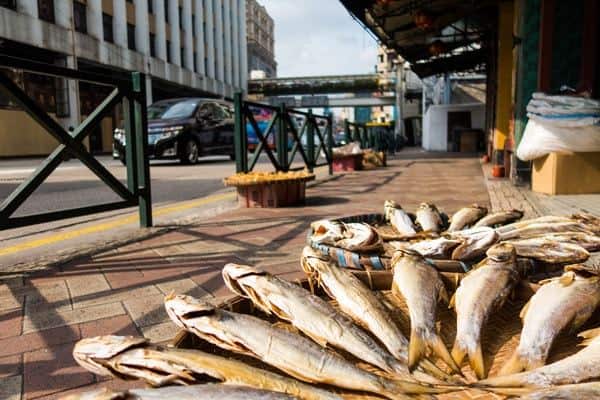 Get Lost In The Casinos
Going all the way to Macau and at least not looking at a Casino would be like going to New York City and skipping the Statue Of Liberty.
Macau hosts some of the most luxurious and intricately designed gambling halls that can be found anywhere, and luckily for us, they are all free to visit!
There is no requirement to actually gamble or spend any money inside them, meaning you can wander through and check out mainland Chinese tourists throwing down thousands (and thousands) of dollars in single bets, or admire the extravagant decorations.
Even if this isn't really your idea of some great things to do in Macau, it's still worth checking out the $2.4 billion Venetian (the largest casino in the world), which has had the famous canals of Venice reconstructed throughout the entire building.
Even the roof is painted like a perfect blue sky, giving the illusion of daylight at all hours. A surreal scene.
Hot tip – Most of the casinos have free buses that run between the ferry terminal, the airport and the other casinos. You do not need to be staying or gambling at any of them to use their service. Hooray for free transport!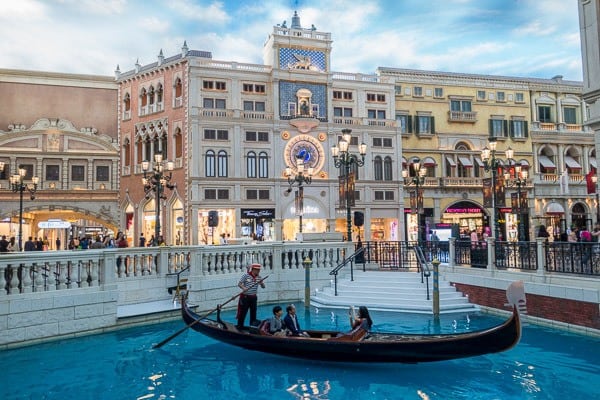 Head To Macau's Beach
Yep, that's right – the beach. The most popular option, Hac Sa (Black Sands) Beach on Coloane Island, isn't exactly world class, but if you have been craving some beach time after a long stint in China or just love the feeling of sand beneath your toes, consider heading out to the coast for your one day in Macau.
Despite the name, the government has filled the beach with yellow sand to prevent erosion, and as a result it is much more picturesque than it once was.
Hot Tip – You can camp for free on Hac Sa Beach. There are cafes and bathroom facilities close by, meaning the only thing you need to bring with you is a tent! A perfect alternative to the expensive accommodation options in the city.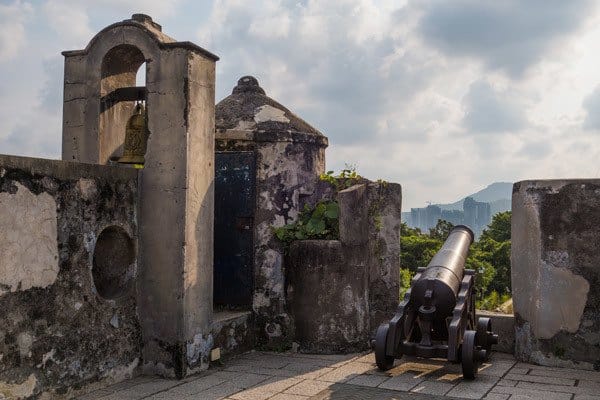 Sun Yat Sen Park Macau
Sun Yat Sen Park in Macau is a massive urban park spread out over 17 acres in the northern part of the island.
There are a lot of things to do in Sun Yat Sen Park if you are simply looking to walk around.
Definitely check out the Feng Shui Forest, the open-air theatre and the old gate that used to mark the official entrance to Macau.
Why not grab a photo of the two hands shaking in the centre of the park?