Some of the best places to visit in Hong Kong rank among the most amazing destinations in the world!
Hong Kong is undeniably one of the worlds most spellbinding cities.
The vast majority of people will allocate a couple of days, but there is enough here to keep you occupied for far longer.
Home to some of the worlds smallest and most expensive real estate Hong Kong is a dizzying mix of old and new, east and west, rural and urban.
There are some amazing places to visit in Hong Kong that barely make onto the radar of most travellers.
As a result, it is very easy to escape the crowds and find your own little piece of heaven in this urban metropolis.
The Best Places to Visit in Hong Kong
Hong Kong tourism is booming at present, thanks mainly to the 45 million or so visitors that come over from Mainland China.
Knowing where to go in Hong Kong is the best way to avoid the crowds and get the most out of your time in one of the worlds great cities.
To make this a little more manageable I've broken this article down by region.
This should make it easier to plan your trip and get the most out of the time you have in this awesome city.
There is a mixture of some of classic Hong Kong tourist spots, historical landmarks and plenty of hidden off the beaten track locations.
Of course, if you are interested in hiking and camping along some of the most beautiful beaches in the world you can do that too!
So there should be something to accommodate everyone's tastes.
Hong Kong Island
Here's a collection of the top places to visit on Hong Kong Island that you shouldn't miss on your next trip.
The Peak
The Peak is one of the most popular and best places to visit in Hong Kong.
The peak offers amazing views of Victoria Harbour, the Kowloon Peninsula and parts of Hong Kong Island.
This popularity means that you may end up waiting for well over an hour to take the train up.
Alternatively, it is possible to hike all the way up to the top.
Whilst it may not be the first thing that comes to mind it is a lovely walk, although coming down is substantially easier than going the other way.
The peak is home to a number of shops, restaurants and attractions including the Bubba Gump Shrimp restaurant which of all the eateries offers the best views and is unsurprisingly popular.
There are also a bunch of trails to explore around the peak itself.
Get ready to see some of the most expensive real estate in Hong Kong!
Getting There: Aside from hiking you can take the tram with the closest station being Central Station. In addition you can take a minibus X15 from Central or a bus X15R of Admiralty.
Stanley
The market in Stanley is full of stalls selling everything from handicrafts to Chinese tat.
Along the waterfront, there are some awesome cafes and pubs to rest and recharge.
In addition, there are a couple of lovely coastal walks if you want to get away from the crowds and get to know the area a little better.
Stanley is also famous for its prison which after its completion was regarded as one of the finest prisons in the British Empire.
The prison is still in operation and as a result, cannot be visited, so, unfortunately, it's not one of the places to go in Hong Kong.
However, the Hong Kong Correctional Services Museum is well worth a visit to understand more about Hong Kong's criminal past.
Getting there: Take bus 6, 6X, 6A, 66 or 260 from Admiralty subway. In addition bus 6 leaves from exchange square in Central.
Happy Valley Race Course
There is always a fun evening to be had at this legendary horse racing venue.
But be careful with what you bet – Hong Kong is already pricey enough!
Usually the races are held on Wednesday nights with gates opening at 5:15pm and the first race beginning at 7:15pm.
Everything shuts down at 11pm.
There are usually 7 or 8 races each meeting.
The general stand and second-floor terrace are the cheapest options at $10HKD and $20HKD respectively. You can even pay on your octopus card.
Getting There: Take the subway to the Causeway Bay exit A followed by a 20-minute walk.
International Financial Centre – Tower 2
The second tallest building in Hong Kong is home to a free observation deck at the 55th floor.
Bring your passport with you as you need to present ID upon arrival.
Best of all it's usually pretty empty!
The International Financial Centre Tower 2 is open from 10am until 7pm 7 days a week so you may be lucky enough to catch a night time(ish) view outside of summer.
Getting There: Access is through the IFC mall at Central.
Southern Beaches
The southern portion of Hong Kong Island has a number of awesome beaches.
Repulse Bay is one of the best. The water can be cold, but it's certainly a lovely place to go for a dip.
These can be visited in combination with a trip to Stanley as a number of buses will stop at Repulse Bay and various other beaches en route.
Getting There: There are a number of buses from Central. Most buses to Stanley will stop at one or two of the beaches.
Central, Lan Kwai Fong and the Mid-Levels
This bustling district on Hong Kong Island Island is full of bars, restaurants and other hangouts.
It's most well known for the network of escalators that navigate you through an area known as the Mid-Levels.
Interestingly it is in this network of shops, eateries and various other business ventures that you will find the worlds longest escalator.
This area is full of back alleys to explore with hidden temples, churches and various other old buildings.
If you venture high up into the mid-levels you will be rewarded with awesome night time views.
During the day there are often market stalls or outdoor restaurants along the side streets that are worth checking out.
In the centre of the Mid-Levels is Hong Kong's infamous party district – Lan Kwai Fong.
Most of the bars and restaurants in this area are in the high price category, so if you plan on eating here be prepared!
It is possible to find some more affordable options but you will need to hunt around.
However, if you fancy a night out bar hopping then this is one of the best places to visit in Hong Kong, but be prepared to part with a fair bit of cash.
Before the mid-levels you have numerous interesting buildings around Central itself.
These include the HSBC building and various colonial buildings around City Hall as well as the IFC Mall and Central Pier.
Central is also the main transport hub for Hong Kong with subways, trains, buses and boats all leaving from here.
Getting There: Subway station Central
Hollywood Road
Hollywood road runs through Lan Kwai Fong however it offers something very different to the rest of Lan Kwai Fong.
The Man Mo Temple and Hollywood Road Park are particularly nice and offer a break from the frenetic pace of Hong Kong.
Additionally the area is home to a number of antique shops that may be cool to stop off at if that sounds like your idea of a Hong Kong points of interest.
Getting There: The nearest Subway station is Central
Tai Kwun Centre for Heritage and Art
Located in the heart of Central this huge conservation project consists of 16 heritage building and is regarded as one of the biggest art and creative hubs in Hong Kong at present.
Hosting a variety of art galleries as well as restaurants and bars this recent addition to Hong Kong's art scene is well worth checking out.
Getting There: The nearest Subway station is Central
Hong Kong Park
This awesome park is a world away from the urban jungle that surrounds it.
As well as being a lovely place to wander, it is also home to the Edward Youde Avery which is home to a wide variety of birds.
Getting There: The nearest Subway station is Admirality
Ocean Park
Located on the south side of Hong Kong Island this huge theme park is the Hong Kong tourist attraction many families make a beeline to upon arrival.
There is a zoo with pandas attached to the park, in addition to its theme park.
So if you're not heading to Chengdu in mainland China you can get your Panda fix here.
Getting There: The nearest Subway station is Ocean Park
Shek O
This awesome little beach on the far eastern side of Hong Kong Island is an excellent place to escape the crowds and soak up some sunshine.
It is possible to swim here, but occasionally currents may mean that red flags are out at the beach.
Getting There: There are buses from Central and Chai Wan, which is the last subway on the island line.
Wan Chai and Causeway Bay
This area of Hong Kong is home to markets, electronics stores, shopping malls and various other places to explore.
There are some fantastic Cantonese restaurants to be found around here, as well as some funky shops and old arcades that are worth checking out.
Some of them being like a maze where escape seems almost impossible.
Getting There: The nearest Subway station is either Wan Chai or Causeway Bay.
University Museum and Art Gallery
This is the oldest museum in Hong Kong and was first established in 1953.
It holds impressive collections of Chinese antiques, ceramics, jade and oil paintings ranging from neolithic right though to the Wing dynasty.
Nestled in the rather swanky district of Pok Fu Lam this is an interesting opportunity to see how the other "half live" as this is home to some seriously expensive real estate.
Getting There: The nearest Subway station is HKU Station
Places to Visit in Kowloon
For many, this is Hong Kong. Kowloon is a crazy mixture of people, neon and cultures.
Most backpackers will have stayed in the Chungking mansions; a rite of passage of the travelling community for decades.
Kowloon is home to stunning temples, bustling markets and some rather fantastic hikes!
Avenue of Stars
This is the Chinese/Hong Kong version of Hollywood's walk of fame; paying homage to some of the most important people in film, music and the arts in China and Hong Kong.
The Avenue of Stars is probably one of the most popular Hong Kong tourist attractions for visitors from Mainland China.
Getting There: The Avenue of Stars is a short walk from Tsim Sha Tsui
Chilin Nunnery and Nan Lian Gardens
This gorgeous collection of temples and attached gardens are a world away from the concrete jungle of bridges, roads and tower blocks that surround it.
In addition to the huge nunnery there a number of other halls and shrines to check out.
There is a lot to explore here with plenty to keep you occupied, so make sure you give it some time when planning where to visit in Hong Kong.
It's quite a surreal feeling to be wandering around a quiet temple or garden that's surrounded by skyscrapers and a highway.
The nunnery and gardens were actually built in 1934 and were renovated in a Tang dynasty style in 1994.
Visiting earlier in the day will help you to avoid the people and the heat.
Getting There: The nearest Subway station is Diamond Hill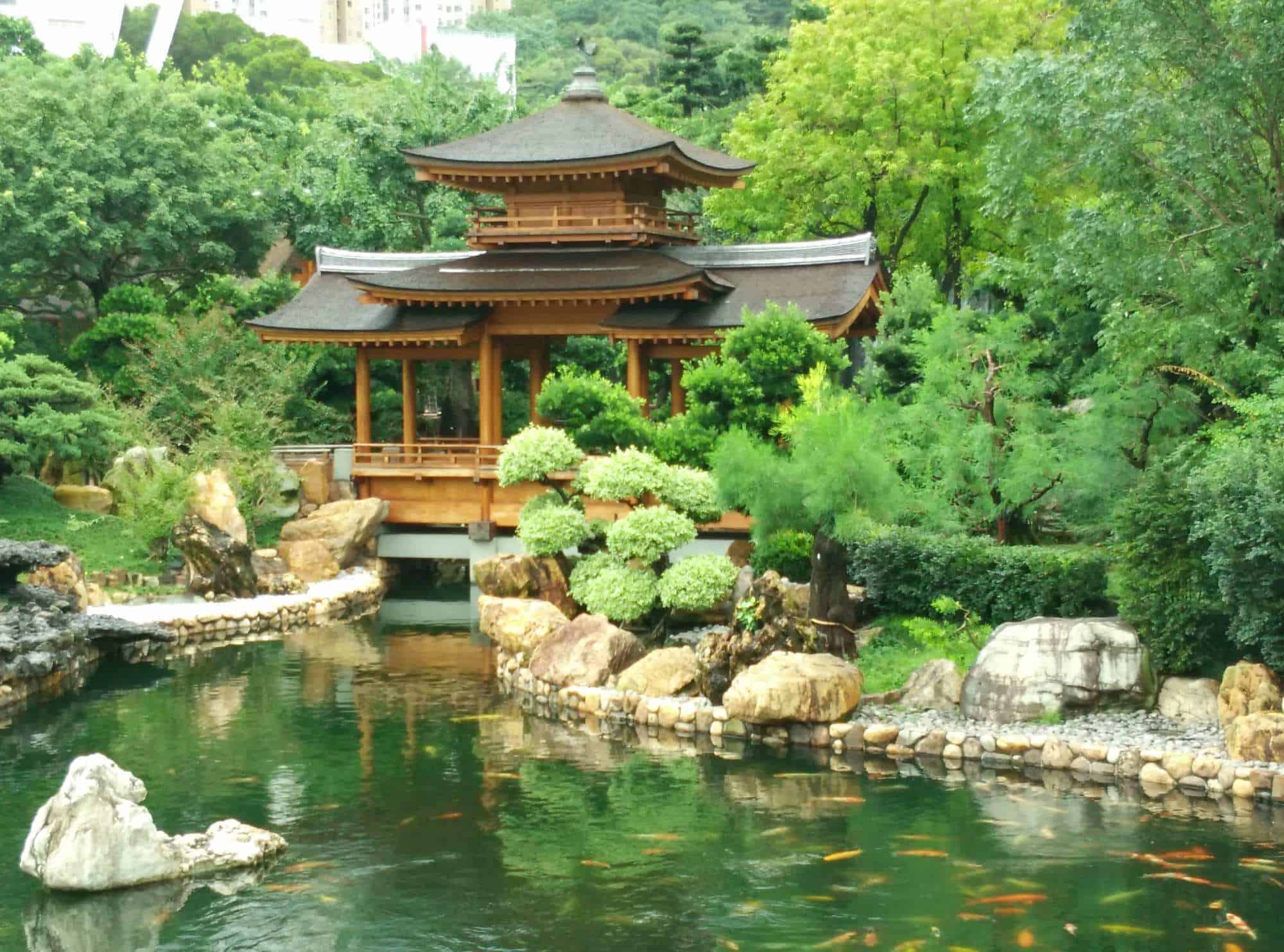 Chungking Mansions
This has been the epicentre for budget tourism in Hong Kong for yours.
Chances are that if you're on a tight budget you will find yourself here.
It's cramped, chaotic and somehow still standing. A true demonstration of how densely populated Hong Kong is.
If you want to grab some decent Indian food then this is the place to do it.
Also, the area surrounding is chock full of tailors and people trying to sell you "Rolex" watches.
Getting There: The nearest Subway station is Tsim Sha Tsui
Hong Kong Heritage Museum
Located up in Sha Tin, this museum has some excellent exhibits bring together history, art and culture.
Alongside a wide range of permanent exhibits, there are some awesome temporary exhibits, with an excellent Bruce Lee exhibition on show until 2020.
Getting There: The nearest Subway station is Che Kung Temple
Hong Kong Museum of History
Offering an excellent insight into Hong Kong's complicated history this museum is a must for any history buff.
Exhibits are in English as well as Mandarin and Cantonese.
Getting There: The nearest Subway station is either Hung Hom or East Tsim Sha Tsui.
Kowloon Walled City Park
Until March 1993 this area was home to the most densely populated area on earth; Kowloon Walled City.
In total 33,000 people crammed in this lawless 6.4-acre expanse of inter-connected high rise buildings.
Everything was knocked down and in 1995 the Kowloon Walled City Park had replaced the original structure.
The park is both a great place to relax and an excellent place to learn and understand more about Hong Kong's unique history.
Getting There: The nearest Subway stations are Hung Hom and Ho Man Tin, both walking distance.
Light Show
At 8pm every evening a stunning light show can be viewed from the end of the Kowloon peninsula looking over towards Hong Kong Island.
Although it is very popular there is plenty of awesome viewpoints so it never feels too crowded.
You may have to take a wander down the waterfront to avoid being blocked.
However, the light show involves so many buildings that in truth almost anywhere along the Tsim Sha Tsui waterfront will offer a decent view.
With musical accompaniment and most of the Hong Kong Island skyline being lit up, it's hard not to be impressed.
Getting There: The nearest Subway station is Tsim Sha Tsui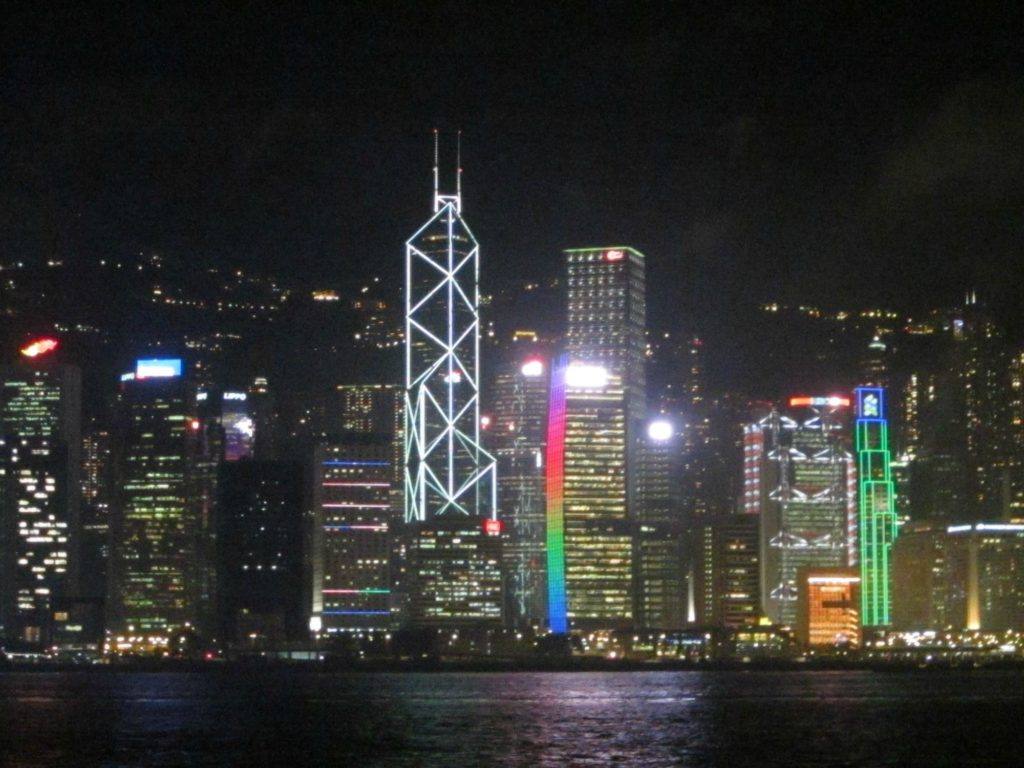 Lion Rock
Offering some of the best views over Kowloon, Lion Rock is worth the sweat and aching legs. It really is one of the better Hong Kong places of interest.
On clear days it's possible to see Hong Kong Island in the distance.
Getting There: Start at Wong Tai Sin and then take minibus 18M to the Fat Jong Temple. Then take bus 72 from the trails end back to Lai Chi Kok subway station.
Mong Kok
Mong Kok is one of the Hong Kong tourist places' busiest areas.
Huge shopping malls compete with small independent shops selling all manner of things.
Incidentally, this is one of the best places to pick up some cheap electronics if you need it.
Hong Kong is usually cheaper than mainland China and South East Asia.
If you want some authentic Cantonese cuisine then the hawker centre at 557 Shanghai street is one of the best places to visit in Hong Kong.
Most dishes are around $40 HKD per plate. The char sui is particularly good.
Check out this interesting walking tour that will help you to understand the challenges facing the citizens of Hong Kong.
Getting There: The nearest Subway station is Mong Kok
Mong Kok Flower Market and Yeun Po Road Bird Market
Both of these markets are worth a wander. Aside from flowers, you can find a host of other bits and pieces.
Haggling is expected.
But the first prices are unlikely to be as outrageous as what you may be initially offered in Mainland China or South East Asia.
Getting There: The nearest Subway station is Prince Edward
Temple Street Night Market
This night market sells all manner of odds an ends – including toys of the child and adult variety.
It certainly is one of those markets that is more for the tourists than the locals but it's certainly an interesting place to explore.
Getting There: The nearest Subway station is Jordan
Wong Tai Sin Temple
This is one of Hong Kong's busiest temples.
On any visit it is likely there will be plenty of people praying and throwing wooden sticks on the floor as a way to better understand and predict their futures.
The surrounding area is worth a wander to see what's going on.
Getting There: The nearest Subway station is Wong Tai Sin
10,000 Buddha Monastery
This gorgeous temple gets its name from the golden buddha statues that line the steps up to the temple complex itself.
This temple is rarely visited and is certainly a nice break from some of Hong Kong's busier and more popular sites.
It also offers some lovely views over the mountains to fracture out towards to the new territories.
The temple complex at the end of the climb is home to a variety of halls and pagodas that are well worth exploring.
Getting There: The nearest Subway station is Sha Tin.
Places to Visit in Lantau, Hong Kong
With epic views, deserted beaches and some awesome temples Lantau is comfortably one of the best places in Hong Kong to escape the crowds and experience some of the lesser-known Hong Kong sights.
Ferry to Mui Wo
The ferry is not necessarily a tourist attraction in the traditional sense.
However, the views of Hong Island and Kowloon from the back of the ferry are spectacular on a clear day.
You can catch this ferry, and most others for that matter, from Central Pier.
Ferries out to Mui Wo are roughly every 30 minutes.
Very often you will have the outdoor portion of the boat all to yourself, offering uninterrupted views of some of the Hong Kong top attractions.
Sunset Peak
Unsurprisingly sunset is the best time to climb this stunning peak on Lantau.
Offering spectacular coastal views it can get quite popular on clear days.
It is possible to camp here if you wish. If doing so, it is best to bring you own gear as renting gear can be quite expensive.
The next peak over from Sunset Peak is the equally spectacular Lantau Peak.
However it doesn't quite get the same awesome sunset views.
The main route up to Sunset Peak is part of the Lantau Trail.
The next stage of the train is to Lantau Peak – meaning it's possible to combine Sunset Peak with a trip to Lantau Peak which will end at the Tian Tan Big Buddha.
This will be a long hike. But the excellent views more than make up for it!
Getting There: Take the boat to Mui Wo and from here you can hike directly to sunset peak.
For getting back can return directly Mui Wo or you can carry following the markers to the road where you are two minute walk from Pak Kung Au bus stop. You can then take the bus to Mui Wo or Tung Chung.
If you want to carry on to Lantau Peak then you will have a myriad of transport options back to Mui Wo and Tung Chung. These include the Ngong Ping 360 a cable car that goes from the Tian Tan Big Buddha back to Tung Chung.
Tai O
This gorgeous fishing village can be accessed by bus from Mui Wo or Tung Chung.
Tai O is home to stilt houses.
And with an active fishing community, it's a great place to try some awesome Cantonese seafood dishes.
Getting There: Bus 11 from Tung Chung or bus 21 from Ngong Ping. There are also regular buses from Mui Wo.
Tian Tan Big Buddha and Po Lin Monastery
This is one of the best places to visit in Hong Kong and is perhaps the most famous tourist attraction in the city.
This 34-metre high statue sits atop 268 steps and offers sweeping coastal and mountain views.
The Po Lin Monastery is one of the most important Buddhist Temples in the region.
It is home to a number of devout monks and holds a special place within the Hong Kong's Buddhist community.
This tour is a great option for checking out the Ngong Ping, Big Buddha and Tai O in a day.
Getting There: There are buses from both Tung Chung and Mui Wo. Alternatively you can take to Ngong Ping 360 from Tung Chung station.
New Territories – Top Places to Visit in Hong Kong
This vast swathe of land runs from the north of Kowloon all the way up to the border with Mainland China.
The region is Hong Kong at its most rugged and rural.
Long Ke Beach
There are plenty that would argue that this is the most stunning beach in Hong Kong. To be honest it's hard to disagree.
Its beauty owes a lot to its isolation, it's a 10km walk from the nearest bus stop.
A taxi can get you about 1-2km away. You will need to walk from at least the High Island Reservoir (the furthest a taxi can go). The first views you get of Long Ke from here are particularly spectacular.
Getting There: Taking a taxi is your best bet. The best place to get a taxi from is Sai Kung. Tell the taxi driver you want to go the High Island Reservoir. Alternatively you can do stage 1 of the Maclehose trail and enjoy this as your reward.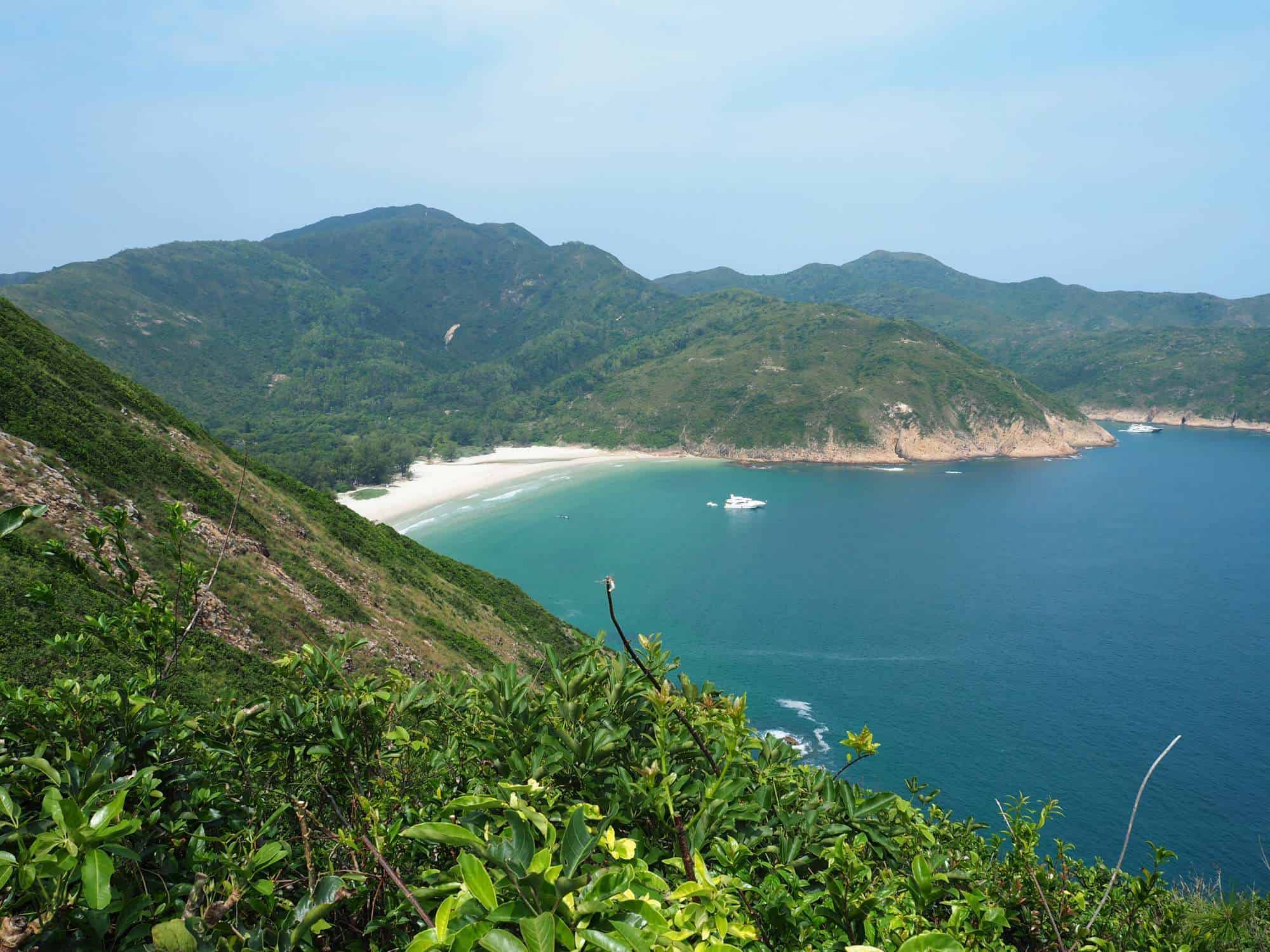 Ping Shan Herritage Trail
Out in the west of the new territories is the rather interesting Ping Shan Heritage Trail.
Home to a number of pagodas, temples, halls and various other structures this area offers a very interesting example of how Hong Kong looked under the control of Imperial China.
Getting There: Take the subway to Tin Shui Wai. From here it's signposted.
Sai Kung
It's a long trek out here, but it's worth it if you're trying to discover the best Hong Kong sightseeing.
Sai Kung is a lovely waterfront punctured by huge live seafood restaurants and various walking trails that will take you well away from it all.
This is also a jumping-off point for various other hikes in the region, including parts of the Maclehose Trail.
There are some awesome beaches in the area offering various water sports if you don't want to sit in the sun.
One of the easiest hikes is to the Sheung Luk Stream.
Roughly an hour or so hike from Sai Kung itself. You'll pass through three smaller pools before getting to the biggest one.
Bring a picnic and alternate between swimming and eating.
Getting There: Take bus 92 from Diamond Hill.
Sai Wan Beach
Located slightly further up the coast from Long Ke, this is another stunning beach that is a popular getaway spot for Hong Kong locals at the weekend.
Decent waves, as well as a couple of small cafes, means this beach is a little more equipped than Long Ke, which may or may not be your thing.
The beach is huge and even when it's busy it doesn't feel too crowded.
Getting There: This is probably one of Sai Wan's highlights. Taxi's and buses from Sai Kung are possible but will require a bit of a walk. However the speedboat service from Sai Kung pier itself is far more convenient and enjoyable. Offering stunning coastal views this is an unexpected winner. Do be warned that the waters can be very choppy.
Tsuen Wan
This relatively secluded area in the west is home to a variety of walks, temples and eateries.
The Western Monastery in the village of Lo Wai is well worth a visit and there is a lovely hike up to the Shing Mun Reservoir.
In addition there are a bunch of excellent cafes and restaurants to rest those weary feet.
Getting There: The nearest Subway station is Tsuen Wan.
Hong Kong Outer Islands
Don't miss out on exploring some of the top places to visit in Kong Kong's Outer Islands as well.
Cheung Chau and Peng Chau
These two tiny islands are nestled between Lantau and Hong Kong Island.
They are only reachable from Central Pier and offer visitors a very different and rarely visited side of Hong Kong.
Lamma
This charming rocky outcrop is located to the south-west and is one of the to places to see in Hong Kong island.
It's mainly known for the cross-island walk which offers some lovely views and it's a nice break from Hong Kong's more well known and chaotic areas.
Temples and shrines are scattered across the island and are certainly worth checking out.
If you're looking for a more relaxed pace then there is the rather terribly name power station beach when you can catch some rays and take a dip.
Yung Shue Wan is the busiest of the two ferry ports.
This area is home to a number of eateries, shops and guesthouses.
The southern port of Sok Kwu Wan is home to a few live seafood restaurants serving some decent Cantonese dishes.
Getting There: Lamma has two points of entry; Sok Kwu Wan in the South and Yung Shue Wan in the North. Both can be reached with regular services from Central. Additionally, Sok Kwu Wan can be reached with a less regular ferry from Aberdeen on the south of Hong Kong Island.
Macau
For an article talking about the best places to visit in Hong Kong, Macau may seem like an odd suggestion, however, it's a really easy day trip.
In fact, you can read this article here all about how to spend one day in Macau to get some more inspiration.
A former Portuguese colony, Macau is chock full of stunning architecture that you certainly wouldn't find in Hong Kong.
Northern Macau is home to the Ruins of St Paul, numerous churches and the excellent museum of Macau.
However if you're not here for the history then head south for the casinos.
Ironically known as the Las Vegas of the east, Macau makes substantially more money than its more illustrious rival.
In addition if you are lucky enough to be here during the Macau Grand Prix then it is well worth getting a ticket and heading over.
Tickets for the main stands are pretty cheap and offer some awesome views.
It's worth booking everything in advance rather than trying to do it on the day.
Getting There: Take the ferry from the Hong Kong-Macau Ferry terminal which is connected to Sheung Wan subway station on Hong Kong Island. Ferries are very regular, however, if you are visiting during Chinese National holidays then it's worth getting your tickets as far in advance as possible.
Book yourself a day tour to Macau on Get Your Guide for added convenience.
Hong Kong's History
After the first opium war between Britain and China, Hong Kong Island was ceded to the British in 1842 as part of the humiliating Treaty of Nanking.
The first of "Unequal Treaties" between China and the Western Powers that hammered home the demise Qing Dynasty and Imperial China.
The seeds of collapse were sown far earlier, but for the Qing, there was no coming back from this.
In 1860 the Kowloon Peninsula was also ceded to the British to end the second Opium War under the Convention of Peking.
Then in 1898, the new territories were also ceded to Britain for 99 years.
In 1997 everything was handed back to the Chinese under the "one country two systems" formula that is still (just about) in place today.
Under the terms of the handover, Hong Kong was to keep its freedoms of speech, rule of law and various other rights that were not available on the mainland for 50 years.
However many believe these freedoms are slowly being eroded as China seeks to bring Hong Kong completely under the control of Mainland China.
This history is part of what makes Hong Kong unique.
Fortunately, there are plenty of places in Hong Kong to better understand the turbulent history that has shaped this Special Autonomous Region (as it's more commonly known in China).