Wildlife tourism is on the rise around the world. When it comes to some animal encounters however, like elephant rides, there's a darker story, one that many tourists never see. In this article, our writer Danielle reports from India on the real cost of elephant tourism, and the organisations striving to end the captive elephant industry.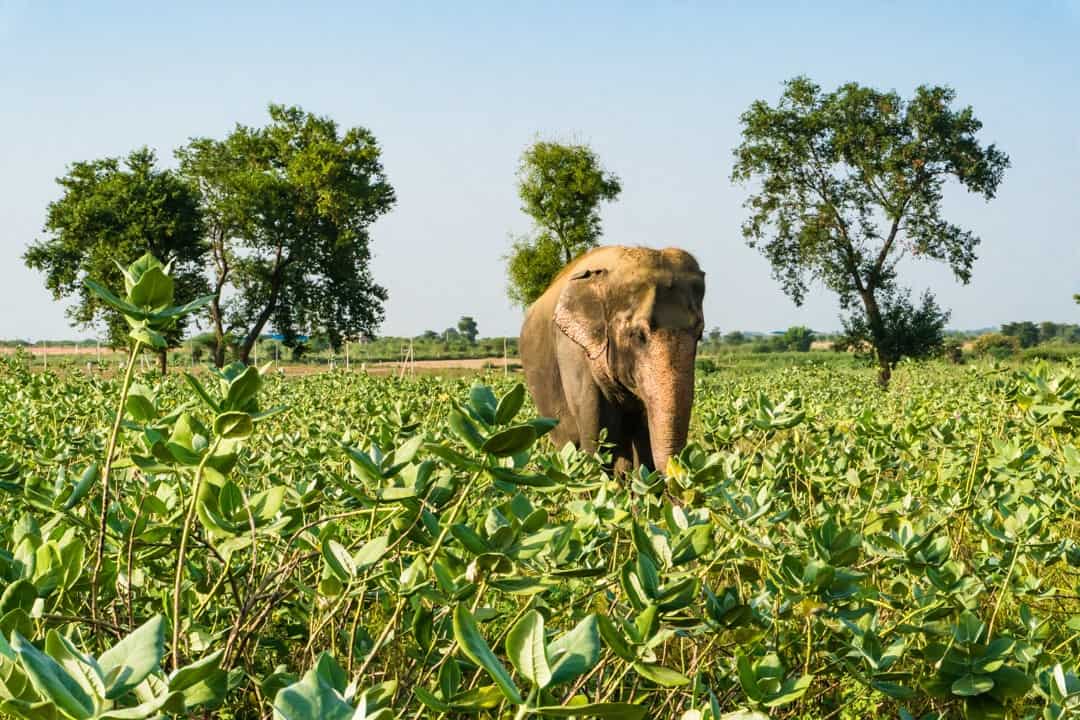 Maya paused in her slow meander through the field of green, leafy plants. Framed by trees, and bathed in the golden light of the late afternoon sun, she closed her eyes for a moment and stood perfectly still. I wondered what was going through her mind.
As a life-long entertainer in the circus, Maya's days and nights had been filled with fear and pain. She was abused, neglected and isolated. She never had enough food or water. Day after day, she was forced to perform tricks for a paying public that put her weakened body under enormous stress. At night, she was tightly chained by the legs so she couldn't escape.
In 2010, after nearly four long decades of forced work, exhausted and withdrawn, Maya's world was turned on its head. She was rescued from her captivity, and taken to a sanctuary where she could live out her days free of chains and suffering.
Maya is an Asian elephant, and while her journey has a happy ending, her tale is just one of many in the long and complicated story of India's captive elephants.
It's this story that brought me, on behalf of NOMADasaurus and in the company of the TreadRight Foundation, to the city of Mathura in northern India.
Putting Wildlife Tourism in the Picture
Wildlife tourism is on the rise the world over, as more of us seek out opportunities for special, close-up encounters with our favourite creatures.
For many local communities, and for the animals that attract tourists, this is good news. Well-managed wildlife tourism can bring significant benefits by way of the tourism dollar, while also driving awareness and, in some cases, greater protections for environments and animals.
But there is a darker side to some animal encounters; situations where what you see is only a handful of pixels in the bigger picture.
As travellers, the decisions we make and the actions we take when it comes to animals on our travels, can make all the difference. And awareness is our greatest tool.
Vivid India – The Journey to an Elephant Sanctuary Near Agra
My journey to visit an elephant sanctuary in a paddock fifty kilometres north of Agra, started a couple of days earlier in Delhi.
A city of 25 million people, Delhi is a microcosm of culture and history, wrapped up in a sensory whirlwind of colour, noise and sheer humanity.
Culture shock doesn't quite capture the feeling of arriving in this kaleidoscopic metropolis. All you can really do is hold on and go along for the ride.
As my second visit to Delhi, I had the benefit of knowing what to expect as my taxi cleared the airport gates.
Still, the cacophony of car horns and shouting rickshaw drivers, the laneless havoc of the traffic, the calls of the streetside stall-holders selling lime juice and snacks, was sudden and intense.
I couldn't help but smile. This in India, and it really is like nowhere else.
Exploring the Golden Triangle in India
As well as being India's most populous city, Delhi is the northernmost point of a well-known tourist trail called the Golden Triangle.
The other points on the circuit are the ancient cities of Jaipur and Agra, and my trip would take me via some of the historical highlights of all three, en route to the city of Mathura.
The long history in this corner of northern India weaves together a vibrant tapestry of cultures, religions, dynasties and empires going back a thousand years and more.
A Golden Triangle tour offers visitors a taste of this rich past as it passes from city to village, and from urban sprawl through desert across the states of Rajasthan, Uttar Pradesh, and the National Capital Territory of Delhi.
It's an Indian Thali of awe-inspiring forts and opulent palaces, ornate houses of worship, impressive monuments, exquisitely designed tombs, and ever-changing landscapes.
It also takes in some of India's most famous sights, including the world-renowned Taj Mahal of Agra.
But not far from the Taj is another highlight of the Golden Triangle, less well-known perhaps, but even more inspiring: the Wildlife SOS Elephant Conservation and Care Centre, our ultimate destination.
The Story of India's Elephants
Asian elephants have roamed the forested landscapes of the Asian continent since time immemorial. Today though, their habitat has diminished to all but a few pockets of the sub-continent and south-east Asia.
Threats such as poaching, the illegal wildlife trade, habitat loss, conflict with people, and captive elephant industries have all contributed – and continue to contribute – to the listing of the Asian elephant as an endangered species.
Unlike their cousins in Africa, Asian elephant populations are on the decline.
There are estimated to be anywhere between 30,000 and 50,000 Asian elephants left in the world. The majority live in India, and of these, around 3,500 elephants are in captivity, forced to work their entire lives for the profit and entertainment of people.
They haul logs in forest clearing operations, they perform in circuses, they are used to beg for money and food on the streets.
As an earthly representative of the elephant-headed Hindu god, Ganesha, elephants are chained in temples to give blessings. They are hired out for festivals, weddings and celebrations.
They are also used prominently in the tourism trade, and it was at the Amber Fort in Jaipur, a highlight of the Golden Triangle, that we were introduced to this chapter in the story of India's captive elephant trade.
It's a chapter of particular relevance to us as travellers: the industry for tourist elephant rides.
Challenging History and Tradition
Asian elephants have been domesticated for thousands of years. They feature throughout India's long history, and have great significance in certain traditions and religious practices. Some would ask, why change?
Because times have changed.
For one thing, capturing elephants for commercial profit is against the law in India. However an amnesty back in 2003 allowed for elephants already in captivity to be kept, provided they were registered.
The problem is, captive elephants are still profitable, and so their capture and trade has simply carried on with the use of forged or questionable certificates. Many captive elephants in India today are kept illegally.
Conservation is a major issue. Elephants, who range far and wide in the wild, are critical to the health of forest habitats. Like their forest homes though, Asian elephant numbers are dwindling, and there are fears that they will be gone from the wild within a matter of generations.
"People tend to forget the fact that every captive elephant is an elephant that was taken from the wild, who could potentially have had a family…taking out even one elephant kind of derails the conservation quest for Asian elephants altogether." Gargi Sharma, Assistant Elephant Campaign Officer, Wildlife SOS
Then there is the tragic reality of the very real suffering, abuse and neglect of elephants in captivity, and the brutal facts behind the 'training' used to break them in for work.
This cruel process, which often takes places while elephants are still very young, involves beatings, torture and starvation. It's called 'the crush', because its purpose is to crush the elephant's spirit completely, to force it into submission through fear and pain.
It's a devastating and inhumane practice, and it sets a terrible tone for the life that these elephants will lead in captivity.
"How they are coming into this [human] world, how they are being tortured and trained, that is all hidden [from] the local public and the tourist. That is our first objective, to tell the people what is happening." Shivam Rai, Education & Conservation Officer, Wildlife SOS
The Captive Elephants of Amber Fort
I learned from Gargi Sharma, a team member at Wildlife SOS, that there are two major captive elephant hubs in India.
One is in Kerala, where temple elephants are big business. The other is Amber Fort in Jaipur, the most famous place for tourists to go on an elephant ride in India.
Amber Fort, also known as Amer Fort, perches atop a high hill overlooking a dramatic landscape near Jaipur. Above and beyond the palace, the ramparts of Jaigarh Fort rise and fall over the surrounding hills.
The climb to Amber Fort is along a steep, cobbled path and it's this rise that elephants slog time and again, day after day, as they haul hundreds of kilos of seat frame, keeper and tourists up to the palace on their backs.
The elephants of Amber Fort, their faces and trunks painted in swirling pastels, their huge bodies draped in bright satin, cast an immediate spell on visitors to the fort.
Some might say there's an old-world charm about being carried by a creature as majestic as the elephant to a palace built for kings.
But investigations by the Animal Welfare Board of India have shown that the elephants suffer profoundly in providing tourists with these rides. They are overworked, many are malnourished, some are blind. Many have untreated wounds from beatings and bullhooks.
All of them suffer painful foot problems, a result of pounding the pavements under a heavy load day after day, with no relief or medical care.
My Journey to Elephant Tourism Awareness
Standing in the elephant 'lobby' at Amber Fort, I watched as elephants lined up for tourist boarding, swaying their heads under the heels of their handlers. Each keeper held a wooden stick in their lap, the only sign of the harsh methods used to 'handle' the elephants; invisible to anyone not looking for them.
I was overcome as I watched the elephants by a memory of my own, an experience that left a lasting impact. In 2011, I had stood in this very same place. Right here, at Amber Fort. And that time, I rode an elephant.
I still recall the experience vividly, lurching and rolling up the hill. The handler constantly nudged the head of the elephant with his foot to keep her moving at a steady pace, all the while trying to get us to take photos of him for a tip.
My partner and I didn't know then what goes on behind the scenes for these elephants. We hadn't done our research. But as we held on, watching the circus-like procession wind its way up the hill, what we did know is that it didn't feel right.
That feeling never left us. Our next stop after India was Thailand and, in an effort to understand more about the captive elephant industry, we visited an elephant sanctuary in Chiang Mai.
Alongside our experience in Jaipur, the elephant sanctuary was a wake-up call, and together the two moments changed our feelings about elephant tourism for good.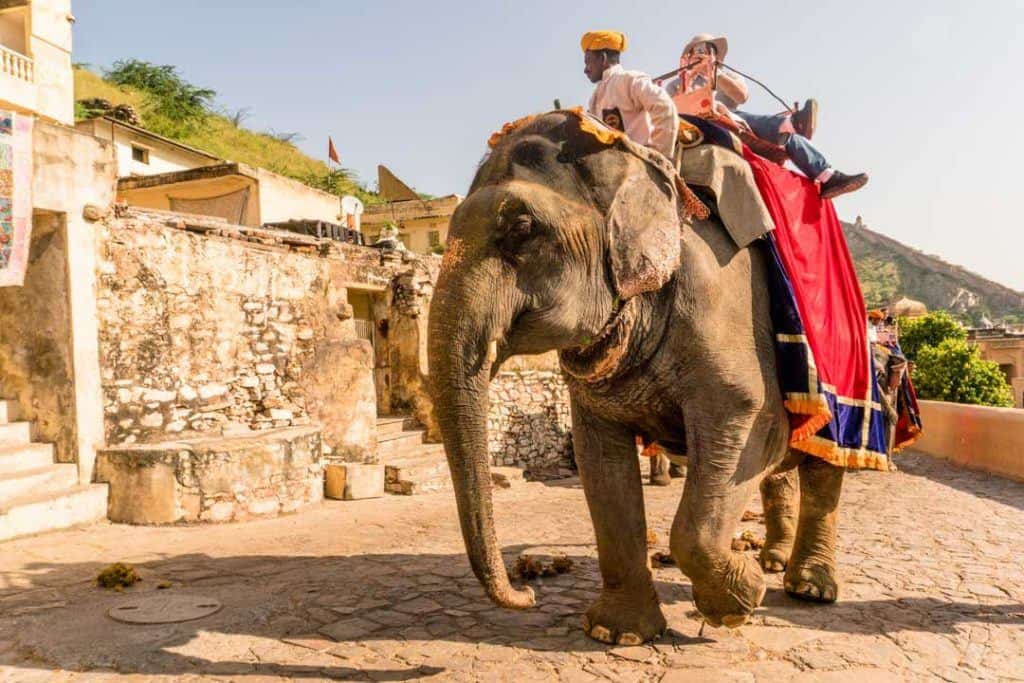 The Fight Against Elephants in Captivity
I wasn't aware on that first visit to Jaipur that there was an organisation in India already making significant headway in the fight for the health, wellbeing and freedom of captive Asian elephants.
That organisation was Wildlife SOS, and the opportunity to visit their elephant sanctuary in India on this trip – in the company of TreadRight, a foundation supporting their efforts – was an opportunity I jumped at.
Wildlife SOS was founded in 1995 as a not-for-profit dedicated to protecting and conserving nature and wildlife across India.
The organisation runs a range of programs, from rescue and rehabilitation, and wildlife education, to human/wildlife conflict mitigation, and law enforcement training.
They also work with local and tribal communities to identify and support new opportunities and livelihoods that move people away from wildlife exploitation.
Wildlife SOS was instrumental in eradicating the centuries-old practice of 'dancing bears' in India. Today, they are working for change and, hopefully one day, an end to the captive elephant industry.
The challenge is a long and complicated one, and there are very real obstacles to the people involved in elephant rescue and care. Rescues can be risky, and court cases to remove sick and injured elephants from captivity can last a long time, at significant cost.
Wildlife SOS works extensively with the Indian government, forestry departments and law enforcement in their endeavour to both improve conditions and care for elephants in captivity, and to rescue elephants in distress.
They also strive to educate and raise awareness among local and international communities for the long game: no elephants in captivity.
A Partnership for Responsible Tourism
TreadRight, a not-for-profit established by travel and leisure group, The Travel Corporation, has supported Wildlife SOS in expanding their ability to drive change more effectively by funding a legal and law enforcement training centre at the Wildlife SOS elephant sanctuary in Mathura.
I visited Wildlife SOS with TreadRight Ambassador, Céline Cousteau, who explained that ethical interactions between tourists and wild animals is a key focus for TreadRight and its partner tour companies.
For TreadRight, supporting initiatives in collaboration with local organisations is fundamental to ensuring that the places, people and wildlife visited by its companies and tourists are impacted positively by those visits, now and into the future. Working with Wildlife SOS is an important partnership both for supporting sustainable wildlife tourism on the ground in India, and for helping travellers to make informed choices about the wildlife experiences they have.
"I think the tourism industry has tremendous potential to do good. Right now, our footprint is quite big, but I think more and more the traveller is becoming savvy, and corporations are becoming much more sustainable in the way that they function. And we need to keep encouraging that." Céline Cousteau, TreadRight Ambassador
TreadRight has supported more than fifty sustainable projects around the world. Initiatives vary by place and need, and TreadRight works side by side with communities to identify where and how their support can help the most.
"We take a look at the destination, we find out how can we make travel matter within this destination, what can best be served by what we do." Zach Vanasse, Program Manager, TreadRight Foundation.
Projects range from a women's cooperative supporting financial independence in Jordan, to delivering clean water to children in Cambodia, to helping Wildlife SOS achieve its conservation goals in India through the provision of much-needed facilities.
In addition to the training centre, Wildlife SOS and TreadRight have also worked together to create a guide for travellers on what to look for when seeking elephant friendly experiences.
Visiting Wildlife SOS in Mathura
The Wildlife SOS Elephant Conservation and Care Centre in Mathura is one of those places where you can interact with elephants in a friendly, ethical and meaningful way.
Visiting the elephant sanctuary was the high point of our trip; we were there to learn about the work of Wildlife SOS, and to meet the rescued elephants in their care.
Twenty Asian elephants live at the elephant rescue park in Mathura, each a refugee from a branch of the captive elephant industry.
"Suzy was a circus elephant. Asha, she's representing the Amer Fort…and we've had several elephants who were used in ceremonies and they were begging on the road. So every elephant [here]…represents a reason why this practice has to end." Gargi Sharma, Assistant Elephant Campaign Officer, Wildlife SOS
The elephants at the centre all carry some legacy of their previous lives. Some signs are visible, like bullhook-torn ears, body wounds from beatings, broken toenails and damaged footpads from wear and neglect.
Some symptoms indicate a far deeper issue. The youngest elephant to be rescued by Wildlife SOS, Peanut, waved and bobbed her head constantly as she waited for lunch.
It's a habit, one of the keepers told me, borne of the stress she experienced during her time as a circus elephant. Captured as a baby and just six years old when she was rescued, the circus was the only life Peanut had ever known.
Elephants are known to have long memories, and Peanut may carry her tic for the rest of her life. Today though, she is a happy, healthy young elephant with a family herd, boundless energy and a penchant for mischief.
For the staff at Wildlife SOS, that's the silver lining: giving these rescued elephants the best life they can have post-captivity.
Because while rescue means freedom from chains for captive elephants, the reality is that their dependence on humans, and the health and mental issues they often suffer as a result of their captivity, mean they can never be released back into the wild.
So they are brought to elephant sanctuaries like this one, where they are given shelter, care, medical attention, and the opportunity to socialise and bond with other elephants. Places where they can simply be elephants again.
"When we…see them doing their natural activities by themselves, that is the best part of our everyday." Shivam Rai, Education & Conservation Officer, Wildlife SOS
Volunteering at the Wildlife SOS Elephant Sanctuary
In learning about the work of Wildlife SOS and the elephant sanctuary, we sat down with the centre's ground staff to help with one of the biggest tasks of the day: cutting vegetables.
Wildlife SOS's resident elephants each get through up to 250 kilos of food every single day. That's a lot of fruit, veg and fodder.
We helped the keepers to wash, chop and weigh buckets of fruit and veg, before moving on to haul bales of grass for each elephant.
Meeting and working with Wildlife SOS's ground staff is an important part of the experience. Many of them were once elephant keepers working in the captive industry.
Despite the circumstances, elephants and their keepers often form a bond, and as part of Wildlife SOS's efforts to shift livelihoods away from animal exploitation, they will usually try to bring a rescued elephant's keeper with them to the centre.
"They've not learned a different way, but they still love the elephant quite a lot, so they initially maybe refuse to come, but then…they are drawn to the animal so much that they come." Gargi Sharma, Assistant Elephant Campaign Officer, Wildlife SOS
Once at the centre, the keepers are rehabilitated too: receiving a stable salary and training in the humane treatment of the elephants in their care.
Alongside the keepers, volunteers also play an important role at the sanctuary in Mathura, and anyone can sign up. Visitors wanting to volunteer with the elephants at Wildlife SOS can stop by for a few hours, a day, five days or more.
In addition to helping feed the elephants, volunteers assist with tasks like cleaning the enclosures, helping with maintenance of the facilities, prepping enrichment treats for the elephants, working in the office, and lots more.
One of the absolute highlights for me during our visit to the centre, was the chance to muck in with the keepers and help with the elephant bathing.
It was an incredible opportunity to get up close and provide these once neglected animals with an experience they love; bathing is an activity elephants actively seek out in the wild.
Despite the cheeky calls from the keeper to 'scrub harder', the elephant under my sponge seemed to enjoy the experience as much as me. Especially afterwards, when she moved off to lash her shiny, clean back with trunkfuls of dirt.
Supporting a Positive Future for India's Elephants
Each morning and afternoon, the elephants at Wildlife SOS leave their enclosures for walks with their keepers in the fields near the centre.
It was here, as I strolled with best friends Maya and Phoolkali, survivors of the circus and street begging, that I watched as Maya paused amidst the sea of green leaves.
For decades before her rescue and arrival at the sanctuary, she had known only fear, pain and loneliness.
While she would never be free again in the true sense of the word, she was as close to free as a former captive elephant could be. She could choose to pause among the leaves if she wanted…until her keeper encouraged her on, anyway.
I'd asked Shivam Rai earlier in the day what he would say to tourists considering an elephant experience on their travels. As I watched Maya gently touching the leaves with her trunk, his words came back to me:
"These animals, these are wild animals, and they do not deserve captive life….as a traveller, please try to see what is happening."
It was a simple message, but a powerful one. Céline Cousteau made a similar point about travel choices and awareness when I spoke with her:
"I feel in life we have a lot of choices to make, and as travellers, we have a lot of impact that we can create in a positive way, for the wildlife and the people in the places that we travel."
Maya's name means 'illusion' in Hindi; a name that takes on a profound significance in the context of her life, and what we see and don't see when we encounter captive elephants.
As travellers, it's our duty to be aware of the big picture when it comes to wildlife tourism, and to make ethical and compassionate choices about the wildlife experiences we have. Like refusing to go on an elephant ride, saying no to elephant trekking, choosing not to watch elephants being forced to perform.
Without demand, there is no need for supply, and hopefully one day, captive elephants will be a thing of the past. Awareness is key, and the choices we make as responsible travellers go a long way in helping to make travel matter.
Danielle travelled through the Golden Triangle in India and experienced the work of Wildlife SOS on behalf of NOMADasaurus, and in collaboration with the TreadRight Foundation and Trafalgar Travel, a member of The Travel Corporation. All thoughts, feelings and opinions are her own.