It's one of the world's most remarkable train journeys – Here's 7 reasons why you should travel on Rocky Mountaineer!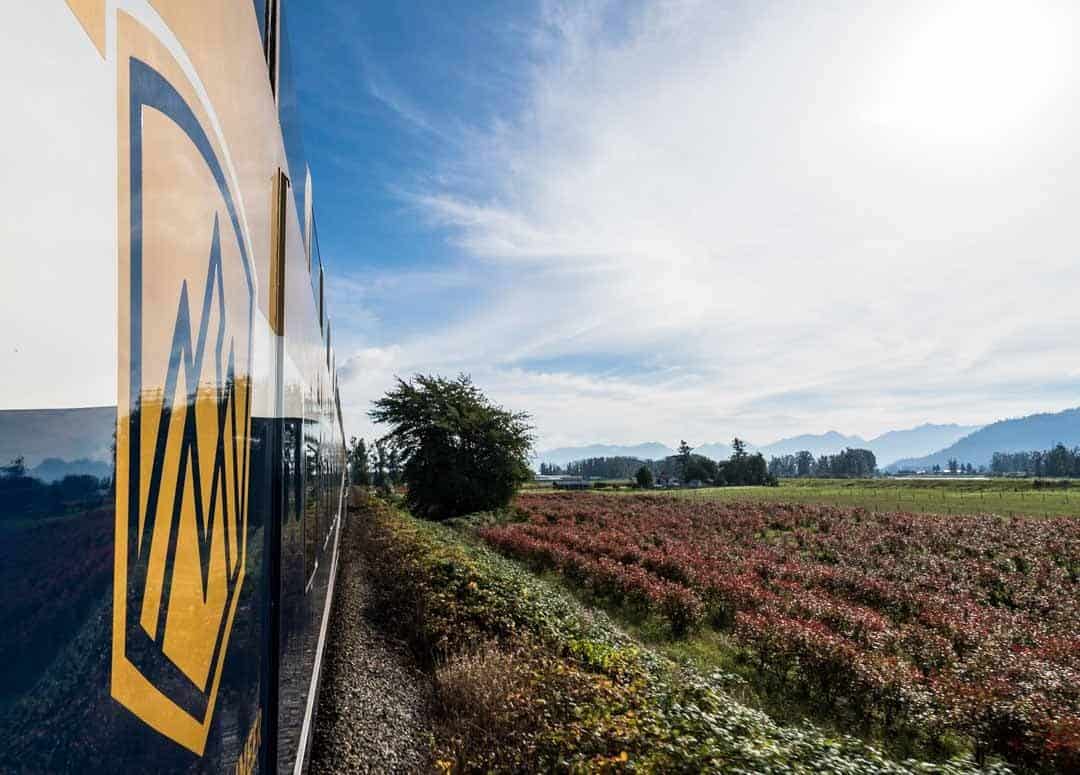 Filled with stunning mountains, picturesque lakes, dense forests and towns that look like they've come straight out of a fairytale, it's no wonder Canada is considered by many to be one of the most beautiful countries in the world.
It's been on the bucket list for millions of travellers for decades, and with cheap flights and excellent tour packages flooding the market, now is the perfect time to visit the Great White North.
One of the best experiences you can have in Canada is to travel onboard the iconic Rocky Mountaineer, the nation's luxury train that winds its way around the provinces of British Columbia and Alberta.
But what exactly makes this journey so special?
Why You Should Travel on Rocky Mountaineer
We were lucky enough to travel onboard Rocky Mountaineer's First Passage to the West journey this year, and were blown away to discover that it surpassed all our expectations.
The food, the service, the views, the comfort – everything about this trip was simply fantastic, and we haven't been able to stop gushing about it to anybody that'll listen since we ended our trip.
So what to do if you're considering taking this world class train trip? How do you know if it's for you or not?
If you're sitting on the fence, or just looking for some final inspiration to pull the trigger and book your amazing trip to Canada, check out our 7 reasons why you should travel on Rocky Mountaineer (at least) once in your life!
The Views are Unreal
Canada is known for a lot of great things. Awesome skiing. Maple Syrup. Wayne Gretzky. But the one thing that makes millions of tourists flock to the country every year more than any other attraction is the epic scenery.
The western provinces of Canada (British Columbia and Alberta) have some of the most spectacular mountain ranges in the world, including the Selkirks to the Monashees, however the main highlight is undoubtedly the postcard-worthy Canadian Rockies.
The jagged mountains of the Canadian Rockies are peppered with snow-capped peaks and tumbling glaciers, with turquoise alpine lakes and dense forests surrounding filling in the gaps.
They are the stuff postcards are made of, yet anyone can tell you that seeing them with your own eyes is like a witnessing a fantasy coming to life.
Rocky Mountaineer travels right through the heart of the Canadian Rockies, giving its guests unrivalled views of the mountains that brings in travellers from around the globe.
This is the only passenger train that travels along this route, and it goes where vehicles are unable to, so this means you will see a side of the Rockies that other travellers are unable to experience.
If you're looking for some reasons why you should travel on Rocky Mountaineer, it's views like this that should be at the top of your list.
Experience Pure Luxury
Rocky Mountaineer takes train travel to a level of opulence that is seldom seen on the rails, anywhere in the world.
They don't mess around with rickety, old carriages that have seen better days. Here the coaches are custom-designed specifically to make your journey around western Canada the most comfortable trip imaginable.
If you end up deciding to travel in the high-end GoldLeaf Service (and you should, honestly), your experience is guaranteed to be magnificently luxurious.
The heated seats are plush leather and fully reclinable at a push of a button, while te service from the hosts is faultless (you don't even have to leave your seat to get a drink).
Most impressively you'll be treated to your own, spacious dining cabin, so you can spread out and enjoy your meal in absolute style.
If you're going to spend two days travelling in a train, treat yourself and splurge out for the epitome of luxury in Canada on Rocky Mountaineer.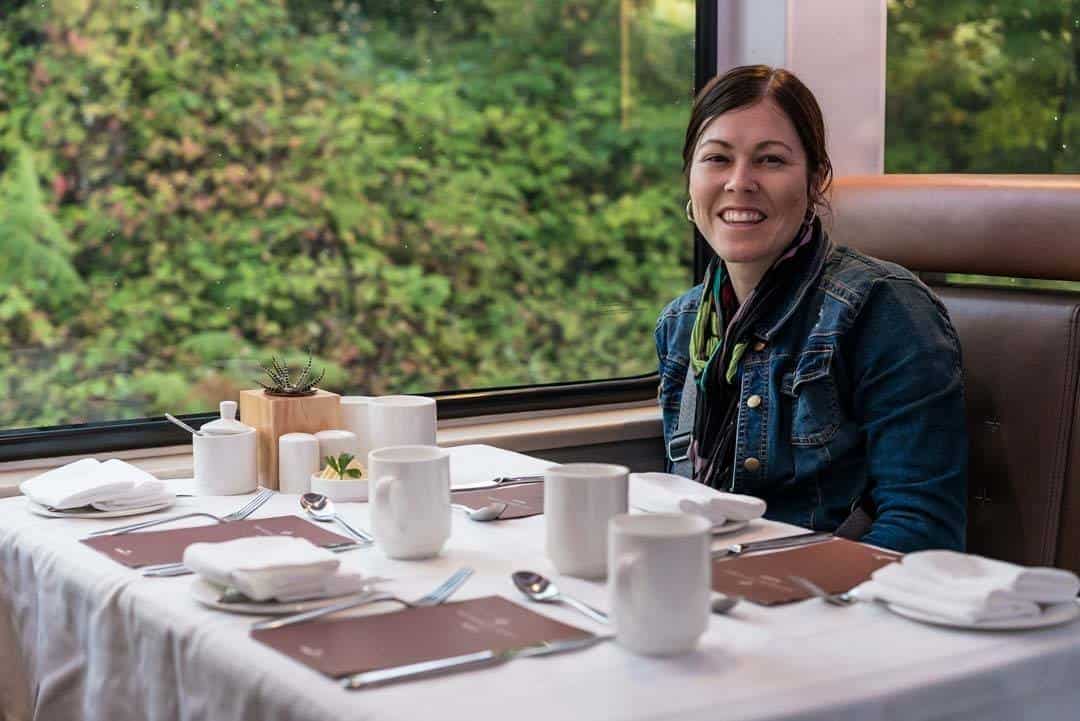 The Food is to Die For
Sorry, but any plans you had for going on a diet will have to be put on hold until after you finish your Rocky Mountaineer adventure.
The food onboard Rocky Mountaineer is legendary for being mouthwateringly decadent, with a range of dishes that may just send your tastebuds into overdrive.
The award-winning chefs have spent years curating and perfecting the menu to properly showcase the best local delicacies from around the region, and they proudly use only the freshest, and most divine, ingredients.
In the morning you'll be given the option of going all-out on a fully-cooked meal, or easing into the day with a fresh granola and fruit spread. Unlimited coffee and tea is of course constantly flowing.
For lunch the menu really takes a shine, and you'll be left flipping a coin to see if you'll go for the succulent pork ribs or the baked salmon.
Don't eat meat? Not a problem! The vegetarian options are just as tantalising.
Even if you're not a foodie, you're going to walk away slightly heavier, remembering each tasty mouthful for years to come.
The Hosts Will Make Your Journey Simply Superb
There's a lot of things Rocky Mountaineer does right, but none of it would happen without the hard work and friendly smiles of the hosts who accompany you on your journey.
These cheerful and attentive hosts are some of the best in the business when it comes to providing quality service.
From the moment you are picked up from your hotel in your departure city you can just about switch your brain off and kick back knowing that your every whim and need will be taken care of by the well-trained crew.
They'll be wandering through the coach serving drinks, handing out snacks, cracking jokes and sharing information about upcoming highlights along the rails.
If it wasn't for the tireless work of these amazing men and women, Rocky Mountaineer wouldn't be as fantastic as it is. Thanks for everything!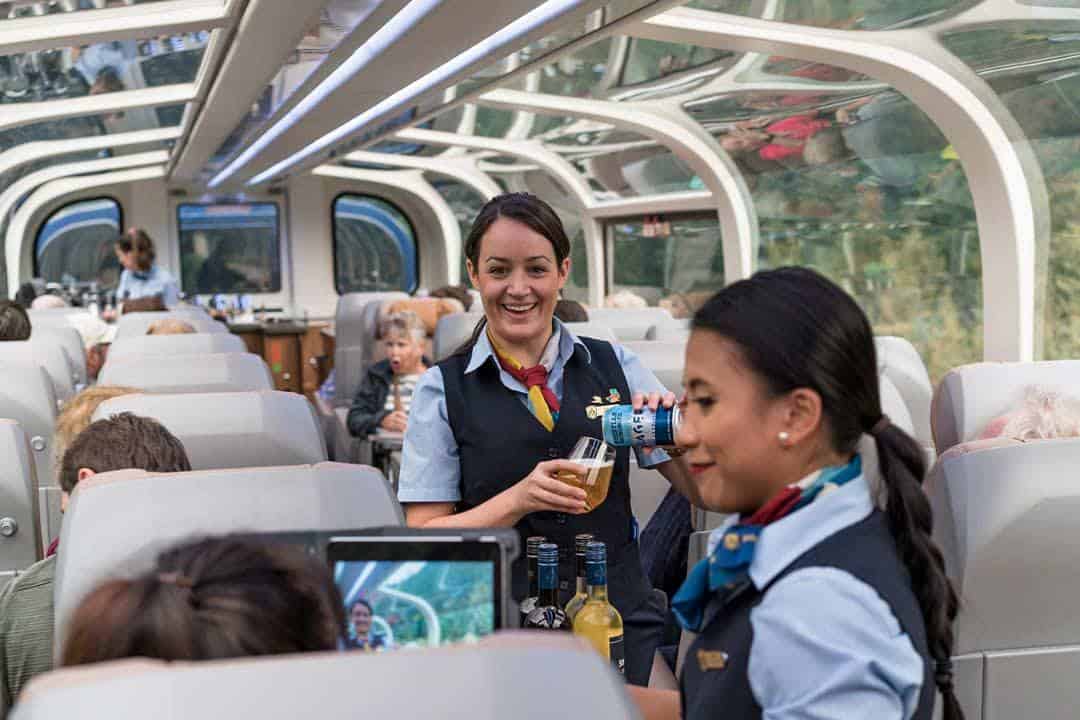 Those Glass Dome Ceilings…
Have you ever seen those pictures of an elegant train coach with a clear ceiling, mountains towering above as the sun peaks out from the clouds?
That's Rocky Mountaineer's world famous glass dome ceilings!
In GoldLeaf Service, which is Rocky Mountaineer's premier class, the coaches have been built with the spectacular Canadian vistas in mind (remember point number one above?)
Rather than limiting the views to just out of a small side window, they've designed the entire ceiling to be transparent, with a solid glass dome offering uninterrupted glimpses into the Canadian landscapes.
You'll never miss a moment from right there in your chair with this mesmerising feature. Indeed it's one of the things most people talk about!
As an added bonus, the GoldLeaf Service coaches are double-decker, which means you actually ride above the trees that line the rails.
It might not seem like much, but that extra few metres means you see a lot more than being closer to the ground. Sensational!
Champagne for Breakfast. And Lunch. And Afternoon Tea.
Let's be clear about something – Rocky Mountaineer isn't a party train. It's a civilised affair, with people from all around the world getting together to fully enjoy the experience.
That being said however, the hosts know that when you're on holiday you might like to have a drink (or three).
And seeing as all you have to do is kick back and relax, with very little responsibilities in sight, you can start whenever you want, right?
When you join any of Rocky Mountaineer's phenomenal journeys around western Canada, all food and drinks are included in the price.
That means you can put your hand up and grab whatever you'd like at any time, without worrying about pulling out your wallet at the same time.
The hosts are experts at making delicious cocktails, and the beer and wine menu is boutique and diverse, so you're guaranteed to find a drink to suit your mood.
Champagne for breakfast? Hell yea!
The Off-Train Excursions Are Epic
As amazing as travelling on Rocky Mountaineer is, you can't come all the way to Canada and spend all your time on the train.
Luckily when you book your trip the team at Rocky Mountaineer will help you sign up for any off-train excursions before or after your journey that sounds appealing to you.
Want to explore Vancouver on a guided tour? They know just the company to lead you around.
Interested in checking out the best things to do in Banff, or taking a drive along the Icefields Parkway? Let them take the headache out of research and line everything up for you for when you arrive in town.
If you'd like to take part in some unique activities as well, such as taking a scenic flight of Lake Louise, they are the experts at organising it for you.
Best of all if you don't feel like booking anything until you're on the train, that's not a problem! The hosts have all the contacts and information so you can make your plans right then and there as you sip a champagne.
Have we convinced you to travel on Rocky Mountaineer? Do you have any of your own reasons to add to our list? Leave a comment below and let us know!
Our train journey was made possible thanks to our partnership with Rocky Mountaineer. All thoughts, opinions, and glasses of champagne consumed before lunch are, as always, our own.