Our honest Manfrotto D1 Aviator drone backpack review. Should you buy it (and is it worth the price)?
For the last few years we've traversed Asia and Europe, carrying a tonne of camera gear on our backs.
We started off with a small point-and-shoot camera, and as our business has grown we've expanded to now haul around a full professional setup.
Recently we've acquired a DJI Phantom 4 drone to take our photography to new heights.
And while being an exciting purchase for us it also meant that we had to find the perfect backpack to carry it as we continue our global travels.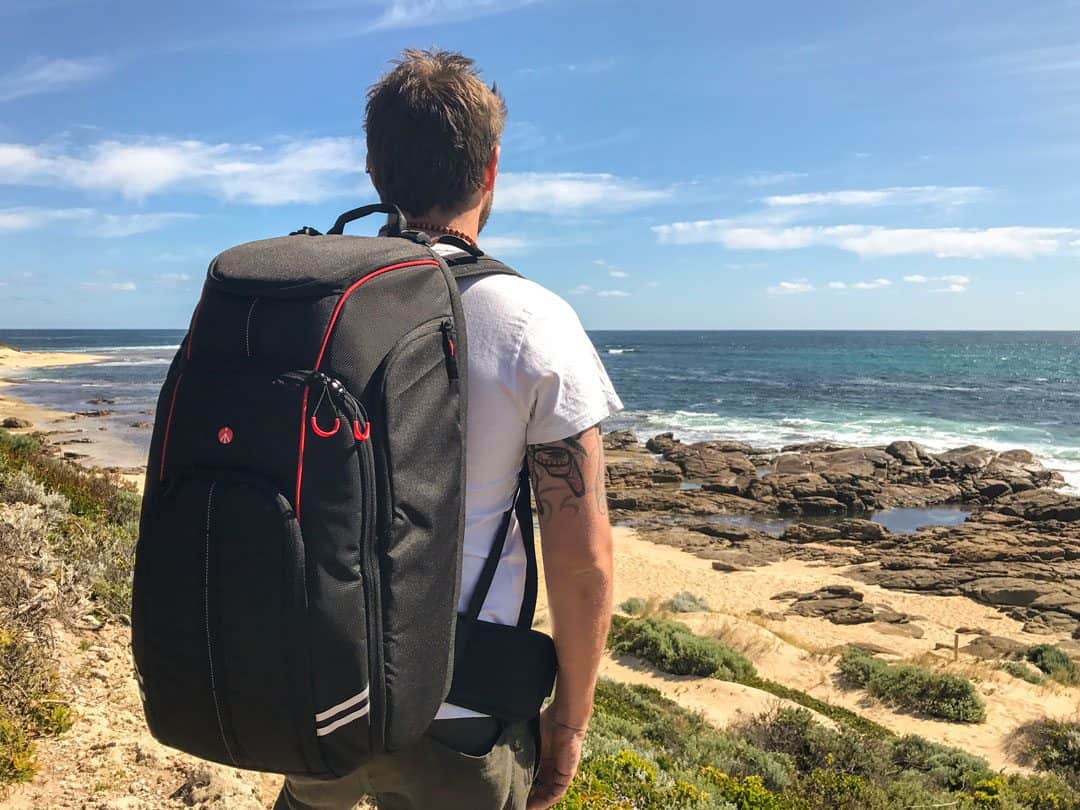 While the list of the best travel backpacks out there is pretty extensive, finding one that is dedicated for carrying drones is far shorter.
Our requirements were pretty specific – we needed a bag that carried the drone and all its accessories comfortably, as well as a few other items like a laptop and hard drives.
We needed it to fit in as carry-on for flights and have a fair bit of padding to protect it from getting bumped and smashed around.
Additionally we needed a backpack rather than a carry case, as we are always hiking and out in nature.
We wanted to take the drone with us at every opportunity, so whatever we carried it in shouldn't be a burden.
Our research led us to the Manfrotto D1 Aviator drone backpack, and from what we saw online it seemed like it would be the perfect fit.
We've now had our bag for over a month and put it to the test. Did it prove to be the right choice? Find out in our Manfrotto D1 Aviator review.
Manfrotto D1 Backpack – First Impressions
From the moment we unwrapped the backpack the first thing we noticed was that it was a lot bigger than we expected.
Even though the drone itself isn't exactly compact, we didn't think the Manfrotto D1 Aviator would be as big as it was.
We suppose it would be the equivalent of a 35L backpack. Not a deal breaker, and it still fit carry-on specifications, but it was just something we hadn't anticipated.
READ MORE: Check out our comprehensive guide of the best travel cameras in this post!
Once we picked the bag up we were pretty impressed with the sturdy material that made the outer shell. Durable and thick – exactly what we wanted.
The harness system was basic but adequate. The hip straps aren't great, but then again we didn't expect to be carrying more than 7kg in this anyway.
The entire front panel unzipped to give complete access to the inside. Opening it up it seemed like there was a lot of padding, and the internal pockets were already setup to fit the DJI Phantom 4 perfectly.
The two extra battery pockets held the Phantom 4 batteries nicely, and the red mesh pockets took the charging cables, ND filters and all other accessories.
Above the drone was where the controller sat. We kept ours with the antennas towards the top.
Not what was shown in the manual that came with it, but in our opinion the safest way to store it.
Once everything was inside the bag felt comfortable on our backs. The weight was distributed evenly and it was easy to carry.
Now after more intensive use we've come to like this bag, but it is not perfect. Here's the list of pros and cons for our Manfrotto D1 Aviator review.
Pros
The bag can store a DJI Phantom 4, 2 extra batteries, charging cables, battery station, filters, SD cards and every other accessory quite snugly. If you're travelling with a lightweight drone it's fantastic.
There is room for a 15inch Macbook Pro in a separate back panel.
Comes with a rainproof cover to throw over the backpack.
The bag stands perfectly with a flat bottom and even weight distribution. Doesn't tip over or fall easily if bumped.
The top handle and shoulder strap are strong and don't seem like they will fall apart with constant wear and carrying.
The top pocket is quite protected and can hold a variety of items such as a small camera, hard drives and extra cables.
Fits in as carry-on luggage for all airlines that we have used so far (even the cheap ones).
Solid zippers…Something you don't appreciate until you have a bag with crap ones.
Cons
Our main issue with the Manfrotto D1 Aviator drone backpack is the lack of padding on the bottom. With a DJI Phantom 4 inside two of the arms stretch to the far extremities of the bag. When zipped up there isn't much protection or cushioning around these two arms and motors. There isn't much room to install your own padding either. We have to be very careful with putting the bag down so as not to cause any damage to the arms or motor.
The area where the controller goes leaves the antennas sticking up a bit when zipped up. It doesn't add much pressure to it, but it's something to keep in mind.
It would be nice to have dedicated SD card organisers.
The side pockets aren't much good for carrying anything besides thin items.
Manfrotto D1 Aviator Review Conclusion
Overall we are pretty happy with the Manfrotto D1 Aviator drone backpack.
It offers a fair compromise for portability and ease of use, coupled with decent padding. Obviously a hard case would be better for protection, but then you wouldn't be able to go hiking with it.
From what we can tell this is the best drone backpack on the market for carrying your DJI Phantom 4 outdoors.
Manfrotto definitely have done a great job at creating something that covers most bases, and we're stoked to be using this on our next big adventure.
The Manfrotto D1 Aviator bag isn't perfect, but it does a very good job for what it is designed for.
Manfrotto D1 Aviator Drone Backpack Review Score – 8/10

Disclaimer: Manfrotto sent us the D1 Aviator backpack for the purpose of a review. All thoughts, opinions and kilometres trekked wearing the bag are, as always, our own.