Looking for the best things to do in Porto, Portugal? Check out this great list.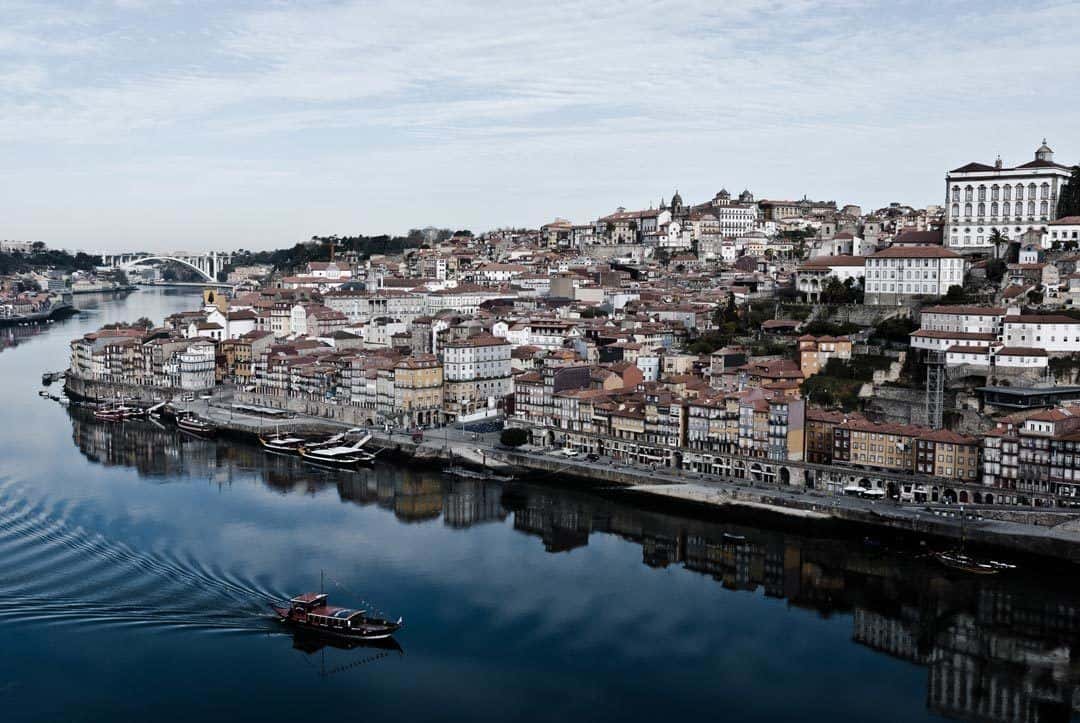 The best cities are those that surprise you. The cities that offer you something no other place does. The ones in which you arrive with no expectations, and leave totally smitten.
The places that revive your love for travel, and your urge to explore. This is what happened to me, when I uncovered the magical city of Porto.
I arrived in Porto one balmy Autumn afternoon, with little idea of what Portugal's second biggest metropolis had to offer. The city nestled on the Iberian Peninsula, is little known compared to its capital Lisbon.
However, thanks to a recent reinvigoration following an influx of cheap flights to the city, a breath of fresh air is flowing through the UNESCO World Heritage Site.
Once neglected buildings are being transformed into trendy bars, and old homes are being brought back to life as new and affordable hostels, all whilst keeping the city's old-world charm.
Things To Do In Porto, Portugal
Porto has something for everyone; from food and wine lovers, to architecture appreciators, to Harry Potter fans. Almost everyone is guaranteed to love the things to do in Porto!
Once you're done with the best cheap things to do in Lisbon, the nation's capital, it's time to head somewhere new to see what else the county has to offer!
Stroll The Streets Of The UNESCO World Heritage Site
The best way to get to know Porto is on foot. The narrow, winding streets offer surprises at every corner, making it easy to wander past the colourful facades of the suburbs for hours.
Local cats and dogs will keep you company, street art will treat your eyes, shopfronts will offer you light-entertainment with jokes and pictures drawn on their windows, and locals will keep you guessing as they chatter in Portuguese on the terraces above you.
Make sure you meander down Rua das Flores (street of flowers) – where you'll see derelict buildings sharing walls with beautiful, newly renovated homes and get a real sense of this contrasting city.
For those wanting to learn more about the city and its history, a walking tour is the way to go. Free walking tours are available every day and offer great insight at the mere cost of a tip.
Here you'll see the many beautiful buildings and monuments scattered through the streets, and learn about the rich history and interesting facts about Portugal.
Walking tours are also a great way to get your bearings, and guides provide the best tips on where to eat, sleep and play.
Just like elsewhere in Europe, a walking tour is an absolute must for things to do in Porto.
Explore The World Of Harry Potter
For those of you who are Harry Potter fans, Porto is a must-see city. J.K. Rowling wrote much of the beloved book series when living in Porto, whilst married to her former Portuguese husband in the 1990's.
Livraria Lello is said to be where the author created some of her magic, and after stepping inside the bookstore you'll feel like you've come right off the Hogwarts Express and into the school of Witchcraft and Wizardry.
The library's now iconic spiral staircase is believed to have inspired the moving staircase at Hogwarts, and you'll come as close as a muggle can to feeling as though you're there. The spiral staircase is easy one of the most Instragrammed sights – a Porto must see!
Other elements of Harry Potter's world are sprinkled around the city, making it all the more enchanting. Café Majestic is renowned for being J.K. Rowling's favourite writing spot whilst creating the first of the famous books.
The feverishly decorated cafe is a hotspot for fans of the series, and a great place to soak up some inspiration.
You'll also see students from the University of Porto wearing uniforms that strike an uncanny resemblance to the capes worn on the grounds of Hogwarts all around the city.
And if you're hanging out for more, visiting Parque das Virtudes is a must. This quirky park overlooking the river, is a patchwork of alluring gardens filled with intriguing sculptures.
Stroll through the maze-like park and you can almost smell the wizard world.
It truly is a magical place.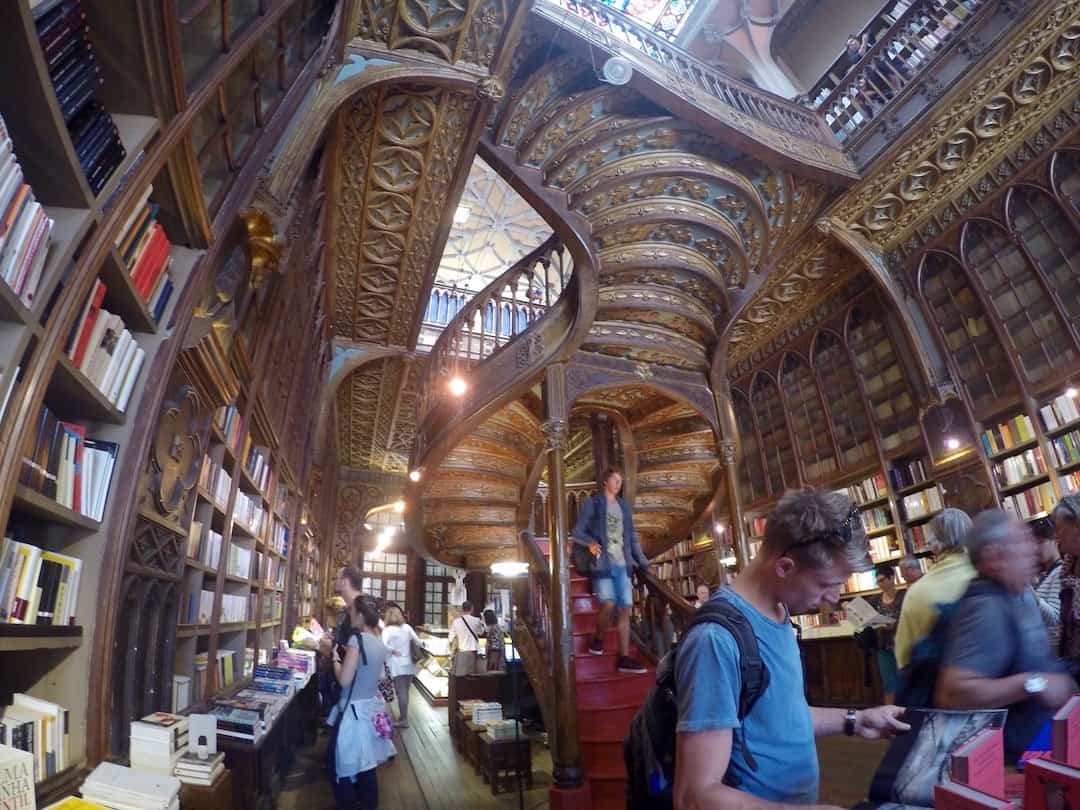 Go On A Port Tour
Some of the best places to visit in Porto, are its vineyards.
As suggested by its name, Porto is most famous for gifting the world with Port wine. The sweet red wine has been part of the city's heart and soul since the 17th century, with many historical port houses dotted along the Douro River in the city centre.
Several companies offer affordable tours, where you'll learn about the production of the delicious drop from grape to glass, and taste the many varieties from multiple port houses.
A great way to spend an afternoon, and meet fellow travellers!
Book this tour with Get Your Guide to do a wine tour of Porto!
Eat Like The Portuguese
If you're a meat-lover, Porto is not a city that will disappoint. And, if you're a culinary adventurer, there are plenty of dishes that will test your mental strength!
First on the menu is Porto's most famous dish – the Francesinha. Think of a steak sandwich without the salad, and instead add sausages and ham. Now, cover it in melted cheese and add a tomato-based sauce and chips.
The dish is not one for the faint-hearted, vegetarians or anyone with high cholesterol, but if you're up for the challenge it's a pretty delicious calorie cake. I strongly advise fasting for several hours prior to the meal!
Tripe is another favourite dish of Porto locals. Not much goes to waste here, so if you really want to eat like a local – one of the many versions of Tripas is essential.
The dish is often mixed in a bean stew, and is available in most local restaurants.
If you're not so brave and prefer something more conventional, Codfish or Bacalhau is a Portuguese specialty. The fish comes in all shapes and sizes, cuts and sauces so take your pick from the many options.
The quality of fresh ingredients and mix of interesting flavors makes the city's cuisine an important part of the Porto sightseeing experience.
Picnic in the Parks
If you're up for a day of relaxing, Porto is the perfect place. Greenery, trees and mystical little parks are abundant in this beautiful city so perch up, breathe in the fresh air, and roll out the picnic rug.
Jardins do Palácio de Cristal is one of Porto's treasures. The gardens of the former Crystal Palace now serve as one of the locals' favourite city escapes, as well as a popular event location.
Stunning views over the Douro River provide a blissful setting to enjoy the serenity of the once regal grounds. You might even spot one of the local peacocks that live in the parklands.
Sculptures, fountains, and beautiful flowers are overflowing in the grounds, along with food stands and a museum to keep things interesting.
Jardim da Cordoaria is located close to the city centre, and is another absolute treat. The small park is filled with fun sculptures, that fill the park with character.
The park is also famous for its swollen trees that line the pathway, and stick out like sore thumbs. These unique trees add to the parks undeniable charm, and are definitely worth a visit.
Finally, as previously mentioned Parque das Virtues is another truly enchanting place. You could spend a whole day exploring the corners of this mystical park overlooking the Douro River, and its well worth a visit!
[box] That's it for our list of the best things to do in Porto. Have any recommendations to add? Anything we missed? Leave a comment below and let us know![/box]
DISCLAIMER: Some of the links in this article are affiliate links, which means if you book accommodation, tours or buy a product, we will receive a small commission at no extra cost to you. These commissions help us keep creating more free travel content to help people plan their holidays and adventures. We only recommend the best accommodations, tours and products that ourselves or our fantastic editorial team have personally experienced, and regularly review these. Thanks for your support, kind friend!
Save this Pin for later?