From four-wheel drive tours to rafting down crazy rivers, these are the best adventure activities in Namibia.
Traveling through Namibia is an adventure on its own but there are plenty of thrilling activities that can challenge even experienced adventurers; hiking, canoeing, skydiving, sand-boarding, 4×4 driving are only some of them.
Combine a safari in Etosha National park and visit to Sossusvlei with some adrenaline activities to make your Namibia trip unforgettable!
Hiking
Namibia is not known for hiking like Peru or Nepal but there are some multi day hikes here that must be in a bucket list of every hiking lover.
First to do, and as many guide books claim one of the most difficult hikes in Africa, the Fish River canyon hike. The canyon is located in the South of Namibia, and it's the second largest canyon in the world after the Grand Canyon in Utah.
To hike such a remarkable landmark is quite an experience. Due to extreme weather conditions (in summer day temperatures reach 40C) the canyon is open for hiking only in winter, between May and September.
Day temperatures are still quite high +30C but at night it can go down to +5C. You need to be prepared for both the cold and the heat.
Total distance of the hike is 86km and it takes between 4-7 days to complete, depending on your fitness level, age, group size etc. It's an unguided hike, but the only requirements are you have a minimum of three persons in your group and a medical certificate confirming you have no health problems.
The Naukluft Trail is another multi-day hike in Namibia, though it's more off-the-beaten-path, which makes it a real adventure for tough hikers. The entire route is 120km, and takes 7-8 days to complete, but there are alternative, shorter routes.
The trail is open for hiking between 1st March and 31 October, day temperatures can reach +30C and water is very scarce. You have to carry at all of your of water with you every day, which you fill at the start of the day at overnight huts; no other water source is available on the hike.
The night temperature can drop to below freezing, so you need a warm sleeping bag and clothes. The extreme temperatures, the elevation of the hike (between 1250m and 1950m) and the difficult rocky and sandy terrain with some steep sections to climb all make this hike very challenging.
To book the hike minimum group size 3 and a medical certificate are required.
Rafting Or Canoeing
Many imagine Namibia to be a very arid country, but there are some great rivers too. The Orange River, on the border with South Africa, is one of them.
It starts in Lesotho and 2200km later flows into the Atlantic Ocean at Alexander Bay, Namibia. Unlike some rivers in Northern Namibia, this one has no dangerous animals like crocodiles or hippos in its waters, so no need to worry about that.
If you like fishing bring your rod as there is a lot of fish in the river. Most people do a 4-5 day canoe trip; during the day you're paddling away, sometimes stopping for a short swim. After a lunch break you start looking for a camping spot, and there are quite a few suitable campsites on the river banks.
The trip can be done as a part of a tour with a guide, canoe, equipment, food and transport included, or on your own if you have all the necessary gear; canoe, dry bags, camping gear, cooler box etc. There are some rapids on the river but not too hectic; you may flip your canoe, most people do it for fun.
This trip is a popular activity to do over New Year for South Africans, there are usually quite a few people going down the river, camping at the same spots, BBQ and enjoying the beauty of the area.
Sandboarding
Sliding down a massive sand dune in one of the biggest deserts in the world is a real adventure to remember. The most accessible big dunes for sand-boarding are near Swakopmund – these dunes are just 20km outside the town.
There are two options to choose; lie-down boarding and stand-up boarding. The first one is easier and might be more enjoyable for those who have no boarding experience at all; you get few safety instructions and ready to rush down the dune.
The stand-up is more challenging. Though no boarding experience required, it'll be easier if you have some. You get boots and a board, it looks like a snowboard and you try to stay up right while sliding down a dune.
You can combine your sandboarding experience with riding in a quad bike in the desert, which is the best and the fastest way to move around.
For those who want to get some exercise and to experience the desert without engine noises, a fat bike tour is a great alternative.
When in Swakopmund don't forget to enjoy sunset from the top of Dune 7, the highest dune in the Namib Desert. It's stunning!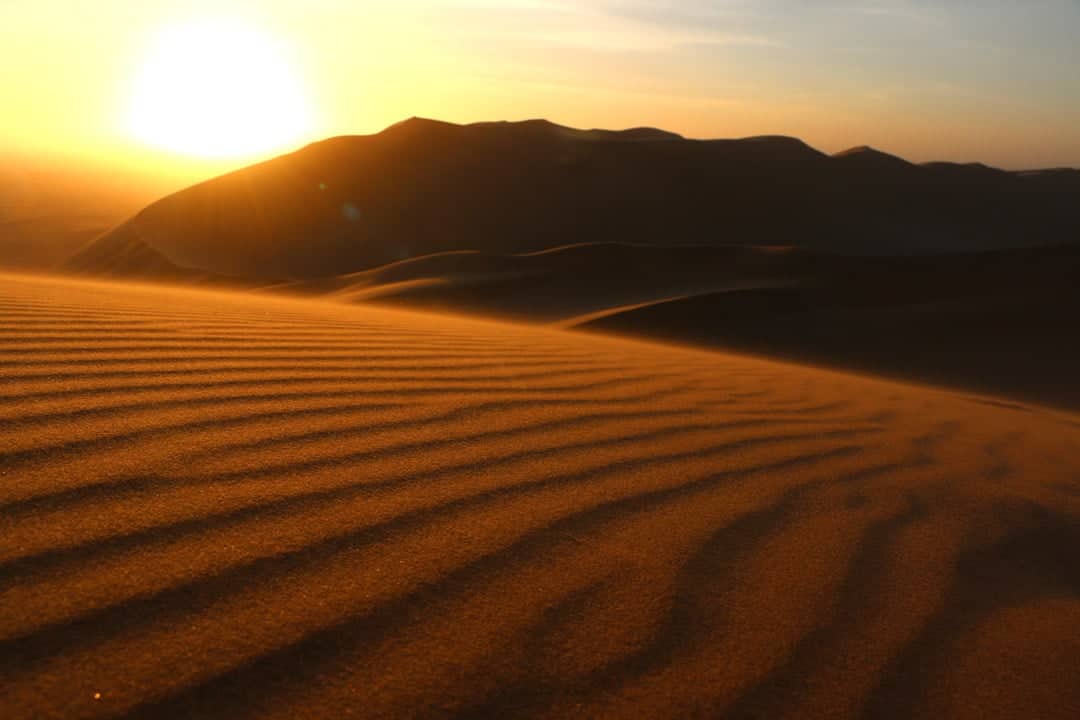 Skydiving
For many people skydiving is the ultimate adventure activity to do, and it's on most travellers' bucket lists. Of course everybody wants to do this once in a lifetime experience in a special place; somewhere with breathtaking scenery and an unusual location landing on a paradise beach or somewhere in the desert.
Well, Namibia offers great skydiving opportunities. The best place for skydiving in Namibia is Swakopmund, and it is here you can do a tandem jump above one of the most beautiful and spectacular place in the world, the Namib Desert.
See the famous meeting of the ocean in the desert from the skies, get great photos and have an unforgettable experience. If skydiving is too adventurous for you try paragliding, taking a smooth flight from a sand dune down to the coast.
4×4 Driving Adventure
There are plenty places for off road driving in Namibia. The Skeleton Coast, 460km long road that starts at Swakopmund, a German colonial town and finishes at Terrace Bay, a small settlement up North.
This drive will take you through one of the least populated areas in Namibia, so make sure you always have enough fuel, water and food to last until the next inhabited place.
It's an odd feeling driving through a lot of nothing, from time to time bumping into a ship wreck, or a ghost-looking town.
For locals the Coast is the favourite place to come for fishing. Even though it looks deserted and empty, there will be plenty of people around the corner in case you need some help.
Another great area for an adventure 4×4 drive is the Kaokoland region, in the North of Namibia. Vast open plains with very few people around and unlimited 4×4 route options.
To add more thrill to a normal 4×4 drive join the "treasure hunt" and try to find one of the mysterious Lone Men of Kaokoland. These rock sculptures were randomly placed in different areas of the region by an unknown artist and soon became a popular activity for locals and tourists.
By now 9 sculptures were found but it's believed there are more of them to discover.
That's it for our list of the best adventure activities in Namibia. Have you been? What would you add to the list? Let us know in the comments below!