One of the very first images of Burma I had ever seen was a photo of Bagan. Countless golden pagodas peering out over the tree line.
Hazy mist adding a mysterious ambiance to the scene. The sun breaking out above the horizon to cast its glow over the ancient city. I was mesmerised. I had to go there!
After our trek to Inle Lake, we made our way to Bagan and planned to give ourselves two days, three nights to explore the sites.
We arrived just in time for sunset. Along with two German girls we had met, we headed for the closest pagoda for our first glimpse of the iconic image I had in my mind.
There were two pagodas next to each other. One was taller than the other, but had on its top level a horde of tourists and hawkers.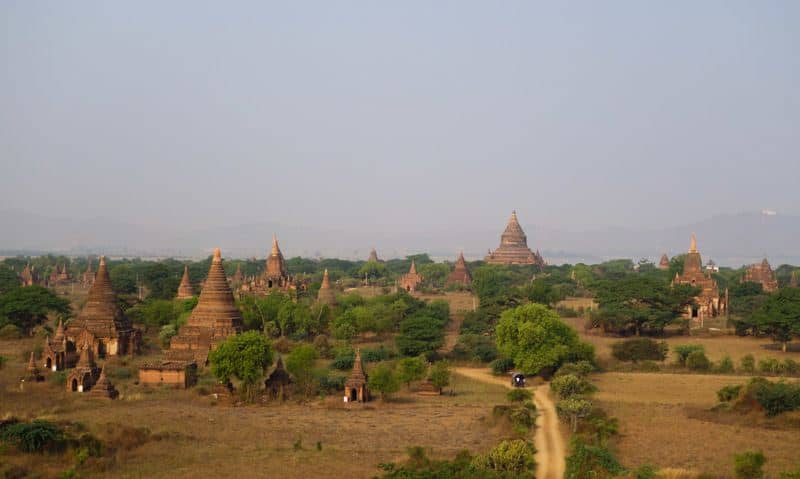 We chose the smaller, empty one behind it. We removed our shoes and climbed and with each step our view grew larger.
Upon reaching the top we paused and stared around at the scene before us. It was exactly what I had seen in the photograph years before.
And it did not disappoint! We watched the sun set over the city and were so humbled by the scene that none of us spoke a word.
The next morning we awoke at 5am and rented bicycles to get around the large complex faster.
With map in hand, we peddled in the night towards a pagoda in Old Bagan that a friend had recommended to us for sunrise.
We made it with time to spare and were pleased to discover no one else had ventured to this particular place for the morning.
With the pagoda to ourselves (which would become a common theme) we watched the beginning of a new day with the mist drifting in amongst the trees and the sun's rays piercing through the clouds to the tops of the temples. An amazing moment.
The next two days were spent in much the same away: Riding our bicycles along the sandy roads to explore a plethora of stupas, pagodas and temples.
We did our exploring in the early morning and in the late afternoon, avoiding the midday heat by resting in our guesthouse as is the common thing to do.
We managed to visit as many of the major points-of-interest as we hoped to and they never ceased to impress.
Throughout the two days of wanderings we did in Bagan, one particular moment stands out in our minds as our favourite.
During our second morning we had rode our bikes to two of the largest temples in Bagan. They were captivating, beautiful and filled with tourists, both foreign and Burmese.
We pulled out our map and saw that the North and South Guni pagodas were just around the back of the Dhamma-Yan-Gyi Pahto temple so we headed there to do some more exploring.
We reached the North Guni and found no one to be there. We walked around, ventured inside and wandered up the stairs to the top level.
When we walked onto the outside platform we were rewarded with the best view we had found of Bagan. We found a ledge protected by shade and laid down, letting the breeze cool our sweaty skin.
In the distance we heard Buddhist chanting and close by the only noise was of the birds singing. We spent the next one and a half hours laying in the shade, listening to the sounds of the ancient city.
We drifted in and out of sleep and allowed the mysticism of the 900-year-old temple to seep into our consciousness. We felt humbled and this experience alone made the mission to Bagan completely worth it.
During our month-long backpacking trip to Myanmar we had visited a huge array of temples and pagodas. We were always found to be in awe of these fascinating places of worship.
The Shwedagon Pagoda in Yangon, in particular, was one of the most serene and breathtaking icons we had ever seen.
But still Bagan held a sense of wonder in my mind. After spending our time there, it holds more than a sense of wonder now. It holds a piece of my heart.
Tips For Bagan:
Accommodation: Winners Guesthouse – $20 air-conditioned double room with shared bathroom
Transport: Bicycles – $1.50 (you can rent e-bikes for between $5-10, but we felt traditional bikes were more our style. If you don't like the idea of peddling in the immense heat, go for the e-bikes).
Food: $1.50-$3 – Bagan is more expensive than most of the other parts of Myanmar, but cheap rice and noodle dishes can still be found quite easily. Plenty of Western options if that is your thing.
Getting to Bagan: With Bagan getting busier and busier these days it's best to pre-book your transport to get to the city. You can do so using the popular website, Bookaway.
Park Entry: $15. Note – We did not pay this and believe you shouldn't either. We were pushed at the entrance gate to buy a ticket and we simply said we had bought one through our hotel. After a little bit of back-and-forth, the lady finally let us leave. We were never checked for our ticket, although we did avoid the more popular temples during the most popular times (sunrise and sunset). We didn't meet anyone who had their tickets checked either, although we heard of some guesthouses asking people upon check-in to see their tickets. Winners never asked.