From lounging at a Taiwan speakeasy to trying out delicious street food at a night market, these are just some of the best things to do in Taipei, Taiwan!
Bustling, ancient-meets-modern, Taipei City is hot on the Asia travel scene, so it's time to come check out what the hype is all about.
Arts, dining, culture, nature, and shopping – this city has something for everyone.
READ MORE: Check out our brand new 3 days in Taipei itinerary!
Where else can you take a metro to hot springs, go hiking on a dormant volcano, or ride a gondola over tea fields, all within city limits?
On top of that, Taipei's night markets are the talk of Asia and attract foodies from around the world.
The Best Things To Do In Taipei, Taiwan
Here are some of the things to do in Taipei, from the obvious to the lesser-known.
1. Survey The City From Taipei 101, Once The Tallest Building In The World
What better place to start than from the observation decks on the 89th to 91st floors of Taipei 101, Taipei must-see iconic bamboo stalk-shaped skyscraper?
Get there early because the line can be long any day of the week (or buy a 'Skip the Line' ticket), then take the world's fastest elevator up the world's tallest "green" building.
The 360-degree view from Taipei 101 takes in mountains to the south and east, and expansive city views to the west.
From here, you can really appreciate just how jam-packed the buildings in this city are.
Don't forget to check out the 730-ton stabilizing ball, which helps to keep Taipei 101 standing in earthquakes, which regularly strike in Taipei.
Address: No. 7, Section 5, Xinyi Road, Xinyi District
Opening hours: every day from 9 AM – 10 PM
Price: 600 NT
2. Get An Even Better View From Elephant Mountain
The best part about Elephant Mountain, only one MRT stop past Taipei 101, is that you get to have Taipei 101 in your panoramic view.
This is the classic postcard shot of Taipei.
In only takes about 30 minutes to hike up to spots with great views. But if you want to get away from the crowds, you can continue on to the other three "beasts": Tiger Mountain, Leopard Mountain, and Lion Mountain.
Sunset is the most popular time, and don't even dream of getting a spot for the fireworks show on New Year's Eve (although this is a great place for a view any time of year)!
The beautiful nature and stunning views of Taipei make Elephant mountain one of the most popular places to visit in Taipei.
If you want to make sure you get the best shot, book this tour that takes you to the most Instragrammable spot on Elephant Mountain.
READ MORE: Considering spending a few days in Hong Kong? Use our itinerary to plan your perfect 3 days in Hong Kong!
3. Feast To Your Heart's Content At One Of Taipei's Famed Night Markets
According to the official figures, night markets are the #1 tourist attraction in Taiwan.
But these night markets are no tourist trap. The street food is cheap and authentic, and thick crowds are predominantly local.
There are too many must-try Taiwanese street foods to list here. But some of the most famous are oyster omelets, vermicelli stew, gua bao (the Taiwanese version of a hamburger), shaved ice, fried chicken fillets, and don't forget Taiwan's most notorious snack, stinky tofu.
The largest and most famous night market in Taipei is Shilin Night Market. But I'd suggest trying a medium-sized night market, such as Tonghua, Raohe, Ningxia, or Huaxi, near the Longshan Temple.
Each night market has its own unique features.
The cuisine plays a vital role in Taiwan's culture so much so, that it's an integral part of Taipei sightseeing.
4. Explore Japanese-era Architecture Near Da An Park
Did you know that Taiwan was a Japanese colony for 50 years?
The Japanese developed the railway system, many hot springs and universities, and other infrastructure in Taiwan.
There is a gorgeous, leafy neighbourhood of old Japanese residences near Da An Park, Taipei's answer to Central Park in New York.
To find it, enter the lane next to the Taipei Grand Mosque, or google "Qingtian Street."
Many of the houses in the neighborhood were home to Japanese professors at the national university.
Some have been beautifully restored, while others are beautifully decayed.
There are many things to see in Taipei. Even though this area is mostly residential, its architecture deserves to be admired and, it offers an interesting insight into how the locals are living.
Foodie-alert: head to nearby Yongkang street, the homeland of mango shaved ice, a classic Taiwanese dessert, and the original Din Tai Feng, a Michelin star xiao long bao chain.
5. Get Funky In Ximen, Taipei's Coolest Neighborhood
They call in the "Shinjuku of Taipei."
There's no denying that this neighborhood is straight-up cool.
This is where local youths go to shop, skateboard, buy comics, dine in themed restaurants (such as Modern Toilet, the poop themed restaurant) and Cosplay cafés, get a tattoo in tattoo alley, sing at a karaoke bar, or see a movie on movie theater street.
It is also home to Red House, built as a market then theater in the Japanese era, and now home to a hip weekend craft market and the city's best collection of LGBT bars, with more outdoor patios than you'll find anywhere else.
It's a perfect area for a fun night out in the town. From shopping at a night market to bar-hopping or dancing, there's no shortage of things to do in Taipei!
6. Soak In A Hot Spring At The Foot Of A Dormant Volcano
The two-stop pink MRT line crawls uphill to Beitou, at the foot of Yangming Mountain.
This hot spring village was first developed by the Japanese and features the most accessible hot spring spas around Taipei.
You'll smell the Beitou hot springs before you even get off the MRT!
Outside of Xinbeitou MRT station, walk along hot spring park to find Millennium Hot Spring, the public outdoor facility, which only costs 40NT ($1.30).
If you prefer a hot tub in a private room, the spa hotels flanking the park offer rooms for 1000nt ($32) and up for 1.5-2 hours.
Also be sure to check out Hell Valley, the enormous steaming hot spring source, as well as the Japanese-era buildings such as the Hot Spring Museum, Puji Temple, and Plum Garden.
7. Peruse Teas And Chinese Medicinal Herbs In Dadaocheng
Historical Dadaocheng district has been an important trading center since the earliest days of Taipei.
Today, Di Hua Street is a popular walking street that features gorgeous colonial architecture and countless shops selling Chinese medicine, tea leaves, traditional snacks, and more.
In the weeks leading up to Lunar New Year, Di Hua street becomes one of the most crowded in Taipei, as locals flock here to buy treats and delicacies needed for new year's gatherings.
Head to Pier 5 on the Danshui River around sunset for the newly opened collection of food stalls and trucks, serving international street food and beers. You can also stop by for a Taipei staple at Din Tai Feng.
8. Take In The Scents Of Tropical Flowers At The Jianguo Weekend Flower Market
Every weekend, an enormous flower market opens in the most unusual and unexpected location: under a gritty freeway overpass (Jianguo Rd.)
Even if you aren't into gardening, it's hard not to be impressed by the sheer volume and variety of flowers on display, especially all the orchids.
Further south under the same overpass, there's also Jade Market, worth a look.
9. Have A Bubble Tea In The Homeland Of Bubble Tea
If Taiwan's claim to fame in the 1980s was "Made in Taiwan" products, today most Westerners know it for bubble tea.
I grew up drinking bubble tea from a shop in Chinatown in Edmonton, Canada, where there seemed to be an infinite number of flavors, options, milk types, etc., and it was usually a blended drink.
But in Taiwan, many still prefer the original, iced milk tea with pearls. Although you can also find a variety of concoctions at the shops found on just about every corner around Taipei.
My personal favorite classic pearl milk tea is from the recently opened branches of Tiger Sugar in Shilin Night Market or at Taipei Main Station, which has amazing burned toffee flavor and caramel dripping down the inner sides of the cup, making for great Instagram photos.
10. Check Off Another Tourist Must-see At Chiang Kai-Shek Memorial Hall
The city's second landmark after Taipei 101, Chiang Kai-Shek Memorial Hall honors a controversial figure in Taiwan's history.
Still, the enormous square, blue and white monument and classical Chinese National Theater and Concert hall are collectively a sight to behold.
I personally wouldn't miss it even if I only had a day in the city.
Come at night for a totally different feel, with the buildings all lit up, and then grab a beer or catch a show at the underground alternative/rock bar Revolver at the southwest corner.
Book your private evening tour with Get Your Guide and enjoy all the main sights illuminated at night and visit a local food market for a quick bite of delicious street food.
Address: No. 21號, Zhongshan South Road, Zhongzheng District
Opening hours: every day from 9 AM – 6 PM
Price: Free of charge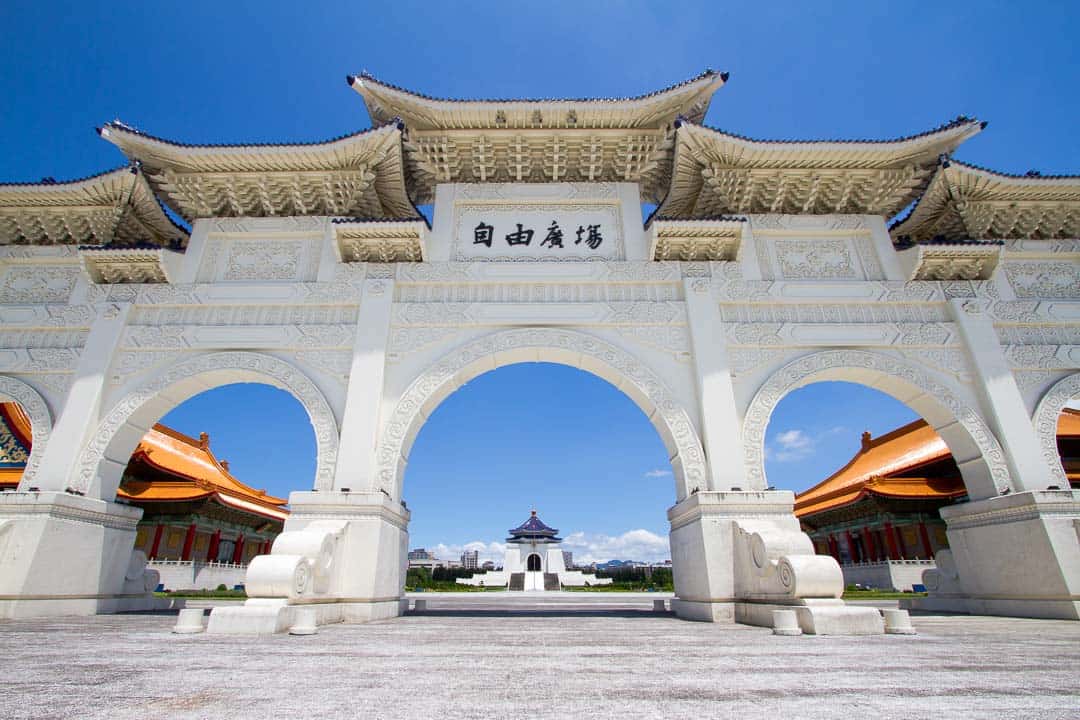 11. Stay Up All Night Reading Books For Free At Eslite Bookstore
The 24-hour Dunnan branch of the local bookstore chain Eslite is a popular hangout for Taipei residents.
If you are a night owl but don't like bars, have jet lag and find yourself up all night, or just want to sneak peeks at new titles, this bookstore is for you.
It can be surprising to see so many people sitting on the floor immersed in books. You could read a book from cover to cover and staff would never ask you to leave.
The bookstore is located just off Zhongxiao E. Rd. in Taipei's Eastern District, an area filled with upscale shops and all manner of eateries.
Eslite is also known for its beautiful design; the branch at Songshan Cultural and Creative Park, with its connected hotel, has even won design awards.
Address: 2F, No.245, Sec.1, Tunhua South Road
Opening hours: 24h/7
12. Head To Wulai, The Nearest Aboriginal Village To Taipei
On your list of what to do in Taipei, visiting Wulai is maybe not an obvious choice.
The tiny aboriginal village of Wulai makes a great half or full-day from Taipei.
Its residents belong to the Atayal tribe, the third largest of Taiwan's 16 officially recognized aboriginal groups.
Atayal women were traditionally known for their facial tattoos.
Wulai boasts natural scenery, located deep into a lovely green valley, and also hot springs.
You'll arrive at the market street, where you can try all sorts of Taiwanese and aboriginal snacks, such as mountain greens, grilled boar, rice cooked in bamboo tubes, millet wine and fried river shrimp.
There are several hot spring spas in the area, most offering private rooms with city views.
You can also take a mini-train or walk to Wulai Waterfall.
13. Pretend You Are In The Know At A Taipei Speakeasy
Yes, the speakeasy-style bar trend has even made it to Taipei.
Alchemy, located near Taipei 101 in Xinyi district, replicates a secretly run Tavern in prohibition-era America.
We won't give you the secret directions (they aren't that secret; just search online).
The menu features classic and creative cocktails and a reservation is a must on weekends.
Another option in the same area is Ounce, found behind a hidden door in Relax Café.
There's no menu. Just tell the bartender some flavors you like, and he'll mix you something that will make your jaw drop.
No reservations here, so you'll have to try your luck.
14. Dine At Taipei's Best Sushi Standing Bar
While it may have a weird name, Addiction Aquatic Development, foodies and sushi/sashimi lovers can't miss this Taipei attraction.
The complex is a fancy addition to the more traditional Taipei Fish Market.
The many sections include a room of water tanks containing huge spider crabs, lobsters, etc., standing oyster and seafood bars, hot pot, seafood barbecue, home decoration shopping, and more.
If you're on a budget, grab a very reasonably priced to-go sushi or sashimi set (and some beer or wine!) from the upscale grocery store, and enjoy it at the standing tables outside the exit.
If you prefer a picnic, head to nearby Rongxing park.
Address: No. 18號, Alley 2, Lane 410, Minzu East Road, Zhongshan District
Opening hours: 11 AM – 12 AM
15. Find Irrefutable Proof That Taipei Is Cool At The City's Re-purposed Art Villages
A trend of restoring old, run-down buildings into creative art villages is a trend that has taken over Taiwan.
Huashan Creative Arts Park, converted from a Japanese-era winery, is the most popular one, and became a Taipei must-see.
It's a great spot for picnics, artsy photos, and there are regular exhibits, a concert venue, cafés, and a pizza restaurant.
Another popular one is Songshan Cultural and Creative Park, on the site of a former tobacco factory.
It features a pond area ideal for a stroll, and Eslite Hotel and Bookstore.
A smaller and lesser-known one is 44 South Village, only a 5-minute walk from Taipei 101, which features a café and shop housed in former military residences.
If the above are too commercial for you, check out the legitimate artistic community at Treasure Hill in Gongguan district, with its maze of studios, galleries, and housing for international artists.
Huashan Creative Arts Park
Address: No. 1, Section 1, Bade Road, Zhongzheng District
Songshan Cultural and Creative Park
Address: No. 133號, Guangfu South Road, Xinyi District
Opening hours: every day from 9 AM – 6 PM
44 South Village
Address: No. 50號, Songqin Street, Xinyi District
Opening hours: Thursday, Saturday – Sunday from 1 PM – 7 PM
Treasure Hill
Address: No. 2號, Alley 14, Lane 230, Section 3, Tingzhou Road, Zhongzheng District
Opening hours: Tuesday – Sunday from 11 AM – 10 PM
DISCLAIMER: Some of the links in this article are affiliate links, which means if you book accommodation, tours or buy a product, we will receive a small commission at no extra cost to you. These commissions help us keep creating more free travel content to help people plan their holidays and adventures. We only recommend the best accommodations, tours and products that ourselves or our fantastic editorial team have personally experienced, and regularly review these. Thanks for your support, kind friend!