From some of the best luxury resorts in the world to traditional Arabian guest houses, we help you cut through the noise and choose the best accommodation for where to stay in Dubai.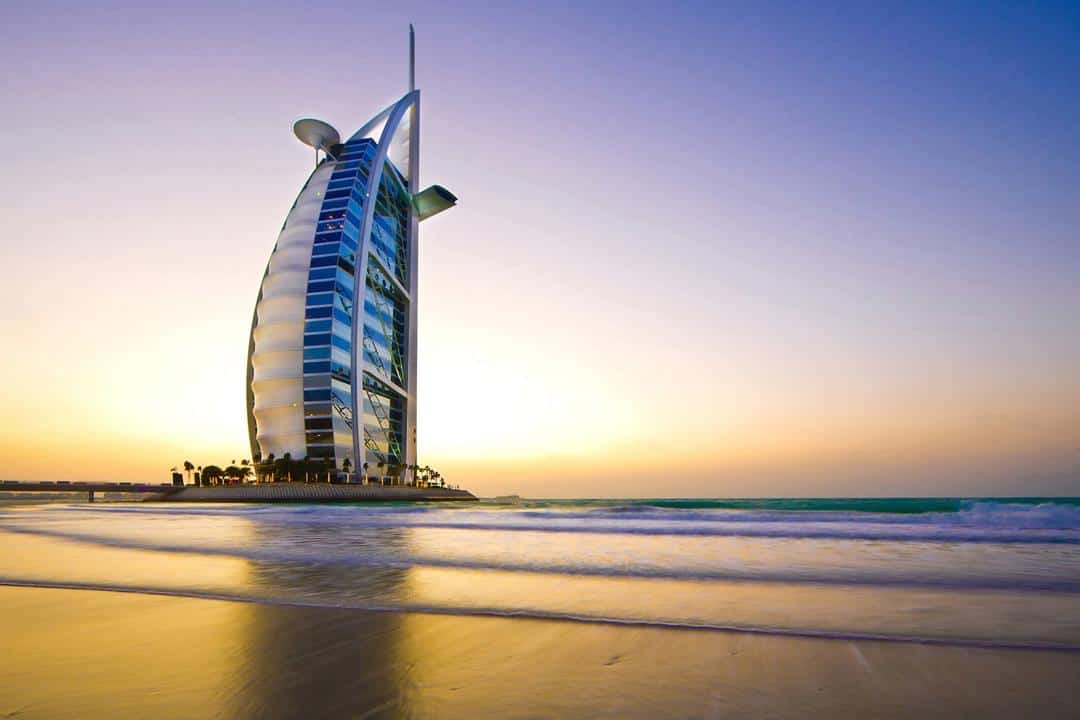 Mention Dubai to an older generation and first image that pops up in their head is one of just a few buildings in the middle of a barren desert.
Fast forward five decades and this city has grown into the most populated city of the United Arab Emirates.
Today Dubai is associated with luxury, comfort and other-worldly experiences. Top class nightclubs, premium service, fast cars and futuristic designed hotels that will accommodate your every wish.
With every development project the government of Dubai starts, their end goal is to be the biggest, best and to break all known world records.
Just like nearby Qatar and all the amazing things to do in Doha, there is no shortage of epic attractions in this bustling metropolis.
The architecture of the city is unlike any other, and for entertainment you have an array of choices ranging from the world class Dubai Opera to a number of theme parks to rooftop night clubs.
And with many major airlines using the city as a transit hub, it's no wonder Dubai is fast becoming one of the most popular tourist destinations of the 21st century.
You can also check and compare flight deals on the Wego site.
The Best Hotels – Where to Stay in Dubai
Dubai is building new hotels and modifying its skyline at record pace as a result of its fast urban development. It's hard even for locals to keep track of the new additions.
In this article we cover some of the different neighbourhoods and help you decide on what area to stay in Dubai,
And if you fear that Dubai is outside of your budget – don't worry!
We will also help you find the best cheap hotels in Dubai so you can get the chance to explore this exciting and growing city. Check out our main tip at the bottom of this article!
Best Central Neighbourhood – Downtown Dubai
Dubai's reputation of being a "Centre of Now" was born with Downtown.
It houses some of the city's most impressive and edgiest architecture, with the best known being the world's tallest skyscraper, the Burj Khalifa.
There are a number of 'big' attractions in Dubai's Downtown area, such as the world's biggest shopping centre, world's tallest operating fountain, countless nightclubs, high quality restaurants, as well as a stream of ongoing events happening all around.
If you need to know where to stay in Dubai that will keep you constantly active, spoil yourself by staying in some of best hotels the city offers right here in Downtown.
Renaissance Downtown Hotel
The Renaissance Downtown Hotel is one of the best places to stay in Dubai's Downtown area if you're looking for 5-star luxury.
With features such as floor-to-ceiling windows, a private fitness centre and both an indoor and an outdoor pool, it will surely satisfy even the most picky of visitors.
Besides that, you can enjoy the privilege of the luxurious Six Senses Spa and its massages and beauty treatments.
Since it's located in the very core of the city, one of its most prominent characteristics are undoubtedly the views.
The rooms overlook the Burj Khalifa and the Dubai Water Canal, and both are easily accessed if you're staying here.
The Renaissance is also famous for its incredible food, so make sure you visit one of its restaurants and try the unique specialties made by world-class chefs.
You can choose between Japanese, French, Italian or Middle Eastern cuisines – a true delight!
The Palace Downtown Hotel
The extravagant Palace Downtown offers an authentic Dubai experience, as its unique room interior design and decorations are inspired by the spirit of the Middle East.
Each of the 242 rooms have their own balcony with a view of either the Burj Lake, Dubai Fountain or the Old Town.
It's pretty special that you can pick a room according to the exact landmark you'd like to wake up to.
The restaurant selection offers 7 different cuisines, such as South American and Thai, as well as the traditional dishes you could expect to find in Dubai.
Food-wise, one of the hotel's highlights is the breakfast buffet. You can start your mornings with freshly pressed juices, and an array of local delicacies and pastries.
For those on work trips, The Palace offers some of Dubai's best conference and business facilities.
The indoor and outdoor venues are lavishly decorated and equipped with the most modern technology available, perfect for important meetings.
The Address Hotel
With a collection of incredible hotels all around Dubai, The Address in Downtown is a bit of a landmark of sorts, since this skyscraper towers over many of surrounding buildings.
It is also one of the most sumptuous hotels in all of Dubai.
It has everything you could want from a hotel: friendly staff, a great location and modern, elegant rooms.
If you'd like to make the most of the luxury, consider the private limousine service, available for all guests.
Besides its 9 restaurants, The Address is famous for its bars and lounges. The Neos Bar on the 63rd floor offers a spectacular view of the Dubai Fountain and the entire city.
The Qix Club is ideal for those who are travelling with children. It offers a variety of activities for kids, focusing on their education, comfort and fun.
You can leave your youngest with the trustworthy caretakers and be sure they will receive nothing but quality time.
Best Traditional Neighbourhood – Deira (Creekside)
If you're looking for more of a traditional and budget-friendly neighbourhood to stay in Dubai, check out the area around Dubai Creek.
The northern side of the Dubai Creek is named Deira, which highly contrasts with Bur Dubai on the southern side. We recommend choosing Deira for where to stay in Dubai.
While you're staying in Deira you can take an Abra (a water taxi) and go over to the Bur Dubai to learn more about the history of this city and the Creek.
The Bur Dubai represents the old Dubai with its traditional architecture and wind towers.
Deira is the perfect blend of modern and history. It has been changed a lot by the industrialisation of the city, but still managed to keep its history and local charm.
If you wish to explore the many souks of the city (they have a particularly famous gold and spice markets worth a visit), converse with true locals and shop for trinkets to bring back home as souvenirs then look no further than Deira.
Al Bandar Arjaan by Rotana
This remarkable hotel apartment complex offers 90 fully furnished studios, perfect for those that want a touch of home when they travel.
Basically, you can enjoy the privacy of living in an apartment combined with the comfort of hotel service.
Whether you need something for a short stay or perhaps something long term, the Al Bandar Arjaan has various options to keep you covered.
The average studio is a well-equipped 40 m2 room, while they also offer 140 m2 three-bedroom apartments.
The rooms have large flat-screen TVs, nice kitchens, a mini bar and high-speed internet.
The hotel is very close to the Dubai International Airport, so transport isn't an issue.
You don't even need to search for restaurants or cafés outside the complex. You can choose between its legendary gastropubs, Italian restaurants or even drinks at the poolside bar.
Park Hyatt Dubai
The Park Hyatt offers superb sophistication and comfort, and is well worth your consideration when trying to decide on the best accommodation in Dubai.
All of the rooms and suites have private balconies which overlook the Dubai Creek. They're also soundproofed, spacious and equipped with luxurious furniture.
The Amara Spa has an interesting offer. The guests usually go for the Turkish steam bath and aromatherapy treatments, although standard spa treatments are available as well.
If you're a golf enthusiast, you'll be happy to know that the 18-hole golf course is approximately 5 minutes away.
For those travellers that prefer working out indoors, you choose to visit the modern hotel gym.
After a long day, you can relax in the large outdoor pool, surrounded by palm trees. In fact, the entire outside area looks like a green oasis.
If you'd like to stay in a quiet part of Dubai, the Park Hyatt is perfect.
Jumeirah Creekside Hotel
The Jumeirah has a lot to offer to those who prefer an active vacation. All hotel guests have unlimited free access to the Wild Wadi Waterpark throughout their stay.
Also, if you're into sports, you can use the four tennis courts and two squash courts.
The 5-star hotel offers personal trainers for those who'd like to stay in shape during their stay.
They will make personalized fitness plans for each visitor and provide you with the best equipment available.
Once during your stay, you have the right to use the hotel's private beach. The beach is a part of the Madinat Jumeirah Resort, a stunning complex made to resemble ancient Arabia.
Not content with just visiting the private beach? No problem, as the hotel has 2 outdoor swimming pools.
The rooftop bar called Cu-Ba has an additional, glass-bottomed pool, located on the 8th floor, with a breathtaking panoramic view.
Best Luxury Neighbourhood – Marina Beach
The most relaxing part of Dubai is the wonderful Marina Beach, overlooking the Persian Gulf.
It's a man-made coastline developed to sheer perfection. That means the beaches are much broader than you're probably accustomed to seeing.
Staying in Marina Beach means you're walking distance away from sunbathing, swimming and relaxing at one of many beachside restaurants.
This is the perfect place to stay in Dubai if the bustle and noise of the city tires you.
Grosvenor House Hotel and Apartments
The opulent hotel consists of two 45-story towers, allowing you to choose between 750 rooms and apartments.
Each apartment has a separate living room, as well as a modern kitchen and dining area.
The Grosvenor has 14 restaurants and bars, to perfectly meet everyone's needs. The selection includes Indian, Mediterranean, East Asian and British cuisines.
When it comes to places to drink, choose between a bar offering a 360-degree view of the Marina, and a champagne bar on the 44th floor.
Each tower has a spa centre; Retreat Spa in Tower One and B/Attitude Spa in Tower Two. Both offer luxurious treatments which focus on maintaining the physical and spiritual well-being.
If you decide to stay here, make sure you experience the free beach and pool facilities at the Grosvenor's sister hotel – Le Royal Meridien Beach Resort.
Rove Dubai Marina
The Rove Dubai Marina gives visitors to Dubai an excellent value for money. The location is great – only a couple minutes away from the beach and the Dubai Mall, making it a wonderful place to stay in Dubai.
All rooms have flat screen TVs and comfortable beds. Families have the option of getting interconnecting rooms, so they wouldn't be apart.
When you get hungry, stop by the Daily Restaurant. It's Rove's official international restaurant, famous for its fresh ingredients. Children under the age of 16 get free breakfast.
Guests have access to the outdoor pool. It is lined with beach chairs and umbrellas, everything you need for a sunny day in Dubai.
The employees are friendly and helpful, and often multilingual. You certainly won't have a problem understanding each other and expressing your wishes.
Whenever you need something, the 24-hour front desk is at your service.
La Verda Suites and Villas
La Verda gives guests an opportunity to rent out an entire villa for their stay. They're perfect for longer vacations with a large friend group, since they can accommodate up to 25 people.
Each one has a sun deck with a seating area in front, as well as a private Jacuzzi. The balconies all have a sensational panoramic view of the Dubai Marina and the hotel pool.
You will surely feel relaxed and safe with 24-hour security and staff at your service.
For those who would like something smaller, La Verda also offers duplex penthouses and one, two or three bedroom suites. They give you the same level of comfort and luxury as the villas, but they're accommodated to your needs as single travellers, couples or families.
When it comes to food, you can visit one of the complex's restaurants or order room service. You can enjoy the traditional tea and coffee in the Heritage Café.
Best Budget Hotel In Dubai
It might seem like Dubai is reserved only for the wealthiest travellers, but don't be surprised to find out there are some affordable options as well.
There are many nice options out there that won't cost you all of your life savings, and after checking some out on Wego.ae, we were inspired to see that you can even stay in Dubai on a budget.
It depends on couple of different factors such as how far ahead you plan, how close to the city centre you want to stay at and of course make sure you keep an eye out for deals!
Rove Downtown Dubai
Even though Dubai is known for its sky-high prices, the Rove Hotels offer a much more affordable option.
Located right in the very centre of the city, the Rove Downtown gives quality for an unbelievably low sum. (Don't get it mixed up with the Rove Dubai Marina, mentioned above.)
Each room has a private bathroom with a rain shower and everything necessary for your stay (blow-dryers, bathroom supplies). If you need to do your laundry, the hotel has a 24-hour self- service laundromat.
Every floor has vending machines and ice machines, and the rooms have coffee and tea making facilities. However, you can always have your coffee at the Daily Restaurant.
When it comes to fun activities, The Rove Downtown will soon get its own cinema. Until then, they offer event spaces that can be used for many other purposes besides business meetings.
Best Luxury Hotel in Dubai
People flock from all over the world to Dubai to experience the best that money can buy. And when we say the best, we really mean it.
Hotels in Dubai offer everything imaginable, from swimming with sharks, celebrity chefs cooking dishes in your own kitchen, transfers in million-dollar cars and even access to your very own private beach.
If you're after a truly once-in-a-lifetime experience, and money isn't an option, why not decide to stay in the best luxury hotel in Dubai?
Burj Al Arab Jumeirah
This is easily one of the most extravagant hotels in the world.
Located on its own artificial island which is connected to the land by a private bridge, it quickly became one of Dubai's landmarks, thanks to its unique sail shape.
Even though this is the 3rd tallest hotel in the world, it only has 202 suites. However, the reason behind this is that even the smallest rooms are much larger than average (169 m2).
The suites are luxurious, to say the least. Each one is equipped with an iMac, an iPad, an HD TV, and each one has a private butler.
Staying here will give you a lot of privileges. You could have a chauffeur driving you around in a Rolls Royce or you could take a helicopter trip from the hotel's own helipad.
The Burj Al Arab is also home to one of the world's most iconic restaurants – Al Mahara. Eating right next to a giant aquarium isn't an everyday experience.
Also, visitors have the honour of trying specialties that the famous Nathan Outlaw (a two-star Michelin chef) has created.
There really is no other place like it, so if it fits in your budget splurge out and spend a few nights at the Burj Al Arab.
[box] That's it for our detailed list on where to stay in Dubai. Have you found the article useful? Have your own hotel to add? Leave a comment below and let us know![/box]