From going on a high-adrenaline dune experience to enjoying panoramic views from the Doha Torch Tower, here is our list of the absolute best things to do in Doha.
A nation filled with fascinating culture, other-worldly landscapes and remarkable architecture, Qatar is a place that needs to be seen to be believed.
Located in the Persian Gulf, with its land bordering Saudi Arabia, Qatar is one of the seven Arab States.
Qatar is indeed a small country, but that doesn't take away from its very diverse attractions, and a fast-growing tourism industry that is developing.
Tourist facilities are being created almost daily, especially in Doha, the capital city of the peninsula nation.
Proving that this destination is one of the world's next big hot spots, Qatar will be hosting the 2022 FIFA World Cup, which will further increase the development of tourism.
Need some more reasons to visit? The weather is almost perfect, thanks to its constant summer-like climate, and it's a wonderful place for those of us that love travel photography.
It is also one of the safest countries in the world for tourists and boasts the true wonders of hospitality that Arabs are so well known for.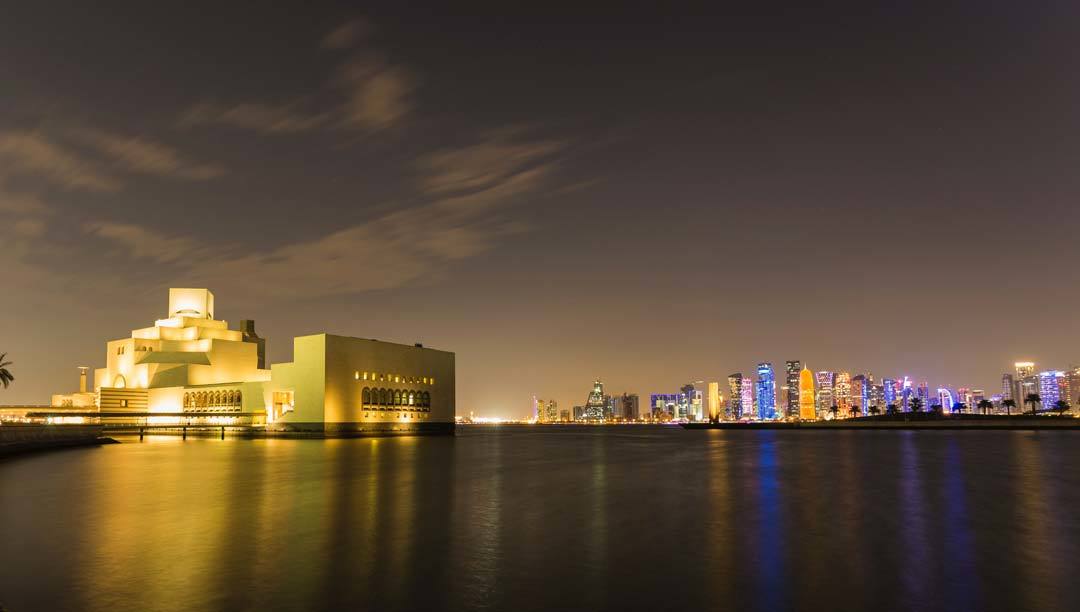 The Best Things to Do in Doha
Even though Qatar is a small country, there's a rich variety of food, beaches and sand dunes and adventures.
And nowhere is this more evident than the capital city of Doha.
You can ride a camel in the morning, have brunch in a palace, sunbathe on some of the Gulf's most luxurious beaches, buy art from a world-class gallery, then end the evening with a night of clubbing at some of the world's most upscale nightclubs.
Qatar's capital is developing at a very fast pace, and there is no shortage of awesome Doha attractions to enjoy.
Getting there is even easier now, with dozens of flight options landing in Doha from around the world. Check out the options on Wego.
If you wish to experience adventure, buzzing nightlife, culture or blissful relaxation, we have you covered with this ultimate list of things to do in Doha.
1) Walk Around the Souq Waqif
When you walk down the lively streets of Souq Waqif you're immediately transported into another time. The bazaar's name translates as "Standing Market" and
The Souq Waqif is a perfect place where you can taste, smell and experience tradition through the merchant's produce, perfumes and stunning surrounding architecture.
The labyrinth of small shops offers a wide selection of various products from spices to handicrafts, clothing and many souvenirs.
Traditional art, cultural shows and music enrich the atmosphere of this unique space that also houses a comprehensive visitor centre.
The ambiance of the Souq is a mix of modern and traditional. You can dine at upscale restaurants that cater to everyone's tastes, serving a range of traditional and regional dishes.
It's not only food that's garnering all the attention; don't forget to visit the number of local art galleries and see what's happening at the falconry market.
Souq Waqif is one of Doha must-see attractions, popular among gourmets as well as history buffs and well worth a visit.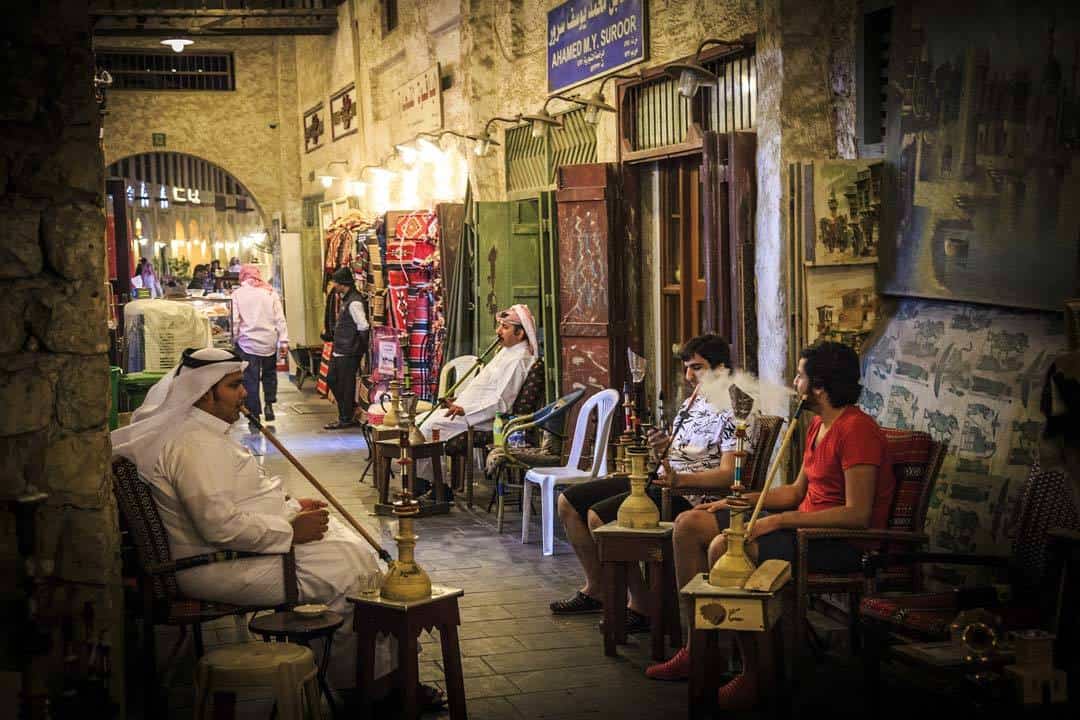 2) Be Amazed by the Pearl Qatar
The Pearl Qatar is a man-made island just north of West Bay that became the epitome of luxury.
It's one of the places to visit in Doha especially if you're interested in seeing how the wealthy are living.
The yachts, high-end stores and villas in gated communities give you an interesting insight into how the upper class lives.
Even though it's more on the expensive side, it proved to be a popular dining spot that hosts many restaurants, cafes and restaurants lined along its waterfront promenades cater to every taste.
If you have time book a boat cruise to Pearl island for a full experience.
Nicknamed the "Arabian Riviera", the Pearl Qatar welcomes large numbers of tourists that flock each year to enjoy the haute cuisine, high-class entertainment and premium lifestyle.
If you want to stay on The Pearl you can book your stay on Wego.
3) Go On A Sand Dune Adventure
Many of us have daydreamed about riding a camel and going on a desert safari. It's one of those classic adventurer experiences, and amazingly this is one of the best things to do in Doha.
To truly enjoy nature at its finest and to experience the vast desert, jump into the dune bashing experience outside of the city.
Abandoning the dull tarmac for the adrenaline rush of the dunes, expect breathtaking scenery on a roller-coaster drive across the vast desert.
There are many various ways across the dunes. You can enjoy a smooth ride, or if you're in for excitement, let your tour agent know that you would prefer to drive a fast and bumpy route.
Desert safaris will offer you a once in a lifetime experience. Walk through the pearly white beaches, and maybe even take a dip in the translucent waters of the Khor Al Udaid,
The best dune bashing tours will time it so when you start making the round trip back, you will be able to witness the spectacular sunset over Doha.
4) Soak Up the Atmosphere Along the Doha Corniche
A perfect way to enjoy the sights of the beautiful Doha Bay is to take a leisurely stroll along the promenade, the Doha Corniche on the West Bay.
The best spot to take a memorable photo from your trip is to position yourself next to the promenade, close to the Museum of Islamic Art, and from there capture the panoramic view of the skyscrapers.
This is the heart of the capital, and you can find anything you might need. From cafes and restaurants for a short break between sightseeing to large green spaces for relaxation, this is one of the best places to visit in Doha.
Go on a private city tour to visit Doha Corniche along with other Doha attractions as the Museum of Islamic Art and Souq Waqif.
5) Explore the Al Zubarah Fort
No trip to Doha is complete without a visit to the Al Zubarah Fort, located close to the town of Al Ruwais.
The Zubarah Fort is an iconic desert fort of Qatar. Its name was derived from the archaeological site of Al Zubarah town, which is also a UNESCO World Heritage site.
The fort is immaculately preserved and is one of the best examples of 18th – 19th-century settlements in the regions.
In the past, it was ranked as one of the Gulf's most important pearl diving and trading centres that were linked to the Indian Ocean, and it was considered a prosperous trading town – making it one of the places to visit in Doha.
Today the fort serves as a wonderful museum. On the ground floor, there's a small exhibition about the fort and the surrounding area that should not be missed.
It is a very beautiful fort, even though it's not actually very old. The fort is only an hour's drive outside of Doha, but it's definitively worth the visit.
Address: Al Zubarah, Shamal
Opening hours: every day from 7:30 AM – 5 PM
Price: Free of charge
6) Have a Look at the Vintage Cars at Sheikh Faisal Bin Qassim Al Thani Museum
Art lovers might be wondering what to see in Doha, but the art scene there will pleasantly surprise you!
The Sheikh Faisal Bin Qassim Al Thani Museum's (the FBQ Museum for short) collection was a project born out of a passion for art and artefacts of an influential businessman, Sheikh Faisal Bin Qassim Al Thani.
The museum is segregated into four parts: Coins & Currency, Vehicles, Qatar Heritage and Islamic Art. It's an impressive collection that took years to build up.
You can find items all the way back from the Jurassic period right through to modern-day history.
The most impressive part of the museum is the Sheikh's astonishing car collection, that counts more than six hundred cars. All in perfect working condition!
For every car enthusiast, this is the most important exhibit, and you can spend hours marveling at vehicles spanning from trucks to convertibles, steam cars to limousines!
Make sure you book a tour ahead of time, as they often sell out.
Address: Al Samriya, 22km west of Doha, just beyond Mall Of Qatar
Opening hours: Monday – Thursday ( 9 AM – 4:30 PM), Friday (2 PM – 7 PM), Saturday (10 AM – 6 PM), Sunday (9 AM – 4 PM)
Price: 45 QR
7) Spend a Day at the Museum of Islamic Art
The Museum of Islamic Art is considered to be the most important cultural landmark in Qatar, and rightfully so, as the museum presents Islamic art from three continents over a span of 1400 years.
Inside its walls, it keeps some of the oldest and most treasured artefacts from all over the Middle East.
Collections that have made the Museum of Islamic Art their home have come from places as fascinating as Turkey, Iran, Egypt and many more, all of them linked through their common Islamic history.
Spend a few hours here and you can see different types of artefacts, calligraphy, ceramics and a lot more.
Inside the museum, you can also attend a variety of art exhibitions with works from international and local artists.
Art lovers will attest that this museum is one of the great things to see in Doha!
If you're interested in visiting some of Doha's finest museums, book a tour with Get Your Guide.
Address: At one end of the 7 km long Corniche, a 15 minute drive from Hamad International Airport or within walking distance of Souq Waqif
Opening hours: Monday – Saturday from 9 AM – 7 PM, except Saturday from 1:30 PM – 7 PM
Price: 50 QR
8) Visit the Katara Cultural Village
The Katara Cultural Village is also known as the Valley of Cultures and is the number one place to visit for all thespians, art and architecture enthusiasts, as well as for people passionate about learning other traditions.
The Valley of Cultures is supposed to imitate the Qatari culture via a large space that houses a whole host of activities.
Leaves no room for dwelling on what to do in Doha!
It includes an opera house, an amphitheatre, art galleries, heritage centres, various academic facilities and of course cafes, green areas, museum facilities and an information centre.
The large space was built to commemorate and celebrate not just the Qatari culture but also other civilizations and customs.
So if you wish to enjoy the epitome of Qatari traditional architecture, visit the Katara Cultural Village and enjoy the activities via concerts, exhibitions and other events.
You can book a 4-hour cultural tour where besides the Katara Cultural Village, you will visit also the spiral mosque, Souq Waqif, Museum of Islamic Art, Grand Mosque, Fanar and other notable landmarks.
9) Jump Out Of a Plane Over The city
This one is not for the faint-hearted, and might be one of the most adventurous things to do in Doha!
Jumping out of a plane is usually on everyone's bucket list, so why not make your first jump high above the futuristic, modern city surrounded by a vast desert with epic views of the Persian Gulf?
Skydiving Qatar has a perfect safety record and their instructors are highly experienced. When you're done with the museums and restaurants, strap a parachute to your back and head for the skies!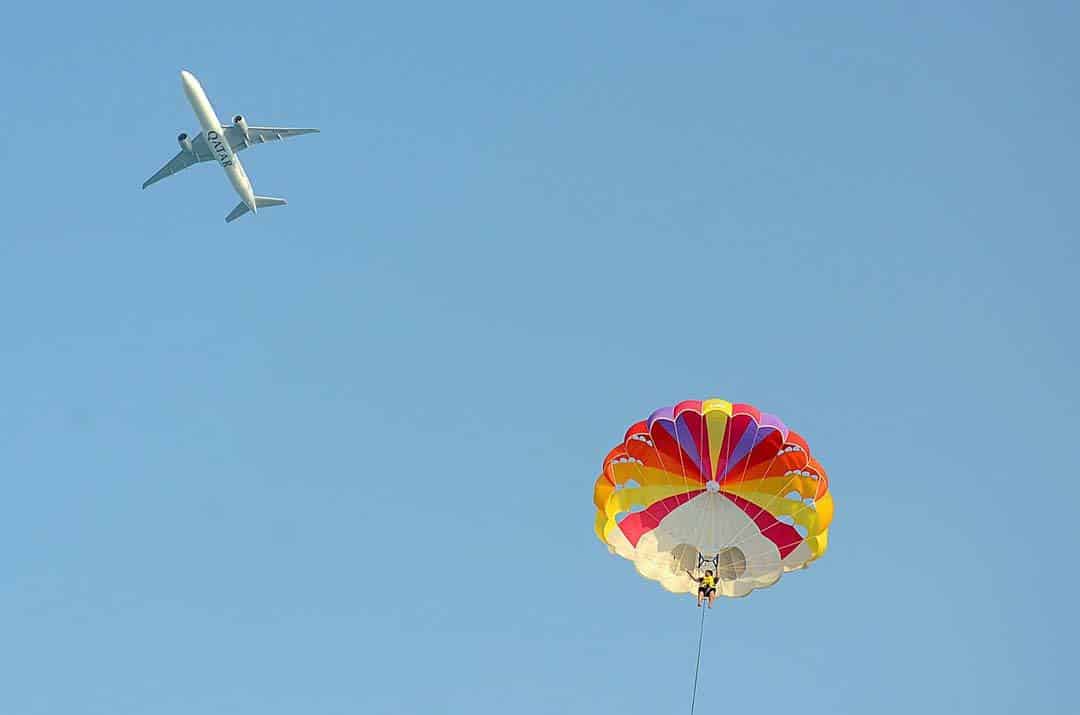 10) Head to the Top of the Aspire Tower
The Aspire Tower, otherwise known as The Torch Doha, is a 300-metre tall skyscraper hotel and is best known for being the symbol of the 15th Asian Games hosted by Qatar in 2006.
The tower is the tallest structure and building in Qatar and is without a doubt worth a visit for a number of reasons.
It is an architectural gem with its modern interiors, panoramic swimming pool on the 19th floor, and an amazing 360-degree rotating restaurant located at the very top to admire the gorgeous view of the city.
If you're looking for things to do in Doha at night, eating at the rotating restaurant is a great one!
Don't miss out on this Doha must see!
Address: Al Waab Street, 23833 (Aspire Zone complex)
11) Learn About Falconry at the Falcon Souq
In Qatar owning a falcon is a status symbol.
Currently, it is the richest country in the world per capita, and a visit to the city will open your eyes to countless expensive sports cars and world-class skyscrapers.
And behind all of these luxuries is a population of wealthy business people and their falcons.
A long time ago when Qatar was just a vast desert its people, the Bedouins, trained falcons for hunting prey. It's an idea that has lived on.
The continued efforts to preserve falconry is because it's a vital part of their history and culture. Falconry has even been listed on UNESCO's Intangible Cultural Heritage of Humanity List for Middle Eastern culture.
In order to preserve the tradition of falconry, the government has been actively investing in the Falcon Souq.
At the Falcon Souq, there are dozens of shops that specialise in falcons.
If you're lucky you will be able to witness their monthly auction where they judge the physical abilities of the falcons.
It's quite a sight to behold.
Address: Al Souq St
Opening hours: every day except Saturday, from 7 AM – 6 PM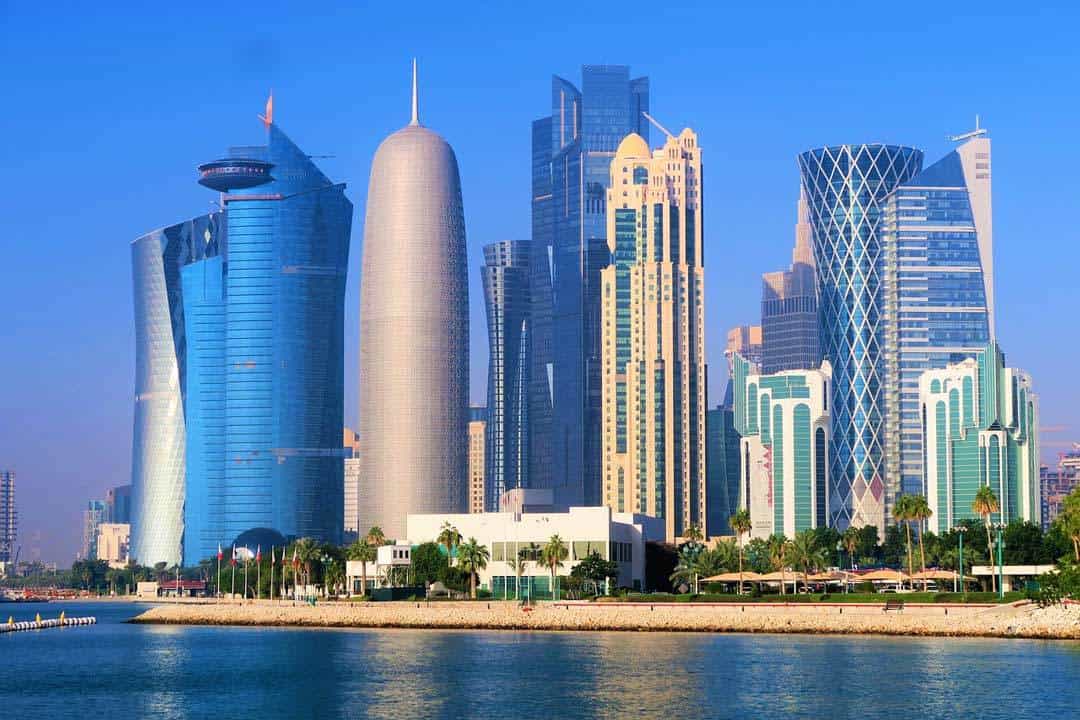 12) Don't Miss the Barzan Towers
The Barzan towers were built in the late 1800s (renovated in 1910), and they were used as watchtowers over the West Bay to ward off the possibility of an Ottoman invasion.
Even though the local military had defeated the Ottomans years earlier, the generals still had reasons to be apprehensive, which is why they were constructed.
Over the years the towers have been used for another service – inspecting the new moon during the holy month of Ramadan for accuracy.
The Barzan Towers are a very well-maintained monument with a rich and interesting history, and definitely one of the best tourist attractions in Doha.
A visit to the towers is a great opportunity to see what life like was for the pearl divers and military in the bygone years.
You can enter the towers and climb the internal staircases to reach the top level and marvel at the stunning scenery all around you.
Address: Umm Salal Muhammed
Opening hours: 24 hrs, recommended time to visit from 2 PM – 7 PM
Price: Free of charge
13) Admire the East-West/West-East Artwork
Out in the middle of the Qatari desert is a new sculpture created by Richard Serra, called the "East-West/West-East Artwork".
Serra always aspired to take the art off the pedestal and into the street, and his latest work achieves that perfectly.
Isolated in the desert you can gaze at his mesmerising sculptures, the four steel plates that are firmly craned into the dunes.
This project spans the greatest area of any of Serra's creations, and it's a real must to venture out into the desert and experience it firsthand.
14) Go Shopping in the Villaggio Mall
The Villagio Mall clearly stands out as something unique when compared to the other Doha shopping malls, and it is one of the most impressive architectural feats in Qatar with its stunning architecture, luxury brands and an exciting range of shopping, dining as well as entertainment options.
The mall is spectacularly designed with a creative ambience that makes you feel as if you're somewhere in Venice.
The Villagio Mall is so big that it will take you a few hours to explore all of the shops, which range from normal retail to high-end luxury products.
It really is a perfect place for families too, as you can offer your kids a platitude of different activities such as ice skating, bowling and even a roller-coaster!
Address: Al Waab St
Opening hours: Monday (9 AM – 12 AM), Tuesday – Wednesday (9 AM – 10 PM), Thursday and Saturday (9 AM – 11 PM), Friday (9 AM – 11 AM, 12.30 PM – 11 PM)
That's it for our list of the best things to do in Doha, Qatar. Have we missed anything? Did this list help you plan your trip? Leave a comment below and let us know!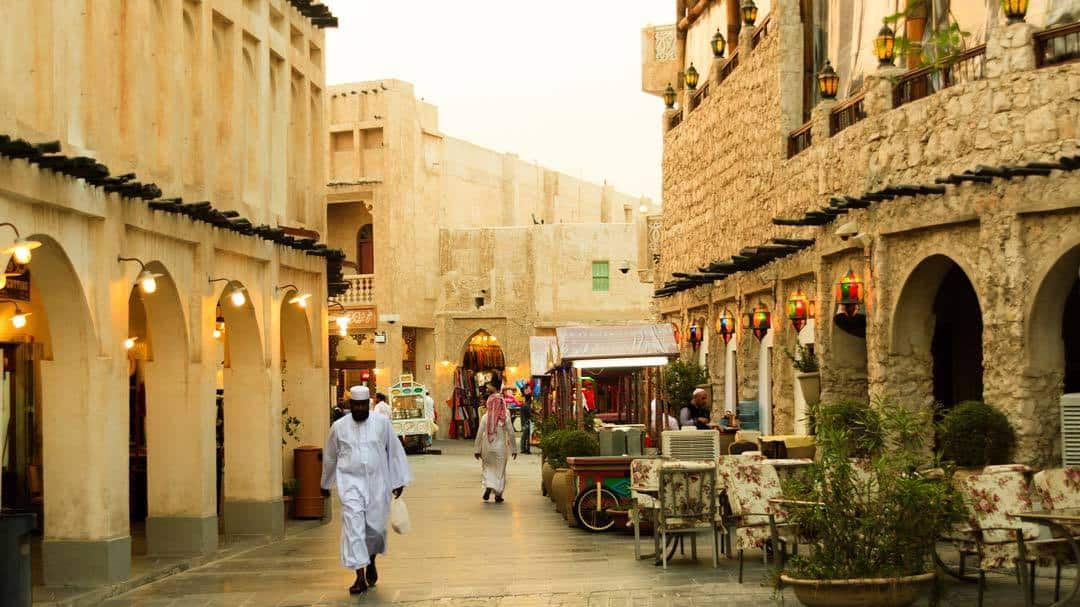 DISCLAIMER: Some of the links in this article are affiliate links, which means if you book accommodation, tours or buy a product, we will receive a small commission at no extra cost to you. These commissions help us keep creating more free travel content to help people plan their holidays and adventures. We only recommend the best accommodations, tours and products that ourselves or our fantastic editorial team have personally experienced, and regularly review these. Thanks for your support, kind friend!