Our detailed review of the Vanguard VEO 42 camera bag and Vanguard VEO 265CB tripod.
As our photography equipment has expanded we've had to continually upgrade the way in which we carry it. When we started our current trip we had a small Sony RX100M2 (an incredible little camera by the way)
Over time we splashed out and bought a Sony A7ii, and then have gradually added a bunch of lenses to our kit. Having a good travel camera is very important to us, but so is having high quality accessories.
We had been checking out the specialist camera equipment company Vanguard for a while, and had heard some great reviews from friends of ours who use them.
With their new VEO travel-focused bags and tripods hitting the shelves, they seemed like a perfect match for our needs.
We've had our Vanguard VEO 42 camera bag and our Vanguard VEO265CB tripod for about three months now, and have really put them through a range of tests and strains.
This is our review on the new Vanguard VEO travel series equipment.
Disclaimer – both the camera bag and tripod were supplied to us by Vanguard for the purpose of an unbiased review.
Camera Bag – Vanguard VEO 42 Review
First impressions of the Vanguard VEO 42 camera bag is that it didn't really look like a typical camera bag.
For people like us who travel to a lot of interesting locations, this is perfect! The last thing we want is to have a bag that screams out "I'm filled with $5k+ worth of gear!" so we were stoked with this.
The second thing we thought was that it didn't really look like it could hold everything it claims to be able to hold: DSLR with lens attached, 1-2 additional lenses, flash, accessories, 13inch laptop and tripod on the side. The bag itself is quite compact and small.
And now three months down the track we can that yes, the bag can hold all of these things. But NOT comfortably or with anything of substantial size.
If you had a bunch of small prime lenses and a tiny flash, yes no worries. But our 16-35mm wide angle lens takes up a fair chunk of space already, and even though the Sony A7ii is a full-frame mirrorless camera, so nowhere near the size of a full-frame DSLR, that still fills the space quite substantially.
So if you are the kind of person that carries a lot of gear or a zoom lens plus others, maybe look at a bigger bag.
Bag Design – 8/10
The Vanguard VEO 42 is a well designed camera bag with all sorts of situations in mind.
This bag can be divided into two sections, with camera equipment stored in an isolated compartment in the bottom, or you can take that bottom pocket out and have the entire bag as one pocket.
The divider in the centre does remove easily, using strong velcro to hold it together.
There are 2 pockets on either side of the bag that you can place water bottles in, or a tripod as seen in the above picture. Both those pockets have draw strings and a top strap for the tripod to sit firmly.
However even though the VEO 265CB tripod does fit in there, we would never carry it in that way for anything more than a short walk.
Unfortunately the bag is just not sturdy enough to make the tripod feel secure, making it a bit awkward.
Our travel tripod also doesn't fit in with its carry bag – not idea for long trips in dusty environments. With a smaller tripod this would not really be a problem though.
It comes with a rain cover that fits the bag perfectly. This has been very useful for us several times, and we are so grateful to have had it.
It has a clip that attaches it to the bag so it cannot get lost. It has an elastic band to hold it in place. What can we say – it's just a cover. But a very much appreciated cover.
Bag Space – 8/10
The bag space in the VEO 42 is very good, especially for a bag of its size. There are a lot of different compartments, which is great.
There is a pocket in the back for a laptop, which we routinely fill with a Macbook Air 11inch, iPad and e-reader.
The top pocket has plenty of room to put our filters, filter holder and cleaning gear, and has organiser compartments for SD cards and batteries.
The section down the bottom holds the camera and 3 small lenses (if one is connected to the body).
On the front outer area of the bag there are an additional two pockets for accessories. We keep our bag quite full, and it *just* holds all of our equipment. That being said our next purchase will be a 70-200 lens, and we're pretty positive that this bag will not be able to hold everything then.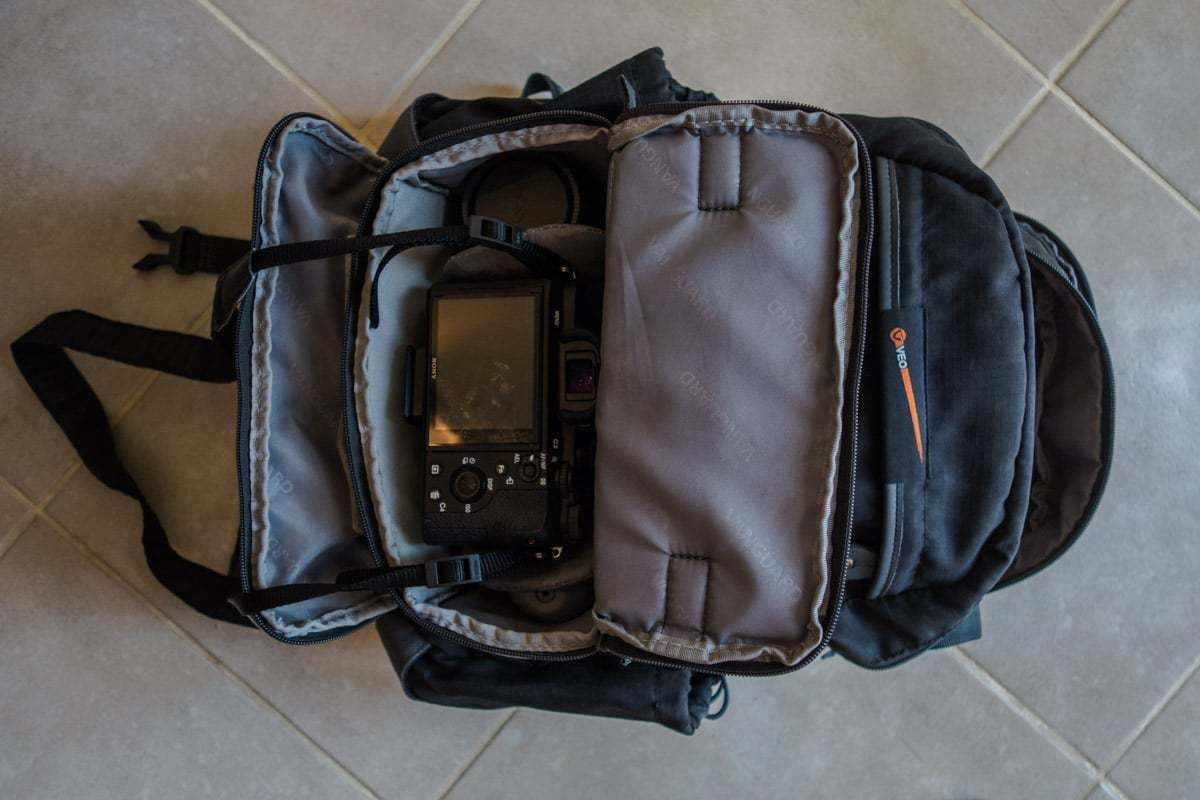 Quality – 10/10
This bag is very well made. The stitching is solid and the zippers are strong. The material is thick and so far barely holds a scratch or mark. We have been using this bag daily and we have not seen any deterioration in any of the linings or seams. And trust us, we are not kind on our gear. We've spent hours trying to find something wrong with the quality, and have come up empty handed.
Harness – 6/10
This is where we feel the Vanguard VEO 42 lacks a little bit. Yes it is strongly built and it doesn't look like it's going to fall apart anytime soon. But unfortunately it is not very comfortable when the bag is filled with heavy equipment.
Positive Aspects
We have taken the Vanguard VEO 42 hiking with us multiple times and it has been a great all-purpose backpack. It has both a waist strap and a sternum strap that helps keep the bag secure, but it does not transfer weight off the shoulders. The padding on the back is good enough for carrying medium weight (say 3-4kg). The straps are adjustable which is perfect for different body shapes. There is a top loop to easily pick up the bag instead of using the shoulder straps. You can also slide the bag onto your suitcase handle, which is great if you travel with a suitcase.
Negative Aspects
The negative for us is when the bag is filled with heavier equipment. With our Vanguard VEO 42 camera bag packed with all our gear it weighs around 7kg. This puts quite a lot of strain on the shoulders, and we would prefer if straps were more padded, or if the waist strap helped transfer weight to the hips better. However this is an issue we have, and many other travel photographers might not carry this much equipment on long trips.
Camera compartment – 7/10
This is the section where you place your camera inside the bag. At first we thought it was a bit gimmicky the way it worked, being folded out and held by velcro. But after three months we now love it.
Positive Aspects
When you open the bottom compartment the camera is enclosed in another padded casing. By unzipping the second zipper you can access the camera. There is velcro padded dividers that can be customised how you like. We have ours divided into 3 sections to store our camera (middle) with a 16-35 mm lens attached, our 55mm lens on one side and our cleaning equipment (puffer, sensor cleaner, etc) in the other.
We could replace the cleaning equipment with our 28-70mm lens in the other divider (not currently with us), but this would make the area quite tight. Already it is a bit of a squeeze, but it works. Good thing about that is it means less movement of the camera inside the bag.
The internal camera case detaches from the bag itself, and has a good amount of padding. It has a handle on the top to make it easier to lift and move around inside the bag.
When you need to access the camera you need to pull the internal case out at a 45 degree (or more) angle. If you're in a rush to get a shot it can slow you down as it is a bit awkward, but otherwise that is a good, padded, secure feature.
Negative
The only personal negative here is that we wish this detachable compartment was a little more sturdier with a rugged exterior, and a shoulder strap attached to it. This would be perfect to be used as a single side bag with the camera. Sometimes we would just like to take the camera with one lens instead of the whole backpack. This is a personal one for us, and this is only because we are on the move very regularly going to unique places. If you are just using it on weekend or for a holiday then it is great.
Overall – 8/10
We've decided to give the Vanguard VEO 42 camera bag an 8/10. Basically, for what the bag is designed for (being a camera bag for travel), it is great. The few gripes we have with it – such as we wish it had a more padded harness, internal carry bag, etc – is not a deal breaker.
The fact that we have put our bag through hell for 3 months, and it is still holding strong, is enough to convince us that Vanguard make a good quality product. When we are upgrading our camera bag again, probably in the next few months, we will keep an eye on the larger packs that they make.
In short, if you are looking for a great camera bag for travel, and don't have a lot of equipment, this is an excellent choice. If you have a lot of lenses and filters, or want your bag to hold your tripod without feeling awkward, perhaps you should consider something larger.
Tripod – Vanguard VEO 265CB Review
Vanguard's VEO travel series also includes tripods, which for us is an absolute must on our travels. Some people complain about carrying a tripod on the road.
Yes, it can be a pain, especially if you are trying to be a minimalist. But we use our tripod almost every day taking long exposure shots, photos of hotel rooms, filming video, etc.
Basically because of our job we need a tripod, and the Vanguard VEO 265CB has proven to be an excellent choice for us.
Tripod Design – 9/10
The Vanguard VEO 265CB tripod has very well designed, and perfect for a traveller. It is designed to hold up to 8kg (perfect for DSLRs or our full-frame mirrorless setup), and fully extended stands about 150cm tall.
Portability is of the utmost importance to us, and this tripod folds down to be less than 40cm long. Weighing about 1.5kg, it is also quite light for the heavy loads it can carry.
The legs are sturdy and adjustable, and can be used on uneven and rocky ground without worry. The legs also spread out to be very wide, giving a whole range of extendability in where you can place it.
The top column can be folded at an angle for packing away, but may also help with composing your shot. In our experience this really compromises the balance of the camera, so if you were using a large DSLR and heavy lens, we wouldn't put much faith in this.
One issue with the centre column is that when it is fully extended the tripod can be a little top heavy. If you are doing long exposure shots you just need to keep this in mind and not touch or bump the tripod in the slightest, and make sure the legs are firmly placed and wide enough. Still this is a small sacrifice to make for the overall positive aspects of the design build.
The rubber ball feet can be locked at either full extension, or retracted, leaving a metal spike to place in sand, grass, etc. Personally we would make these a little bulkier, but that's just our preference.
Quality – 9/10
The quality of the Vanguard VEO 265CB is excellent. For a tripod designed to be lightweight, portable and focused towards travel photographers, it doesn't feel like much quality has been compromised. Again we are not kind to our gear, and in the three short months we have used the tripod it has been bashed, thrown around, set up in the ocean and even dropped. Nothing has broken or come loose.
The latches and locks that the tripod uses are quite sturdy, and we haven't seen anything give way when tightened correctly.
What would we change in quality? For what it is designed for, nothing. But of course nothing can be perfect so we guess we would say make the latches a little more solid.
Weight – 8.5/10
Weight is very important for us, which is why we chose the CB series (carbon fibre) over the the AB series (aluminium). The entire tripod only weighs 1.5kg, which for what it is and the price it's valued at is very good. Being minimalists we of course wish it could be lighter, but that would compromise quality. Still, a few hundred grams less would always be appreciated.
Ball Head – 7.5/10
The Vanguard VEO 265CB comes with a multi-action ball head which is a solid, standard piece of equipment. Don't expect much freedom to move, and if you do a lot of video it's not the unit you would be looking for. Still for an included piece it is sufficient. Nothing amazing, but doesn't feel flimsy.
We'll be looking to upgrade this ball head in the coming months
Overall – 9/10
Basically this tripod has been perfect for everything we need. It is a travel-specific tripod, so if you are looking for something that you can take on the road with you, and you are not doing a lot of video work, 30-minute rotating star exposures, etc, this is brilliant. We've loved our Vanguard VEO 265CB tripod, and will plan on keeping it for a while longer.
Our camera bag and tripod were supplied to us by Vanguard for the purpose of a review. All words, opinions, kilometres trekked and hours spent standing in the cold taking photos of stars is, as always, our own.