If we knew there would be so many amazing things to do in Kotor, Montenegro, we would have come here ages ago.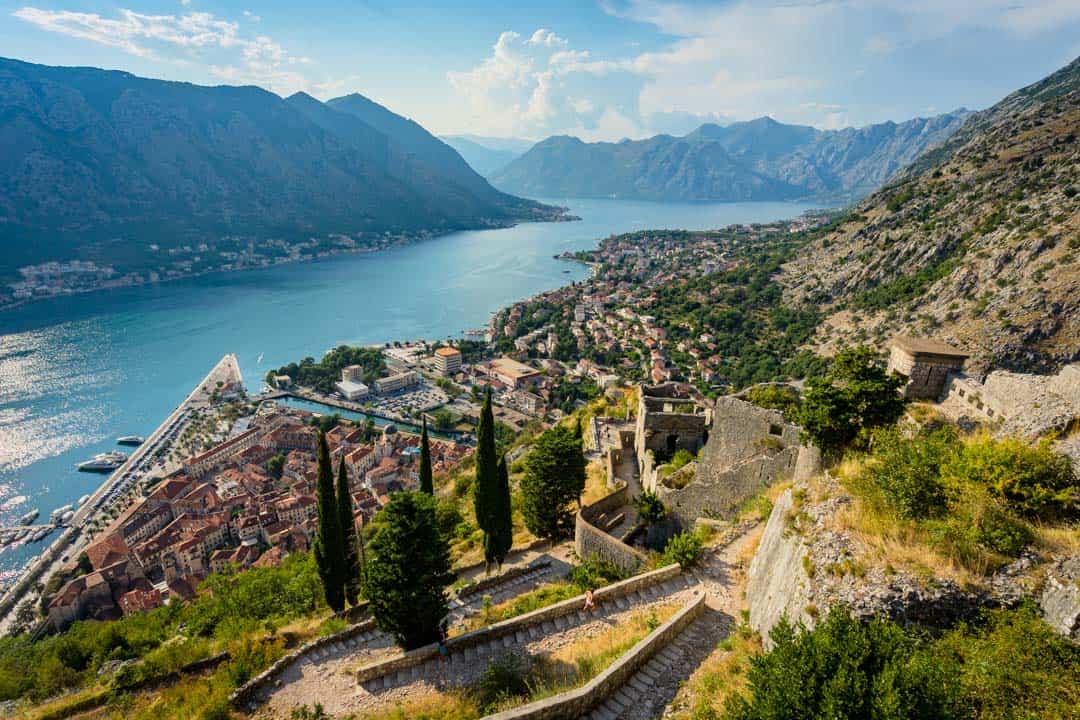 During our brief travels around the Balkans, we quickly fell in love with just how unique and different each country is.
Serbia was surprisingly friendly, and we regretted only having a chance to see Belgrade and not any of the other stunning places around the country.
Bosnia and Herzegovina stole our hearts. A nation still healing from the atrocities of recent war, the people welcomed us with smiles and open arms.
Sarajevo became our favourite capital city in the area, and Mostar was exceptionally beautiful. It's fair to say we were in positive spirits when we moved towards our next destination.
When we crossed the border into Montenegro we had high hopes. The tiny nation spreads from the coastal plains on the Adriatic Sea through karst landscapes and into the Durmitor Mountains in the north.
For such a small country, it seems to pack a lot in, and it was evident once we started to look at all the things to do in Kotor.
Looking at a map we struggled to come up with an itinerary that would do the place justice. We only had a week to explore Montenegro and we knew it would not be enough.
But we had to start somewhere, and the seaside town of Kotor seemed as good of a place as any.
If you're looking for the perfect guided tour of Kotor, don't miss this excellent full-day option from Get Your Guide.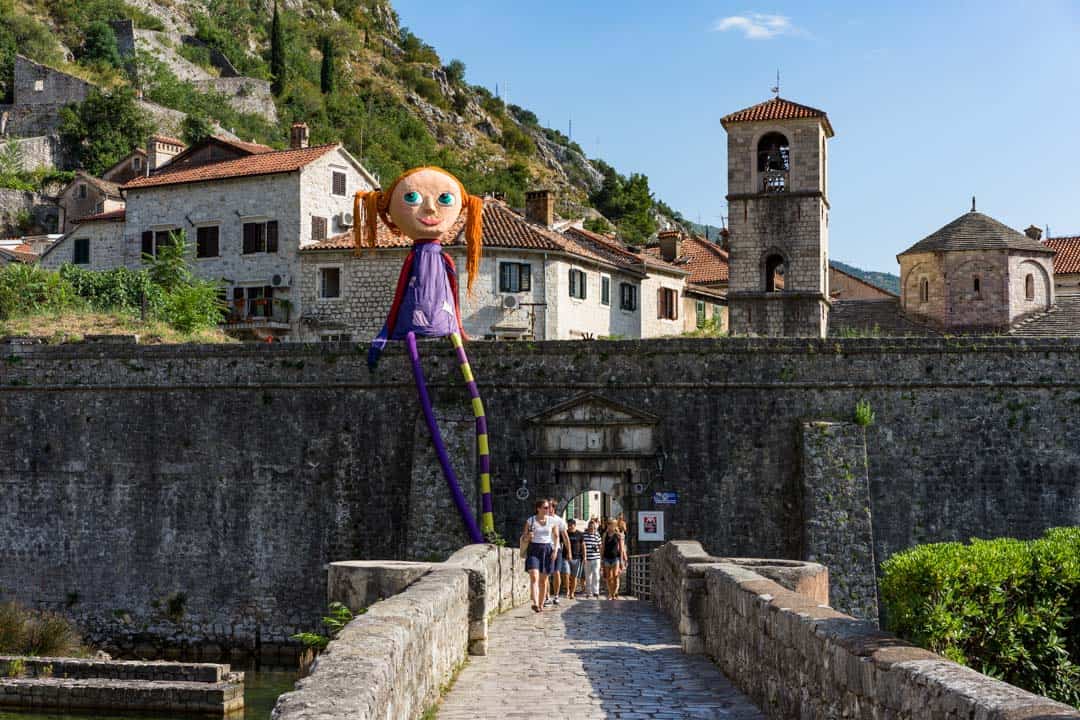 Those Damn Balkan Drivers
We organised a transfer from Mostar in Bosnia and Herzegovina over the border to Kotor through Hostel Kotor (which is also a sweet place to stay! Book your accommodation at Hostel Old Town Kotor here).
At only 5 Euros more than the public bus, it would save us hours and be a much more efficient way of entering Montenegro, without having to go through Croatia.
Having dealt with more than our fair share of dodgy border crossings, we were happy to hand over the extra cash for convenience. And all was going well, until we were involved in a car accident only 15km from Kotor.
Coming around a corner the person in front of us jumped on the brakes suddenly to pull into a lookout point. Our driver expertly avoided a collision, but not before the driver behind us slammed into the back of our car.
In all fairness it wasn't as bad as the bus crash we had in Myanmar, and nobody was injured. But we had been warned about the horrible road conditions and poor driving skills found in the Balkans and it seemed as though the warnings were true.
After an hour on the side of the road waiting for the police to show up and fill out a report, we finally headed off for the final stretch to Kotor. And damn it was worth the wait!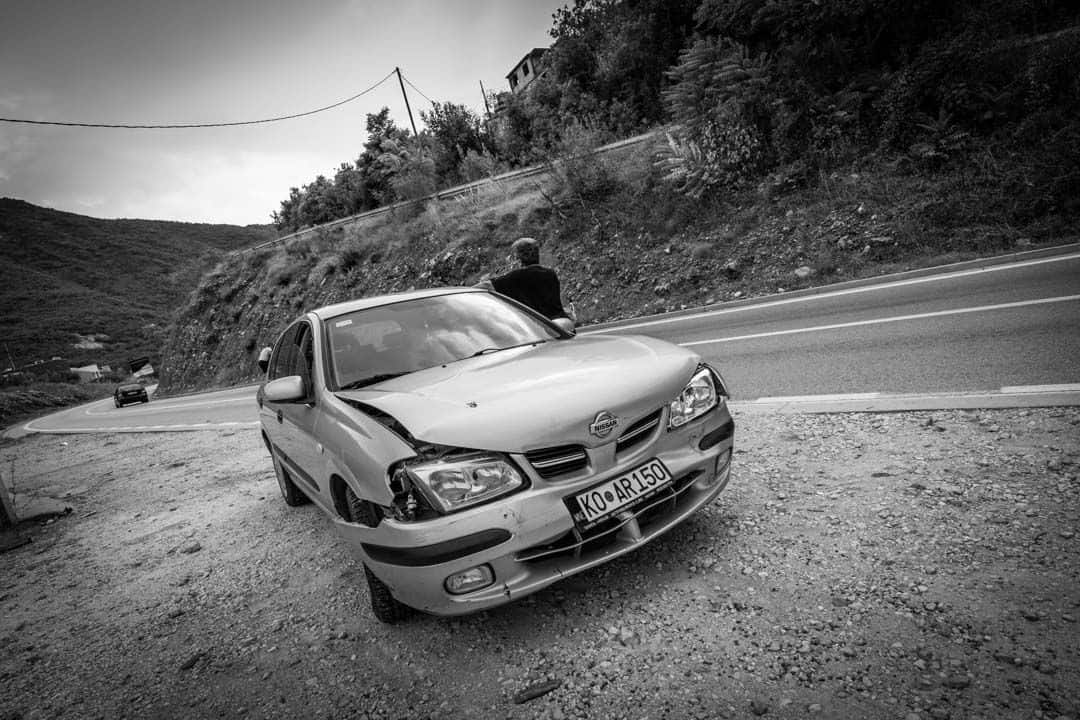 The Absolute Best Things To Do In Kotor
Soon we rounded a corner and the Bay of Kotor revealed itself in all her splendour. Glistening under the midday rays, the bay stretched around precipitous black peaks and a jagged shoreline, lined with red roofs and stone churches.
Alesha and I were speechless. The Bay of Kotor was more beautiful than we ever could have imagined.
Our driver dropped us off about 2km up the road from the Old Town of Kotor and we headed to our AirBnB (get $35 off your first stay with that link) to meet up with our friends Michael and Randi from Just A Pack.
They had been in the city for a week already and couldn't stop raving about what to do in Kotor. The sun quickly set and we headed into the Old Town to check out the nightlife.
The narrow alleyways twisted between medieval sandstone buildings and really was like stepping back in time (besides the horrible techno music blasting from the bars). After a few overpriced beers we called it a night.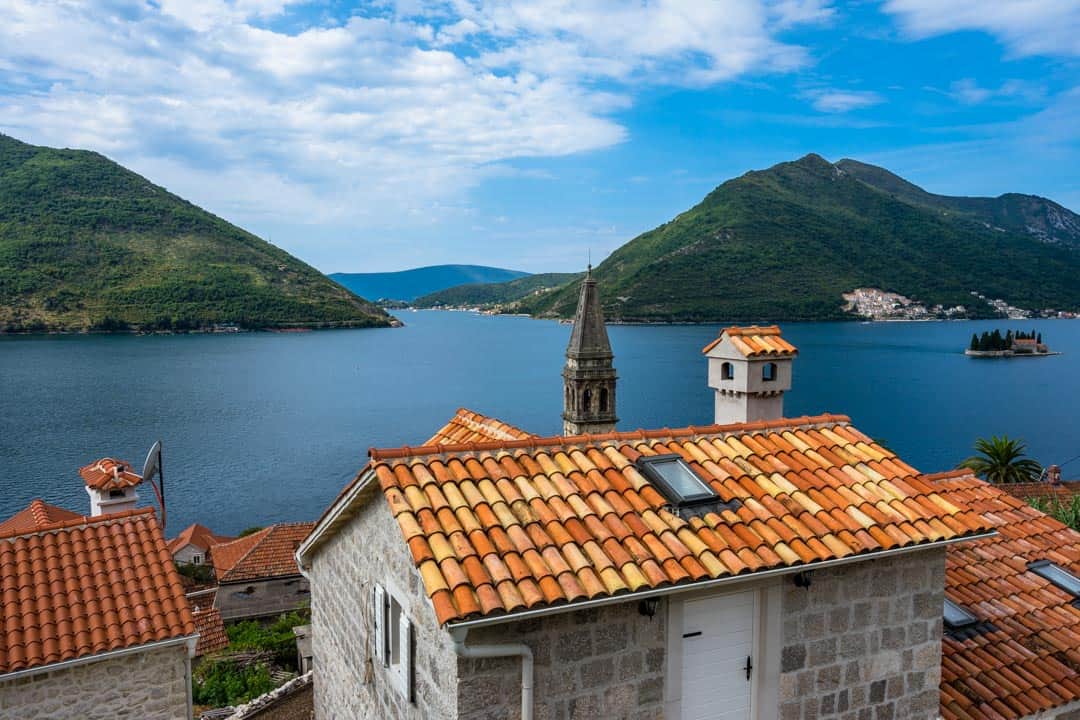 1) Perfect Perast
The next day we had a tour of Kotor's most popular sights planned with M Tours. We met up with our guide Sandra and jumped in a minivan to head back around the Bay of Kotor.
Our first destination was Perast, a tiny village nestled on the edge of the bay and renowned to be one of the most beautiful places in Montenegro. As soon as we arrived it was easy to see why.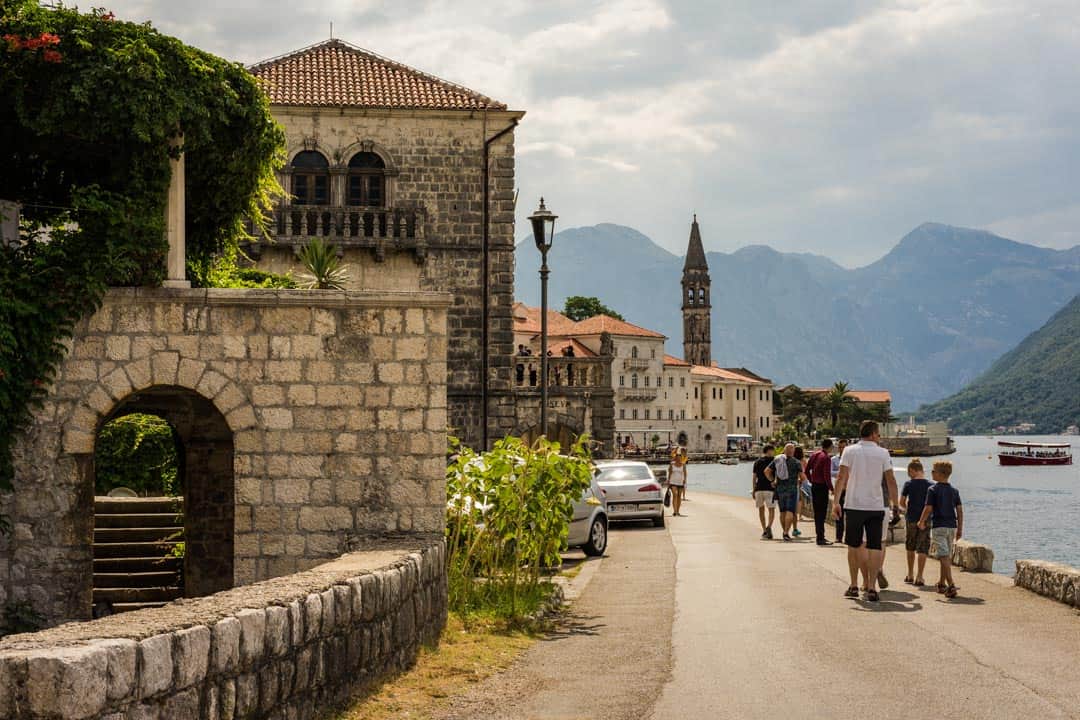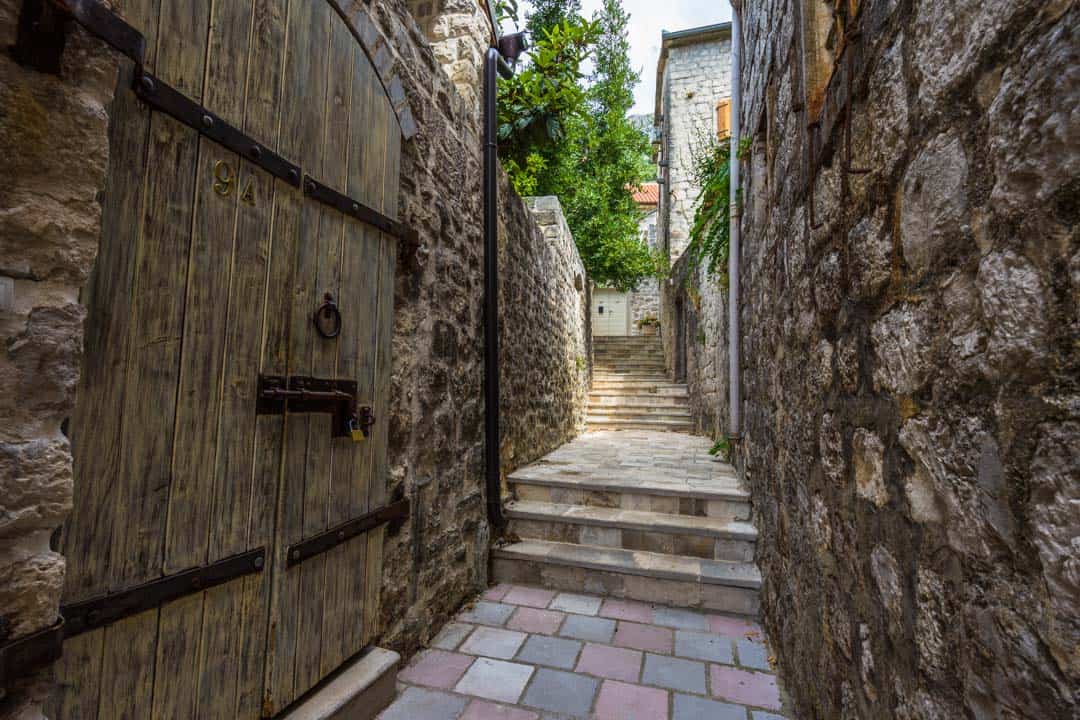 Perast has stood for over 1000 years, and has faced numerous sieges during the last few centuries. First the Byzantine Empire held control over the tiny town, followed by the Serbians, Hungarians, French, Austrians and eventually as part of Yugoslavia.
Despite all this it has remained as one of the most picturesque spots along the entire Adriatic Sea, and today tourists flock to the cobblestoned streets to capture the essence of its medieval atmosphere.
We wandered through the village, admired the churches and soaked up the ambiance before jumping on a small boat to the Bay of Kotor's other star: Our Lady of the Rocks.
Among many Kotor tourist attractions, make sure to make time to visit this tiny village. You won't regret the detour!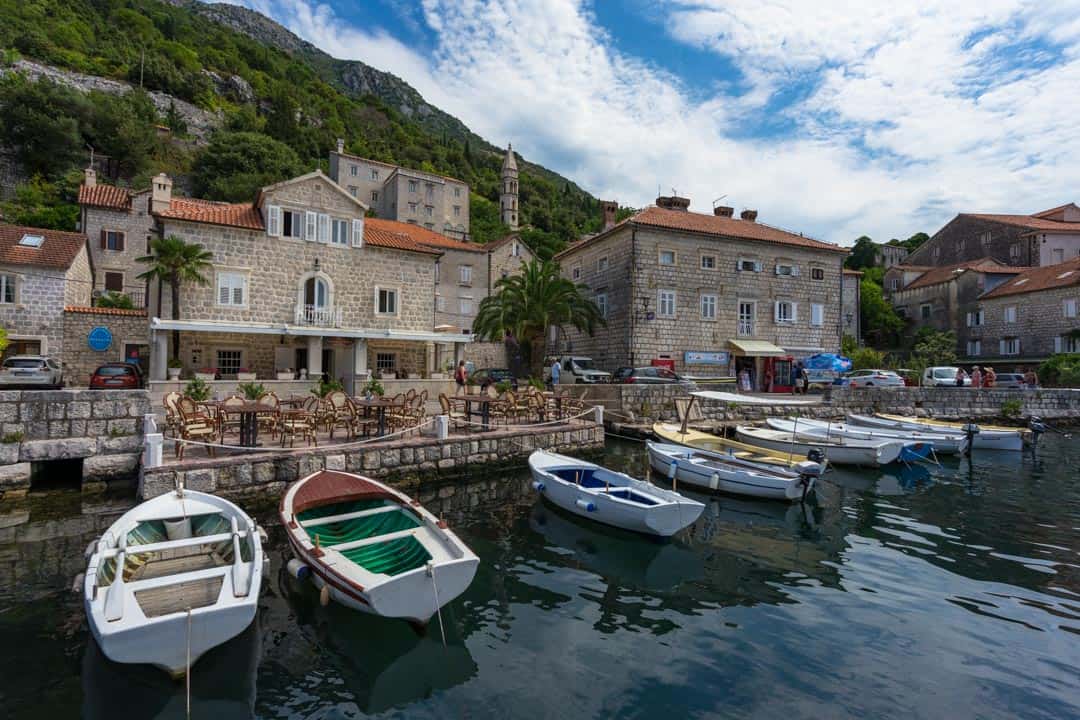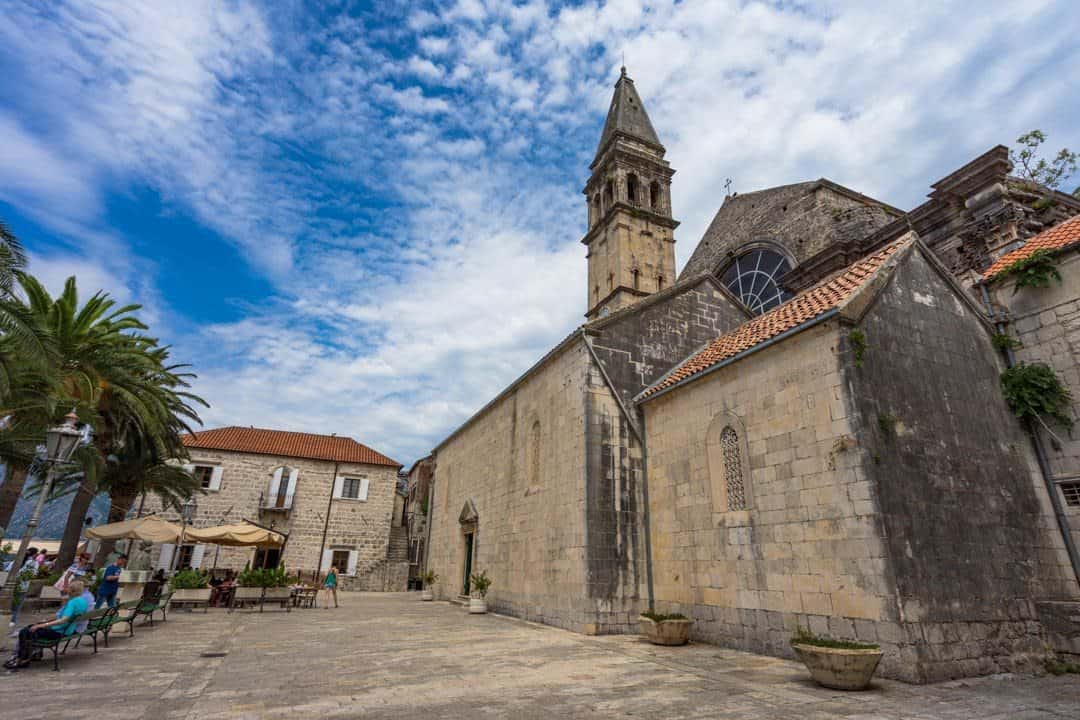 2) Marooned On Our Lady Of The Rocks
Just off Perast's shores are two small islets that are home to some magnificent sights: Sveti Đorđe Island and Our Lady of the Rocks.
We jumped on a passenger boat and took a brief tour towards the islands, swinging by Sveti Đorđe and eventually docking on the island holding Our Lady of the Rocks.
This Roman Catholic Church is built on a legendary position in the Bay of Kotor. The story goes that some sailors found an image of Madonna and the Child on a rock in 1452, and started throwing more stones on the exact spot after every successful voyage. An artificial island was created and the legend lived on.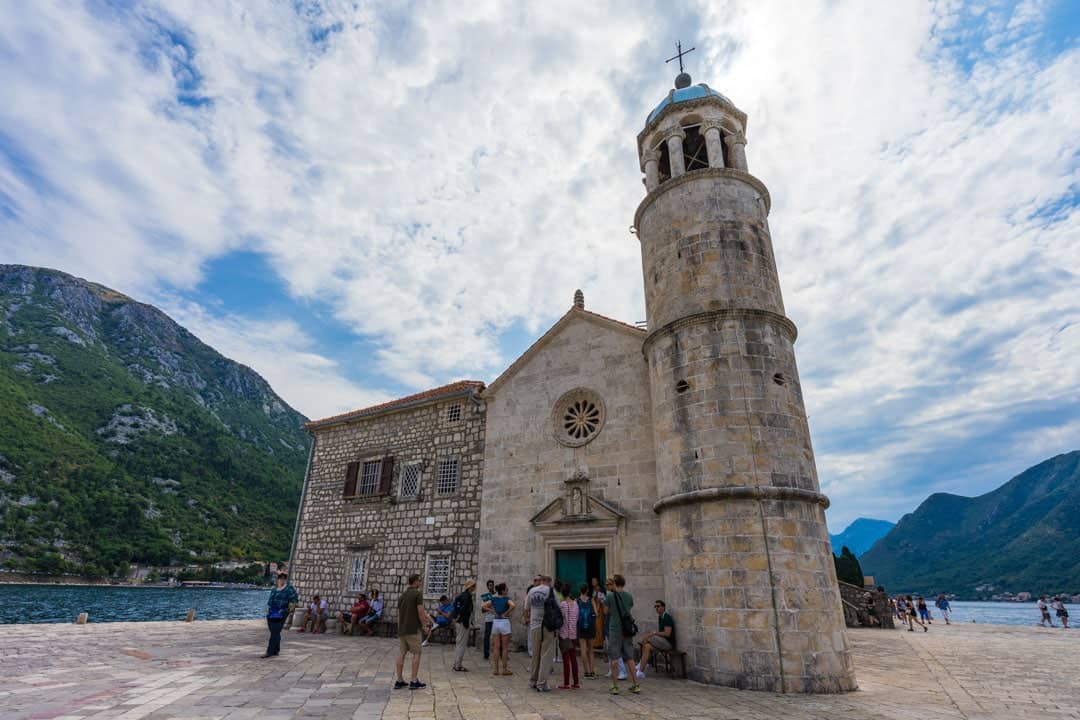 A church was made on the pile of rocks, and replaced by the current Our Lady of the Rocks in 1632. After years of restorations and various developments it now has a museum, a small gift shop and a navigation light at the end of the island.
No trip to Montenegro is complete without a visit to Our Lady of the Rocks, and it is one of the best thing to do in Kotor. This was made obvious by the large number of people visiting the island. Despite the crowds, it was still a sensational spot.
After returning to Perast we grabbed a coffee and headed back to Kotor to explore the historical Old Town. So far we were having a great time with what to do in Kotor for a day.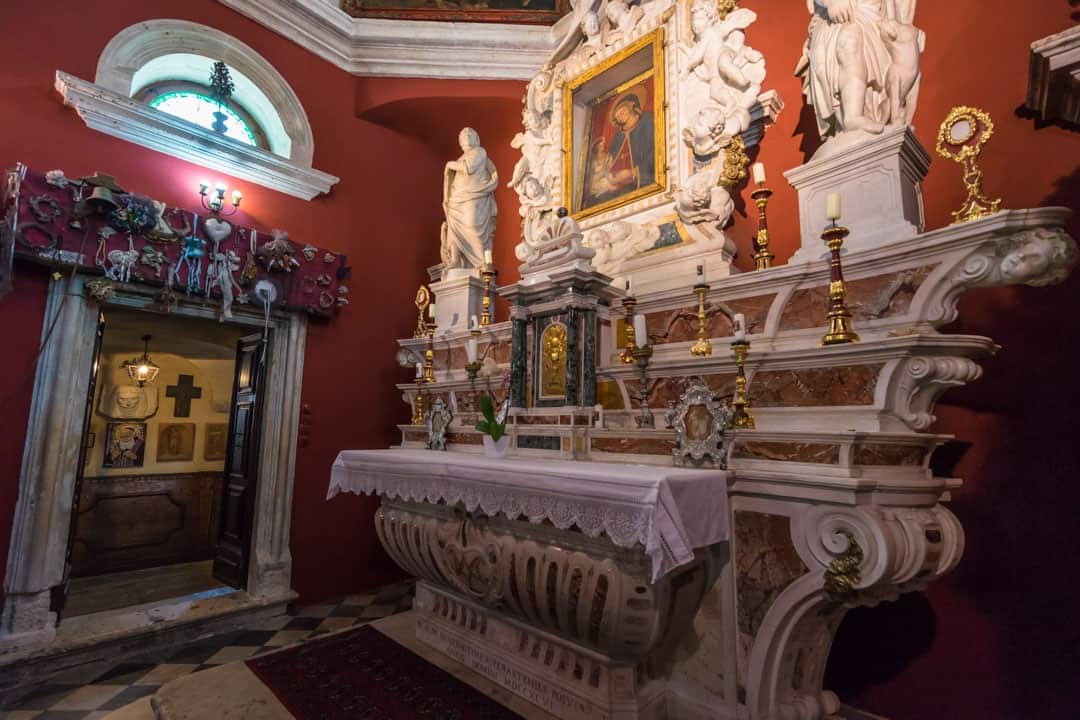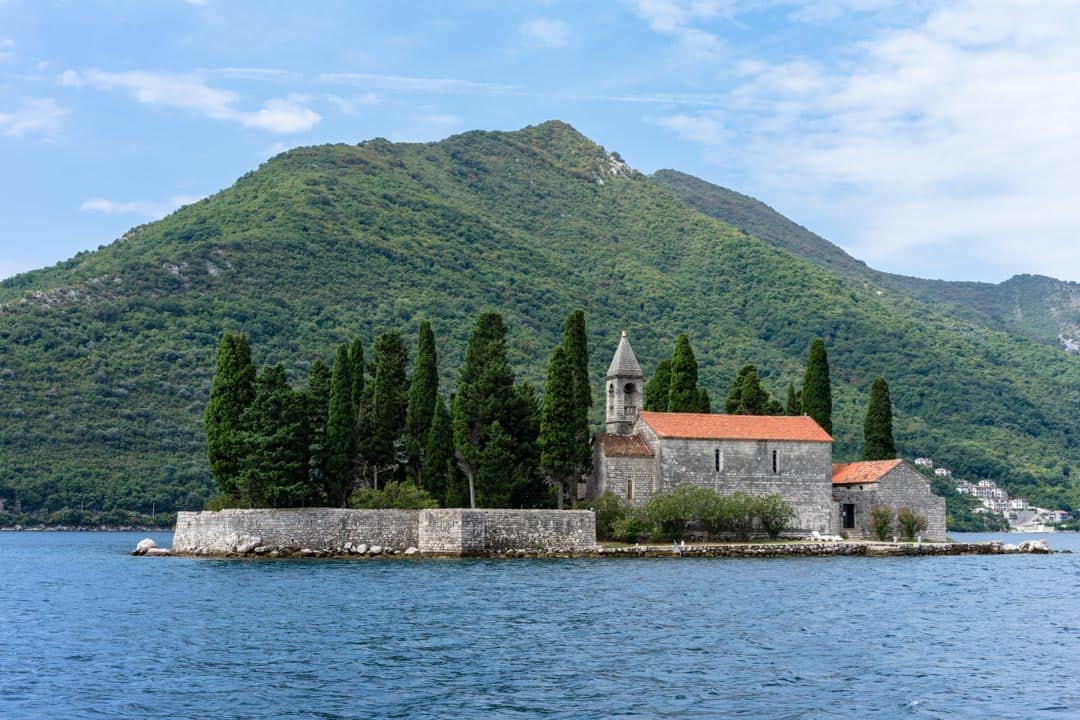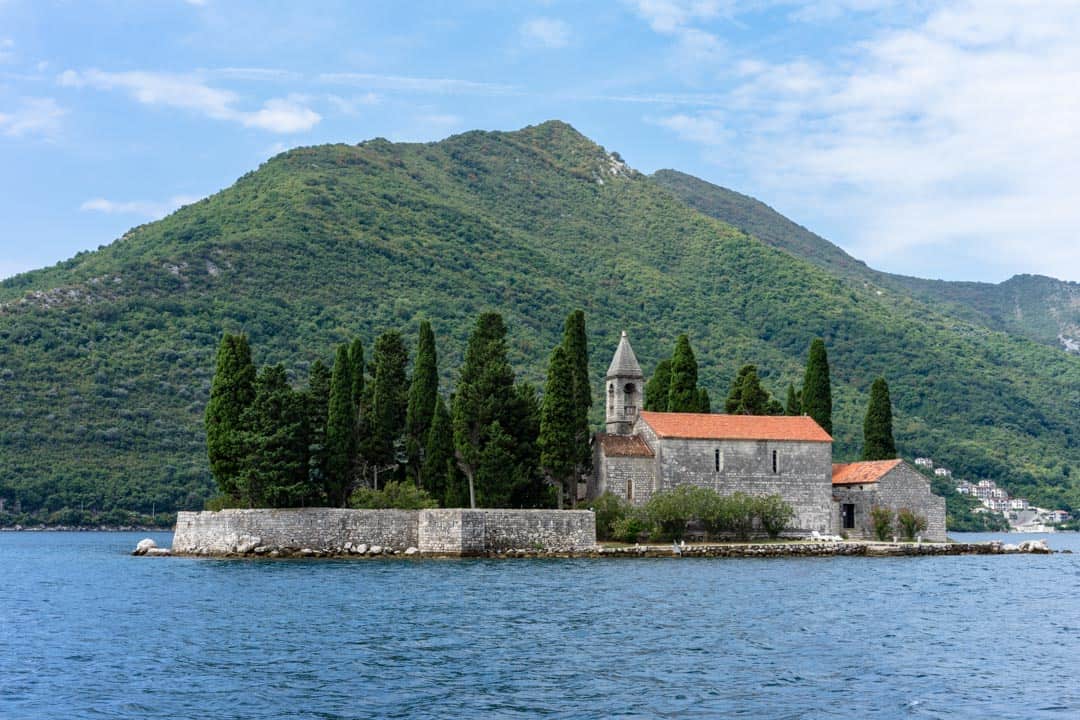 3) Wandering Kotor's Fortified Old Town
There is no shortage of what to see in Kotor, so it is a popular stopover for cruise ships, which dock right next to the elegant Old Town. For this reason it is often teeming with people, especially in the summer moths.
Our luck was with us and for whatever reason there were no cruise ships in the bay that day. But that still didn't mean we had the place to ourselves. Tourists flooded the streets – we can't even imagine what it would be like with 3 ships at the port.
Sandra gave us a detailed tour of the fortified city, which is now protected by UNESCO as a World Heritage Site.
Ancient churches stand in town squares and people hang flowers and laundry over the streets, which meander like a labyrinth. Even with the scores of tourists flooding between the walls, the Kotor Old Town was splendid.
It's a Kotor must see!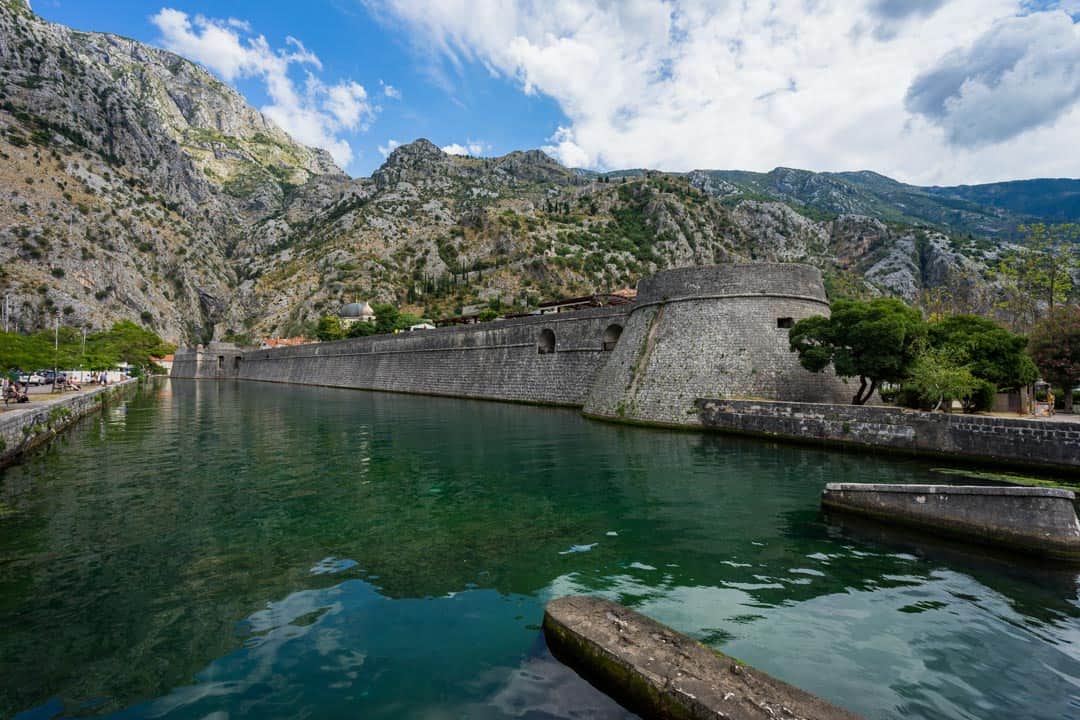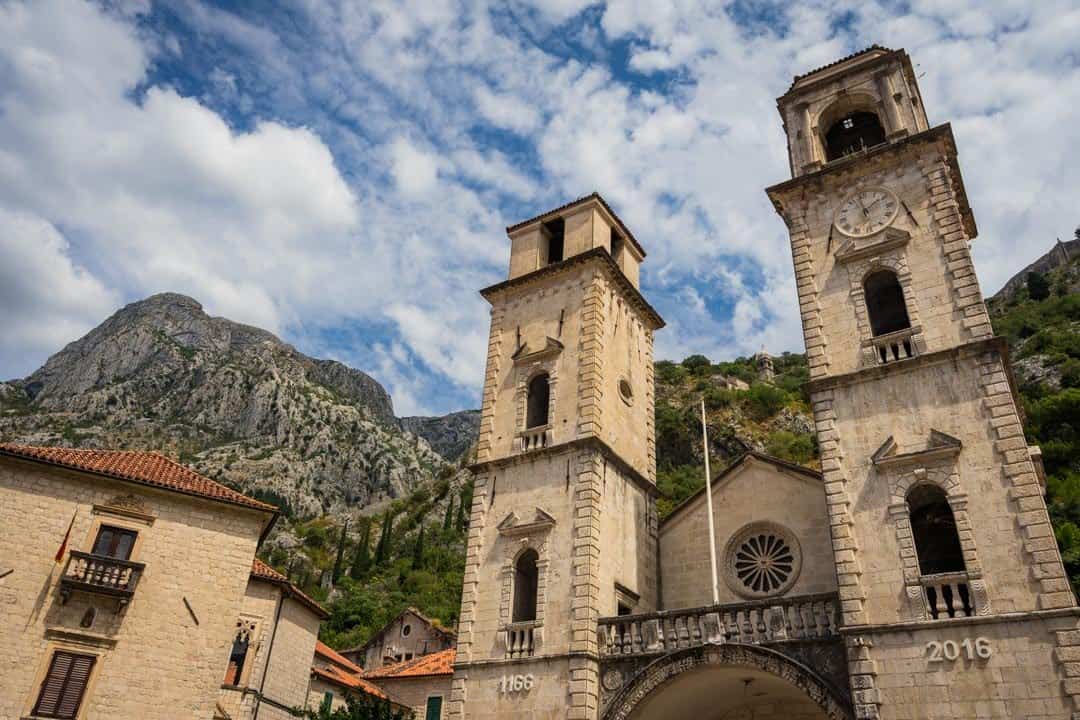 We bid farewell to Sandra and headed to the number one restaurant on TripAdvisor for lunch – Tanjga.
Normally any place with such a reputation would have us running the other way for fear of being out of our budget – especially in a place as touristy as Kotor. But in this case the opposite was true.
This family-run mixed grill diner serves up immense and delicious meat dishes for only a couple of Euros. The owner is hilarious and even with the long wait we had to endure he made the entire experience enjoyable.
The food itself surpassed all expectations. Alesha and I opted for a roast beef roll, but for large groups they do giant meat platters. Do yourself a favour and get to the best restaurant in Kotor, Tanjga!
This restaurant is a mandatory part to complete your Kotor sightseeing experience!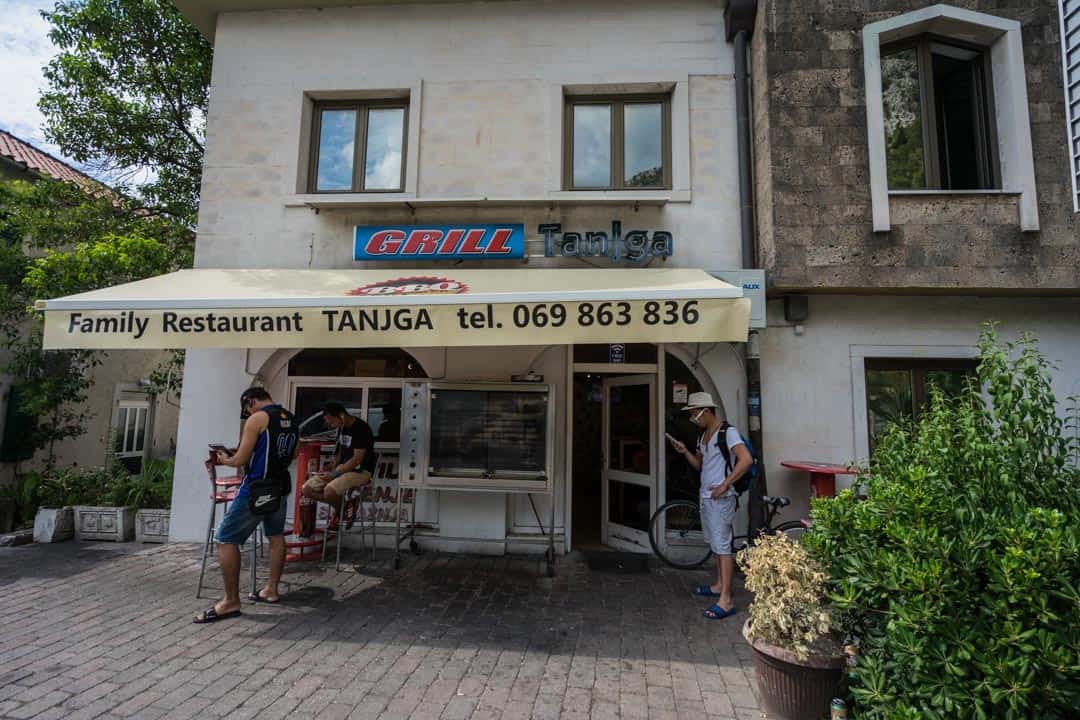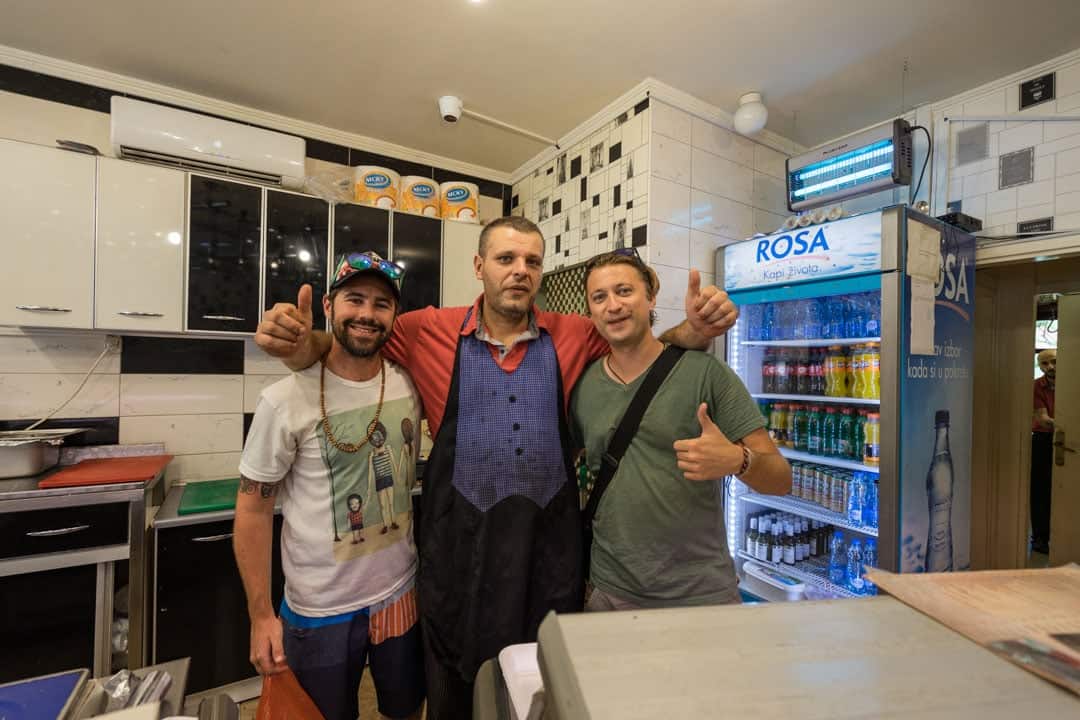 4) Cruising The Adriatic Sea
On our second full day there were still plenty of things to see in Kotor, so we jumped on a Blue Cave Tour to head out into the Adriatic Sea. It had been quite a few months since we had been by the beach in Thailand, and we were really missing the ocean.
Cruising along the Bay of Kotor, surrounded by the epic mountains and shimmering water was a real highlight. There's nothing quite like being on a boat, and we lapped up every moment of it.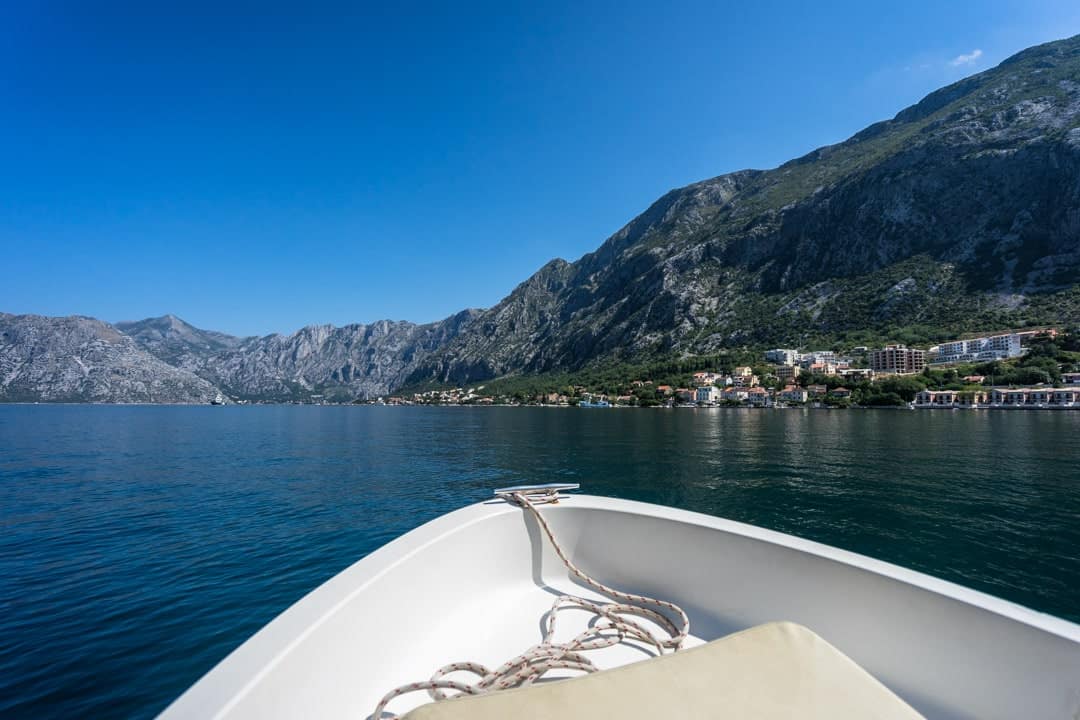 Our first destination was the Blue Cave, a popular stop for foreign tourists. At this point we have to admit something – while the cave itself was gorgeous, the atmosphere was horrendous.
Our captain drove us into the heart of the cave, and we instantly met countless other boats packed to the rafters with other tourists. We jumped out for a swim but the horns, screaming and chaos from other tourists who could barely float was overwhelming. To add to the mayhem the exhaust fumes from the boats were overpowering.
The views were stunning, but we couldn't appreciate them as our attention was focused on not getting killed by a motorboat. The captain saw our lack of enthusiasm and called us back onboard.
He apologised for the huge number of people, something which we conceded was not his fault. He then took us out of the cavern and to a large black entrance right next to the famous Blue Cave.
"Try this one," he urged.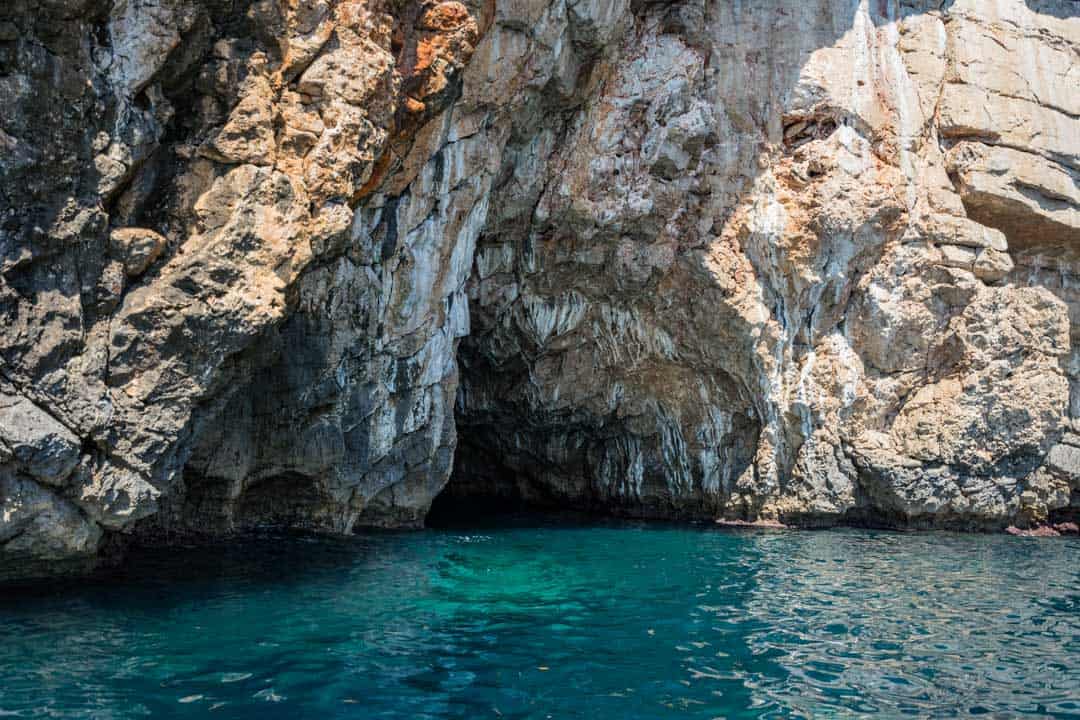 Our group of 4 swam into the second cave and were instantly transported to a state of bliss. No one else was there, the cave was silent and the water was crystal clear. We swam deep into the abyss until there was no more light to guide us.
Looking to the sandy bottom seemed like it was just below our feet, but after diving down to about 5-6 metres we still couldn't touch the ground. It was all we could do not to get vertigo in the pristine sea.
Even now I have no idea why none of the other boats took their passengers to this cave. I guess the company we went with was just that little bit better than everyone else.
We eventually left and headed towards Dobrec Beach, a small cove that can only be reached by boat.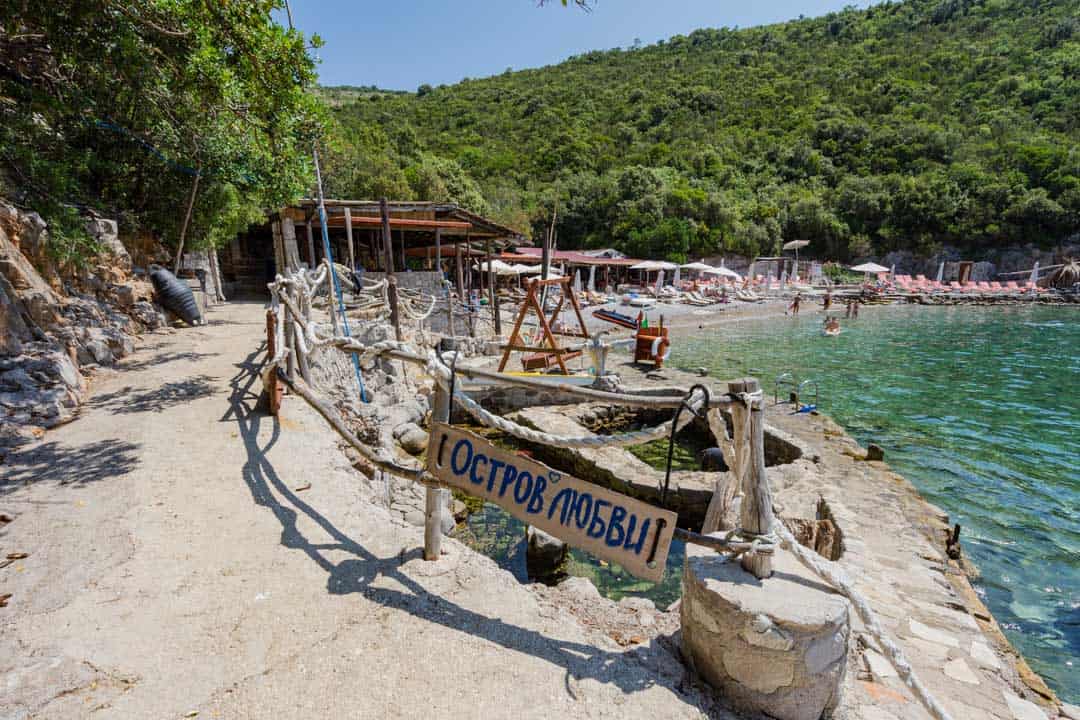 The pebbled beach was lined with sun chairs, and we found ourselves a spot in the rustic bar. A few beers and a quick dip later it was time for us to end our tour.
One final stopover before reaching the Old Town of Kotor was an old concrete tunnel used to hide submarines for the Yugoslavian Navy. Buried deep into the side of a mountain, it was interesting to say the least. Definitely not one of the typical things to do in Kotor!
5) Climbing Kotor's Castle Of San Giovanni
There's no missing the city walls that climb the ridges to Kotor's Castle of San Giovanni, also known as St John's Fortress. The concrete and bricked fortifications cling to the cliffs, defying construction logic.
Such difficult and steep terrain would surely be enough to keep any invaders back, but nonetheless the soaring wall crept their way up towards the castle.
One modern benefit of the fortified walls is that they now provide a captivating, if a little tiring, hike to capture some unrivalled views over the Bay of Kotor.
The Kotor city walls cost 3€ to scale, and is well worth the value. We did hear of another entrance on the far side that is not manned, meaning free reign to the castle, but we missed it during our visit.
In the middle of the day the sun was belting down and we sweated our butts off as we took on the 1355 steps to the top. With each metre gained in elevation the views just got better and better, so the motivation to reach the summit never wavered.
The castle itself isn't overly impressive, but the vistas are simply breathtaking.
While we were at the top we bumped into two awesome Australians who recognised us from our Instagram account.
Once we were finished with the castle we took the back way down, past a shepherd's house that someone had recommended to us.
The shepherd was gone, but his mob of friendly goats were roaming the hillside. We stopped for some photos and to play around before heading back to the Old Town.
There are many places to visit in Kotor and this fortress rich with history and offering stunning views of the Kotor bay, is unmissable!
Address: St John Fortress, Rd to the Fort of St. Ivan, Špiljari
Opening hours: every day from 8 AM – 8 PM
Price: 2€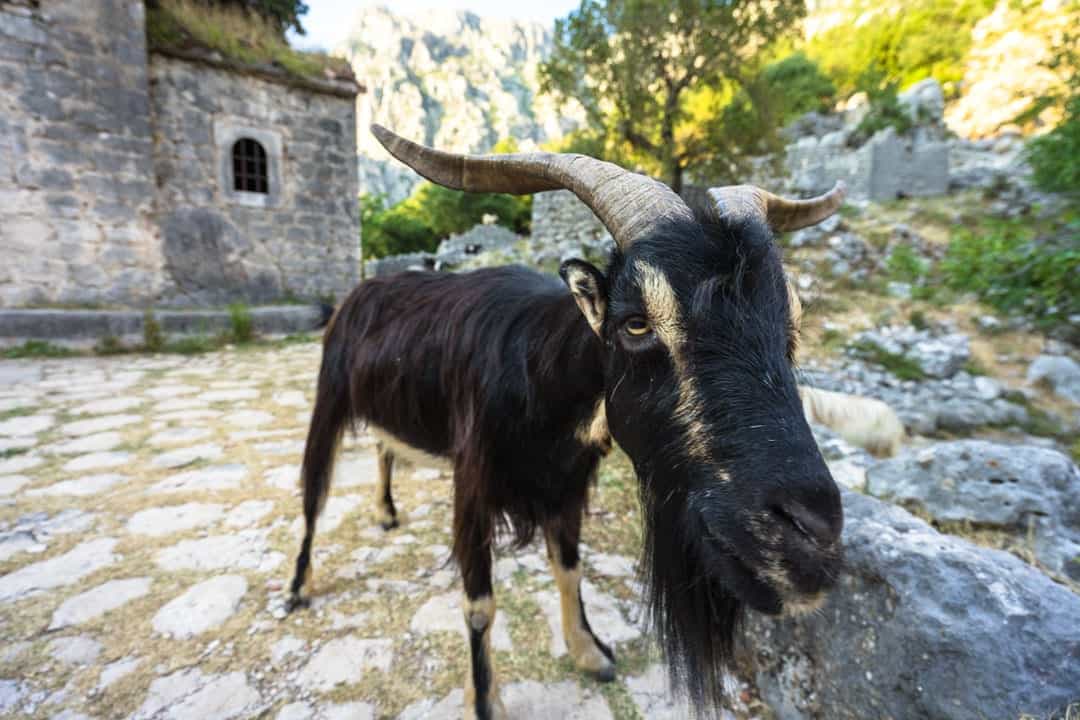 Leaving Kotor
Unfortunately we only had those few days in Montenegro, and we never managed to accomplish all of the things to do in Kotor.
We didn't make it to the Maritime Museum or over the top of the mountains to Budva. So I guess that means we have to return one day.
The next stop for us was Durmitor National Park to explore some of Montenegro's fabled mountains. But Kotor will always hold a special place in our hearts, and that feeling we had the first time we saw the Bay of Kotor is not something we will ever forget.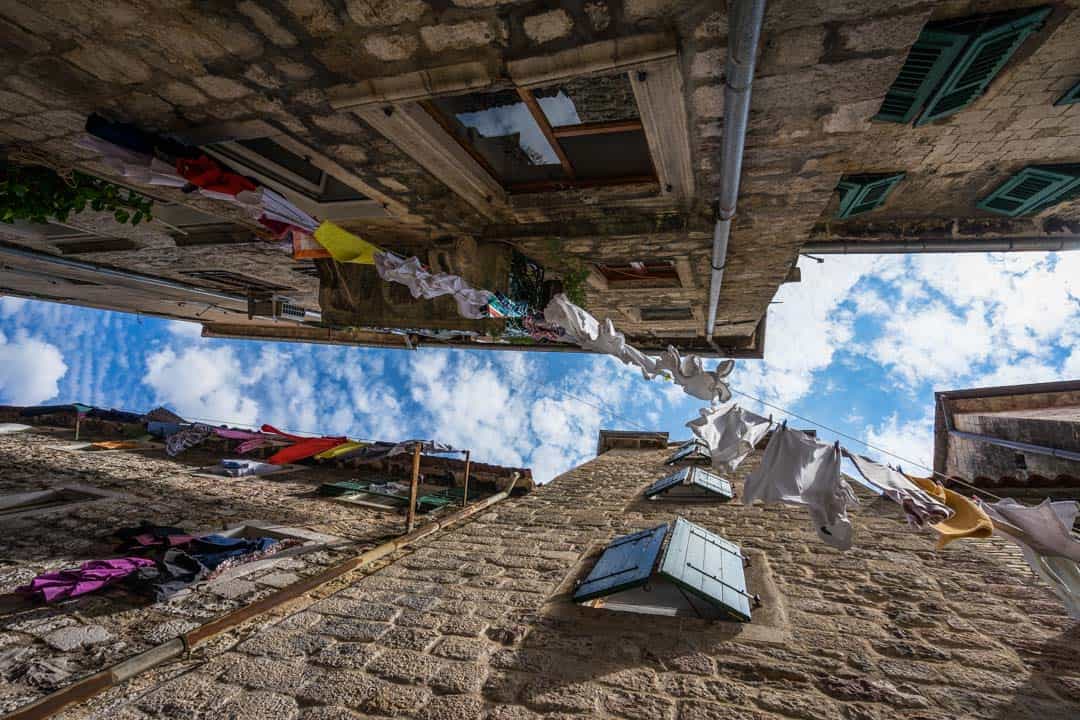 Kotor Travel Guide
We wish we could've stayed longer in Kotor and further explored Montenegro! There are so many places to see in Kotor, and in our list we've included highlights. Montenegro is a beautiful country but there's not a lot of information online to help you organise your trip. We hope that our list of Kotor attractions and tips on where to stay in Kotor will be helpful!
Where To Stay In Kotor
Kotor has a range of accommodation options, and the majority of them are in the Old Town. Whether you want a cheap backpackers or a 5-star resort, you will find it in Kotor.
If you want a good hostel, we recommend Hostel Old Town Kotor. The staff there will also be able to fill you in on what to do in Kotor.
If you're looking for something a bit nicer, check out all the options on Booking.com
Disclaimer: Some of the tours and activities we did were done in partnership with the Kotor Tourism Board. All opinions, words and steps climbed are as always our own.
DISCLAIMER: Some of the links in this article are affiliate links, which means if you book accommodation, tours or buy a product, we will receive a small commission at no extra cost to you. These commissions help us keep creating more free travel content to help people plan their holidays and adventures. We only recommend the best accommodations, tours and products that ourselves or our fantastic editorial team have personally experienced, and regularly review these. Thanks for your support, kind friend!