From beautiful street art to sunset at the fortress, here are the absolute best things to do in Belgrade, Serbia.
There are a handful of cities that I have visited on my travels that have left a mark upon me, that have piqued my interest beyond just initial intrigue and have inspired me to dig deeper and to discover more than what is on the surface.
But there is one city that has done this more than the others – Belgrade, Serbia.
I had never explicitly intended on visiting Belgrade. It came onto my radar during an intoxicated late-night conversation in a Budapest ruin bar with a French traveller.
"Belgrade?" he said after I mentioned it as a possible destination when discussing onward travel plans.
"Go! You have to go!" And if his tone didn't betray his passion, his eyes did. Before this, I had thought Belgrade to be just a party destination, a place where broke backpackers went to drink on the cheap.
"But it is so much more!" The Frenchman told me. And that was that. The next day I was on a southbound train, travelling straight into the beating heart of the Balkans.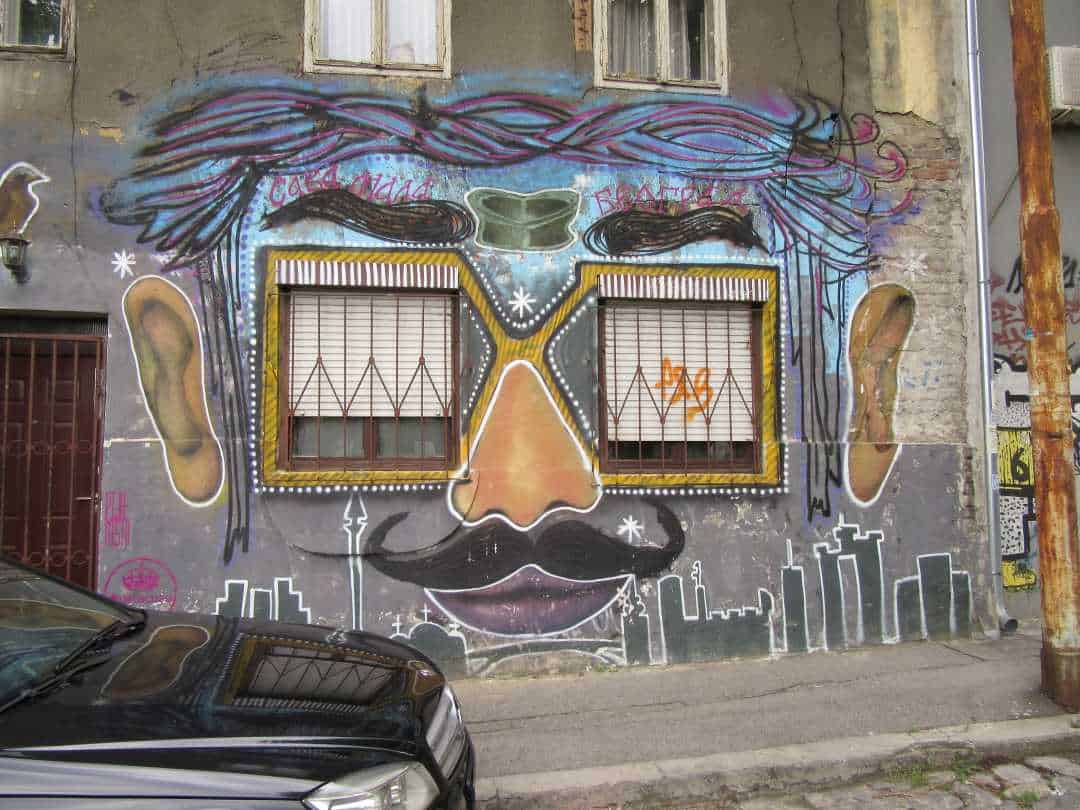 Disembarking from the train while exiting the main station, it became instantly clear that I was free of the comfortable, efficient safety net of the EU.
Here men vehemently tried to carry my backpack for a price, to lure me into their unlicensed taxis – offers I ignored as I made my way on foot to my hostel.
Scams are common among cabbies in Belgrade as it is a poor city, many people look for ways to make an extra buck and tourists are prime targets.
"It's because you're rich," a local who worked at the hostel told me in explanation.
I laughed, "I'm definitely not!"
"Even if you're not," he said. "We still think you are."
At first sight, Belgrade is crumbling. As I walked through the gritty, grey streets that very first evening it became clear to me why many tourists don't often visit Serbia's capital.
It's not a pretty city, not on the surface anyway, and the contrast between nearby Central European capitals is night and day.
But still, there was something in the decrepit landscape that seemed to tell me I was in the right place because, despite its ugliness, the city felt undeniably alive.
My instinct was right; from the moment I set foot in Belgrade I could feel myself falling in love. And I kept returning – a total of four times in two months, each for a week or more.
I learned quickly that you could see the "main sights" in just one or two days.
Things To Do In Belgrade, Serbia
It takes very little time to visit the St. Sava Church (the biggest Eastern Orthodox church in the world, depending on who you ask), the Nikola Tesla museum, and the cobbled Bohemian quarter of Skadarlija. But, like the French traveller told me, Belgrade is so much more.
After spending more than a month in the White City, as it is called, I can tell you the best things to do in Belgrade. Follow these guidelines and let yourself fall in love with the booming, vibrant capital of Serbia.
Tip: If you've already made your way around all of Belgrade attractions, ask around what day trips are available from Belgrade.
Want to see it all in a day? Check out this awesome guided day-tour of Belgrade with Get Your Guide!
1) Chill Out At The Kalemegdan Fortress
While Belgrade's massive fortress turned central park is one of the main tourist sites in the city, it is also a popular local hangout and with good reason. Presiding over the confluence of the Danube and Sava rivers, on a warm day the fortress is the best place in the city to spend an afternoon.
There are no laws prohibiting the public consumption of alcohol in Belgrade, so grab a couple of beers and enjoy the area as the locals do.
Tip: Once you enter the park through the main entrance (from Knez Mihailova, right across Belgrade's City Library), take the left pathway. It will lead you out to a beautiful point. Sit on the stone fence and enjoy the open views of New Belgrade, river and parts of the lower Kalemegdan. It's definitely one of the most beautiful things to see in Belgrade.
2) Visit Novi Beograd And Zemun
Few tourists in any large European city venture outside of the Old Town, but it is always something I encourage – especially in Belgrade. The neighbourhoods of Novi Beograd (New Belgrade) and Zemun are fantastic places to explore if you're searching for a more "local" vibe. If you wish to understand the city, you have to add them to your list of places to visit in Belgrade.
These neighbourhoods also contain more remnants from the 1999 NATO bombings than the Old Town and seeing the bombed buildings can show the extent of devastation that Belgrade saw during the Yugoslav wars.
3) Drink Rakija – The National Drink Of Serbia
Spend more than a night in Belgrade and I would be wholeheartedly surprised if someone hasn't offered you rakija – a local brandy-type spirit that is rampant throughout the Balkans.
Often made at home with anything from plums, grapes, or apricots, rakija can have an incredibly high alcohol content – often upwards of 60% – so drinking large amounts is not for the faint of heart. It is also worth noting that, when toasting, it is considered to be bad luck if you don't maintain eye contact.
Tip: Head to Rakia bar! As the name suggests they serve mostly rakia but they also sell their own – perfect souvenir. Having a rakia with a local is a part of the Belgrade sightseeing experience! Belgraders are very passionate about their city, so you will definitely hear bits of history and always more interesting, a few urban legends.
4) Experience Football's Fiercest Rivalry
Belgrade is home to arguably the greatest football rivalry of all time between the two local teams of Red Star and Partizan. If you happen to be in the city during a derby, do not pass up the chance to go.
The atmosphere of the fanatical supporters is enough even to entertain those who aren't soccer fans. Just make sure to stay safe as the crowds can get rowdy and have been known to riot from time to time.
Tip: The team supporters are always looking to provoke and cause an altercation – even during friendly matches. If you still aren't deterred from seeing a match live, here's some advice. The die hard Partizan fans (black and white jerseys) will always be sitting in the South stand while their rivals, Red Star (red and white jerseys) sit in the North stand. So if you're getting seats, book East or West! A lot of football fans from different countries travel just to witness one of these derby matches – it's one of the more popular Belgrade tourist attractions among football lovers.
5) Party Until Dawn
While I discourage heading to a destination solely to party, I would be remiss if I didn't mention it as one of the best things to do in Belgrade. Serbia's capital may well be the greatest place to party in all of Europe and there is nightlife on offer to suit any personality.
The most famous late-night venues of Belgrade would definitely be its splavlovi, barges turned nightclubs moored to the banks of the Danube and Sava. While the splav are only open during the summer months, there are myriad other options if you don't happen to be visiting during this time.
They have a very impressive techno scene where every world renowned DJ has played at least once. They also have a lot of hipster pubs (where they sell not just international but also Belgrade's craft beer) and a thriving cafe scene. If Belgraders now how to do anything, it's relax.
Tip: Food and drinks are very cheap compared to prices in Western Europe, so when you're making a list of what to do in Belgrade, don't forget to include interesting eateries and cafes.
I trust my gut instincts more than I trust anything in the world, and my gut led me to Belgrade. It is a city that changed me, that continued to pull me back with no reason or explanation and that, I am sure, will continue to do so time and time again.
Visit Belgrade, give it time and get to know it beyond the museums and churches. Get to know its history, both grim and glorious. Get to know its people, ever warm and friendly, funny and hospitable.
Do these things and Belgrade will deliver for you as it has done for me and as it has done for all travellers who take the time to open their minds and allow Belgrade to work its magic.
DISCLAIMER: Some of the links in this article are affiliate links, which means if you book accommodation, tours or buy a product, we will receive a small commission at no extra cost to you. These commissions help us keep creating more free travel content to help people plan their holidays and adventures. We only recommend the best accommodations, tours and products that ourselves or our fantastic editorial team have personally experienced, and regularly review these. Thanks for your support, kind friend!