From ancient Roman ruins to beachside retreats on the Mediterranean Sea, here are the absolute best things to do in Antalya, Turkey.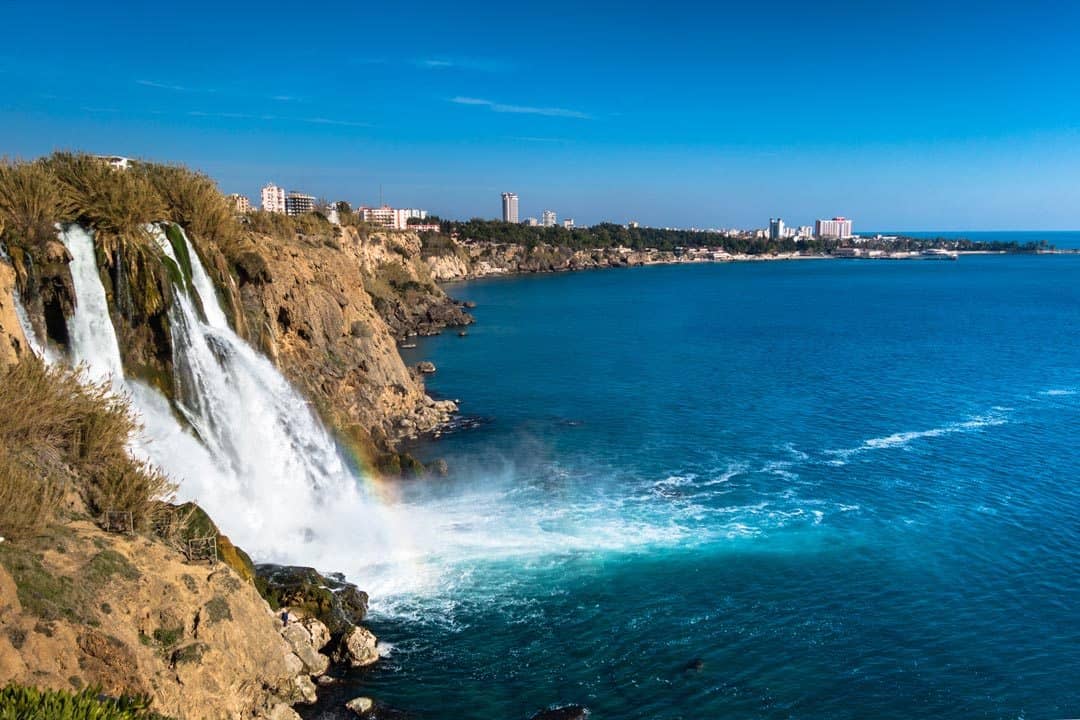 Straddling both continental limits and the boundary between ancient and modern times, Turkey is a fascinating destination for history buffs and adventure addicts alike.
While most explore the intricately decorated millennia-old mosques and buzzing covered markets of Istanbul, the harbourside city of Antalya receives far less footfall.
The Best Things To Do In Antalya
With the preserved streets of its old town a hive of history, the huge selection of idyllic beach hotels geared towards utter relaxation located along its coast and the ruins of Roman fortifications only a stone's throw away, there are plenty of things to do in Antalya.
1) Imagine chariot races in the preserved stadium of Perge
The countryside surrounding this city is a hotbed of beautiful and historically important monuments. Exploring them should rank top of your list of what to do in Antalya – and is enough to keep you busy for days.
The ruins of Perge, the former capital of the Asia Minor region of Pamphylia Secunda, is an incredible example of the Roman architecture that still exists in the area. Most come to see the incredible Great Theatre and the set of two unusual gate-towers that once controlled access to the city.
However, it's the massive stadium, one of the largest and best-preserved in the world, that is the most exciting part of any trip to Perge.
Built to accommodate up to 15,000 spectators to watch chariot racing, you've no choice but to sit in the stands and just imagine what it must have been like during one of these epic competitions.
READ MORE: Be sure to check out Olympos just south of Antalya!
2) Or visit the ancient ruined city of Aspendos
Around 40km from Antalya itself, the remains of the ancient city of Aspendos are another worthy day trip. The most incredible sight is the theatre, which dates from between 160-180 A.D. and is the best-preserved theatre of its kind in the world.
What's great is that you can actually explore this monument.
Climb up the wide rows of seating to stand on the very top step and experience what it must have been like to watch a performance here, an event researchers believe to have been attended by up to 8,000 people.
A short distance away you can also peer up on awe at the looming aqueducts that once provided the city with water from the nearby mountains.
Turkey is a country that has a remarkably rich history, and landmarks such as the ruins of Aspendos, are an unmissable part of the Antalya sightseeing.
Discover the Aspendos among other ancient cities such as Perge and Side on this amazing half day tour that only ends with a dip in the waterfall on your way back to Antalya.
3) Do go chasing waterfalls
A short boat trip or drive around the coast of Antalya is the best way of arriving at the region's most popular natural attraction: the Duden Waterfalls.
These are two impressive falls fed by a river that runs all the way from the Taurus Mountains to terminate in the Mediterranean Sea.
The Lower Duden crashes down the cliff face into the water and is best viewed from onboard a ship. While the Upper Duden, 15km outside of Antalya, can be reached by car or local bus.
The latter falls have carved a deep gorge out of the rock as well as a cave that cuts behind the veil of water. You can actually wander around through the cave for an unusual perspective on these mammoth waterfalls.
These breathtaking sights of nature are an Antalya must see!
4) Explore Kaleici, Antalya's old town
Tucked back from the limestone cliffs that edge the main harbour, Kaleici, Antalya's Old Town has been well-preserved by the Turkish authorities and makes for an excellent relaxed afternoon in the city.
Here, Roman ruins rub shoulders with elegant mosques, including the Yivli Minare Mosque, a beautiful building easily recognised by its huge, 13th-century minaret that towers over the surrounding area.
In and around Kaleici there are also plenty of tiny shops and market halls for buying souvenirs and even a Turkish carpet!
You'll also have no choice but to stop at one of the many relaxed street-side cafes and the Antalya Museum for a spot of culture.
From all places to visit in Antalya, Old Town is one you can't afford to miss!
When visiting a destination that's brimming with history, the best way to learn about it is with a professional guide.
Here you can book a full day private sightseeing tour, where among other breathtaking sights such as Düden Waterfalls, you will explore Old Town too.
5) Hit the rapids on an adrenaline-fueled rafting tour
Around 90km away from Antalya is one of Turkey's top rafting spots: Koprulu Canyon National Park.
Home to the longest canyon in the country, this park is also an incredible spot for rafting and one of the top adventurous Antalya attractions.
Crash through everything from Class I (beginner) through to VI (expert) rapids as you power down the picturesque Kopru River, passing through forests of pine, cypress and cedar trees that might even offer a glimpse of foxes, wolves or even bears.
You can also pitch up beside the river in campgrounds if you plan to spend more than an afternoon rafting in the park.
If you enjoyed Antalya and want to explore more of Turkey, don't miss out on Istanbul!
6) Chill out on one of Antalya's beaches or luxury resorts
The coastline stretching away from Antalya is renowned for being an area of incredible natural beauty, with a whole host of beaches where you can go to chill out and catch some rays along the Turquoise Coast.
Konyaalti and Lara Beach are the main beaches accessible from the city. Konyaalti extends 7km west, while Lara Beach is on the eastern side of town and is close to some of the area's glitziest holiday resorts.
If you want to escape the crowds, Kaputaş, a three-hour drive from Antalya, is a far more low-key affair which is perfect for windsurfers and just getting away from the city.
When you get tired of exploring ruins and white water rafting, make sure to enjoy some r&r at some of the most famed Antalya tourist attractions – its beaches.
Antalya is also home to an incredible range of luxury resorts, including the Gloria Serenity Resort where I stayed.
It has a selection of accommodation (most with their own private hot tub) and guest access to various restaurants, swimming pools, gyms and its own private stretch of golden sanded beach.
7) Get your hiking boots on for the Lycian Way
Although part of the fun of visiting Turkey is gorging yourself on its delicious local cuisine or kicking back on a beach, there comes a time when you need to get up and burn off all those calories.
Luckily, the Lycian Way, a 540km path that reaches all the way to Fethiye, a city further west along the coast, starts right outside of Antalya.
Traversing stretches of Turkish countryside filled with ancient relics and offering panoramic views of both sea and mountains, the 29-day Lycian Way is the most adventurous method of exploring the Turkish coast and is often named one of the world's top long-distance hikes.
If you've not got a month to spare, with the whole route clearly indicated with red and white painted stripes, you can easily hike a shorter stretch.
One amazing town to visit is Olympos, which makes a great launching off point for the Lycian Way.
The Lycian Way's landscapes are one of the most incredible things to see in Antalya.
READ MORE: Be sure to check out all the great things to do in Izmir when you visit Turkey!
8) Have lunch overlooking the Old Harbour
What I quickly learned on my trip to Turkey is how much the locals like to eat. One of the best ways of getting introduced to Turkish food and Antalya's most stunning sight, is dining overlooking its ancient harbour.
Founded two thousand years ago as a port town, Antalya has grown around this dock and nowadays it's where the rich park their yachts and where you can take a boat around the coastline to visit the waterfalls.
Perched above the cliffs and all around the harbour are a series of restaurants serving up fresh fish and other typical Turkish dishes.
We dined in Arma Restaurant, surely the most sensationally located of all thanks to its panoramic views of the coast.
DISCLAIMER: Some of the links in this article are affiliate links, which means if you book accommodation, tours or buy a product, we will receive a small commission at no extra cost to you. These commissions help us keep creating more free travel content to help people plan their holidays and adventures. We only recommend the best accommodations, tours and products that ourselves or our fantastic editorial team have personally experienced, and regularly review these. Thanks for your support, kind friend!