Ever since Lauren and I started our travels we have wanted to be on the waters of Croatia. Whether it be sailing, jet skiing or swimming. We set out to Dubrovnik for a week of exploring and adventure. Finally we had the chance to knock something off the bucket list and cruise the beautiful waters of Croatia.
As we have delved deeper into travelling we have both come to the conclusion we love adventure travel, being outdoors and really experiencing the places we visit in an 'adventure style' way. Sea kayaking is HUGE in Dubrovnik and before we left we contacted Adriatic Sea Kayaks about a day tour kayaking around the Elaphiti Islands. As soon as we got a response we instantly knew this would be how we could explore the seas of Croatia.
With a huge itinerary ahead of us, it was an early start and a big walk to Gruz Harbour in Dubrovnik. We jumped on the ferry to get to the first stop of the day, Lopud Island, 1 of the 3 Elaphiti islands. Here we kitted up with our sea kayaks, paddles, vests, rock shoes, and kayak 'skirts' to keep the water out of the kayak (this would also help to avoid capsizing).
Once we were informed of all the in's and out's, our little group got in the kayaks and made off on our first leg of the trip, an easy 5km kayak to Sipan island.
It wasn't so easy.
As we kayaked over, we realised it was hard yards kayaking in the ocean. Dealing with a choppy sea and wind makes it difficult to stay straight. We certainly had our work cut out for us. The views of the small island towns and landscapes were amazing, especially from the water. It really gave us a chance to take it all in and see Croatia from a different perspective.
As we approached Sipan, the next challenge we faced was getting close enough to the rocks to get out of the kayak without capsizing or losing the kayak. The sea was insanely choppy which made it even harder. It was a team effort and we made it to the rocks safely and tied all the kayaks up to a stone hoping that they would stay and save us having to swim after them.
The reason for this stop was to explore a beautiful 'locals only' cave and to do some cliff jumping. To get to the blue cave we first had to rid of the life jackets and put on some snorkelling gear as we needed to dive under the water to get through the entrance of the cave. Only a few of us made it through due to the crazy roughness of the sea, but it was well worth it.
A deep dive followed by a small underwater swim bought us to an incredibly fluorescent blue cave. The fluorescence came from the water glowing from the small amount of sun that was making its way through the entrance.
It was breathtaking and one of the highlights of the trip. The water was so calm and warm in the cave that it felt like you weren't in the ocean at all. Loz and I swam around and explored the cave and its little nooks and crannies before making the dive down again to get out to where we docked the kayaks. It was time to cliff jump.
I made my way up the rocks to the top of the cliff, around 8 metres or so. It doesn't sound like much but there is always something sketchy about jumping off a cliff into the ocean where the water is so clear you can see all the rocks at the bottom. It was safe enough but my mind definitely played some tricks on me. All I had to do was launch myself out and pin drop into the water.
The moment arrived. It was so much fun. A little adrenaline rush that I just had to repeat over a few times. On my first jump my GoPro popped out of the chest strap and went to the bottom of the sea. Luckily it was reachable and hopefully some cool footage was collected. As the ocean got rougher we made the decision to get back into the kayaks and make our way to the other side of Sipan, which was around 2km in the kayak.
Loz and I both found that the kayaking was becoming a lot easier and more natural and we'd become used to the sea, resulting in us making it to stop number 2 a lot faster. We pulled into the main dock of Sipan, where only a number of homes were.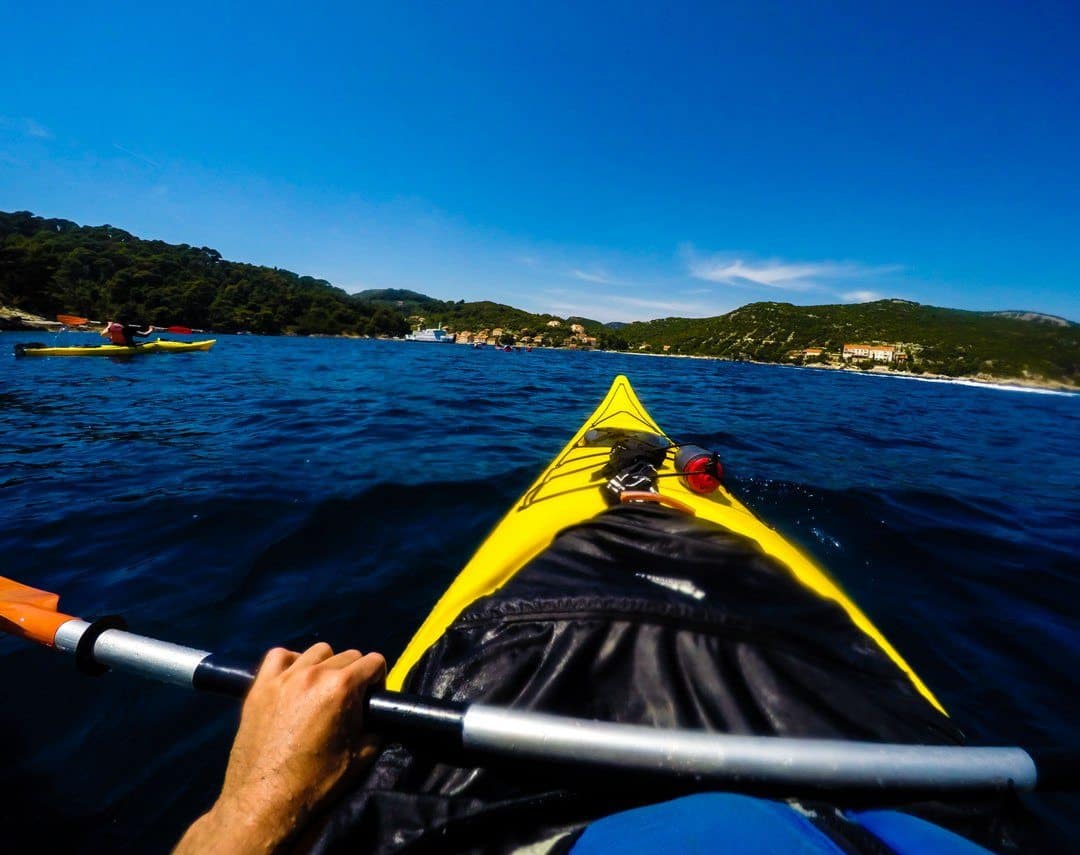 Sipan was a very small island inhabited by only a handful of people which made this authentic experience even better. Here we walked up to a local Croatian family's home for a traditional lunch.
Dish after dish, an endless flow of making sure our plates were never empty. Breads, cheese and meats for starters, then local fish and chicken freshly caught and grilled just for us. Along with wine made on the island, it was enough to make anyone want to have a post lunch nap. It was really amazing being able to experience something so authentic. The family were the kindest people you'd meet and they had one goal, to make sure we were fed and happy. One of the owners even brought out his accordion and sang us some Croatian songs. What an experience!
From Sipan we made our way to our second last stop, a large cave on the ocean that we could kayak into. It was located between Sipan and Kolocep and was completely uninhabited. As we kayaked over we got to see the main land of Dubrovnik. The small cave we kayaked too was an island that isn't included in the Elaphiti islands so it was a bonus to check it out.
Another 2km journey led us to this huge cave that had a tiny hole at the very top that let in a little light so you could just see the structure of the cave. It was super cool, it had a bunch of seabirds flying around inside, popping in and out of the hole at the top.
Our last stop was back to where we started, the island of Lopud. The kayak back was around 2km-3km and was our chance to have a swim and check out the island. No one else seemed to get the memo that it was a race home, but I was the official winner. We docked the kayaks up on the beach and handed all our kit back and had an hour to ourselves to explore the island before we got the ferry back to Gruz harbour in Dubrovnik.
To say this was our favourite way to see the islands around Dubrovnik is an understatement. Being out on the open water and seeing everything from a completely different perspective really shows you how amazing the world is.
We couldn't have asked for anything more when visiting Croatia than to experience it on the ocean in a kayak. There is something about being out in the sun, in nature that makes you appreciate a place a whole lot more.
If you do decide to visit Dubrovnik, Croatia be sure to look up Adriatic Sea Kayak tours they offer the best tours by far. Dubrovnik is full of kayak tour companies trying to sell you casual 2 hour tours just around the Dubrovnik mainland. Adriatic Kayak Tours are full day tours that take you out to experience all the islands, from the perspective of a local. We can't recommend it enough. It's left us with itchy feet for our next adventure.
This was by far our favourite way to see Dubrovnik and the surrounding islands. There are so many things to do and see in Dubrovnik, especially for its small size, but seeing it from the water is really something else.