If you are searching for one of the most amazing experiences of swimming with whale sharks in La Paz, Mexico while supporting a business that keeps the animal and the environment first, then consider taking a trip with Baja Expeditions.
As part of our journey to drive from Alaska to Argentina, we did not know much about what to see and do while camping in Baja, Mexico.
However, with all that we didn't know about Baja, one thing we did know is that whale sharks are common around the southern part of the peninsula and that it is possible to take tours to swim with them almost any day of the year.
So we set it on our Baja bucket list to swim with the whale sharks once we made our way to La Paz.
However, we didn't want to go with just any company.
We wanted to be sure that we supported a company that protected the Baja wildlife and environment and put the whale sharks above its customers when it came to the swimming experience.
Lots of wildlife tour companies in Baja claim "eco" in their names. But as you research further you find that it is just that – in name.
This is why we were pleased to find that one of the original wildlife tour companies in Baja excluded "eco" from their name but built it into every part of their business over the past 45 years.
Baja Expeditions, as the name suggests, evokes a spirit of adventure. But they keep the wildlife and environment front and center of each of their tours.
READ MORE: Check out our complete guide to responsible travel on our sustainable tourism hub!
Our Experience Swimming with Whale Sharks in La Paz, Mexico
You can sign up for a variety of tours with Baja Expeditions – ranging from day trips to snorkel, dive and paddleboard to live-aboard wildlife cruises and multi-day eco-camping.
But we had our hearts set on swimming with the whale sharks.
So we set up a day trip with our friends to rent a private boat for the morning to go swim with the gentle creatures.
Baja Expeditions was great about ensuring that the weather would be cooperative.
During the winter months, the wind can be fierce and other opportunistic companies would be inclined to take customers out whether the weather was nice or not.
Alma, who arranged our tour, let us know that there were better days than others to go and that we would want to wait for a better day, if possible.
As we had some flexibility in our schedule we let the windy days pass and joined up with our guide and captain for about the most perfect day on the water that anyone could ask for!
Beginning Our Day with the Whale Sharks
The day started at Baja Expeditions office a few blocks off the Malecon in the central part of La Paz.
We met our guide, Siddhartha, who immediately sized us up for wetsuits, masks and fins.
As soon as we were suited up we boarded the Baja Expeditions mini-bus and took the short ride down to the public pier where the captain and our boat were waiting.
On the bus ride, Siddhartha gave us a basic briefing of what to expect on our trip and also laid out some ground rules for swimming with whale sharks.
What I appreciated most about this briefing is that Siddhartha did not hide the fact that the animals came first.
Further, we would only swim with whale sharks in groups of 5. In our case, this meant that one person would have to remain on the boat.
There would only be one boat per whale shark so the sharks were not overwhelmed with swimmers cluttering the water and possibly preventing them from going about their business.
This further protected the animal by decreasing the number of arms and legs kicking around the whale shark's habitat.
And what I appreciated most was that Siddhartha was very clear that there was to be absolutely NO touching of the whale shark.
This included any swimmer intentionally reaching out to touch the animal. But it also included any incidental contact with the whale shark.
In other words, if we couldn't pay enough attention to our surroundings while we were swimming with whale sharks then we didn't deserve the opportunity to be in the same space as the whale shark.
"You touch the whale shark," Siddhartha said, "and we come back right away."
None of us had any intention of touching the whale shark. But it really stood out that he and Baja Expeditions placed the creature first – even if that meant we might be upset the trip ended early or refused to tip.
It was a top-notch operation from the start.
Heading Out on the Water
Once we boarded the boat we were given wristbands indicating that our fees had paid entrance into the nationally protected waters where the whale sharks resided.
This was great to see as well, as it meant that we were following the established protocols for whale shark tours. There are rumors of disreputable tour operators who skirt the rules.
Baja Expeditions is not one of those.
From there we motored over to a nearby dock and checked in with officials who tallied the number of boats and swimmers and assigned an order to which boats could enter the waters at what time.
Although all companies were subjected to this monitoring, it was again good to see that the whale sharks came above profit in terms of restricting the number of boats in their feeding area.
Siddhartha then began the next portion of his briefing, which was to share more scientific information about the whale sharks themselves and why they are so common in La Paz.
They, of course, follow the warm water and food which both tend to be plentiful year-round in the bay around La Paz.
In fact, this is one of only a handful of places in the world where you can swim with whale sharks just minutes from shore.
Most of the whale sharks we would see were either females who were about to or had recently given birth or juvenile males. Many of these sharks were also new to the area, though some were known to come back year after year.
Siddhartha was also a marine biologist and part of his work with Baja Expeditions was to help study the whale sharks.
So not only was he leading us into an awesome adventure but also he would be documenting and collecting data on the whale sharks to share with local marine biologist studies.
It just added even more legitimacy to the effort Baja Expeditions made to remain at the forefront of true wildlife and environmentally-friendly tours.
Searching for Whale Sharks
Once we reached the nationally protected waters Siddhartha climbed to the bow of the ponga and began searching for whale sharks.
It was not five minutes before he spotted one and the captain circled around giving the shark plenty of space.
We donned our masks and fins and in one motion all 5 swimmers and Siddhartha quietly entered the water.
Siddhartha was always in front of us, leading us in our swim with the whale shark but keeping us at far enough distance to respect the animal.
This first whale shark was swimming steadily across the bay and we kicked hard to try and keep up.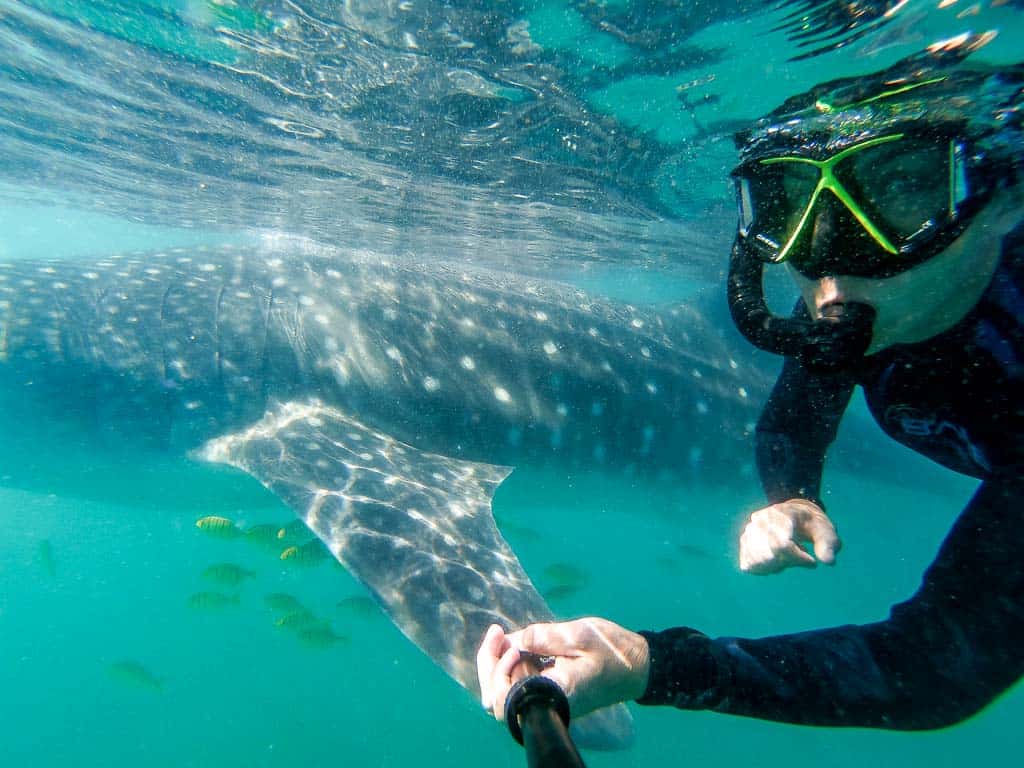 After a few minutes of following the whale shark, we returned to the boat and continued searching for others.
It was a busy day for whale sharks and with the sea nearly completely flat we could see no fewer than a dozen dorsal fins breaking the surface of the water. It was up to us to choose which whale shark to observe next.
Again, with just 5 swimmers and our super-excited guide (Siddhartha said it was not common to see so many sharks in one place and time), we slipped into the water and swam with one shark as it maneuvered into the vertical feeding position.
Siddhartha had told us to always remain to the side or back of the shark so as not to disturb or distract it. So as the whale shark fed, it rotated its body as its tail propelled it in a small circle.
This meant that we too had to swim with the whale shark to ensure that we did not harass it in any way during it's feeding.
And Siddhartha was quick to get our attention if we were too caught up in the beauty of the sight to remember to keep rotating with it!
One whale shark turned to three or four as they swam past us and we, as a group, peeled off of the one and swam with another.
It was a perfect day to enjoy such a unique species, prehistoric in nature, as though we were swimming with a gentle dinosaur.
We literally wore ourselves out after a few hours of swimming with whale sharks!
There were so many sharks in the water around us that after a few hours we felt as though we had seen and done all that we could with them.
Crazy to think we would actually put ourselves back in the boat to call it a day!
But we had a truly amazing experience and we were grateful for the opportunity.
Additional Tour Experiences
Because your group basically rents the boat for the full day your whale shark tour with Baja Expeditions will typically include a trip to nearby Balandra Beach and a sea lion colony just offshore.
We passed on this experience – though that in itself is unique.
But if you've ever wanted to swim with whale sharks OR sea lions, imagine a tour where you do both in one day!
We were given snacks and refreshments on the boat ride back to shore. And as we left the protected waters we could still see dozens of whale shark fins breaking the water.
In leaving early we allowed another boat full of tourists to head out and enjoy their day on the water, an experience we felt that everyone deserves.
Why Go Swimming with Whale Sharks with Baja Expeditions?
Beyond just looking out for the whale sharks during these snorkeling tours, Baja Expeditions leads the way in advocating for conservation and environmental stewardship.
A portion of tour fees goes to supporting efforts in conjunction with several Mexican and international organizations.
Additionally, Baja Expeditions has partnered with Ecology Project International (EPI) to help provide marine science experiences for thousands of youth in La Paz and the greater state of Baja California Sur.
These eco-tours not only provide unique experiences for the kids but also allows them to participate in collecting marine science data crucial to continuing to protect the ocean and its inhabitants.
Whether you are looking for a tour company that will ensure that you have the best and most wildlife and eco-friendly tour experience, or you want to know that you are supporting a business that is committed at all times to improving the world's oceans, you can't go wrong with Baja Expeditions.
They are the only company we would ever consider for tours in and out of the La Paz area and we look forward to the next time we can swim with the whale sharks, sea lions or take on a whole other adventure in eco-camping on Espiritu Santo island!