It's one of the world's most popular travel destinations, and this list of the best things to do in Iceland will make you book a ticket immediately!
Commonly known as the land of fire and ice, Iceland is easily one of our favourite destinations in Europe.
With dramatic landscapes, exceptional architecture and amazing off-the-beaten-path adventures, it's incredibly hard not to fall in love with this Nordic country.
But, with so many different things to do in Iceland, how do you decide which ones are worth your time?
The Best Things to Do in Iceland
Should you skip glacier hiking in favour of descending into a volcano? Or should you do both, and skip out on a waterfall sightseeing tour?
We'll help you decide! From a wild night out to stepping inside an ice cave – we bring you 11 amazing things to do in Iceland!
READ MORE: Check out our best travel tips from over a decade on the road!
1. Visit Reykjavik
It goes without saying that a trip to Iceland's capital is a must.
It's a small city, so you can explore quite a lot of it in very little time.
Perhaps the most famous Iceland attraction in the city is Hallgrímskirkja, the largest church in the country.
In fact, the Lutheran church is visible from nearly everywhere in Reykjavik, due to its central position.
The building was inspired by Iceland's glacier and tall peaks, which is conveyed in the Expressionist exterior of the church.
We also recommend that you visit Hofsstadir Park, which is best-known for the Viking-era longhouse.
The park attempts to illustrate how Hofsstadir looked during the Viking period, with turf walls and building remains.
There's also an interactive multimedia exhibit, which shows what living in the longhouse was like.
This even includes a 3D reconstruction of the original building, giving you insight into what the area looked like centuries ago.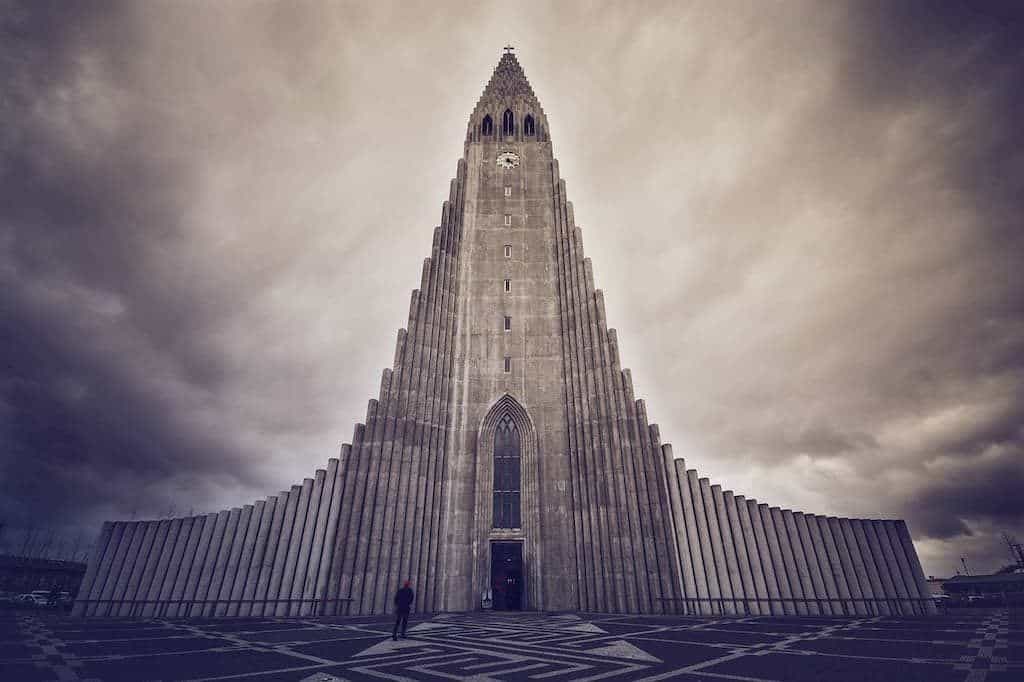 2. Step Inside a Volcano
How often do you get the opportunity to descend into an actual volcano?
Iceland is the best place in the world to have this one-of-a-kind adventure.
There's a tour just half an hour outside Reykjavik, called 'Inside the Volcano'.
It includes a 45-minutes hike, which leads you to the dormant Thrihnukagigur Volcano.
There's an elevator on-site, which lets you descend inside the crater.
People get to spend some 40-50 minutes in this otherworldly place before they have to head back to the surface.
The actual descent lasts for about 6 minutes, and it rewards with some wonderful views and a magical feeling.
You don't have to worry about your safety – the volcano has not erupted in over 4000 years.
And many adventurers have completed this tour, without any consequences.
Plus, this tour is suitable even for people who have no hiking or climbing experience whatsoever. You will be provided with all the necessary gear on site.
The only thing that's required on your end is decent physical shape and a pair of good hiking shoes.
3. Go Swimming in a Natural Hot Spring
Swimming is a must-do Iceland activity. And I'm not talking about heading to the community pool.
I'm talking about all the wonderful thermal pools and baths that are out in the open.
It's a great way to warm yourself up a bit, while enjoying some wonderful views and reaping all the benefits of thermal water.
The Blue Lagoon is probably the most famous pool in the country.
The spa is actually considered one of the wonders of the world, and it comes with a hefty price tag.
A day-pass, which includes access to the pool and a silica mud mask, will set you back some $55. While the luxurious option goes all the way up to $620.
Alternatively, you could also opt to go to the Hofsós swimming pool. The entrance is a lot cheaper (some $8), and the experience is still going to be wonderful.
While it might not have the same grandeur as the Blue Lagoon, Hofsós actually boasts absolutely enchanting scenic views.
The pool was built into a hill overlooking the Greenland Sea, giving you a chance to enjoy views of snow-capped mountains, while sitting in a hot tub that is also available on-site.
READ MORE: Iceland is a stunning country! Come home with the best images possible with our travel photography tips and tricks guide!
4. Head To Vatnajökull National Park
You can't go to Iceland and not visit the largest national park in the country.
Vatnajökull National Park spreads across more than 14,000 kilometres, which accounts for some 14% of Iceland's entire land.
The national park is considered a UNESCO World Heritage Site. And with long stretches of icy glaciers, along with many rumbling volcanoes, it is truly the place that combines both fire and ice.
This park is best known for the Vatnajökull glacier, which is actually the largest glacier in Europe.
There's quite a lot of exciting new things you can do in the national park.
We definitely recommend that you explore an ice cave. It is simply magical to be inside an ice cave, and it will be one of the highlights of your trip.
You should also visit the Skaftafell area of the park, which is home to Svartifoss waterfall.
Its name literally means 'Black Waterfall', which it gets from the dark lava columns that surround the waterfall.
READ MORE: Check out this guide to more amazing off-the-beaten-path adventures in Iceland!
5. Experience the Aurora Borealis
The Northern Lights are a magical sight, and Iceland is one of the best places in the world where you can experience them.
And you have a pretty wide time window to do so – the Aurora Borealis season in Iceland lasts from October to March.
As long as the weather is nice, you will be able to witness this natural phenomenon in its full glory.
So, make sure to monitor the weather forecast closely while you're in Iceland.
A couple of clouds will not ruin this experience, but a heavy layer of them will cover up the entire thing.
If you don't feel like doing the legwork on one of the top Iceland attractions, we suggest you go on an Aurora Borealis tour.
There are loads of them throughout the country, particularly in and around Reykjavik.
The guides will do all the work for you – all you have to do is show up and admire the majestic views.
6. Go on a Game Of Thrones Tour
Despite the polarizing ending, Game of Thrones remains one of the most popular TV shows of the 21st century.
The show has millions of fans all over the world. And as a result, it is responsible for boosting tourism in various countries where the popular series was filmed.
This is definitely true for Iceland. The HBO series made Icelandic landscapes iconic, and seriously helped boost tourism in the country.
People from all over the world flock to Thingvellir National Park, to see the familiar landscapes in person.
This includes ravines, waterfalls, plains and a lot of glaciers.
Although quite a lot of scenes were heavily edited and spiced with CGI, you shouldn't have too much trouble recognizing the places featured in the show.
You can book a great Game of Thrones tour here.
7. Boat Ride On Jökulsárlón Glacial Lake
The glacial lake in southeast Iceland is another spot you should definitely visit.
Commonly known as the Ice Lagoon, Jökulsárlón is one of the most popular Iceland attractions.
It is famed for the floating icebergs, which are thrilling to see up close.
And that's why we recommend a boat tour.
A lot of them will take you really close to the icebergs, and some will even offer a taste of 1000-year-old ice!
And, no matter which tour you choose to do, you might get lucky enough to see some seals.
But, a boat ride is not a must. You can just visit the lake and walk around the shore.
From here you can see most of the popular attractions anyway, and you'll save some cash.
You won't get to feel the thrill of being inches away from a huge block of ice, or from seeing new ice sheets being formed under the surface of the lake.
But you'll still get to enjoy the majesty of the lake in all its surreal splendour.
8. Go Glacier Hiking
A unique thing to do in Iceland is to explore glaciers on foot.
Glacier hiking is a very popular activity in Iceland, both with locals and tourists.
This should not be surprising since glaciers cover an astounding 11% of the country.
This means that there are quite a lot of glaciers to be hiked.
In fact, glacier hiking is so popular that there are many different tours, which are suitable for nearly all skill levels.
You can easily find hiking tours that are beginner-friendly and that require no previous experience.
But you can also find those that are suitable only for the true pros.
Some tours also include a trip inside an ice cave, or even ice climbing – another super popular activity that does require at least some experience.
Additionally, this is a year-round activity, meaning that you can do it whenever you're in the country.
As long as you're in decent physical condition and your feet are big enough for crampons, nothing's stopping you from exploring the mesmerizing glaciers of Iceland.
9. Drive the Golden Circle
If you're really intending to enjoy the best things to do in Iceland, you will have to rent a car.
There are some places that busses just don't go to, but which are incredibly stunning and worth your time.
So, since you're renting a car anyway, why not drive the famous Golden Circle – the ultimate tourist route of Iceland?
It covers a 300-kilometre loop, which begins in Reykjavik.
The tour takes you to southern uplands, and actually covers places that we already mentioned here – Thingvellir National Park – and others we didn't – Gullfoss waterfall and Geysir Geothermal Area.
The best thing about this tour is the amount of freedom you have.
You can choose to spend as much time as you want at every place you visit.
And you can also go on detours whenever you like.
The Golden Circle is pretty much just a 3-hour round trip drive.
However, if you're going to get out of the car and walk around some places, take photos and admire the scenery, it will take you some 6-8 hours to complete the route.
Which means that you can still do it in just one day!
Don't want to drive yourself? Join this tour.
10. Visit Lake Mývatn
Lake Mývatn in North Iceland is one of the most popular Iceland attractions in that part of the country.
It is surrounded by wetlands, and it is actually fairly close to the Krafta volcano.
The lake is famous for the wonderful flora and fauna around it, as well as the picturesque landscapes.
Apart from admiring the 2300-year-old lake, there's actually a lot of other things to explore in the area.
Which is pretty great, considering that this area is some 8 hours away from Reykjavik, on a clear and sunny day.
Dimmuborgir is an easy side trip, and it's another lake worth visiting.
The name literally means 'Black Fortress', which is due to the unusually shaped lava fields that this area is made up of.
In fact, this area is famous for caves, lava pillars and tall rocks, which resemble the towers of a fortress.
The rock formations have existed for more than 2000 years, and are considered a must-see for those visiting northern Iceland.
11. Enjoy a Night Out
A truly memorable trip will always include at least one night you can't remember.
It's fun to unwind and party a little when you're visiting new countries – mostly because nobody knows you, and you can make a fool of yourself without worrying that everyone you know will find out.
The best parties in Iceland are in downtown Reykjavik.
This part of the city is lined with clubs and pubs, which offer happy hour and parties that last well into the night.
And the best thing about partying in Reykjavik is that almost all the pubs are within walking distance of one another.
This is also true for the bars and hotels, which means that you can easily walk home after a wild night out.
And you won't have to worry about walking home alone since Iceland is one of the safest countries in the world.