With its cobblestone streets, Spanish colonial buildings, stunning volcano views, and relaxed vibe, Antigua is a top travel destination in Central America. Read on for a detailed list of some of the best things to do in Antigua Guatemala.
For such a small city, Antigua really packs a punch when it comes to things to see and do. Whether you're a history buff, adventure junkie, foodie, or a night owl, Antigua has something for you.
In just one day here, you can hike to the summit of a volcano, wander around the ruins of a Spanish colonial church, peruse the bustling market, and watch the sun go down at a rooftop bar.
READ MORE: Don't miss our complete list of our best travel tips from 11 years on the road!
The Best Things to Do in Antigua, Guatemala
Antigua is such an awesome place to visit that it tends to suck people in. A very common story here is of the backpacker who was passing through and decided to just stay awhile.
If you're planning a trip to Guatemala and aren't sure what to do in Antigua, then this post is for you! Having just spent some quality time in the city, I'm excited to share with you some of the top things to do in Antigua.
1) Explore the Ruins
Once upon a time, Antigua was actually the capital of Guatemala. Back then, it was called Santiago de Guatemala. The city was ravaged by a massive earthquake in 1773, and it was decided that the capital needed to be in a safer location.
This new capital became Guatemala City, and the old one was called La Antigua Guatemala – the Old Guatemala.
A few years later, the Spanish crown ordered the city abandoned. Not everyone left, though, and the ruins that remained after the earthquake were left in place.
Fast forward to the 20th century, when the preserved colonial architecture of Antigua helped it get on the UNESCO World Heritage list.
Exploring the many ruins around town is definitely one of the top things to do in Antigua. Many of them are now open as museums, including the Old Cathedral, Las Capuchinas, San Francisco, and Santa Teresa.
The entrance fees vary depending on the ruins. Some cost as little as 7Q ($1), while most of them charge 40Q ($6) to enter. A great way to see lots of the ruins is by following this self-guided walking tour from GPS My City.
Be sure to bring your camera because there are some amazing photo opportunities awaiting you.
2) Climb a Volcano (or Two)
Walking around Antigua, you're sure to notice the volcanoes looming in the distance. Antigua is surrounded by volcanoes – Agua, Fuego, Acatenango, and Pacaya.
If you're an adventure-seeker, then hiking up one or two of the volcanoes will surely be on your list of things to do in Antigua.
Let's start with the easier one first. Pacaya is a relatively easy hike that can be done on a day trip from the city. It's one of the most popular places to visit in Antigua and is thus offered by just about every tour operator in town.
Pacaya last erupted back in 2010, and there's no longer any hot lava flowing up here. You can, however, roast marshmallows over vents that still pour out hot steam.
Most tours include round-trip transportation and a guide, but many of them don't include the entrance fee (50Q). This tour includes everything and is highly rated for $80/person.
If you're up for more of a challenge, you might want to tackle the overnight hike to Acatenango. This volcano towers above the city at just about 4,000 meters (13,000 feet).
From the summit, you can enjoy some fantastic panoramic views, including the constantly erupting Volcan Fuego.
It's a strenuous climb, even for experienced hikers. You'll definitely want to take a few days to get acclimated to the elevation if you're not used to being this high up.
The Acatenango hike is an overnight trip, and all tours provide camping gear and meals. If you don't have proper attire, many tour operators and hostels rent items like jackets and gloves.
This tour costs $90 per person and includes everything but the 50Q (~$6) entrance fee.
3) Experience the Holy Week Processions
Without a doubt, one of the most interesting things to do in Antigua is experiencing the Holy Week processions. They're the biggest such processions in the world and they bring in upwards of one million people to the city every year.
While the largest processions take place in the week leading up to Easter Sunday, there are actually processions every weekend all throughout Lent.
If you'd like to experience the Antigua processions without the massive crowds, you can visit a few weeks before Easter.
In these processions, each church parades elaborate altars throughout the city. These can weigh several tons, and some of them are so heavy that over 100 men have to work together to carry it.
It's hard work, but it's actually an honour to help carry the altars and people even pay to be involved.
A major highlight of the processions are the colourful alfombras (carpets) that are made of sawdust, pine needles, flowers, fruit, and vegetables.
These take many hours to put together and are then trampled by the processions, leaving nothing but colourful dust in the cracks of the cobblestone streets.
The processions are one of the best things to do in Antigua, so they're a huge tourist draw. If you want to attend next year, it's a good idea to start planning early. Easter falls on Sunday, April 12th in 2020. Plan your trip there with our comprehensive guide to Semana Santa in Antigua Guatemala.
4) See the Arch of Santa Catalina
When it comes to the best places to visit in Antigua, the Arco de Santa Catalina is high atop the list. Pick up any travel guide to Guatemala, and you'll likely see the image of the arch on the cover page.
It's definitely the most iconic symbol of Antigua, especially when Volcan de Agua pokes its head through the clouds in the background.
This scenic white and yellow arch was built in the late 17th century to connect the Santa Catalina convent to a school across the street. Since the nuns were not supposed to go out in public, the arch allowed them to go between buildings without needing to go out on the street.
Although the arch sustained some damage in the huge earthquake of 1773, it has survived and grown to become a symbol of the city's resilience. It's definitely one of the best places in Antigua to visit while you're in town.
5) Learn How to Make Chocolate
Guatemala is famous for its chocolate, and you'll definitely want to sample some of it on your trip. You know what's even better than trying the chocolate? Making it! That's exactly what you can do at the Choco Museum.
You can visit the museum for free and sample some different chocolate products. Of course, you'll probably end up picking up a few things to bring home. Guatemalan chocolate is definitely an awesome souvenir!
The Choco Museum also has a few different workshops you can take. Their most popular is the "Bean to Bar" class where you make your own chocolate straight from the cacao bean.
They have a few other options as well, and all come highly rated. It's clear that the Choco Museum is one of the best places to visit in Antigua for travellers of all ages.
6) Tour a Coffee Farm
In addition to chocolate, Guatemala also produces some fantastic coffee. As such, you'll want to be sure to add visiting a coffee farm to your long list of things to do in Antigua.
There are many coffee farms around Antigua, but one that comes highly recommended is Filadelfia Resort. They've been growing coffee here since way back in 1870, so they clearly know what they're doing!
Tours of the coffee farm last about 2 hours and you'll learn about the entire process. Of course, you get to sample some of their delicious coffee on the tour as well. They also have options to add on a full breakfast or lunch at their restaurant if you like.
7) Chill Out in Central Park
If you're ever unsure of what to do in Antigua Guatemala, just head to Parque Central. This scenic, tree-lined park is a popular hangout spot for locals and tourists alike and is a great place to chill out for a while.
There's a lovely fountain in the middle of the park and several benches where you can sit back and enjoy some solid people watching. It's definitely one of the best places to visit in Antigua.
Around the park, there are several important landmarks such as City Hall, the Captain General Palace, and the San Jose Cathedral. Many of the city's ruins and museums are located within a short walk of Central Park as well.
You'll also find several vendors here selling handicrafts, snacks, and silly toys for kids. I particularly enjoyed the little dinosaurs on a leash and seriously contemplated buying one.
There are quite a few cafes that surround the park, so grab a cup of tasty Guatemalan coffee and take a window seat for some quality people watching. Spending some time in and around Central Park should definitely be high on your list of things to do in Antigua.
8) Drinks with a View
I don't know about you, but I love a good rooftop Happy Hour with friends. There's just something fun about watching the day turn into night with a few drinks and good conversation that never gets old. Thankfully, you've got plenty of options for drinks with a view in Antigua.
My personal favourite spot is Cafe Sky. They've got a kickass rooftop area with some pretty breathtaking views towards the volcanoes. In addition, they always have solid specials on food and drinks.
The best part about hanging out at Cafe Sky, though, is when the sun goes down and the volcano lights up. That's right – you can actually see the volcano erupting from here! How cool is that?!
Thanks to this free natural light show, a trip to Cafe Sky deserves its spot on this list of things to do in Antigua Guatemala.
You can find Cafe Sky at 1a Avenida Sur 15. They're open every day from 8AM-10PM and busiest around sunset.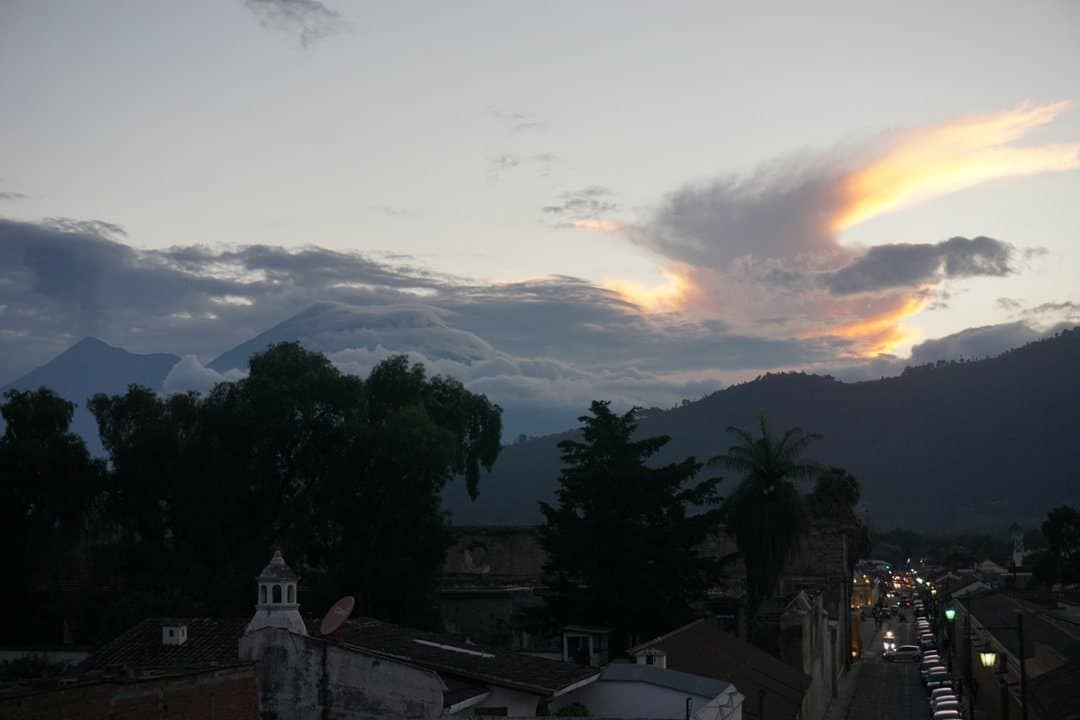 9) Get Lost in the Mercado
If you're looking to shop and eat like a local, then the Mercado is the place to be. Here you can shop for everything from fresh produce, to clothing, to handicrafts, and so much more.
I would say they have everything but the kitchen sink, but I'm pretty sure I saw one of those for sale here!
The local market is always busy, but it's especially lively on the official market days (Monday, Thursday, and Saturday). The weekend market can be particularly chaotic and crowded when people from nearby villages flock here to peddle their wares.
If you're staying in a hostel or Airbnb with a kitchen (click here to get USD$35 off your first AirBnB booking), the local market is a great place to stock up on groceries.
Not only is it super cheap and fresh, but you're also really supporting the local economy by shopping here. It's definitely one of the best places to visit in Antigua.
As far as eating goes, there are plenty of places to choose from here. There's a food court with about a dozen local eateries that's very popular for lunch, and there are always vendors selling snacks.
If you want a true local drinking experience, pop into one of the dive bars around the market where men pound litres of Gallo beer while their wives shop.
10) Feast on Guatemalan Cuisine
So you're in the market food court and are looking for a tasty, local lunch. What do you order? Most meals in Guatemala include a main dish of meat or fish along with some rice, beans, and tortillas. Soups and stews are very popular here as well, especially pepian.
Pepian is a delicious chicken stew that's cooked in a pumpkin and sesame sauce. It's considered the national dish of Guatemala and can be found on menus all across Antigua.
The best pepian I had in town was at the Casa de las Sopas (House of Soups). You can find this awesome local restaurant at 7a Avenida Norte 5.
For lunch, one of the best places in Antigua is Rincon Tipico. As the name would suggest, this is where you go to get typical food. It's delicious and super cheap – only $4-5 for a massive lunch plate. They're located at 3a Avenida Sur, and are quite busy during lunch hours.
Another local treat you just have to try while you're in Antigua is a pupusa. This is a thick cornmeal flatbread that is usually stuffed with cheese and grilled. It's then topped with things like chicken, beans, avocado, and salsa.
11) Hike to the Cross on the Hill
After a few bowls of pepian and a few cheesy pupusas, you might want to walk some of that off. Thankfully there's a short and easy hike you can do right in town.
The Cerro de La Cruz (Hill of the Cross) is located just a few blocks north of the Central Park and is easily reached on a 20-30 minute walk.
There's a paved staircase just past the office for Hobbitenango, which by the way is one of the coolest places to visit in Antigua. It's a real deal Hobbit-themed lodge up in the hills outside of town!
From the cross, you can enjoy a fantastic view of the city. On a clear day, you'll see Volcan de Agua off in the distance. Climbing up here and taking in the scenery is certainly one of the best things to do in Antigua.
12) Ditch Your Gringo Spanish
Antigua is the kind of city that pulls you in and makes you never want to leave. If you want to stick around for a while, one of the most popular things to do in Antigua is studying Spanish.
For those who hope to travel throughout Latin America, ditching your gringo Spanish should definitely be a top priority. Antigua is home to several excellent Spanish schools you can choose from. It seems as if there's a Spanish school around every corner in Antigua!
Courses are very reasonably priced here and Guatemalans are known for their relatively slow and clear Spanish, making it an excellent place to study. Jarryd and Alesha (NOMADasaurus founders) actually studied Spanish here at the Antiguena Spanish Academy and highly recommend it.
13) Try Local Craft Beer
While most of the beer in Guatemala is mass-produced, slightly watery lager, beer lovers aren't at a total loss in Antigua. That's because the city is home to a few excellent craft breweries with red ales, IPAs, and stouts on tap.
In town, the best place to go for a craft beer is ABC (Antigua Brewing Company). They've got a bar at the front, a full restaurant and seating area in the back, and an excellent rooftop terrace as well. It's the perfect spot to grab a beer with friends and enjoy the views of this beautiful colonial city.
Some of their beers on tap include their Xute Pale Ale and a lip-smacking Choco-Stout. They also feature guest taps of other Guatemala craft breweries from the capital or Xela, and they've got a solid food menu to go along with all the beers.
With tasty food, a wide variety of craft beers, and amazing views of the city, ABC is surely one of the best places in Antigua. They also run tours of the brewery on the weekend if you're interested.
14) Take an ATV Tour
If you're looking for a bit of adventure on your trip to Antigua, then an ATV tour to the villages surrounding the city is a solid choice. The fine folks at Simoon have a few different options for you to choose from for an exciting day trip.
Their Antigua Villages Tour visits a local textile market, the awesome Earth Lodge, and Ciudad Vieja – the first capital of Guatemala. You can choose to ride on the back of the ATV if you're not comfortable steering it yourself.
They run a few other tours as well, including a Sunset Tour and a Mountain Tour. Whichever one you choose, you're sure to have a great time exploring the surrounding area and getting outside of the tourist bubble for a while.
For those who prefer to DIY, you can also just rent scooters, motorcycles, or ATVs from Simoon. Check their website or drop by their office to see what they have available. Just be careful riding on those cobblestone streets!
15) Party in a Mansion or Pool
Without a doubt, one of the coolest things to do in Antigua is attending one of the epic parties that go on outside of town on Saturday nights. Chances are these are some of the most interesting venues you've ever partied at…
Once the bars close at 1AM on Saturday night, night owls can head out to La Piscina – the infamous pool party. It's not what you think, though. This all-night rave is actually held at an abandoned swimming pool on the outskirts of Antigua.
It may sound like some sort of bootleg operation, but this party is legit. They have a DJ and a bumping sound system, a full bar, and plenty of food vendors to help you fuel up for the dance party.
Most people get out here by catching a shuttle outside of the Lucky Rabbit bar when it shuts down and stay until sunrise, so get ready for a wild night!
Once in a while, there's also a mansion party going on. This is much farther out of town and is actually about halfway to Guatemala City. They run shuttles from hostels and bars in town and usually ask that you RSVP to reserve your spot.
I'm still not sure if the mansion is actually abandoned or not, as it actually looks pretty nice! The party starts early as the swimming pool here is actually functioning, and it goes all night with a variety of DJs spinning tunes until sunrise.
Where to Stay in Antigua, Guatemala
There's a whole range of awesome places to stay in Antigua, Guatemala, no matter your budget!
Best Budget Accommodation in Antigua – Yellow House Hostel B&B
If you're looking for a nice place to stay in Antigua on a budget, the Yellow House Hostel B&B is the perfect choice.
You can get a bed in a dorm here for under $10 a night or split a double room with your friend or partner for $30. With a buffet breakfast included, that's a pretty awesome deal.
Travellers love this hostel's nice garden and terrace, which make for a great place to chill out after a day exploring the city. Their location can't be beat, as it's just a few blocks away from the Arch and La Merced church.
The Best Mid-Range Hotel – Hotel Meson de Maria
This beautiful hotel was constructed in a restored mansion and features some elegant colonial décor. You'll love this place as soon as you walk through their charming courtyard on the way to your room.
Speaking of rooms, they have a few options here from their standard double room up to their suites. There's even a special suite here for newlyweds visiting Antigua on their honeymoon.
Breakfast is included here and you can also get room service arranged from two nearby restaurants. They also have a lovely rooftop terrace with excellent views of the volcanoes.
The Best Luxury Hotel – Casa Santo Domingo
When it comes to the best hotels in Antigua, Casa Santo Domingo just might take the cake. This luxury hotel is set in a former convent that was destroyed in the earthquake of 1773.
A restoration project began in 1989 to rescue this important piece of Antigua's history and it's now the fanciest hotel in town! They've got beautifully-appointed rooms full of local art and weavings, some of which even have their own jacuzzi and sauna.
If you don't land a room with your own spa, no worries – there's a fantastic spa here for all guests to access. Here you'll find a pool, jacuzzis, and saunas, as well as spa services such as facials and massages.
Best Restaurants in Antigua
Rincon Tipico – As I mentioned in the section about trying local food, this is a popular place to come for lunch and get a filling, cheap meal. Just be prepared to wait a while for a table and your food if coming during the lunch rush.
La Casa de las Sopas – This is an awesome restaurant to try Guatemala soups like pepian or jocon. Even though it's called "The House of Soups," they have plenty of other things on the menu as well.
Toko Baru – When you need a break from local food, this is a great place to go. They've got a wide variety of international cuisine here, from curry to falafel.
Cafe Sky – This place is open all day so you can come here for any meal. They always have some solid specials and their rooftop terrace is one of the best places in town to be for sunset.
Pollo Campero – This fast-food chain is incredibly popular in Guatemala. It's such a hit that there's often a line out the door to get a table here. You can always just grab a chicken sandwich and fries to go, though.
Antigua Brewing Company – In addition to the wide range of craft beers on tap, they're also cooking up some tasty stuff here at ABC.