If you're interested in hiking in Spain, our ultimate trekking guide has everything you need to know to enjoy your time!
When you think of Spain you probably think of beaches, Barcelona Football Club, and awesome food. But there are so many more amazing reasons to visit Spain, including hiking.
Hiking in Spain is quickly becoming a popular activity in Europe and rightly so! Spain has a wide variety of landscapes and trails, making it a unique and beautiful place to explore.
From coastal walks along the Mediterranean to volcano treks in the Canary Islands, to high-altitude hikes in the Pyrenees Mountains, there are so many cool places to hike in Spain.
Most of the trails in Spain are listed as easy to moderate, so there are suitable trails for people of all fitness levels. Also, you'll most likely enjoy pleasant weather year-round.
Walking holidays in Spain are becoming more popular among Europeans, and even among those coming to the continent for a holiday.
This ultimate guide to hiking and trekking in Spain is designed to inspire and educate readers about the trails and tips you may need for your journey. All that's left is investing in some good hiking shoes and booking a flight to Spain!
The Ultimate Guide to Hiking in Spain
This travel guide will cover all the best hiking trails in Spain so you have some idea of which trails you'd like to tackle.
From hiking the tallest mountain in Spain to trekking past volcanic lakes and odd rock formations to strolling along other hiking trails through the countryside and monasteries, there are so many options for the best hikes in Spain.
This article will also include tips about when to go hiking, what to pack, and other useful information.
Always respect the land, local culture, and trails while hiking. Check out our guide to Sustainable Tourism for 2022!
The Best Time To Go Hiking In Spain
Spain is one of those countries that literally doesn't have a bad season, so it just comes down to how many people you want to be hiking next to.
June to September are the warmest months, so you'll have better weather and more crowds. The higher altitude hikes in the mountains will be pleasant, and there will b less snow. Hiking along the coast can be quite hot in summer, but you'll get cool ocean breezes and the chance to go for a dip after hiking.
The summer months also tend to be slightly more humid so it's better to hit the trails earlier in the morning and finish by lunch to avoid losing all of your fluids via sweat. Always pack plenty of water for the best hikes in Spain, regardless of the weather forecast.
March to April is the best time to head to the high mountains like the Sierra Nevada or the Pyrenees. Wildflower season begins and the spring season means cooler temperatures which are nice for longer multi-day treks. Spring also sees fewer crowds than summer.
Winter in Spain is from December to February. Snow is rare in most of Spain, with the exception of the high mountains. The weather will be pretty cold and snowy at high altitudes in winter, so if you plan on hiking then just pack plenty of warm clothes and proper gear.
Spain has just so many options for hiking and the weather never gets too unfavorable. So it just comes down to a matter of where and when you would like to visit.
The Best Day Hikes in Spain
If you are looking for day hikes in Spain you'll be spoilt for choice. There are so many different landscapes to check out, and the trails vary from easy to hard.
Here's my list of the best hiking trails in Spain that can be done in one day. You'll find volcano hikes, ancient pilgrim routes, beach trails, and much more.
Ruta Del Cares
Distance – 24 kilometres
Start/ Finish – Poncebos to Cain de Valdeon and back
Time – 8 hours
Difficulty – Moderate
Ruta del Cares is often described as one of the best hikes in the Picos de Europa (Picos translates to peaks). You get to trek through a breathtaking mountain range of limestone peaks along the Cares River.
While trekking through the mountains, you will see dramatic gorges, stone huts and ruins, and plenty of animals. Mountain goats often make an appearance on this trail.
Some parts of the trail are steep, but overall it is fairly easy. The first part of the trail is rocky and rugged, but as you near the Cares River the scenery becomes more lush and green. The views are jaw-dropping, and many would call Ruta Del Cares the best hike in Spain.
Chillar River
Distance – Various
Start/ Finish – Municipal Sports Centre at Nerja
Time – 1 day
Difficulty – Easy
For this day hike, we head to Southern Spain for an adventure near the Chillar River. There's a pretty high chance you are going to get wet shoes no matter how waterproof they are during this hike.
Towards the end of the river, there are a few narrow sections that eventually lead to stunning views of the Chillar Valley. Trekking in Spain doesn't get much cooler than the Chillar River!
The suggested time for hiking along the Chillar River is one day, however you can shorten or lengthen your trip accordingly. If you decide to pitch your tent along the Chillar River, make sure it is well above the water line in case there are any unexpected river rises.
El Caminito del Rey
Distance – 4 kilometres
Start/ Finish – Gaitanes Gorge
Time – 1 hour
Difficulty – Easy
El Caminito Del Rey was once known as one of the most dangerous hiking trails in the world, but don't let this scare you too much!
It's also one of the most popular hikes in Spain, and the trail was closed for many years of renovations. Nowadays it is perfectly safe and secure, but it's definitely not recommended for those who are afraid of heights.
The entire trail consists of a walkway through a rugged gorge. Part of it is pinned against the wall of the gorge, and part of it is suspended about 100 metres above the floor of the valley. It was originally built to give access to workers who would need to manage and work on a hydroelectric power plant.
Caminito Del Rey may still be called one of Spain's most dangerous hikes, but it is an incredible adventure for daredevils who love to live life on the edge (literally).
You can also hire a local guide on Get Your Guide for this famous trail. A guided hike is a great way to learn about the history and construction of the trail.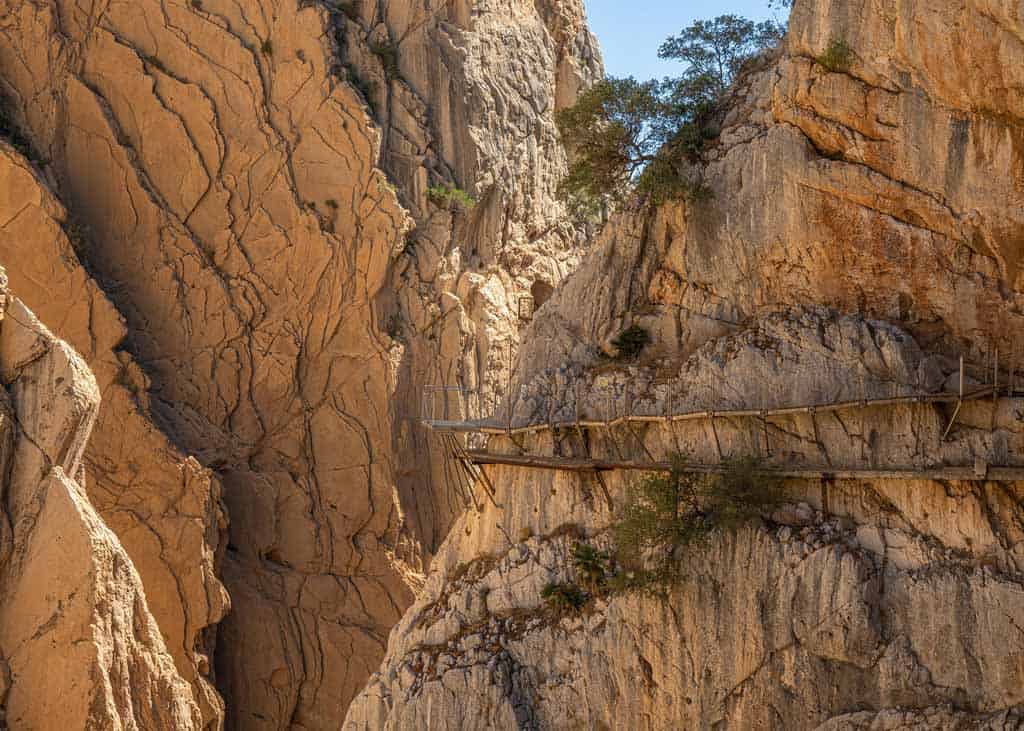 Barceloneta Beach
Distance – 1.1 kilometres
Start/ Finish – Optional start and finish points
Time – 1 hour
Difficulty – Easy
Beach hiking is a thing? Barcelona is known for its stunning beaches so if you have a bit of time to chill before heading out to the mountains of Spain, head down to Barceloneta Beach for a short shoes-off walk.
Barceloneta Beach used to be the old fisherman's quarter, but nowadays it is a popular tourist spot. It is a long stretch of sand that is fun for having a beach picnic or going for a swim.
Anyone looking for an easy and relaxing walk in Spain will enjoy a sunset stroll along the soft sand of Barcelona's best beach.
Masca Gorge Trek
Distance – 8 kilometres
Start/ Finish – Masca to Bay of Masca
Time – 3 hours
Difficulty – Moderate
Spain is home to some stunning islands that have their own mountain ranges and walking trails. The Masca Gorge Trek is one of the most beautiful hikes in the Canary Islands which are found off the northwest coast of Africa.
Situated on Santa Cruz de Tenerife which is the largest of the Canary Islands, Masca Gorge Trek is a relatively easy 8 kilometre hike through an alien-like world.
What's quite amazing about this trek is where you finish it. After rock-hopping through a divine gorge for a good 3 hours, you will find yourself at the Bay of Masca which is stunning.
Getting back to Masca or Los Gigantes can be done by boat which you will need to organise before heading out on this beautiful Spanish trek.
Igueste de San Andres to Chamorga
Distance – 13 kilometres
Start/ Finish – Iguesta de San Andres to Chamorga
Time – 4 hours
Difficulty – Moderate
Located north of the tourist hot spots on Tenerife in the Canary Islands, the Igueste de San Andreas trek is the perfect opportunity to get out and explore the more mountainous side of this beautiful landscape.
The trail begins in the quiet village of Iguesta de San Andres and takes you through the amazing scenery of the Anaga Peninsula. The trek ends in Chamorga which is a rather small town nestled into the surrounding Anaga mountain range.
Trekking in Spain doesn't get much more beautiful than the Igueste de San Andreas to Chamorga.
El Teide Caldera
Distance – 10.5 kilometres
Start/ Finish – Parador Hotel
Time – 2 to 3 hours
Difficulty – Easy to Moderate
Another one of the best hikes in Spain is El Teide Caldera, a volcano hike in Teide National Park in Tenerife, Canary Islands.
The El Teide Caldera is the highest mountain in Spain and the highest point in the Atlantic, which has been placed as a UNESCO World Heritage site. The landscapes along the El Teide are just as strange as they are beautiful, with a dazzling display of multicolored rocks and the unique shapes of old lava fields.
El Teide can be quite spectacular to climb, but be prepared for pretty gnarly conditions at the summit as weather can change almost instantly due to its altitude.
This would have to be one of the most adventurous hikes you can do in Spain hands down.
Other fun things to do in Teide National Park after your hike include a dolphin or whale watching tour, a stargazing experience in the park, or a quad bike adventure tour.
Lago de la Ercina
Distance – 7.5 kilometres
Start/ Finish – Lago de la Ercina
Time – 2 to 3 hours
Difficulty – Moderate
The Lago de la Ercina hike is a moderate 3-hour hike through a beautiful, untouched alpine zone. You will see gorgeous fields of wildflowers and rocky stretches of land with patches of beech trees at the lower altitudes.
If you prefer a longer hike, there is an option to do so via the Refugio Vega de Ario which overlooks the mountains and lakes below.
Lago de la Ercina is a highland lake in the Cantabrian Mountains, near Asturias, Spain.
Breche de Roland
Distance – 5.5 kilometres
Start/ Finish – Col de Tentes
Time – 2.5 hours
Difficulty – Moderate to Hard
The Pyrenees Mountains act as a natural border between Spain and France. Right in between the mountains is the Breche de Roland, a 5.5 kilometre trail that is one of the best hikes in Spain.
The famous trail follows around a limestone ridge around a natural gap in the earth. Local legens state that Roland, the nephew of Charlemagne, threw his sword down which created the gap in the cliffs.
Anything you see in The Pyrenees Mountains is bound to be amazing, especially that of the Cirque de Gavarnie. This is a massive amphitheatre of mountains that are all over 3,000 metres in height. It's an absolutely stunning place.
Cap de Creus National Park Loop
Distance – 16 kilometres
Start/ Finish – Cadaques in Catalonia
Time – 7.5 hours
Difficulty – Hard
The Cap de Creus Peninsula and National Park is a gorgeous area of eastern Spain, right next to the French border. For an amazing day of hiking, take on this circular route which starts and ends in the sleepy coastal town of Cadaques.
The hike begins next to the Salvador Dali Museum and House, which you can check out before you begin exploring nature.
From town, you'll head through the national park towards Cap De Creus Lighthouse. Enjoy the rugged coastal views, and bring a bathing suit so you can go for a dip. This hike isn't very steep, but it's considered difficult because the path is quite rocky and you will have to do some scrambling.
Just make sure you have good shoes and be careful with your footing. Otherwise, it's a serene place in Spain on the Costa Brava.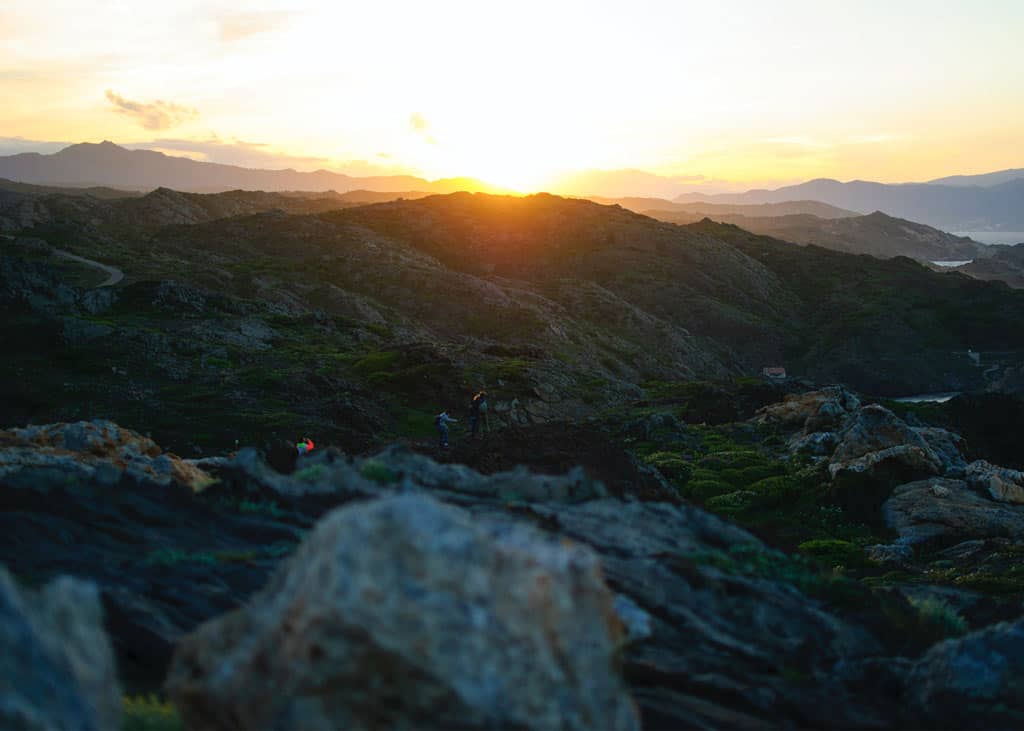 San Adrian Tunnel
Distance – 15 kilometres
Start/ Finish – Zegama on the Gipuzkoa Province side to Zalduondo
Time – 3 hours
Difficulty – Easy
San Adrian Tunnel is an intricate natural cave in the Aizkorri-Aratz Natural Park near Basque Country. This fascinating tunnel was formed through water erosion, and has a rich history as part of the pilgrimage network: the Way of Saint James.
The tunnel served as an important milestone during pilgrimage routes from Alava province to the Gipuzkoa province during thirteenth century disputes.
Within a section of San Adrian Tunnel, a small stone church offers breathtaking views of the plains of the Alava which provides a unique and special opportunity to capture on camera.
Looking for more epic hikes in Europe? Check out our article about Hiking the Monasteries of Meteora in Greece!
The Best Multi-day Trekking in Spain
Continuing on with our list of the best hikes in Spain, here are several trails that can last for multiple days.
These are more challenging hikes than the one-day hikes, simply because you have to take your accommodation into consideration. You can camp, or spend the night at any lodges that reside along the hiking routes.
You'll have to trek with more gear, so make sure you have everything you need for your multi-day trek. We have a packing list at the end of this article to help you plan!
GR221 Drystone Route
Distance – 140 kilometres
Start/ Finish – Port d'Andratx to Port de Pollenca
Time – 8 days
Difficulty – Moderate
This trek was designed to get people off the beaches of Mallorca and into the mountains to truly take in the wonders of this awesome area. Maybe you can go lay on the beach when you have completed this 140-kilometre-long walking trail. You will definitely deserve it!
Off the coast of Spain is the island of Mallorca (Majorca) which has spectacular beaches and mountains. The Drystone Route allows you to see all the best views in Mallorca, and it is easily one of the best hikes in Spain.
The Drystone Route begins near the village of Port d'Andratx and takes you through a combination of rough scrub and native pine forest until you arrive at the seaside port of Port de Pollenca. The Drystone Route is a great option for a walking holiday in Spain.
La Senda del Oso
Distance – 21 kilometres
Start/ Finish – Tunon to Entrago (optional endpoint)
Time – 2 days
Difficulty – Easy
La Senda Del Oso is an old rail line converted to a hiking trail in northwestern Spain, in the region of Asturias. Oso means "bear" in Spanish, so there is a small chance you may catch a glimpse of one on this trail.
This particular trail is mostly forested from the time you leave Tunon to the time you end at Entrago.
Most of the trail is very straightforward apart from a Y intersection that leads to two completely different places but either way you choose, you won't be disappointed. The left route takes you through a series of bridges and tunnels, while the right route provides more stunning trails through forests that 'may' have a bear or two.
This 2-day trek is quite peaceful, and it's an easy walk without many tourists.
Route of the Monasteries of Valencia
Distance – 90 kilometres
Start/ Finish – Gandia to Alzira
Time – 3 to 4 days
Difficulty – Easy
Famously used as a pilgrimage trail for Roman Catholics, the Route of the Monasteries is becoming more popular with those non-religious folk who just want to complete some of the best hikes in Spain.
Non-religious hikers are drawn to this trail for the breathtaking views of the Spanish countryside as you pass from monastery to monastery.
As for the monasteries themselves, this trail presents a unique opportunity to get an understanding of the architecture and Roman influence upon Spain.
The trail runs through many small towns and municipalities of central Spain, and you get to admire the natural beauty and learn about the cultural and religious significance of the monasteries along the way.
Sierra de Aitana
Distance – 96.5 kilometres
Start/ Finish – Benimantell to Sella
Time – 4 days
Difficulty – Moderate
Full of dramatic cliffs and spectacular views, Sierra de Aitana is another one of the best hikes in Spain. Full of limestone rock formations and groves of olive trees, this hike certainly makes it feel as if you are immersed in a true Mediterranean lifestyle.
This mountainous part of western Spain is idyllic and popular for rock climbing and trekking with 4 fantastic, not overly challenging peaks of the Sierra de Aitana.
These 4 peaks are quite unique and steep, and it is possible to tackle just one at a time as a day hike. But those looking for a really challenging hike can conquer all 4 peaks over the span of a few days.
Beas de Granada to Granada
Distance – 16 kilometres
Start/ Finish – Beas de Granada to Granada
Time – 1 day
Difficulty – Easy
Beas de Granada provides hikers with amazing views of the Sierra Nevada's snow-capped mountains. 'Beas' translates to 'path', and this path takes you to the historic and beautiful town of Granada which has one of the best backdrops in all of mainland Spain.
Getting to Granada will require a traverse of a relatively easy ridge with a few narrow spots to watch out for. Other than that this is one of the best hikes in Spain. At 16 kilometres long, you can do this hike in one day, or break it up into two days.
However you choose to do it, you can follow the ancient tracks of shepherds who walked this path daily while moving stock from one region to another. Beas de Granada is truly one of the best hikes in Spain.
Via Verde de la Sierra
Distance – 35 kilometres
Start/ Finish – Puerto Serrano to Olvera
Time – 2 to 3 days
Difficulty – Easy
A change of pace from the mountain and forest trails of Spain, the Via Verde de la Sierra is an easy multi-day trekking option.
The trail consists of compact earth and asphalt, so it's not too challenging and it takes you to some pretty special places along the Via Verde del la Sierra.
What to expect? Most of the hiking along this trail will be pristine countryside, so expect to see fields of green backed by the Sierra Nevada. One place to look out for is the Rock of Zaframagon which is home to a rare species of vultures.
Camino de Santiago
Distance – 780 kilometres
Start/ Finish – St. Jean-Pied-du-Port (France) to Santiago de Compostela
Time – 1 month
Difficulty – Easy to moderate
Camino de Santiago, also known as the Way of Saint James, is by far the longest trek you can do in Spain stretching over a massive 780 kilometres. It is also possibly the most famous trail in Spain, as travelers come from all over the world to complete this epic trek.
Camino de Santiago is known to most as the 'pilgrim's way' which can be trekked all year around. Despite the length of the Camino, it is said to be fairly easy as it avoids places like the Sierra Nevada and the Pyrenees although some places are often quite hard on the feet.
If you are considering doing this hike you will need to allocate at least a month in order to complete it.
The trail finishes at Santiago de Compostela, where the apostle Saint James is supposedly buried. You can book a guided tour of the cathedral to learn more about its history and religious significance.
Tips to Know before Hiking in Spain
Hiking in Spain varies because you can hike along sandy coastal tracks, lush national parks, rugged volcanoes, or snowy mountains. From the Mediterranean Sea, to the far-off islands, to the majestic Pyrenees or Sierra Nevada mountains, there is a wide range of hikes in Spain.
Once you decide where you want to hike, take the time to really do some research. Decide what equipment you will need, how long will the trek take, and when you are going on the trek. Check the local weather reports as well.
Remember when out hiking especially on multi-day treks, less is more. If you think you won't need it, don't take it as it will take up more space in your hiking bag and also create extra weight which you won't need. I'll discuss packing in greater detail in the next section.
Accommodation in Spain
As for accommodation while hiking in Spain, there are plenty of options for travelers of all budgets.
However, it does depend on where you are going. Some of these hikes leave from popular tourist spots like Granada, Barcelona, or Valencia. There will be plenty of hotels and hostels to choose from.
We recommend checking Hostelworld for budget accommodation in Spain.
For all other hotels, bed and breakfasts, and local lodges, Booking.com or Agoda are great websites to use. Airbnb also has amazing options!
If you're looking for an awesome place to stay in Port Stephens, we personally love using Airbnb. If you've never used the platform before, sign up using this link to get USD$35 off your first booking.
If you are doing some of the more remote hikes on this list, or you're tackling a multi-day trek, you may have to do extra research about where to stay. Pack appropriate gear for camping, or check if there are local guesthouses or lodges available.
Read next: Hiking and Canyoning in Montenegro
Hiking in Spain Packing List
We'll wrap up this Spain Hiking Travel Guide with a basic packing list.
Though the climate consists of mostly warm weather year-round, remember that the landscape can vary around the country.
If you're heading into the mountains, the weather is cooler and more unpredictable. If you're hiking a coastal track you may not need to pack as much as the temperatures will be more humid and hot.
The list below will focus on those packing for a hike in the high mountains of the Pyrenees or the Sierra Nevada. Because the environments are more extreme in these areas, packing is a bit trickier. If you're doing an easy walk by the coast, just remove the stuff you don't need from this list.
Also, if you're just doing a day hike, of course, you won't need to pack all the camping gear listed!
Lightweight and compact tent
A decent water supply – 4 to 5 litres is necessary
Portable gas burner
Pots, pans and cutlery
Food supply big enough to support yourself for the duration of the trail
Quality sleeping bag with silk liner
Thermal gear for higher altitudes
Waterproof hiking boots
Plenty of socks
Breathable clothes
Rain jacket
Hiking pants or hiking shorts
Down jacket for cold nights
Gloves
Underwear
Hiking pole – even using one pole can help you along tricky sections and save your knees
Sun protection – hat, sunscreen and sunglasses
Emergency beacon
Portable power packs and a portable solar panel
Emergency blanket
Spanish dictionary (The chances of coming across a small town or village in a remote part of your trek is likely and not everyone speaks English)
Camera gear with extra batteries and SD cards. (Don't forget to take your batteries out of your camera at night in order to stop the cold from draining their charge)
DISCLAIMER: Some of the links in this article are affiliate links, which means if you book accommodation, tours or buy a product, we will receive a small commission at no extra cost to you. These commissions help us keep creating more free travel content to help people plan their holidays and adventures. We only recommend the best accommodations, tours and products that ourselves or our fantastic editorial team have personally experienced, and regularly review these. Thanks for your support, kind friend!